Pocket Door Systems are an innovative approach to saving space. After the doors are open, they slide into hidden pockets on the side of the unit. This helps economize space so that it can be fully utilized. They are ideal for use in cabinets that are normally kept open but sometimes need to be hidden. Folding door is stored inside the cabinet.
[vvsmustread]
Product Description
Sugatsune (LAMP) Folding Pocket Door System (INSET) – Features
Combines folding doors for wider door spaces.
Folding doors retract into cabinet interior, full access (besides pocket) to the interior.
Great solution for home and residential in-suite storage including laundry rooms.
Max door height: Up to 2400mm with 3 rails (1830mm with 2)
Max door width: 450mm per door. 2 doors per folding side. Total 1800mm wide cabinet entrance.
Door Thickness- 23-30mm
Door Weight- Max 10 Kg/Door
Sugatsune (LAMP) Folding Pocket Door System (INSET) – Specifications
| | | | | |
| --- | --- | --- | --- | --- |
| Item Name | Opening | Rail Length | Door Storing | Cabinet Depth |
| ALT-F18L | Left Opening | 460.4 | 355.6 | Min. 466.7 + Door Thickness |
| ALT-F18R | Right Opening | 460.4 | 355.6 | Min. 466.7 + Door Thickness |
| ALT-F20L | Left Opening | 511.2 | 406.4 | Min. 517.5 + Door Thickness |
| ALT-F20R | Right Opening | 511.2 | 406.4 | Min. 517.5 + Door Thickness |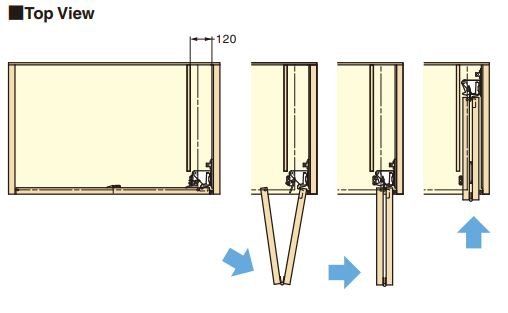 Click here to see the full catalogue
Click Here to see the complete range
Sugatsune (LAMP) Customer Care No. :  022-28314494
Brand Info

Sugatsune (LAMP)