Tiles offer the right blend of aesthetics and durability to your surfaces. Ceramic, vinyl, glazed vitrified, etc. are some of the decorative tiles that never fail to add bliss to your rooms.  Tiles come in a variety of textures and colour schemes that amp up the aesthetics. Hence, to help you select suitable decorative tiles for your home, Qutone offers a wide range of catalogue products that are reasonably priced (as per their 2022 price list), have good customer reviews, and can be easily compared to other top tile brands (Checkout our Qutone tiles vs Kajaria bit ahead!).
So, go through this article, to know more about Qutone tiles, in terms of company overview, product catalogue, 2022 price list, and dealer location if you are considering this brand for your home.
About the company
Qutone ceramics is one the leading manufacturers of ceramic and vitrified tiles in India, with lots of positive reviews. The brand has a presence in more than 60+ countries around the globe and has its R&D wing based in Sassuolo, Italy. It has four manufacturing plants in the ceramic hub of India – Morbi, Gujarat.
Head office: 11, Titanium, Corporate Road, Satellite, Ahmadabad-380015, Gujarat, India
Customer care no.: +91 79 4030 0075
Types of Qutone tiles
iMarble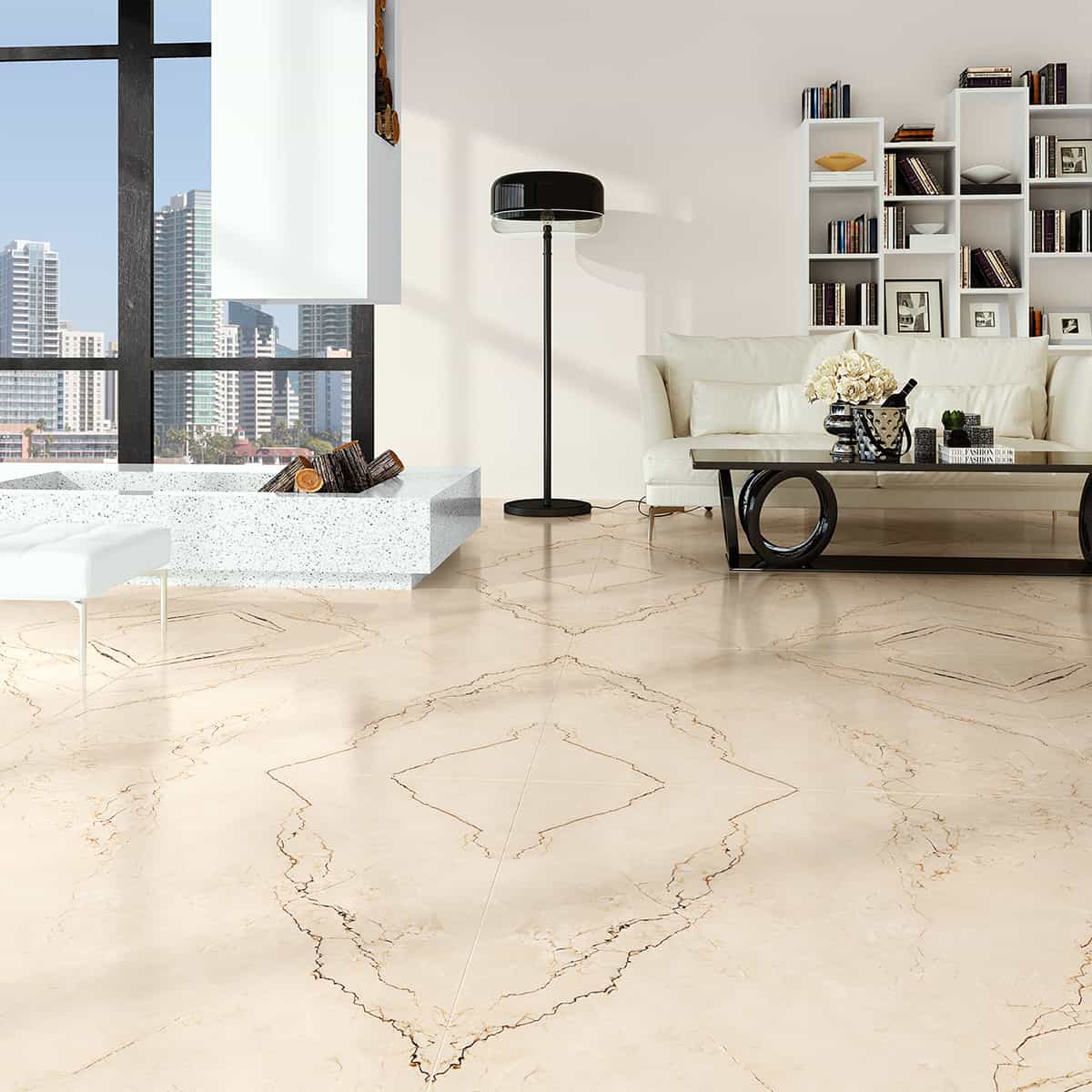 Image Source: Qutone Ceramics
iMarble collection of Qutone provides the aesthetics of Italian marble in various formats and finishes. This collection used to be the largest slab in Asia and is now available in sizes like 1200x2400mm, 1200x1800mm, 1200x1200mm, 800x1600mm, and 800x1200mm, and in polished, pearl, matt, metallic, and silk finishes.
Stoneware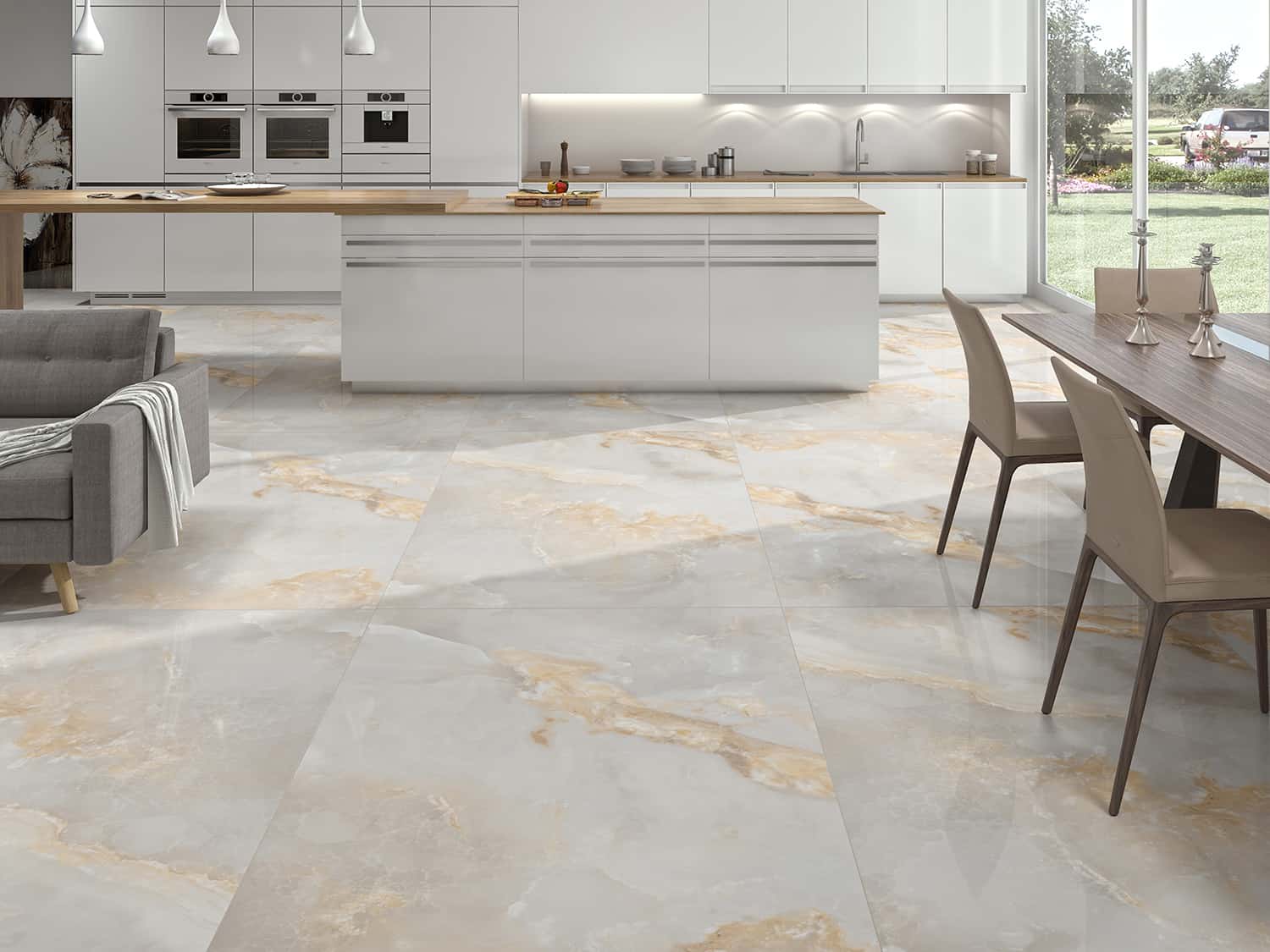 Image Source: Qutone Ceramics
Qutone's iMarble stoneware is made using the finest quality of raw materials and advanced technology to eliminate all the drawbacks of natural stone, like marble, quartz, granite, etc. Stoneware is available in polished, matt, matt-rocker, and aura finishes, in sizes like 1000×3000-15mm, 1200×1800-15mm, and 800×2400-15mm.
Elemento
Image Source: Qutone Ceramics
Elemento collection is inspired by the 5 elements of nature and is the latest launch by Qutone. This collection comes with top-notch designs, formats, finishes, and applications. You can find the Elemento collection in 1200x2400mm, 1200x1200mm, and 600x1200mm sizes, and in crystal, silk, matt, and metallic finishes.
DGVT
Image Source: Qutone Ceramics
Qutone's Digital printed Glazed Vitrified tile range comes in various formats, finishes, and designs. This range can be used for both floors and walls. Polished, matt, and satin are some of the available finishes in this range and available sizes are 600x1200mm, 600x600mm, and 200x1200mm.
Qrock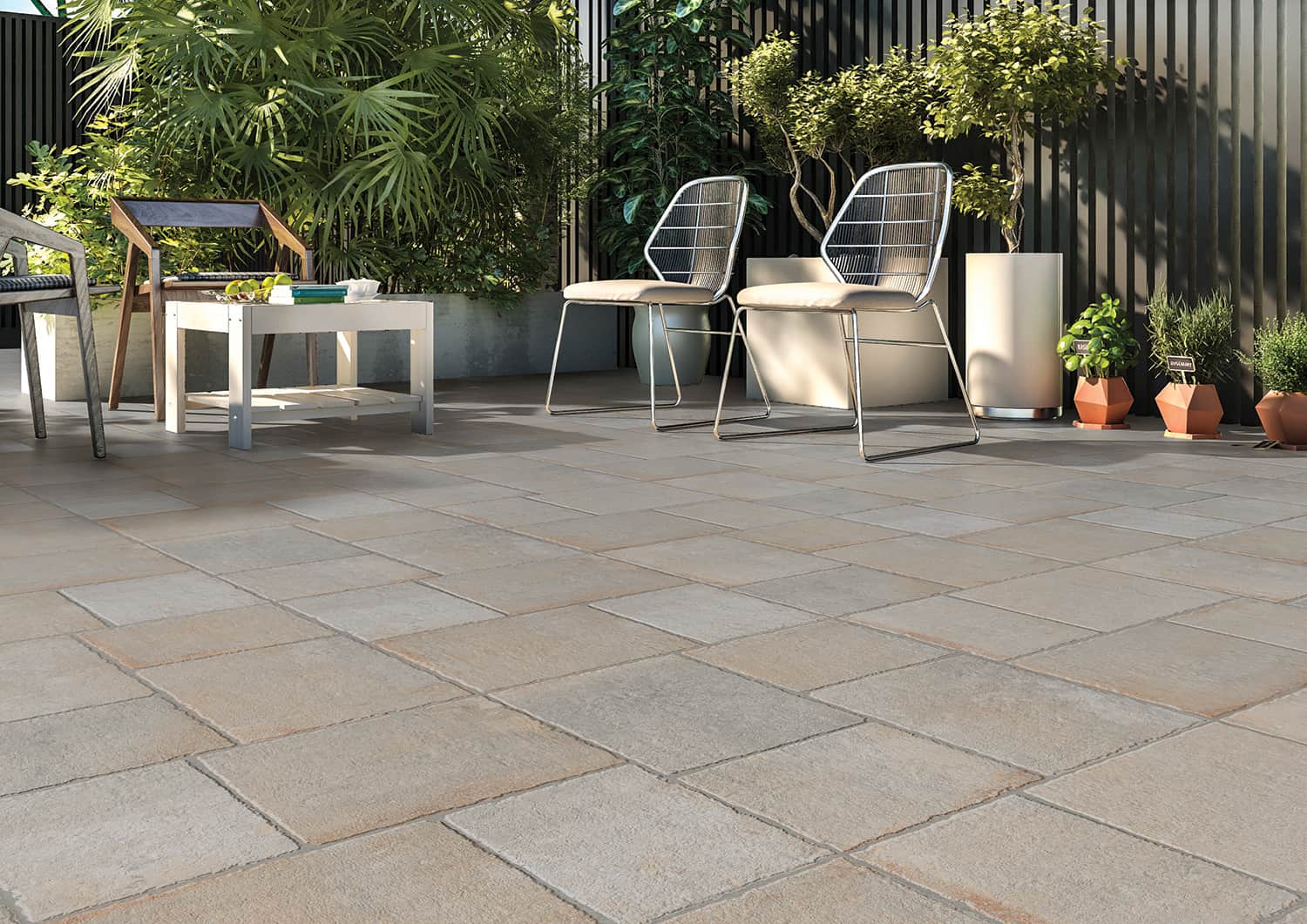 Image Source: Qutone Ceramics
The Qrock range comes in two variants Qrock-14mm and Qrock-10mm. Qrock-14mm is a heavy-duty full-body vitrified tile ideal for flooring terraces, swimming pools, and different public places. On the other hand, Qrock-10mm is a full-colour body vitrified tile, suitable for both interior and exterior uses. Both the variants are available only in matte finish and sizes like 600×600-14mm, 600x1200mm, and 600x600mm.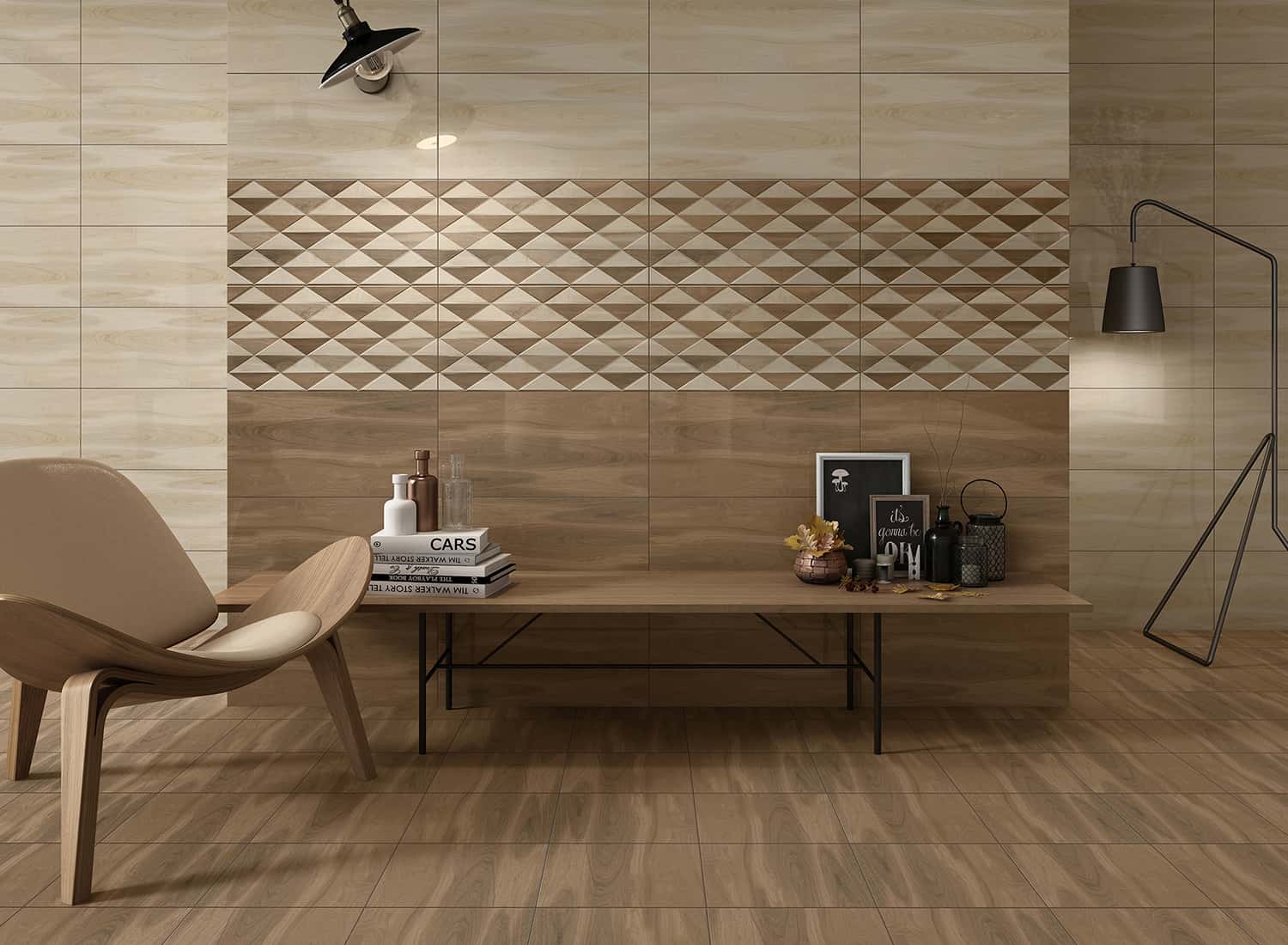 Image Source: Qutone Ceramics
Wall tiles of Qutone are great wall decor items as these are highly aesthetic and come in both glossy and matt finish. Some of the available sizes in this range are 300x600mm, 300x450mm, and 300x300mm.
View full Qutone tile catalogue
Qutone tiles price list
Qutone tiles offer various designs, materials, finishes, and sizes at affordable prices (as per the 2022 price list) and also have the best reviews. So, here is a table for you to take a cue from the prices of different tiles offered by the brand:
| | |
| --- | --- |
| Types of tiles | Price per square feet |
| iMarble | Rs. 80/- |
| Stoneware | Rs. 75/- |
| Elemento | Rs. 90/- |
| DGVT | Rs.100/- |
| Qrock | Rs.93/- |
| Wall tiles | Rs.70/- |
Qutone tiles 'near me'
Qutone tiles has 12 sales offices, 6 supply depots, and 11 Qutone experience centres PAN India, to provide the look and feel of their wide product spectrum to their customers. Therefore, to locate a Qutone dealer near 'me', use the link given below.
Here is a table of comparison between the two most popular tile companies, Qutone vs Kajaria tiles:
| | |
| --- | --- |
| Qutone Tiles | Kajaria Tiles |
| Established in 2008 | Established in 1988 |
| Indian company | Indian company |
| Categories: Wall tiles, Floor tiles, Slabs | Categories: Ceramic tiles, Polished vitrified tiles, Glazed vitrified tiles |
| Types: iMarble, Stoneware, Elemento, DGVT, Qrock, Double charge, etc. | Types: Vitrified, Slabs, Planks, Digital tiles, etc. |
| Finish: Matt, metallic, silk, pearl, polished, crystal, satin, glossy, etc. | Finish: Matt, glossy, satin matt, metallic, rustic, wood, metallic, super glossy, sugar hone, Spanish design. |
| Size: Available from 300mm*300 mm to 1200mm*2400mm | Size: Available from 30cm*30cm to 80cm*120cm |
| Price range: Rs.70/- to Rs.100/- per square feet | Price range: Rs. 60/- to Rs.86/- per square feet |
| Dealers across India: 150+ | Dealers across India: 600+ |
| Exports to more than 60+ countries worldwide | Exports to more than 30 countries worldwide |
Conclusion
Tiles have an incredible effect on your home decor. Decorating with tiles is a creative way to breathe life into a room and set your space apart. To uplift the entire style and feel of your home, you can use anything from vibrant mosaic feature walls to an intricately tiled floor. Hence, tiles give you the perfect chance to execute a modern and sophisticated home decor idea.
Now, you are ready to decorate the walls and floors of your house with the best designs and finishes of Qutone tiles. So, get inspired and incorporate various tile options of Qutone to bring your dream decor idea into reality.
*The featured image used in this article is from Qutone Ceramics
[vvsmustread]