Retailing of building materials has come a long way. Gone are the days when retailers used to just have a life behind the counter. Today, the retailer has evolved. He uses technology to get information on the latest bathroom products and solutions, maintains a digital presence for his business, reaches out to Architects, Interior Designers, and Contractors in his region in many innovative ways, and has unique strategies for growth. Gupta Bath World is one such bathroom accessories dealers that offer all these latest products.
Successful retail practices have a positive impact on the market and bode well for all – the Architects, Interior Designers, Contractors, Fellow Retailers across India, and of course, the Brands. In our new series Retailer Talk, leading dealers of building accessories across India talk to BuildingandInteriors and share their stories. They talk about the changing retail scenarios, what makes their business going, and more.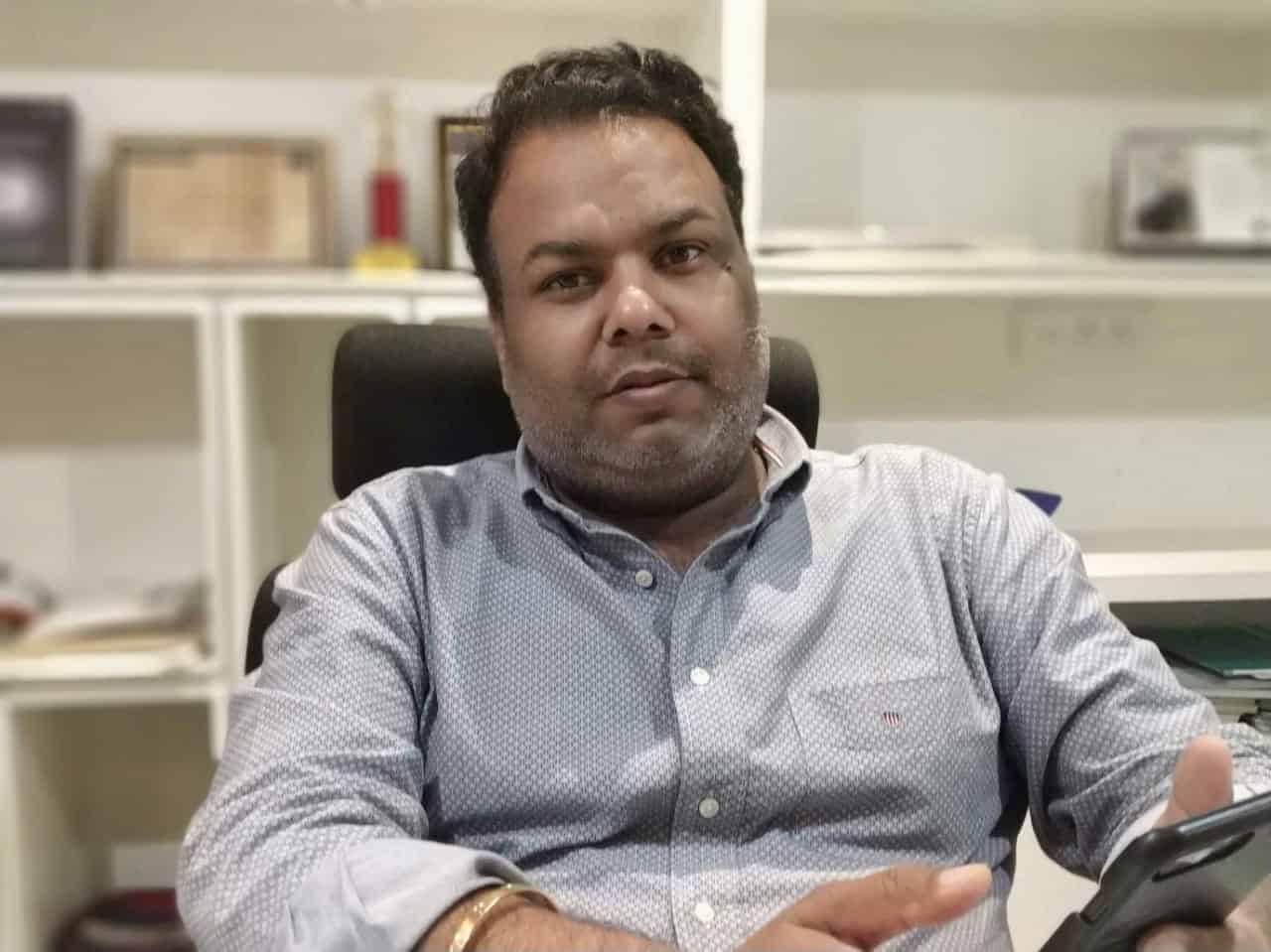 So, join us on this journey as we showcase the success stories in building material retail!
Mr.Anil Gupta, Gupta Bath World, Chandigarh (bathroom accessories dealers)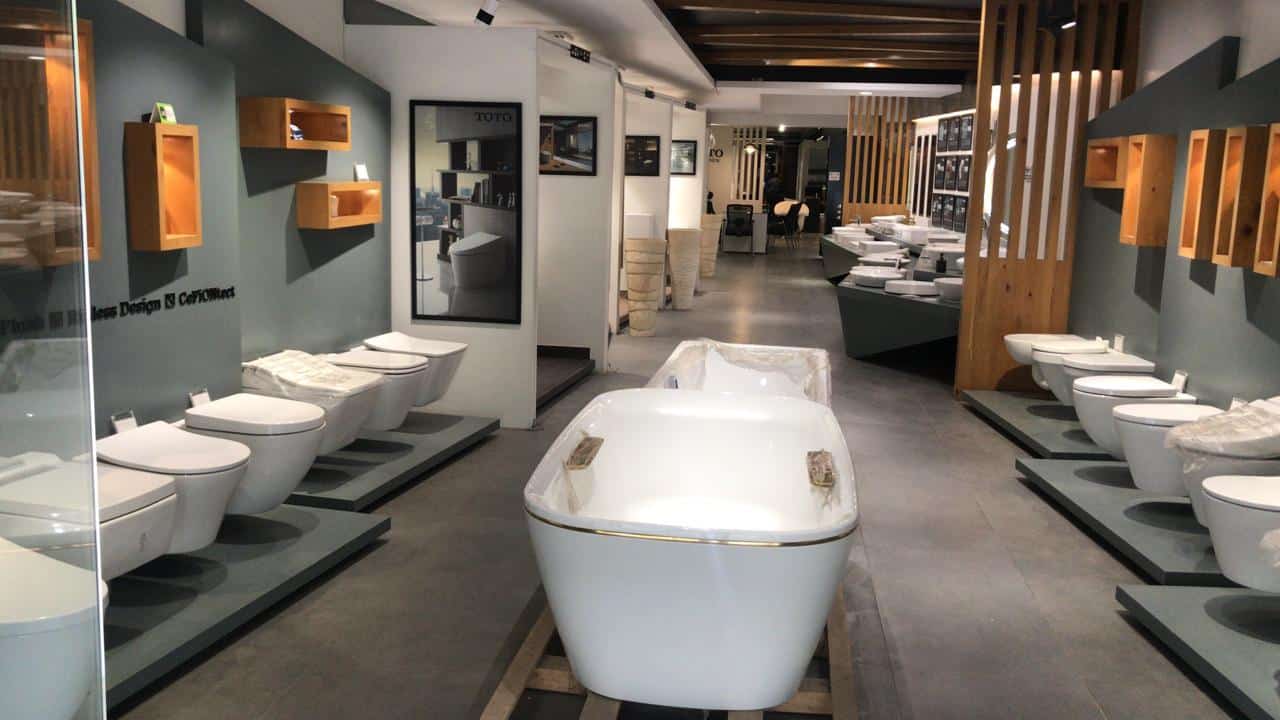 The origins of us as bathroom accessories dealers
We are in the business of sanitaryware for the last 5 decades. We started as wholesalers in 1972 when we used to supply sanitaryware items via trucks and other heavy vehicles in Punjab, Himachal Pradesh, and other states.
I am the 3rd generation in the family to carry forward this business. We have been into retailing exclusively for the last 10 years. We deal in the most premium global brands of the industry like Toto, Grohe, Stiebel Eltron, Delta, and Brizo.
The footfalls and sales approach for bathroom products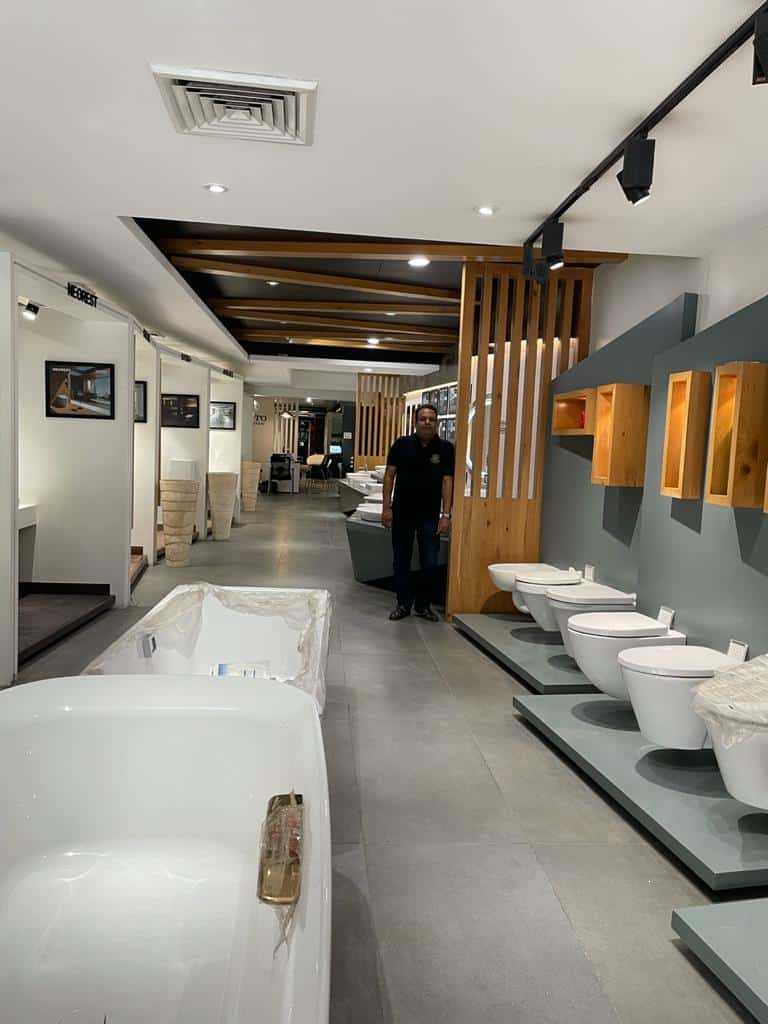 Being a showroom of only premium brands, we don't receive customers in big numbers. As I said, we deal in bathroom products brands like Toto, Stiebel Eltron, Grohe, etc., we are catering to a premium customer.
On average, we get 4-5 customers, referred by Architects and Interior Designers. And an almost equal number of non-reference customers also visit our showroom. So, we get 10-12 customers per day. We keep a monthly record of the footfalls and segregate the confirmed buyers from the ones who didn't buy anything.
Then we take note of their brand inclinations and queries. If they are looking for bargains, we remove them from our prospective list because established high-end brands have discount limitations. But if some other issue like the lack of technical knowledge or confusion arises, we educate them and try our best to convert them.
Our brand selection criteria for bathroom products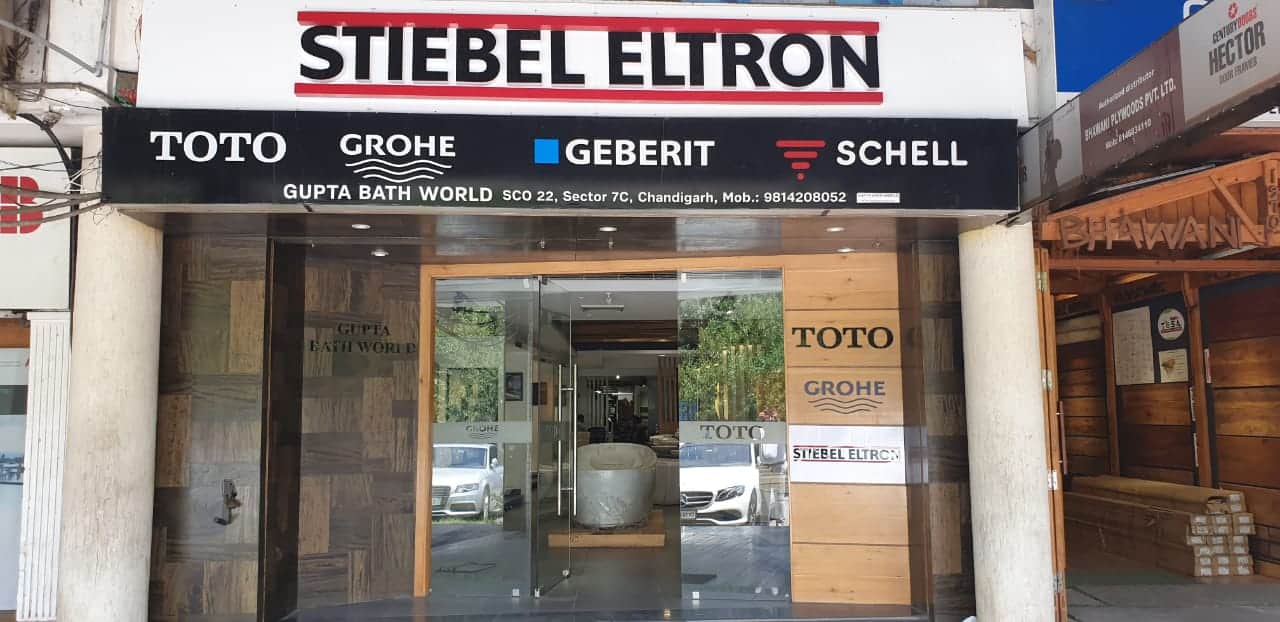 I believe in dealing with quality brands. That gives us selectivity to work with premium brands. If we keep 10 brands but are not able to justify our association in terms of sales numbers, it becomes a questionable and unsatisfactory experience for both our business and that of the brand concerned. So, instead of having multiple brands and confusing the customers, we keep only the top global brands.
At the same time, we also ensure that we offer the complete product range to our customers so that they don't have to go anywhere else.
Our longest-running bathroom products brands association – Toto
I have been a dedicated and exclusive bathroom accessories dealers of Toto for the last 10 years. In fact, we were one of the first to take the dealership of this brand when it came to India. Then, 6 years ago, we started with Grohe. One of our recent (now for 3 years) and very satisfactory dealerships has been with the German heating and ventilation specialist Stiebel Eltron. Their water heaters and heat pumps catch the attention of Architects, Consultants, and End-customers alike.
INTERESTED IN INNOVATIVE BUILDING MATERIAL PRODUCTS? Click here.
Components of success for a bathroom accessories dealers
The most important aspects of our trade comprise
the retailers reputation
the brand portfolio
the display
If even one of the three fails to complement the other, it becomes a threat to the retailer. In this situation, we have to ensure that the display is spot-on.
Our projects business – Architects and Interior Designers are valuable knowledge partners
It becomes difficult for any high-end brand to flourish without the backing of Architects and Interior Designers. It is actually these professionals who recommend the brands to the clients. So, our sale largely depends on our relations and networks with them.
In addition, we also have customers who come to purchase sanitaryware for their new homes or renovation projects.
Our showroom is located in Chandigarh but we enable supple pan India. To give an example, at present one of our Architects is working at two sites – in Noida and Hyderabad. We are supplying him with the products for both of these projects.
Assisting the walk-in end-customer
Yes, this often happens with non-industry customers. They come with a thought or concept but they aren't exactly aware of the technicalities.
Today, if we don't educate the customer about the product, we won't be able to make any sales. If I ask you to install an automatic WC like what Toto offers but don't tell you what it is, will you consider buying it? Definitely not. But when I inform you about its features and advantages, you'll be eager to install it in your home.
Thankfully, I have a well-trained staff. Our team manages to help all the customers understand the demand, benefits, and limitations of each product.
At the end of the day, we always have a happy and satisfied customer going out of our store.
Multi-national brands: The cut above
The technology of international brands is relatively more advanced. Also, the marketing strategies of global brands are intensive. They promote their brands well. The market for bathroom accessories dealers in Chandigarh tri-city (Chandigarh, Mohali, and Panchkula) and Punjab is extremely brand conscious.
So, the customers in this region want the most trending and elite brands. This is one of the reasons we have been giving good business to our partner brands including our longest-running brand Toto. The strong marketing and visibility of the international brands along with their more advanced features give them an upper hand.
The post-pandemic retail of bathroom accessories for dealers
COVID-19 pandemic affected the business of all bathroom accessories dealers including ours, heavily. The country went into lockdown in March. Naturally, it hit our business too. The months from March to July were quite tough for us.
Thankfully, now our business is in its recovery mode. In fact, our sales have increased greatly in 2021. The market is growing and we are able to meet our targets now.
We have to follow up with our customers more intensively now. Also, we are giving more discounts and offers. Having said that, not much has changed in the market for us. We still have good customers and sales. So, we don't face any major challenges.
Our (dealers) association with Stiebel Eltron bathroom accessories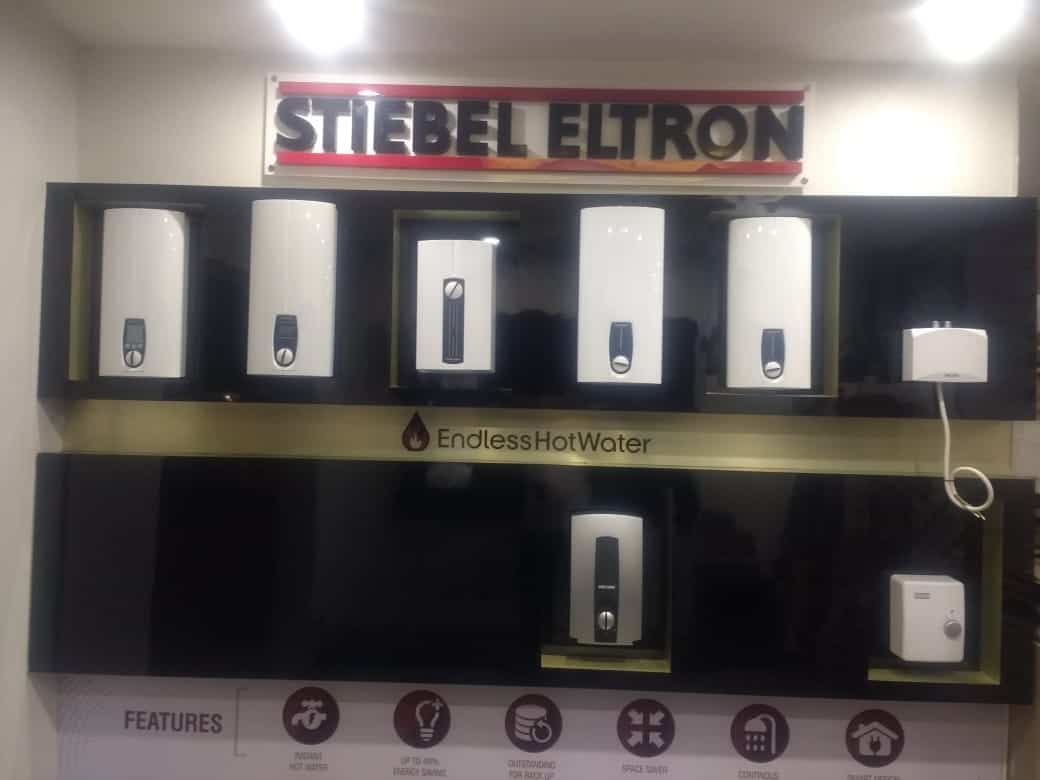 Management and products remain very crucial for every brand. Stiebel Eltron offers top-notch products. India trusts German products, anyway. So, that adds to the feasibility of selling the brand.
In addition to that, the brand offers wonderful service. They have increased their staff recently. We can always contact them for minor queries, technical knowledge, and any other assistance.
They are launching their display center in Pune. It will become operational in April, probably. We are quite positive that it will be a great help for us.
Our industry is quite challenging. The product range remains quite diverse. Adding to that, it becomes even more important to offer on-time, quick, and easy services. This is where most brands succumb.
However, with Stiebel Eltron, we remain assured that they are always there for their bathroom accessories dealers and customers. Every customer wants the best price and best service. He gets both these requirements with Stiebel Eltron which adds to the brand's success.
International exhibitions – The information source
Yes. International exhibitions like the ISH are a good source of information for us. I went to ISH Frankfurt in 2019. I received the invitation for ISH digital 2021 as well. Cersai, Milan is also being planned. I hope it does not get canceled.
International launches – India dates
As for the products to come into the Indian market, it usually takes two years for bathroom accessories dealers. For instance, I saw a Toto WC cover at ISH in 2019. The product has come to India just recently.
Then there are some products that are not compatible with the ground realities in India. To give you an example, an automatic soap dispenser, for instance, cannot dispense even the best quality soap considering the presence of hard water in India. So, these kinds of challenges remain.
Else, India has become a huge market. Every global brand wants to come to India and succeed here.
(Mr.Anil Gupta can be reached on 9814208052).
[vvsmustread]