Salice – the Italian furniture fittings brand for modular kitchens, modular wardrobes and more, has recently set up a 100% subsidiary in India. It comes with an advantage of being a known name in the Indian building materials market. Salice is now firmly in the driver's seat to make further inroads in the Indian market. Buildingandinteriors.com in conversation with Mr. Vivek Modi, Managing Director, Salice India Pvt. Ltd.
B&I: What differentiates Salice from the other players in the market today?
VM: In all the years that we have been represented in India, I feel that our solutions have not reached their true potential in this market. Now, we are directly present in India with a 100% subsidiary.
Salice offers a perfect blend of design, quality, and innovation with a 100% Made in Italy product range. Salice has more than 600 patents registered in its name. We have many unique products which are not available with any of the existing players in the market. These are some of the major differentiating points for us.
B&I: What are some of the challenges and opportunities you see in the Indian market?
VM: I find more opportunities than challenges in the Indian market. India is one of the fastest-growing economies. Aspiring customers want better solutions. Additionally, the organized furniture and furniture fitting market is growing and maturing. Increasing exposure and taste of international trends and high spending capacities in Tier II & Tier III cities all account for robust and sustainable opportunities in India.
The biggest challenge for us will be to cover such big demography in the shortest possible time. Customers product preferences also vary across different parts of the country. This is another challenge. However, I would say that given the range of solutions that Salice offers, challenges are easily convertible into opportunities.
B&I: Architects and Interior Designers – What is your message for this audience that can work with Salice? What advantages does he/she get by associating with the brand?
VM: Salice has products for every corner of the house be it the kitchen, bedroom, living room or bathroom. We are offering a unique proposition to Architects and Interior designers to enable them to blend the best functionalities in their furniture fittings and designs. Our minimalistic design products include
Air Hinge
Lapis Hinge
Wind liftup system
Pacta flap down system
Lineabox
Pin System
These ranges offer attractive solutions for Architects and Interior Designers.
Salice also has a premium sliding modular wardrobe fitting range with coplanar systems for doors weight ranging from 10kg to 100kg, Glow+ system for overlapping doors, Exedra pocket door system and Mover vertical sliding systems. We also have premium modular wardrobe Excessories collection range which won the Best of the Best award at Interzum 2019.
B&I: You already have had a presence in India through distributors. When you come to India as a wholly-owned subsidiary, what are some of the prominent objectives from the Indian market?
VM: Despite today's challenging business environment, Salice is continuing with its tradition of constant evolution. We are expanding our operations to mirror the ever-changing demands of markets around the world.
The establishment of Salice India furthers the objective of extending Salice's global reach. It also marks the consolidation of its presence in India – one of the world's fastest-growing economies.
B&I: Which all states and cities are on your focus over the next 1-2 years? How many distributors and retailers are you looking to appoint in this period? What kind of sales turnovers do you expect to achieve over 1-2 years?
VM: We are appointing channel partners across the country and in the next 1-2 years major focus will be on Tier I, Tier II & potential Tier III cities. More than the numbers we are working towards joining hands with the right set of potential channel partners in the premium modular wardrobe and kitchen furniture fitting space who can represent Salice in its true spirit.
B&I: What are your qualification criteria for identifying distributors and retailers? Are you looking at any alternative distribution network as well? What are the support services you offer to a potential distributor/retailer?
VM: Primarily, we are evaluating channel partners on criteria like reputation in the market, engagement with influencers, the possibility to set up a functional display of our products, and last but not least, financial capability to grow along with us.
Moreover, we have a dedicated sales team in all four regions along with trained technicians to help our partners with technical and installation support for our fittings, along with this we will be continuously reaching our customers, influencers, installers through digital and offline marketing campaigns, exhibitions, and various other modes of brand and product awareness activities.
B&I: Coming to the OEMs – kitchen, modular wardrobe and furniture manufacturers. What roadmap you have for this community? Do you provide some exclusivity advantages to those OEMs which plan to work exclusively for your line of solutions?
VM: Salice product line will naturally attract OEM's. For example, our Silentia+ hinge provides maximum overlay compared to other option available in the market. Similarly, we have various options available in sliding fitting which will help them to offer the best solution to their customers. I am quite confident that the OEMs using Salice products will be able to offer better and differentiated solutions to their customers. This naturally will enhance their reputation in the market.
B&I: How do you look at project business? How would it work for Salice India?
VM: Looking at our range, we will fit into the premium project landscape. To begin with, we ourselves would be working selectively in this space. The balanced business will be catered through our channel partners.
B&I: How much of Salice global range is offered in India? Tell us about your warehousing facilities in India. For the ranges not usually available, what are the typical lead times to get them to your customers?
VM: It was in the year 1956 that the first patent of the concealed self-closing hinge was registered in the name of Salice. Today, our global range is quite extensive. Moreover, this range is evolving continuously. This is also true for the Indian market. Our offerings in India will keep increasing. I would say that this is in line with the growing market expectations of moving up the functionality curve. Also, I can say that now, the Indian market will also have faster availability of our new global ranges.
We have set up 12,500 sq.ft. warehouse in Bhiwandi having all the modern amenities. It will service most of the requirements of the Indian market. With our well worked-out stock levels, it is our endeavor is provide quicker and faster deliveries to our customers across India.
B&I: Display and application centers are quite popular and effective in furniture fittings and modular wardrobe solutions. What is your opinion on that? Do you have plans on these lines?
VM: I completely agree with your point. That's the reason that we are coming up with around 2000 sq. ft. display center along with our corporate office in Thane. It will showcase an extensive range of Salice products. It is expected to be functional by mid-July. We are also working on plans where our partners across India will be able to put up display galleries on their business premises.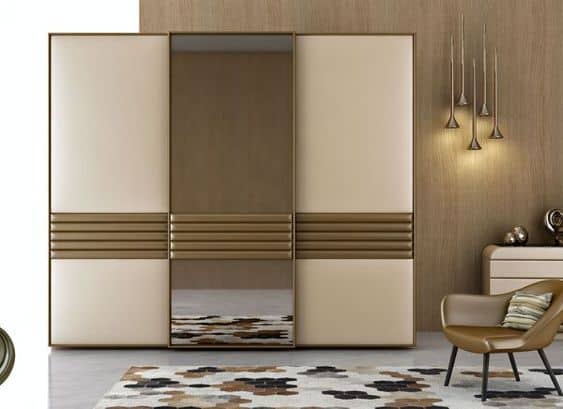 Wardrobe designs have come a long way from where they started. Can you imagine a…