How do you distinguish between a good and a poor furniture item? Your first thought would be its design, look, and feel. But, there is a lot more to furniture items than their external look. Firstly, furniture building material plays a key role in determining its durability. Secondly, furniture hardware or furniture fittings are extremely important for the strength and functionality of the furniture.
Generally, in order to cut down the overall furniture budget, the users sideline the furniture hardware. However, this is where things go wrong.
It must be understood that without good furniture fittings, a piece of furniture, no matter how precisely made, will not last long.
If you want to buy top-quality furniture fittings from the best brands, click on the link given below to check your options and submit your inquiries:
For more details, contact below:
Email: mukul.jain@buildingandinteriors.com
Mobile: +91 99676 32127
What are furniture fittings and hardware?
Furniture fittings are the foundation of any piece of furniture. With their unlimited permutations and combinations, they fundamentally give aesthetic diversity and convenience, resulting in stylish and innovative furniture. Also, furniture hardware refers to the sliding rails, hinges, couch legs, lifters, backrests, springs, gun nails, foot codes, connections, activities, fastenings, baskets, and embellishments that are used on furniture. It's also referred to as furniture assembly.
Common furniture fittings and hardware
Every furniture hardware item plays an important part. One cannot be substituted with another. Moreover, you cannot skip the installation of any furniture hardware item, no matter how small and insignificant it might seem to you. In fact, the smallest furniture fittings are usually the most essential to hold the entire furniture model together. Therefore, let us understand some common furniture hardware items and furniture hardware systems.
Screws- Fastener
The screws are the most widely used hardware items for woodwork. Also, they are used to assemble the individual wooden pieces together to shape an item of furniture.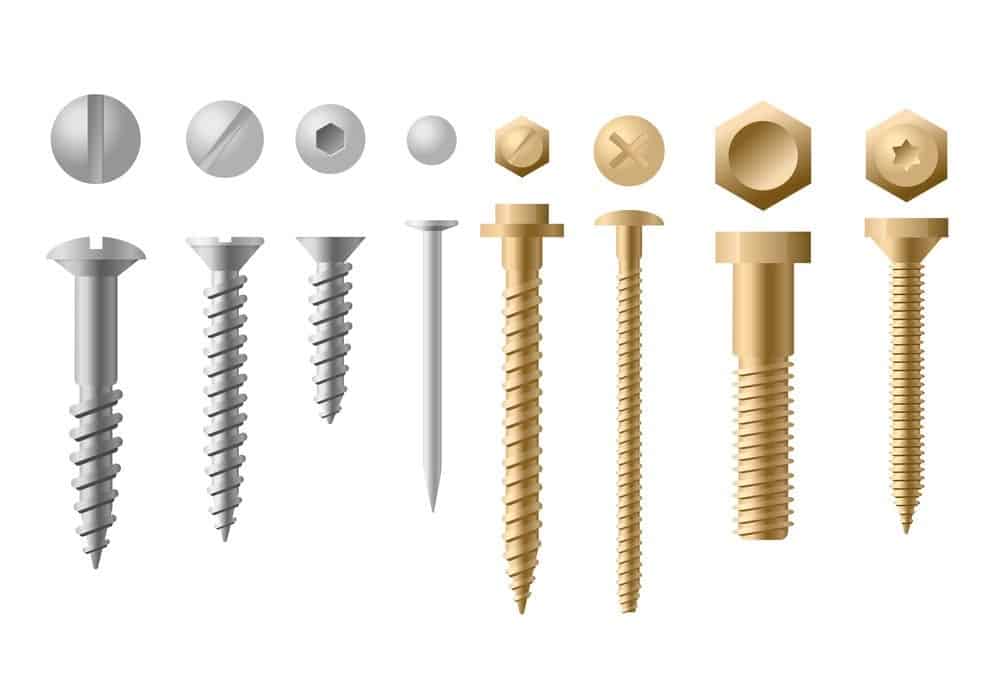 Benefits of screws:
Screws or fasteners are best to hold things where expansion and contraction of wood take place. Also, the screws set in the screw slot and their grip remains unaffected by atmospheric changes.
It is easier to dissemble screwed furniture items than glued ones. Also, using glue makes detaching almost impossible without causing potential damage.
They assemble bathroom cabinets, kitchen cabinets, living room cases, bed frames, etc. feasibly and quickly.
You can use decorative screws to add to the aesthetics of the furniture.
Types of Screws or Fasteners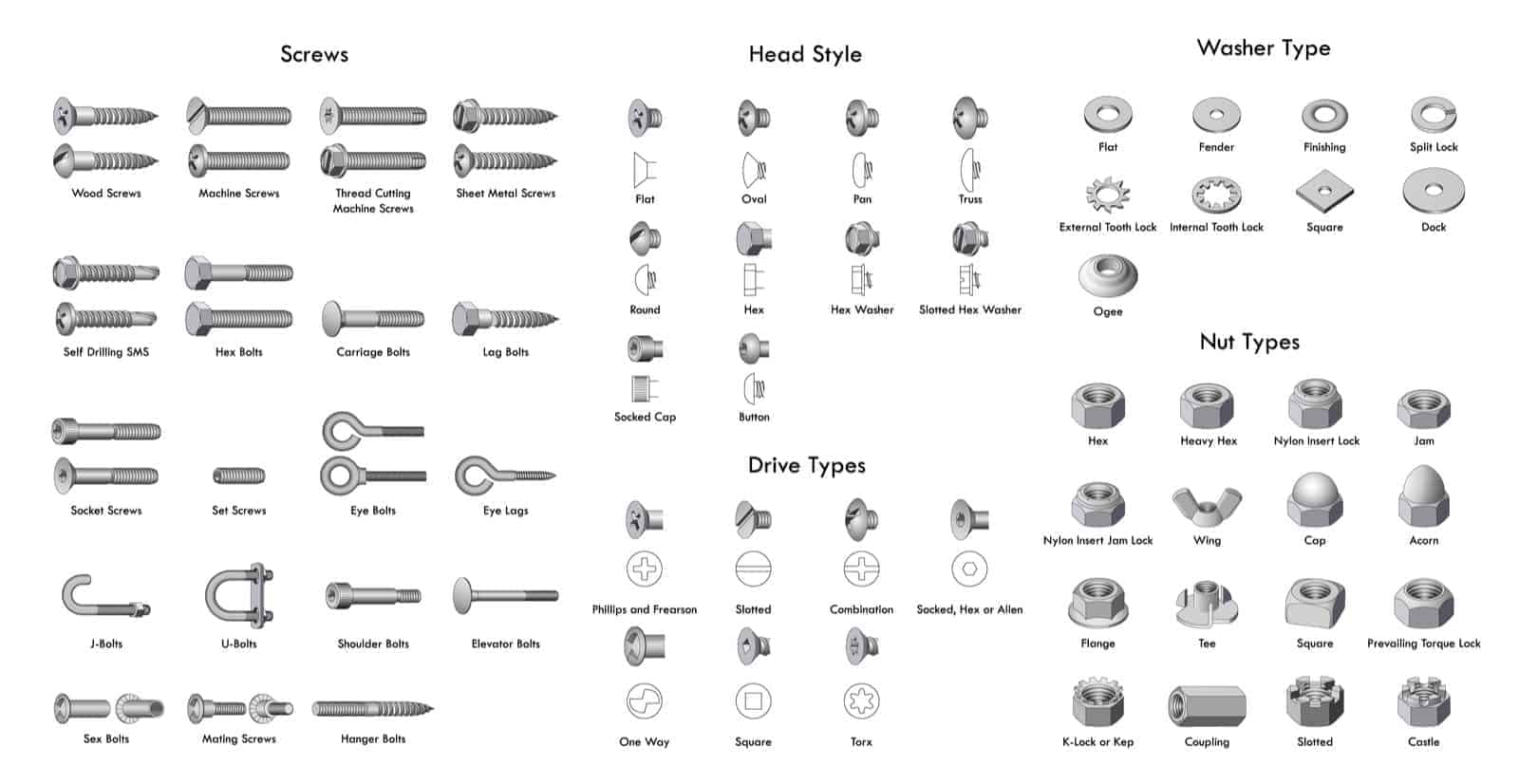 Standard wood screws: Designed to combine two wooden pieces together. Also, they have a smooth top shank to hold the screw in place. They are affordable and versatile.
Drywall screws: Their shanks are thinner and cheaper than wood screws. However, we don't recommend them for heavy-duty furniture items as they are prone to snapping.
Multi-purpose screws: These types of screws or fasteners are made with hardened steel. These screws do not break or snap. Moreover, they do not need pilot holes as they come with self-drilling points.
Deck screws: Coated with corrosion-resistant substances, the deck screws are ideal for outdoor furniture items and other outdoor projects.
Stainless steel screw: They are even more corrosion-resistant than deck screws. However, they are not as strong as the latter. These types of screws are extremely expensive too.
Pocket screws: These self-drilling screws have a wide head. Also, they are preferred to wood screws as the latter might split the wood or drive all the way through. On the contrary, the pocket screws are easy to seat on the surface.
Sheet metal screws: They are used for metal surfaces. Their sharp point pierces and drives smoothly into the sheet metal.
Hinges
Cabinet hardware hinges are crucial for the functionality of cabinets and other storage systems. The choice of hinges mostly depends on the cabinet door and face frame. Also, there are two main types of cabinets- face-frame and frameless cabinets. You must choose the right type of hinges for the best furniture functionality.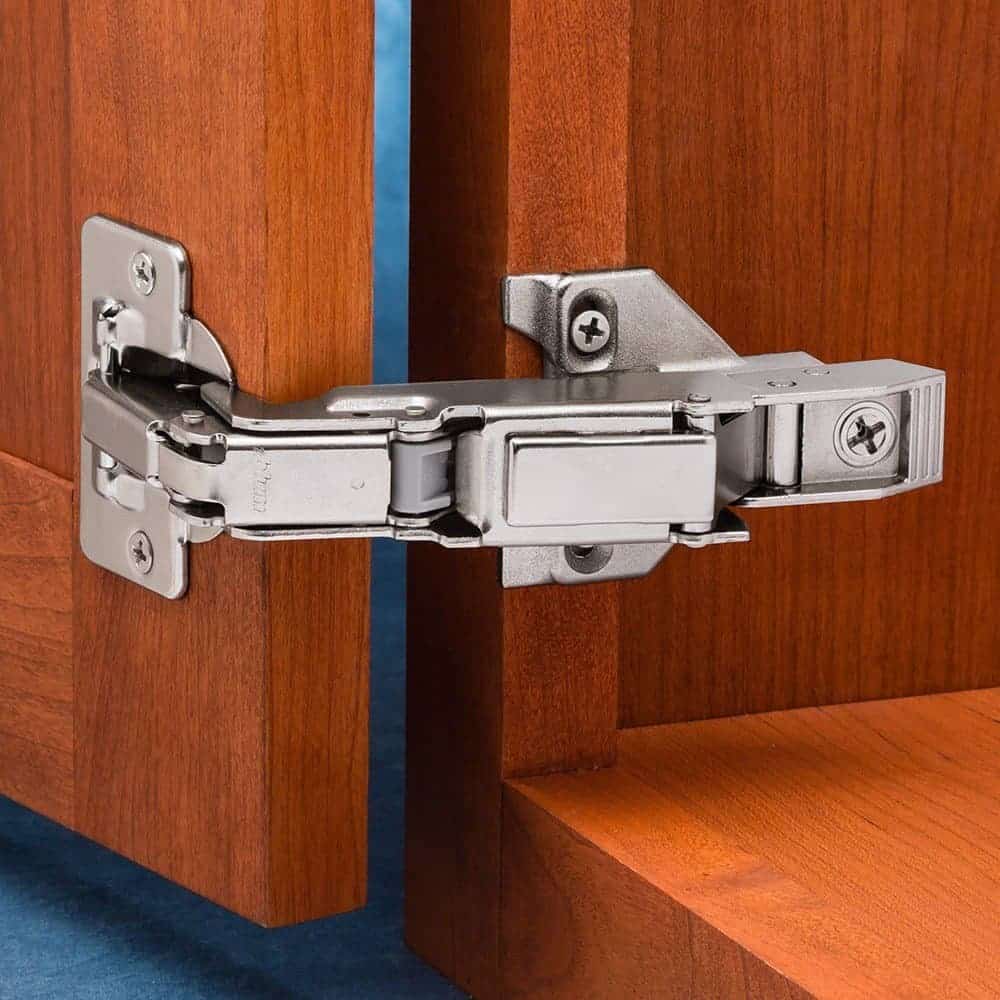 Types of Hinges:
Concealed Hinges: They are not visible from the outside of the cabinet.
Semi-concealed Hinges: These types of hinges are partly visible from the outside. Also, there are many decorative hinges that come with a ball or finial tip.
Exposed Hinges: These hinges are completely visible when the doors are closed.
European Hinges: The concealed hinges go well with face-frame cabinets.
Surface-mount Hinges: A mortise or hole is not needed for these kinds of hinges. It can be easily mounted to the surface.
Mortised Hinges or Butt Hinges: They require mortise cutting to fit the hinge leaves. Also, they are mostly used for interior steel doors.
No-mortise Hinges: These types of hinges are directly screwed to the cabinet and the door.
Wraparound Hinges: The leaves of these hinges wrap around the edge of the cabinet or the door. Also, they partially or fully wrap around the face frame.
Self-opening and self-closing Hinges: These hinges are activated by a push and pull to shut or open the doors and cabinets.
Soft-close Hinges: The special mechanism of soft-close hinges activates when the door is within a few inches of close position and shuts it gently and soundlessly.
Handles and pulls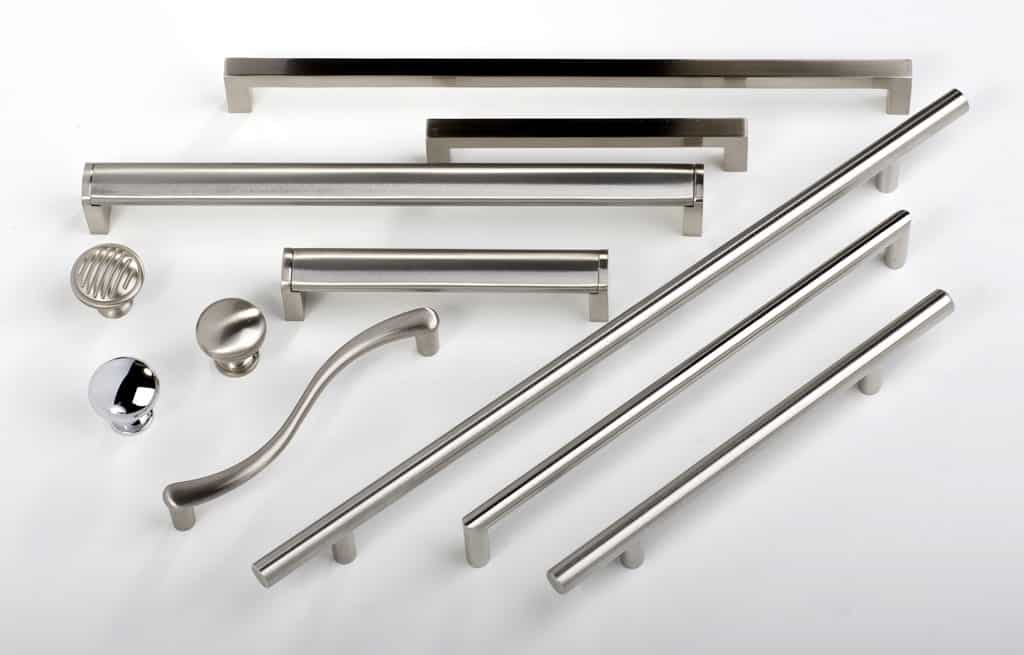 The handle is one of the most aesthetic furniture hardware items. Also, it is used to open the cabinet doors, wardrobe doors, main gates, drawers, etc. A handle is manufactured to operate the doors.
Types of Handles
Based on Material
Stainless steel handles
Brass handles
Zinc Alloy handles
Glass handles
Ceramic handles, etc.
On the basis of operation and shape
Traditional bar handles
These are basic metal handles used vertically or horizontally with bathroom and kitchen cabinets.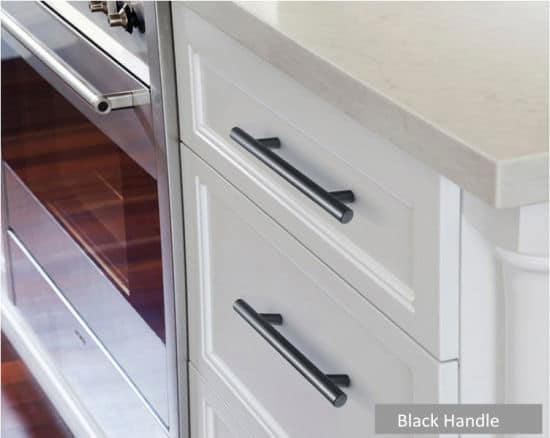 Recessed pulls
They are utilitarian door pulls for high-use doors and cabinets. These pulls do not stick out. Therefore, they are harmless and child-proof as well. If you want to have a professional look, these are ideal door pulls. They work well with stained wood, metal, glass, and bypass doors.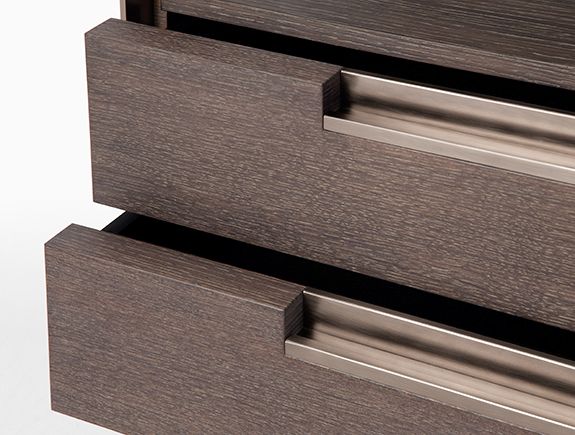 Ideal dimensions for pull-to-drawers:
Small drawers (12 inches): These work best with a 3-4 inches long pull.
Medium drawers (12-30 inches): 4-8 inches long pulls are ideal for medium drawers.
Large drawers (30-48 inches): These drawers work best with two pulls.
C or J-Channel metal rail pulls
These pulls are a minimalistic element to add to your modular kitchen cabinets. Also, they run the full length of the drawers and door designs. This cabinet hardware can be painted according to the colour of the cabinets as well. However, dust and spills often get caught in the channels.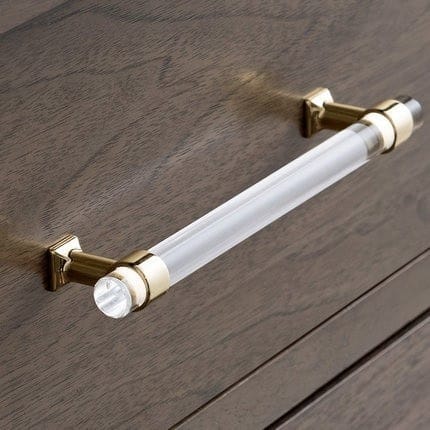 Integrated wood pulls
To create a purist, seamless look, use integrated wood pulls. They do not infiltrate the wood face. These pulls go best with minimalistic kitchens.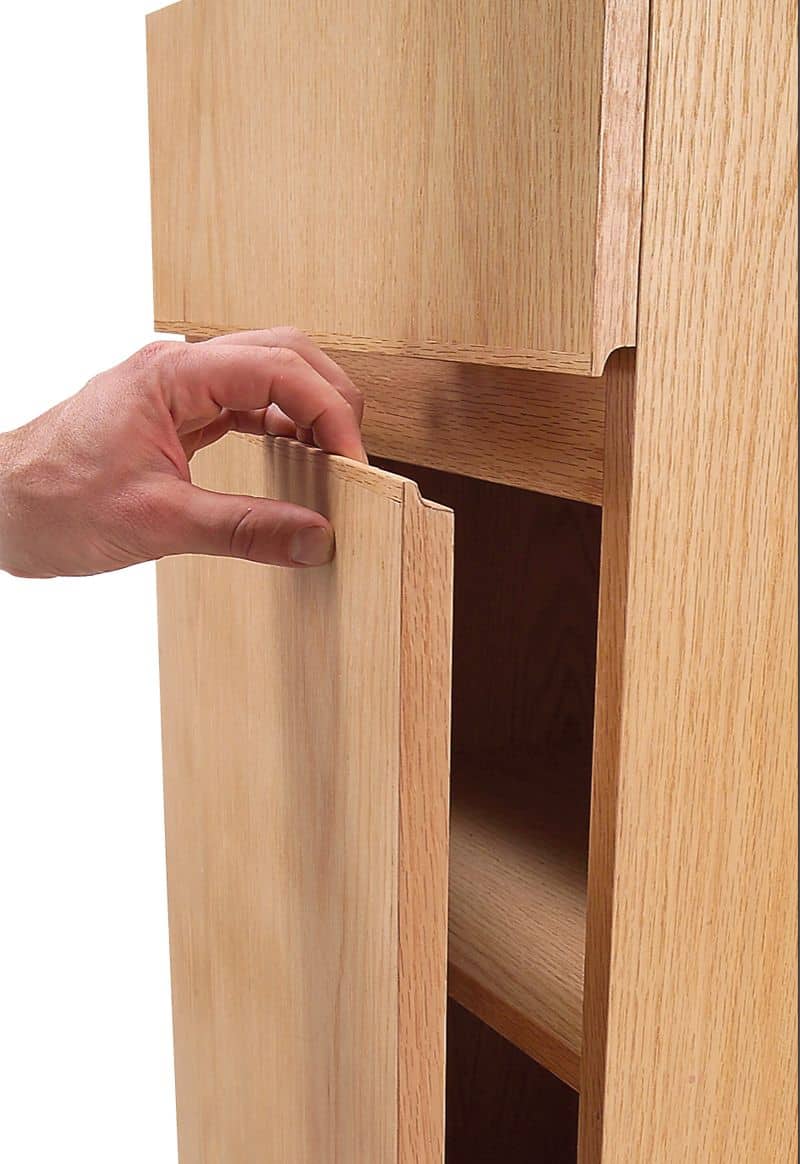 Touch latches
If you are looking for something extremely minimalistic and unseeable, go for hidden touch latches. Unlike other handles and pulls, they are completely hidden from view. So, just a simple touch allows smooth opening and closing of the cabinet doors.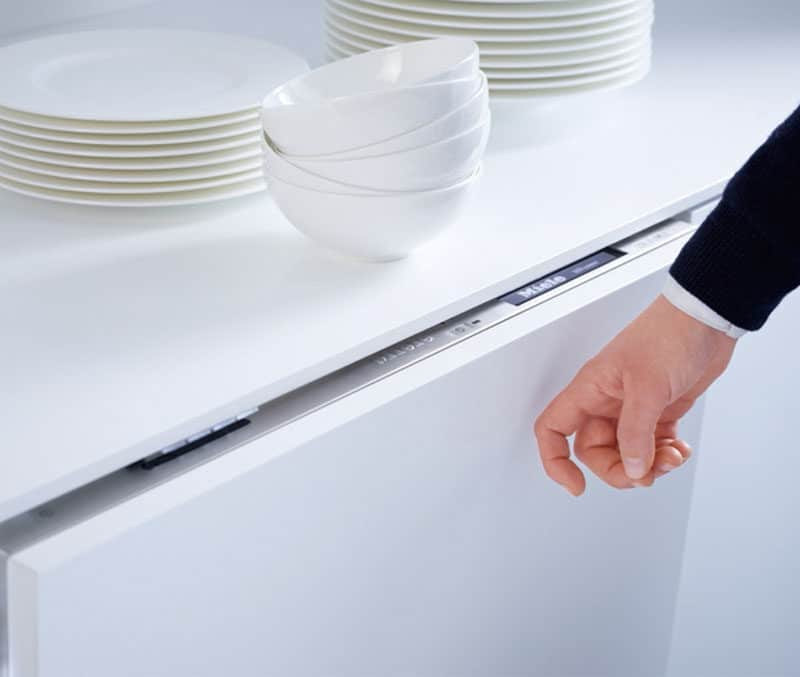 Drawer slides
The drawer slides play an important functional role. Also, a good modular kitchen should have smooth drawers that glide swiftly without getting stuck or screeching. In addition to offering a smooth gliding movement, the drawer slides should make the drawers sturdy and durable.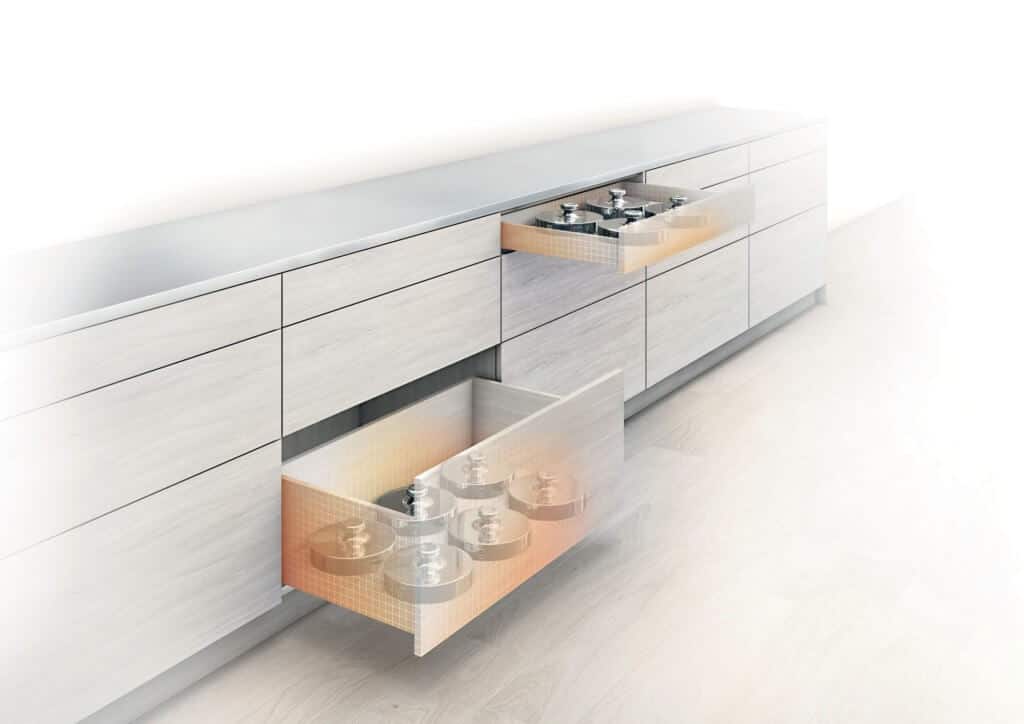 Types of drawer slides
Drawer furniture fittings on the basis of mounting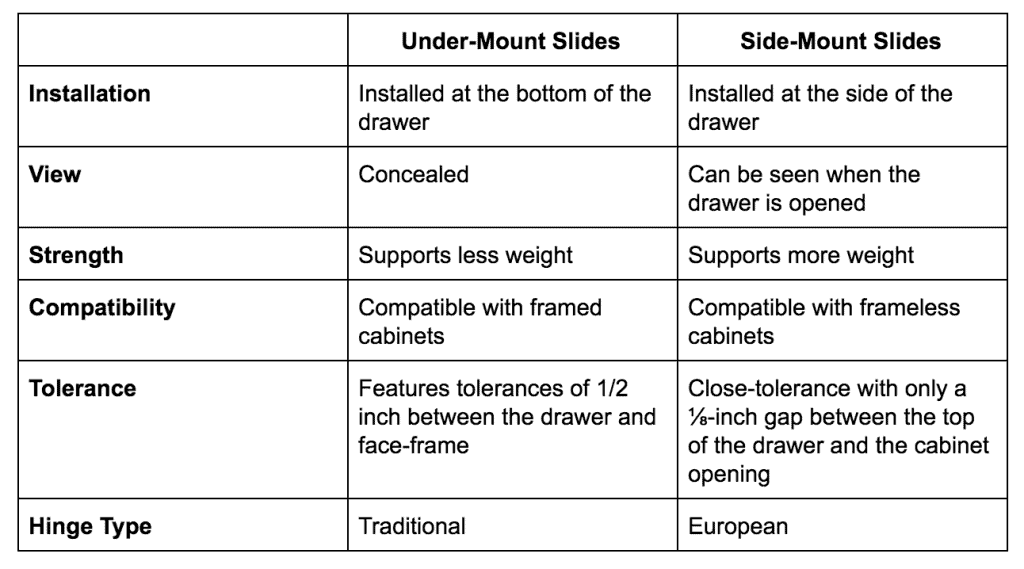 Center mount slides
These slides are mounted under the drawers. They are ideal for drawers that do not need to carry a heavy, dynamic load.
Side mount slides
The slides mount to either side of the drawers or face-frame cabinets. They come with a ball-bearing mechanism.
Drawer furniture fittings on the basis of the sliding mechanism
Ball-bearing drawer slides
The ball-bearing drawer slides come in a wide range of configurations and sizes. They can be customized according to the storage weight and length of the drawer. They have groves to hold the telescopic parts of the slide. These slides can easily carry up to 45-50kg. Therefore, they are used in drawers that carry heavy weight.
Soft-close drawer slides
The traditional wooden slides used to make a lot of noise while opening and closing. This was somewhat reduced by metal slides. However, only after the introduction of soft-close technology drawer slides did this problem completely disappear. These drawer slides run smoothly and offer a full extension to the drawers. The hydraulic dampening stops the drawers from slamming. This not only reduces the noise but also protects the drawers from damage.
How to choose the right furniture fittings?
Now that you know about the different types of furniture hardware and their applications, you must also understand how to choose them wisely. For instance, a wraparound hinge is a good type of hinge, but is it ideal furniture hardware for your furniture?
So, find out what all to consider before choosing the right furniture fittings:
Check the functionality of the furniture hardware
For a modular kitchen, functionality plays an equally important role in its design and aesthetics. Therefore, the furniture fittings of modular kitchen cabinets should be easily operational. So, choose the hinges, latches, screws, and sliders that offer smooth and quick working. Your furniture fittings should be durable and reliable. They should solve the needs of the user.
Use handles and pulls for drawers and knobs for smaller shelves.
Antimicrobial hardware items enhance the functionality of the furniture as they make it safe from infection.
Use lift-up hinges and horizontal pulls for drawers placed on higher heights. This not only makes it easier to open such drawers but also enhances space efficiency.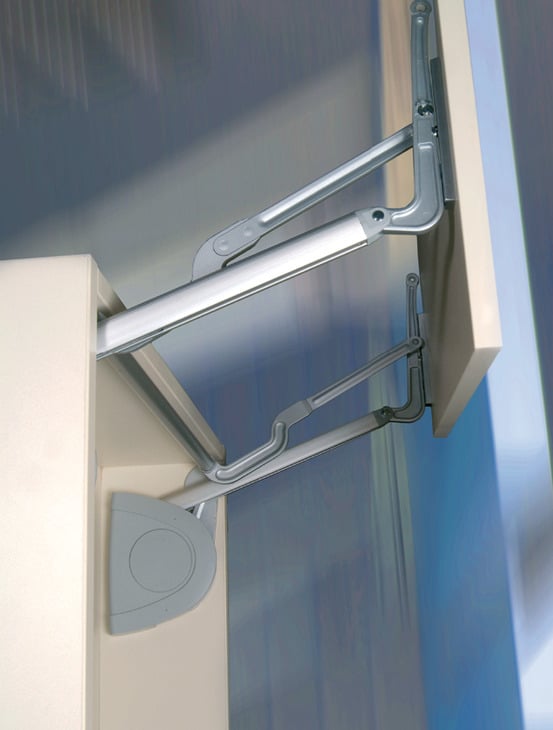 Check the furniture fittings material
As discussed previously, the furniture building materials and hardware materials should be complementary to each other. They must be such that they enhance each other's productivity and longevity. Also, for modular kitchen cabinets and furniture, use water-resistant and fire-resistant materials. For minimalistic modular kitchen design, pick the materials that match the colour scheme of your kitchen for a seamless effect.
Check the design combination of the woodwork with the furniture fittings
Moreover, you must also consider the aesthetical needs of your kitchen. For example, use a hidden touch latch, soft-close concealed hinges, and seamless screws for a minimalistic modular kitchen.
A square cabinet design, like a 'shaker', can have hardware with round edges with a square contour design.
For a curved cabinet design, use recessed pulls. In fact, if you have pets and kids, a cabinet design with curved edges and recessed pulls is the ideal furniture model for you.
Modern look: Long and short tubular pulls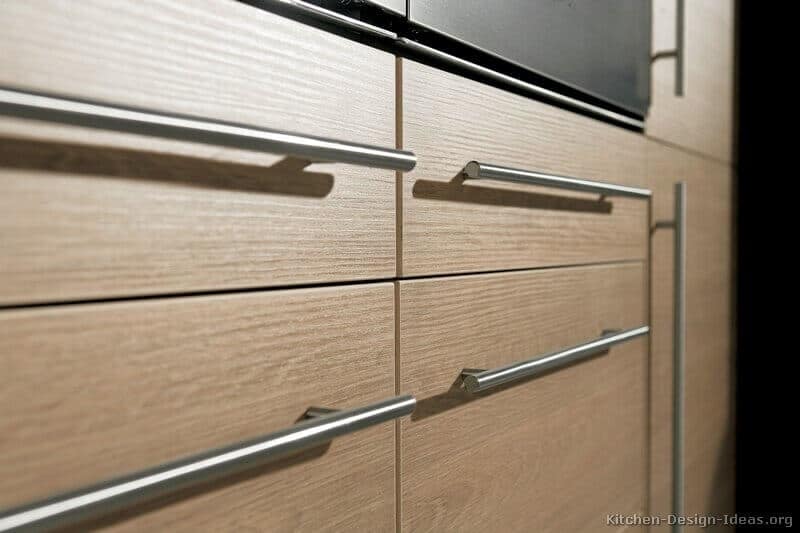 Contemporary look: Flat bar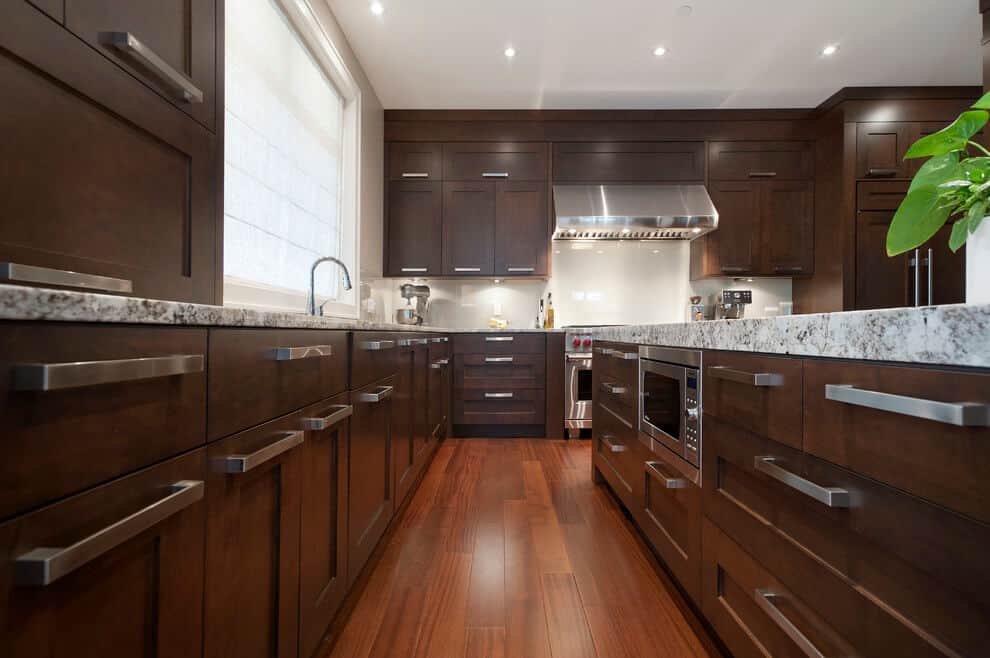 Traditional look: Wire pull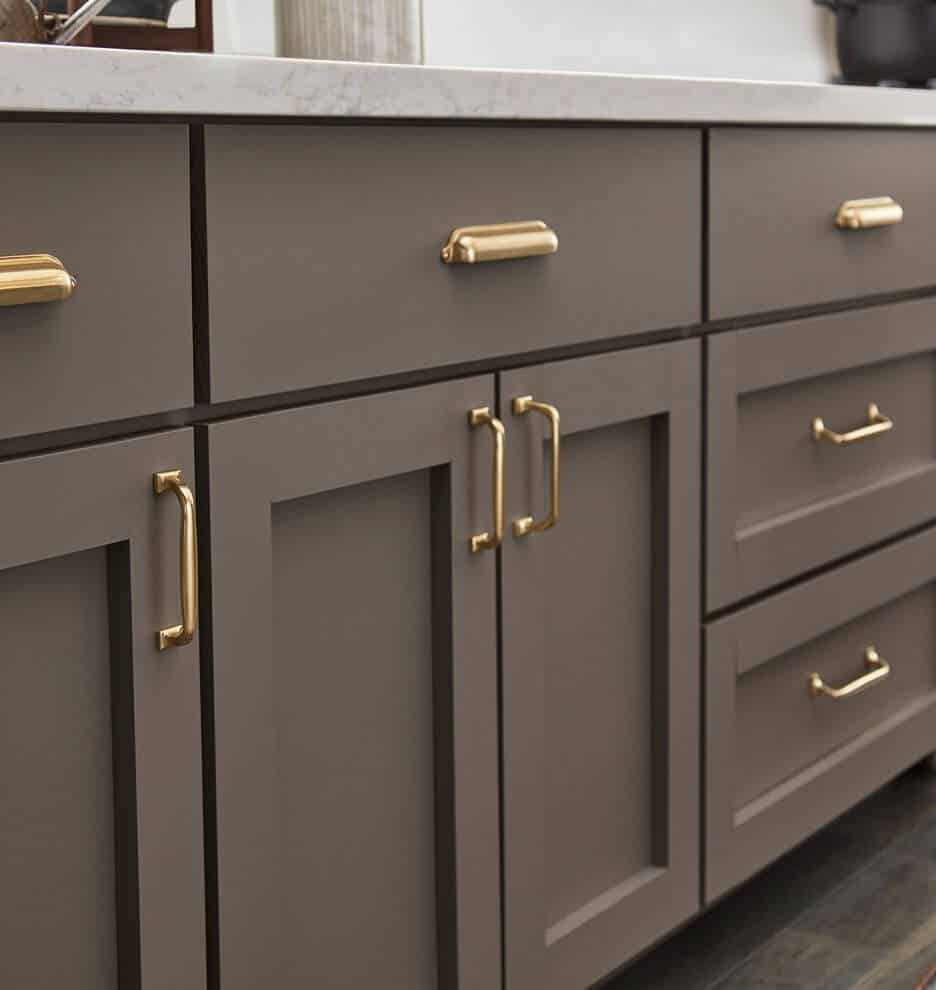 Vintage look: Exposed screws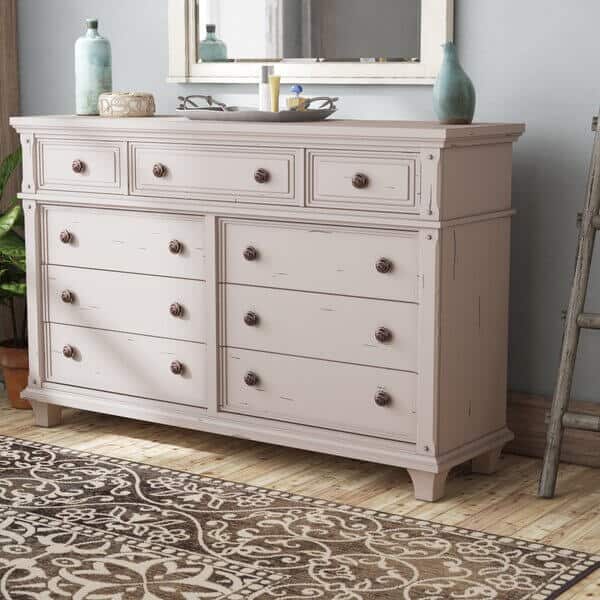 Minimalistic look: Hidden touch latch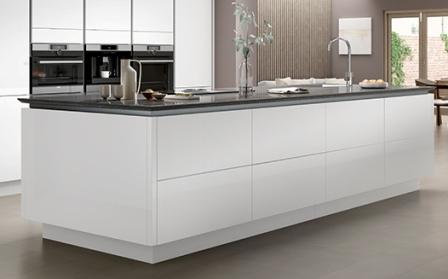 There are many furniture hardware brands in India that sell good-quality furniture fittings. Also, they also manufacture innovative, award-winning hardware items that redefine the furniture sector time and again.
Top Furniture Hardware Companies and Brands in India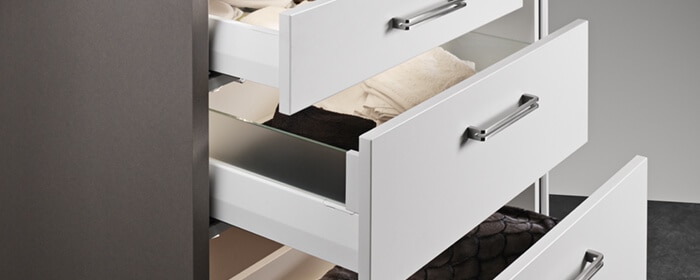 The brand manufactures a beautiful assortment of furniture hardware. Hafele uses modern technologies to develop innovative furniture fittings. The brand makes more than 4000 furniture hardware items. Also, Hafele's handles, knobs, hinges, locks, and flap fittings come with latest features to give maximum functionality to the furniture. Moreover, Hafele manufactures excellent drawer systems, sliding solutions, drawer and cabinet runners.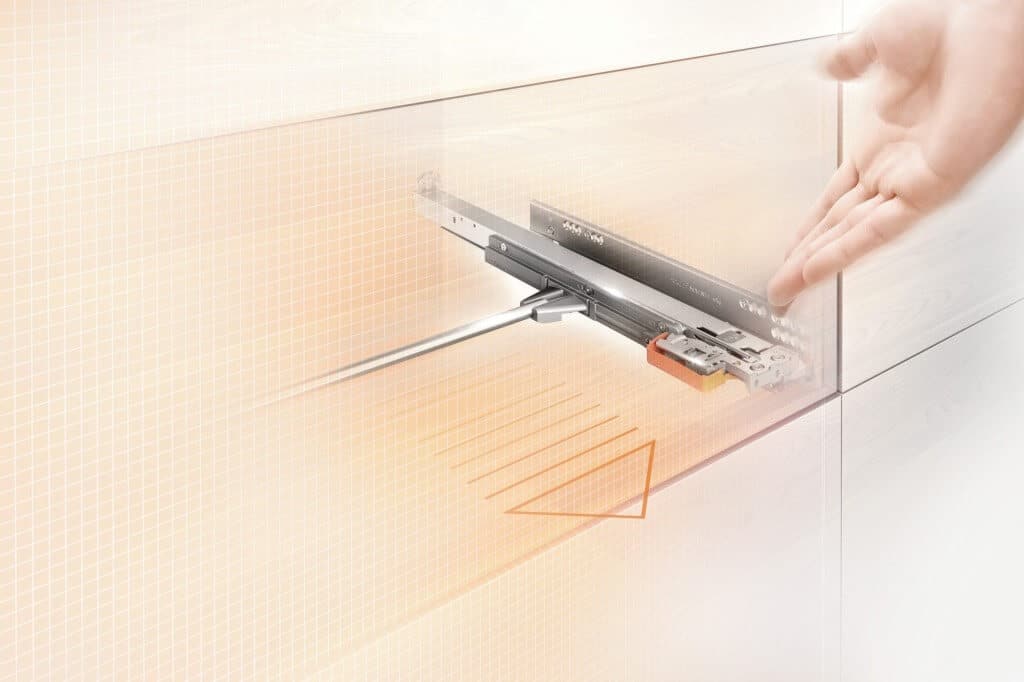 Blum uses the most advanced, innovative technologies to manufacture its furniture hardware. Also, Hafele is the official marketer of Blum in India. The Tandem drawer systems use BLUMOTION technology that allows super soft-closing.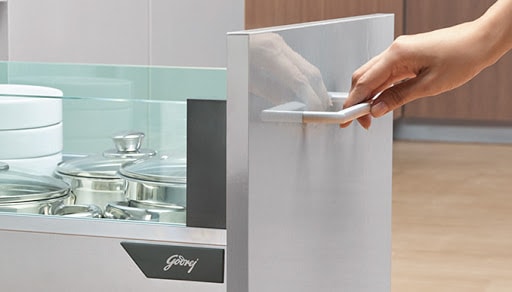 The brand started working in 1897. Today, after over a century, Godrej is acing the furniture fittings market. It has pioneered locked solutions among several other high-quality furniture hardware items. Also, Godrej's ERGO boxes, Soft Pro drawer system, smart drawer channels, soft-close hinges, and other accessories are top-notch and suitable for modern furniture.
Sugatsune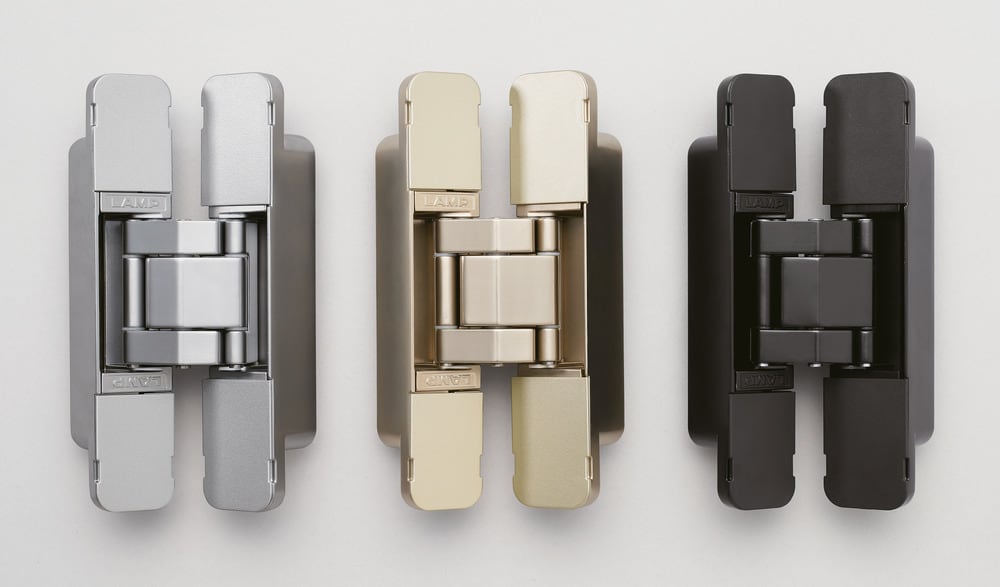 Sugatsune manufactures innovative furniture hardware for LAMP. Also, the company makes premium-quality dampers, handles, knobs, latches, pulls, drawer slides, etc. using its revolutionary Lapcon technology. LAMP's Monoflat Lix-X heavy-duty hinges are ideal for cabinets that need to carry heavy loads.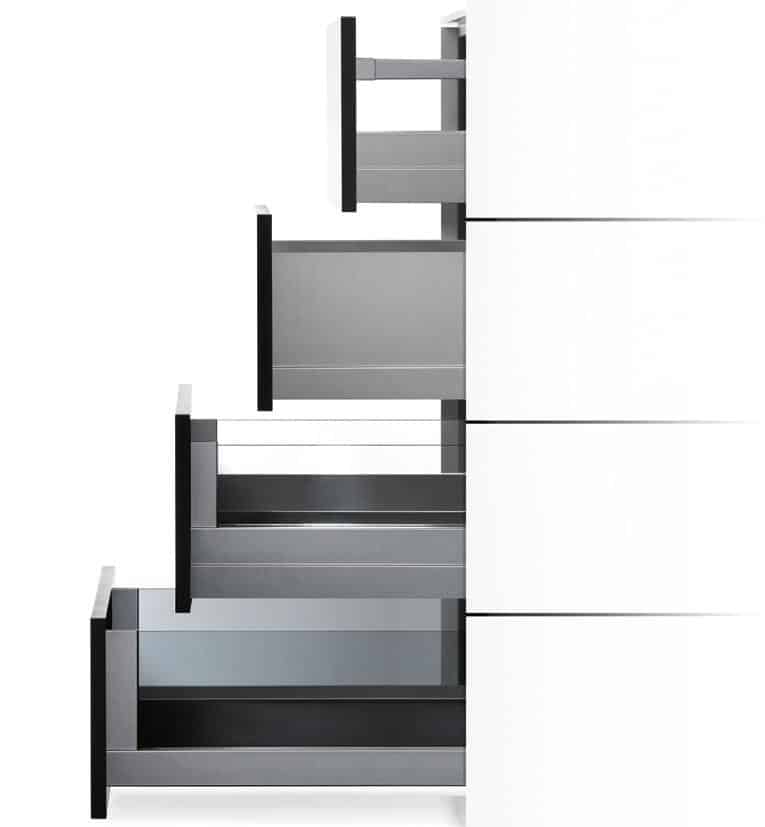 Another revolutionary furniture hardware brand in India, Grass manufactures high-quality hinge systems. Additionally, the brand's drawer systems such as Nova Pro Scala drawer systems, Vionaro cubist drawer systems, etc. are ideal for a minimalistic modular kitchen.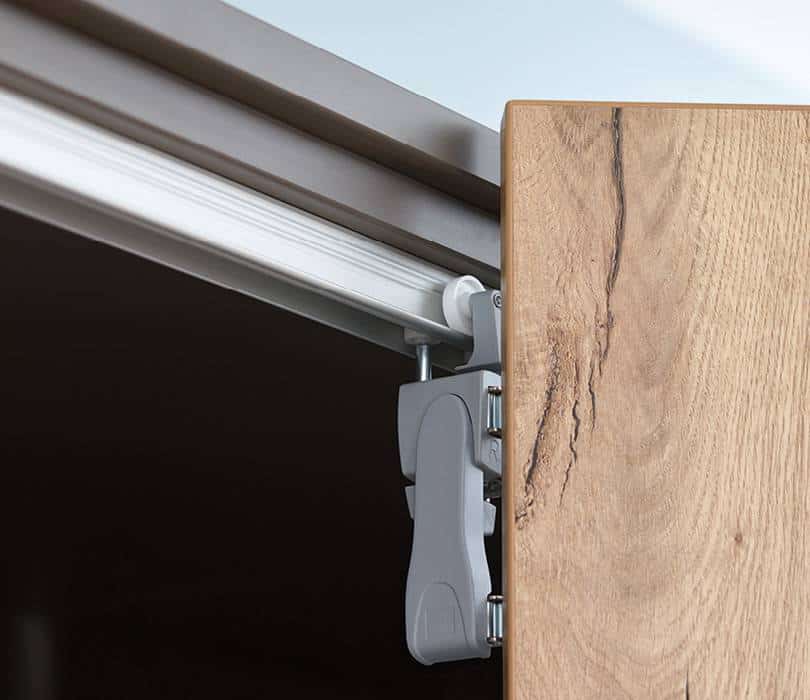 For the most innovative furniture hardware items, go for Hettich fittings. The flexible and multi-functional hardware adds great value to the furniture. Also, the Sensys hinges, Onsys fast assembly hinges, ProLock luxury handles, and AvanTech YOU drawer system are some of the latest additions to the list of furniture hardware systems by Hettich.
The top furniture hardware companies and brands in India give the best furniture hardware fittings. However, if you want to know about the most innovative and futuristic furniture hardware items, you must visit the international exhibitions for furniture fittings. Also, these exhibitions present the never-seen-before furniture hardware products that totally revolutionize the hardware industry.
Furniture hardware recommendations (Buy Here)
Hettich

Obsidian Black Sensys 8645i Hinge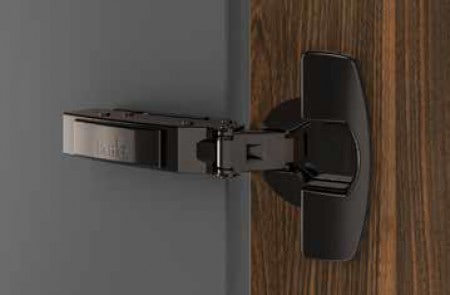 Grass Tipmatic Soft-close Furniture Fitting and Hardware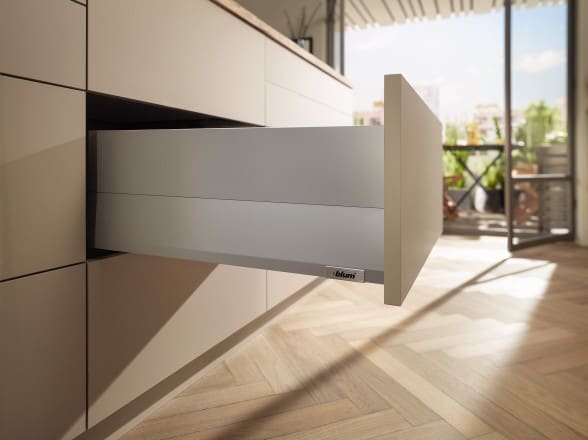 Hettich Quadro V6/550 mm Silent with Catch drawer runners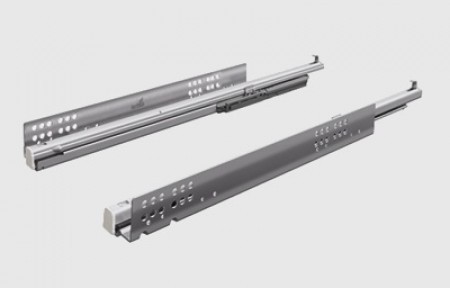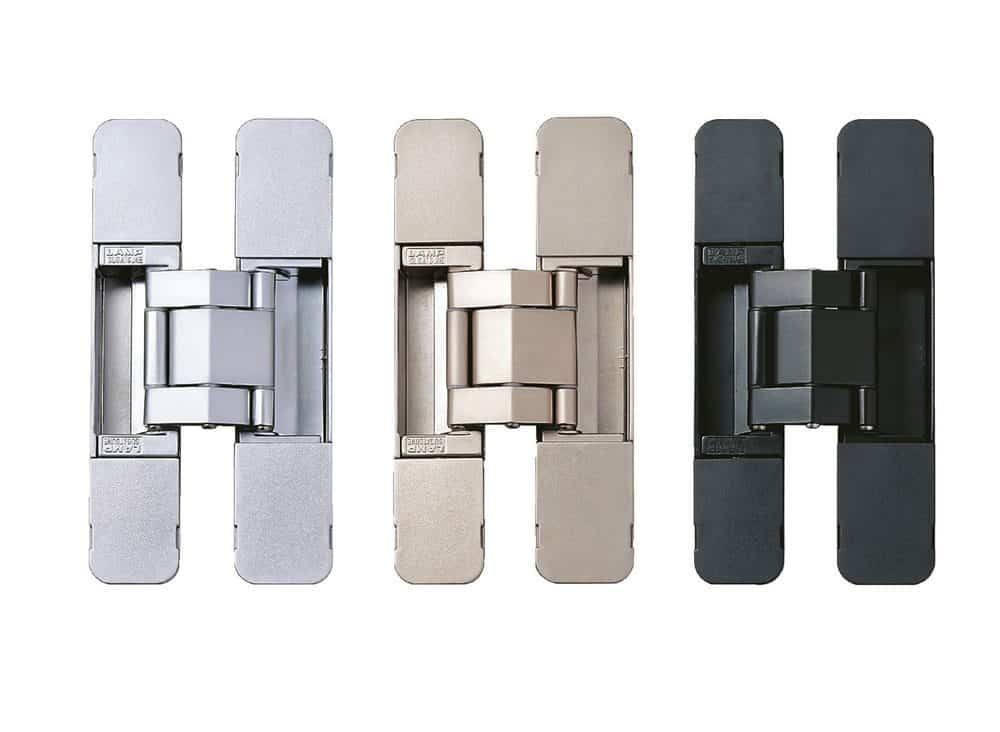 Godrej Regular Gas Spring Furniture Fitting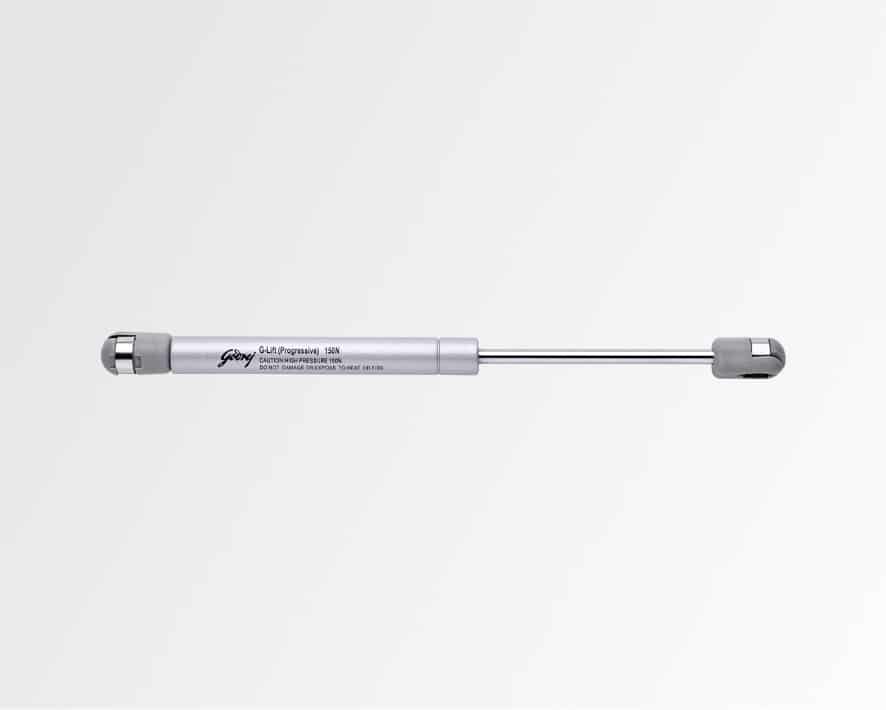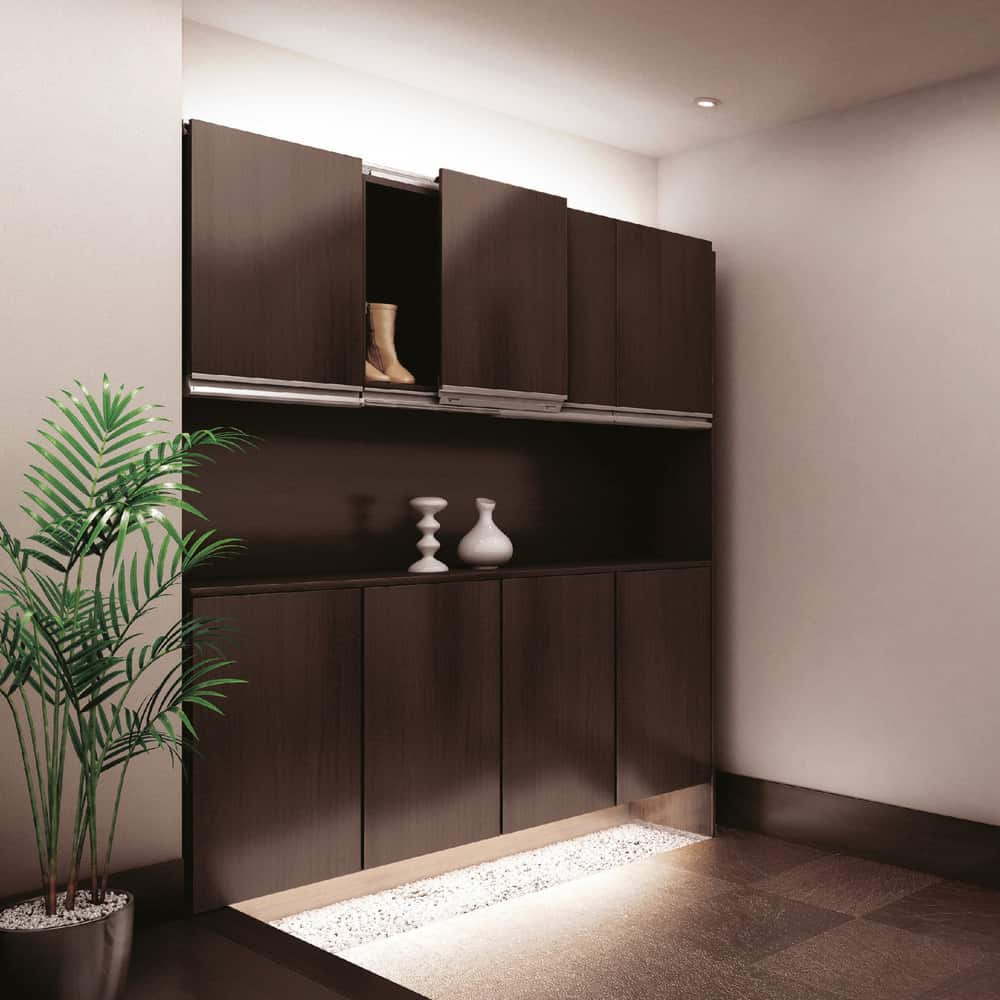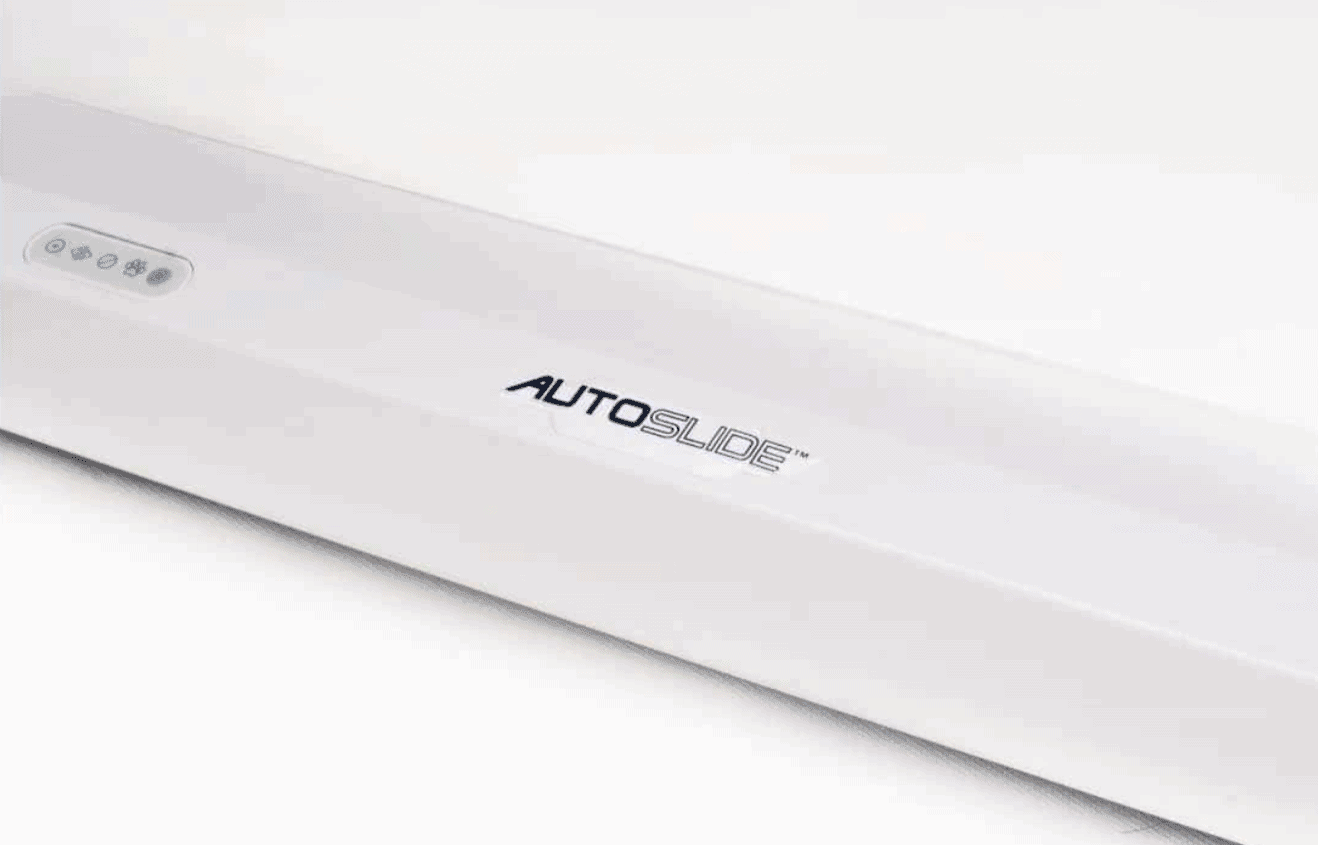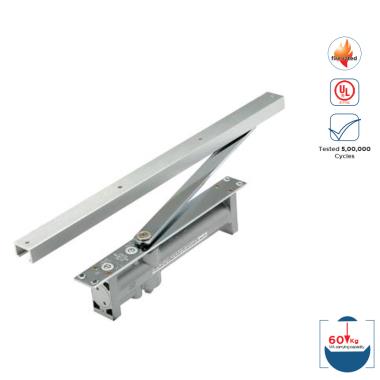 Popular furniture fittings and hardware exhibitions
SICAM organized in Italy is one of the biggest furniture hardware trade fairs in the world. More than 100 countries participate in the fair. You will get the latest and most innovative furniture fittings at SICAM.
Interzum Guangzhou and Interzum Germany are other major exhibitions for furniture hardware. The event is one of the most popular furniture hardware trade show in Asia. All the leading brands showcase their most innovative products here.
Tips for furniture fittings installation
Using shock blocks in drawer systems reduces the pressure and vibration on the furniture components while operating the drawers.
The drawers must be manufactured precisely with the right dimensions for the furniture fittings to fix and mount properly.
To avoid rusting and moisture damage in hinges, use rust-resistant stainless-steel hinges for outdoor and kitchen furniture.
If you have to install a hinge across the complete vertical length of the door, choose a piano or continuous hinge.
The stainless-steel coating on the screws causes the bolt and nuts to weld together. Therefore, to avoid it, the carpenters should use galling-resistant lubricants before installation.
Avoid using aluminum and stainless steel together as they cause a transfer of electrons. As a result, galvanic corrosion takes place which hampers the quality of the furniture.
Do not over-tighten the screws. It's one of the most common mistakes made by carpenters. In order to fix the pieces firmly, the craftsmen use too much pressure and over-tighten the screws. This not only damages the threads but also weakens the furniture over time.
The ideal cabinet handles and pulls are 1/3rd the size of the cabinet's width.
Conclusion
You should choose the furniture hardware items wisely and install them precisely. All the furniture fitting components come in a wide range of categories. Select the best hinges, handles, screws, and slides to build an ideal furniture item for homes and offices. In addition to that, buy the hardware from reputed brands to offer the desired durability, strength, and functionality to your furniture.
Understand the needs of the user and the furniture to choose the most suitable furniture component. Know the basic tips and tricks of furniture hardware installation. These techniques will help you avoid any mistakes while building a furniture model.
If you want to buy top-quality furniture fittings from the best brands, click on the link given below to check your options and submit your inquiries:
For more details, contact below:
Email: mukul.jain@buildingandinteriors.com
Mobile: +91 99676 32127
[vvsmustread]