Hafele redefines what smart living means – from smart lighting to smart appliances and smart home devices, full connectivity, and above all smart furniture – everything that goes into the making of a smart apartment. Moreover, it's becoming evident how easily the smart world of the furniture industry and joiners/cabinet makers can be implemented with the Häfele product range and the many new products.
The company provides proof of competence using the example of a micro-apartment, networked with smart components as well as a kitchen with sophisticated lighting, controlled by a smartphone or tablet.
Hafele Connect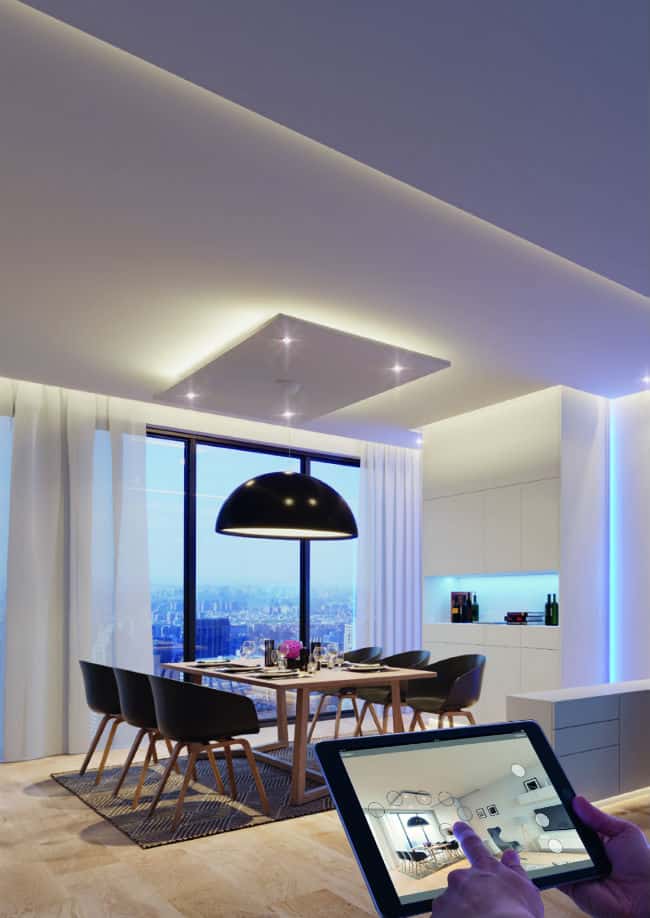 Image Source: hafele.com
Smart technologies & furniture within homes add to the experience of easy as well as smart living. Häfele Connect – an innovative, intelligent as well as wireless system – offers you exactly this by connecting and operating the entire lighting of your entire home. With Häfele Connect you can now create the perfect atmosphere for many moods and settings with a centrally controlled system that is linked to your smart device – as easy to operate as the swipe of a finger!
Features of the smart apartment and furniture
1. Start the "Wake up" scene with one click via the Hafele Connect BLE wall switch.
2. Automatic opening of the Hafele eDrive wardrobe, a 230 V electric curtain as a room divider, activating the mirror light in the bathroom, and coffee preparation via an integrated BSH coffee machine.
3. Start of the "Work" scene with smart furniture via voice control.
4. Automatic adjustment of functional room and furniture lighting, closing of the wardrobe, lifting up of the workspace, and opening of the roller shutter.
5. Activation of the "Leave the apartment" scene via voice control.
6. Automatic switching off of all lights, lowering the smart furniture & table, and locking of the door.
7. In addition, activation of all luminaires via KNX wall module on arrival at home.
8. Switching off of the room & furniture light using smart Hafele Connect BLE remote control.
9. Start of the "Movie night" scene via Hafele Connect Mesh App.
10. Automatic recall of the optimal lighting for evening and activating the TV lift at the sideboard.