There is a lot that goes into the making of a "perfect" modern home. Storage and organisation are key to a clean and clutter-free room, but organising is a chore that we all loathe. One of the most difficult tasks is to maintain a clean and organised wardrobe. The simplest and trendiest solution to your wardrobe hassle is a walk-in wardrobe. A walk-in wardrobe is basically a large closet design for storing your clothing and accessories. The wardrobe is a room large enough to allow you to walk in through an entry sliding or hinged door and browse through your items. The room is a wardrobe but also a dressing room, making it a practical solution for your storage. A walk-in closet is an assortment of open shelves, drawers, sliding doors, partitions, mirrors, and vanities.
Contrary to the belief that walk-in closets are only for luxury users, they are now popular in compact apartment settings too. Nevertheless, it does require a tad bit more space than a regular built-in wardrobe. Due to its functionality and convenience, more and more people are switching to walk-in wardrobe systems. However, the walk-in wardrobe has a specialised customer base. It is an essential home improvement upgrade for those who like to keep their belongings organised and preserved. If you are someone who loves shopping and collecting shoes and bags, then this is the storage solution that's going to change your life! 
It is a superior storing system as it can be a dressing room, storing all vanity items in one place, thus relieving your bathroom clutter too. It's not only multifunctional, but now it also become a style statement.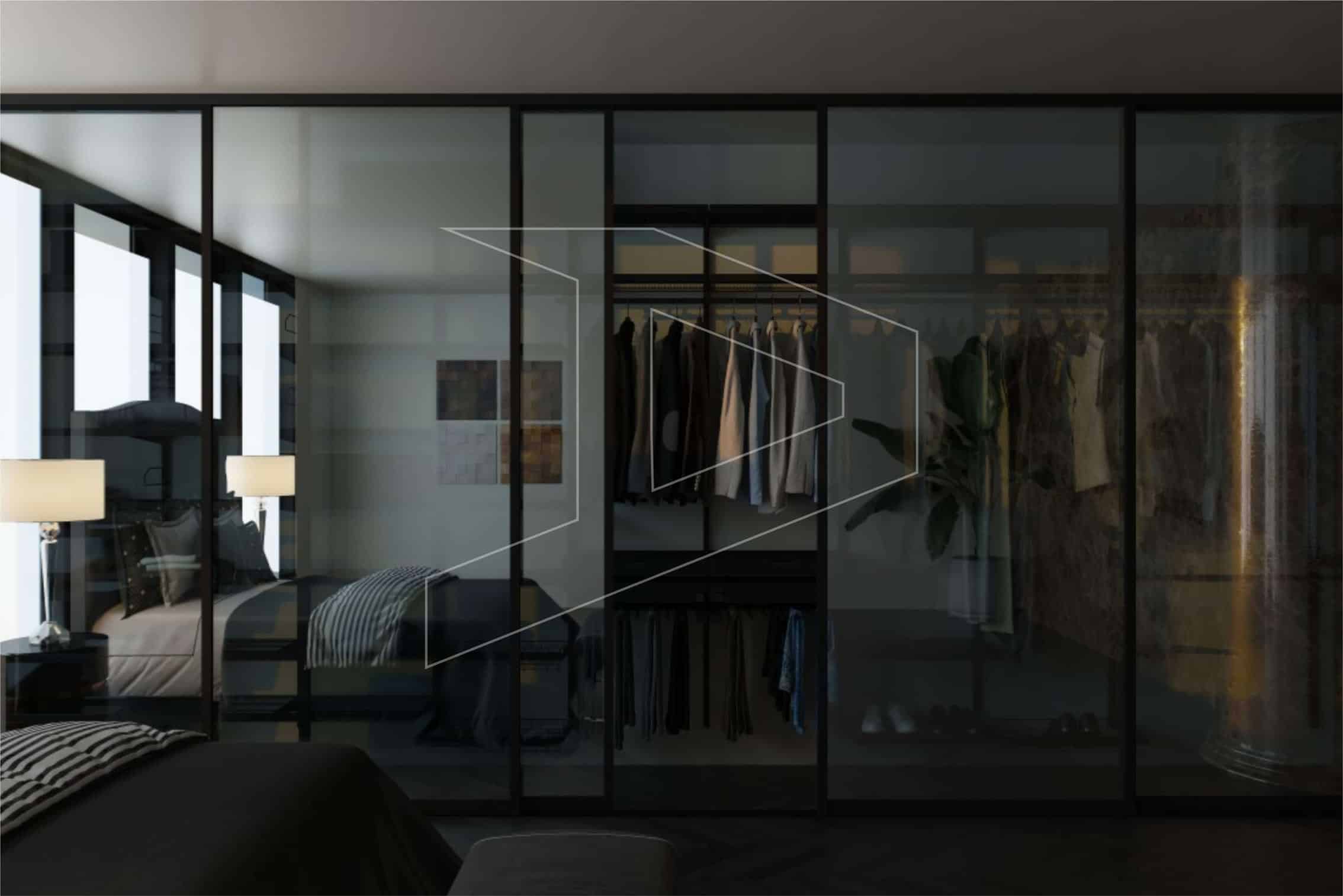 Image Source: Aristo-india.com
Challenges of walk-in wardrobe
Although it is the best storage solution for modern homes, walk-in wardrobes have a few challenges that can make the whole experience a tad bit inconvenient. Below are some of the factors you need to think about before you design your dream walk-in wardrobe.
Space: As it is a room for storing belongings, it does take up more space than a regular wardrobe. But if you do have extra space, then this is your hint to build a fantastic walk-in wardrobe!
Dust: Long Indian summers, with their arid climate, wreak havoc on all your lovely belongings with trails of dust. Since most walk-in wardrobe systems use open-shelf systems, dust is one of the biggest concerns.
Ventilation:

Many times, while building a walk-in closet, people miss out on the ventilation aspect of it. To avoid the deterioration of bags and shoes in the wardrobe, it is essential to have a good ventilation system that balances the humidity in the rainy season.
Top shelves accessibility: Walk-in wardrobes are great when it comes to accessibility. However, popular walk-in wardrobe systems have fixed shelves. Lack of mobility on shelves often makes the top ones hard to reach for cleaning or otherwise. 
What if we told you we have a walk-in closet that overcomes all of these obstacles and provides you with exactly what you require?
Aristo walk-in wardrobes
Aristo brings you a world-class walk-in wardrobe with efficient storage solutions that are convenient and effective. It is one of the leading manufacturers of wardrobes and furniture in India. The international brand is known for its innovative sliding doors, room partitions, and magnificent walk-in wardrobe systems. Their space-sensitive walk-in wardrobe system is perfect for any home setting, from studio apartments to lavish villas. With uncompromised aesthetics and functionality, Aristo walk-in wardrobes are one of the most sought-after projects for wardrobe installations.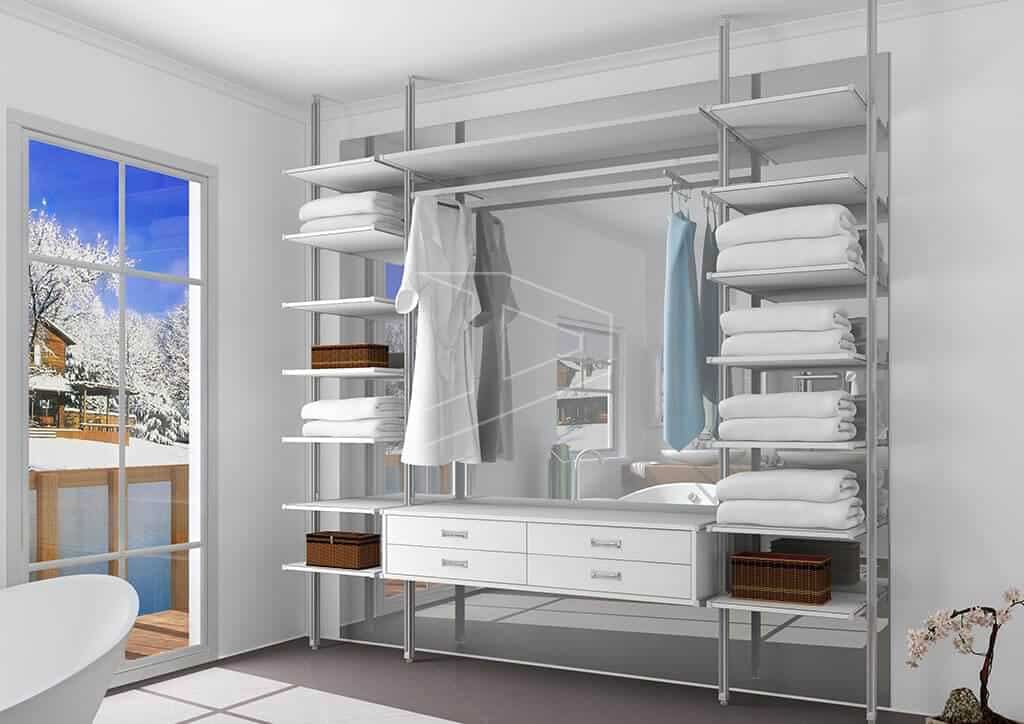 Image Source: Aristo-india.com
Special features
Pole-based system
An innovative and unique system to move and adjust your shelves' height. This feature makes life so convenient and cleaning so easy!
Detachable shelves
Aristo walk-in wardrobes are adorned with modular design mountable shelves and drawers that are easy to install and remove. You can style and redesign your wardrobe whenever you want without any hassle.
Glass door
With Aristo, you get a plethora of choices for the glass doors that make the space seem bigger and less crowded. You can choose anything, starting from swing glass doors to sliding doors with smart soft-closing technology. 
Sliding wardrobe doors
Known for its creative and advanced sliding solutions Aristo brings you the finest options for wardrobe sliding doors. This sliding door protects your belongings from dust and humidity, especially for hanging lofts. Choose from Aristo designer ranges like Classical, Reflection or Graze for wardrobe sliding doors to add that wow factor. 
Aristo room partitions that separate your wardrobe from your rooms are retrofitted thus, very easy to install. They offer various innovative, space-efficient solutions such as the Synchro system, Train system and Slide and fold system.
Since the Aristo walk-in wardrobe is built with an assortment of innovative design mountable shelves on a pole system, it allows customisation and various design options. So, now you can build your walk-in wardrobe according to your own rules.
Walk-in wardrobes from Aristo bring you the most advanced design for your drawers, doors and partitions. Their innovative technology makes the everyday use of furniture hassle-free and room clutter-free. The sleek design of the Aristo walk-in closet makes it perfect for all modern homes.
Space optimising compartments
The shelves and lofts are designed to cover minimum floor space as the storage units are installed vertically (wall mounted). The smart use of sliding doors to partition and conceal hanging lofts requires far less space than hinged doors.
Image Source: Aristo-india.com
To know more about the Aristo Walk-in wardrobes, contact on the following details:
E-mail: sales@aristo-india.com
Phone: +91-8880 160160
Conclusion
To answer the question, yes walk-in wardrobes are really worth it if you have the extra space. The kind of luxury and convenience a walk-in wardrobe provides is unmatched by any other storage option. However, it is imperative to choose the right walk-in wardrobe system that blends in with your lifestyle effortlessly. The Aristo walk-in wardrobe provides exactly what you need when it comes to smart and innovative storage solutions. These walk-in closets provide you with flexibility in design and functionality. They not only make your space look super chic and put together but also boost the utility aspect. Moreover, the well-equipped shelves, drawers and partitions optimise space like no other. Aristo walk-in wardrobe creates a new private space for you to get ready and dressed without any heavy construction. So, get the custom-tailored Aristo walk-in wardrobe now to build the finest closet in town!
[vvsmustread]