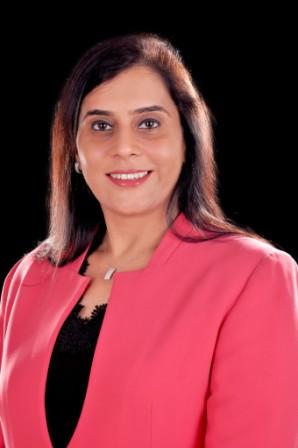 The building materials market in India is a challenging place for professionals. The variables that they need to handle makes the country a good learning ground. Being a price-sensitive market, these challenges only add-up if one is working for a premium brand. Add to that – holding the top position at such a place and it can't get tougher. Ms.Renu Misra is one such professional who headed  GROHE India before moving to the role of President, GROHE Middle East, Africa & East Mediterranean, Ms.Misra shares the learnings from her India experience and her perspective of the direction the bathrooms and sanitaryware industry is taking across markets. A buildingandinteriors.com exclusive:
B&I: How do you see your India experience helping you in your present position? Apart from the span (you have a much wider canvass now), how does India compare in terms of business challenges for the regions you are responsible for now?
RM: My India experience was diversified between industries and functions. Having worked for software, FMCG, Office automatic and now Building materials and in functions like finance, supply chain, commercial and business operations & re-organisation; my horizon has been wide and learning immense.
The challenge in every region starts with diverse cultures and way of doing business & India as a country is a good learning ground for inclusion & resilience. As a leader people value authenticity in your voice and respect in your actions which ever part of the world you may operate in. Business-wise, the trade in my current region is more cross border due to landlocked countries and no taxes, so ease is higher. Developers across the region have large scale constructions like malls, commercial areas, government accommodations, hotels & service apartments besides residential buildings & villas which leads to higher potential. There are obvious challenges related to macroeconomic situations like oil price variations&political conflicts. India on the other hand has strong B2C as the country has a large consumer base and hence reaching the last mile for companies is both an opportunity & a challenge. There is increasing potential with Tier 3 & 4 cities' development which will remain a constant for future years as well.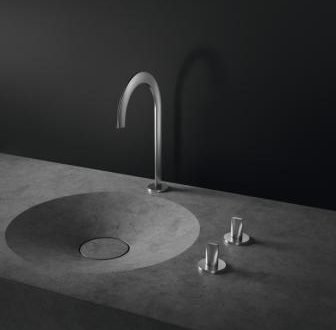 B&I: GROHE has been a pioneer in many solutions for the bathrooms industry. What are the major technologies that you think will drive the global bathroom fittings industry over the next 2-3 years?
RM: Consumers are looking for spaces that are an extension of their connected lifestyle, so the incorporation of smart objects in bathrooms is definitely a technology trend that will keep growing and evolving over the next few years with the introduction of self-cleansing toilet seats, smart showers and automatic sinks. The modern consumer is also looking to make the bathroom experience a spa-like one be it on a design, fitting, or mood level so it is important for industry players to take this into consideration when designing their next innovation.
As for GROHE, we are aiming to reshape the sanitary industry through our latest innovations, focusing primarily on Shaping the Future of Water through digital water control and smart water management. We have thrived in maintaining an innovative approach to designing sustainable solutions that contribute to a lasting positive impact on the environment as Design and Sustainability are two of our core brand pillars. This approach proved successful as GROHE received more than 240 awards in the field of design and innovation.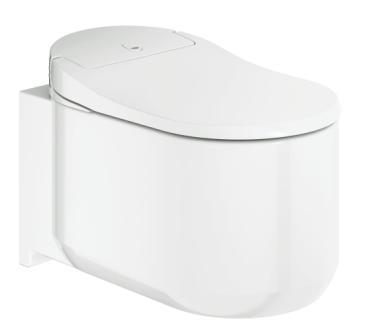 GROHE focuses on offering the best smart, environmentally friendly designs through a variety of different product solutions for bathrooms, such as GROHE Sensia Arena, the innovative shower toilet for personal comfort enhancing the bathing experience while creating exceptional value for the consumers, designers and contractors. GROHE has also released a series of taps created by 3D metal-printing setting new industry standards for distinguished manufacturers in the sanitary industry. GROHE's innovative SmartControl shower control system enables a sustainable water use experience that combines maximum flexibility and precise control. In addition, GROHE Blue Home provides the perfect tasting water straight from the tap – water that is filtered and available in chilled, still, medium and sparkling (aerated) for every kitchen.
B&I: As global markets get back to business, what are the challenges you see for your brand from the vantage point you are on?
RM: Undoubtedly, global markets are undergoing difficult times due to the COVID-19 pandemic, and the productivity of many sectors is affected. At GROHE, we are committed to continue to provide the best solutions for bathrooms and kitchens as per GROHE's global mission and efforts to achieve sustainability and shift towards carbon-free production in its factories around the world despite the unprecedented times we are facing. The business world post COVID-19 will not stay as we once knew it as new norms and working schedules have been put in place to adapt to this pandemic to protect our employees and consumers.New business models have been developed to ensure the continuity of all units of the business during and post lock down. One of the most important challenges we are facing are the visits to the showrooms and physical contact that is an important part of the customer decision-making process. However,this comes as an opportunity for us to create a new customer journey and experience digitally starting from training , sales cycle and purchase through our partners.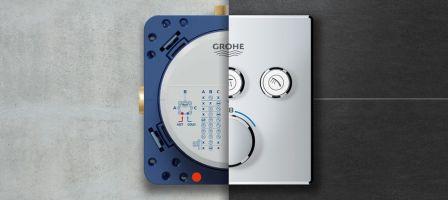 B&I: How do you see the communication across customers – Architects, Consultants, Trade change in the post-Covid19 world?
RM: The COVID-19 pandemic introduced new standards for dealing with customers and conducting business with all partners and stakeholders across all industries. At GROHE, we have started by introducing strict rules and preventive measures in production units as well as remote working in the areas that allowed us to protect our employees and their families.
When it comes to our customers, especially the architects, consultants and trade, as in many cases they are the direct contact between us and the end consumer, we made sure to maintain an open conversation built on trust and transparency as we believe that in times of crisis it is essential to stick together and liaise more than ever before to guarantee a clear exchange of information across the board. Digital adoption and transformation drive positive outcomes where we are shaping entirely new ways of conducting business.  We often connect with our customers through different virtual platforms.  This is about uniting every part of our organization with a common purpose.
The global industry is about to witness the creation of the "new normal", within which we will have to abide by newly established rules and regulations to ensure the continuation of the business and most importantly continue to keep servicing our customers as per our renowned high standards of service.
B&I: There's talk of national narrative across markets. Do you think de-globalization will pose challenges to global brands like GROHE?
RM: Global brands like ours are well invested in the markets they operate in & while competing with local brands, they do create their own space & demand. Across the world & industries, we see similar phenomenon of co-existence of local & global and resultant trade between countries. This is also enhanced by digital connectivity of consumers allowing them to choose across boundaries and that's the base of demand creation for all global brands. Also more and more Designers , Architects , Developers & Contractors are working internationally and bringing in new trends to their countries which leads to continuous entry of new brands while introducing home brands to outside world. It will be difficult to imagine a world without this exchange as world goes increasingly digital and seamless.
B&I: As companies re-look at their cost structures, do you see complementary brands in the building materials industry coming together to economize on the marketing and distribution costs? What are the challenges in such associations?
RM: Companies and brands operate according to well-thought-out business plans that correspond to the nature of the markets in which they operate, and accordingly we may witness mergers and partnerships that contribute to strengthening the position of many brands according to the agenda they set to achieve, plans for growth and development. Consolidation in any industry is normal & periodic and it can get benefits of scale & related economies to end consumes in the long term while in short term, there can be challenges of fitment & higher operations costs.