The decorative lighting market in India is quite interesting. On one hand, there dozens of cheap imports with little or no branding, and on the other, there are global players like EGLO. This Austria-headquartered decorative lighting major has been in the Indian market for over a decade. What started of as an import-based business for EGLO, is now a production powerhouse with a state-of-the-art manufacturing facility in India. The manufacturing might of EGLO in India is what sets it apart from other international players in the market. And the upcoming capacity additions to it's existing production, and a quantum leap at that, shows the confidence EGLO has in India.
EGLO has now entered retail business in India through the FDI in single brand route. Buildingandinteriors.com caught-up with Mr.Richard Klammer, Managing Director, EGLO Global Division, who was in India for the store launch.
B&I: You have opened your first store under the FDI in Single Brand Retail route. What is the rationale behind this move?
RK: EGLO is one of the most well known names worldwide in the decorative lighting segment. We have our sales subsidiaries in 70 countries worldwide. In India, we have our own manufacturing plant from where we feed our international markets. We have two more plants – in China and Hungary. We felt that there was a need to have a store where we can show our latest and popular product range to our customers in India.
Through this store and other similar format upcoming stores, either company owned or with our committed franchise partners, we would like to give our customers a true-taste of decorative lighting solutions coming from a European manufacturer that has it's own strong manufacturing facility in India, a facility that has been growing over time. We are in the process of adding to our production capacity in our India plant. This second phase of capacity addition will be up and running by next year.
B&I: Since you mention the manufacturing facilities which indicate your interest in India both as a manufacturing hub as well as a market, can you tell us more about EGLO's manufacturing prowess?
RK: As I said earlier, EGLO has manufacturing facilities in India, China and Hungary. At the moment, out of our total manufacturing of the 40,000 pieces/day, some 25,000 pieces are made in our China plant, 8,000-10,000 pieces in India and 7,000-8,000 pieces in Hungary.  Over the next 2 years, our India production output will be at par with that of China. I think that both India and China will manufacture around 20,000 pieces/day. This also shows that we are very positive on India.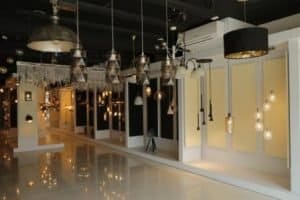 B&I: Decorative lighting market in India is very tricky. You have cheap branded imports (sometimes non-branded as well) on one side and the high-end decorative players on another. Now, you also have IKEA. How do you see the competition in the Indian market?
RK: EGLO is a European brand in India. Yet, it's a brand that's not expensive. We operate  in the mid-segment of the market. Our competition, both from Indian brands and imported don't have the range and quality that EGLO offers. Also, since we have our manufacturing facility in India, our commitment to the India market is there in the right earnest. Moreover, when the customers sees that he is getting the same quality that is available in the European markets, there is an immediate trust he develops. IKEA is a retailer and we are a manufacturer. The range and product understanding that we offer to our customers is quite different.
B&I: What is the distribution of revenues for EGLO spread over the customer classification?
RK: EGLO in total has revenues to the tune of USD 600 million. This comes almost equally from retail sales and 'Big Boxes' – Walmart, Home Depot kind of stores. We realise that online is going to be a growth engine in the decorative lighting segment and we are preparing for it globally. At the moment, around 2% of our revenues come from online sales.
B&I: Can you tell us more about your online sales experiences?
RK: We have had a good online sales experience in the United States. The trend is fast catching in Germany and Australia. Online sales requires some careful product differentiation. We would like to sell products which don't clash with our 'Big Box' customers. Also, the generation which buys online is different from the ones which buys from the conventional sales channels. We have to keep the tastes and interests of such potential customers in mind. As far as the margins are concerned, as you would know, these are very low in the online business since you have to take care of lot of commissions, etc. We find that selling in the conventional sales channel has more margins. But, as the world moves towards online, our focus on online will also grow. We feel that over the next 5 years, our online sales will contribute more than 10% to our global turnover.
B&I: What would your message be to customers in India?
RK: EGLO has a strong customer base in hotels, restaurants, banks, etc. You will find EGLO products across the world in such places. India is also increasingly accepting the proposition that EGLO offers in the decorative lighting segment. The product philosophy of EGLO is nice products, good quality at reasonable prices for the mid-segment of the market. We offer standard products across the world. The EGLO products that you get from our India plant are the same that we sell in markets worldwide. So, our customers can be assured of the EGLO products he buys in India. We are the probably the only decorative lighting company in India with a strong manufacturing facility in the country.