Bramola – a boutique luxury furniture manufacturer prides itself on having dealt with some of the best names in the market. From being a supplier to international stores like John Lewis to architects involved with high-end projects, the brand has seen it all. Bramola is now strongly focused on growth opportunities in the luxury furniture market in India. It sees Canadian Wood as a reliable partner for high-quality, seasoned, and standardized (graded) wood for furniture that remains sourced from sustainable forests in British Columbia (B.C.), Canada. This makes it one of the best kind of wood available for luxury furniture manufacturers.
BuildingandInteriors.com spoke to Ms. Soma Singh Roy, Director, Bramola to understand the scenario in which luxury furniture brands work, it's association and leaning with Canadian Wood species, and the other elements constituting Bramola's  ecosystem.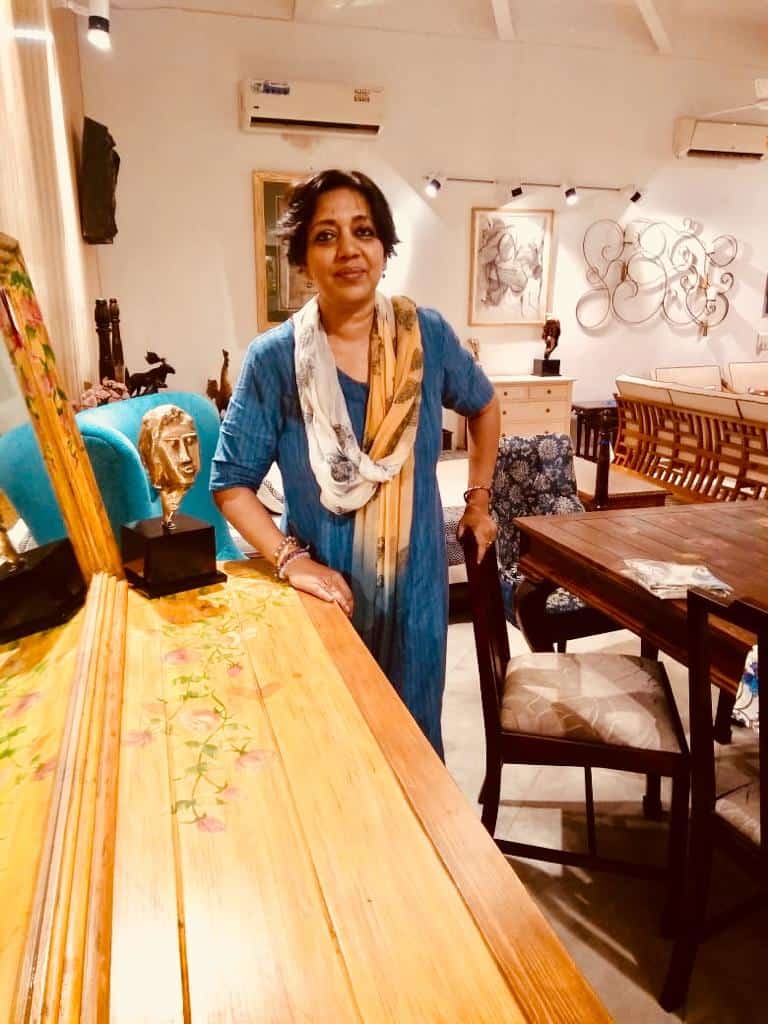 High-end furniture market for Bramola – The beginnings
Since the very beginning, Bramola has been addressing the high-end furniture market. We began our journey with supplies to Sweden (Bramola is a Swedish name!). Over the years, we supplied to premium retailers like John Lewis. So, doing high-quality furniture has been our forte since the very start of our business.
International trade-cycle in the high-end furniture business
When you are into the export of luxury furniture, it's a very well-organized market. There are set models which you are supposed to regularly supply over a typical cycle of 2-5 years, after which the designs change. This is based on the product range finalization by the buyer (dealer, distributor & retailer). The luxury segment gives the manufacturer a leeway to excel every time in terms of quality, technicality, and cost. In addition, you get the opportunity to plan for the next season's designs and trends. High-quality in manufacturing is the pre-requisite all through your production.
The Indian market for luxury furniture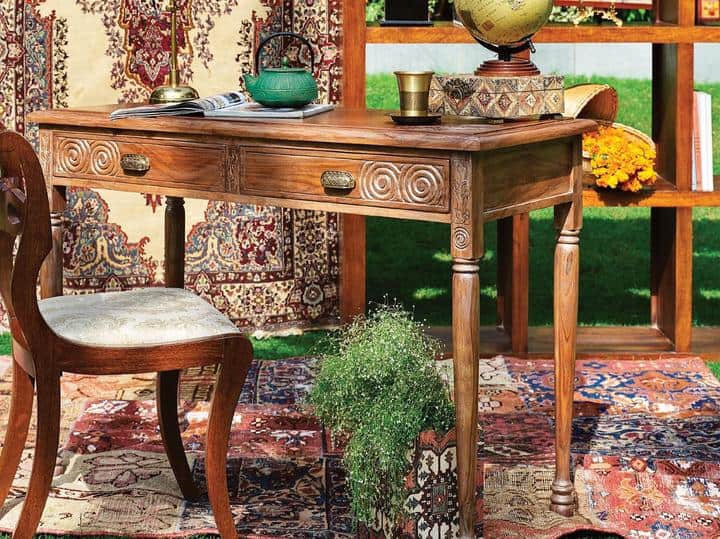 Image Source: Bramola
The Indian market for luxury furniture is quite different from that we see internationally. In the domestic market, especially when you deal in projects and bespoke furniture, every day is a new beginning. There are unique challenges. At the same time, opportunities exist in plenty. You need to innovate & maximize your creative and intuitive faculties. One has to be extra alert and extra cautious in design and development, keeping in mind technical stability (of the furniture) and aesthetics.
For the last couple of years, we consciously started focusing on the domestic market to establish a reliable domestic brand for the Indian market with a tag of "Make in India."
India is marching strongly on it's path of progress. The country has been gaining greater momentum for overall growth with a vast population. Also, it is a favorite destination for furniture companies to establish their brand. India is rich in art & craft and artisan but lacks promotion and support.  As a result, many skills are dying. Bramola strongly believes (and practices!) the promotion of art & craft and supporting the artisans.
Currently, 70 % of the furniture requirement of the Indian market is dependent on imported furniture (both high-end and budget furniture). Import is from USA, Italy, Spain, Turkey for high end and there is a mass influx of budget furniture from China, Malaysia, Indonesia, etc. for the middle-income groups.
Challenges in the growth for bespoke furniture manufacturing
While there is ample scope of creativity in bespoke furniture, there is huge pressure in R&D. You need highly skilled manpower and artisans to produce the best furniture. This leads to cost escalations.
I am pleased to see that we experience a significant increase in customers who share our view of furniture quality. Though the price sometimes remains a challenge, they get convinced after they see the amount of detailing in our production processes. Time, money, patience & a creative team of designers is required for constant innovation and high-quality work.
Online sales of furniture for Bramola
We are not able to devote time to online sales so far because we are mainly dealing with projects. Furniture is basically the touch and feels category – especially the luxury furniture. This kind of furniture is not changed that often in homes, premium establishments, etc. Our customer experience is more immersive in nature. Hence, for our kind of furniture, online sales may not be a very attractive proposition.
Bramola's association with Canadian Wood
Initially, we used hardwood in our furniture, especially in export markets. For the domestic market, clients found interest only in:
Traditional wood like teak, mahogany, walnut for high-end furniture, and
Sheesham & acacia for budget furniture.
A couple of years back, I was exposed to different Canadian wood species. So, after the initial hitch, I got very comfortable using Canadian Wood (especially western hemlock) because of its beautiful grain pattern (straight line and floral pattern – based on characteristics of the timber).
The advantages of Canadian Wood for furniture manufacturers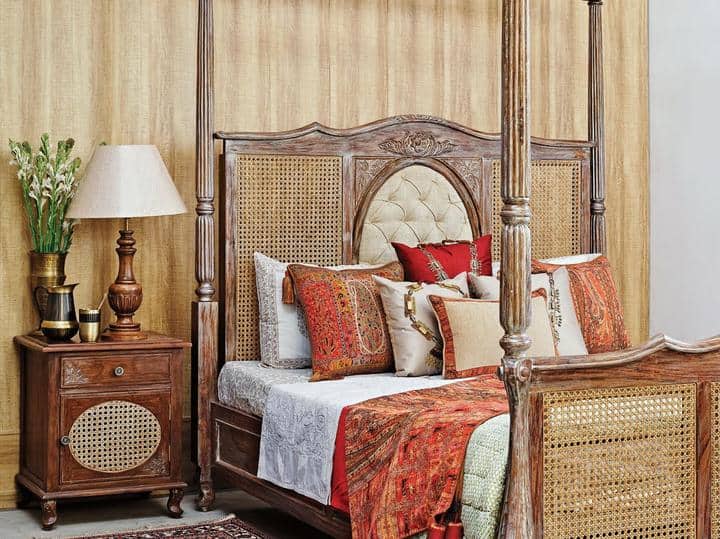 Image Source: Bramola
As an environment-conscious furniture manufacturer, it gives me great satisfaction that all Canadian Wood species remain sourced from sustainable forests of British Columbia (B.C.), Canada.
Quality and uniformity in wood are a major challenge for quality manufacturers like us. Because we are dealing in high-end furniture, we are looking at a no-compromise wood in our furniture.
Through their authorized dealers, Canadian Wood supplies us with reliable, perfectly seasoned, uniform-sized wood. These standards help in our production processes to a great extent.  Wastage percentage is almost nil due to the uniform size of the lumber. In fact, it is easy to design a piece of furniture when you are clear about the standard size of the timber.
In addition, Canadian Wood responds very well to curves and turning (during furniture manufacturing). The machines undergo less wear and tear. And, the finishing is excellent due to its grain pattern.
Canadian Wood has a wide range of wood species for outdoor furniture like yellow cedar and red cedar. It also has the economical spruce-pine-fir (SPF) which we use in furniture for clients looking for lighter shades of wood.
At Bramola, we use different species of Canadian Wood
Western hemlock wood remains the most important species used by us as furniture manufacturer because of its exotic yet subtle grain structure. It is perfect for furniture making.
We use cedar wood of an exterior grade or humid areas like door jams, window jams, pull-up bars, etc.
Clients with smaller budgets prefer SPF wood. The wood remains environmentally friendly. PFC certified SPF wood makes ideal furniture, bed, bedside table, book-shelf, console, mirror, and other types of accent furniture.
Support services of Canadian Wood
We are living in a world that is becoming increasingly environmentally conscious. Canadian Wood comes from sustainable forests of B.C., Canada. This helps preserve the fragile environment of our planet.
Canadian Wood is really doing some great work in India for the promotion and publicity of its wood species. These awareness initiatives go a long way in sending the right message to the Indian market and furniture manufacturers. Also, furniture manufacturers like us have seen the practical advantages of using Canadian Wood species.
In addition, there is continuous professional support from the Canadian Wood team in India in the form of connecting us to potential business contacts. Last but not the least, Canadian wood team also provides technical guidance and support to us in our production processes including training our factory staff.