Headquartered in Austria and with a subsidiary in India, cladding and facades major FunderMax is one of the leading European suppliers of derived timber products and decorative laminates (high pressure laminates – HPL). The company prides itself in providing a complete solution, including an own developed installation system. FunderMax has successfully completing over 12,000 projects in the last 12 years across India and operates through 44 well-trained business partners across India & Nepal. FunderMax products contribute to LEED in a number of categories – Renewable Materials, FSC®, Greenguard, EPD, LCA. Dr. Prashanth Reddy, Managing Director & CEO, FunderMax India speaks to buildingandinteriors.com
B&I: FunderMax has been a front runner in the facades and cladding business in India. What are the challenges faced by you even today and what new opportunities do you foresee over the next 2-3 years?
PR: FunderMax is a part of a building material industry and hence into the real estate sector. Over a period of time, the real estate sector has already gone through many challenges like RERA, GST and demonetization. It was just showing some signs of revival and then we faced the Covid-19 pandemic which has again set back the industry by 12-24 months.
FunderMax is prepared for the challenge with the sustainability plan till end of 2021. We have initiated measures of lean management and other cost reduction measures to make ourselves more competitive in this new challenging world. Cash is KEY and we are working in this direction to make ourselves more sustainable. Engaging employees for training internally and externally along with our PARTNERS today is another important focus area for us.
B&I: There have been lot of news built around cladding, especially after the Grenfell Tower fire in London. Your comments.
PR: The recent legislations in the UK following the aftermath of the Grenfell tragedy clearly state that BS class A panels and class B panels with non-combustible insulation are safe to use in buildings. These categories do not aid in the spread of fire which is of paramount importance to the fire safety of the buildings. FunderMax offers both these categories as follows – the m.look panels of FunderMax are class A and the Max Exterior F grade panels are class B. Furthermore, the class B fire retardant panels from FunderMax have also passed a host of other standards and tests. A brief snapshot is shown below: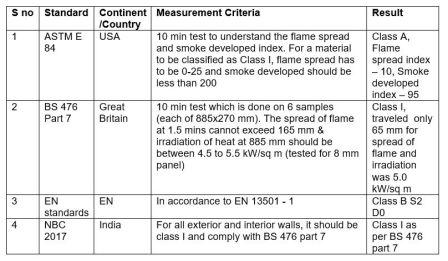 B&I: As an international group, do you need to make changes in your product range to specific markets like India in terms of colours, composition of materials used, etc.? How much of your international range is standard across markets?
PR: Being a leader in architectural products for interior and exterior applications, FunderMax has developed standardized installation systems for the Indian market, #madeforindia with over 32,000 SKUs offering high design freedom for people who create. FunderMax panels can also be customized via CNC cutting into any motifs that the architect wants, without losing out on the aspect of sustainability of the complete system.
For India market, we re-introduced ventilated façade system, developed standardized installation systems, launched a host of decors, designed shading systems (Max Lato) heeding to the market demand, launched rivet less soffit system and durable partition system for restrooms (Max Cabina).
At the execution level, FunderMax offers the complete system. The panels are installed following rear ventilated principle using the installation system developed by FunderMax.
B&I: There are many Indian players in the market in your product categories. For an Architect, Facade Consultant or a Developer, how are you different from the local players as far as specifications, installation and after sales support is concerned?
PR: Technology plays a very important role in the manufacturing stage. The Original FunderMax panels are manufactured using patented NT technology and are in accordance with EN438-6, EN438-7 and CE certified. At the execution level, we are a complete solution provider, supplying not only Max Exterior and Interior panels but also FunderMax developed installation system. A network of trained & experienced 'FunderMax authorized Business Partners' across the country, supports the installation of complete system at site.
B&I: Restroom Partition Systems is a growing segment with many new airports and other public areas coming in for renovation. How are your solutions positioned vis-a-vis the existing branded players, both in terms of pricing and durability?
PR: Our solution Max Cabina, is a durable partition system for restrooms. FunderMax is positioned at the premium-end of the market and this is also supported by the speed in terms of delivery and availability, easy to install and complete system offering.
B&I: Which are the strongest regions/states in India for FunderMax, across product categories? What are the new focus territories?
PR: We have PAN India presence and all the regions are doing fairly for us. We have a good business – existing and potential, across the country.
B&I: Can you throw some light on the future of the cladding and facade industry? What new solutions/innovations can we get to see over the next 2-3 years?
PR: We foresee focus on passive architecture. Most offices today seek certified products and prefer green-rated buildings with innovative designs. They are willing to explore and experiment to learn about newer cladding systems and this will significantly increase the market demand for efficient cladding materials. Façade systems are going to be more functional in nature in future. We see increased acceptance of rear ventilated façade system or sun shading system which provides, heat, light and sound insulation to building occupants.
Sun path analysis, wind loading patterns, dynamic sun shading, and thermally efficient materials are some of the factors that are computed to achieve the best functional output from a façade. Compartmentalized fire resistant façade system, kinematic facades are some of the areas in which research would happen.
B&I: Do you see collaboration between brands supplying complimentary solutions, for example you teaming up with a fenestration player? This could ease some pain of the project managers who sometimes face issues at places where two different product suppliers work on common areas?
PR: We work with Strategic Partners who are Industry Leaders in their own domains and we keep our options always open for sustainable and Profitable Growth together.
B&I: In your opinion, what are some of the best practices that our Architects, Consultants, PMCs and Contractors can adopt so that the pain areas in the project business can be addressed?
PR: There are many are points to consider when it comes to dealing with the solutions in our industry. I would classify them in the DOS and DON'Ts as follows:
The DOS
All HPLs must be installed using Rear Ventilated Façade system.
Spacing of rivets and sections should follow the structural design
Clearance gap between panels must be maintained
Only exterior grade laminate should be used for any area which is exposed to external environment (even if the area is under shade).
Minimum 6mm panel thickness is required for exterior applications
Ensure that you get the Max Exterior panels from authorized business partners to be sure about the original stamp of quality.
The DONT'S
The panels should not be cleaned with any acid or alkaline solution.
Light soap solution or plain/warm water is good enough for the purpose.
Avoid scouring substances.
Do not paint on the panel surface or apply protective cover on the panels.
Do not use silicones to cover the gaps
Store the panels by stacking horizontally on flat and stable supports at the site. The panels can be stored in normal climatic conditions.
Use recommended tools for installation and preferably by authorized, expert hands.
More Interesting Reads:
Schüco Focuses On Delivering Value Over The Life Of A Building: Mr. Shyam Raghunandan
Contribution To Green Buildings – Stiebel Eltron's Biggest Value Propostion: Mr.Sandeep Surana