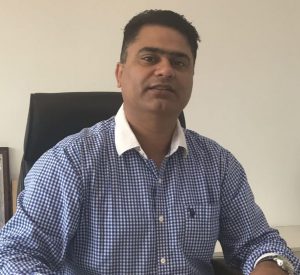 Ar.Hemant Khanna, Founder Director, InGenious Studio, in Gurgaon, shares useful insights into the subject of designing of Temples and the how this line of architecture integrates modern architectural concepts into the 'perceived' traditional subject of Temple Architecture. An informative session withBuildingandInteriors.com.
B&I:Are ancient architecture style Temples more robust and detailed than the ones we see being constructed today? What are the key differences and what can we learn from these ancient pieces of art?
HK: There are multiple reasons as to why ancient temples were so much more detailed and robust. Of course, the primary purpose of making temples was for religious and spiritual activities. But in ancient India, temples served much broader objectives.They were a vibrant form, where people could meet, collaborate, exchange ideas, develop art, manage their community, and of course pray. Sometimes kings, with a wish to be remembered in history, wanted to build significant temples. Some of the temples were built as a sign of a celebration like victory in a war, birth of an heirloom, etc. In times, where there was no TV/public media, Temples were used as a medium to share information / impart knowledge amongst the public. For example, Hampi temples have a lot mythological stories inscribed in the exterior of it's walls. It has a lot of Vaishnava temples, as Hampi has a significant connection with Ramayana. Hence, we can find the stories of Lord Vishnu and the 10 avatars. Excerpts of Ramayana are inscribed on the wall of these temples. As ancient temples included all of this, they were bound to be such imposing constructions.
The key difference that I see today is, the temples being built in this modern era are more innovative in architectural styles, and not a repetition of any established form of architecture, be it the Lotus temple, Akshardham, Birla Mandir, and the likes. So, essentially, we don't lag behind in the detailing part, but yes, with the technological advancements, the reason to engrave elaborated scripts on the walls seems to be waning, though we still intend to impart knowledge to pilgrims through elaborately detailed murals. What we learn from these remarkable ancient structures is that, in ancient India, temples were structures much beyond mere places to pray and worship. They were much more than being mere deity temples. Many a times people fail to get this picture in the modern times and misunderstand that temples are built just for God, wherein our ancestors made more sense by showing that temples were actually built for people.
B&I: The kind of material used in making temples in ancient times appear very different from the ones that we use today. How do you see the difference in the materials used and can we decide on the superiority of one kind of material over another?
HK: We can't draw a parallel between the materials used in the ancient and modern times as both have their own share of strengths and weaknesses. Nowadays the objective is to obtain maximum productivity with minimum utilization of resources. In ancient times, the use of common construction materials did provide desired and satisfactory properties, but, it was a time consuming process and required huge man power. The use of modern construction materials not only provides satisfactory and desired properties in short period of time, but also makes the construction processes economical. For example: the use of various mineral admixtures in concrete, improves the workability of concrete, reduces the permeability, and improves the resistance to attack from salts and sulphates present in soil and sea water. But, at the same time, we can't deny the fact that building materials used in the past are still regarded as remarkable and we have a lot to learn from the use of those materials.
B&I: From the architecture point of view, how different is designing a temple from that of a modern building?
HK: Modern architecture and Temple style architecture are two totally different styles of architecture, but, innovations in the field of architecture as well as technological advancements have allowed us to blend technology with tradition. Thus, we can say that the modern temples are an outcome of an amalgamation of technology with tradition. Designing a temple in the present era not only requires the knowledge of temple architecture, but also requires the incorporation of modern design principles of urban planning and characteristics that can fascinate the visitors. So, we can say that today, we are in a state to compare temples with the modern buildings. To cite an example, you can have a look at one of our most prestigious projects, Vrindavan Chandrodaya Mandir, the world's tallest temple, under construction at Vrindavan. It is a good example of blend of modern technology with tradition. If you have a look at the salient features of the project, you would see that it fulfils all the purposes that any ancient temple served. It serves as a centre of spirituality, cultural heritage, education and recreation. But, what we have also incorporated here is the modern characteristics, both in terms of planning as well as the use of materials. You see in the complex, the meticulous use of urban planning in form of aesthetically laid out streets, avenues, plazas and gardens. Have a look at the façade and you instantly draw parallels between the temple architecture and modern building.
Vrindavan Chandrodaya Mandir, View 1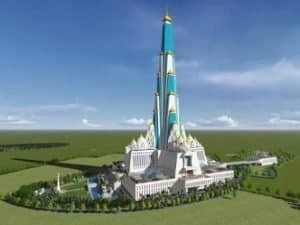 Vrindavan Chandrodaya Mandir, View 2
B&I: What are your thoughts on Hoysala style Temple being built in south Karnataka?
HK: It is amazing to know how the ancient Indian temples have fascinated scholars around the world. Even here there is a comparison between the ancient and modern styles of construction. The intent of the project is to revive the Hoysala- style as there are no new Hoysala – style temples built since the 14thcentury, and neither are there any temple- architectspractising this style. Though they want it to be the largest Hoysala temple built in the modern era, but they also want to ensure that it is not a copy of the architecture of the existing ancient Hoysala temples. The materials would be traditional but the techniques would be modern.
B&I: Why there are not many architects who follow or understand such styles?
HK: It is difficult to say why there are not many architects who follow such styles of architecture because it continues to inspire us and it reflects in our designs, but, it does take a lot of research and development to recreate the magic of ancient styles of architecture and creating something new based on a set benchmark. Such models of creativity require deep study, time and effort. One of our upcoming projects, Lord Subramanya Swami Temple, in Srisailam, Andhra Pradesh is designed on the basis of similar principle to revive an ancient style of architecture, but not replicating it completely. We have drawn inspiration from the ancient Vijayanagara style of temple architecture, and infused modern characteristics with the same.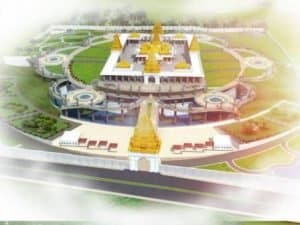 Lord Subramanya Swami Temple, Srisailam, A.P., View 1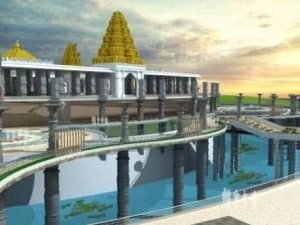 Lord Subramanya Swami Temple, Srisailam, A.P., View 2
For more details, email: hemant@ingeniousstudio.in