The term "modular kitchen" refers to a modern kitchen furniture layout made up of several modules. Since the latest modular kitchen designs are highly customizable and built to match your individual needs due to their flexibility, their price online varies from brand to brand. Modular kitchen cost per sq ft varies depending upon the material and finish you use.
It consists of drawers, cabinets, and shelves that are designed in a space-saving manner.
Below follows a complete list of modular kitchen layouts for you to choose from when considering to buy online by different brands:
1. Straight or single-wall layout
2. U-shaped layout
3. L-shaped layout
4. Parallel or gallery-shaped layout
5. Island layout
6. G-shaped or peninsula layout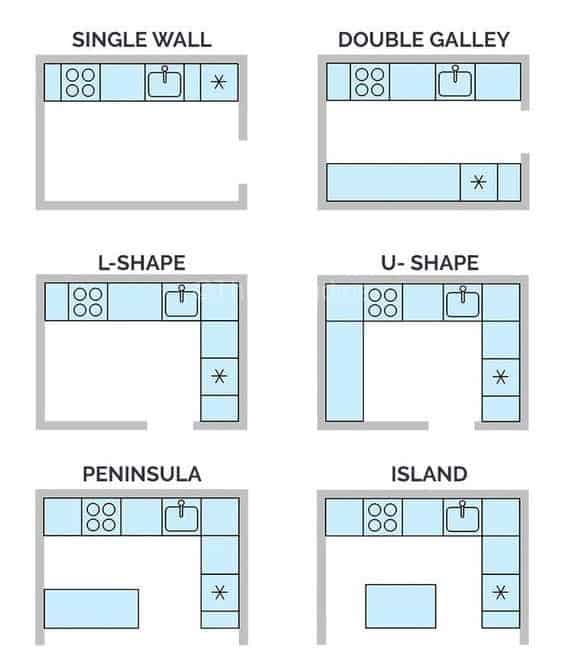 Image Source: Think Studios
The cost per sq ft of designing your modular kitchen is not determined by the amount of space available. While the size of your kitchen has a significant impact on cost, it isn't the only one. Moreover, some of the other factors include the type of module, its complexity, its size and depth, raw materials, the finish of the body and shutters, and the handles.
Advantages
1. Quick and easy to assemble: They can be installed easily. You can also repair or replace individual elements of a modular kitchen at any time.
2. Highly customizable: You can choose individual modules, a colour palette, and a design that works best for you based on your kitchen tasks.
3. Space utility: Modular kitchens are made to make working more convenient. Working in the kitchen has never been easier, thanks to segmented spaces for cooking, washing, and storage.
4. Additional storage space: A modular kitchen's shelves, cupboards, and drawers are designed to maximize storage space. The amount of storage capacity these modules can contain will astound you! You can store whatever you desire while keeping your kitchen clutter-free.
The golden triangle
A simple concept governs the golden triangle principle. It carefully positions your cooking (gas hob/microwave), prep (sink), and food storage (refrigerator) facilities within a 4-9 foot gap and as three main points of the kitchen.
For decades, architects and designers have followed this rule because they feel it improves kitchen efficiency.
Consider small things, such as positioning appliances closer to the fridge, to make the golden triangle far more user-friendly. The most important thing to remember is to separate and bundle items according to their functionality.