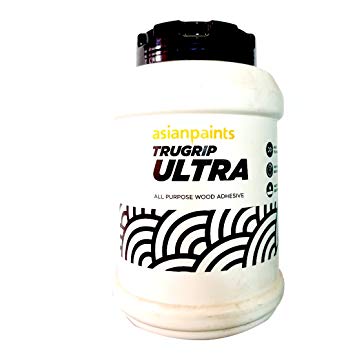 Asian Paints TruGrip Ultra is a water based, synthetic resin adhesive which is used for bonding a wide variety of wood based substrates. Formulated with advanced NOVA technology, it gives exceptional bond strength even under harsh weather conditions.
Price – MRP.: Rs 1,000/5 kg
[vvsmustread]
Product Description
Asian Paints TruGrip Ultra Adhesive – Specifications
Maintains high bond strength even when exposed to water.
High grab gives early handling strength and ease of pasting.
Resists high temperatures effectively without compromising bond strength
Dries quickly saving precious time and labour.
Optimal viscosity makes it easy to spread over large surfaces.
Recommended Usage- Plywood, Laminates, Veneer, MDF, Solid Wood and other wood-based substrates.
Shelf life- 12 months from the date of manufacture.
Storage temperature- 5 deg. C to 60 deg. C
Available Packs: The Asian Paints TruGrip Ultra Adhesive is available in packs of 125, 250, 500 gms and 1,2,5,10,20, 50kg.
Areas of application:  Plywood, laminates, veneer, MDF, solid wood and other variants.
Setting time:  4 hours
Shelf life: 18 months from the date of manufacture.
Application Method: The painting process is stirring well before use, apply a consistent even coat on both surfaces to be bonded, press together with sufficient pressure for two hours and after use replace the cap. Store in a cool, dry place.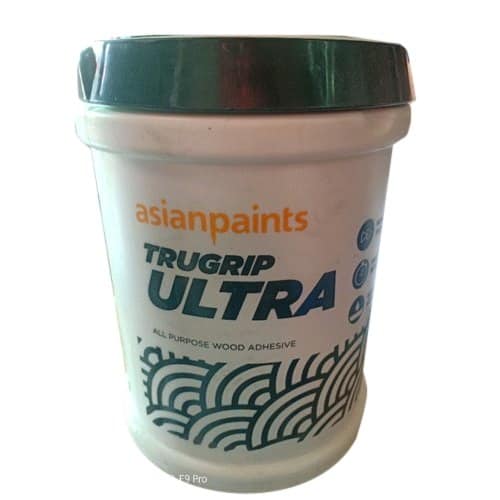 Asian paints Customer Care No. :1800-209-5678
Brand Info

Asian Paints