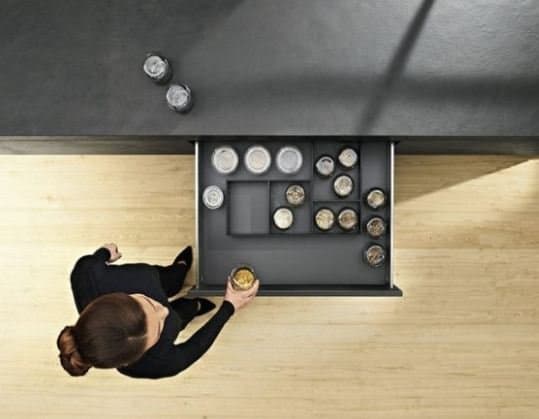 Blum helps you translate your ideas into top-quality solutions to enhance the quality of living. It delivers a wide range of products, comprehensive advice, and a well-thought-out approach. One of their products is the Blum AMBIA-LINE inner dividing system.
About the Product
The inner dividing system for LEGRABOX consists of elegant frames which beautifully organize furniture interiors throughout the home. The compact range of versatile frames offers great scope for designing and organising furniture interiors. Blum's Ambia-Line brings practical functionality to everyday applications.
[vvsmustread]
Product Description
Blum AMBIA-LINE drawer organizer boxes for kitchen storage that acts as inner dividing systems are available online at the best price. They provide elegant frames to organize the items. AMBIA-LINE offers minimalist looks with LEGRABOX and the drawer are slim and straight. Because of these features, it gives amazing looks to interiors.
Features of AMBIA-LINE drawer storage boxes
Elegant design- Ambia-Line's minimalist look harmonises beautifully with LEGRABOX, the elegant box system whose drawer sides are slim and straight.
Amazing interiors- Ambia-Line organizes LEGRABOX interiors with simple elegance.
Easy handling- The frames are easy to handle and can be positioned wherever required. A magnet for attachment to the back or sides of other frames and anti-slip feet provide a secure hold.
Tailored to contents- The flexible cross dividers can be easily adapted to the size of storage items.
The material used for drawer organizer boxes
Classic steel design- Epoxy coated steel frames match LEGRABOX colours so interiors merge with drawers to create a harmonious entity.
Elegant wood design- The frames are a combination of steel and wood decors. There are three luxurious options to choose from, allowing you to introduce contrasts to furniture interiors.
Finish
Steel Finish- Terra black matt, Orion grey matt and Silk white matt
Wood Finish- Tennessee walnut, Nebraska oak and Bardolino oak
Call us to know more about the kitchen drawer organizer/boxes that are available online!
Contact details
M: +91-9967632127
Email: Support@buildingandinteriors.com
Brand Info

Blum
Blum India is synonymous with innovation in kitchen, hardworking personnel, and a global presence. The company was formed on March 1, 1952, by Julius Blum. A horseshoe stud was his first product. Today, the company is one of the world's major furniture fittings makers. The Austrian manufacturer makes innovative furniture fittings.
Kitchens must be able to withstand the rigours of daily use. As a result, it's critical that they not only look good but also function well. For years, Blum has been researching the demands of kitchen users all over the world, and they're always coming up with innovative ways to make modern kitchens even more functional. Functional cabinets make it easier to utilize the kitchen on a daily basis and maximize the amount of space available.
Product range
Blum fittings solutions make opening and closing furniture a wonderful and smooth experience. The products come in the following ranges:
Lift systems
Hinge systems
Runner systems
Box systems
Inner diving systems
Cabinet applications
Motion technologies
Assembly devices
Locking system
Innovative products by Blum
The brand manufactures creative designs for functional fittings & solutions. Also, the products make use of a well-thought-out approach and comprehensive advice. The brand improves quality and efficiency of the furniture through its exceptional range of fittings.  Also, the brand develops high-quality products. Some such innovative furniture fittings are:
Pull-out shelf lock for TANDEM and MOVENTO shelves
AVENTOS HK top
BLUMOTION hinges
Sustainability at BLUM
Blum is ISO 50001 Energy Management Standard certified so it remains best for kitchen fittings in India. This international standard specifies the finest energy management strategies around the world, allowing us to save money on energy and reduce greenhouse gas emissions.
Since 1997, Blum's Environmental Management System has assisted us in gradually improving our environmental performance. In an environmental programme, measures are regularly recorded and consistently executed. Audits are conducted on a regular basis to