Hunter Douglas manufactures durable and innovative exterior and interior ceiling solutions. The quality ceilings are designed for perfection. They go through a safety check to ensure longevity. One such product is Hunter Douglas Solid Wood Grill.
About the Product
Hunter Douglas Solid Wood Grill system is made of wooden slats secured to each other with an aluminium dowel. They are easy to install and can be remounted.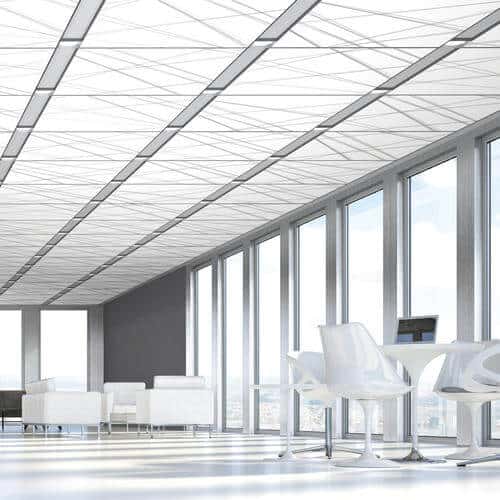 Hunter Douglas Techstyle Graphic Textile Ceilings are commercial false ceilings, available in a variety of materials, colours and designs at a budget-friendly price range. The specifications for the solutions Non-woven surface finish Proprietary formaldehyde-free glass composite construction High Light Reflectance: 81% Fire Class A Smoke Index less than 50 Flame Spread Index less than 25. Hence, you ge
| | |
| --- | --- |
| View Catalogue: | |
Product Description
Hunter Douglas Solid Wooden Grill design ceiling is a unique commercial false ceiling solution.
The specifications of the wood ceilings
The assembled slats of different lengths and widths form the grill panels.
These grills come with easy installation.
The plenum access becomes easy.
The wood Grill design comes with customizable options to install as per the project requirements and dimensions.
The metal clips offer quick installation. Additionally, they also give a rigid fixation of the ceiling and wall cladding solution.
High acoustic performance level with and without rock wool.
Perforated panels for all-weather conditions.
A special treatment to the panels for humid conditions.
Plained, fine-sawn, and rough-sawn surface finish.
The wooden panels have a high-quality varnish finish.
Comes with design and cost flexibility.
The wooden panels can also be used as wall cladding.
They offer great insulation to the walls as well as allow easy installation of additional objects.
As a result, lighting fixtures, air diffusers, speakers, and vents are easily installed.
Both vertical and horizontal installation is possible. Hence, you get ample flexibility.
Natural wooden ceiling.
Recyclable and 100% CO2 neutral. Therefore, you get sustainable and energy-efficient cladding and ceilings.
Moreover, The ceiling and cladding solution has received FSC/PEFC certification.
The ceilings come with a customizable slat size.
You can adjust the gaps and width of the ceiling and cladding panels. Therefore, you can get the ceiling and walls of your desired size and style.
Gives the authentic feel of natural wooden knots, patterns, and colour options.
No on-site cutting is required. As a result, your installation time gets reduced.
Wood grill design- Moisture, dust, dirt, fire-resistant.
Reaction to fire classification according to EN 12501-1: B-s2, d0. Moreover, you can customize it to a higher classification.
Wood Grill false ceilings grill species & designs
Bamboo
Poplar
European Pine
Yellow Pine
Oregon Pine
American oak wood ceilings
European Oak wood ceilings
Ayous
Accoya
American Ash
Jatoba
Cherry wooden ceilings
Cambara
Merbau
Siberian Larch
Wood ceiling with grill design – Teak
American Walnut
Western Red Cheddar wood panels
Wenge
Mahogany, and many more
Airports
Railway, metro, bus stations
Public areas
Corporate buildings
Schools and colleges
Hospitals
Hotels
Restaurants
Call us now to know more about the wooden false ceiling designs and price listings.
Contact Details
M: +91-9967632127
Email: support@buildingandinteriors.com
Brand Info

Hunter Douglas