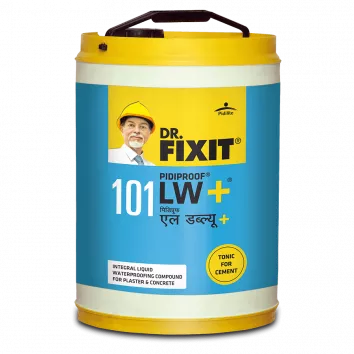 Pidilite is a consumer-centric company involved with the manufacture of adhesives, sealants, waterproofing solutions. Their product portfolio also includes arts & crafts, industrial resins, polymers.
About the Product:
Pidilite Dr. Fixit Pidiproof LW+ is a specially formulated integral liquid waterproofing compound composed of surface-active plasticizing agents, polymers, and additives.
Price: Starting from Rs.37 (200 ml)
[vvsmustread]
| | |
| --- | --- |
| View Catalogue: | |
Product Description
The products provided by Dr. Fixit ensure a safer and more efficient way to the art of waterproofing. Moreover, DR. Fixit sealant is used as an additive for cement concrete, mortar, and plasters to enhance the properties of cement to impart waterproofing property and thereby provide benefits like no rusting of steel bars, no cracks, and no dampness.
The features and benefits of the Dr. Fixit sealant are:
Corrosion-resistant – Makes concrete more cohesive, hence protecting steel better against corrosion.
Compatibility – Being liquid, it is easily dispersible. Furthermore, it is compatible with concrete and mortar mixes
Permeability – It reduces the permeability of water into concrete. In other words, waterproofing of concrete.
Strength – The setting time and compressive strength of the concrete remains within the specification limits. Hence, it helps in waterproofing.
Shrinkage – Dr. Fixit sealant reduces shrinkage crack development not only in concrete but also in plaster.
Workability – Additionally, it improves the workability of freshly mixed cement. As a result, concrete does not crack or discolour.
Durability – Dr. Fixit sealant increases durability by improving the waterproofing of concrete.
Areas of Application of Dr. Fixit Solution:
Waterproofing of concrete and sand-cement mortars.
Basements.
Roof slabs and screeds.
Water tanks and water retaining structures.
External plastering.
Waterproofing in bathrooms and balconies.
Sumps and drains.
The following is the Price List in detail for the Dr. Fixit sealant:-
200 ml – Rs. 37
1 ltr – Rs. 165
5 ltr – Rs.655
10 ltr – Rs. 1245
20 ltr – Rs.2215
50 ltr – Rs.5410 
Finally, some precautions and usage of Dr. Fixit solution are:-
LW+ should be used in concrete, plaster, and mortar in all the areas of the house.
Mix 200 ml of LW+ with every 50 kg bag of cement.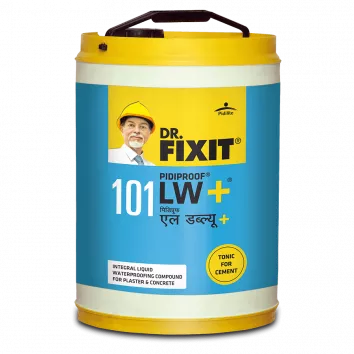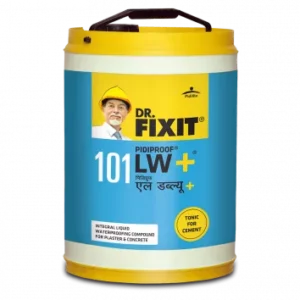 Image Source: Pidilite.com
Click here to see the complete range.
M: +91 9967632127
Email: support@buildingandinteriors.com
Brand Info

Pidilite