ThyssenKrupp is an international group of companies comprising largely independent industrial and technology businesses. Across 100 countries, the Group generated sales of €8 billion. In just a few decades, they have become one of the world's leading elevator companies with unique engineering capabilities.
About the Product:
ThyssenKrupp Velino escalator is the gold standard for prestigious commercial projects in shopping malls, convention centers and airports worldwide and is designed to reflect the most modern aesthetics. Velino not only looks stunning, but it also operates at the highest level. Its reliable safety features and innovative technologies, combined with a wide array of design options, put this escalator in a class of its own. This attractive escalator enhances your building's visual appeal without making any compromises.
[vvsmustread]
| | |
| --- | --- |
| View Catalogue: | |
Product Description
The Thyssenkrupp – Velino escalators feature a handrail. Generally, they are made for buildings with many people. The Velino moving ramp makes sure of excellent strength and service. Despite their toughness, the Velino automated stairs retain their beauty. Moreover, the design includes 10mm thick glass sides. Last but not the least,  this ensures user safety along with comfort.
Features of the ThyssenKrupp – Velino Escalators are:
Lower Lifecycle Costs – The Thyssenkrupp moving stairs work in a class of their own. For instance, their step chain and drive lasts long. Additionally, this reduces repair costs. In turn, this ensures better availability.
Extensive Customization – The Thyssenkrupp moving stairs have a good choice of different materials and colors. Furthermore, this enables us to make a statement by creating our own unique escalator. Not only are the Velino automated stairs always a perfect fit, but they also improve overall performance.
Compact Dimensions – Marketspace is important and needs to be maximized too. In fact, Velino is one of the sleekest escalators on the market today. Uniquely, the Thyssenkrupp moving ramp adds value as well as optimizes building space.
Good Workmanship – As we know, beauty is in the details. Close attention is given to each aspect of the Velino moving ramp likewise.
Finally, the specifications of the ThyssenKrupp – Velino Escalators are:-
Max Rise- 15 m
Inclination- 27.3°, 30°, 35°
Nominal Step width- 600, 800, 1000 mm
Max capacity (people/hour)- 7300
Application- Office, Residential, Hospital, Hotel, Retail
Step chain roller- Inside
Location handrail drive- Truss
Handrail shape- U- shape
Climate conditions- Indoor, Outdoor sheltered
Speed (metres/second)- 0.5 m, 0.65 m
Horizontal run – 800 mm, 1200 mm, 1600 mm
Transition ­radii/ Top , Bottom- 1050 mm, 1050 mm /1500 mm, 1050 mm
Balustrade- Slim, Strong
Aesthetic lights- Balustrade, Skirt, Truss, Ambient cladding, Soffit cladding
Traffic lights- Floorplate, Decking, Column
Safety lights- Step gap, Comb plate
Drive unit- Chain drive
Possible energy performance class- A+++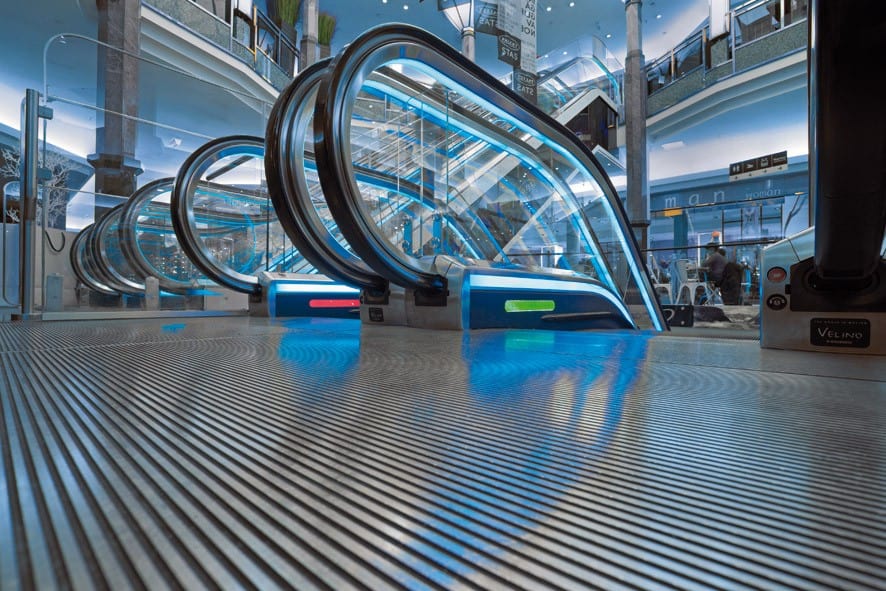 Click Here to see the complete range.
M: +91 9967632127
Email: support@buildingandinteriors.com
Brand Info

Thyssenkrupp