Otis is the world's leading company that designs, manufactures, installs, services, and upgrades elevators, escalators, and moving walkways for all buildings, including commercial, residential, multipurpose malls, educational institutions, and urban transportation systems.
About the Product
Otis commercial escalators offer reliability, safety, and style. They are custom-made solutions that complement your unique environment.
Product Description
The Otis escalators and elevators are crafted with the best quality material to ensure safety. Otis commercial escalator stairs help in a smooth experience for the customers, with duty cycle:70000 hours and high safety standards, all this in a budget-friendly price range.
The specifications of Otis commercial escalators
Benefits to the passenger
Free to enjoy a secure and comfortable yet adventurous travelling experience due to the practical and aesthetic design.
Guaranteed stability due to the rigidity of the balustrade.
Added stability due to synergy between the use of 10 mm safety glass and continuous glass support profile.
Able to enjoy an exceptionally smooth and quiet ride.
Ensured maximum safety and comfort because of rigorous synchronisation of handrail and step speed.
Benefits to the customer
Free to modify any of the NCE's engineering specifics to meet their desires.
Guaranteed extensive testing of NCE during and after its assembly.
Able to avoid long downtimes for Inspection.
Ensured that the shipment will be carried out in precise accordance with the requirements.
Will be provided with the help of the most professional team of experts.
Otis commercial escalators – basic information
Duty cycle: 70000 hours
Truss extension: Optional < 1200 mm
Cladding arrangement: Optional normal or pit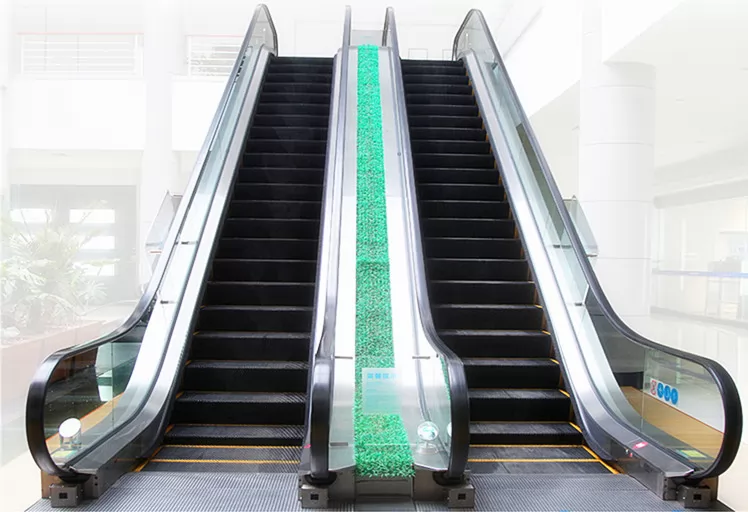 Otis Escalators Components
Handrail
Skirting
Steps
Decking
Balustrade
Horizontal steps
Machine
Controller
Entry box
Handrail drive
Truss
Exterior cladding
Step chain
Tracks
Floorplate
Newel
Deflector device
Upper landing
Lower landing
Comb plate
Main drive
Junction box
Tension carriage
| | |
| --- | --- |
| Base parameter | Value |
| Maximum rise | 8000 |
| Minimum rise | 2150 mm |
| Intermediate support | rise > 6–7 m (depends on the type/request) |
| Inclination | 27.3°; 30°; 35° |
| Horizontal step | 2, 3 |
| Step width type | 600, 800, 1000 |
| Balustrade type | glass |
| Balustrade height | 930, 1000, 1100 mm |
| Speed | 0.5m/s |
Otis escalators – safety
Safety – EN 115 standard
Innovative technology that promotes safety first and the emphasis for compliance with all the necessary norms is strictly enforced.
Standard safety devices in escalator
Auxiliary brake
Emergency stop buttons
Handrail entry device
Broken step chain device
Broken step and chain wheel control contact
Non-reversal device (NRD, electronic)
Overspeed governor
Comb plate safety device
Control device
Deflector device
Barrier panels
Wedge guards
Floor plate safety device
Warning signs
Missing step device
Handrail speed monitoring device
Control contact for brake lifting
Main drive chain speed sensor
Control contact for brake lining wear in machine
Auxiliary main drive brake
LED Under step lighting
Floor plate lifting tool
Otis escalators – Outdoor packages
For installation of escalators under various weather conditions, Otis has defined different packages, which includes:-
Commercial escalators – OUTDOOR PACKAGE A1
Sheltered, not directly exposed to weather
Temperature range +4 °C up to +40 °C
Humidity Range < 80 %
Commercial escalators – OUTDOOR PACKAGE A2
Sheltered, not directly exposed to weather
Temperature range -10 °C up to +40 °C
Humidity range < 80 %
Commercial escalators – OUTDOOR PACKAGE B
Not sheltered, directly exposed to weather
Temperature range +4 °C up to +40 °C
Humidity range < 80 %
Call us to know more about the commercial escalator stair range and its price details.
M: +91 9967632127
Email: support@buildingandinteriors.com
Brand Info

OTIS