In 40 short years, TK Elevators has become one of the world's leading elevator companies with unique engineering capabilities. Their innovative, efficient and reliable passenger transportation systems are key to getting it right in cities. Whether building a new state-of-the-art system or modernizing an existing one, their products deliver crucial energy and time efficiencies.
About the Product:
The higher the passenger volumes, the happier the Tugela escalator. Tugela safely moves people in high-traffic areas and all types of climates around the globe. Dependable technology and components, such as the certified brake system, make this escalator an exceptionally reliable partner.
[vvsmustread]
| | |
| --- | --- |
| View Catalogue: | |
Product Description
Tugela design meets the demands of traffic applications. Furthermore, the moving staircase scores high on durability and long-lasting looks. Not only does it include a wide range of customizable design options, including various outer claddings and handrail colors, but it also lets the customer take the appearance of the escalator to new heights.
Firstly, the features of the Tugela staircase include:
Unique front skirt: Tugela's two front skirt options – one made out of scratch-resistant black synthetic material and another out of highly strong stainless steel – give you different looks while standing up to the abuse of trolleys and carts.
Distinctive Balustrades: The Tugela staircase, installed with three different types of balustrades as per the customer's choice – the robust, the metal and the sandwich. Moreover, each of these parts suits the open design areas, industrial urban settings and modern traffic applications; respectively.
Striking lights: The Tugela helps us to decorate our escalator with safety as well as beauty lights in the form of gap lighting, truss lighting, diffusing LED channels, light strips, spots and illuminated cladding.
Highly customizable moving staircase: Choose from a wide selection of additional features or work with our experts to make your unique vision a reality – Different claddings, Striking handrails, Stunning steps, Eye-catching comb and cover plates – all our available under the escalators customization.
Additionally, the specifications of the ramp include:
Rise: Up to 72′-2″ (22 m)
Max capacity (people/hour): 6,000
Step load: Rated for 265 lbs/step
Inclination: 27.3° or 30°
Application of the staircase: High traffic, heavy duty
Step chain roller: Inside
Location handrail drive: Truss
Handrail shape: U-shape | V-shape
Climate conditions: Indoor | Outdoor
Nominal step width: 24″ (600 mm) | 32″ (800 mm) | 40″ (1000 mm)
Speed: 100 fpm (0.5 m/s)
Flat step: 2 (minimum per code) or 3 (optional upon request)
Balustrade: Robust | Metal
Aesthetic lights: Balustrade | Skirt | Truss | Ambient cladding | Soffit cladding
Traffic lights: Floor plate | Decking | Newel | Column
Safety lights in the escalator: Step gap | Comb plate
Drive unit: Chain drive | Direct drive
Usage factor: 20–24 hours/day
Average life span: 25 years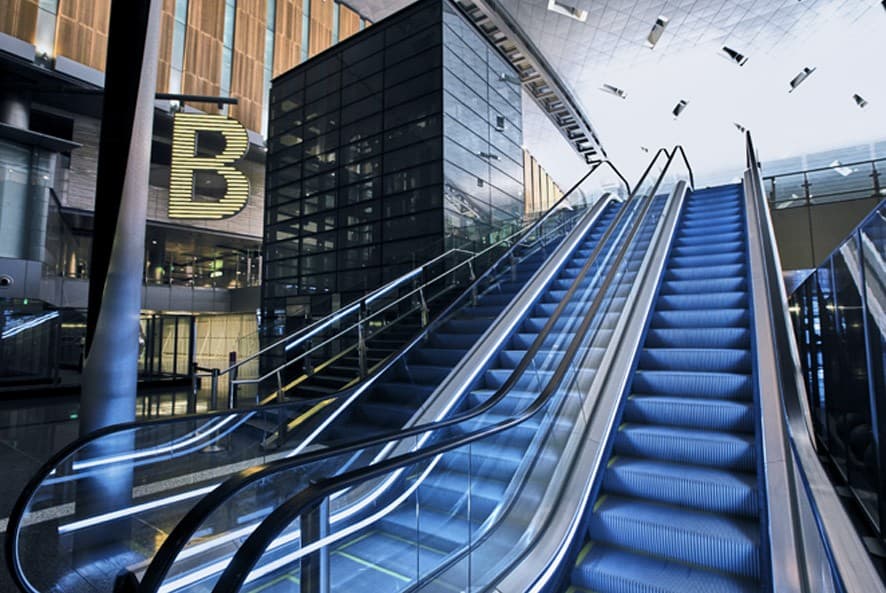 Click Here to see the complete range of the moving staircase.
Contact Details:
Brand Info

Thyssenkrupp