Room heaters have come a long way. From basic blower devices and oil heater models, today we even have smart room heaters in various price ranges and multiple features. Even the methods and technologies used by room heaters to distribute warmth around your space vary.
India experiences extreme climates; the northern part is especially chilly and has to tolerate cold winters and even snowfall. Having room heaters installed at your home will help you deal with the chilly winter days, especially in the mornings and evenings, when wearing warm clothing simply isn't enough.
The three main categories of room heaters are convection, conduction, and radiant heaters. You can select any one of these as per your requirement but don't forget to evaluate the wattage, temperature settings, and safety features before buying. For example, if you are looking for energy efficiency, go for the room heater models that are filled with oil, instead of a blower.
Here is a comprehensive buying guide for room heaters that will assist you if you are unsure about the kind of heater that will work best for you. Keep reading to learn more about the things to watch out for and you'll be able to select the best room heater based on factors like price, size, brand, and technology.
Top room heater recommendations to shop online!
Here is a list of room heater buying recommendations with different price ranges from various popular companies:
Stiebel Eltron CNS 150 Trend Electric Heater
The Stiebel Eltron CNS 150 Trend electric heater has a slimline design. It comes with a wall-mounted convector, metal casing, overheating protection, operating controls, and a weekly timer. It provides even and noiseless air heating.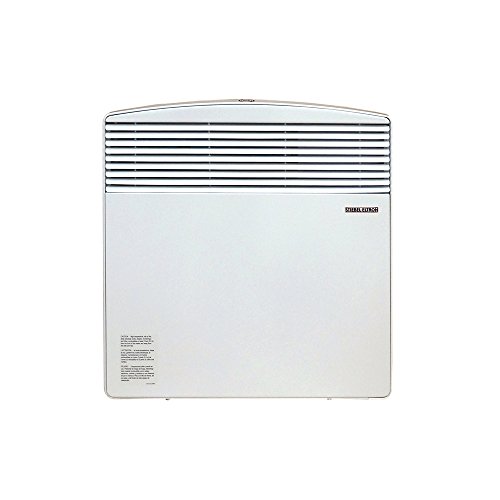 Bajaj Deluxe Room Heater
The Bajaj Deluxe Room Heater has a compact design. It comes with two heat settings and neat-clean operation. Other important features of this heater include tilting legs, a stainless steel reflector, and a nickel-chromium-plated mesh grid.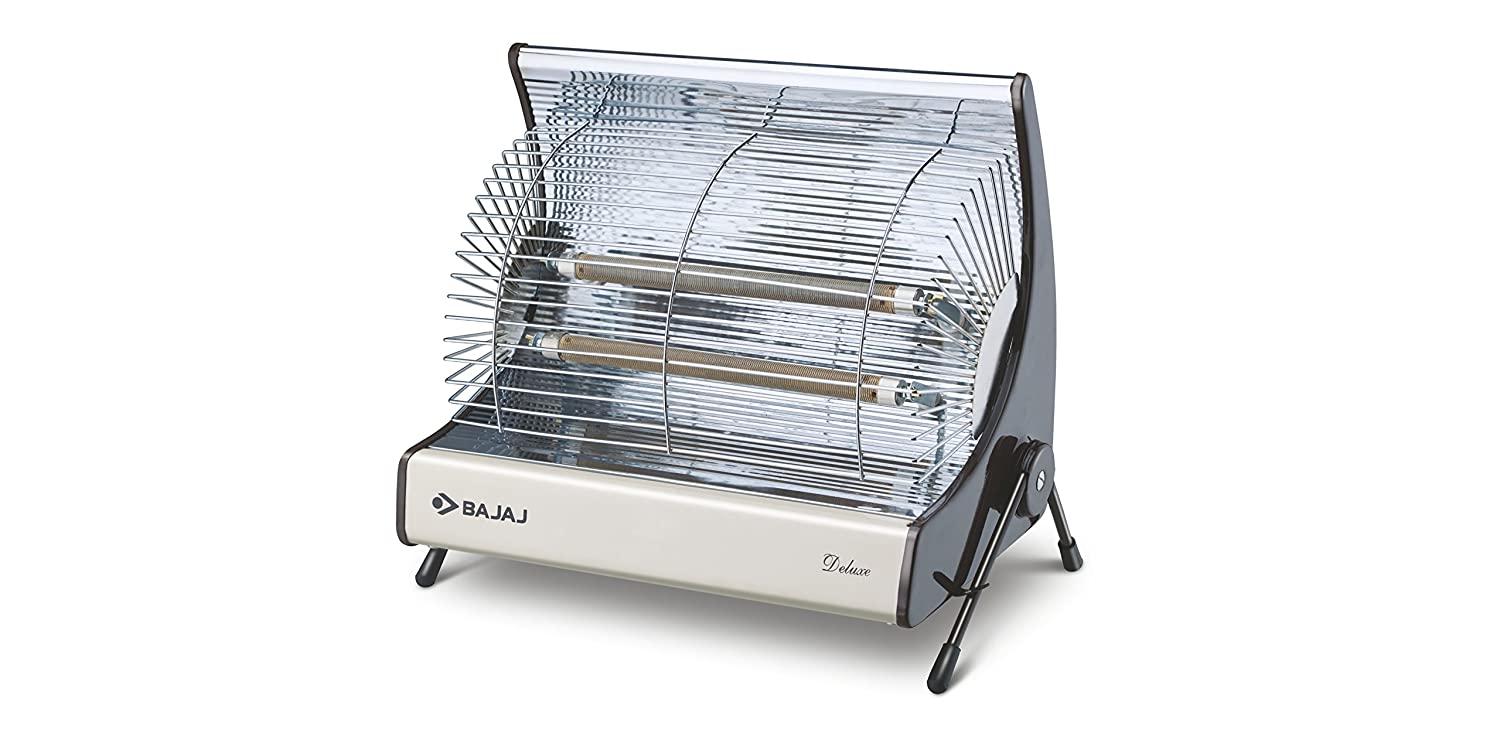 Bajaj Majesty RX10 Heat Convector Room Heater
Bajaj Majesty Heat Convector room heaters ensure maximum user safety and functionality. You can find two heat settings, a built-in handle, and an adjustable thermostat in this heater. It assures triple safety with its thermostat, auto thermal cutout, and thermal fuse.
Usha PTC OFR Room Heater
The Usha PTC OFR Room Heater comes with the best PTC technology heating element. This technology ensures effective heating and low power consumption. Apart from this, these room heaters have elegant and stylish designs.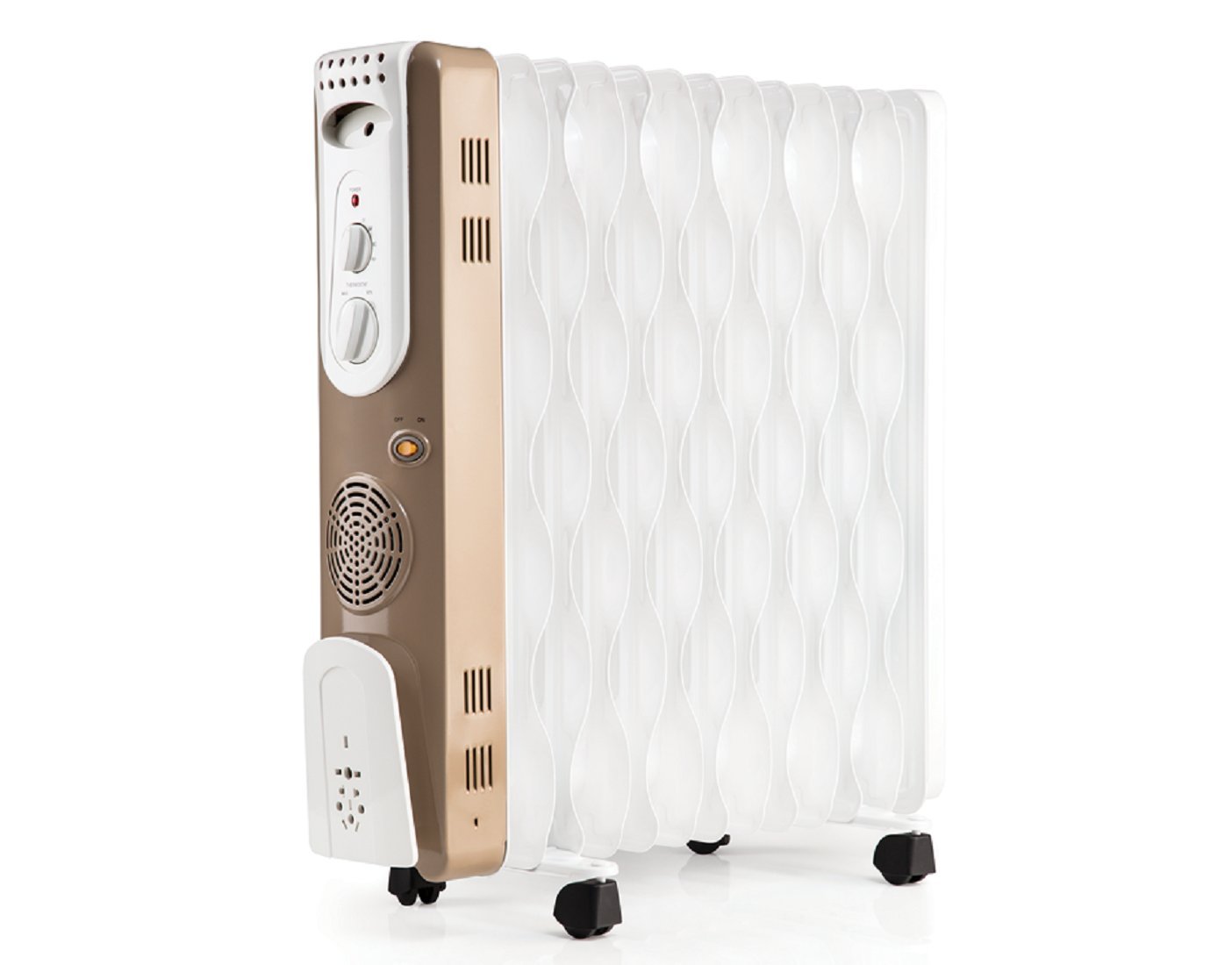 Usha Quartz Room Heater
Usha Quartz Room Heaters are budget-friendly and have quick heating and low-power consumption technology. These are equipped with high-grade reflectors to heat a large area conveniently.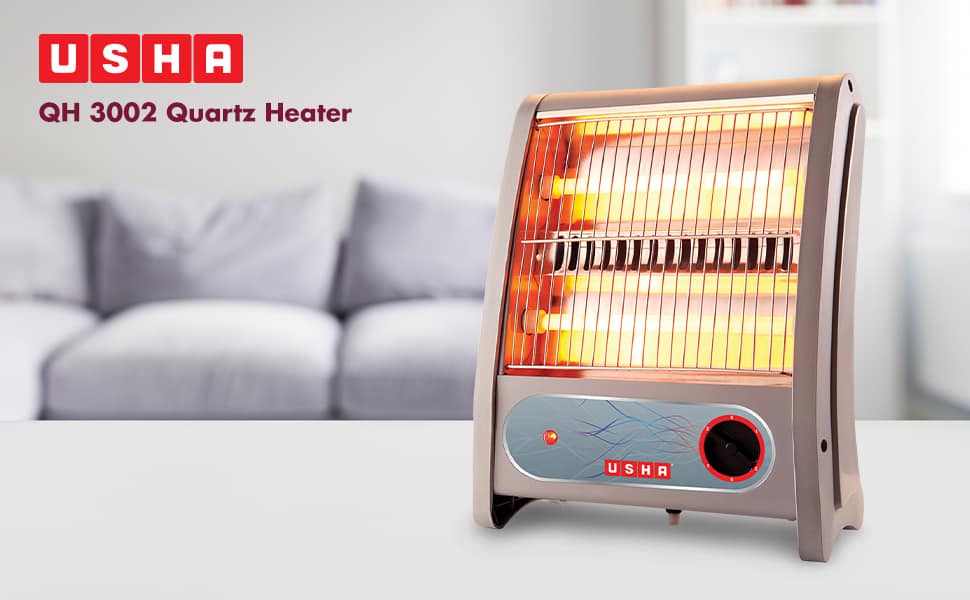 Havells Inclino Halogen Room Heater
Havells Inclino Halogen Room Heater is a budget-friendly option that comes with two heat settings and overheat protection. The wattage and voltage of this heater are 2000 W and 230 V at 50 Hz, respectively.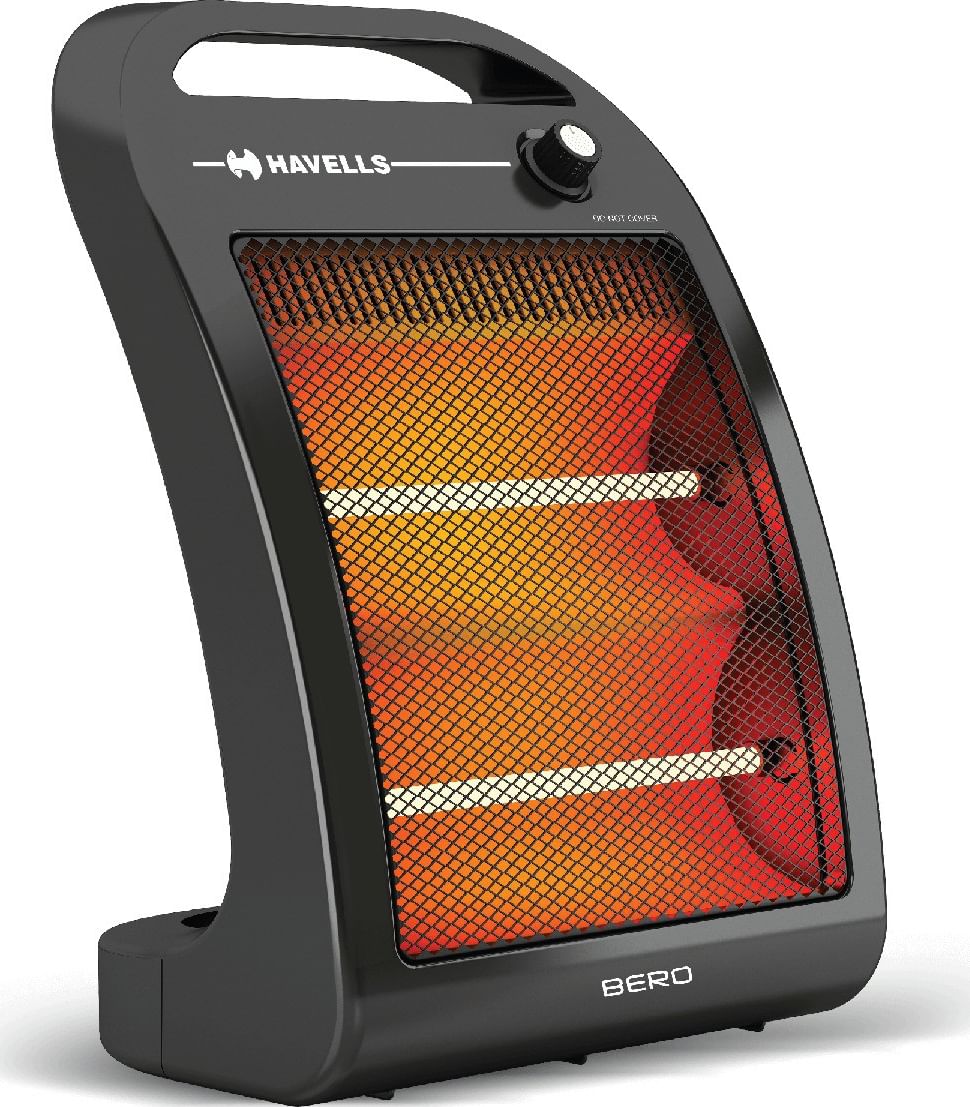 Havells Warmio Room Heater
Havells Warmio Room Heater has three halogen heating tubes for efficient heating, a rust-free reflector, and a front grill for extra safety. It comes with three heat settings.
Orient Durahot Room Heater
The Orient Durahot Room Heater is equipped with a 90-degree rotation which ensures even heat distribution in the entire room. This heater also comes with three heat settings and safety features like tip-over protection and a safety grill.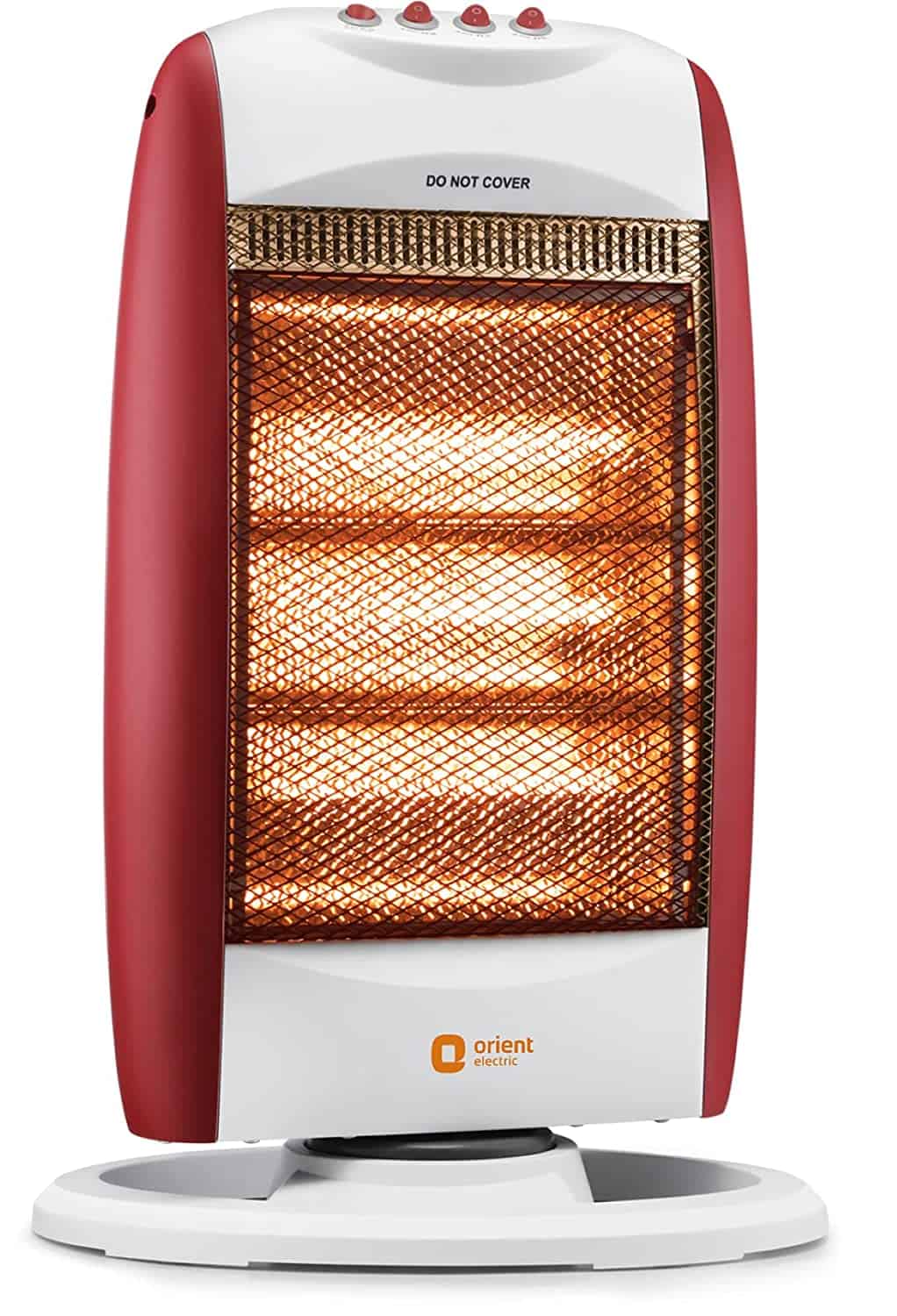 Orient Instahot Room Heater
The Orient Instahot Room Heater has two heat settings and safety features like tip-over protection and a safety grill. It also comes with a quartz tube heating element, a neon indicator for night visibility, and an elegant design to suit every home decor.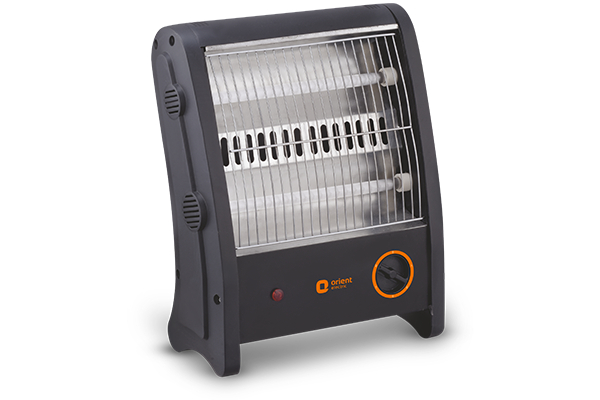 V-Guard RH1000 CH Room Heater
The V-Guard RH1000 CH Room Heater comes in compact and elegant designs that blend seamlessly with your home decor. This heater has fast heating technology and does its job without any noise.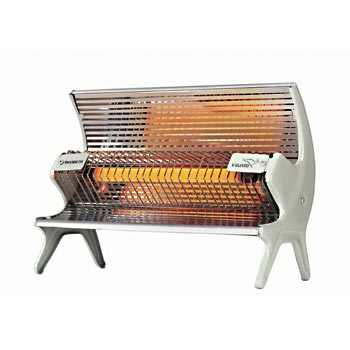 V-Guard RH3HT1000 Room Heater
The sleek, dual-tone design of the V-Guard RH3HT1000 Room Heater complements your interiors. Some of the salient features of this heater are instant heating, overheating protection, wider angle oscillation, and automatic tip-over protection.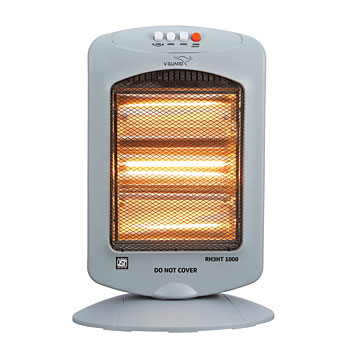 Morphy Richards OFR 09 Room Heater
The Morphy Richards OFR 09 room heater comes in white colour and has 9 fins. It also has a caster wheel, power selection knob, and tip-over switch for easy usage.
Glen Electric Oil Filled Radiator Room Heater
The Glen Electric Oil Filled Radiator room heater comes with three heat settings and special wave fins for better heat distribution. It also has overheating protection, castor wheels, and a digital display.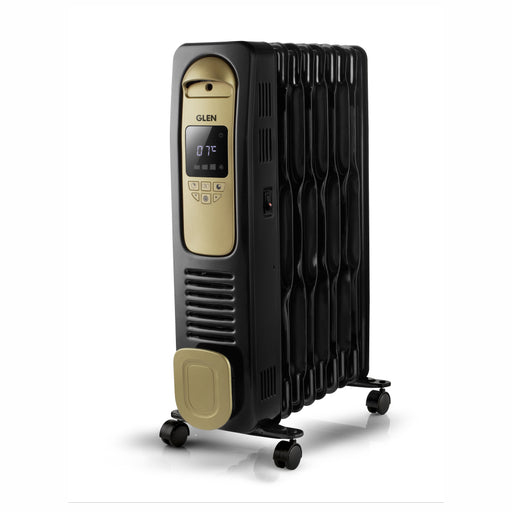 Sunflame O.F.R Heater
The Sunflame OFR heater comes in two variants, one with 11 fins and the other with 13 fins. Both variants have three heating settings, a fan heater, an adjustable thermostat, and castor wheels.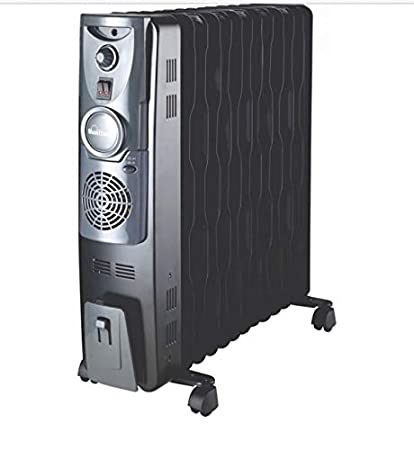 Orpat Climate Control Oil Heater
The Orpat Climate Control oil heater comes in an international ergonomic design and styling. It has 11 fins with 3 heat settings, an adjustable thermostat, castor wheels, a cord winder, a built-in handle, etc. to provide maximum functionality.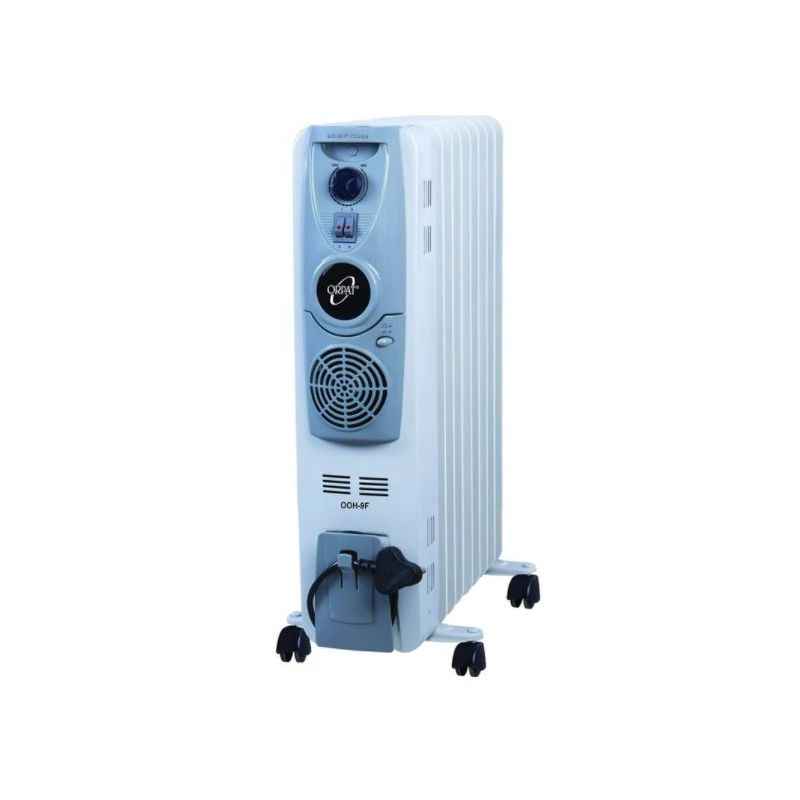 Price list of room heaters available online – An overview 
Brand

Product

MRP 

Bajaj

Bajaj Majesty RX10 Heat Convector

Room

Heater

 

3,439

 

 Usha

Usha PTC OFR Room Heater

17,790

Bajaj

Bajaj Deluxe Room Heater 

1,849

Usha 

Us

ha Quartz Room Heater

 

1,890

 

Havells

Havells Inclino Halogen Room Heater 

3,795

 

Orient

Orient Durahot Room Heater 

4,390

Havells

Havells Warmio Room Heater

3,575

Orient

 

Orient Instahot Room Heater

 

2,490

 

Morphy Richards

 

Morphy Richards OFR 09 Room Heater

 

14,399

 

Glen

 

Glen Electric Oil Filled Radiator Room Heater

 

19,595

 

Sunflame

 

Sunflame O.F.R Heater

 

13,590

 

Orpat

 

Orpat Climate Control Oil Heater

 

9,500

 
Factors to consider before buying a room heater
A perfect heater should come with certain preferable specifications that you can use anywhere in your home. So, here are some of the important factors you should consider to make a good purchase decision:
Heating elements
Heaters with more heating elements are always better. This helps you heat your space more quickly. A heater with just one or two heat settings is not recommended as it offers limited functionality. You can, however, try out heaters with multiple heat settings to determine which one is best for your living space.
Noise levels
Noise-free heater makes a great addition. The type of technology used to produce heat mostly determines noise levels. Heaters with the radiant method of heat generation make no noise. Some room heater models that are filled with oil are also noiseless, whereas ceramic or blower heaters are noisy.
Portability
Make sure the model you're purchasing is portable so you can easily move it to your desired area in your home. Purchasing the ones with wheels or handles serves this purpose.
Safety features
To maintain the internal components at a safe temperature, an overheat protection switch is a necessary element. So, once it reaches a certain temperature, the heater turns off automatically. Make sure the heater also has an additional safety grill or mesh that covers the heating element externally.
Energy consumption
The energy consumption of a heater is nothing but its wattage. A powerful and big heater will need more energy than smaller ones for proper functioning. Hence, do not get carried away by products that lack energy ratings yet claim to have low energy usage.
Design 
Before buying room heaters, you should also consider the designs available along with the features and specifications. There are many models available on the market; the latest ones will give you a variety of sizes, colours, and shapes. Choose a model that seems aesthetically appealing to you. 
Budget 
Your budget should be a primary concern before purchasing room heaters. Make sure that the price you pay is worth the room heater you buy. For managing your budget well while buying a room heater, compare the price list with other similar products. Mostly, the price of an electric heater depends on its type. For instance, oil-filled heaters are expensive due to their complicated mechanism. Heat convector and quartz room heater are available at an affordable price. 
Types of room heaters
Convection heaters
Convection heaters operate using convection currents to heat and circulate hot air in a room. This kind of room heater uses a fan/ blower to blow air toward the coil or panel. Due to this, the heat panel spreads warm air throughout the room. However, this blower room heater is a noisy option.
Pros: Energy efficient, warms up a room evenly.
Cons: The absence of air filters creates a lot of dust disturbances.
Conduction heaters
Conduction heaters spread heat through a metallic coil. This metallic coil glows when heated electrically. These heaters first heat up the surrounding area, which eventually spreads to the rest of the room.
Pros: Consumes less electricity, good for large rooms, noiseless, safe for children.
Cons: Expensive, requires time to warm up the room.
Radiant heaters
Radiant heaters work on the principle of infrared radiation. These heaters emit heat rays, which heat up the surface on which they fall and generate the required warmth in the room. Oil heaters are one of the most popular types of radiant heaters. These heaters have fins that radiate heat and warm up the space they are put in. The heat emitted from these heaters is directly proportional to the number of fins they have.
Pros: Noiseless, requires low-maintenance.
Cons: Not suitable for rooms with tiled walls.
Oil-filled radiator (OFR) heaters 
One of the most efficient heaters, oil-filled room heaters are the most expensive type to buy and operate due to their complex mechanism. They have the capacity to quickly raise the temperature of a large area. Moreover, an oil-filled radiant heater ensures you don't feel suffocated and don't reduce the oxygen in your room.
Halogen room heaters 
These are one of the best and most inexpensive room heaters for winter. They use halogen lamps to keep your space warm during winter. If you have kids or pets, halogen heaters are the safest and most effective option for your home. There are some modern models available with remote controls and more than one heat level setting.   
PTC room heaters 
These heaters are also known as Positive Temperature Co-efficient heaters. They are made up of a few specialized heating discs made of cutting-edge ceramic materials. PTC room heaters are safe, powerful, and energy efficient. Moreover, they allow for exceptional heat production and transfer even in the smallest spaces. 
Top room heater brands 
Bajaj 
Bajaj room heaters are some of the most popular ones on the market. The brand manufactures the most stylish and energy-efficient room heater designs. When it comes to features, they offer a variety, including shut-off features and tip-over protection.  
Usha 
Usha room heaters come with many innovative features and amazing design options. You can get various light levels from bright to dim. They deal in a wide variety of room heaters from air blowers to PTC. Moreover, Usha room heaters are a popular choice among customers. 
Orpat 
The brand is nationally recognized and has made some extraordinary technological advancements in home appliances. Their room heaters have a smooth appearance. Moreover, Orpat room heaters are widely available at affordable prices with features like energy efficiency.  
Havells 
Havells has built dominance over a wide range of products. Their room heaters have a cool touch. Customers can explore a variety of models from an oil-filled room heater to an air blower. In addition, some models come with two heat settings for extended comfort. 
Morphy Richards 
Morphy Richards has been a leader in home appliances in Europe for more than 66 years, both in terms of cutting-edge designs and technology. The brand's room heaters are opulent and convenient. Moreover, it ensures better heating and easy mobility. 
De'Longhi 
Another top producer of room heaters is DeLonghi. The brand's room heaters are renowned for being both attractive and strong. Many of the De'Longhi models have five stars reviews. Their heaters have efficient heating, excellent body, and easily portable designs. 
Nova 
The brand has a dominant market share across many products including kitchen, personal care, and home appliances. Nova is known as a leading manufacturer of room heaters. Nova room heaters are recognized for their safety, price, and energy efficiency. From a fan heater with a blower to OFR, they have a wide variety of room heaters.
Benefits of buying room heaters online 
As the weather gets colder, people are more and more dependent on room heaters to keep them warm. Some people might consider this to be a minor convenience, while others might view it as essential. However, there are risks associated with using room heaters. Therefore, it is crucial to think about the best one.
You can learn more about the various room heaters available online. When it comes to purchasing room heaters online, you will get a variety of brands, sizes, and designs. Moreover, you can compare the price of the room heater and select what best suits you. Buying room heaters online allows you to choose them based on your needs and brand preferences.
Why buy from B&I's list? 
Searching for some of the best room heaters online? You are at the right place. The buying options above are some of the best hand-picked room heaters from the most reliable brands. In this list, you will find a wide range of options from an air blower/ fan room heater to PTC. These room heaters are a full package of not just aesthetics and convenience but also great features and affordable prices. So, wait no more and explore our diverse list of options and get your room heater today! 
Watch this video: Best room heater for home in India (5 mins 45 secs)
FAQs 
What is the safest type of room heater? 
Since sealed combustion heaters don't draw heated air from the room and exhaust it outside. They are the safest to use and most effective. 
What type of room heater is most efficient? 
Fan heaters use the least amount of energy and are the least expensive. As a result, choosing a fan heater will be a more cost-effective alternative than other types. However, radiant heaters, also known as infrared heaters, are among the most energy-efficient solutions since emitting radiation requires less energy than heating the air. Therefore, electric infrared heaters are the most energy-efficient type. 
How do I calculate what size heater I need? 
As a thumb rule, for every square foot of floor area in a room, you will need 10 watts of heating power. This indicates that a 1,500-watt heater may serve as the main heat source for a space of up to 150 square feet. 
Is a space heater more energy-efficient than central heating? 
Space heaters only heat a single room instead of the entire house. Thus, space heaters use less energy than central heating systems. Newer models are a prime example of this, as they are designed to be more energy efficient than older models. 
Conclusion
Room heaters are an excellent way to warm up individual rooms in your living space. So, consider where you will use the heater and which type of heater is appropriate for your home before you buy one. If you need to heat a space rapidly, radiant heaters are preferable. On the other hand, convection heaters are a great option if you want to warm an entire room in your house.
Combination heaters are hard to beat as they can withstand extensive usage. Room heater models that are filled with oil are more energy efficient, noiseless, and long-lasting than hot air blower appliances. Hence, depending on the size of your rooms, anticipated frequency of use, and price, pick the room heater option that best meets your needs. Lastly, avoid placing the heater near anything that is flammable.
You have learned about the various factors you need to consider before buying the right type of product for your home from this article. So, you're ready to choose the best room heater for your home from our top buying suggestions in various price ranges.
*The featured image used in the article is from CNET