Let's get it out in the open that bunk beds aren't just for kids! We know that bunk beds are fascinating for kids, particularly the process of climbing up and down and having the choice of being above or below, but they are also delightful furniture options for adults. These beds are useful, practical, and space-saving solutions for compact bedrooms. Due to their unique design, these can be accommodated in narrow attic spaces or a tight guest room. Apart from their space maximizing feature, designers are going gaga over these beds due to their easy customizability. Yes! Now you can customize them according to your own design aesthetics. Thus, customized and designer bunk beds with storage make up for all-rounder bedroom furniture for adults, kids, girls & boys of all age brackets.
Whether you only want one set of bunk sleepers or are prepared to go all out and invest in a full bunk room, we have covered some creative bunk bed ideas that will surely impress you. Keep reading to learn all about these beds with the help of a selection guide and amazing inspiration images. Also, shop for the best bunk beds in India from our recommendation section!
How to choose the correct bunk bed?
To find the perfect bed for your room, you need to determine the dimensions of your room. Start by measuring the width of the room and the height of the ceiling. Also, remember to take into consideration the number of people you need to house on the bed. Furthermore, analyze if you require the adaptability of a full bed or require a trundle on the bottom for more guests. Another important thing to do is to check each bed's weight capacity. While some bunk sleepers are only intended for small children, others may accommodate teenagers and even adults. So, it is important to choose a bed from the suitable weight category.
Now that you know the basics for choosing the perfect bunk bed for your home, let's dive into the creative world of the latest designs and trends!
15 Latest bunk bed ideas and designs to maximize bedroom space
Bunk bed design #1
Image Source: Alforja
This simple yet aesthetic bunk bed is everything a teenage girl wants. The size of the bed is perfect; it provides enough space to not look crappy and congested. The sleek ladder in white provides a sturdy and secure way for climbing on the top bunk for the young ones.
Bunk bed design #2
Image Source: Kedrachalendesign
This bunk room is big enough to accommodate six beds arranged in a U layout, making it ideal for adults, young girls, boys, and kids' sleepovers and pillow fights. So, no more fights over who gets the bed. With a bedroom like this, all you is a good night's sleep and fun memories.
Bunk bed design #3
Image Source: Matthew Williams
This bed enclosure is a stunning design success, suitable for both children and adults. Even for adults, the colour scheme and ceiling design are soothing yet modern. The curtain creates further privacy and a snug fort atmosphere that is definitely alluring.
Bunk bed design #4
Image Source: Tessa Neustadt
Starting with the dual-size bed and culminating with the accessible built-in bookshelf, this furniture is ideal in so many ways. Can we also address that awesome customized staircase? This practical yet aesthetic bed definitely got us wishing it was ours!
Bunk bed design #5
Image Source: Studio Mcgee
This bed packs a punch, thanks to its rich navy colour. We absolutely love that it is painted the same colour as the shiplap in the backdrop, creating a stylish monochromatic impression. All in all, this built-in bunk bed for a low-ceiling room looks perfect for young adults or college dorms.
Bunk bed design #6
Image Source: Dustin Halleck
Even though this enormous bedroom was probably intended for children, adults too will dote over the aesthetic. There is plenty of space for the kids to play, thanks to the fully occupied castle top and the cushioned floors. These bunk beds are unquestionably magical and perfect for kids and teenage boys and girls!
Bunk bed design #7
Image Source: Sarah Elliot
A twin set of queen-sized, custom-built bunk beds is featured in this elegant modern room design providing a cozy area for young boys, girls, and adults. Moreover, the arched wood-slat coated ceilings, the curves, the soft blue paint, and the light wood steps on a central staircase give off a dream beach house vibe.
Bunk bed design #8
Image Source: Maite Grada
This area manages to strike the ideal chord between playfulness, fun, and a place where kids may grow old. The bright colours make it kid-friendly, but the bed designs and wallpaper have a somewhat more professional vibe. We can't get enough of that orange ladder that is equal amounts of fun and sophistication.
Bunk bed design #9
Image Source: Alforja
This mega bed is a whole room in itself. A three sleeper bed that is all about storage, is a rare sight. We are obsessed with the multifunctional chairs that are also drawers! Since all the three sleepers are arranged in a vertical setting, your room has so much open activity space. However, this type of bed is only suitable for a room that has high ceilings.
Bunk bed design #10
Image Source: Venuereport
This room features an adult-sized double bed on the floor and an upper bed that is reachable by a ladder for additional sleeping space. An industrial-style safety net in black surrounds the top loft beautifully. This bed appears perfect for a small family of three.
Bunk bed design #11
Image Source: Tiffanyleighdesigns
We are in love with the concept of floating loft bunks. These are space-saving and also look so neat in your room. The monochrome moment here makes the bed stand out even more! So, if you love the minimalist aesthetics, do give these floating loft bunks for adults a try.
Bunk bed design #12
Image Source: Diff (Behance)
Here is a snug bedroom design with built-in beds adjacent to a sleek wardrobe. The bunkers look classy and minimal, absolutely suitable for a family of four. The colour scheme used in the room further makes the room look chic and classy. Detailing of the black metal railing and support ladder further adds industrial loft vibes to the area.
Bunk bed design #13
Image Source: Erin Williamson Design
This bed has a way of fitting into almost any type of room. Arrangements like this work well in attics, guest rooms, and awkwardly shaped rooms. With the addition of this puzzle-like arrangement of beds, this hip space with a slanted ceiling looks quite attractive. Thus, this bunk bed is the perfect play site for your little boys and girls.
Bunk bed design #14
Image Source: Dustin Halleck
What to do when you run out of space in your bedroom? Convert that extra closet space into a compact guest room. This room features a smart idea for the guest room. The open space in the bedroom is maintained while also providing privacy to both areas with help of a sliding partition door. The contemporary colour scheme used in the room brings calmness and simplicity to the ambience.
Bunk bed design #15
Image Source: Sam Frost
A wall full of double floor-to-ceiling bunk beds in this multipurpose room is made of warmly tinted wood and is ideal for adults or teenagers. To offer a pleasant space for socializing, a sitting area furnished with modern furniture in tones of black and grey faces away from the sleeping section. This is a perfect hybrid room for those opting for tiny home concepts.
Shop from our top 10 bunk bed picks!
IKEA SVARTA Bed Frame
@Home by Nilkamal Nemo Bed
Urban Ladder Barnley Storage Bed
Malina Mothercare Bunk Bed
Ubuy Airlie Solid Wood Beds
Craftatoz Batoni Triple Bed
Nilkamal Crossett Metal Bed
Angie Home Kahila Black Kids Bed
SparKenzy Bed With Turndle
Saraf Furniture Solid Wood Charlie Bed
Conclusion
Increasingly, bunk beds are being used in student accommodation and college dorms for adults and kids. Most hotels too, feature these beautiful beds in their family suites to provide maximum resting space while leaving out enough room for activities. Another reason for the popularity of these types of bedsis their flexibility in design. If you can't find a suitable unit for your space, there is always scope for customization. However, before buying or finalizing a bespoke design, always remember to measure the ceiling height of your room and the weight capacity of your product as mentioned in our selection guide. Also, use any of your favourite designs or idea presented in this article to style your own unique bed. If you want a quick solution, you can shop from our top picks of bunk beds available online in India!
*The featured image used in this article is from Francis Lofts & Bunks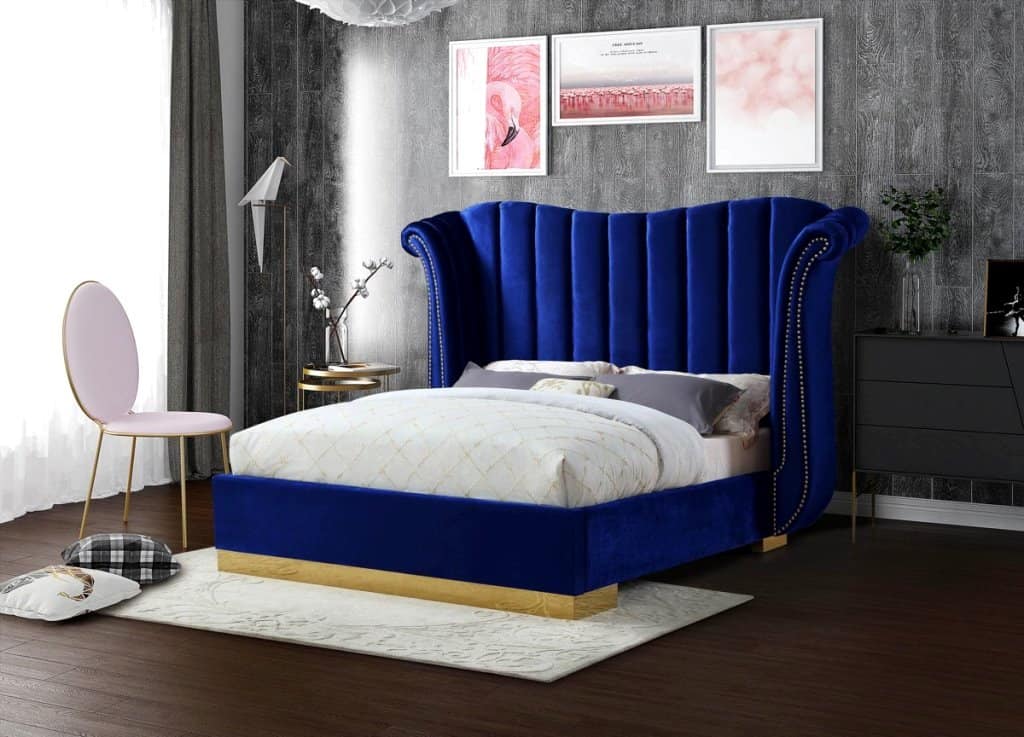 Designer beds are not a mere investment piece providing comfort; they are a reflection of your design aesthetic. Luxury beds of any kind, whether upholstered, wooden, steel, canopy, etc., including the headboard, make your bedroom retreat way more inviting. If you look around your bedroom and love what you see but have a constant impression of something missing or unfinished, it might be the bed frame. Meanwhile, a statement-making bed will