As a part of its consistent effort of highlighting the benefits of integrating wood in a variety of applications, Canadian Wood is dedicated to discussing what's new and what's next, in the area of wood use. This successfully running series provides a constant ground for knowledge sharing by several reputed Indian wood working professionals. This of course, while covering a range of topics of significance to the industry. As a part of the WOODINNOVATION series, Canadian Wood recently hosted a third webinar focused on Engineered Wood Products.
This is the third webinar from the seriesWOODINNOVATIONS – what's new, what's next. The webinar showcased benchmark engineered wood products manufactured by reputed Indian wood working companies. Also, it unveiled a new range of high-quality FJEG boards made in India and their suitability for varied applications.
Engineered wood products maximize the natural strength and characteristics of wood. These products are dimensionally stable, offer great structural strength, and work as sustainable and cost-effective solutions too.
Esteemed guests and speakers at the Engineered Wood Products webinar, namely, Punit Patel (Nav Nirman Industries, Hyderabad) and P.V. Haridasan (Kerala State Rubber Co-operative Ltd., Kannur) shared their unique experiences and technical expertise besides highlighting the advantages of using engineered wood products for multiple purposes. Alongside, Peter Bradfield (Technical Advisor, Canadian Wood) also introduced recent successes – FJEG boards made with sustainably sourced wood species from British Columbia and demonstrated their suitability for varied applications besides showcasing other engineered Canadian wood products.
Speaking about the webinar, Mr. Pranesh Chibber, Country Director – Canadian Wood-
"The nature of the Indian wood market prevents the use of mass wood, which remains a major challenge. The thought behind conducting this webinar was to discuss engineered panels and address market challenges. As an international provider of wood, we strive to add value to the new-age architectural practices. We support builders in creating innovative spaces using wood which is an environment-friendly and powerful building material. The Indian wood working industry is growing rapidly. Thus, we see increased demand for engineered wood products, for different structural and design requirements. Although the market appetite is there, there's a lack of technical knowledge around the engineering of wooden products. In order to bridge the gap and to educate professionals, we conducted this webinar on engineered wood products."
Mr. P.V. Haridasan, Managing Director – RUBCO (Kerala State Rubber Co-operative Ltd.) on the Webinar for Engineered Wood Products–
"Currently the market opportunity is very high and the demand for wood furniture is growing over the years owing to factors such as urbanization as well as an increase in the customer's earning potential. With Canadian Wood, we have had some of the best experiences working with wood, as it is easy to work with machines like planning, sawing, and giving smooth finishes to products. While integrating Canadian Wood species, finger joints were found to be smoothly cut on the planed pieces with the formation of strong figure joints using D3 glue. We've also experienced that Canadian Wood products are suitable for edge gluing with polyvinyl acetate glue and its hardener to make string glue joints. Additionally, the boards could be easily and smoothly sanded in a wide-belt sander, thus, meeting our quality parameters."
Referring to the use of furniture, he further added: "In the recent past, we have made wardrobes, tables, chairs, etc. with western hemlock board. The mortise and tenon joints were found to be quite sturdy when developed using Canadian Wood species. The screw holding capacity was very good and the product allowed for finishing with Polyurethane Lacquers, the same finish as obtained through Rubberwood."
Mr. Puneet Patel, Director – Nav Nirman Industries, Hyderabad, on the Webinar for Engineered Wood Products–
"FJEG BOARD is an engineered product and is a ready building material suitable for a wide range of applications. Most importantly, by using FJEG boards made from sustainably sourced wood species, we can protect forests. It helps lower formaldehyde emission, as compared to other panel products. Also, it is very flexible which adds to ease in applications and creates better dimensional stability. It could further be customized with versatile applications, like a thick solid wood section, as compared to plywood. FJEG BOARD can be used in door shutters, furniture, kitchen, and wall cabinet making and for flooring, ceiling, paneling, and door frame purposes, which is a new trend."
Speaking about the association with Canadian Wood, he added: "Our journey started in 2016 when at the initial stage we had used Spruce-pine-fir (SPF) for our products and have had an amazing experience using Canadian Wood species. We then tried using western hemlock for manufacturing 45mm boards. We're happy to say that today, boards made with Canadian Wood are in our main product line."
Forestry Innovation Consulting Pvt. Ltd. is a crown agency of the government of British Columbia (B.C.) – the westernmost province of Canada. It mandates promoting its woodworking products in offshore markets. It focuses on promoting five distinct wood species in India, namely: 1) Spruce-Pine-Fir (SPF), 2) Western hemlock, 3) Douglas-fir, 4) Yellow cedar and 5) Western red cedar. These species have unique properties making them suitable for a range of reman and structural applications. Canadian Wood lumber remains available duly seasoned, sized, and graded, almost ready-to-use across the country through a network of 41 stockists in all major towns.
Click here to watch the Canadian Wood webinar on engineered wood products.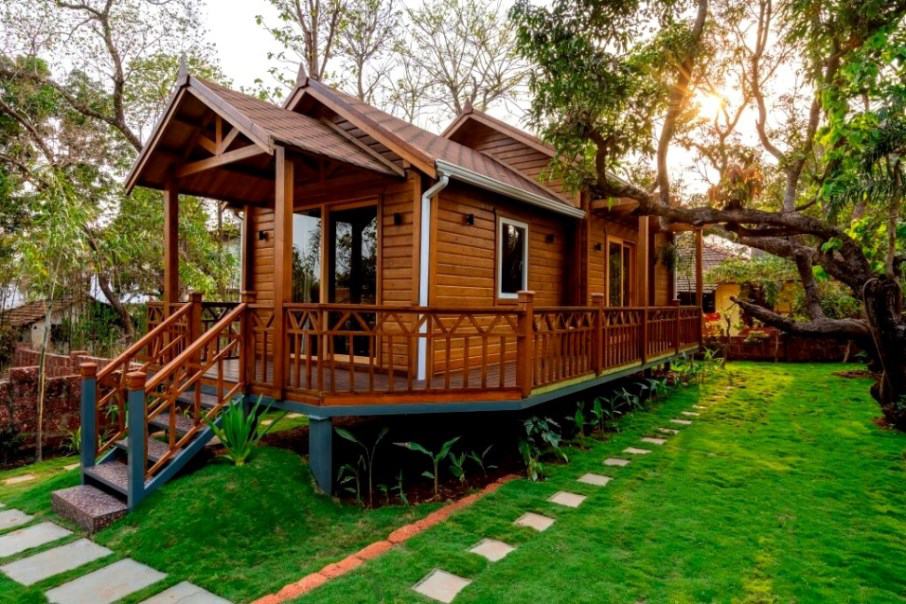 Building with wood is gaining momentum in India. As an outcome, Forestry Innovation Consulting Pvt. Ltd. popularly known as Canadian Wood is creating an ecosystem where wood working professionals come together to promote the adoption and use of sustainably sourced wood species from B.C. Canada. Keeping up with its tradition of hosting educational webinars, the recent webinar focused upon different styles of building with wood, their overall advan