Although a chair is one of the most basic pieces of furniture in any setting, it can add a distinctive character to your space. While it serves an essential function, it can also be an aesthetic addition to your room, enhancing its overall look and vibe. Searching for chairs that offer a balanced mix of functionality and aesthetics that complement your home, office or commercial space is a worthwhile investment. Apart from being attractive, it is important to ensure that your choice is comfortable and practical for your space. It's easy to get lost in the sea of all the different types available in the market, such as plastic, metal, study, gaming, or office chairs.
So, to make your job easier, we have compiled a comprehensive guide classifying them based on the material and the purpose they serve along with convenient buying options for hassle-free shopping.
Basic guide for chair selection
First, let's have a look at some basic things you must consider before buying one for yourself-
Budget
First and foremost, consider the amount of money you are willing to spend. It is relevant to note that a chair is, in a way, a long-term investment. So, investing a little extra money on a good quality, aesthetic yet comfortable chair may be worthwhile.
Purpose
Some chairs are designed to serve a specific function and their overall look differs according to the purpose they serve. For example, a basic plastic chair inside an office setting would be a misfit and affect the overall vibe of your workplace. Similarly, a café adorning office chairs would also ruin its comfy and cozy vibe. Therefore, it is important to be mindful of the purpose for which you are making the purchase and ensure that you buy accordingly.
Space available
Another basic factor to consider is the space you have available to work with. Chairs come in all shapes and sizes, therefore, they must be proportionate to the size of the room, otherwise, it will be an impractical choice. A simple rule to follow is, that a compact room must not be filled with big, space-consuming furniture as it will not look aesthetically pleasing.
Durability
Chairs serve a very basic function and are used regularly. Therefore, it is important to invest in a good quality piece that would last you a long time.
An ergonomically designed chair will prove to be a sensible investment for your long-term health. Keeping in mind factors like comfort, health, and posture, an ergonomic chair is specially made to provide the best possible support to the body. For that reason, ergonomics is specially used in designing the office, gaming, and study chairs. Consider the following factors while purchasing one for yourself:
Seat height
The seat height must be fully adjustable; this will allow people of varying heights to sit comfortably in it. The ideal seat height is when your feet lie flat on the floor, your knees form a 90-degree angle when bent, your elbows also form a 90 to 100-degree angle and your forearms are parallel to the desk.
Seat width and depth
The width and depth of the seat must be sufficient to support any person comfortably. The typical width is 17 to 20 inches and the depth should be sufficient to enable the user to be seated with his back against the backrest while allowing for a space of around 2 to 4 inches between the back of the knees and the seat.
Lumbar support
It is essential that the lower back is adequately supported. Since, around this area, the spine has an inward curve and if it is not properly supported, it stresses the lower spine. An ergonomic office chair must have flexible lumbar support allowing adjustment of both height and depth.
Backrest
It should offer complete upper and middle back support to the user, ensuring that injury or back pain is avoided. The backrest must have a width of around 12 to 19 inches allowing it to support the natural curve of the spine. It must be adjustable at a forward and backward angle along with a locking mechanism to secure the adjusted angle in place. A reclining angle between 110° and 130° results in the lowest backpressure.
Seat material
The seat should be suitably padded to ensure comfort while sitting for extended periods. Breathable cloth fabric is favoured over a hard surface.
Armrest
The armrest should be such that the user's arms are comfortably placed and their shoulders are relaxed. While typing, the elbows and the lower arms should be lightly rested and the forearm should not rest on the armrest.
Swivel
It must possess the ability to rotate easily allowing the user a wider range of motion to reach for different areas of their desk without causing strain.
Types of chairs based on material
When we make a distinction based on material, we have to note that sometimes more than one kind of material is used in the manufacturing process. For example, a plastic chair may be a blend of metal legs and a plastic seat or a gaming chair may have steel legs along with a padded plastic frame. The blend of various materials in one piece, at times, produces striking results adding to its overall appeal. This intermingling of materials is also reflected in the number of buying options we have carefully selected and displayed.
Plastic chairs
Plastic chairs are commonplace in every household, office, or commercial space. The reason behind their popularity is simple; these are cheap, durable, and lightweight which makes them affordable and portable. Plastic chairs are also easy to maintain requiring only soap and water to clean them. These can withstand natural elements such as the sun, snow, and rain a lot better as compared to other materials like wood. Their durability makes them versatile and fit to be used both indoors as well as outdoors. However, one of the downsides of plastic chairs is that it does not look elegant or expensive.
UrbanLadder, DSW Side Plastic Chair Replica
Sirohi, Beige Acapulco Upcycled Plastic Chair
BoConcept, Adelaide Plastic Chair
Wooden chair
These are also quite popular and common in households. They are strong, long-lasting, and make for attractive additions to a room. Moreover, they give a classic yet elegant look and can be styled and designed easily.
While these are perfectly capable of surviving the daily wear and tear, they need to be maintained with varnish and other chemicals as these are susceptible to termite infestation.
Jaypore, Brown Solid Wooden Chair
BoConcept, Charlotte
Vyom, Pentagon Wood Chair
Rattan is a fibrous plant-like bamboo and can be used as wood to make furniture. Furniture made from rattan is making a comeback this year! With increasing popularity, it is also a good option to add to your space. Moreover, these are lightweight, durable, and can be used outdoors.
At-Home, Ariel Occasional Chair
DTALE Modern, Caroline Rattan Accent Chair
Freedomtree, Butterfly Accent Chair
Metal chairs
These are made using various metals including stainless steel, carbon steel, iron, and aluminium. These are stronger and sturdier as compared to other materials such as wood or plastic. In addition, these are highly durable with the ability to withstand daily wear and tear. These are also relatively easy to maintain. However, their weight is a downside making them less convenient to carry.
BoConcept, Imola With Swivel Function
West Elm, Modern Petal Fully Upholstered Dining Chair
BoConcept, Ottawa Plastic Chair With Metal Legs
Types of chairs based on functionality
When it comes to functionality, office, study, and gaming chairs are the most sought-after options. However, due to changing trends, people have now started taking a more holistic approach toward furniture by opting for pieces that offer both comfort and style.
There are several ways to put this holistic approach into practice-
Chairs come in all sorts of designs to match the overall theme of a home or commercial space. For example, as the name suggests, an egg chair is very unconventionally styled without compromising comfort or practicality. Similarly, a Panton chair sports an S-shaped design ditching the traditional 4-legged model. On the other hand, a peacock design is elegant yet eccentric. In the same way, armchairs can be given a classier, more premium feels by using leather to complement the wooden frame.
Patterns
Using funky patterns is another way to add visual appeal. Pieces sporting large geometric patterns or nature-inspired patterns such as birds or flowers can make for an attractive option. Likewise, an intricately carved pattern on wood gives a graceful and classy feel.
Taking into account the above-mentioned approach, here are a few types of chairs classified on the basis of their functionality:
Ergonomic office chairs
Since you will be spending a majority of your working hours in an office chair, great caution must be exercised before selecting it. Remember, the more comfortable you are in your office chair, the more productive you will be.
Artline, Meshchair
Herman Miller, Sayl Task Chair
Gaming chairs
Gaming chairs are specially designed keeping in mind the comfort of a gamer. Sporting a high backrest, gaming chairs provide adequate support to the back, shoulders, arms, and neck.
Adiko Systems, Elegant Designer Gaming Chair
Casa Moderna, Ergonomic Office Gaming Chair With Led Lights
Pepper fry, Panther Gaming Chair
Study chairs
A study chair is designed to ensure that a good posture is maintained while studying. Students nowadays are under a lot of pressure due to their hectic schedules and the increasing competition. Sitting and studying for extended periods strains the body. Therefore, it is important to buy a good quality, comfortable study chair that can adequately support the body for maximum productivity.
Homecentre, Quadro Aero Mesh Office Study Chair
Freedom Tree, Wicker Office Study Chair
West Elm, Finley Office Study Chair
Recliner chairs
In a recliner, the user can lower the back of the chair which either simultaneously raises its footrest or it may be manually raised. They provide a lot of comfort and support to the user.
Wooden street, Manual Single Seater Recliner with Swivel and Glider
Evok, Elimo Fabric 1 Seater Manual Recliner in Blue
Boconcept, Athena With Reclining Back Function and Swivel Base
Dining chairs
These are placed around a dining table and are generally used during meals. Therefore, they are mostly used in homes and commercial spaces like restaurants and hotels. They must have an elegant or classy look as this area of your house needs to look presentable and aesthetic when guests come over for lunch or dinner.
Oncarnival, AF-C02B Dining Chair
BoConcept, Adelaide With Swivel Function
Hokybo, 91 Model In Mahogany Glossy Finish Rosewood Color
Massage chairs
Typically, these are of two types- traditional and robotic. A traditional massage chair is designed to provide the masseur access to the head, shoulders, and back of their clients. A robotic massage chair, on the other hand, is equipped with electronic vibrators and motors which imitate the hand motions of a masseur.
GKW Retail, Heated Full Body Massage Chair & Recliner
Robotouch, Zest Full Body Massage Chair
GKW Retail, Black Leatherette 360° Swivel Heated Massage Chair
Bean bag chairs
Bean bags are simply cloth or fabric filled with beans. These too provide comfort and support to the user and can be a quirky addition to your space. These are affordable with a minimalistic design and come in a variety of colours and sizes, and can quickly liven up your room.
Carrter, Rachel Bean Bag
Pepperfry, Tierra XXXL Printed Bean Bag With Beans In Multicolour
Godrej Interio, Comfy Bean Bags – XL
Folding chairs
These are a convenient option for commercial spaces such as restaurants, hotels, or venues that cater to different events. These are lightweight and collapsible making them a good option for easy storage and convenient transportation.
Craftshades, Retro Handmade Leather Butterfly Chair
Home Centre, Helios Zoho Brown Sheesham Wood Folding Dining Chair
UrbanLadder, Bellucci Folding Chair
Rocking chairs
These have a curved band attached to their legs that acts as a rocker and produces a calming back and forth motion which causes relaxation to the user. They can be used to ease back pain or by newbie parents since the back and forth motion can calm babies and help them fall asleep faster.
Godecor hub, Godecor Hub Ruggustóll Recliner Wooden Rocking Chair With Footrest
Casa Moderna, Plush Lazy Rocking Chair
Orange Tree, Jeyo Rocking Chair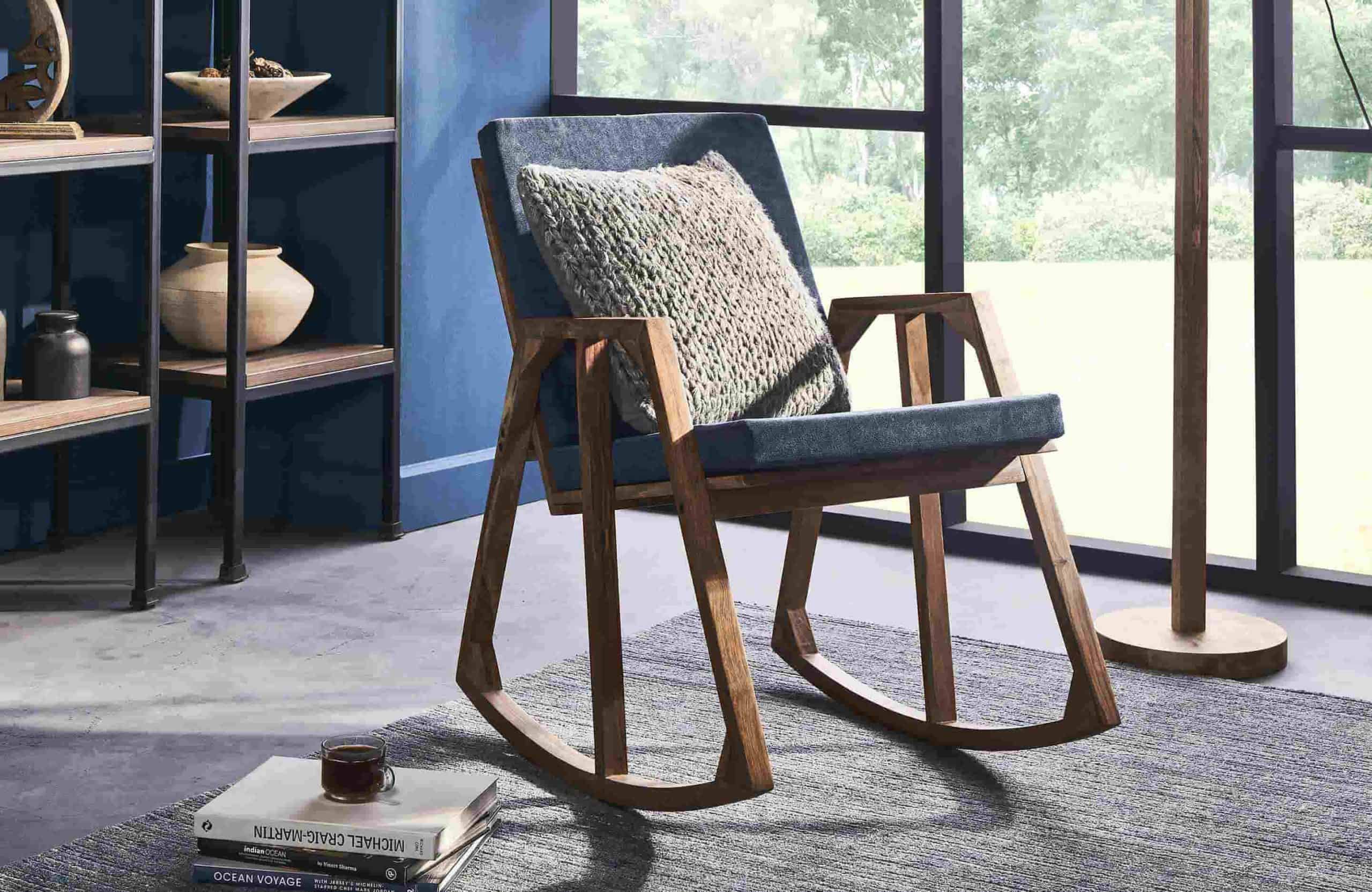 The popularity of a café depends upon the quality of the food offered and its overall ambience and aesthetic appeal. In this day and age where people are determined to document every second of their life and post it on social media, an aesthetically pleasing café can quickly become an attractive destination. Therefore, the chairs must complement and go along with the overall vibe or theme of the café otherwise they will seem like a misfit and affect the aesthetic appeal of the space.
Base 53, Nordic Living Room Wrought Iron Chair Table Coffee Shop
West Elm, Portside Outdoor Bistro Folding Chairs, Weathered Gray, Set of 2
BentChair, Lucia Chair
An armchair is a variation of chairs with fixed sides that support the arms or elbows of the user. These are comfortable and the arm support enables the user to easily sit in, or get out of the chair. Therefore, these are preferable options for the elderly or people with medical problems.
Magnolia, Seher Armchair
The Happy Hogar, Euclid Accent armchair
BoConcept, Fusion
When looking for a chair for kids, apart from factors like comfort and durability, one must also look for fun, kid-friendly designs in beautiful bright colours as these are more attractive to kids. These generally appear in small sizes and are used mainly by kindergartens or schools.
GKW Retail, Kids Chair
Pepperfry, Grey Guava Chair In Green Colour
GKW Retail, Ultra Comfort Kids Chair
15+ Elegant and quirky chair ideas to fit your style
Conclusion
A direct consequence of technological advancement is that most of us have now embraced a sedentary lifestyle. We spend long hours sitting on a chair either working or studying. Therefore, it has become important to invest in a chair that is conducive to good posture and by extension good health. Apart from being highly functional, it can also be used to add to the visual appeal of a room. It comes in all sorts of trendy, quirky, or elegant designs to match your style. So, whether you are looking for a study chair, gaming chair, or something futuristic, mid-century, utilitarian, or modern, use this article as a guide to select and shop for your best fit.
*The featured image used in this article is from Visionnaire-Home.com