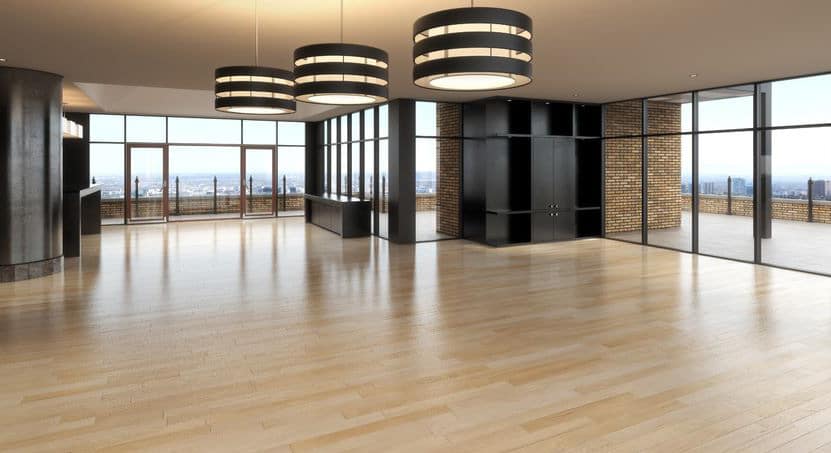 Being the business owner, selecting the right solution for your commercial space from various types of commercial flooring options is very important. You need to understand the fact that each commercial project is different and may require special type of commercial flooring that is designed to withstand the daily abuse. It should also look great for years to come with minimal maintenance. The commercial flooring must accentuate the interior and drive the design decisions and decor of the building.
There are certain factors which you are required to consider when choosing flooring options for your commercial building including floor colour, patterns, types and more. You need to decide whether you need carpeted flooring orwooden flooring, vinyl flooring or tiles flooring. So, there are many factors that go into selecting the right flooring option for your commercial building.
Best Flooring Options According to Commercial Spaces
Businesses have a variety of needs and issues every day and with the right selection of commercial flooring one can make things go smoother. The contractors need to work in coordination with the clients to help them make right selection of flooring materials as per their commercial spaces and construction.
Medical Building– Medical spaces usually experience larger number of footfalls every day. It tends to wear and tear from the heavy medical equipments that are being transferred routinely through these floors. Moreover, there are strict sanitation needs that medicals need to meet to avoid the spread of the diseases. So, durable flooring is must in medical facilities like Linoleum Flooring which makes rolling equipments smoother and cleaning simple.
Educational Facilities– Educational buildings have specific needs in regards to flooring. Sturdiness and durability are the two factors that need to be considered when choosing flooring options for an educational facility. The floors in educational facilities must be durable and the flooring material can easily withstand the daily abuses that environment has to offer. The floors in educational facilities are used by thousands of teachers and students every day. So the good options for flooring in educational facilities include broadloom, carpet tiles, porcelain and linoleum.
Retail Buildings– The flooring choices vary in retail buildings depending upon the type of company, the visual branding standards and the corporate identity. The retail buildings that are focused on design and style usually install sophisticated & aesthetic hardwood flooring. However, the other retailers tend to go for more budget and durable options like vinyl or carpet tiles. Laminated hardwood flooring is also a popular choice for retail industry that needs design and style inside the stores.
Workplace– The workplaces actually have larger variation in purposes and the flooring used reflects the ultimate goal of the company. Different flooring materials are used in different types of rooms within a large corporation or workplace. The rest room and break room of the company may have durable flooring option like ceramic tiles, while the boardroom has the luxurious carpet tiles or hardwood flooring which give it a better and sophisticated appearance.
Best Flooring Materials for Commercial Flooring
Hardwood Flooring– Nothing is more alluring and beautiful than hardwood flooring and by installing the laminated hardwood flooring in your commercial building you can't go wrong. They are a bit expensive and highly durable even without any addition of advanced technology. With minimal maintenance you can enjoy the benefits of hardwood flooring for years to come in your commercial building.
Vinyl Flooring– Another strong and durable flooring option is vinyl flooring which is visually appealing and affordable compared to hardwood. Vinyl flooring materials come with a variety of pricing options. Settling with cheaper option is not suggested as they are not very strong and aesthetically appealing. In regard to maintenance, you need to keep the floors well swept and vacuumed so as to minimize the risk of marks and scratches.
Laminate Flooring–Laminate flooringis a bit more eco friendly option than hardwood flooring and this make it the right choice for any commercial building. The laminate floors lack in premium wood content like hardwood and hence they are affordable option but with same feel and aesthetics of a hardwood. The spaces that experience higher amount of humidity and fluctuation in temperatures must have laminate flooring as it can resist expanding and contracting.
VCT or Vinyl Composite Tile– VCT is also the commonly used flooring options in commercial buildings today. By installing this type of flooring you won't go wrong as it never fades away from effects of UV rays. Also, it comes with the life expectancy of more than 20 years with very minimal maintenance. VCT floors are slip resistant and they are available in a variety of designs and theme to suit the overall decor of the room.
So, these were some of the flooring options that are considered best for the commercial buildings. You are required to choose the right flooring option for your commercial construction that suit the business type and overall decor and theme of the building.