Today, consumers are searching for reliability, durability, and advancements in sanitation and water conservation throughout the entire world. SCHELL offered more than 2,000 expert solutions in response to these requests. From regulating angle valves or fittings for use with gas and heating systems or home appliances to taps and fittings for wash basins, kitchens, showers, WCs, and urinals, you can always rely on the renowned German quality of SCHELL products. One of the latest innovations by the German brand, SCHELL, is the MODUS single-lever mixer faucet with an integrated thermostat cartridge. It comes equipped with ThermoProtect technology and offers top-of-the-line anti-scald protection.
SCHELL MODUS single-lever mixer with integrated thermostat
Given that it delivers the best level of anti-scald protection, the SCHELL MODUS single-lever mixer with ThermoProtect technology is the perfect option for sanitary facilities used by children or people with restricted motor function. There is a version to fit every application thanks to a choice of four variants. Every type, whether basic or thermostatic cartridge, with a loop or designer handle, has an appealing price/performance ratio and consumes minimal water.
The MODUS single-lever mixer with ThermoProtect technology flawlessly combines anti-scald protection with innovative design. This tap is obviously made for user-friendly operations with its timeless curves, universal size, highly visible markings to ensure intuitive use, and a choice of two orientations for the mixer range. Therefore, it remains an excellent option for both public and private nursing homes and bathrooms. To complement this installation, other fittings from the MODUS family are available.
General benefits
1. Anti-scalding protection in all variants with thermostatic cartridge (ThermoProtect technology)
2. Saves water thanks to factory-set flow volume of 5 l/min. Further, reductions for building certifications are easily possible in combination with SCHELL flow restrictors.
3. Choice of two handle variants: Designer handle in a popular solid style or a loop handle for even easier operation – such as for children or users with reduced motor function.
4. Hydraulically sealed body without a pull rod hole for easy, thorough cleaning. Moreover, matching SCHELL drain kits are optionally available.
5. A universal model that fits most wash basins thanks to an approx. 125 mm reach and approx. 100 mm in height.
6. No-fuss retrofits: If requirements for anti-scalding protection should unexpectedly change, then single-lever mixers with a basic cartridge can be easily retrofitted with a thermostatic cartridge.
Single-lever mixer with a thermostatic cartridge
With the MODUS single-lever mixer plus thermostatic cartridge, the mixer range has been designed to ensure that water drawn off with the lever in the centre position, and with both lines connected at the same pressure, has a temperature of roughly 32°C. The majority of people consider this to be a comfortably warm water temperature. Users who can't (or don't want to) adjust the lever due to a degree of motor function restriction will notably benefit from this. Whether on purpose or by accident, moving the lever all the way to the hot water side engages the thermostatic limiter, which prevents the water temperature from going above approximately 38°C. This strikes a decent mix between convenience and protection.
Advantages of single-lever mixer with a thermostatic cartridge
1. Optimal anti-scalding protection especially for children and nursing patients thanks to its thermostatically controlled temperature of 38°C even with the lever fully open to the hot water side.
2. Important extra anti-scalding protection offered by water stop if cold water supply fails.
Single-lever mixer with basic cartridge
The MODUS single-lever mixer with a basic cartridge offers a mixer with a greater angle on the hot water side than on the cold water side. This enables consumers to modify the hot water temperature in much finer increments. Even when hot water is not needed, single-lever mixers are frequently opened and closed when in the centre position, which also reduces energy use and, consequently, CO2 emissions. Energy consumption is decreased because the water that comes out of the MODUS single-lever mixer in the center position is cooler than that of single-lever mixers with symmetric angles.
Advantages of single-lever mixer with basic cartridge
1. Hot water stop thanks to a user-configurable mechanical limiter for hot water flow.
2. Economical thanks to variable flow volume control.
Product specifications
Single-lever mixer with a basic or thermostatic cartridge
Loop or designer handle
Flow volume: Max. 5l/min pressure-independent, retrofitting with SCHELL accessories for LEED/BREEAM certification possible
Flow pressure: 1.0-5.0 bar
static pressure: 8 bar
Material: Die-cast zinc handle, brass housing according to German drinking water regulations
Finish: Chrome-plated
Noise class: I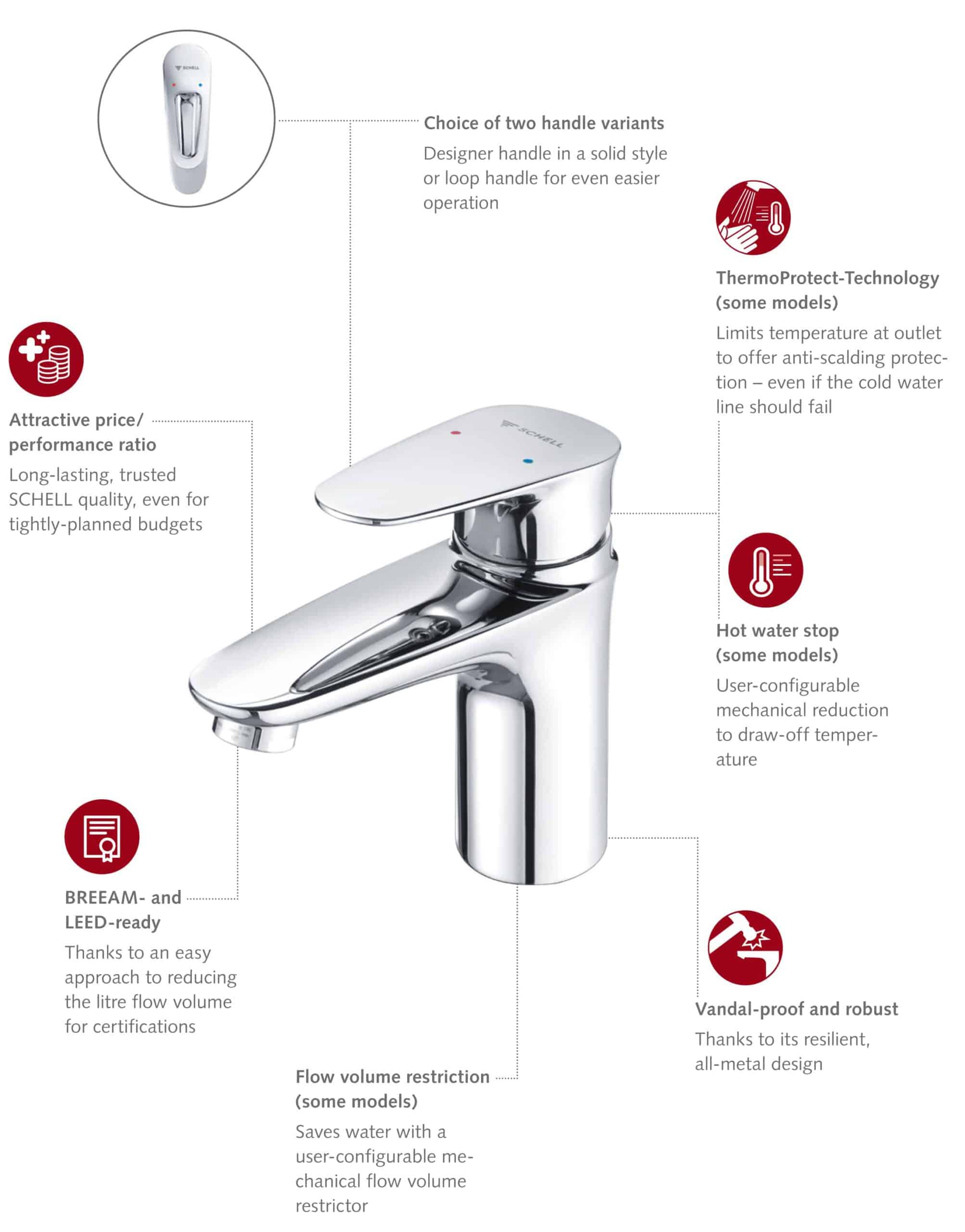 Now that we've assessed the numerous advantages as well as features of the SCHELL MODUS single-lever mixer faucet with ThermoProtect technology, click here to view a wide variety of solutions offered by the brand and submit your enquiries!
As the world becomes more urbanized, a greater emphasis is placed on developing environmentally friendly products and solutions. Today's bathrooms must comprise several critical, realistic components, such as sustainability, innovative technology, and smart design. Based on current trends in bathroom fittings, the German pioneer, Schell has forecasted the future of bathrooms, highlighting the importance of efficiency and sustainability. Therefore