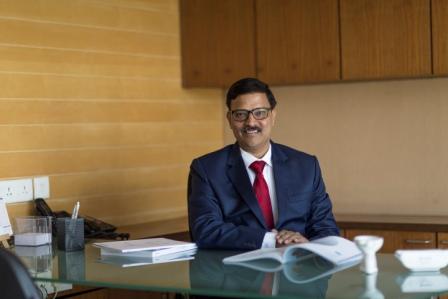 The Indian building materials market has been through many challenging times. It's a broad consensus that the Indian market is unforgiving to premium players. As more and more players have entered the Indian sanitaryware market, the increased competition have put the price realisation under increasing pressures. While some players have made peace with the discounting practices, some other have put their quality and positioning above everything else. Duravit India Pvt.Ltd., a wholly owned subsidiary of Duravit Germany, is one such player. Buildingandinteriors.com presents a conversation with Mr.Asutosh Shah, Managing Director, Duravit India Pvt.Ltd.
B&I: Duravit has been in the Indian market for a fairly long time. How do you see the evolution of the brand in the Indian market?
AS: The building material category in India is huge, and if we go by the trends, it is only going to grow bigger by the day. So, the opportunity exists right in front of us to tap the untapped markets and chalk-out our growth plans. We have been now in India for more than 15 years.
Duravit has never aimed at the price game. For us, brand image is the most important thing. If we had to gain a greater market share, we could have easily tried competing in the value driven segment which caters to the large sections of the Indian middle-class. Instead, true to our legacy, we stuck to who we really are – a premium luxury bathrooms brand that has always led the conversation when it comes to design, technology and quality. Not just in rhetoric, but in true commitment that has led to the creation of exquisite lines of designer products that have amazed a true connoisseur – someone who values design, aesthetics and innovation.
B&I: How has the role of the Architect/Plumbing Consultant changed in the Indian market over the last decade or so? What advantages does an he/she get by working with Duravit?
AS: Influencers are the key stakeholders in the industry and there is no doubt that industry has grown multi-fold because of them. It is the influencers whose experience and research help in the identification of the right brand and technology for the end consumer.
Duravit has become a brand preferred by the creative class worldwide. It stands for luxury in its truly incorruptible sense, and its association with international marvels like Burj Khalifa or projects by stellar architects like Zaha Hadid gives Duravit a position which is hard to imitate.
When it comes to our products, the world knows that Duravit is a name to reckon with. Take the example of Philippe Starck – the uncontested king of product design internationally. He has collaborated with us for some time now which has led to the creation of some award-winning range of designs that are truly futuristic. Duracem and Sensowash exemplify these creations. The romance with truly international aesthetics shows in whatever comes out of our stable.
The brand has some of the best collections for an Architect.  Each of the product series is backed by user friendly technological innovation and game changing materials.
Duravit delights the Architects by not only offering superior products both in design and technology but also helps them with the online tools like pro.duravit.in and bathroom planner. Whichever format he is working on, be it revit, tiff or 3D, or any other, our online systems will adapt to that format and the renderings with our solutions will ready. Not only that. For every product, detailed drawing and installation videos are also available.
B&I: How can an Architect/Plumbing Consultant associate with Duravit India?
AS: Duravit welcomes influencers with open arms. Every region has dedicated employee who takes care of needs of Architect and Plumbing Consultants – also they can sign up on pro.duravit.in for any kind of product related information. For the brochure, we have a special feature on our website. The Architect/Plumbing Consultant can leave a message on the website. They are sent the brochure through this action.
B&I: What is the value-proposition of Duravit for the Project Management Companies?
AS: For Duravit, PMCs  are one of the major touchpoints. We are always open to taking practical feedback from them. Duravit has a wide project collection range. Our state-of-the-art manufacturing facility in Gujarat enables us to provide faster support for the project requirement of PMCs.
B&I: What is the project v/s retail ratio in sales for Duravit India? How do you see that ratio evolve over the next 2-3 years?
AS: Project has always remained an important focus area for Duravit. However, we are happy that in last couple of years, retail is creating good balance between project and retail sales. For Duravit, both projects and retail are equally important formats of business. But both need different strategies. It's very difficult to predict which one will do well over the other. That said, we are seeing a great growth in retail.
B&I: What impact do you see of the Covid19 pandemic on the Indian building materials market? What are the possible upsides and downsides?
AS: It's not a hidden fact that like every other industry, the building material industry is also going to face a bumpy ride in near future. But we need to have a positive attitude and figure-out the silver-linings. Every situation/crisis brings new opportunities along – one only needs to identify these.
The biggest challenges faced by the building materials industry at the moment are – production planning and sales forecasting. Every day, we hear multiple possibilities with regards to our economy. With a multiple views scenario, it becomes difficult to think clearly for future planning.
Also, we employ a huge number of contract labours who are totally dependent on us for their daily livelihoods. It is important for us to protect them at this point of time from the uncertainties around work and ensure that their daily needs are met.
In the time of this uncertain future, we have a golden opportunity be optimistic. Indian real estate and allied manufacturing industries must find positivity in the scenario and benefit by increasing production and indigenous innovation. After all, the world and India, has witnessed many deadly epidemics than COVID-19 in the past and we have successfully bounced back.
B&I: How do you see the demand patterns for Duravit India?
AS: The future looks exhilarating. Even though Tier I cities get us the largest chunk of business, it is the Tier II and Tier III cities in India which hold immense potential for a brand like Duravit. Rising disposable incomes and a growing demand for luxury products in these cities have led to several big ticket projects which are under construction in these cities.  As for our partners, we are always in the hunt for great long term relations, whereby we can together transform the luxury segment in the sanitaryware category. For a business partner, investing with Duravit comes with a growth plan that will surely surprise him, once he starts working with us on the details of expanding his business.
Of late, we have been winning great business in Tier II cities and we are also aggressively working on retail expansion strategy for this market. Also in our country there has been increasing urbanization and the new urban youth have access to more disposable income than their forefathers. So it makes perfect sense to offer them solutions that meet their lifestyle aspirations. They are also global citizens, their jobs and vacations take them to all parts of the world. Naturally, they are exposed to world class brands. For a niche brand like Duravit, which does not believe in compromising on quality to achieve numbers, this situation is ripe for sales. We prefer a slow and steady pace to operate in the market – an approach which is very different from the other players in the Indian sanitaryware market.
B&I: Do you see any chances of competing and non-competing brands teaming-up to do business in India, especially on the project side of business?
AS: Co-existence is key factor of growth in India. For example Zaveri Bazar in India is operating with same principal from the very beginning and many brands already started operating in a similar way.
In building materials industry, it is very much possible as a project would need material from multiple sources.  I see great opportunities in collaborations.