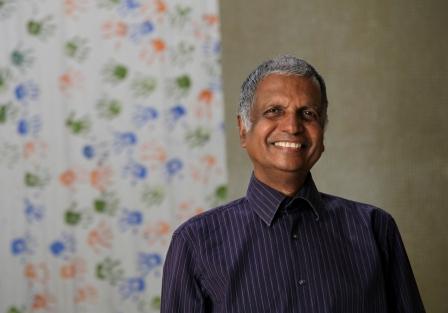 India is the world's leading manufacturer of hand-made home décor products. Rugs are an important part of this thriving industry. Like any hand-made material, rugs manufacturing is a labour intensive process. Buildingandinteriors.com meets up with Mr.Nand Kishore Chaudhary, Chairman & Managing Director, Jaipur Rugs (winner of iF and German Design Awards) to understand the direction this traditional craft is headed for in these modern times and the increasing awareness of rugs in home decor in India.
B&I: You started as an entrepreneur with a social cause and turned the business into a global venture. How has your journey been and how has it helped the social cause you stood for?
 NKC: It all began in 1978 when I started with two looms and nine artisans in my family home in Churu, Rajasthan. Back then, the practices of the Indian cast system were rigid and the weaving community was considered "untouchable". My family frowned, while I enjoyed working with the weavers and sharing daily meals with them. In a few years, I moved to Gujarat and spent nine years training more than 2500 people from the tribal community.
I also chose to not follow the standard practice of carpet manufacturing to work through contractors and sub-contractors who often exploited the weavers and practiced child labour and bonded labour defaming to the carpet-weaving industry.
Since the beginning, I felt comfortable working directly with the weavers, training and upgrading their skills to deliver quality work. The company today works harmoniously with a number of ethnically diverse communities spread across 600 villages in five states that lie in some of the most impoverished regions of India.
Jaipur Rugs runs PROJECT CORNER – a special projects service for Architects & Interior Designers. To explore, click here.
B&I: You are one of the pioneers of the furnishing industry in India and have seen the growth of the industry, particularly in rugs segment, over decades. How has the market and industry evolved over this period?
NKC: The industry has moved from being an uninteresting industry to one that is becoming a lot like the fashion industry. The design language has changed dramatically over the years. Earlier, designs were mostly traditional with a limited colours and patterns. More flower motifs and standard red, maroon and gold colours used to be preferred.
The designs have evolved from traditional to transitional, modern and even abstract. We now work with over 3000 colours and our research and design experts constantly thrive to deliver unique rugs to our customers by experimenting each day.
B&I: Tie –ups with international and national designers to design exclusive range for brands like Jaipur Rugs is a trendnow-a-days. What has triggered this trend?
NKC: Jaipur Rugs is constantly looking to create contemporary works of art by collaborating with creative talents (click here) capable of showcasing this ancestral craft with a new vision. The idea of collaborating and co-creating comes from the need to constantly improvise and create new designs that stand out. The demand for exclusivity and the idea of an authentic story behind the genesis of each design is what they want to take home. This has led to like-minded brands and designers co-creating to come up with products that are more holistic in nature and have a soul.
B&I: Do you see technologies (like Artificial Intelligence, Virtual Reality etc) playing a role in the design and development of the products? How? Will this affect the artisans and craftsman employed in this trade?
NKC: Technology is a great enabler and must not be feared. It has the potential to take art from the villages to the global audience and connect them in real time. Given the current situation globally, AI and VR can be really effective in giving the customer a perfect digital experience without too much physical contact and this can in turn help the artist at the grassroot as his work will be appreciated by a much wider audience.
Technology cannot threaten the artisan's craft because you cannot remove the element of human hands from hand-made.
B&I: Jaipur Rugs is a global brand which is present in many countries now. Do you see any difference between the design demands of the international clients vis-à-vis Indian clients?
NKC: A well-made product is appreciated everywhere equally. In the Indian market we get to see a lot of colours everywhere. But the colours in the international market are more muted in tone. We have noticed a strong focus on bright colours in the Indian market, especially when people are looking for home décor. Traditionally, rugs have not been very popular in Indian homes, but this is now changing and rugs are becoming an important part of home décor for most urban Indian homes.
B&I: What price points do you currently offer your products at and who are your typical customers? Do you intend to expand your customer base by introducing products at lower price points?
NKC: We have the largest stock of handmade carpets in the highest quality knotted variety, tufted, handloom and dhurries. There is a product for every price point. While the high-quality knotted rugs are the at the premium end and priced accordingly, the lower knotting rugs or tufted and handloom rugs are come at much affordable prices. Each of our products is handmade with love by our 40,000 artisans spread across 600 villages in five states.
B&I: Do you intend to introduce more products in the furnishing space beyond rugs?
NKC: We intend to keep our focus on rugs and through them improving the lives of countless craftsmen who are the custodians of this ancestral art. We believe in focusing our energies into something that we are good at and being the best at it in the world.
B&I: What are the future trends you foresee in the industry? How have you prepared your organization to keep pace with the future trends?
NKC: The new age customer is not just looking for a carpet, but an experience that she can share with the world. She is spending more time in decorating her space and hiring professionals to help her do it. She is more appreciative of home-grown brands and slowly moving towards those that are conscious. We are trying to make products that appeal to the sensibilities of a modern customer.
From coming up with new and more modern collections to doing the right collaborations, we are adapting fast to the market needs. At the same time, the strong values that the brand is built on are helping us stay stand out from the clutter and become a preferred choice in the industry.
B&I: Do you feel that the industry should explore alternate sources of raw materials that are more sustainable and greener?
NKC: Definitely, alternate raw materials like bamboo silk, hemp, jute etc are more sustainable options. But more innovative solutions need to be found to make carpet making sustainable and eco-friendly.
One of our creative social innovations called the Manchaha initiative aimed towards transforming the carpet industry. Under this initiative weavers get to design their own rug for the first time in Rajasthan. Rural men and women with, at best, the absolute basics of education, have stunned the world with original designs matching the caliber of global professionals.
It has targeted economic transformation through regular income and by instilling confidence. The rugs are also made using hand-spun leftover yarn batches, which reduces industry-wide wastage that had no solution and makes the colour palette of these rugs as unique as their design. It is a remarkable example of sustainable production – reusing and revival from waste, the problem becoming its own solution.