There's a lot to think about when creating or sprucing up a kitchen, from layout to appliances to colour scheme. There are countless designs and materials to choose from. Available in possibly every size, shape, colour, and pattern, tiles are full of possibilities. So, use kitchen tiles to give your walls and floors the wow factor in a practical and design-driven manner.
Hexagons, dark, dramatic colours like navy blue, dark green, and black, brick effects, patterned tiles, and variegated metallics are all gaining popularity in 2023. Subway tiles in classic white are still popular, but other colours are taking the centre stage, keeping the design fresh and exciting.
In this article, we have put together a comprehensive guide for selecting the best kitchen tiles. In addition, we have rounded up an expert-approved selection of the most popular tile options for the year 2023.
So, whether your dream kitchen is rustic and cosy or futuristic and sleek, you'll fall in love with the kitchen tile design ideas below.
Things to consider while selecting kitchen tiles: The ultimate buying guide
There are many attractive options available in the market when it comes to selecting the ideal kitchen tiles. When choosing kitchen tiles for your home, there are a few factors to keep in mind. For example, glossy tiles that work well on the wall may not be suitable for the floor. Here, you need to strike a balance between function and aesthetics.
Therefore, this section will provide you with important information and things to consider while choosing kitchen tiles for your home.
Always keep the overall layout and design of your kitchen in mind when selecting tiles for it. There are many different types of kitchen tiles to pick from if you want a contemporary or modern aesthetic. It's also crucial to consider the size of your kitchen.
You can use tiles that make your space feel more open. Using the same sort of tiles on the walls and kitchen floor, for example, can make your kitchen appear larger and more open. On the other hand, smaller patterns such as metro tiles work better in larger, lighter kitchens where the grout lines are countered by more space.
Functionality & durability
Since the kitchen is one of the busiest areas in the house, its surfaces must be sturdy and long-lasting. Therefore, opt for durable tiles that are also heat resistant and easy to clean. Choose scratch-resistant tiles that will not discolour or fade even after regular cleaning.
Application area & suitable type
Tiles can be used as a backsplash behind the gas stove or to cover the underside of upper cabinets on the wall. In the kitchen, tile is a common flooring and countertop material as well. Thus, it is important to determine the application area before finalising the type of tile.
Clay and limestone are good choices for counters and floors as they don't crack or stain easily. Similarly, a no-slip grip and incredible strength make porcelain a common flooring tile choice. On the other hand, glass tile is best suited for low-traffic areas like backsplashes and walls as it is susceptible to scratches. Ceramic tile is highly durable and will hold up to heat from hot pans and that is why it is used for countertops. Quarry tile is a more expensive but excellent alternative to regular ceramic tile.
Shape & size of the tiles
When choosing kitchen tiles for your home, consider their shape and size. If you have a small kitchen, large format tiles will make it appear more open and spacious. Large tiles require less grout, resulting in a smooth and consistent finish in your home. If you want smaller patterns or designs, take into account that they must be positioned properly for a flawless appearance.
Budget
Kitchen tiles come in a wide range of styles, patterns, and textures. The majority of tiles are affordable, however exceptional ceramic and marble tiles can be quite pricey. Though the more expensive tiles will last a long time, you must plan your budget ahead of time before purchasing kitchen tiles.
Latest trends in kitchen tiles designs
The ideal tile and laying pattern can make all the difference in creating your ideal scheme, whether it's patterned or coloured, geometric or minimalistic.
Whether used to reflect the texture of natural stone or to add a pop of colour, most tiles are suitable for installation in kitchens. From picking a unique shape to experimenting with colour blocking, these tile design ideas will drive your imagination.
Following are a few sophisticated styles, mosaics, hexagons, and bold, geometric motifs to inspire you.
3D kitchen tiles
Decorative tiles
Contemporary tiles
Faux brick tiles
7 foolproof tile ideas to spruce up your kitchen
From floor to ceiling, we tile our kitchens for various reasons – to match the current decor, to provide a pop of colour, and to protect the walls. However, having distinct needs, application areas, and budgets, it is challenging to choose the right texture, pattern, and colour scheme.
So, if you're uncertain about whether you should adhere to a neutral palette or break the rules and show off your personality, we've got 7 unique ideas to ease out the process.
Create a pattern with colour blocking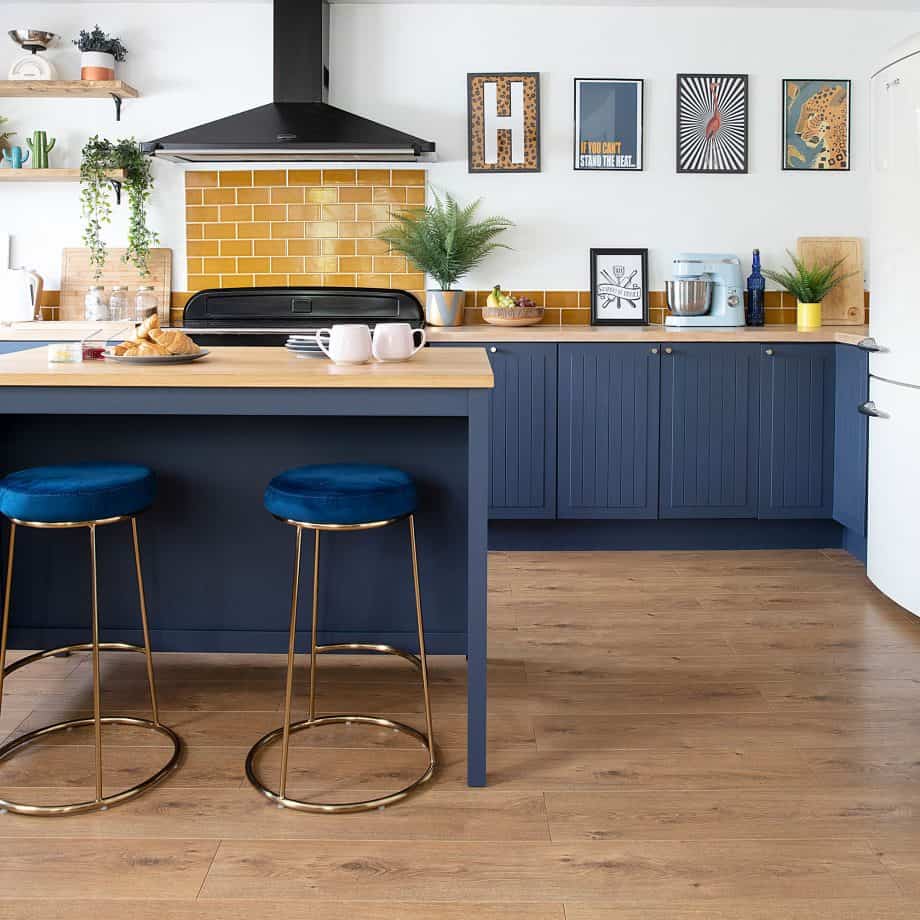 Image Source: Katie Leew
Adding colour is a terrific way to add character to your space and make a statement (whether subtle or totally bold). Therefore, when it comes to your kitchen, incorporating colour through tiling is one way to go big. Colour blocking is one of our favourite ways to use tile, and it's really in vogue right now.
Large areas of multicoloured tile can change a space, bring attention to a specific location, or highlight specific characteristics.
There is no right or wrong answer when it comes to choosing a colour, but we recommend choosing tiles in a striking colour like blue, green, or even vivid red to bring contrast to interiors.
Link with an unexpected surface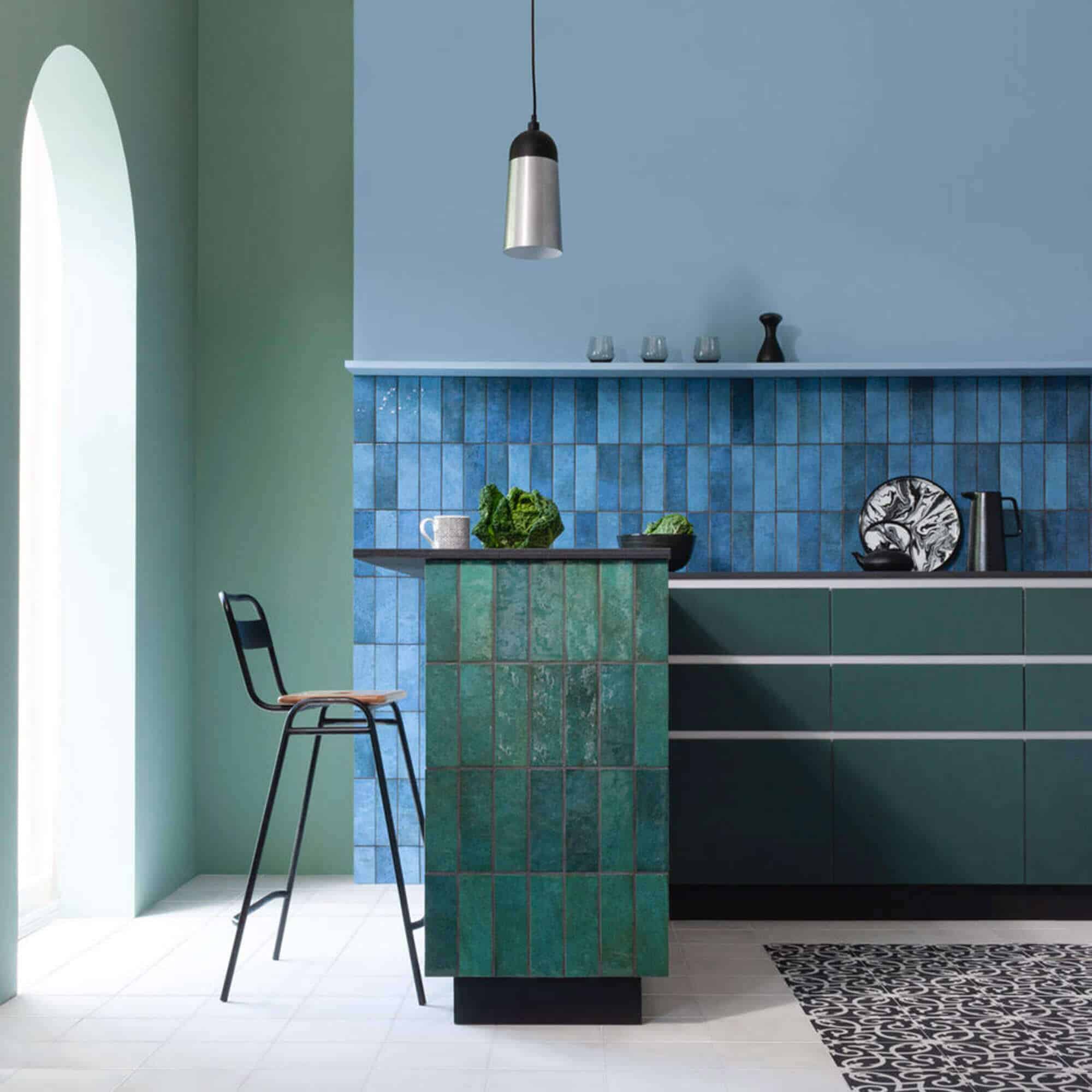 Image Source: CTD Tiles
With some surprising coordination, your kitchen tile ideas can create a sleek and contemporary aesthetic. Creating a link between different surfaces minimises the chances of clashing elements. For those wishing to create a designer kitchen aesthetic, position your tiles in a distinctive format for a startling focal point.
A distinctive and attractive look may be achieved by tiling the sides of a breakfast bar or kitchen peninsula in the same laying pattern but a different colour than your walls.
Image Source: Blakes London
Cupboards are ubiquitous storage units found in pantries and kitchens. While they are generally made of wood, they can be finished in a multitude of ways, including painting and staining the wood, as well as covering the cupboards with colourful tiles.
Tiling the insides of lacquered kitchen cabinets will elevate them. To give a seamless look, do this in the same tile as the rest of the wall. Alternatively, tile just this section to create a focal point.
Get bold with colour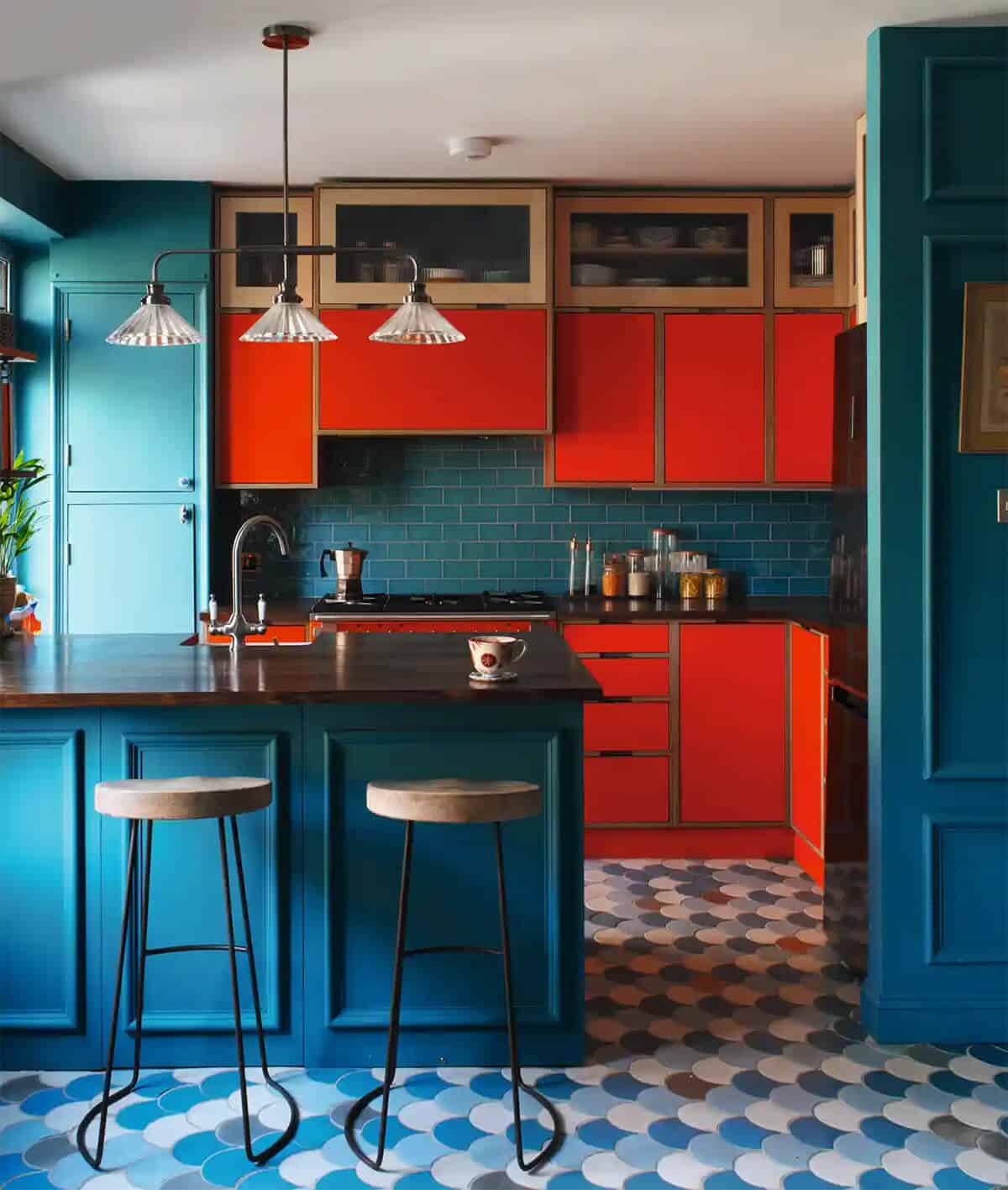 Image Source: Ingrid Rasmussen/Thames & Hudson
Creating a statement with colours is all the rage in kitchens. While white subway tiling and stainless steel appliances may give any kitchen a sleek, clean, and balanced vibe, many designers like to add a splash of colour. It can be anything from bright and vibrant colours to more natural tones with an earthy vibe.
From exquisite hues of green and blue to timeless combinations like black and white, it's worthwhile to spend your time choosing the ideal colour scheme to make your kitchen shine. Consider how the colours of your walls and cabinets complement the rest of the kitchen. Everything from your island and flooring to your lighting and furniture should match. When it comes to kitchen tile colours, the possibilities are practically unlimited. So, taking your time to pick the right hue is essential.
Use a combination of colour and pattern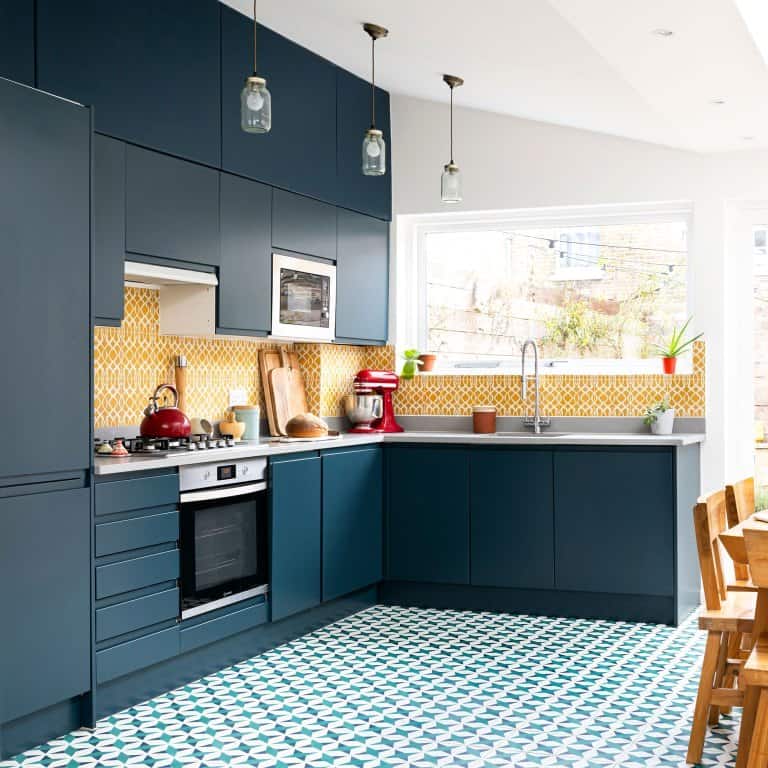 Image Source: Veronica Rodriguez
Why not mix and match shapes, colours, and patterns instead of picking just one? Choose a pattern that connects each tile rather than producing a patchwork effect to make the look feel more coherent.
If you can't commit to a specific kitchen tile design, consider tiling half of your wall in a uniform colour and shape and pairing it with patterned wallpaper.
Break up block colour with classic white tiles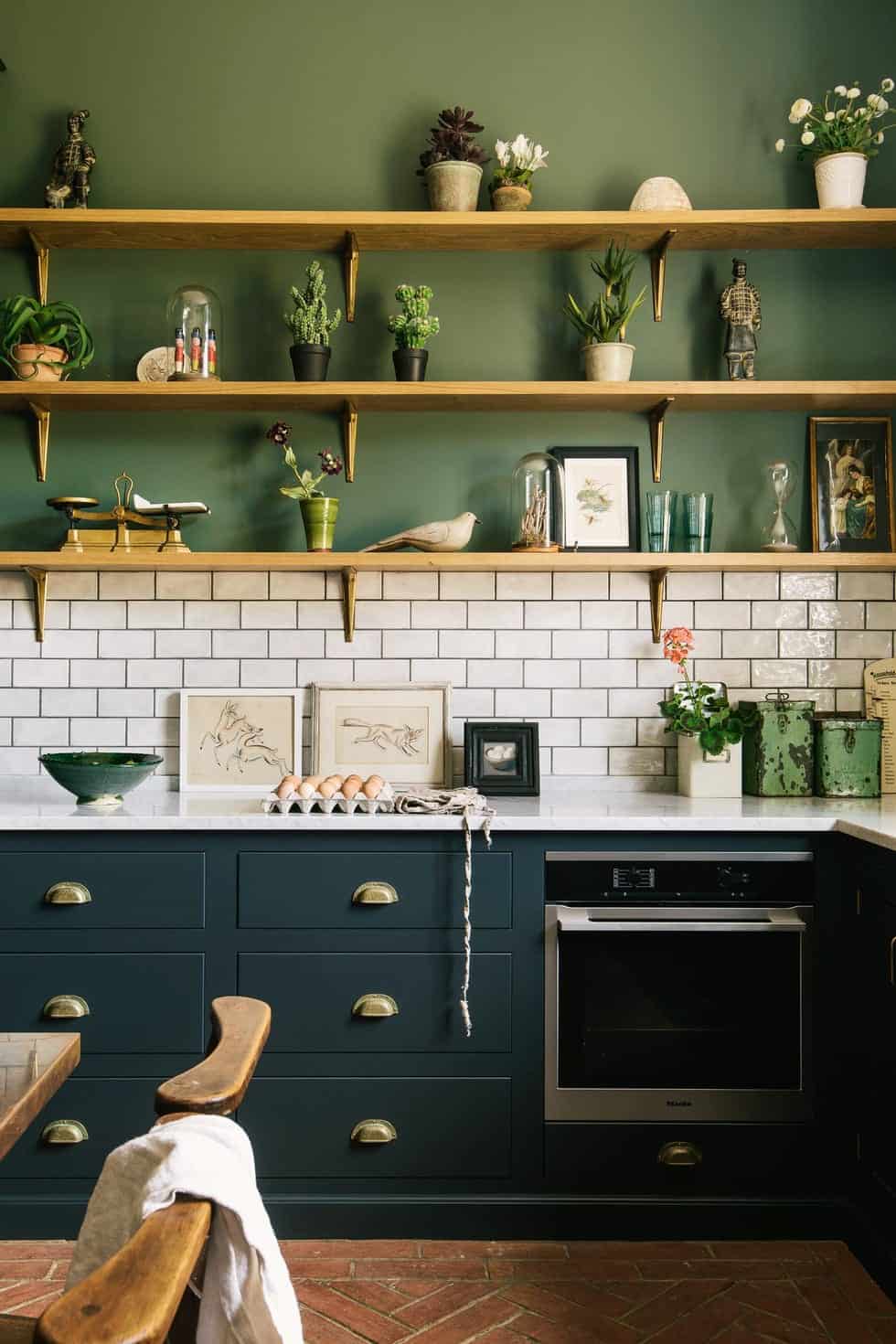 Image Source: deVOL Kitchens
Use traditional white tiles as a neutral element between two bold colour selections for cabinetry and walls. White tiles wrapped around the space break up the vibrant storage units and the lusciously painted walls. A neutral-coloured tile allows you to adjust the wall colour as per your mood.
This method of tiling half of the wall is practical and protects your walls from kitchen splashes.
Balance a busy pattern with a plain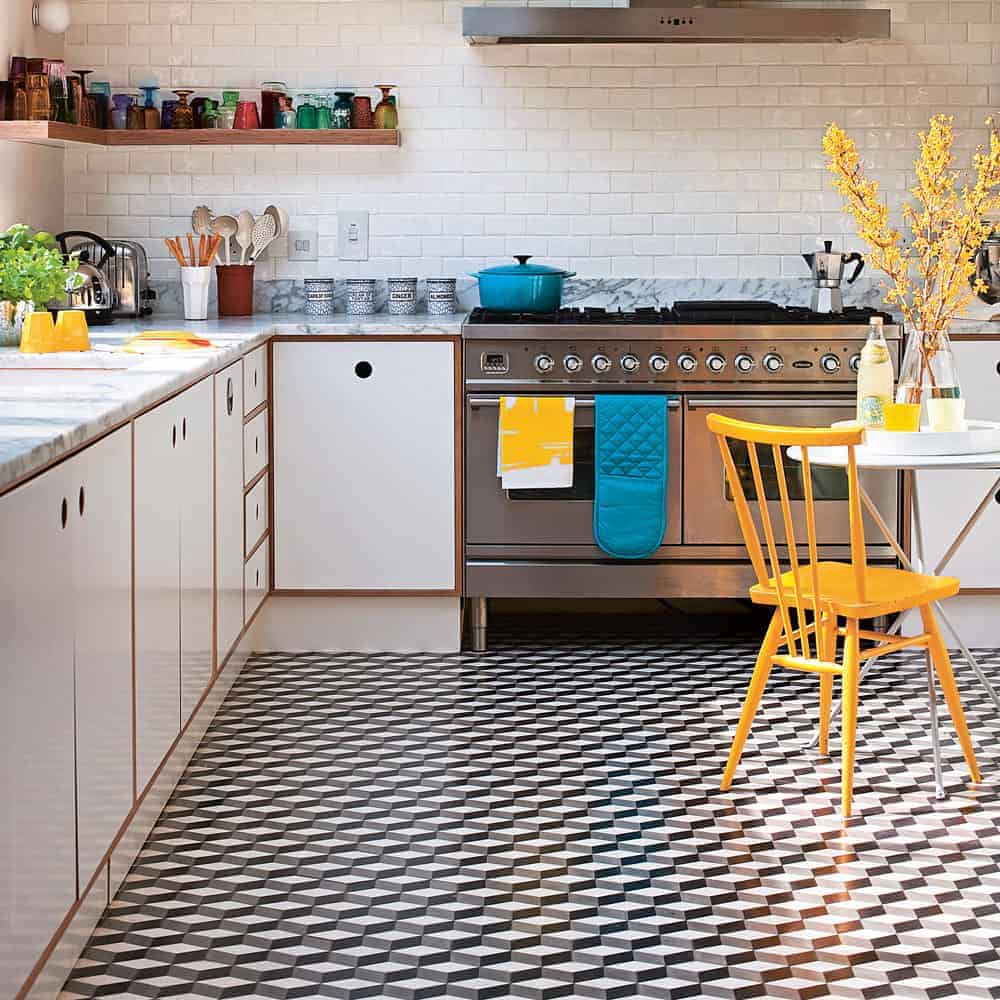 Image Source: Ben Anders
To add interest, it's exciting to mix things up by combining patterned tiles among plain designs when tiling various surfaces. To assist balance the aesthetic, the rule of thumb is to use one surface for each type.
If you want to go with two distinct colours or prints for the walls and the floor in the kitchen, keep one muted and preferably in a solid colour that will complement the pattern and hues on the other. One will provide visual appeal, while the other will balance the room and make it appear less cluttered.
To create more space on the countertop, choose simpler, brighter kitchen wall tiles and keep the patterns and colours for the flooring.
Kitchen tiles: Our top recommendations (with enquiry links)
Kitchen tile shopping does not have to be a chore. You don't even have to leave the comfort of your own house. You may find all the required information, including reviews and mock-up photographs, on the internet. In addition, you may even order samples and have them sent to your home so you can compare your options.
We have compiled a list of our top picks from the best brands available in India. Take a look!
Nitco Moda Blue Glazed Vitrified Tiles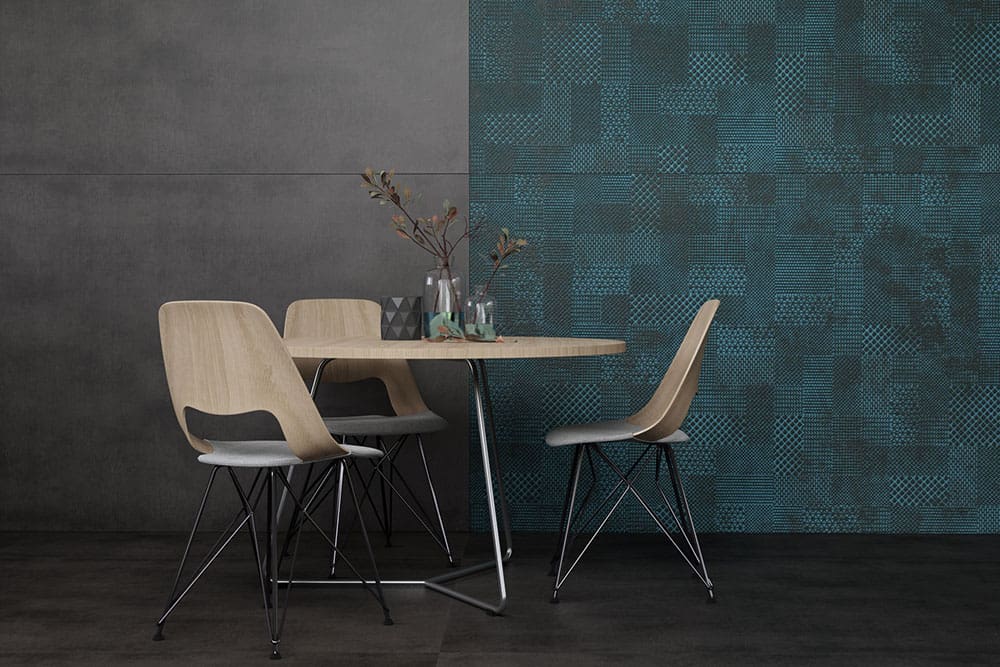 Ceramiche Refin Prestigio Luxury Porcelain Tiles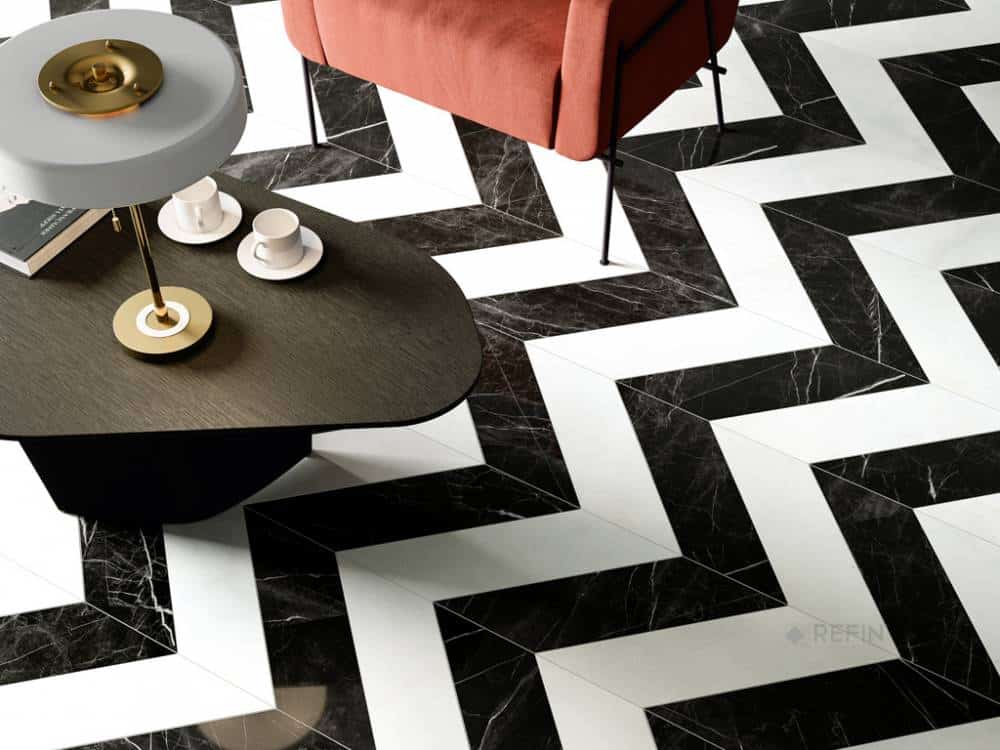 H & R Johnson Crisil Auric Kitchen Wall Tiles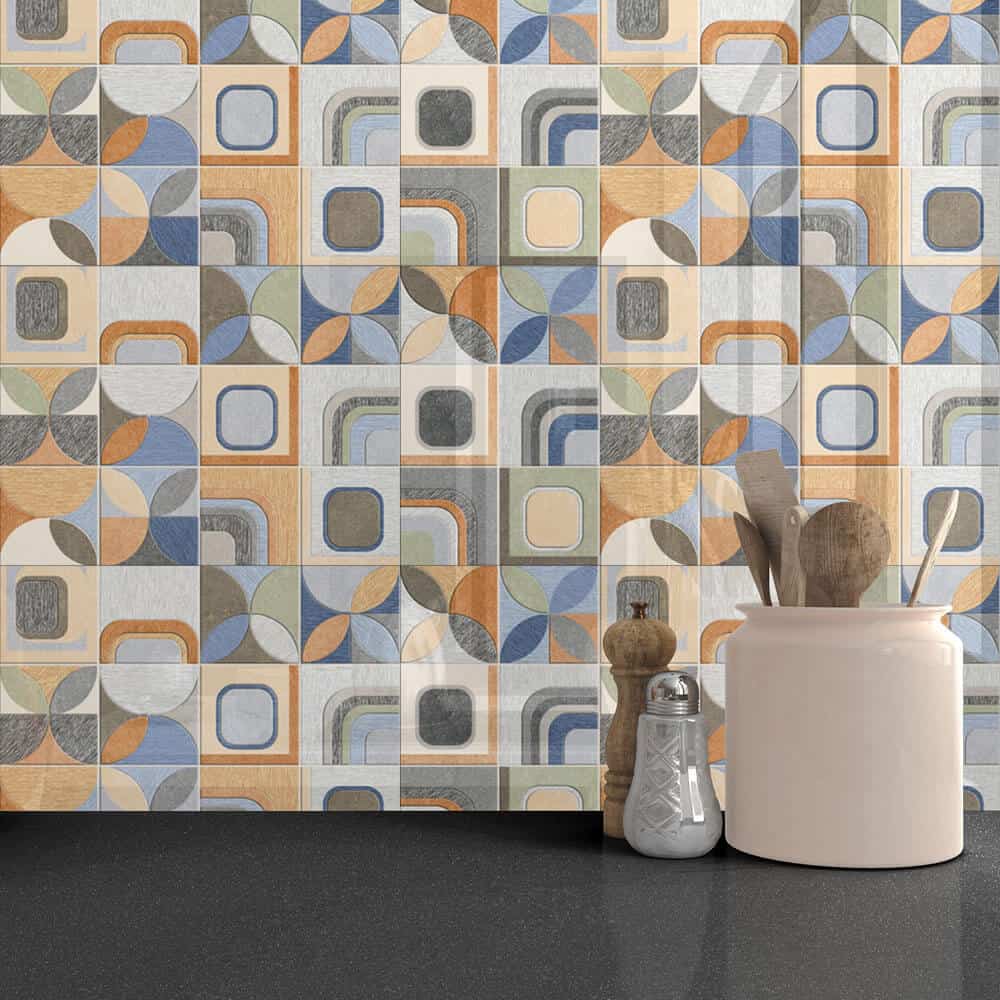 RAK Ceramics Classic Wood Tiles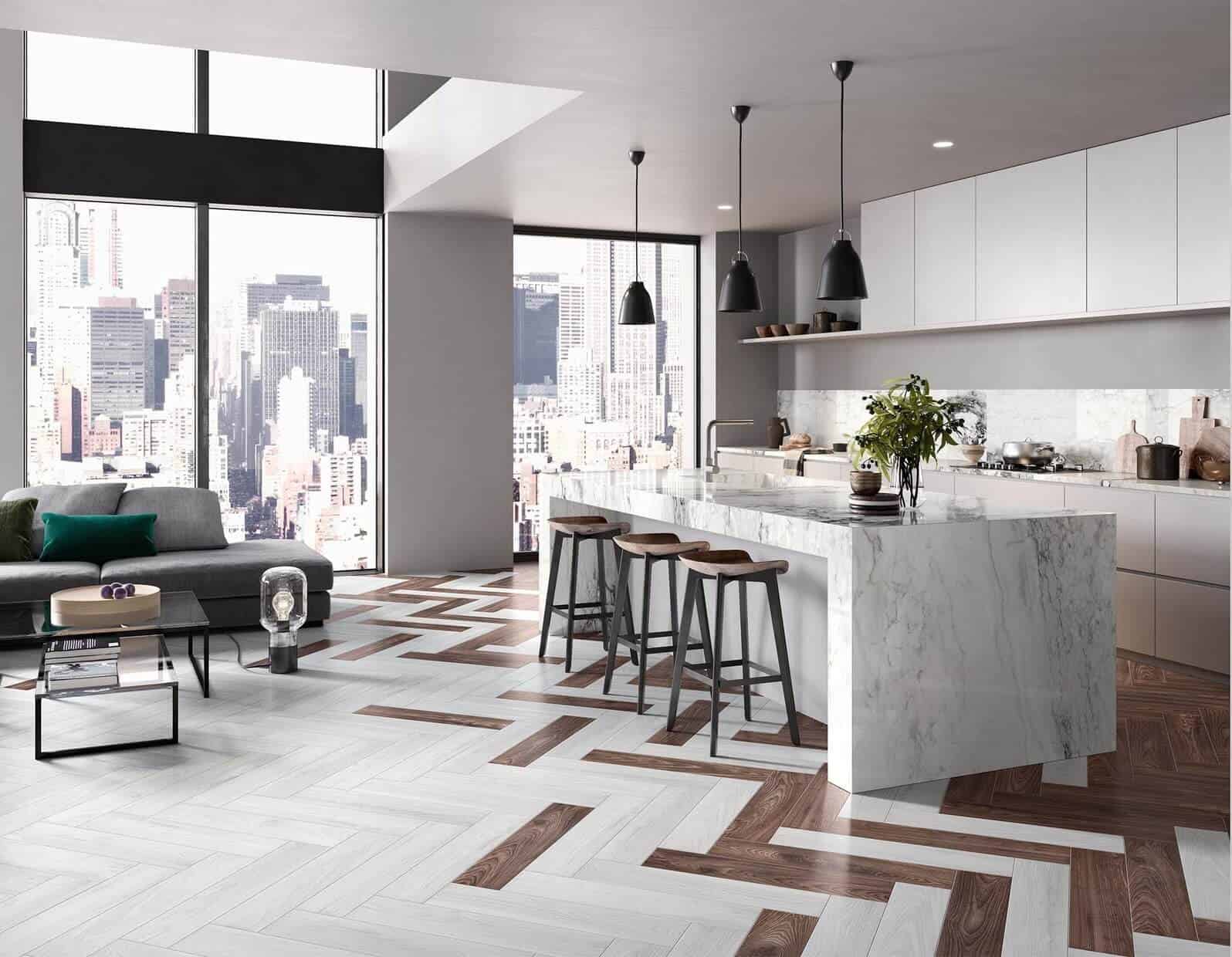 Novoceram Eclipse Diamant Kitchen Tiles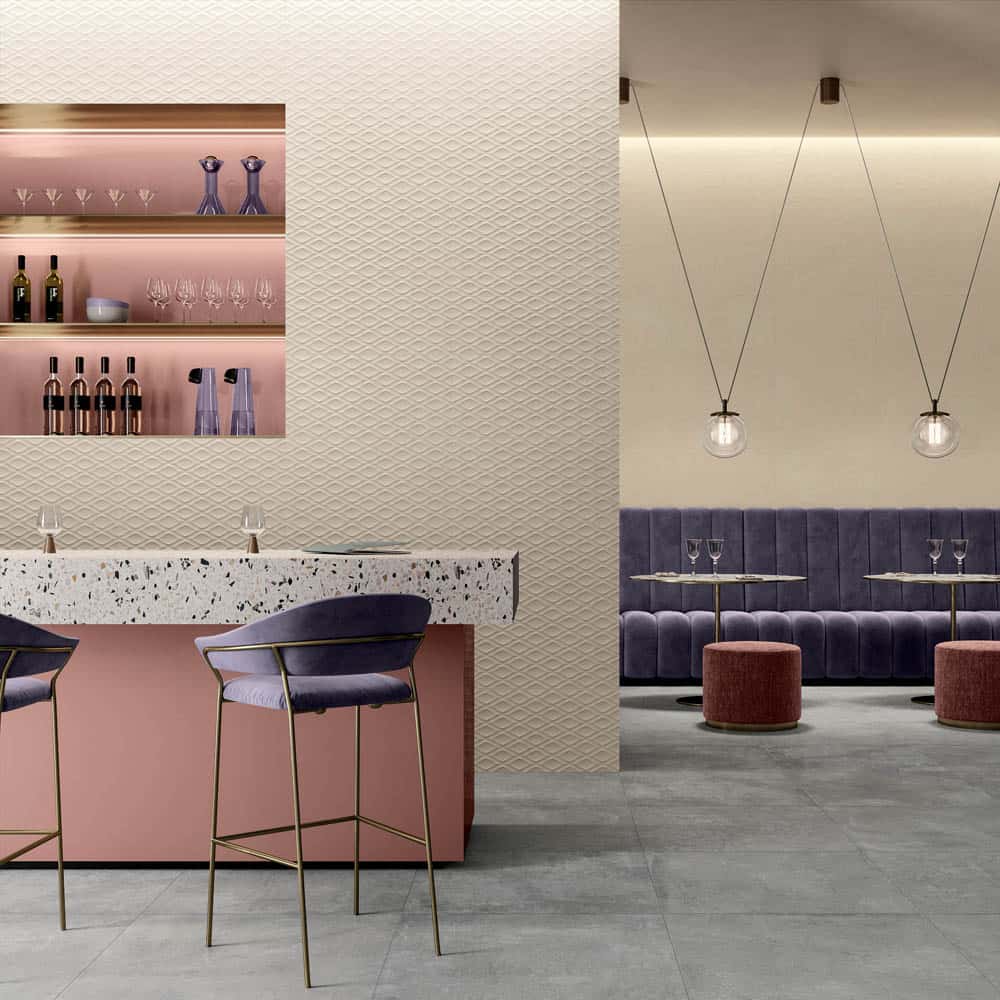 Ideal Work Purometallo Kitchen Tiles
Novoceram Bohème Path Kitchen Tiles
Nitco Bruno Decor Kitchen Tiles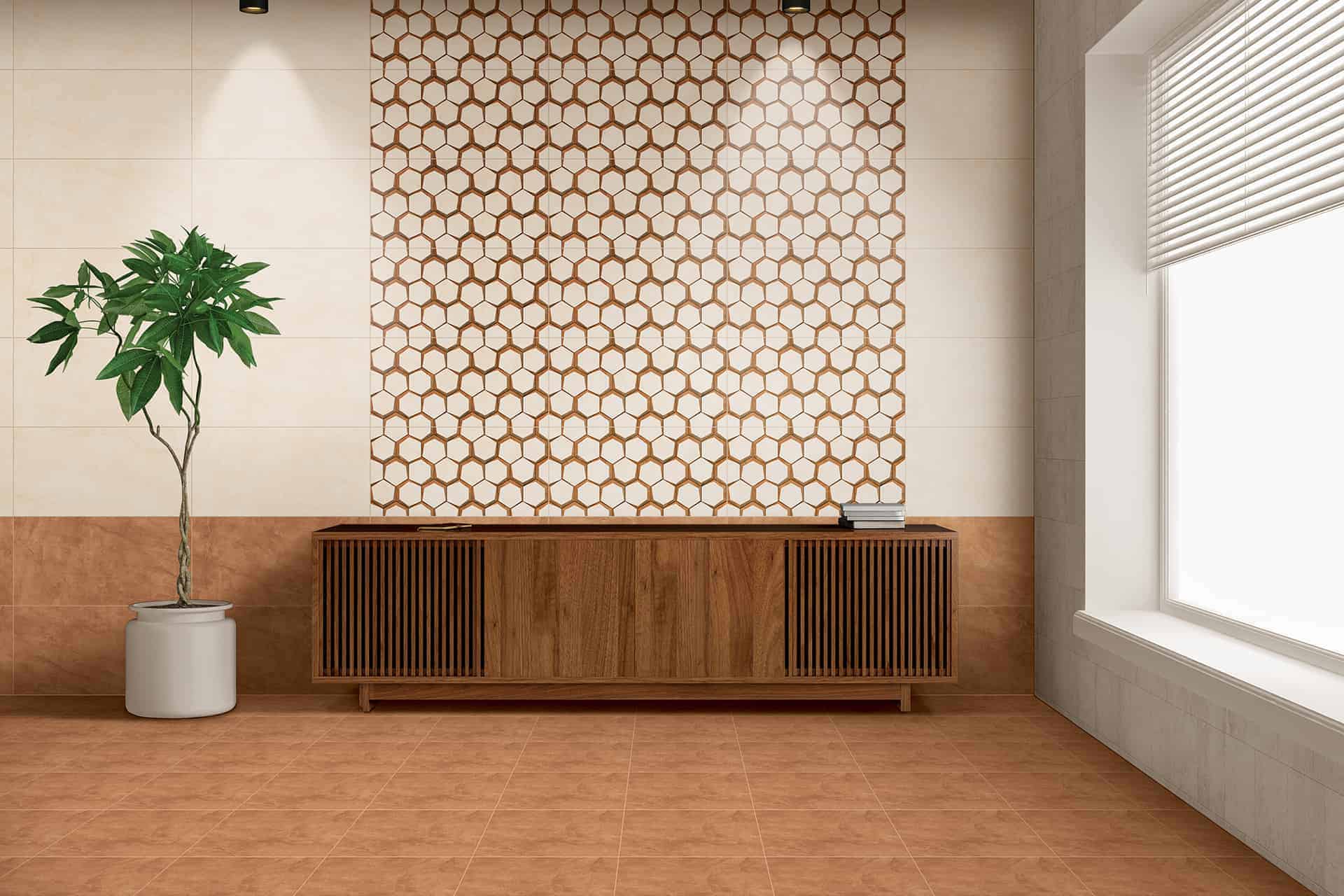 Ceramiche Refin Risseu Kitchen Tiles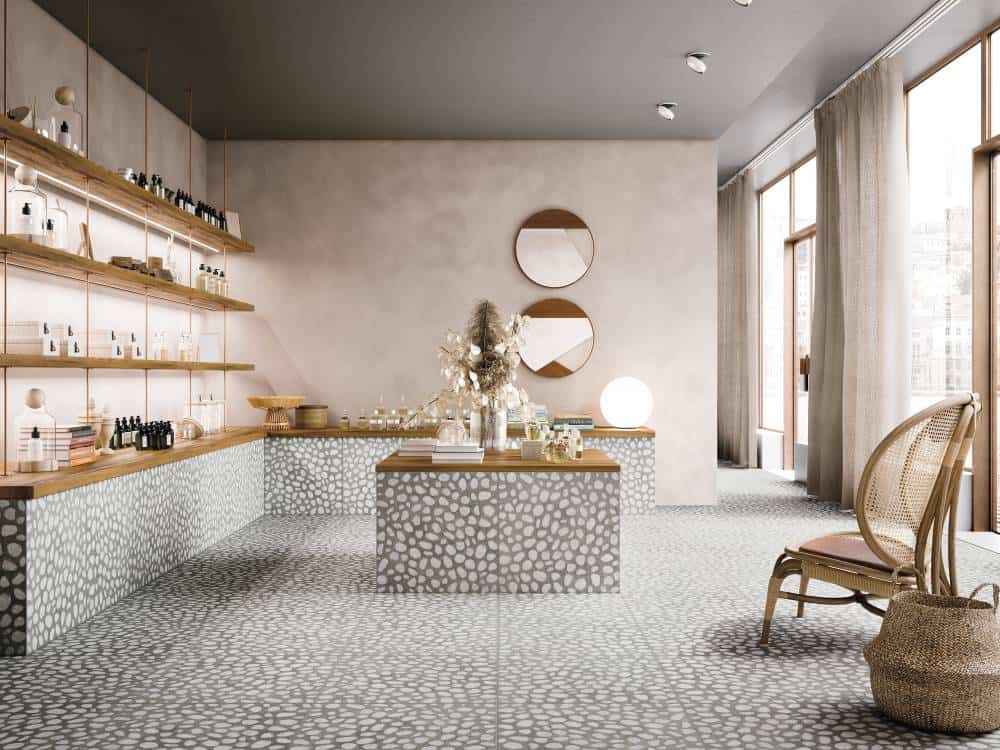 Conclusion
Given the importance of the kitchen, it should be built in such a way that the person working in it feels very comfortable. A modular kitchen is highly popular these days due to the elegance it exudes. Kitchen tile designs have a big impact on how your kitchen looks. These should be chosen with care, as even a minor mismatch might detract from the beauty of the kitchen.
Tile styles for your kitchen flooring, counters, and backsplash are available to suit your budget and taste. When selecting tile for your kitchen, keep the layout, area, size, etc. in mind. Now that you have the ultimate buying guide, take it as a starting point to incorporate tiles in any kitchen. From colours and patterns to trends and designs, choose what aligns with the overall theme of your house. For best results, consider the essential aspects that could affect the design and functionality of your space.
In addition, we've included a few handpicked options providing a blend of aesthetics and functionality to help you spruce up the artistic element of your kitchen by adding a flair of elegance and finesse to it. So, choose any of the tile designs listed above to single-handedly change the look of your kitchen and make it seem sleeker and more welcoming.
*The featured image used in this article is from Fireclay Tile
[vvsmustread]