Flooring types and trends are extremely dynamic yet static. Often, interior designers leave it for the end. But, it should be taken into account right from the inception of ideas and drawings. So, some popular flooring design trends are epoxy, vinyl, granite, marble, wood, linoleum, laminate, and more.
Floors are an extremely important element in any building. Also, it influences numerous factors, both directly and indirectly.
Choosing beautiful types is good but what if it inhibits the functionality of your space?
You must realize that aesthetics must never come in the way of practicality. So, you must know the aesthetical, practical, and functional value of your choices.
Types of flooring materials
There is a wide range of options when it comes to this particular category.
Do you wonder which flooring types are best?
So, the key to selecting the best option is matching your aesthetical and performance expectations with the right material.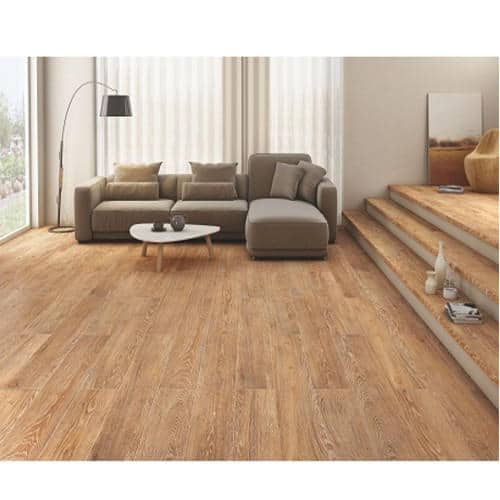 This is an unbeatable type. Also, there is an array of choices available with natural hardwood. Also, species such as oak, birch, maple, teak, etc. make exceptional end products.
Advantages
Durable
Renewable
Diverse styles and material choices are available.
Economical in the long run. (Can last a lifetime if maintained properly)
Also, no on-site finishing is needed with pre-finished wood.
Wood provides more warmth than concrete, tiles, and stones.
Disadvantages
Can wear from grit & dirt.
Moisture and liquids can cause damage.
Also, squeaks and creaks can develop over time.
Gapping and cupping can happen if not installed properly.
Expensive installation and material.
Brands
Some popular brands for this type in India are-
Pergo
Greenlam
Century
Armstrong
Image gallery
Type #2 Laminate flooring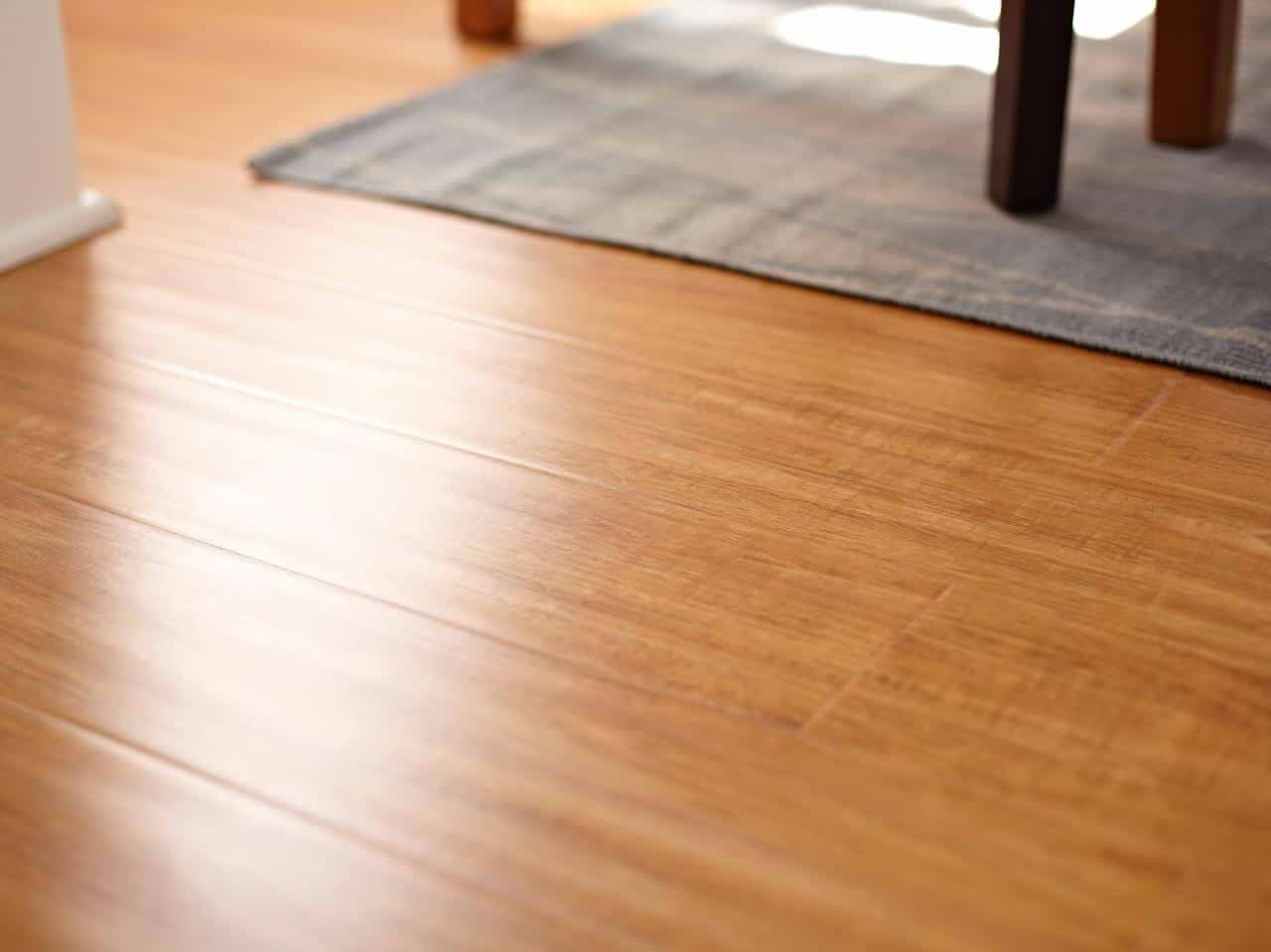 Laminates copy the look of hardwood, tiles, and stones. They are covered with a wear-proof layer. Also, laminate flooring remains one of the easiest to install types. It also gives a beautiful look to the room.
Advantages
Can withstand heavy traffic
Durable
Cheaper than hardwood
Also, laminates can be applied over pre-existing floors
Comes in many patterns
Portable "glueless" laminates
Quick installation
Disadvantages
Need full-replacement if wears out
Liquids can collect between the edges and plank spaces
Also, the floating-floor feature makes a hollow sound if an acoustical underlayment is not used
Brands
Some popular laminate flooring brands in India are-
Image gallery
Type #3 Vinyl flooring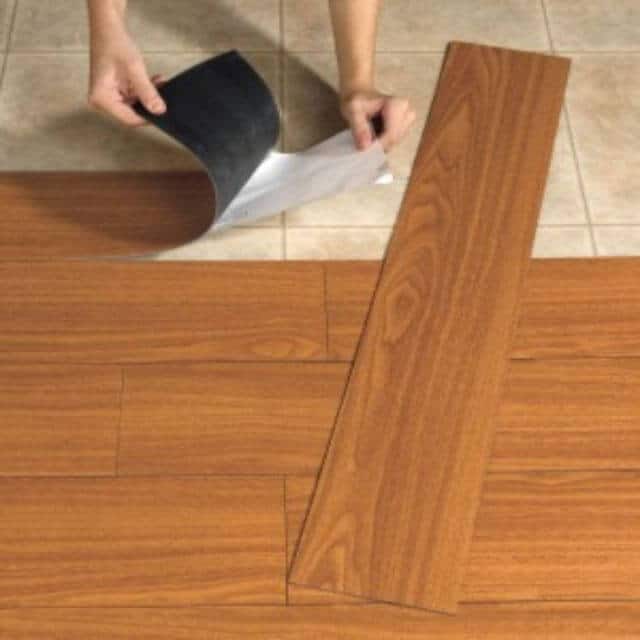 Luxury Vinyl Tiles are a popular choice among homeowners today. Also, its versatility, low maintenance, and wide colour options make it a go-to option.
Advantages
Economical
Easy to maintain
Resilient
Many colours, textures, and patterns are available
Amazing sound absorption quality
Seamless
Disadvantages
Luxury Vinyl Tiles are not very eco-friendly
Susceptible to tears and cuts
Non-renewable
Also, heat can burn or scorch the material
Can get permanent dents
Brands
Some popular vinyl flooring brands in India are-
Image gallery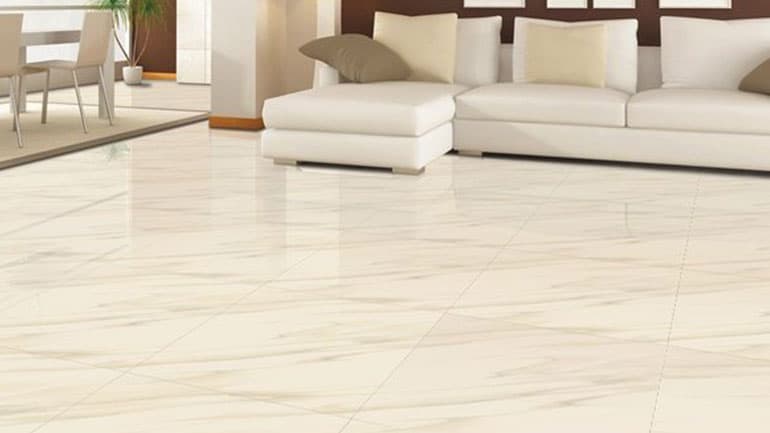 Tiles are one of the most versatile floor-types that can give a more personalized look to your space.
Also, there are numerous flooring options when it comes to tiles, such as porcelain tiles, glass tiles, vitrified tiles, luxury vinyl tiles, ceramic tiles, marble tiles, granite tiles, and many more.
Also, all types of tiles have different pros and cons.
So, it is not possible to weigh them collectively. But, we have mentioned some common benefits and drawbacks of the tiles below.
Advantages
An endless range of textures, colours, and styles in brands such as Somani tiles, Kajaria, Johnson tiles, etc.
Durable
Flexible
Low-maintenance vitrified tiles terrazzo tiles, etc.
Stain-resistant
Repairable and replaceable
Cost-effective
Also, it does not dent.
Disadvantages
Grout lines trap dirt
The surface becomes very cold if not used with underfloor radiant heat
Glossy tiles are slippery
Smooth tiles are not easy to stand on for a longer period of time
Brands
Some popular tiles brands in India are-
Image gallery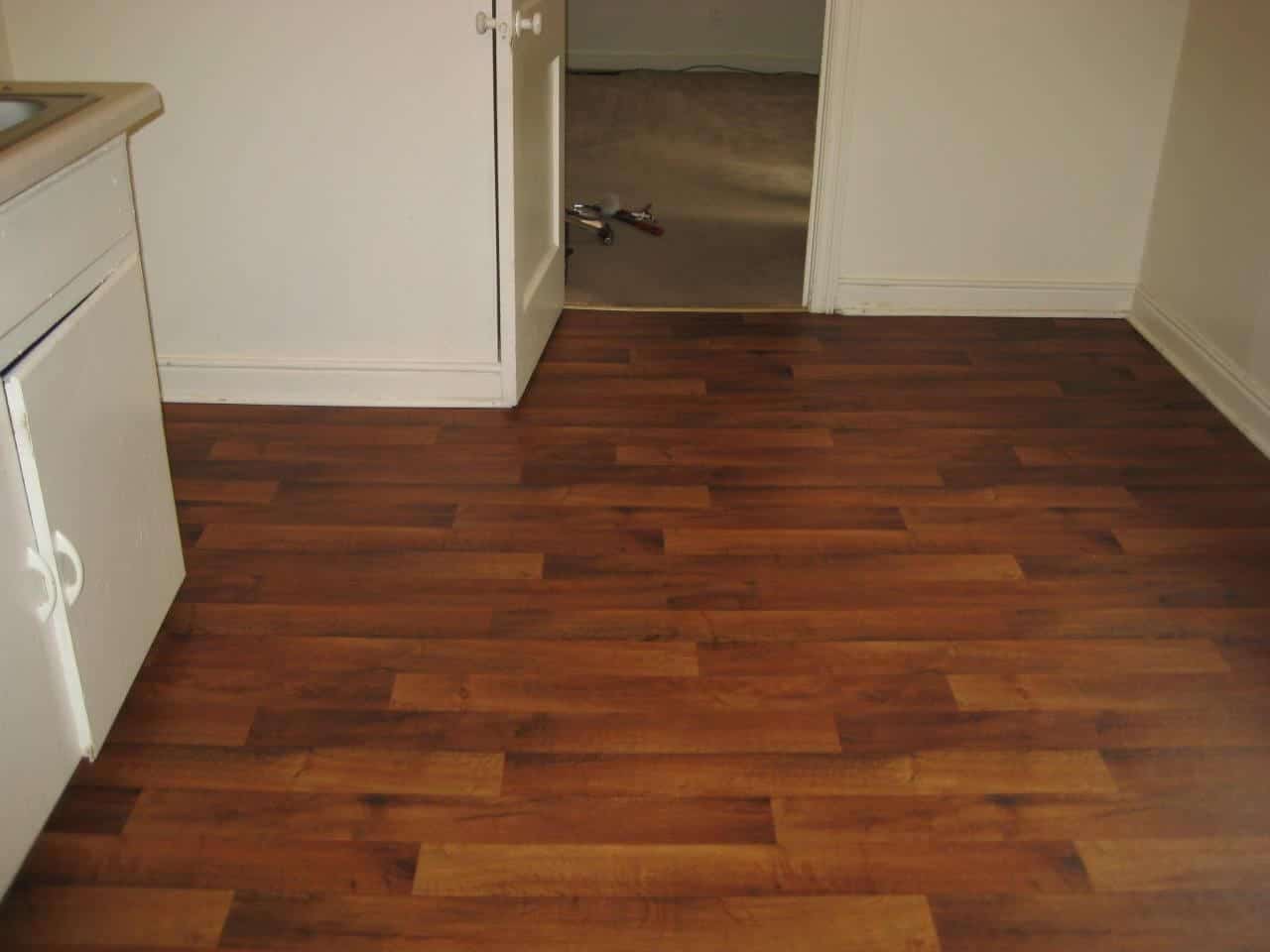 Linoleum is an eco-friendly solution made up of linseed oil, wood or cork flour, mineral fillers, and pigments mixed and applied to a jute or canvas backing.
It comes in many colours and styles. Also, the protective coating on the linoleum makes it suitable for outdoor applications as well.
Advantages
Durable
Renewable
Does not emit harmful VOCs- (Volatile Organic Compounds)
The pigments hide minor scratches and dings
Low-maintenance
Disadvantages
Can get dented
Also, uncoated linoleum turns yellowish and dark when exposed to sunlight
Susceptible to moisture
Newly waxed linoleum surface is slippery
Brands
Some brands for this type in India are-
Image gallery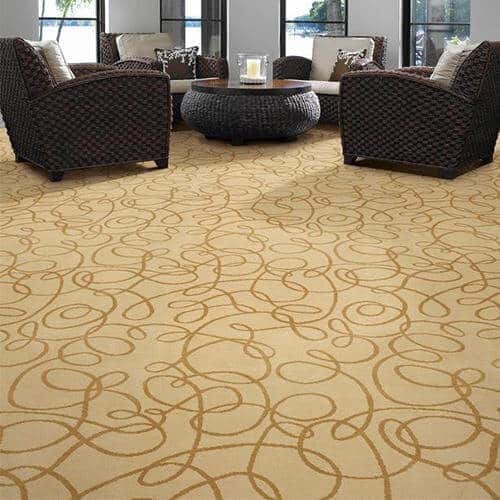 The warmth and softness that come with carpets are not possible with any other surfacing choices. Also, carpets come in different materials, designs, colours, and styles.
Advantages
Comfortable
Wide variety of patterns, fibers, textures, and colours
Good sound and heat insulators
Also, it prevents injuries (child-friendly solutions)
Hides the subfloor's irregularities
Disadvantages
Stains easily
Hard to clean
Collects dust and dirt
Harbours allergens
Emits VOCs. Thus, hamper the indoor air quality
Give rise to mold growth
Water and moisture damage possible
Brands
Some popular brands in India are-
Image gallery
Concrete is a highly decorative and durable surface solution. It is timeless. Also, the material is naturally cool. So, they are suitable for hot climates.
Advantages
Low-maintenance
Available in many colours, textures, and patterns
Also, concrete slabs used during the construction can be used here to avoid wastage
Does not emit VOCs
No allergens, dust, and mold
Compatible with radiant heating systems
Disadvantages
Uncomfortable to stand on the hard surface for a long time
Also, it requires regular re-sealing to protect from wear
Susceptible to cracks
Can wear from grit and dirt if not sealed
Brands
Some popular brands for this type in India are-
Image gallery
Type #8 Stone flooring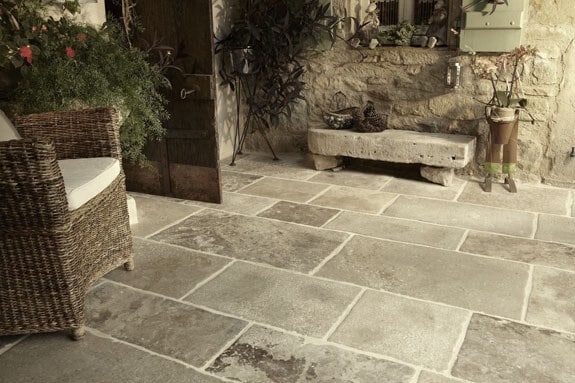 Stone cut into tile sizes make up the stone flooring. Also, the authentic beauty and durability offered by natural stone are unmatched.
Advantages
Durable
Compatible with radiant floor heating systems
Offer cooling in hot climates
Good for outdoor applications
Disadvantages
Smooth stones are slippery
Not suitable for colder regions without heating systems
Brands
Some popular brands in India are-
Image gallery 
Type #9 Epoxy flooring
Epoxy is an excellent moisture-resistant solution. Also, concrete slabs when transformed into a smooth, finished, water and oil-resistant surface makes epoxy flooring.
Advantages
Durability
Bright appearance
Economic installation
Protects the floor from stains, cracks, and grease
Oil, bleach, water, and spot resistant
Disadvantages
Prone to chipping
Slippery
Also, wet epoxy flooring emits strong ammonia fumes
Needs additional painting cost
Brands
Some popular epoxy flooring brands in India are-
Image gallery
Type #10 Granite flooring
Granite flooring is the use of granite tiles made by processing volcanic rocks until they have a smooth surface. Also, the excellent durability of granite flooring makes it an ideal material.
Advantages
Long-lasting durability
Excellent for wet areas
Granite is a good hypoallergenic flooring material
Granite flooring comes in many style options
Disadvantages
Relatively heavier than other flooring types
Difficult to install
Needs a lot of maintenance
Image gallery
Type #11 Sustainable flooring types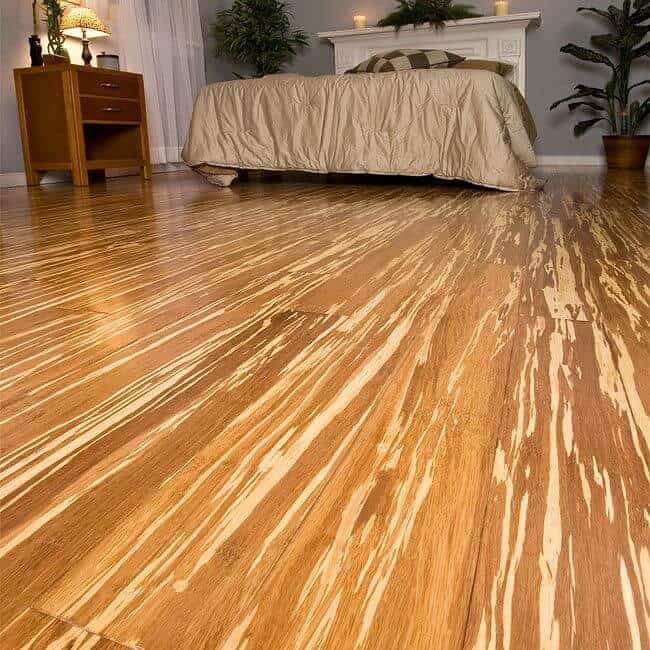 The changing trends demand a safer and more environment. So, sustainability is the best way to keep with these demands.
Renewable, biodegradable, eco-friendly, and non-toxic alternatives are considered sustainable. So green carpets, wood, bamboo, linoleum, and rubber floorings are some examples.
Canadian Wood aces sustainable foresting and wood supply. It is one of the leading names when it comes to eco-friendly hardwood supply globally.
Now, it would not be right to mark a design trend as 'poor' or 'bad' without understanding its right application. But, there are plenty of types to pick from. They come in many styles, patterns, shades, and brands.
For instance, you would have heard many praises of XYZ trends and you decided to get it for your space.
Later, it hampered the space's functionality and you called it out.
But did you actually go through the details and specifications of XYZ before applying it?
Did you understand its correct application areas before using it for your space?
These are some of the many questions that must be addressed before choosing the right trends for your space.
Flooring Price (based on types)
| | | |
| --- | --- | --- |
| Sr. No. | Types | Price |
| 1. | Tiles | Rs. 25-Rs. 125/ sq. ft. |
| 2. | Wooden | Rs. 48-Rs. 730/ sq. ft. |
| 3. | Laminate | Rs. 50-Rs. 550/ sq. ft. |
| 4. | Granite | Rs. 80-Rs. 450/ sq. ft. |
| 5. | Epoxy | Rs. 35-Rs. 110/ sq. ft. |
| 6. | Carpet | Rs. 18-Rs. 120/ sq. ft. |
Things to consider before choosing the right types
Focus on the following points before choosing a trend for your space:
Kind of space
Different spaces have different needs. Commercial space needs more durability and fewer aesthetics. So, floorings such as terrazzo tiles, luxury vinyl tiles, epoxy flooring, and industrial-strength carpet tiles are ideal for such purposes.
Also, cement-based, ceramic tiles, vitrified tiles, mosaic, wood, and marble and granite flooring are ideal for residential buildings.
Official and commercial buildings should have designs with symmetrical and geometrical patterns. On the other hand, residential spaces can go for informal curves, prints, and asymmetrical patterns.
If your space is moisture-prone, such as the kitchen and bathrooms, you need moisture-resistant, waterproof surfaces.
So, do not pick wooden flooring for such areas. Also, epoxy flooring, porcelain tiles, stone, and vinyl tiles are ideal waterproof options.
Outdoor spaces that are exposed to extreme weather conditions such as sunlight, dust, water, and wind need strong options. Also, outdoor carpets, tiles, plastic deck, rubber, cement, foam tiles, concrete flooring are some ideal outdoor options.
Traffic
Not all trends go well with heavy traffic. But commercial spaces need heavy-duty materials such as terrazzo tiles, luxury vinyl tiles, granite, and epoxy flooring which can endure a lot of traffic.
So, you can go for slightly delicate alternatives for residential purposes or for offices with lesser traffic.
Pet-friendly varieties
Choose the right design for your furry friends. So, as an interior designer, your job does not end at understanding the needs of the building.
Also, you must consider the needs and expectations of the occupants as well. So, for places that have pets, your choice should be scratch-resistant, damage-resistant, and pet-friendly.
Stone tiles, vinyl tiles, bamboo, and cork flooring are ideal design options.
People with respiratory issues
If the building's occupants have respiratory issues such as asthma, you need to be very careful while choosing the right flooring types.
Hardwood flooring types and luxury vinyl tiles are good for such spaces. Also, do not use carpets as they trap dust and increase indoor pollution.
Laminate and bamboo floors are also suitable for people with allergies. So, the focus while choosing the types should be on easy cleaning and less dust accumulation.
How do flooring types affect the interiors of your space?
Interior decoration is an umbrella term for numerous aspects of décor. So, from lighting and furniture to flooring and ceiling, everything constitutes interior designing.
Also, everything is connected to each other. Although each one of them has its own identity, it greatly influences the other. All the units come together to make a perfect interior décor look.
As a result, flooring also determines the overall look of the space. Likewise, other decoration trends leave an impact on the flooring.
Let us find out how it influences the look and feel of the space.
It is a misconception that dark colours make the room look small. But, if the room already has dark walls and insufficient light from windows and doors, only then does the statement stand true.
On the other hand, light colours only make the room look big if the room has enough lighting and bright walls.
That said, do not go for extremely light shades as well. Especially, if you choose wood surfaces, pick the colour in accordance with the amount of sunlight entering the room. If the room is too lit up, do not go for extremely light shades like maple. On the contrary, choose honey-coloured wood surfaces.
Moreover, look for colours that complement rather than compete with the natural or artificial light entering the room.
Also, use complicated and fuller patterns for larger rooms and simple and minimal patterns for small areas.
Conclusion
Trends keep on changing. But, one thing that remains constant is the need for sustainable, durable, and aesthetical value.
Additionally, you must understand the purpose, functionality, and application area before making a decision.
Do not indulge only in one aspect while selecting the flooring types. Also, go through the top brands in India for the most economical and innovative range.
Match your choice with the interiors of your space and see that everything is complementary to each other. Finally, make the right choice and give a delightful experience to the occupants.
If you want to buy top-quality surfaces from the best brands, click on the link given below to check your options and submit your inquiries:
For more details, contact below:
Email: mukul.jain@buildingandinteriors.com
Mobile: +91 99676 32127
[vvsmustread]