You've built a beautiful building using the best material. Even the interiors look exquisite and unique. But after a few months, you get to know that the walls are chipping off and a terrible seepage issue has arisen.  What went wrong Usually, this problem comes up when one does not waterproof the buildings properly. So, waterproofing chemicals and materials for roofs, and waterproof paints help you avoid such issues.
Water can penetrate into the building in many ways such as rainfall, groundwater, etc. So, it is extremely important to waterproof your building. Without effective treatment, even the best buildings fail to deliver optimal performance and get damaged.
Also, it is the process designed to prevent the penetration of water into the building structure. So, it is done in several stages and layers so that the building has multiple barriers.
Let's understand how to treat the buildings in detail.
What is waterproofing?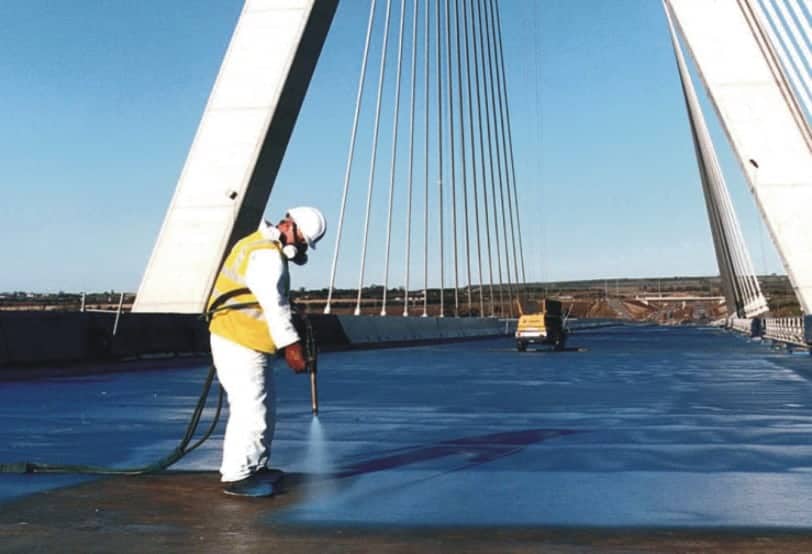 Image Source: CivilDigital
The method prevents water from penetrating into the building. Also, it helps keep the building dry. Thus, it also protects the building from damage caused by moisture and water exposure.
Also, to treat a structure, you need to use membranes and coatings to protect the surface underneath and also safeguard the structural integrity of the building. So, the multiple coatings make the "Building Envelope". This envelope determines the performance of the building against water penetration. So, the foundation of the building must be strong.
Need for waterproofing 
It wouldn't be wrong to say that a building is a living entity that needs proper care and maintenance. Also, the issues that arise due to moisture and water must be avoided.
Water issues in the building can harm the structure in the following ways:
Seepage through wall claddings, sills, extensions, beam-brickwork joints, etc.
Groundwater absorption in basement spaces and flooring.
Bursting of pipes inside the wall or under the flooring surface.
Capillary rise through walls, joints, and columns.
How to identify if your building has a waterproofing problem?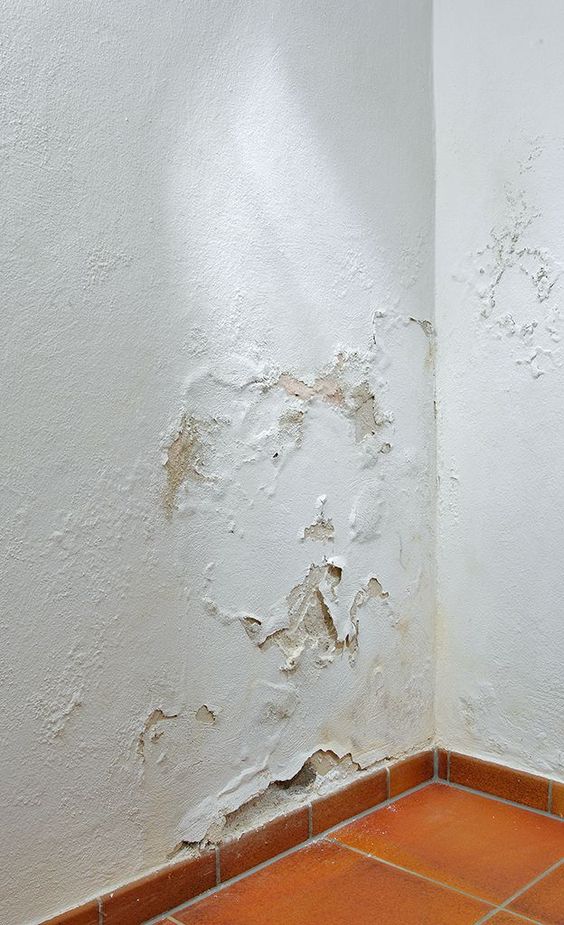 Image Source: selbst
If you see any of the following signs in your building, get ensured that it needs better treatment:
Wet and damp walls
Growth of mold and fungi
Rotting signs
Pooling water
Water leakage from the roof/ ceiling
Also, all these problems can not only destroy the exterior structure of the building but also harm its interiors and core foundation.
So, it is very important to treat our building properly and keep these challenges at bay.
Advantages of waterproofing
It keeps the building dry and firm.
Also, the building becomes more comfortable to reside in as it reduces the internal humidity.
No damage to objects from humidity and water vapour.
Stronger and long-lasting building.
It becomes as important to treat your building as choosing the right material for it. So, you must understand the types of waterproofing materials for your job.
Polyurethane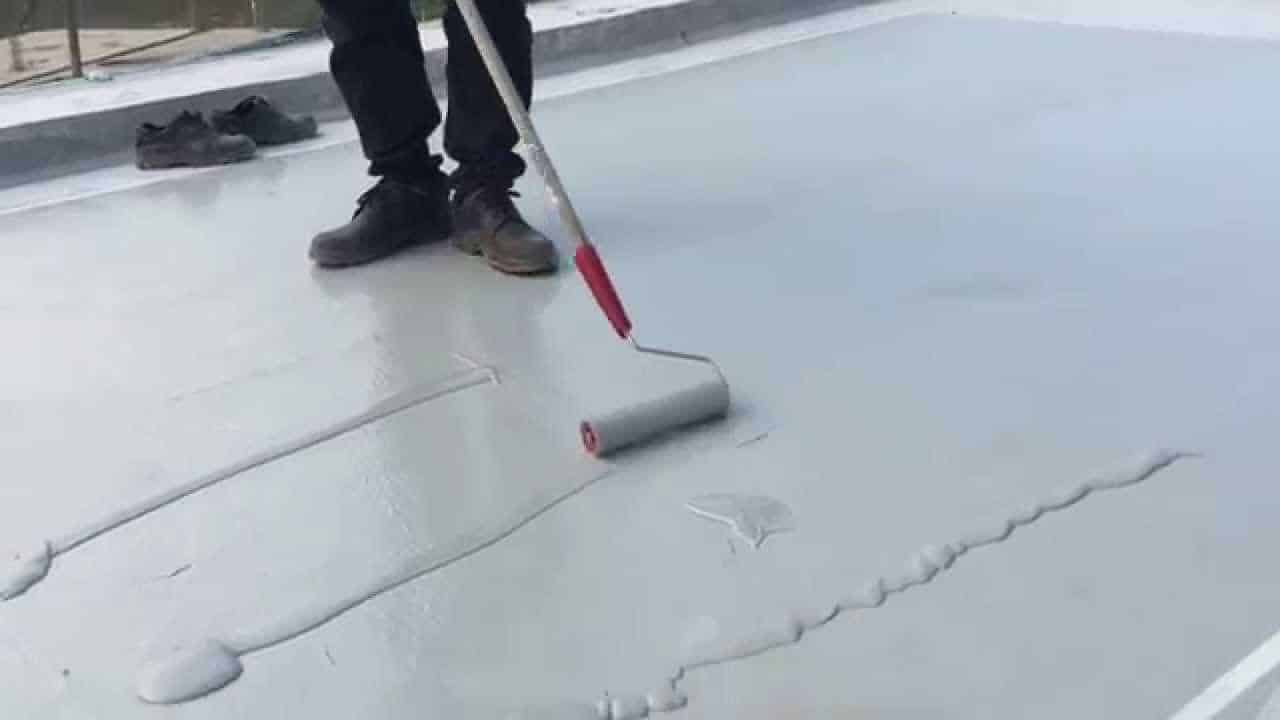 Image Source: ColeyReed Homes
This is used for waterproofing of roof. Also, the polyurethane liquid membrane offers higher flexibility, with numerous benefits such as:
Filling of capillary cracks.
Also, a decrease in the concrete's water absorbency.
The liquid hardens the uppermost concrete surface.
Application areas:
Water tanks
Pedestrian decks
Balconies
Roof
Bridges
Parking
Top polyurethane waterproofing companies and products

Image Source:Cormix
This material offers the easiest application. Also, the mixture contains sand, silica-based, organic, and inorganic chemicals. Also, these substances combined with lime work as a sealant.
Application areas:
Water treatment plants
Ports and docks
Parking
Tunnels
Top cementitious waterproofing companies and products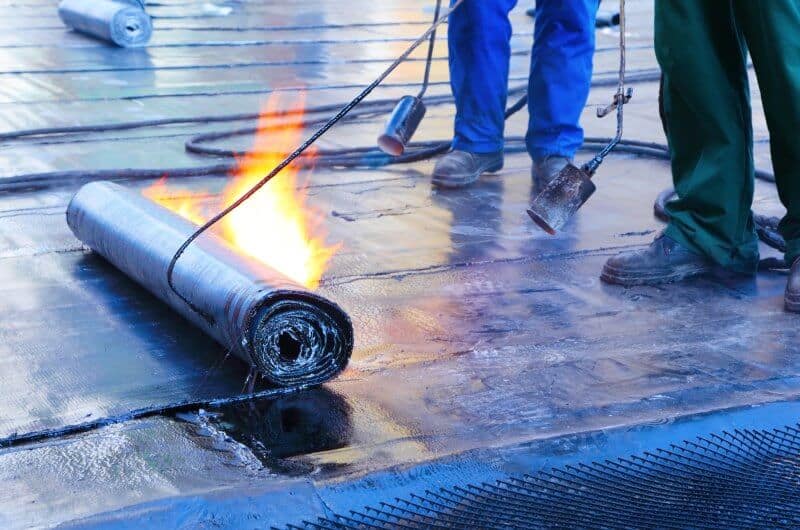 Image Source: Comarbois
Also known as bituminous coating, or asphalt coating, this membrane works effectively against water penetration. Bituminous is mixed with a sticky organic liquid. So, its viscous quality makes it an extremely powerful roof waterproofing material.
There are two Bituminous application methods:
1. Roll roofing material method
2. Roofing felt method
The price of bituminous membranes ranges from Rs. 100 to Rs.2000 per roll depending upon the texture, thickness, and length of the membrane.
NOTE: Although the bituminous membrane offers excellent protection against water, it gets damaged by extreme temperature and UV rays. However, when modified with acrylic or polyurethane-based polymers, it gets away with this problem.
EPDM rubber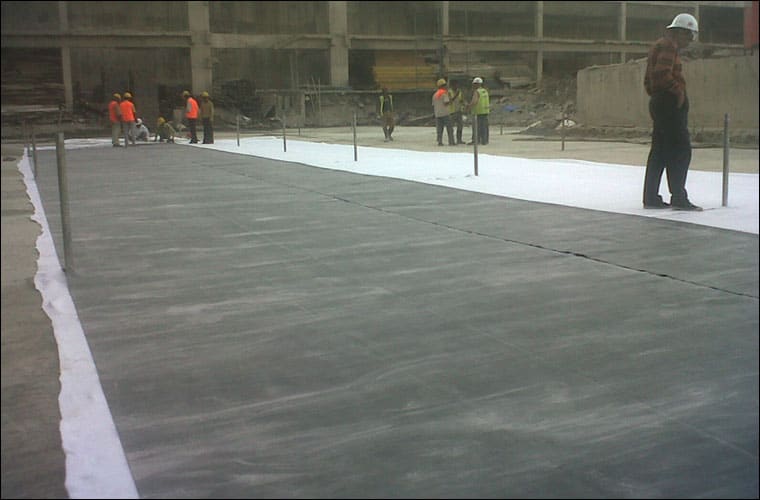 Image Source: Polygomma Industries
This roof waterproofing material is a synthetic rubber material made up of propylene and ethylene. Often, professionals associate EPDM rubber solution with a silicone compound. However, both vary in terms of chemical compositions, applications, and features.
Also, EPDM rubber is very flexible and recyclable.
Application areas:
The price of EPDM rubber membrane ranges from Rs. 30 to Rs. 300 per square meter.
Rubberized Asphalt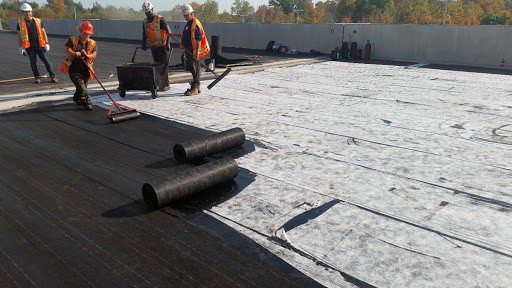 Image Source: Aquanorth Contracting
Another excellent waterproof chemical, Rubberized Asphalt works effectively to protect the home. Also, the strength, flexibility, and moisture vapour permeance of this material make it extremely durable and ideal for the treatment of the building.
Application areas:
Roof
Plazas
Parking lots
Terrace
Also, cement chemicals in various areas at the structural masonry level
Rubberized Asphalt is done by experts. Therefore, the overall price varies from one service provider to another.
Thermoplastic Waterproofing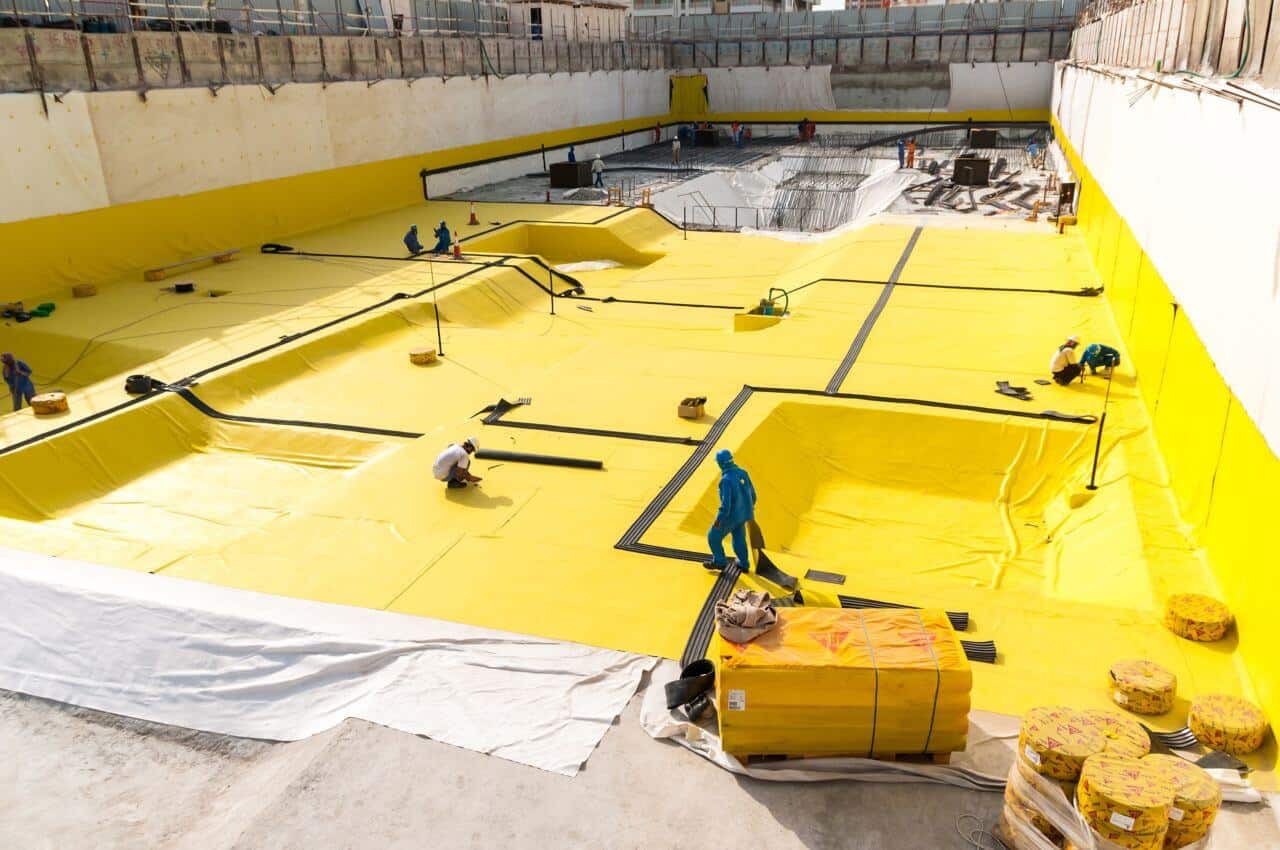 Image Source: Sika Group
Yet another efficient waterproofing material is thermoplastic. Also, this strong solution offers protection for more than 40 years. So, its impact-resistant feature makes it ideal for all heavy-duty treatments.
Application areas:
Thermoplastic is done by experts. Therefore, the overall price varies from one service provider to another.
PVC membrane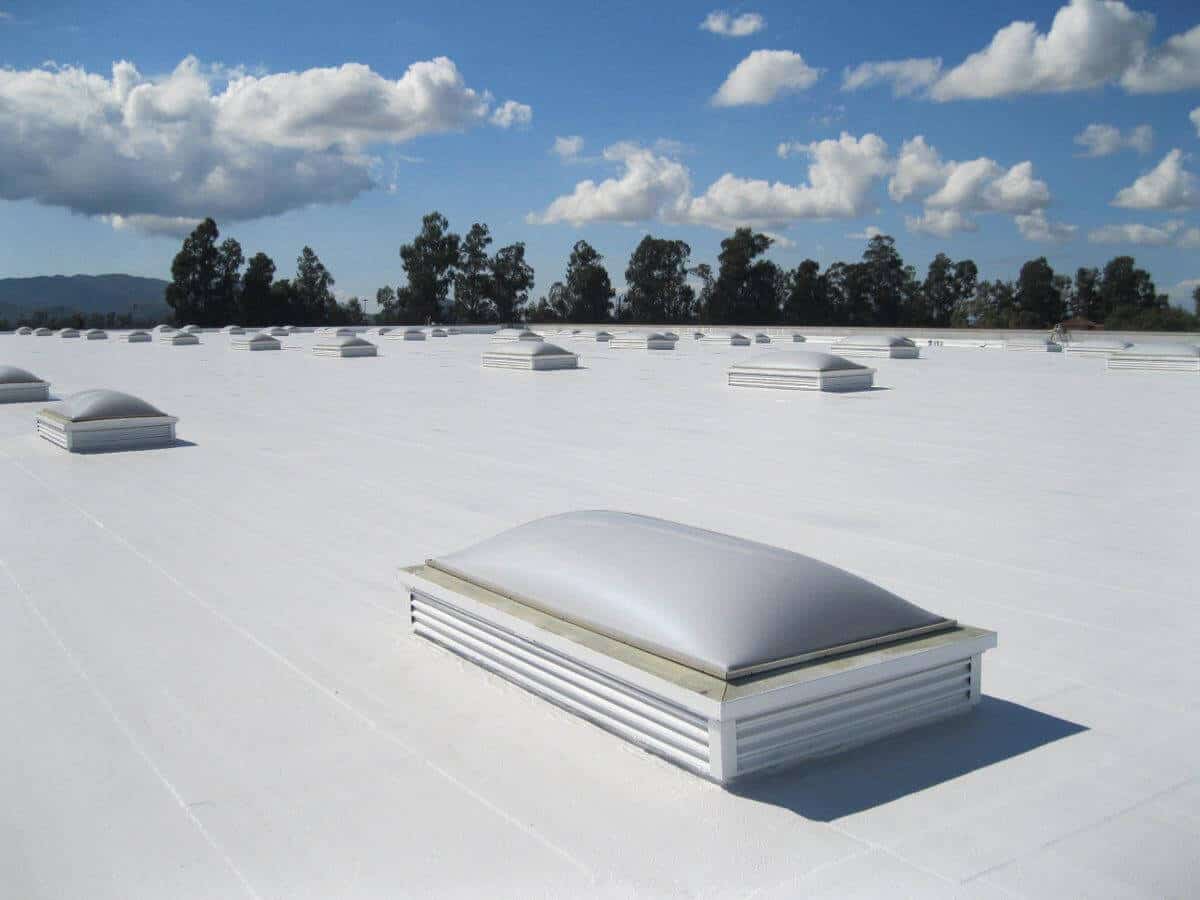 Image Source: extruflex
This material is commonly used for roof waterproofing. Also, its vapour permeable property gives it additional strength. The base of the PVC membrane makes use of polyester mesh or glass fiber.
Application areas:
Roof
Swimming pools
Tunnels
Underground structures
The price of PVC roof waterproofing membrane ranges from Rs. 1000 to Rs. 2000/ 4 square meters.
Waterproofing paints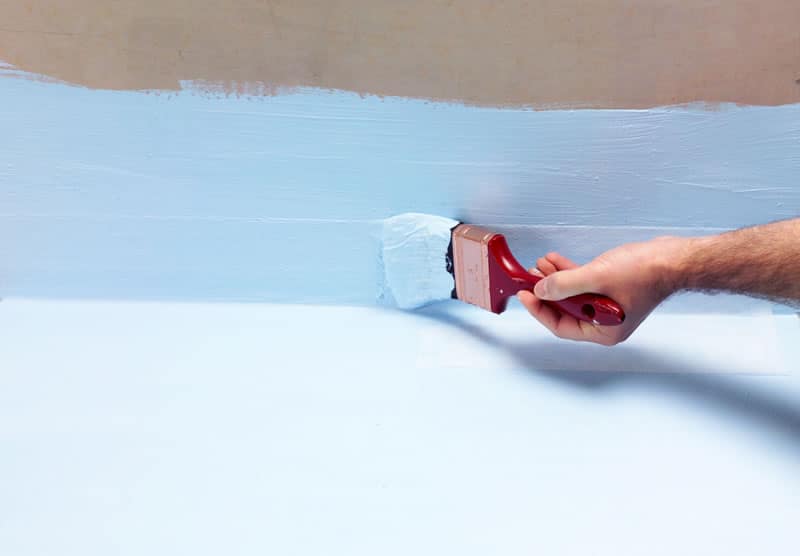 Image Source: The Audioart
The waterproof paint protects the house from environmental degradation and enhances the lifespan of the structure. Thus, it either remains water-resistant or completely waterproof.
Also, this paint can be used inside buildings in bathrooms, kitchens, basements, etc. So, it protects the bathroom and basements from leaking and excessive moisture.
Bathroom waterproof paint for walls prevents moisture from penetrating the walls. Thus, these paints are preferred over regular paints as the former will not stand up as strongly against damp conditions as the former. Moreover, once moisture enters the walls, moulds and mildew will develop damaging the structure as well as causing health issues.
Types of waterproofing paint
Epoxy waterproofing paint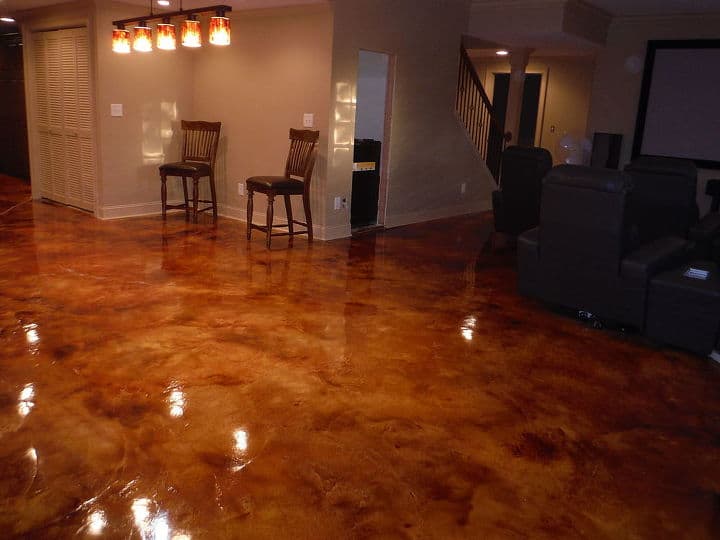 Image Source: Hometalk
Epoxy paints for waterproofing use strong chemicals to fight against extreme wet conditions and protect the surface. Also, they make ideal waterproof paint for roofs and terraces waterproofing paint.
Masonry waterproof paint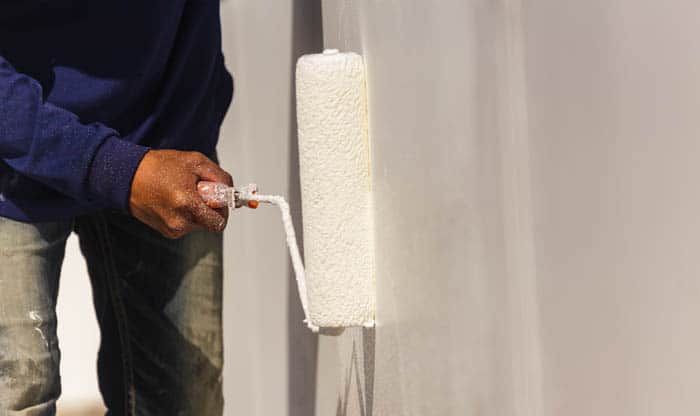 Image Source: united gilsonite labs
Made from a mixture of latex and ceramic paint, the masonry waterproof paint is generally used for roofs. Also, this paint also absorbs chemicals and other liquids as easily as water and prevents them from penetrating inside. It also offers cement waterproofing chemical.
Acrylic waterproof paint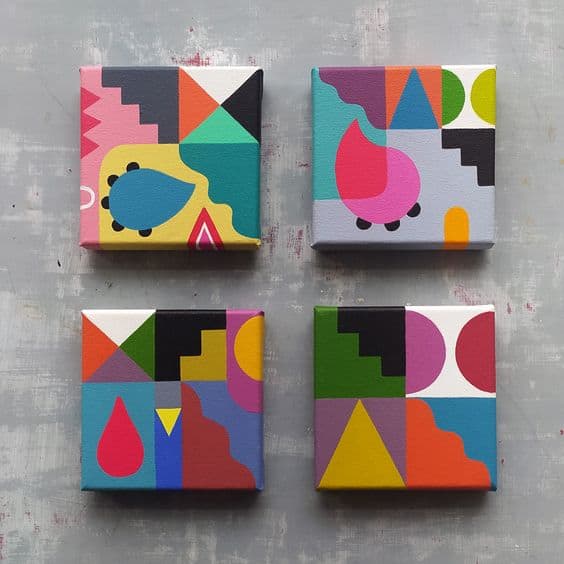 Image Source: imapicostudio
This type of paint suits best for roofs and terraces built with rectangular blocks. Also, this roof and terrace paint contracts and expels water from the surface. Additionally, this waterproof paint for the roof is non-toxic and easy to apply.
Top paint waterproofing companies and products
Buy waterproofing chemicals here 
Asian Paints

SmartCare CemBoost 200
Berger WeatherCoat Roofguard
Nippon Paint Roof Coat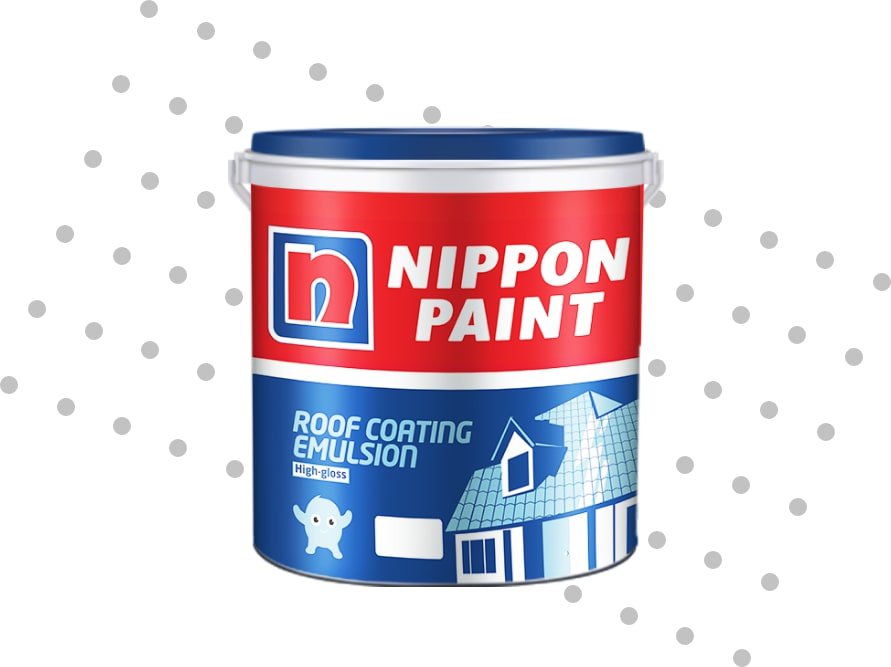 Pidilite Dr. Fixit LW+ Compound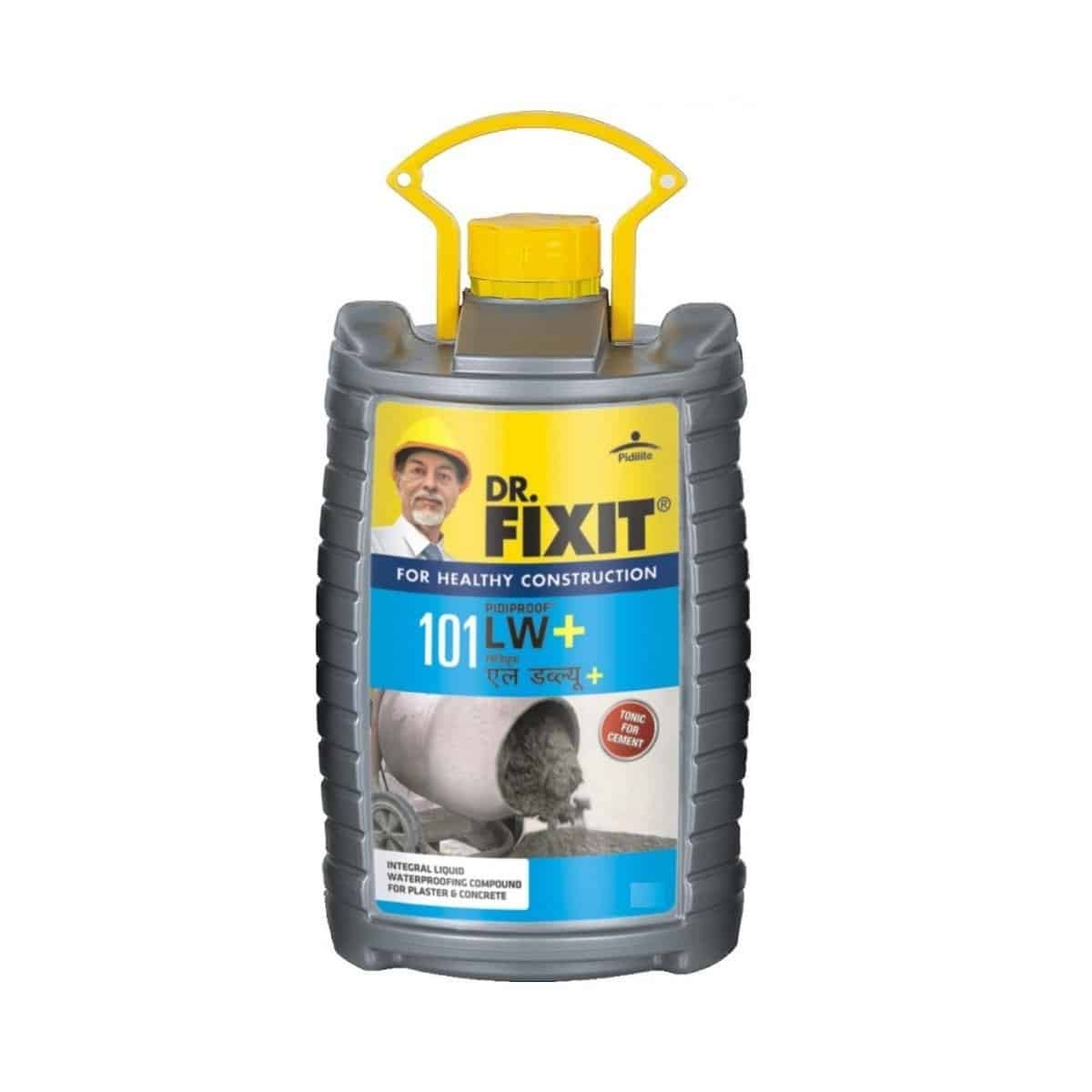 UltraTech Weather Pro WP+200
Conclusion
In order to retain the durability, life, and functionality of the building, it becomes essential to treat it properly. Issues like seepage and mold growth can cause expensive and lifelong damage to the building. Moreover, all this also causes health hazards and puts the lives of the occupants at risk.
Also, it becomes even more important to choose the right waterproof chemical and material for the specific area of application. So, if the choice of waterproof material goes wrong, it can hamper the strength, life, and functionality of the entire building.
Moreover, you must know the best type of waterproof material for each application. For instance, a Bituminous membrane must not be used on the exposed terrace. On the contrary, PVC membranes, or polyurethane treatment becomes more suitable here. Similarly, all types of waterproofing chemicals such as epoxy, EPDM rubber, thermoplastics, rubberized asphalt, etc. have their unique properties and application areas.
Thus, all these minor yet extremely necessary details about waterproofing chemicals for buildings along with price ranges help the professionals make the best decisions for their projects and deliver the most flawless results.
If you want to buy top-quality construction chemicals from the best brands, click on the link given below to check your options and submit your inquiries:
For more details, contact below:
Email: mukul.jain@buildingandinteriors.com
Mobile: +91 99676 32127
[vvsmustread]