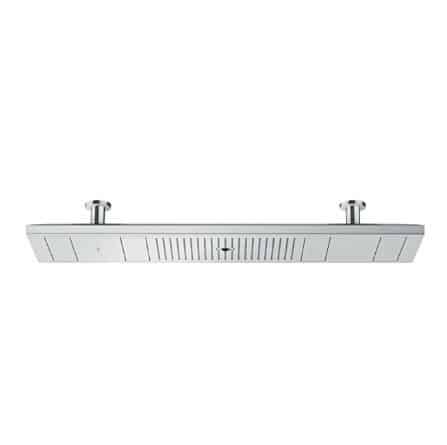 With 34 companies and 21 sales offices all over the world, Hansgrohe is one of the few global players in the sanitation industry. During the 2017 financial year, Hansgrohe employed around 5,000 people and supplied products to more than 140 countries. Incidentally, the Hansgrohe Group comprises the brands "Hansgrohe" and "AXOR".
About the Product
The Axor introduce you to an exclusive showering experience. The aesthetics of sophisticated design go hand in hand with sophisticated technology that adds a more comfortable dimension to the shower. All the shower solutions fit in perfectly with other Axor collections and schemes.
[vvsmustread]
Product Description
Hansgrohe AXOR bathroom rain shower head with LED lighting comes at various designs and price. They are suitable for small or large luxurious bathrooms. Therefore a perfect choice for all the rooms in your home. Also, the innovative technologies used in showers, make your bath comfortable and enjoyable. Additionally, these technologies allow us to save water and economically the best. Therefore a light shower is a stylish accessory for our bathrooms.
Features of shower lighting
Shower head size: 1200 x 300 mm
Spray type: Rain, MonoRain, PowderRain
Flow rate Rain spray (at 0.3 MPa): 16 l/min
The Flow rate Mono spray (at 0.3 MPa): 15 l/min
Flow PowderRain outer (at 3 bar): 12 l/min
Shower lighting -Flow PowderRain inner (at 3 bar): 12 l/min
Can be activated individually or in combination
Select the button on the thermostat
fully chrome-plated spray disc
material spray disc: metal
Overhead shower for cleaning removable
Extendable flaps can be opened manually
Ceiling connection length: 100 mm
Installation: ceiling, extendable claps can be pre-set to the user size
Illuminant: LED
Power supply: 24 V
Transformer power supply: 24 V, 60 W, EuP II
Input voltage: 100 – 240 V AC / 50 / 60 Hz
Output voltage: 24 V – DC
Colour temperature: 3500 K
So, not suitable for continuous flow water heaters
Scope of supply: includes 7-meter long connection cable and power supply, the power supply must be installed in accordance with DIN VDE 0100-701 outside the zones 0,1 and 2
The technologies used are- Firstly, Quick clean that remove the dirt and residues quickly, rain shower, Mono- a therapeutic moment of wellness, sensational showering. Because of these technologies showering has turned more enjoyable.
So, call us to know more about bathroom led light shower of different designs and the price of the shower head.
Contact Details:
Brand Info

hansgrohe
If you appreciate beautiful design in the bathroom and kitchen and value high quality, hansgrohe India is the brand for you. The brand offers a wide range of high-end shower, bathroom, and kitchen equipment that are well worth looking into. The label hansgrohe caters to a wide range of tastes: Washbasin faucets, shower faucets, and bathtub faucets Hand showers, overhead showers, shower pipes, and shower systems are all available. Kitchen taps, sinks, and sink and tap combo units are among the items available. The list seemed to go on forever.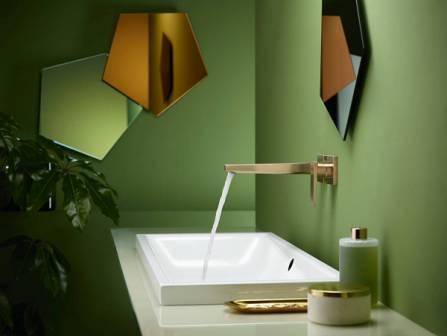 hansgrohe Global
hansgrohe India is part of the company's global operations. Headquartered in Germany, the brand is a quality bathrooms brand. The company manufactures bathroom faucets, showers, kitchen faucets, and accessories. With 34 companies and 21 sales offices all over the world, the company is one of the major global players in the sanitation industry.
In addition, the group comprises the brands hansgrohe and AXOR. The company supplies its products to over 140 countries. Its manufacturing plants are based in Germany, France, China, and the USA. Globally, 77% of its sales are generated outside of its home market Germany.
hansgrohe India
The brand operates in India through a 100% subsidiary.  The Indian subsidiary is based in Pune, India. The product range offered in India includes:
Rainfinity and PowerderRain are some of the innovations that have set benchmarks in the bathrooms industry.
The company also offers coloured faucets under the FinishPlus range. These are available in beautiful metallic shades and matt colours.
These solutions are available at most bathroom dealers across India and are backed by the company's exceptional sales and service network.
hansgrohe India Contact Details:
Website: www.hansgrohe.in
hansgrohe India Customer Care Number: 1800 209 3246