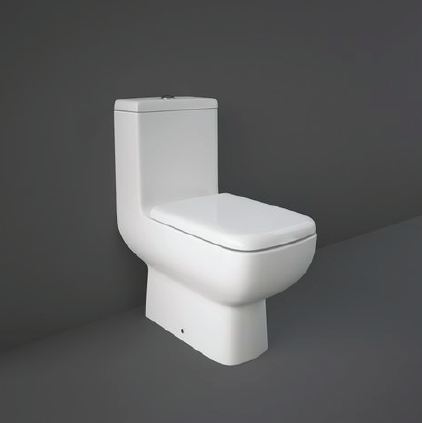 RAK Ceramics product portfolio with a wide range of colours, sizes and finishes, open unlimited creative opportunities for Architects, Interior Designers, Developers as well as Homeowners. The company uses the finest quality of raw materials and advanced technologies, thereby setting high benchmarks in the international quality standards.
About the Product
RAK promises the best quality water closet with contemporary styles, finishes, designs and innovative technologies. Especially Florence one piece WC is ideal for your bathroom as it features a superior and modern design. It is the best solution for contemporary bathrooms.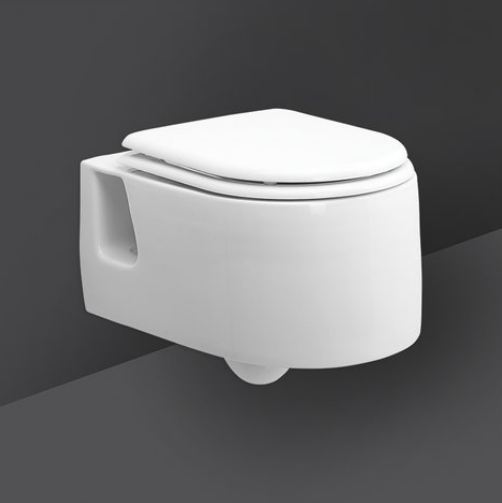 RAK wall hung water closet (WC) toilet available in different types and dimensions, therefore exclusively designed to save sp
Product Description
RAK bathroom one-piece floor-mounted water closet toilet available in different types and dimensions, therefore exclusively designed to save space without compromising on the overall appearance- at the budget price. This is part of RAK's modern bathroom suite. So, a perfect combination of fashion and function. It is easy to clean because there is no gaps or joint between the toilet tank and the bowl. So, this bathroom toilet is considered more hygienic as there is no place for dirt and germs to gather. Therefore, many people choose this. There is a two-piece water closet that has a greater market but one piece is affordable.
Features of Florence One-piece floor-mounted water closet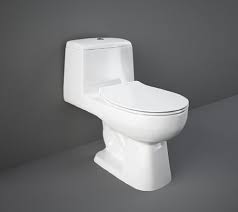 Dimensions- 660 X 340 mm
Colour- Alpine White
Trap Type- S-Trap
Trapway Type- Concealed
Seat Cover Options- Abs & Urea
Bowl Shape- Round
Dual Flush- Yes
Code- MP28AWHA
Bathroom toilets are of different types like wall-hung, back-to-wall etc. Also, varies with flush types like single flush, double flush, touchless flush, flushometer etc.
So, call us now for the bathroom toilet price!
Contact Details
M: +91-9967632127
Email: support@buildingandinteriors.com
Brand Info

RAK Ceramics

RAK Ceramics Global
RAK Ceramics is one of the largest tiles and bathrooms brand in the world. Headquartered in the United Arab Emirates, the company has customers in more than 150 countries. 22 state-of-the-art plants across U.A.E, India and Bangladesh serve these customers. 123 million sqm of tiles and 5 million pieces of sanitaryware per year are produced from these 22 plants.
RAK Ceramics product range includes a wide variety of tiles, sanitaryware, bathroom fittings and bathroom vanity.  In addition, the company has expertise in ceramic tiles and grès porcelain wall and floor tiles. Grès porcelain tiles offer a compact, hard, coloured and non-porous body, making them hard-wearing and long-lasting.
RAK Ceramics India
RAK Ceramics India has the largest and most modern vitrified tile manufacturing plant in Samalkot in Andhra Pradesh. This manufacturing facility has the capacity of 30,000 sq. mtrs. of vitrified tiles and 3000 sanitaryware pieces/day.
The company is seen as a trend setter globally. The company has more than 8000 designs and shades, making it among the largest range of products globally.
Currently RAK is available through a close knit network of 12 exclusive Company Showrooms and over 800 dealers across India.
Quality & Certifications 
RAK Ceramics was the first company in United Arab Emirates being awarded with ISO 9001 for ceramic tiles and sanitaryware.
The Indian subsidiary has been certified by Bureau Veritas for the implementation of quality management systems.
In addition, the scope of certification covers design, development, production and supply. That is to say the product range covers ceramics and porcelain floor and wall tiles, porcelain slabs and vitreous china sanitaryware, including acrylic baths and shower bases, WC and seat covers.
Sustainability 
Sustainability in every sphere of business is one of the main elements of the brand's mission statement. As a consequence, the company's sanitaryware division is committed to developing environment friendly products with focus on water saving. In addition, the company recycles natural raw materials to help conserve natural resources.
RAK Ceramics is a pioneer in introducing hi-tech innovations that are a breakthrough in the industry. A wide range of technologies are used at the company's state-of-the-art plants. These include digital printing technology, big slabs, slim, anti-microbial, glow in the dark, double charge, etc.
Website: www.rakceramics.com/india/en-in/
RAK Ceramics India Customer Care Number: 1800 102 5829