Villeroy & Boch luxury bath collection – Antheus | Sanitary fittings & furniture
Looking back at a history spanning over 270 years, Villeroy & Boch produces cutting-edge and contemporary products to improve people's lives, offer ongoing inspiration, and expand the possibilities for completely individualized interior design. One of their top-notch collections in the Bathroom and Wellness category is Antheus.
About the Product
Featuring clear lines, high-quality materials, and timeless design language, Antheus is an extensive complete bathroom collection consisting of a number of washbasin and toilet solutions, a high-quality Quaryl bath with an optional stainless steel frame, elegant bathroom furniture and mirrors.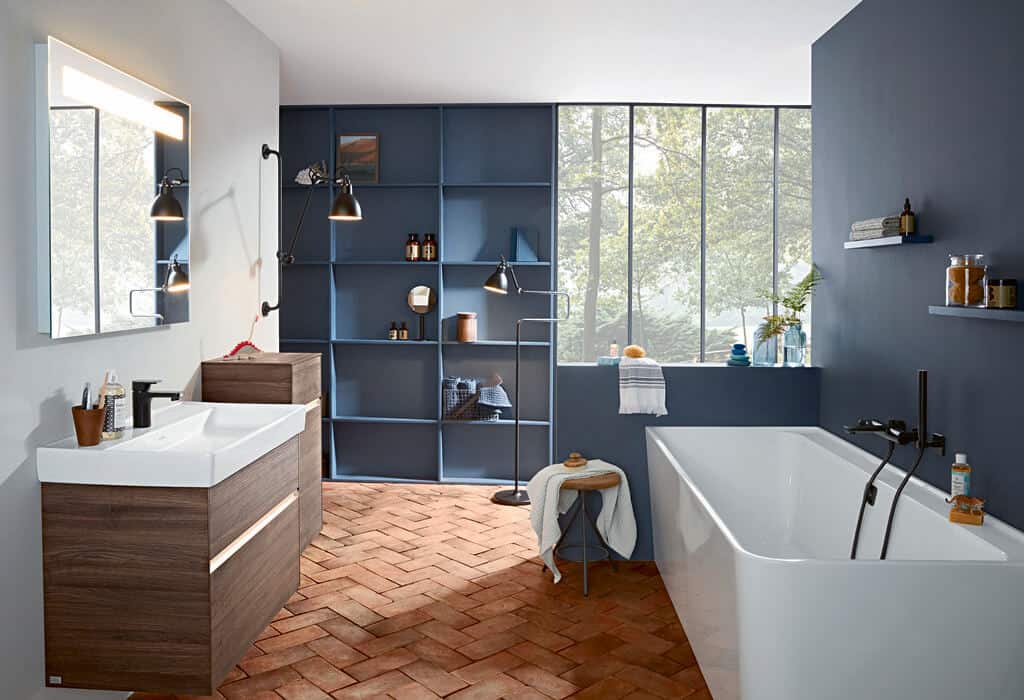 Defined by a delicate elegance, Collaro designer bathroom collection by Villeroy & Boch has a characteristic style that comes from the prominent recessed design edge. A recessed design edge is a very stylish feature that cleverly emphasises the slender shapes of the TitanCeram washbasins. The collection consists of vanity washbasins, tall & side bathroom cabinets and vanity units, and acrylic bathtubs. Experience a bathroom that knows ho
Product Description
Antheus – the luxury bathroom collection embodies timeless modern design. Premium materials and geometric features in the Art Deco style converge with the minimalist beauty of Bauhaus design. The innovative faceted effect gives off a feeling of lightness. A combination of the purest Quaryl, graceful marble, high-end ceramic, high-gloss steel, and exquisite woods create Villeroy & Boch's Antheus, a new modern classic. The luxury collection consists of washbasins, toilet, bath tubs, and vanities for the bathroom.
Designer Christian Haas' Antheus collection boasts clean lines, premium materials, and a timeless design language, making it the perfect choice to become a fashionable classic. This premium selection will resonate with people who have a lasting appreciation for contemporary Bauhaus furniture just as much as the style icons of Art Deco who want to display their good taste in the bathroom.
Highlights of Antheus modern luxury bath & furniture collection by Villeroy & Boch
Ceramics
Surface-mounted luxury washbasin with faceted outer edge and vanity washbasin in two sizes with lavish faceting on the outside and inside edges.
The novel, high-strength TitanCeram material enables the unique edges in Art Deco design.
Offered in three classy white hues of CeramicPlus: Stone White, Star White, and White Alpin.
Each washbasin can be paired with chic, complementary furniture.
An exclusive platinum decor is applied by hand to the Art Decor washbasin.
Elegant wall-mounted toilet comes with technical features such as the DirectFlush, SupraFix 3.0, QuickRelease, and SoftClosing functions.
Luxury bath tub
Free-standing bath in two sizes made from the finest Quaryl.
Exhibits the true monolithic ceramic design with exceptionally thin side walls and classic Antheus faceting on the tub rim.
Available with a base made from high-quality, high-gloss steel.
Available in a colour of your choice, thanks to 'Colour on Demand'.
Additionally, three overflow design options available: with
Without an overflow hole with a push-to-open feature
With a classic overflow hole
With the premium option ViFlow+ offering an undetectable solution with VIEGA control electronics and a pressure sensor.
Bathroom furniture
The surface-mounted washbasin in the luxury bath collection beautifully displays a classy marble panel and curved, high-gloss steel frame.
Real wood veneer vanity cabinets in Walnut or Ash Black, available with or without a high-gloss steel frame.
Round wall mirror with solid wood frame and body-height mirror shelf with cleverly concealed side storage.
The luxury bath collection is completed by tall and side cabinets, which add more storage space.
Click here to view products from the entire modern luxury bath ceramics & furniture collection – Antheus.
Contact Details
M: +91-9967632127
Email: support@buildingandinteriors.com
Brand Info
Villeroy & Boch
Villeroy & Boch has been innovating and producing high-quality products since 1748, adding sophistication and flair to people's lives. The ceramics manufacturer has grown into a global lifestyle brand and is profoundly anchored in European culture.
It is a German manufacturer of ceramics with the company headquarters located in Mettlach, Saarland.
Moreover, with 13 production sites worldwide, the brand is now represented in over 125 countries with its Bathroom and Wellness and Dining & Lifestyle products.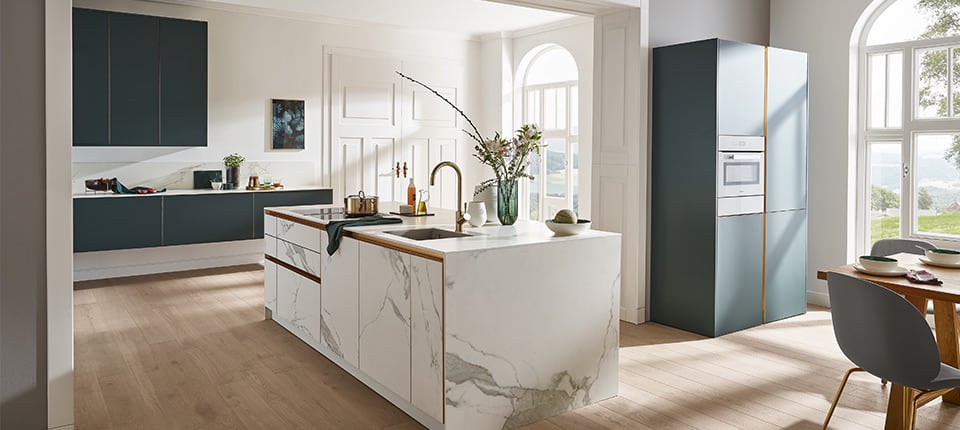 For both the consumer and contract markets, Villeroy & Boch delivers unique product and furnishing solutions. The House of Villeroy & Boch, a ceramics manufacturer, offers a stylish assortment of products centered on dining and tableware themes, as well as a large range of gift items to make every moment unique. Also, it offers high-quality goods in the Bathroom and Wellness category that are designed to transform the bathroom into a fashionable and functional haven of well-being.
In addition, the brand's product range includes the following:
A collection that offers everything from bathroom sinks through toilets and whirlpool systems, saunas, cabinets, and bathroom furniture to a large range of taps & fittings, and accessories. So, it includes:
Crockery: Fresh, modern shapes as well as rustic, country-style designs of tableware.
Cutlery: An extensive selection of high-quality plates, cups, egg cups, etc.
Glasses and goblets: A wide and premium range of wine glasses, bar glasses as well as tumblers.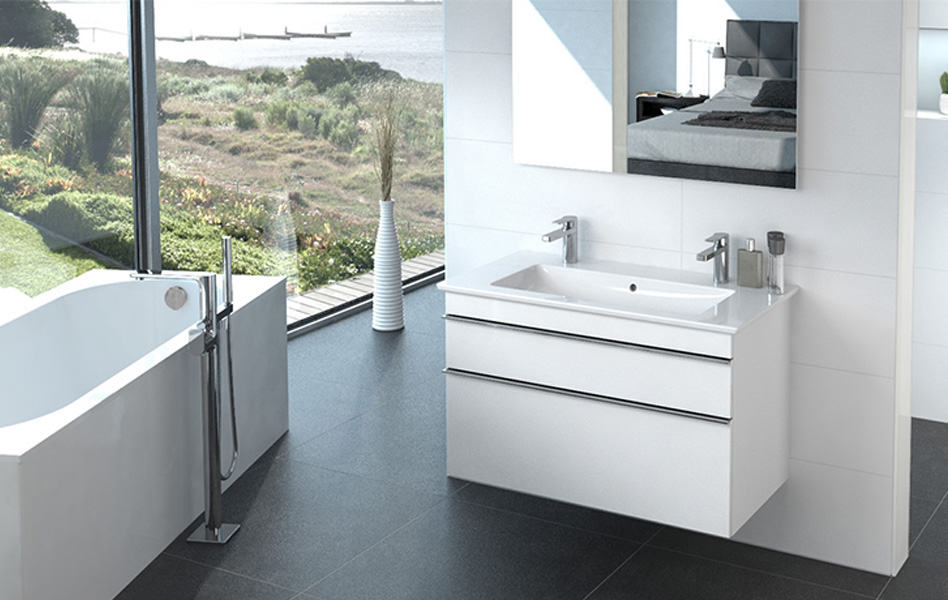 Ceramic sinks: A wide range of sink models including corner sinks, built-in basins, flush-fitting sinks, coloured sinks, butler sinks as well as under-mount models. Available in an extensive selection of bowl shapes and sizes.
Kitchen taps and fittings: Available in stainless steel as well as the latest ceramic colours with retractable hand spray and other special features.
Kitchen accessories: Premium as well as durable kitchen accessories like chopping board, pop-up wastes, strainer bowl, metal basket, waste bowl, soap dispenser, roll-up rack, and more.
Additionally, popular ranges from this brand include:
Video