Villeroy & Boch is a German manufacturer of ceramics and bathroom fittings. The brand not only offers products from the Bathroom and Wellness and Dining & Lifestyle divisions but also a coordinated furniture range.  One of their extraordinary products is the ViClean shower toilet.
About the Product
Villeroy & Boch ViClean shower toilets are wall-mounted toilets that can be easily operated by remote control or a smartphone app. It also includes a rear wash and a lady wash for intimate areas. This east-to-install shower toilet relies on intelligent technologies and solutions for hygienic cleanliness.
| | |
| --- | --- |
| View Catalogue (ViClean-I 100): | |
| View Catalogue (ViClean-L): | |
| View Catalogue (ViClean-U+): | |
Product Description
Villeroy & Boch's ViClean sets a new benchmark in smart shower toilet seat design. Because the technology is built into the ceramic rather than the seat, it appears to be a standard toilet. The ultra-flat toilet seat adds to the clean lines and minimalist yet modern design of ViClean. The new ViClean becomes a subtle focus in any purist bathroom when you add in the straightforward use and convenient shower modes.
The bidet function on ViClean shower toilets produces a warm and gentle spray of cleansing water from a nozzle beneath the toilet seat. Shower toilets give personal washing while also protecting the skin and providing the highest level of hygiene.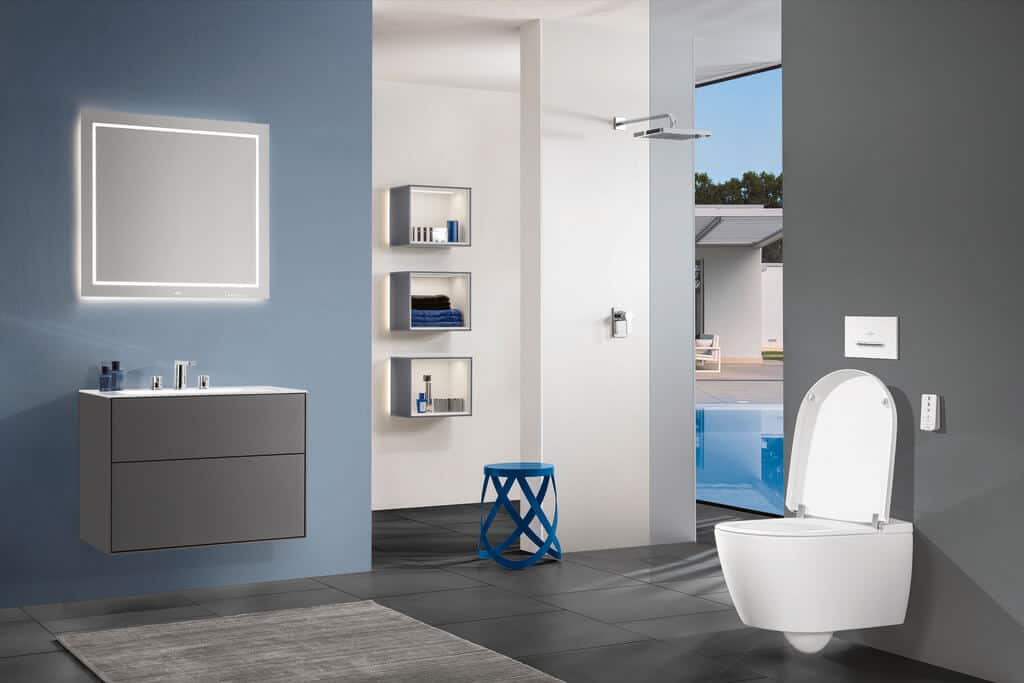 ViClean-I 100 shower toilet
This shower toilet's workings reveal a wide range of utilitarian functionality you'd expect from a modern bidet. With the remote control or the app, you can vary the temperature and intensity of the bidet shower, allowing you to enjoy the relaxing pleasure of gentle cleansing with warm water on every trip to the bathroom.
Product highlights
Modern shower toilet with an elegant design
Individually adjustable HarmonicWave bidet sprayer
Simple operation using the provided remote control or through the app
Featuring DirectFlush technology for optimum hygiene
CeramicPlus surface finish to repel dirt and bacteria
QuickRelease for easy removal of the toilet seat
ViClean-L 
In terms of comfort, ViClean-L bidets make no compromises. A sanitary cleaning experience is provided by the widening, adjustable panorama bidet shower jet. For easy cleaning, the rimless shower toilets have a patented CeramicPlus antibacterial coating.
Product highlights
Panorama bidet shower jet with adjustable stream intensity
Heated toilet seat with several settings
Integrated night light inside the toilet
Rimless DirectFlush – no corners for germs to hide
CeramicPlus antibacterial surface finish for maximum hygiene
ViClean-U+ shower toilet
The ViClean-U+ shower toilet impresses with a variety of convenience features. The bidet provides the ultimate relaxing experience, with features such as a heated seat, automated odour extraction, and antibacterial surface treatment. With the ViClean U+ shower toilet, you may create your ideal bathroom.
Product highlights
Offset water-saving, aerated bidet shower sprayer
Temperature-adjustable warm air dryer for gentle drying of the skin
Opens and closes automatically
Heated toilet seat with adjustable temperature settings
Automatic odour extraction
Rimless DirectFlush design for optimum hygiene
Integrated non-blinding night light
Contact Details
M: +91-9967632127
Email: support@buildingandinteriors.com
Brand Info
Villeroy & Boch
Villeroy & Boch has been innovating and producing high-quality products since 1748, adding sophistication and flair to people's lives. The ceramics manufacturer has grown into a global lifestyle brand and is profoundly anchored in European culture.
It is a German manufacturer of ceramics with the company headquarters located in Mettlach, Saarland.
Moreover, with 13 production sites worldwide, the brand is now represented in over 125 countries with its Bathroom and Wellness and Dining & Lifestyle products.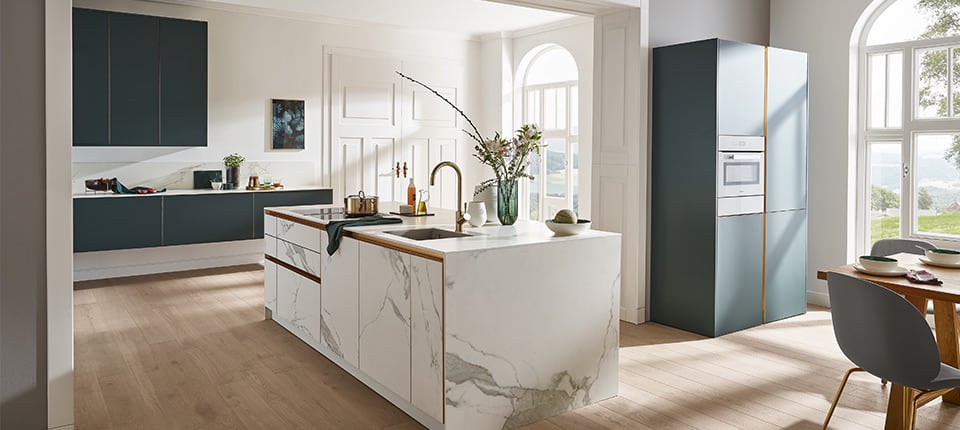 For both the consumer and contract markets, Villeroy & Boch delivers unique product and furnishing solutions. The House of Villeroy & Boch, a ceramics manufacturer, offers a stylish assortment of products centered on dining and tableware themes, as well as a large range of gift items to make every moment unique. Also, it offers high-quality goods in the Bathroom and Wellness category that are designed to transform the bathroom into a fashionable and functional haven of well-being.
In addition, the brand's product range includes the following:
A collection that offers everything from bathroom sinks through toilets and whirlpool systems, saunas, cabinets, and bathroom furniture to a large range of taps & fittings, and accessories. So, it includes:
Crockery: Fresh, modern shapes as well as rustic, country-style designs of tableware.
Cutlery: An extensive selection of high-quality plates, cups, egg cups, etc.
Glasses and goblets: A wide and premium range of wine glasses, bar glasses as well as tumblers.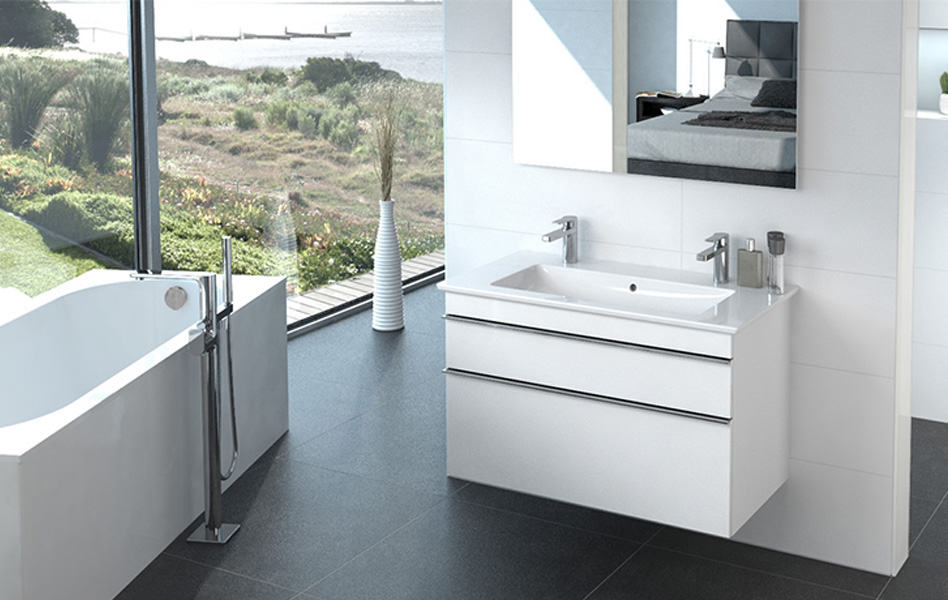 Ceramic sinks: A wide range of sink models including corner sinks, built-in basins, flush-fitting sinks, coloured sinks, butler sinks as well as under-mount models. Available in an extensive selection of bowl shapes and sizes.
Kitchen taps and fittings: Available in stainless steel as well as the latest ceramic colours with retractable hand spray and other special features.
Kitchen accessories: Premium as well as durable kitchen accessories like chopping board, pop-up wastes, strainer bowl, metal basket, waste bowl, soap dispenser, roll-up rack, and more.
Additionally, popular ranges from this brand include:
Subway 3.0 modern as well as innovative bathrooms
TwistFlush toilet flushing system
Collaro washbasins as well as sinks
Artis surface-mounted washbasins
Memento 2.0 premium bathroom collection
Venticello bathroom ceramics
Amazonia premium bone porcelain
Artesano Original
Aberdeen natural stone tiles
CÁDIZ vilbostone porcelain stoneware tiles
METALYN OPTIMA XXL ceramic tiles
OAK SIDE wall as well as floor concept
Siluet kitchen sinks
Cisterna undercounter sink range
Momentum corner module
COMO taps as well as fittings
Video