REHAU manufactures the most innovative, efficient, and designer ranges of surface materials and environment-friendly products in the furniture industry with a brilliant performance. One such product in this range is the REHAU Edgeband.
About the Product
Edgebands are manufactured by REHAU for more than 25 years in India. REHAU Edgebands (Add life to your furniture) promise the latest trends in the furniture design industry. These premium-quality Edgebands come with a wide range of colour options to match any decorative requirement.
[vvsmustread]
Product Description
Edgebands enhance the longevity, functionality, and aesthetics of boards and laminates. Hence, REHAU has come up with uPVC furniture edgebands with more than 1400+ colour options to uplift the aesthetics of laminates. Edge bands are available in fine woods, plywood multiplex effects, artistic design combinations, brilliant stone, and trendy metallic prints to fulfil your creativity in the best way possible.
REHAU is continuously upgrading its Edgeband range and adds 200 or more new designs annually. As of now, there are more than 400 active and continuously available Edgeband designs. You can also create more than 20,00,000 Edgeband options by combining different materials, dimensions, embossing, gloss level, and application methods.
REHAU Edgebands are antibacterial, antifungal, DOP-free, and available in materials like uPVC, ABS, veneer, and PMMA. These uPVC furniture edgebands are available in wide embossed patterns and are matched 100% with laminates. REHAU provides furniture edge bands in various finishes from super matt to mirror gloss and sizes from 12*55mm width and 0.4*3.0mm thickness.
The various REHAU furniture edgeband ranges/collection are REHAU uPVC edgebands, REHAU Exclusive Edgebands and REHAU Retail Edgebands.
REHAU uPVC Furniture Edgebands
These uPVC edgebands are available in wide colours, décors, gloss and embossed patterns and are matched 100% with laminates. REHAU provides furniture edgebands in various finishes Plain, Matt, High Gloss +, Super High Gloss, Super Lacquered, Super matt and sizes from 12 to 55mm width and 0.4 to 3.0mm thickness.
RAUKANTEX Colour and Decor Furniture Edgebands
The RAUKANTEX Colour and Decor address the personalized desires and requirements of each customer. This range easily matches the Indian or global surface and board collections.
Features
Material: uPVC and ABS
Lacquer type: Plain, Matt, gloss
Size: 12 to 55mm width and 0.4 to 3.0mm thickness
USPs: Antibacterial, Antifungal, DOP-free, can be embossed too
RAUKANTEX Super High Gloss Furniture Edgebands
The RAUKANTEX Super High Gloss finish comes with a smooth and reflective surface. These furniture edgebands can be used in regular edgeband machines without special settings and come with a protective film to prevent scratches.
Features
Material: uPVC and ABS
Lacquer type: Super high gloss lacquer
Size: 23*1.30mm and 25*1.30mm
REHAU Exclusive Collection Furniture Edgebands
These furniture edgebands are available in broad finishes like Mirror, 3D Magic, and Crystal Decor and in materials like ABS, PMMA, and Wood Veneer.
RAUKANTEX Mirror Gloss Edgebands
The RAUKANTEX mirror gloss edgebands provide the perfect balance between gloss level and neutrality on any furniture surface. This is because they have a lacquer application with over 85 gloss-level points and a unique smoothness of the ABS surface.
Features
Material: ABS (without embossing)
Lacquer type: Mirror gloss
Size: 23*1mm
Has a pure reflective quality
Delivered with protective foil
Goes mainly with Formica and Senosan
Also available in 45*1.3mm
RAUKANTEX Magic 3D Edgebands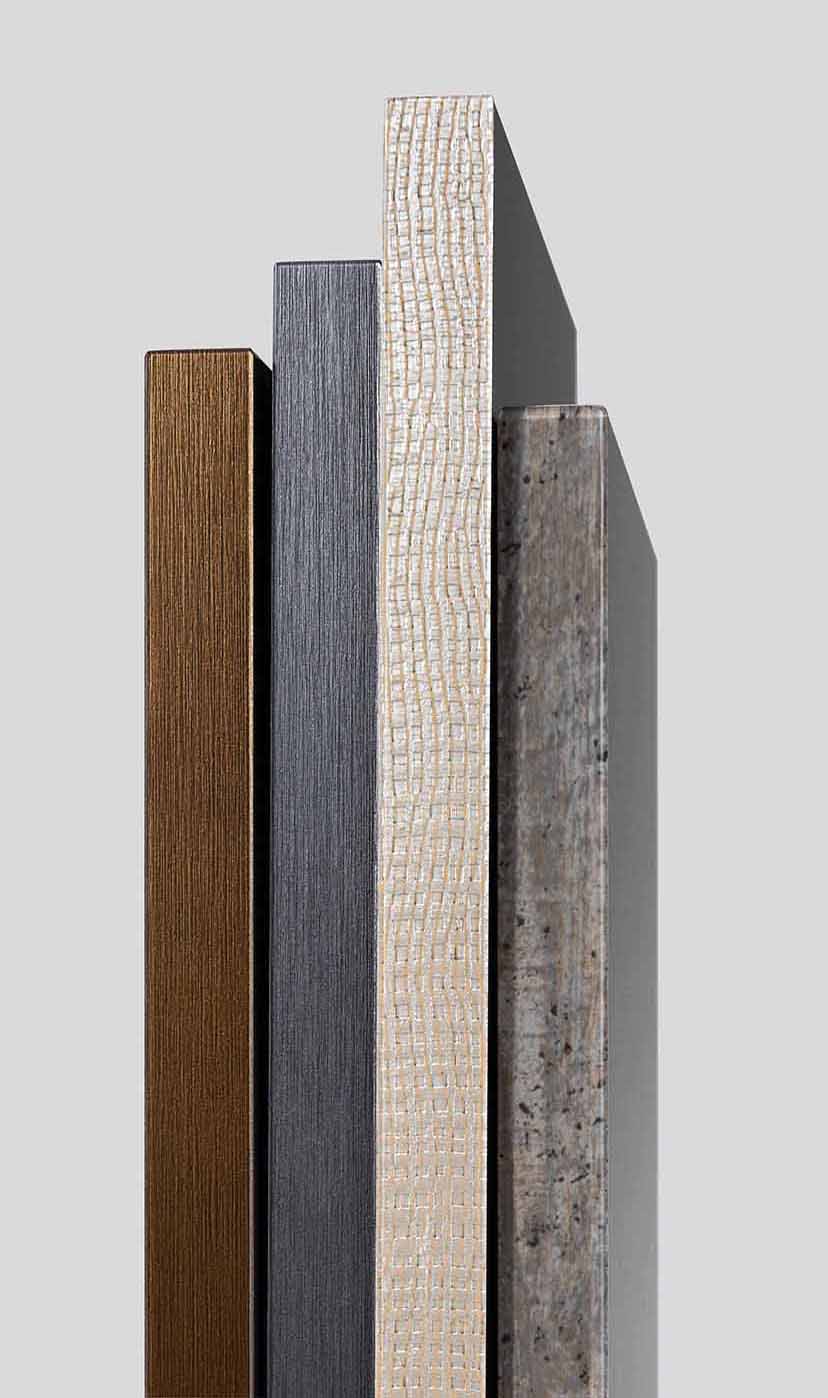 The RAUKANTEX Magic 3D adds two distinctly different gloss finishes to one decorative design, with a 3D illusion. This is an economical alternative for compact aluminium edge applications in your home & office, without any special adjustments on machine parameters.
Features
Material: PMMA and PP
Embossing: Smooth/ 223
Lacquer type: Standard lacquer
Size: 23*1.00mm
Have good radius compatibility
Comes with a finish that requires no reworking
Radii can be polished
The decorative design remains intact even when the radius is milled
RAUKANTEX V-Groove Edgebands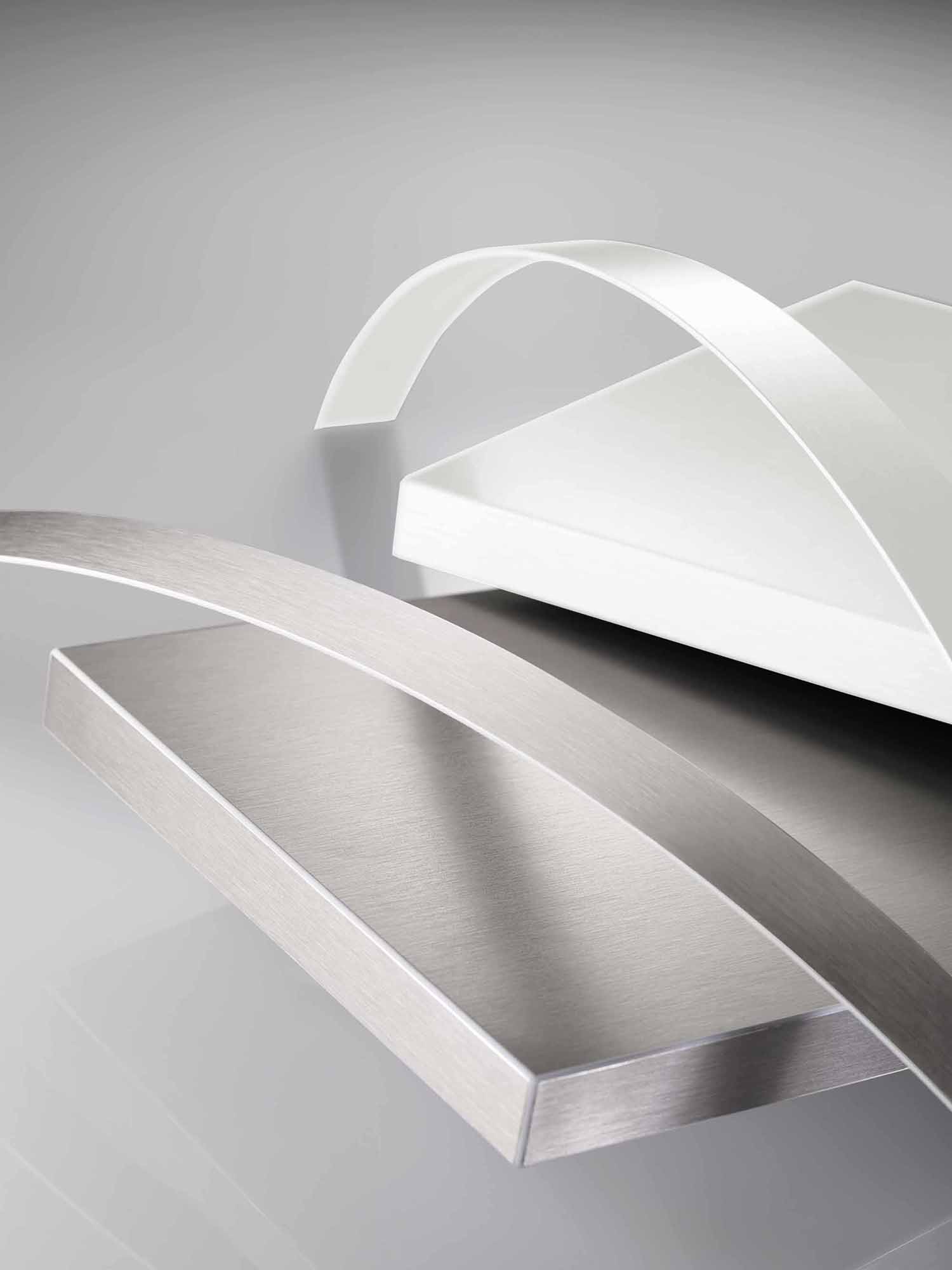 The RAUKANTEX V-Groove incorporates a high gloss and matte finish within one edgeband. These edgebands create an appearance of being one-piece, by ensuring that the top section of the edgeband has an exact lacquer match to the furniture surface being edged.
Features
Material: PMMA
Embossing: Smooth/ 223
Lacquer type: Standard lacquer
Size: 23*1.00mm
Also available in 45*1.3mm for worktops and counter applications
V-Twin Edgebands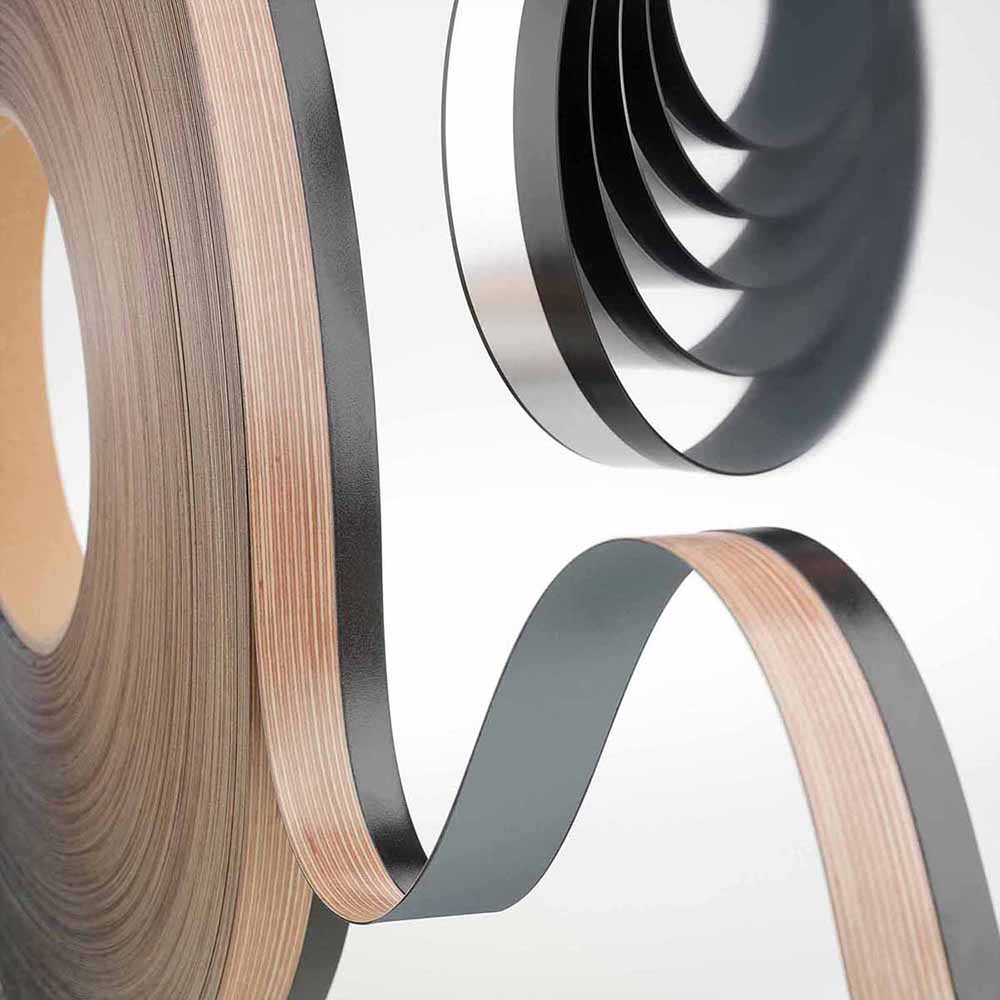 The V-Twin range is available in 10 shades. This is a stepped edgeband with a groove. The upper section of this edgeband comes in typical gloss colours and the lower section is in aluminium.
Feature
Material: ABS
Lacquer type: Super laquer
Size: 23*1.00mm
Combines the design aspect of glass and processing advantages of polymers
Zero-hour adjustment time
Dual tone
RAUKANTEX Wood Veneer Edgebands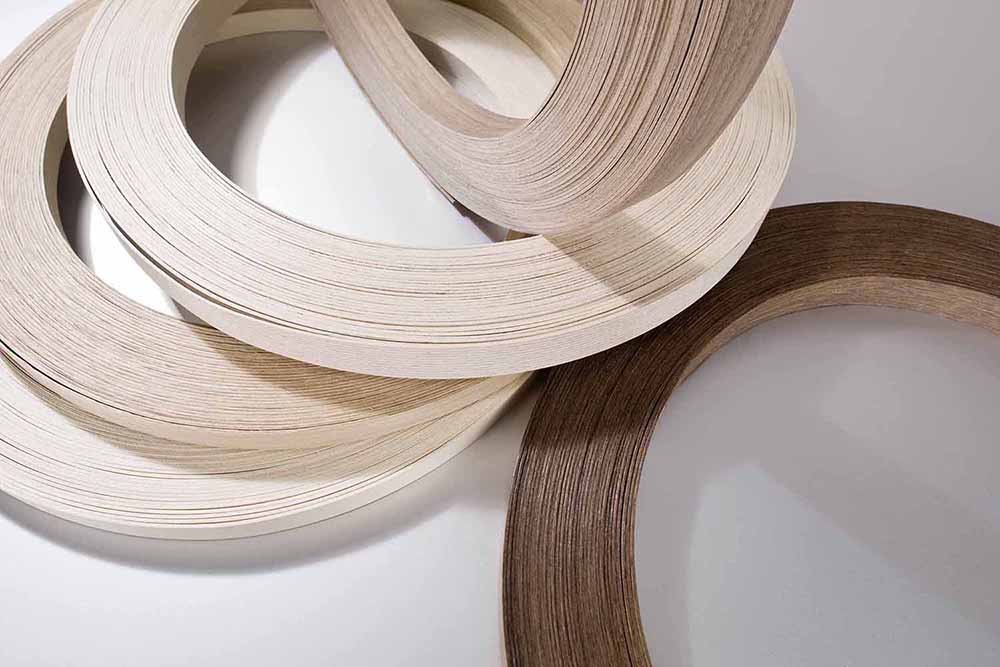 The RAUKANTEX Wood Veneer furniture edge bands are a real wood veneer collection. This edgeband range comes in a wide variety of wood types, such as oak, maple, ash, teak, Sappeli and American walnut which gives a perfect wooden finish.
Features
Material: Wood veneer
Size: 0.60*1.00mm (thickness); 24mm, 35mm, 45mm, 55mm (width)
European wooden pattern
Multi-layered with adhesive-coated sides
Asymmetrical and finger joints
REHAU Zero-Joint Edgebands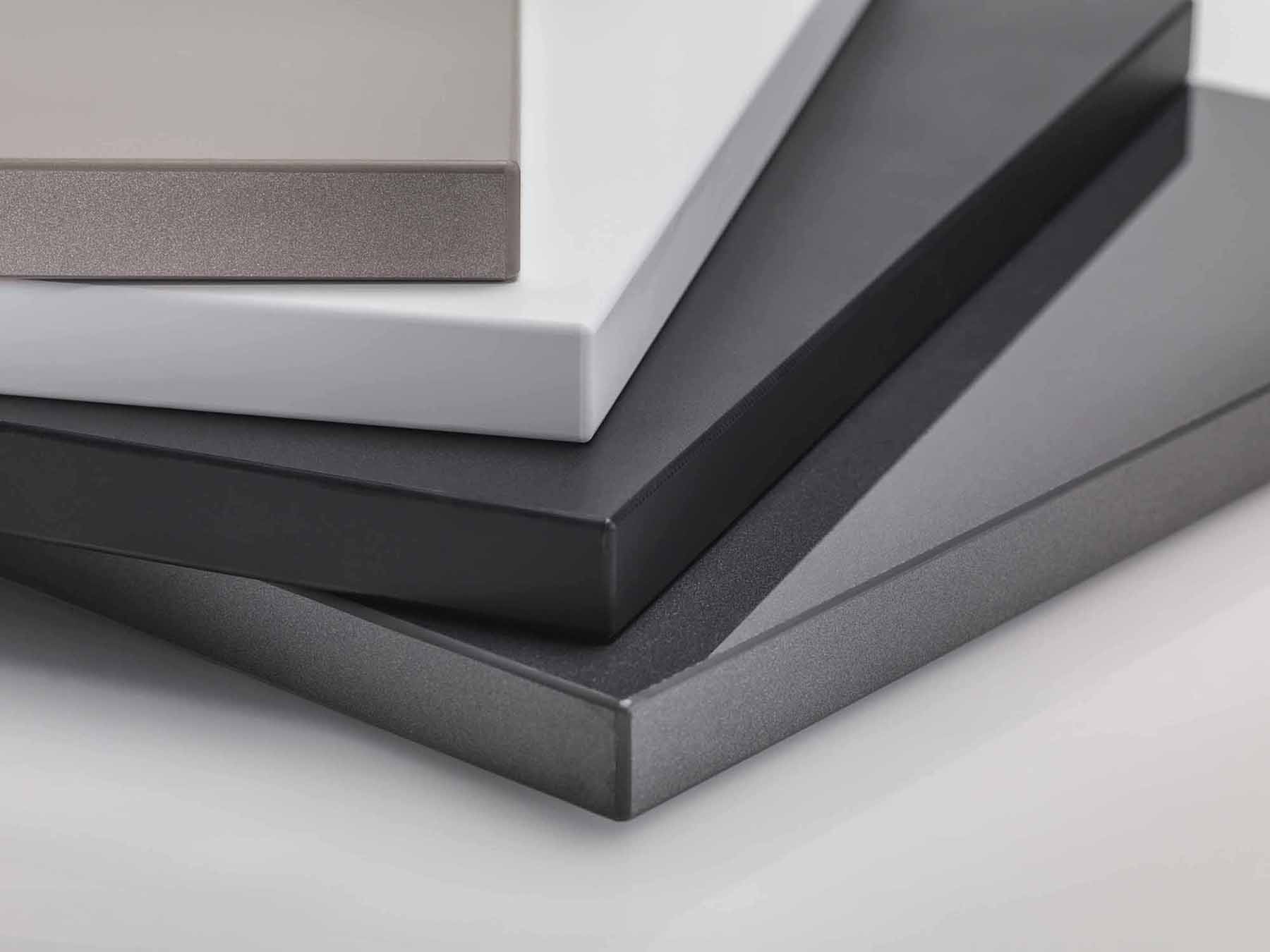 REHAU Zero-Joint edgeband is a revolutionary product that achieves a seamless finish without any framing effect. This edgeband comes with a pre-applied, co-extruded polymer functional layer that gives a seamless joint between the edgeband and the board.
Features
Gives a beautiful monolithic panel look
Moisture and heat resistant
Creates a bond equal to or greater than PUR
High-quality edging
Does not require hotmelt or down-line cleaning of excess adhesive
RAUCARP Retail Collection Furniture Edgebands (Affordable. Durable. Fashionable)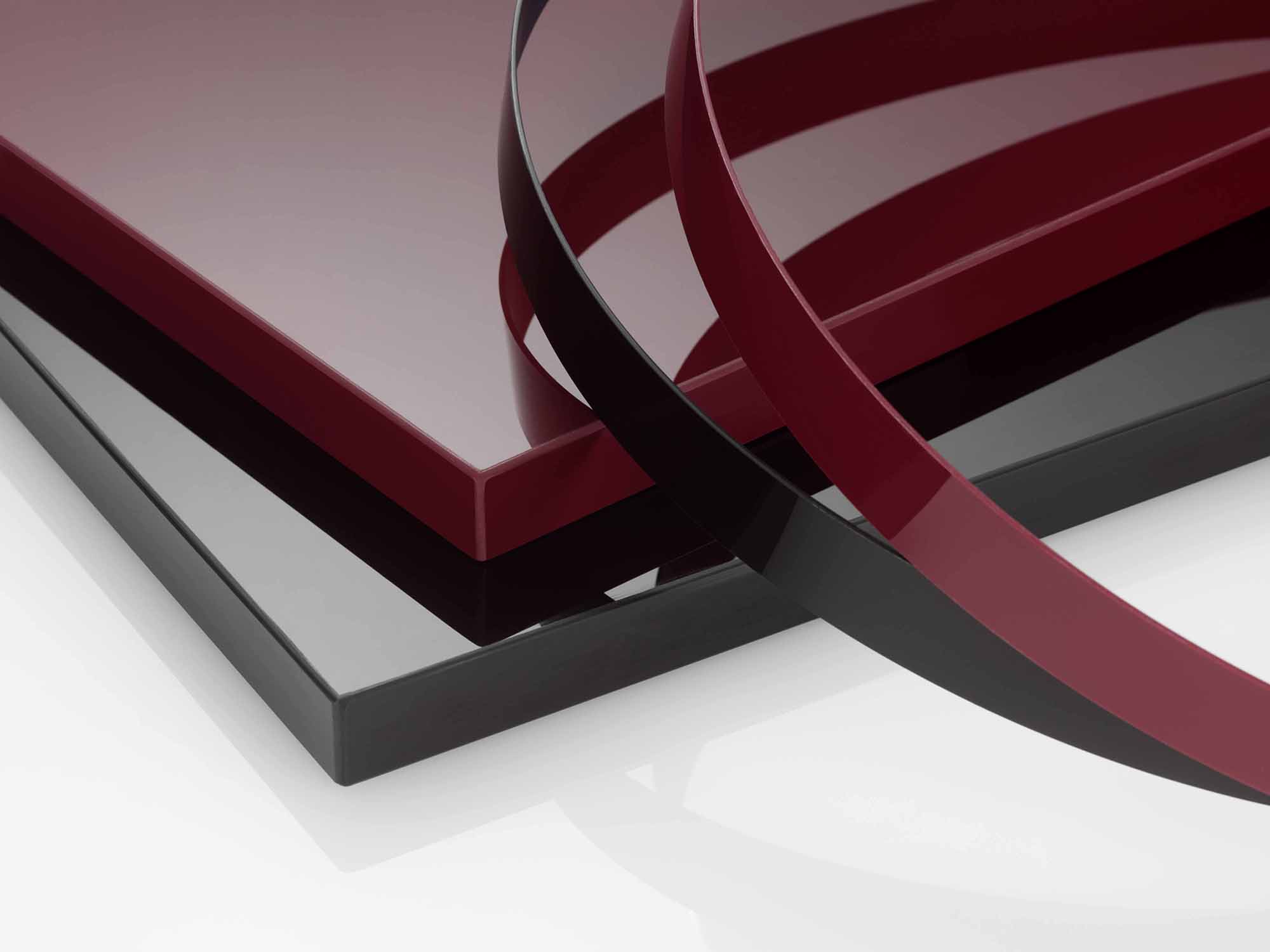 The RAUCARP retail collection houses user-friendly, affordable, durable, and fashionable furniture edge bands, which are available in more than 100 shades. This protects your furniture from physical damage and is a great choice when it comes to wood binding and replacing melamine.
Features
Material: PVC
Lacquer type: Matt
Size: 22*0.45mm and 22*0.8mm (other sizes available on demand)
Roll Size: 50mt
Contact Details
M: +91-9967632127
Email: support@buildingandinteriors.com
Brand Info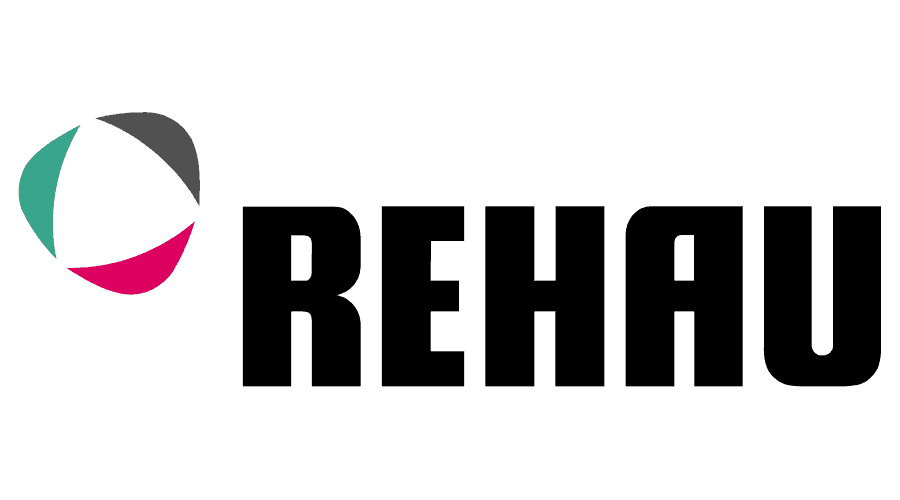 REHAU
REHAU India has always aimed to develop novel formulations that broaden the scope of polymer materials' applications. It devotes time and resources in important future topics including energy efficiency, renewable energy, water management, transport, and future living.

REHAU's product range includes:-
uPVC Edgebands: Edge banding solutions available in 9 variants. These include RAUKANTEX Color & Décor, Mirror Gloss, Magic-3D, V-Groove, Wood Veneer, Retail collection, V-Twin, and Super High Gloss.
Surface Solutions: RAUVISIO materials for kitchen, bathroom, living room, office, or shop available in premium laminates, pre-laminated boards as well as customized panels/shutters.
Solid Surface: Environment-friendly, acid and dye-resistant, thermoformable, non-porous acrylic artificial stone by REHAU polymer, India.
Storage Solutions: The RAUVOLET tambour door system, track systems, profiles and accessories.
Plinth Systems: RAUVARIO systems including cover, connectors, end caps, flap, cover panel bracket, height adjuster, as well as handle profiles.
Flooring Solutions: RAUFLOOR crescendo plank and neostein – luxurious flooring solutions for residential, light commercial as well as office applications.
Weaving Materials: RAUCORD – premium UV resistant, weatherproof and temperature resistant, and scratch-free weaving material for outdoor and indoor furniture as well as garden and home accessories.
Wood Working Accessories: Innovative solutions including the Portable edgebander + box, Power Edgeband Router, Manual End Trimmer, Guillotine, Manual Edge Trimmer, Vacuum Table, Foliex, Flush cutters, Internal and external planes, Cutter-Set, Finisher, Flap wheel, Glue applicator, as well as REHAU Masking Tape.
RAUBOND Adhesives: Water-based as well as hotmelt adhesives for edge banding, wood, plywood, acrylic, veneer, PVC, ABS, finger jointing, resinated paper edges, melamine resin edges, etc.
Water Supply – RAUTITAN: Water services system of high-density polyethylene (PE-Xa) pipes used with MX (DZR Brass) and PX (polymer PPSU) fittings.
Wastewater Drainage – RAUPIANO PLUS: Polypropylene-based wastewater system for private homes, hotels, schools, hospitals, office blocks or commercial kitchens.
Radiant Cooling: An innovative approach to high efficiency cooling.
Radiant Heating: Flexible heating solutions for residential homes, apartment buildings, office buildings, schools, assisted living centers, auditoriums, barns, and warehouses.
Contact Details:
M: +91 21 3567 4301
E-mail: infoindia@rehau.com