Watts Series 6 Brass Midi Check Valve By Plumb Fixtures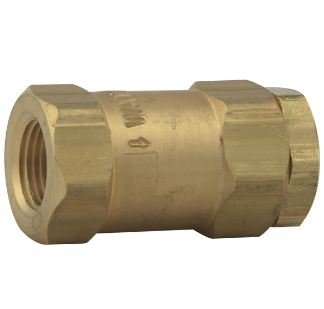 Watts Series 6 Brass Midi Check Valves are used in general industrial and plumbing applications. They feature a brass body with NPT female threaded end connections and positive back stop. Series 6 has a silent operation with low opening pressure and low pressure drop. It can be installed in a horizontal or vertical position.
Features:
Elastomer Seat
Installation in horizontal or vertical position
Low pressure drop; low opening pressure
Positive back stop
Brass body
Product Description
Size- 1/4 to 1 in. (8 to 25mm)
Maximum Pressure- 200psi (13.8 bar).
Click Here to see complete range
Brand Info

Watts