Premium bathrooms as a category have witnessed an impressive demand over the past few years. The pandemic has only played the role of a catalyst in this demand-led growth. Bath Affair – a premium bathrooms retailer & one of the top HVAC & sanitaryware dealers in New Delhi has waved the tide of growth. BuildingandInteriors brings an insight into how this premium bathroom retailer successfully treads a highly competitive market like Delhi for water heating solutions, plumbing, etc.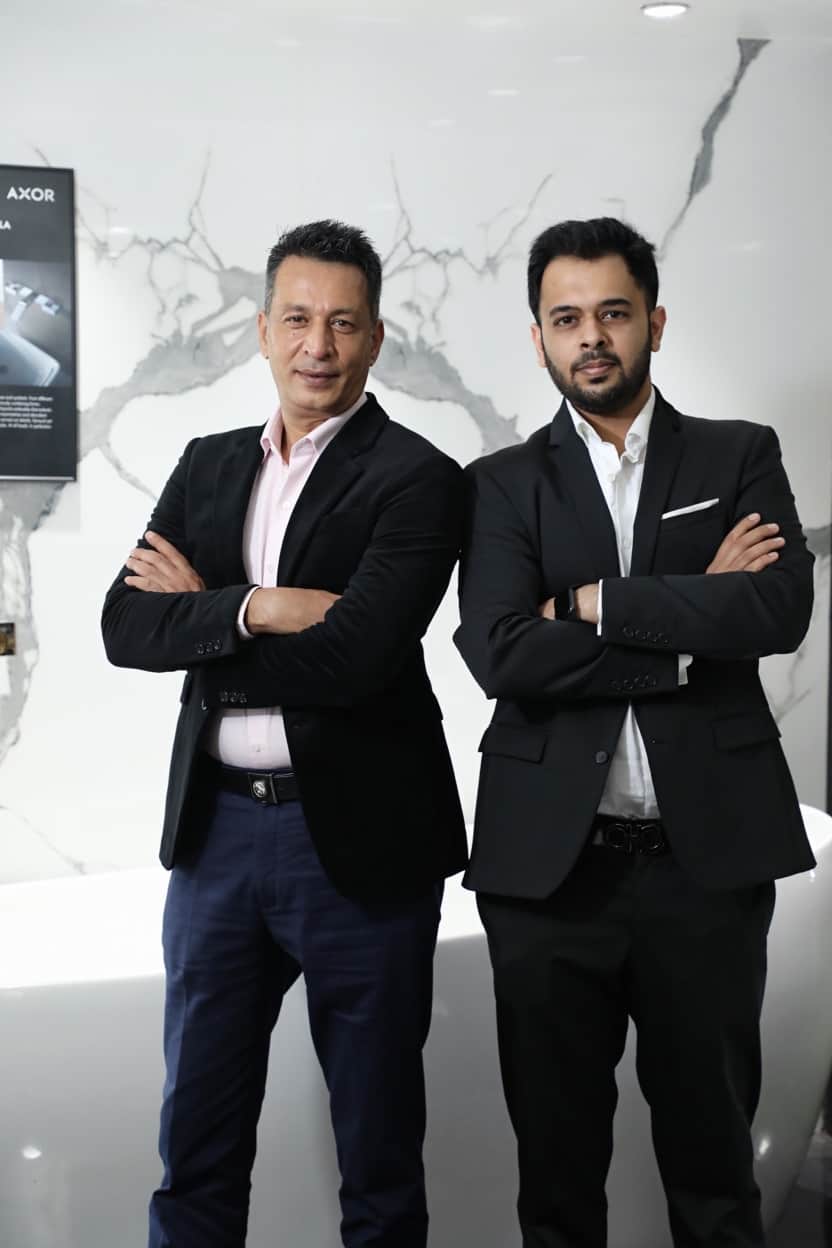 Premium bathrooms: Our retail philosophy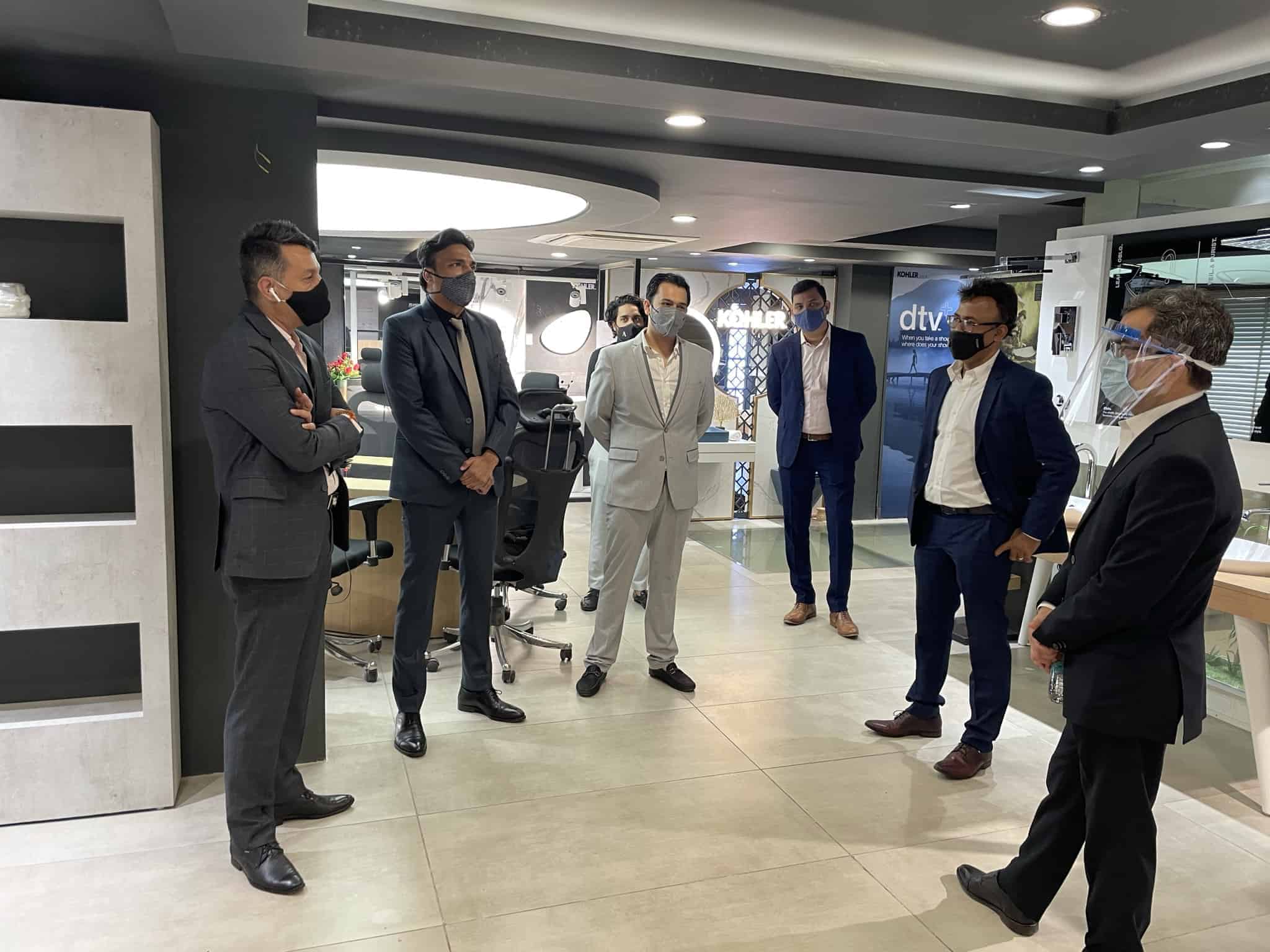 SA: Bath Affair offers 'value' to their customers rather than just a product or service. This translates into a lifelong association between us and our customers. That's our way of looking at how we run the business at Bath Affair, one of the best HVAC & sanitaryware dealers in Delhi.
Our 6000 sq.ft. the store showcases more than 1000 products from over 20 different brands. These brands are amongst the top names in the industry. At Bath Affair, we work on a concept called 'Retailtainment' – which showcases a live display of showers, faucets, water heaters, bathtubs, etc. This unique in-store experience coupled with the available brands and the range on offer gives our customers the confidence and reliability to make the right purchase decisions.
RG: Our Founders Mr. Satish Gupta (my father) and Mr. Sanjay Arora started Bath Affair in Delhi in 1997. Our vision, right from the very beginning, has been to educate the customer on the latest solutions in the bathrooms market. We offer a wholesome customer experience – right from expert guidance on products to delivery, installation, and after-sales support.
As the 2nd generation in this business, we give believe in personal attention to even the smallest of issues that might occur in our customer experience. This belief system keeps driving us. We have numerous success stories of delivering quality customer experience – be it with the Architects, Interior Designers, or the end customers themselves. One of our main advantages is that we offer a one-stop point for bathroom solutions. This reduces the leg-work of our customers. Also, we are involved with our customer's needs from the initial stage of his project.
The Delhi dealer's brand selection criteria for water heating solutions, plumbing, sanitary ware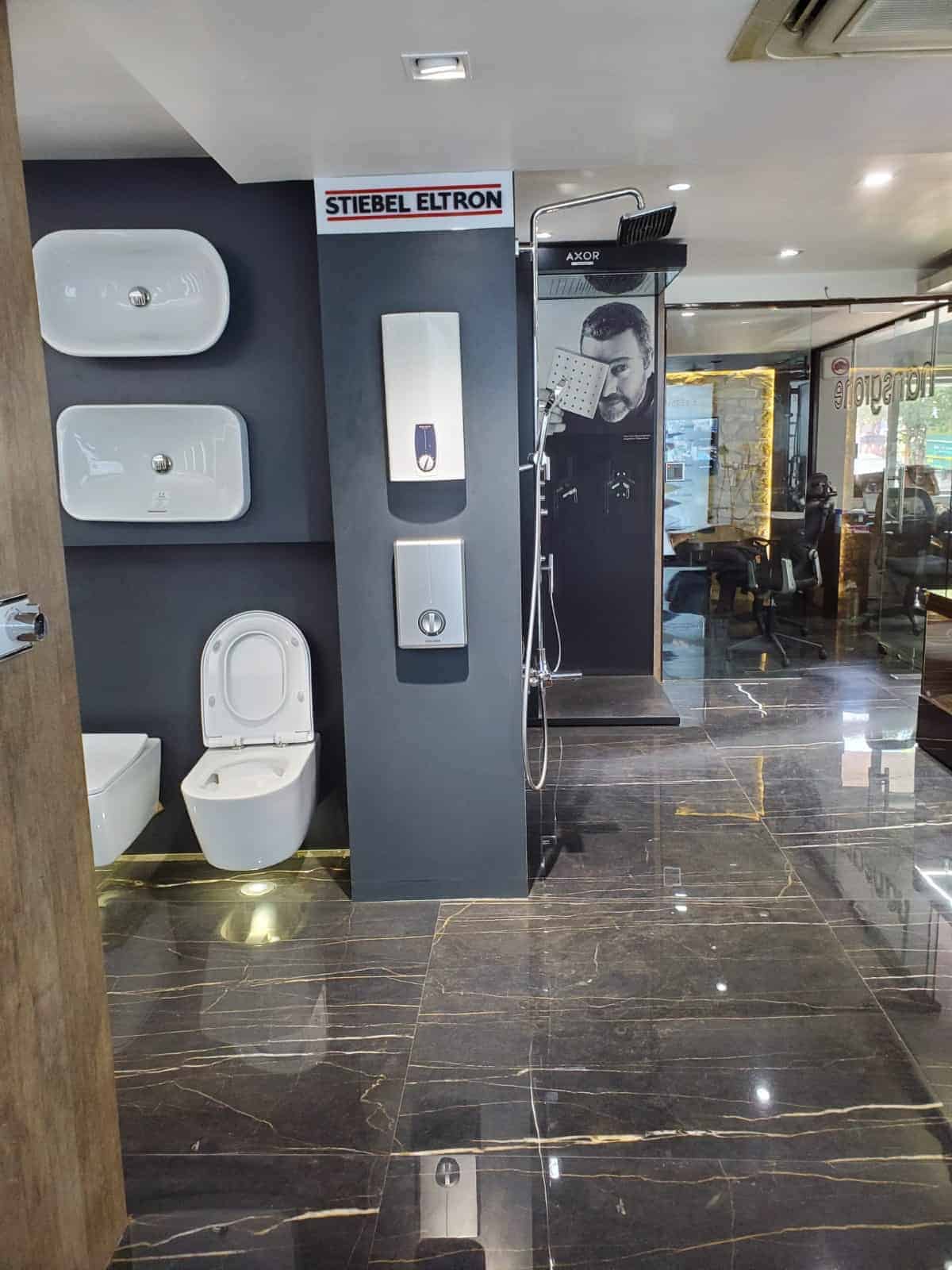 SA: We deal in premium brands and we have a good customer base in this segment. Our customer profile propels us to maintain and grow our product portfolio. This keeps our customers engaged with us for their requirements, and that is something they expect when they walk into Bath Affair.
Even today, we work very hard on building long-term customer relationships. This is our guiding light in selecting the brands we partner with. Our aim is to always go one step further – to offer our customers an exclusive product range that can easily fit in their budget, yet not be compromising on the quality. Today, I can say that the brands that we deal in, share our philosophy of building long-term customer relationships.
RG: When we are looking at a brand partner for Bath Affair, we look at a combination of factors like the product USP, people behind the brand, the India presence, and its service network. As Sanjay Ji mentioned, we work on long-term customer relationships. This brings us to a very important factor in deciding to work with a brand – the commercial viability for us and our clientele. We have always partnered with luxury & premium brands and I must say that the Indian market today is growing quite rapidly for this segment.
On premium brands – importer distributors versus 100% subsidiaries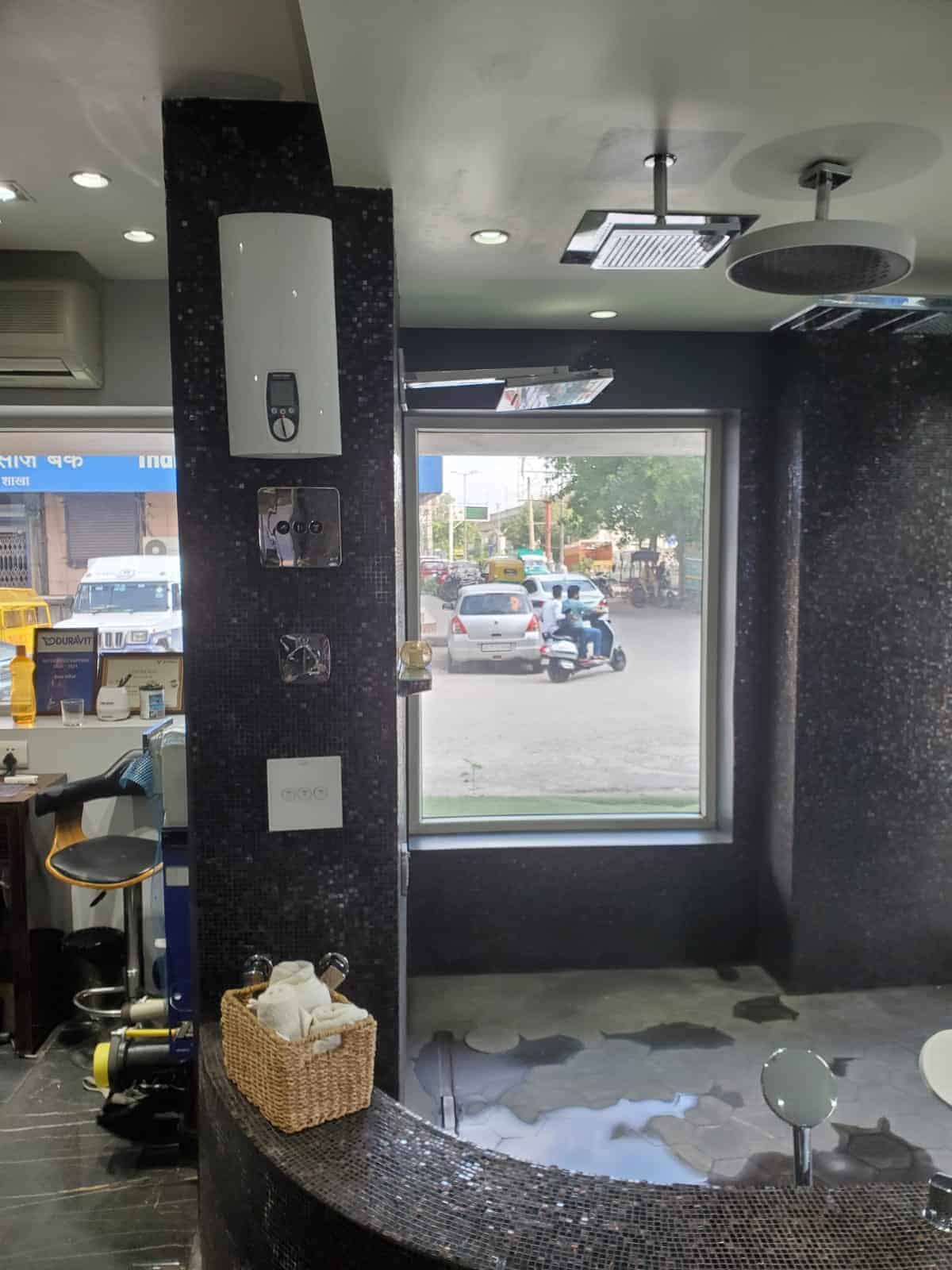 RG: A 100% subsidiary model works very well in the premium Bathroom Industry. It gives an assurance to both the dealer and the customer that they will not be conned in the long term for prices and after-sales services. Premium HVAC brand importer distributors & sanitaryware dealers also have a good working model provided they are well-experienced and established in the industry. This assures premium retailers like us (and ultimately our customers) of consistent pricing and after-sales support.
On footfalls and the B2B/B2C enquiries for the sanitaryware dealers in Delhi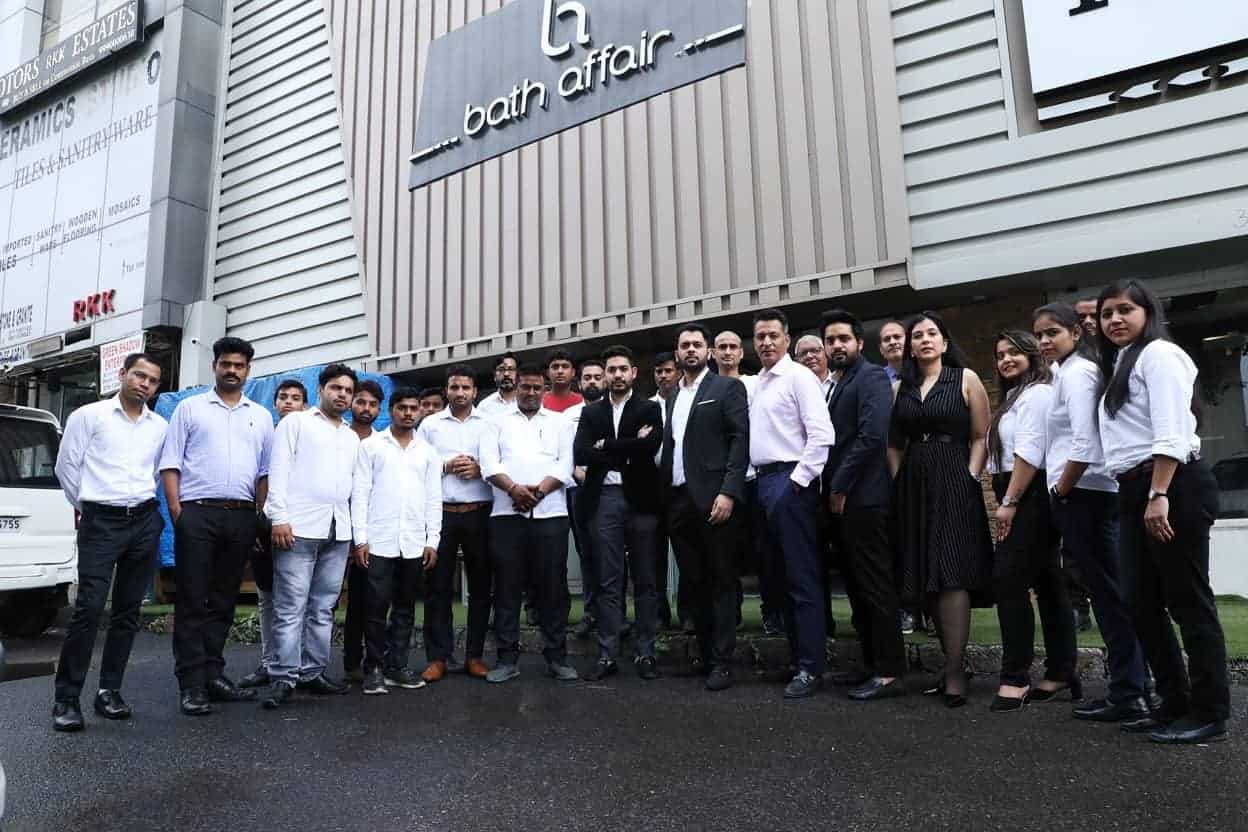 SA: With years of hard work, we have built many long associations amongst our customers. As a result, even during and after the pandemic, we have had a steadily increasing customer flow. Of course, more enquiries now are coming online.
The B2B enquiries have been really affected due to the pandemic as big projects have faced huge losses with many of them stalled. On the contrary, the B2C market is growing. This is because people are spending more time at home and they feel the need to improve their living spaces. Bathrooms are usually amongst the top choice in such up-gradation work. So, from water heating solutions to plumbing, people want to upgrade and improve everything.
RG: Over the last year-and-a-half, the overall customer enquiries with us have shown an upward trend. As Sanjay Ji said, there is a shift in favor of customers enquiring online. For in-store visits, customers are now preferring to come to us with a prior appointment due to safety concerns. Moreover, they do their broad product identification online.
B2B business has been stagnant in the last year but B2C has shown growth. End customers are wanting to get the latest products into their homes and are willing to pay for premium products.
The Delhi market for sanitaryware dealers
RG: Delhi market is a very competitive market. Here, the customer too is well informed about the available brands and solutions. This sometimes makes it difficult for retailers like us, to give a 360-degree customer experience. With us, the customers will always have something new to learn about solutions they are have already researched on. This is because the premium bathrooms market is ever-evolving and as brand partners, we get the additional information (say in the case of product upgrades) much faster. I would say that a majority of our customers have researched the market over the years. And they have come to realize that the value proposition at Bath Affair is much stronger than what they get elsewhere. This is our 'real equity' in the market. And our loyal customer base continues to grow.
Sustainability as a USP in premium bathrooms retailing
SA: Premium brands that we partner with are all largely sustainable on various parameters including production, packaging, products usage, and water savings. For example, showers have patented technologies that optimize water consumption. Similarly, flushing systems in cisterns and heating solutions and technologies in water heaters economize water and electricity consumption, respectively.
For instance, one of our brand partners Stiebel Eltron has some very innovative water and room heating solutions. It incorporates advanced technology and gathers enough heat from the ambient temperature. Also, it delivers a temperature of 60 degrees with the minimum usage of electricity. Products like these that use sustainable and renewable processes are in great demand especially when the customer is looking for 'green buildings'. When a customer gets to know that he will get hot water 24×7 without using the electricity 24×7, it's a done deal.
Online and offline – the hybrid approach
SA: There's no denying that the shopping experience has truly transformed over the years, especially for the sanitaryware dealers in Delhi. Now, more customers know what they want when they walk into a shop. They've most likely seen something on social media, scanned the reviews, and made a purchase decision before heading out to make the purchase. However, it's crucial to appreciate that the in-store shopping experience is irreplaceable.
Personalization and accompanying services are becoming more important to our indulgent buyers in India. Customers want solutions that are customized to their needs and not a standard solution. In these situations, a face-to-face dialogue for a 'consultative' sales process is important. At Bath Affair, we specialize in delivering customized bathrooms. What this means is that through our personal involvement, we create a bathroom package with customers' budget and design expectations. And now more so using digital tools.
RG: As soon as the pandemic hit in 2020, we figured out the need to adopt technology in our business. All our brand partners have been fully supportive and encouraged us with our online e-commerce platform. We are very happy to share that Bath Affair is India's first multi-brand bathroom store in India. It also offers an e-commerce facility. So, from water heating solutions to sanitary ware, we have everything online.
We have been very successful with our e-commerce facility. This is also reflected in the fact that today's generation doesn't have the time and patience to explore markets the traditional way.
For us, the customers' brand experience is a priority. Therefore, we keep updating our store to have an exciting store design and atmosphere. We consistently showcase the best of the products. At Bath Affair (HVAC & sanitaryware dealers in Delhi), a customer feels special and gets a great deal on bathroom products.
[vvsmustread]