All good bathrooms offer a sense of relaxation. And, all good bathroom designs address careful planning, lighting, ceiling design and flooring ideas, accessories, and more. A bathroom is much more than just a space for bathing and performing morning chores. It's also a space for retreat and comfort. So, if you spark some creativity, you can take your bathroom design up a few notches and make it the most aesthetic room of your house.
Bathrooms are generally considered to have the least style quotient. But, if you incorporate all the elements of the bathroom carefully, you can pepper the area with style and jazz. Whether it is a small bathroom or a master bathroom, with proper planning and styling, you can get the bathroom of your dreams without having to compromise on the style or functionality.
The key to a successful bathroom designing idea is looking beyond the space. It should complement the rest of the space but also leave a striking impact on the users and occupants. In addition to the design, the layout plays a crucial role too. Every square inch of the bathroom must be considered duly. Also, you must carefully plan the number of plumbing fixtures, cabinets, size of shower and tubs, and inclusion of other bathroom accessories beforehand.
Functional Zones
Just like a kitchen layout works perfectly around the work triangle, the functional areas of a bathroom design must remain placed around a central space too. Unlike a kitchen, a bathroom does not have a fixed number of functional zones. So, it mostly depends on your lifestyle. But you must also give due consideration to the plumbing, ventilation, drains, etc. while planning your bathroom design idea.
Some important functional zones for your bathroom design:
This area includes a piece of storage furniture, a countertop, a sink or basin, and a mirror. Also, in a master bathroom design idea, one can install double sinks for more feasibility. These work best in homes with large families or children.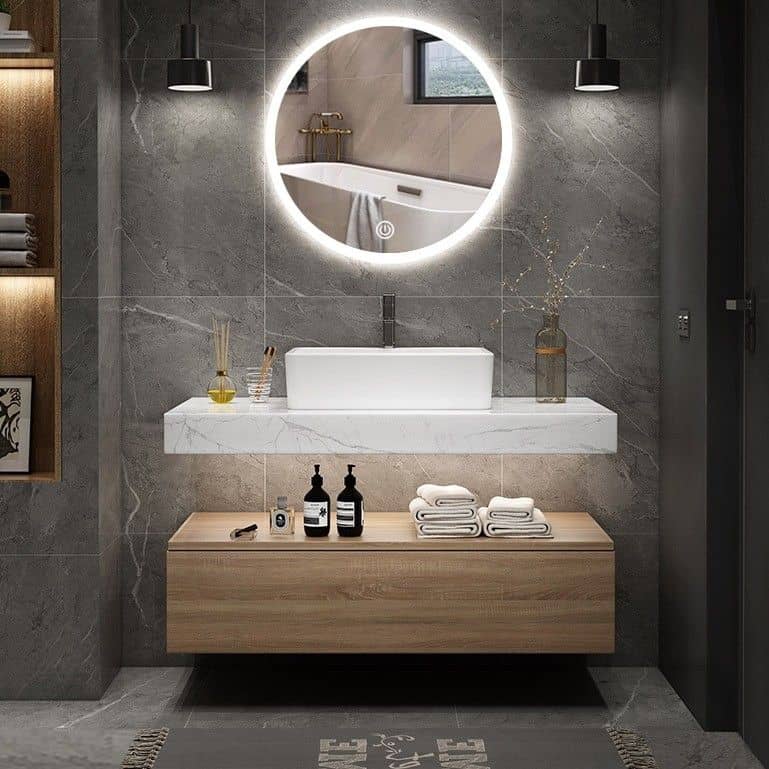 Image Source: Pinterest
This old setup still remains in trend. A bathtub with a shower right over it saves space and remains quite functional. Also, you can install a spa shower or tub room in your bathroom if it allows that much space.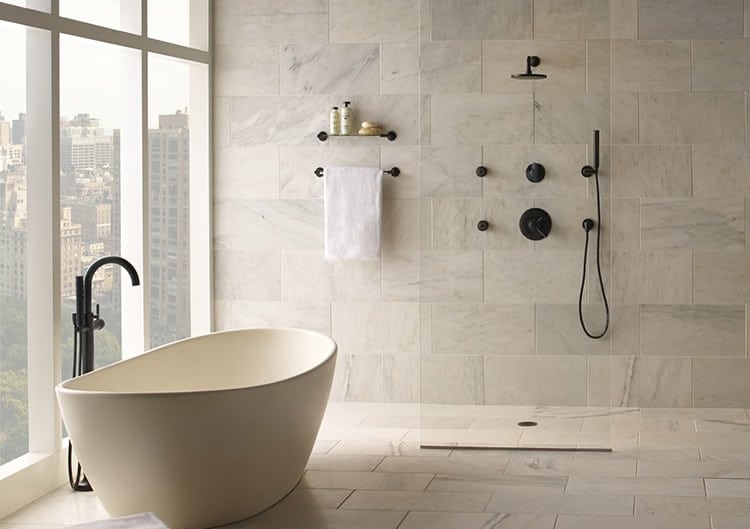 Image Source: River Bend Home
A toilet remains an inseparable zone of a bathroom design idea. Yet, you wouldn't want it to remain the design focal point. So, the designer must place it very carefully to avoid usage difficulty but also maintain the glamour of the bathroom.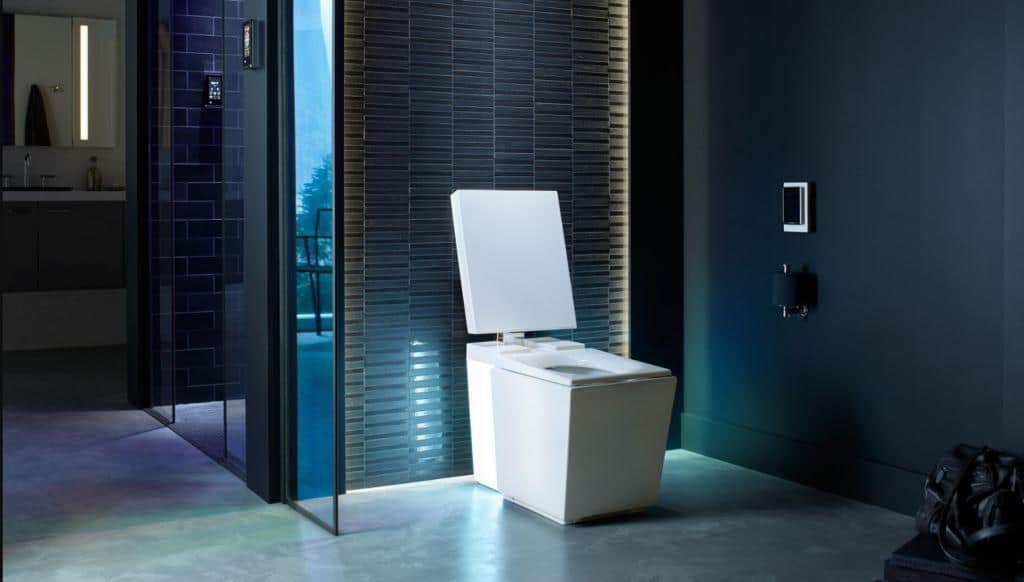 Image Source: Kohler 
General tips for a great bathroom design
Count the users
How many people will use the bathroom? This data remains important to dictate the number and area of sinks, storage, and other essentials of a bathroom.
Decide the location of the toilet
Whether you wish to renovate the bathroom or plan a new one, carefully position the toilet. A poorly placed toilet not only hampers the design but will also create plumbing issues later on.
Do the users wish to store towels and linens in the bathroom? Also, do they want to stack extra bathroom supplies in it too? The designer must ask these questions beforehand to determine the storage space required in the bathroom design.
Don't compromise on space
Regardless of the size of the bathroom, there remain some rules and regulations for the dimensions of certain elements of the bathroom. A toilet needs 30 inches of area, a shower needs 30×30 inches of space, and the centerline of a sink should remain at least 20 inches off the wall. DO NOT JAM TOO MANY THINGS into a small bathroom design.
Smartly overlap space
To do away with the challenge of space crunch in a small bathroom design, overlap the clearance. For example, double the floor space for the entrance to your tub as a part of the clear floor space near the toilet.
Keep it open
Not literally! But give it a look of openness while still privatizing it. You can install a partial wall between the washroom and the toilet or a frosted glass panel. Also, a glass panel needs a channel on the floor to secure it. It takes hardly ½ to 5/8 inch of space. Thus, you have your privacy without feeling claustrophobic.
Make it inclusive
If the user uses a wheelchair, the bathroom must have at least 5 feet of open floor space to make a 180-degree turn. Also, install grab bars for elderly users.
Increasing the grout lines of the bathroom floor design increases the slip resistance. Thus, the bathroom becomes safer to use.
Vents serve the significant function of giving an escape route to the damp air along with ushering out odors. Also, a bathroom without proper ventilation can cause severe structural damage to the house.
A vent must not simply exhaust air out of the bathroom and into the attic. This causes leaky ceilings and walls. Also, it results in seepage issues. So, a bathroom less than 100 square feet must have an exhaust fan that offers 1 CFM per square feet air change.
CFM= Cubic feet per minute
Also, showers, bathtubs, and toilets need 50 CFMs each. A jetted tub requires 100 CFM.
So, a bathroom layout of 20×12 feet area with a standard tub, a shower, and a toilet room will need 150 CFM of vent power.
Bathroom ventilation options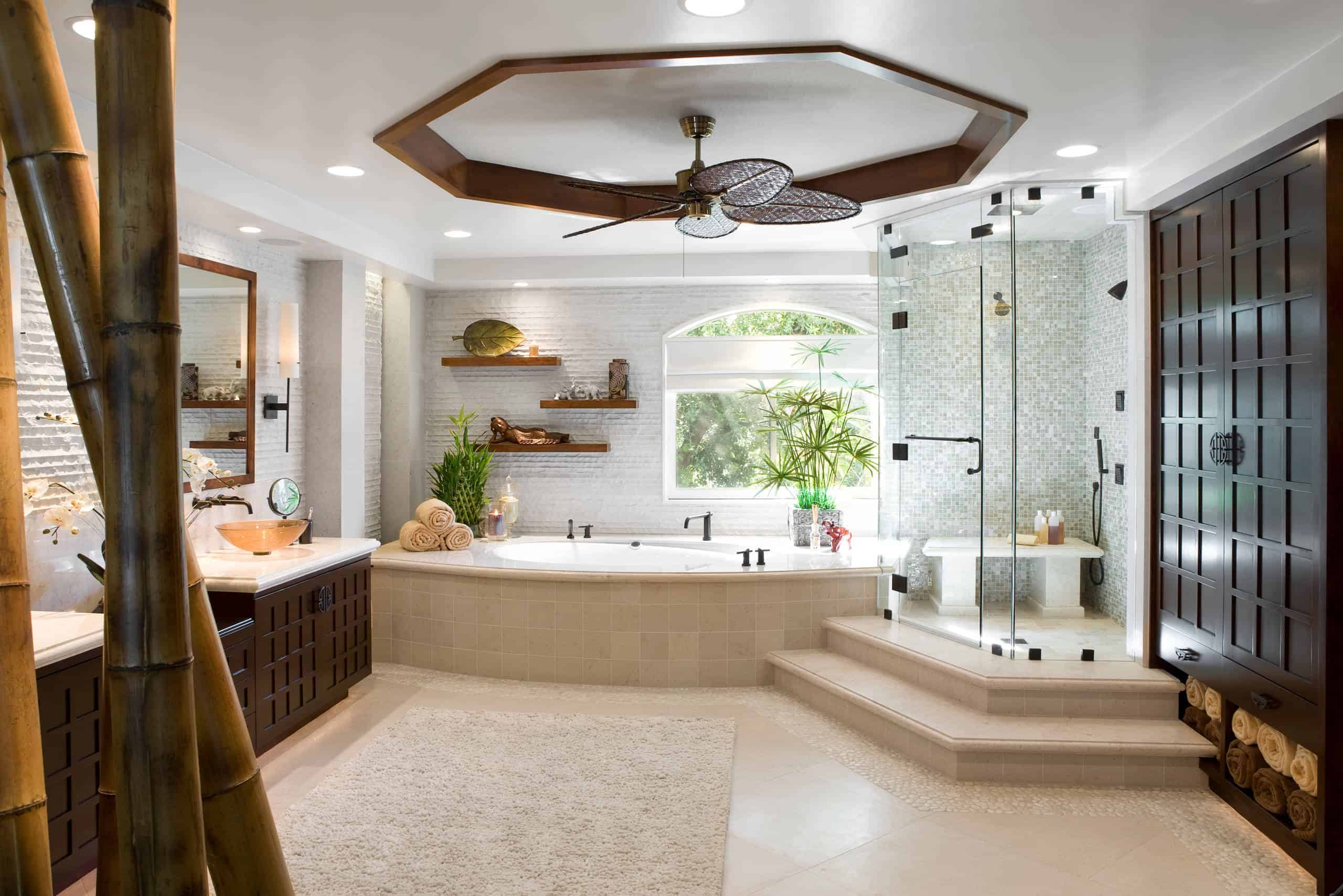 Image Source: Camy Cavazos
The ceiling fans remain recessed into the ceiling. Also, a vent duct runs to the outdoors for smooth air passage.
These fans are less noisy than ceiling fans. Also, they remain connected to a single motor housed along the duct run. So, you can install multiple fans in your bathroom.
Wall mount fans
If you have a living space above the bathroom, avoid ceiling ventilation solutions. On the contrary, mount fans on an exterior wall and install the motor right at the vent's exit point.
Smart vent switches
These switches come with humidity sensors. Thus, when the bathroom becomes moist, the sensors turn on the fan. Also, the automatic timer switches turn off the fan after a while too.
Fenestration positioning in bathroom design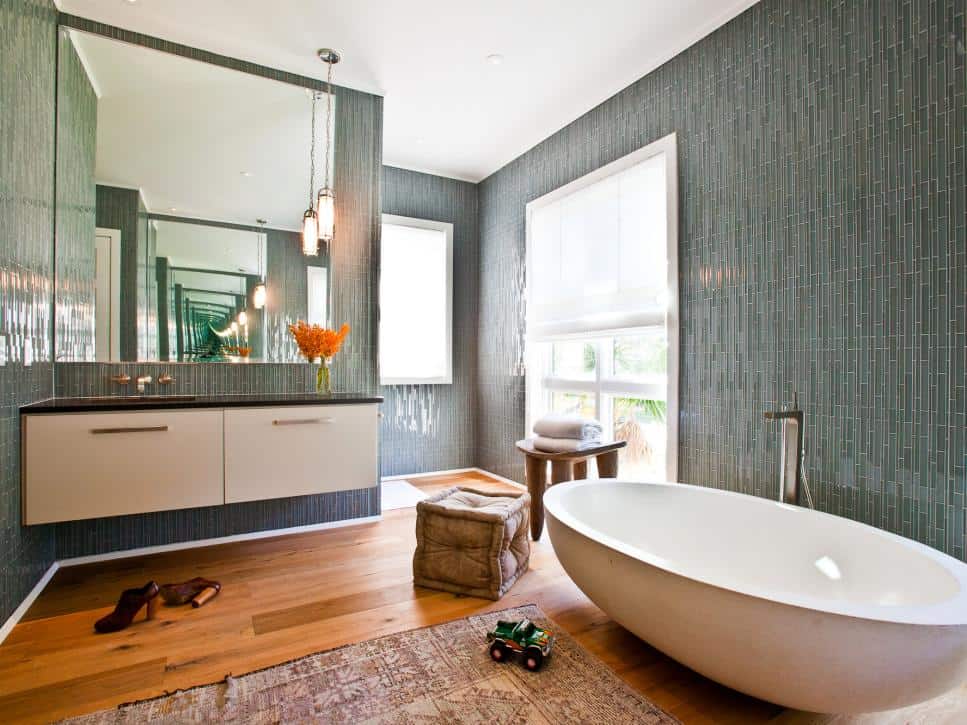 Image Source: HGTV
Fenestration planning and designing have evolved as an essential architectural element. In addition to allowing movement in and out of the room, it also acts as a thermostat and a means to allow visual extension of the room. Also, the location, design, and size of the doors and windows dictate the sustainability and efficiency of the space.
In order to maintain privacy and offer livability to the bathroom, you can install fenestration in the following ways:
Place the door and window above the normal eye level.
Use an indirect visual frame such as frosted glass.
Expose the opening of the window in a non-accessible area.
Keep the height of the bathroom window over the WC. So, your bathroom will remain well-ventilated and odorless.
Install taller doors instead of wider ones for better space utilization.
Colour scheme in bathroom design
The colour of the bathroom design not only makes it look visually delightful but also impacts the size and feel of the space. So, to create the right mood for a bathroom you need the right colour scheme.
Also, colour remains the key element when it comes to bathroom design. It balances all the other elements of the bathroom design and enhances them. But selecting the right bathroom colour scheme remains an art form.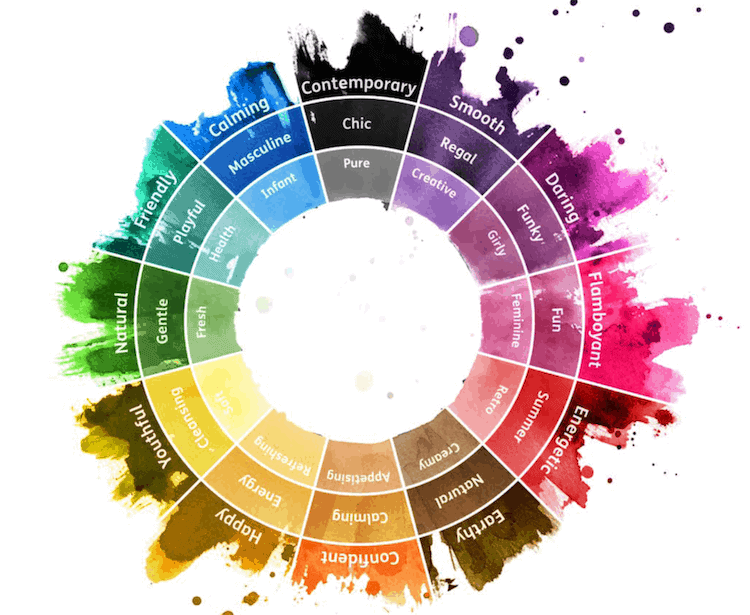 So, we have curated a list of the most preferred bathroom design colours for you. Choose your favourite according to your personality and make your bathroom a more personal affair. Also, understand the colour psychology to decide your picks.
| | | |
| --- | --- | --- |
| Sr. No. | Bathroom Colour | Bathroom Colour Psychology Guide |
| 1. | Orange | Sociable, intelligent, harmonious, satisfied |
| 2. | Red | Passionate, energetic, vibrant, affectionate, lively |
| 3. | Green | Youthful, natural, healthy, emotional, loving |
| 4. | Yellow | Uplifting, growing, new, optimistic, crisp |
| 5. | Pink & Purple | Wealthy, young, elite, peppy, fun |
| 6. | Blue | Fresh, calm, stable, luxurious, creative |
| 7. | White | Radiant, pure, clean, contemporary, bright |
| 8. | Grey | Neutral, focused, mature, calm |
| 9. | Brown | Warm, relaxed, classic, rich, organic |
| 10. | Black | Confident, classy, strong, dignified, balanced, formal |
Based on the bathroom colour psychology guide, you can select your favourite colours for your bathroom.
Incorporating plumbing into the home remains a challenging affair. So, for an architect or an interior designer, it becomes important to plan the plumbing design during the initial stages of planning.
Always adhere to the plumbing codes and standards of your state and country. This includes the number of units attached to a particular fixture.
Place the water heater closer to the area that needs the maximum hot water. Thus, you will need lesser copper piping.
Reduce the number of plumbing stacks and wet walls. So, plan your house design in a way that the bathroom and kitchen share a common wet wall. Also, in multi-story buildings, plan the bathroom layout in a way that all the floors have bathrooms right above the other one. Thus, you can share the same drain, vent, and waste systems.
Although primarily a practical aspect of building and construction, plumbing can offer aesthetics too. So, you can use a mix of concealed and exposed pipework for an aesthetic look. Also, exposed faucet piping offers a farmhouse-style bathroom in an otherwise modern home design.
But ensure that all shelves and vanity are designed around the hidden plumbing units for an appealing look.
Incorporate water conservation possibilities. For this, you can install greywater treatment systems. Greywater refers to the water from the washing machine, showers, and sinks. When treated properly, you can recycle it for various purposes.
Watch this video for a basic bathroom plumbing diagram:
Bathroom Design Layout
A bathroom layout should place functionality over aesthetics in order of priorities. Also, a perfect bathroom design layout revolves around the toilet, the best utilization of space, and the functionality of all elements of the space. Additional factors that dictate the layout are the number of users, bathroom regulations, optimal lighting, adequate ventilation, and sufficient storage.
Corner Shower Bathrooms
Ideal for bathrooms in guest rooms or for dedicated shower rooms, this bathroom layout remains divided into three parts- a toilet, sink, and shower stall. It places the shower stall in the corner in every variant of the floor plan either on the central aisle or the side layout.
Corner shower bathrooms with a side layout remain more efficient with a smaller 5'11" x 5'3" (1.8 x 1.6 m) floor plan. On the other hand, corner showers with a central aisle remain 6'6" x 7'2" (1.98 x 2.18 m).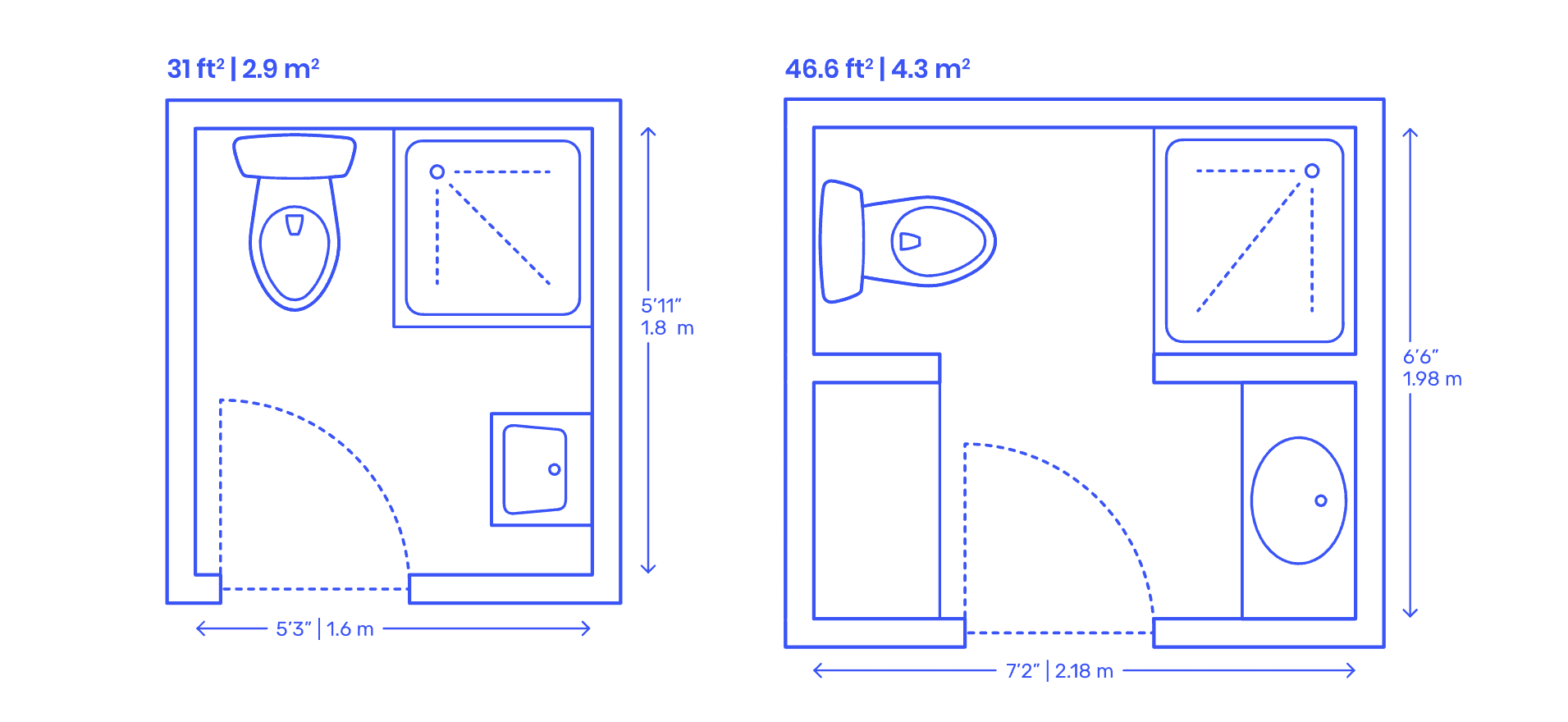 Image Source: Dimensions.com
Details
Side Layout
Length: 5'11" or 1.8 m
Width: 5'3" or 1.6 m
Area: 31 ft2 or 2.9 m2
Central Layout
Length: 6'6" or 1.98 m
Width: 7'2" or 2.18 m
Area: 46.6 ft2 or 4.3 m2
# Full Bath- Side Layout
If you need a big clearance space in your bathroom, consider full baths with a side layout without a doubt. This layout comprises a toilet, a sink, and a typical alcove bathtub-shower combination. Also, the fixtures remain located along a single wall.
Full-bath side layouts have lengths of 8' (2.44 m) and widths of 5' (1.52 m).

Image Source: Dimensions.com
Details
Length: 8' or 2.44 m
Width: 5' or 1.52 m
Area: 40 ft2 or 3.7 m2
Full Bath- Centre Layout
If you want an isolated bathtub section, consider the full bath-center layout. It remains split into two separate fixture walls that join with the toilet and sink on one side and an isolated alcove bathtub on the other.
 Full-bath central layouts have lengths of 8' (2.44 m) and widths of 5' (1.52 m).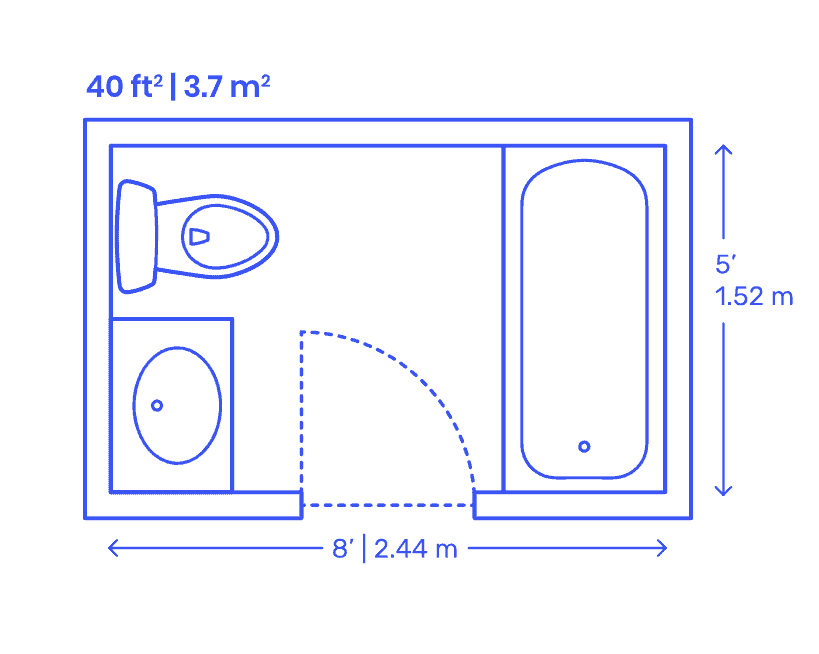 Image Source: Dimensions.com
Details
Length: 8' or 2.44 m
Width: 5' or 1.52 m
Area: 40 ft2 or 3.7 m2
Half-Baths or Utility Bathroom Layout
Also known as powder rooms, these bathrooms have two main fixtures- a toilet and a sink. Moreover, these bathrooms are mostly found near the main entrance of a building or for short-term visitors. These bathrooms come in a variety of floor plans- linear plan, single wall, or split plans.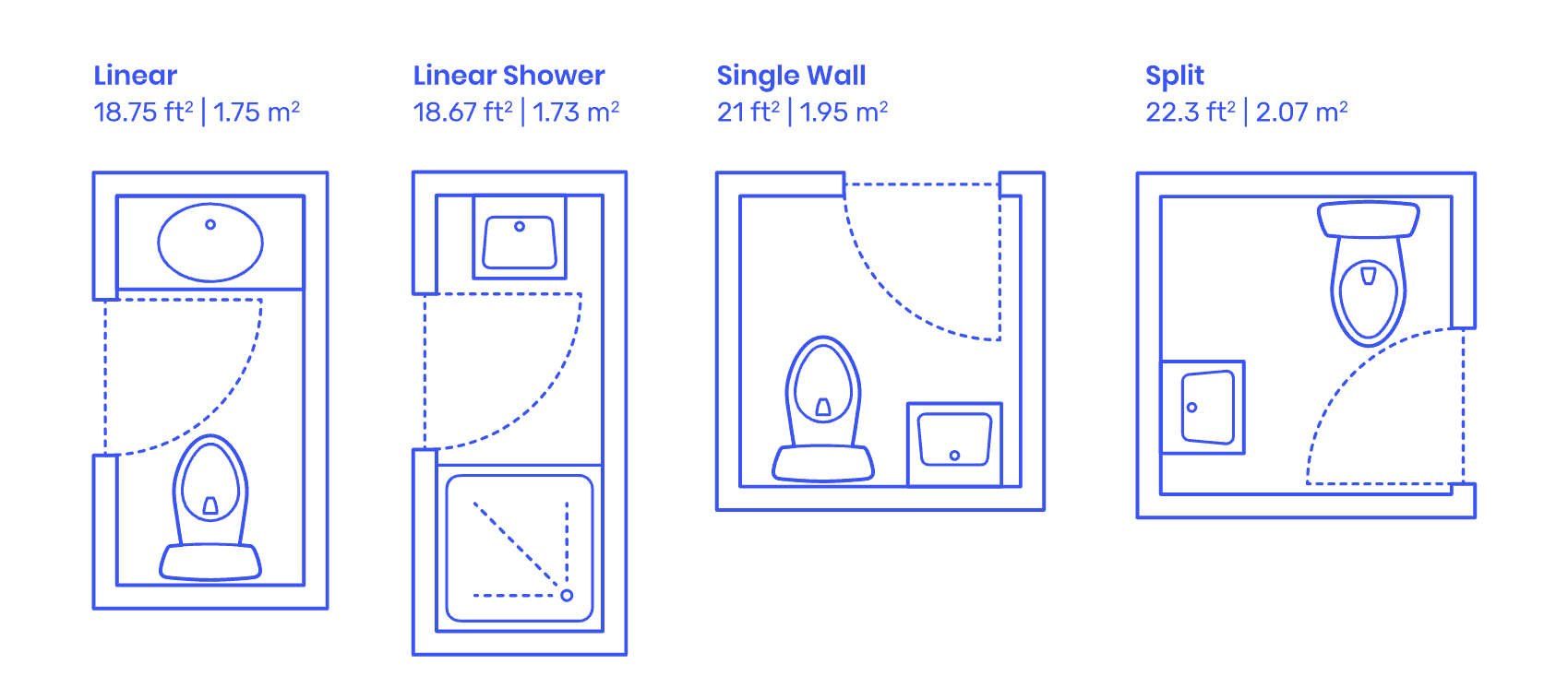 Image Source: Dimensions.com
Details
Linear Utility Bathroom:
Width: 2'6"-3' or .76-.92 m
Length: 6'3"-8'6" or 1.9-2.6 m
Area: 18.75 ft2 or 1.75 m2
Linear Utility Shower:
Width: 2'8"-3' or .81-.91 m
Length: 8'-9' or 2.44-2.74 m
Area: 18.67 ft2 or 1.73 m2
Single Wall Utility Bathroom:
Width: 4'6"-6' or 1.37-1.83 m
Length: 4'-5'6" or 1.22-1.68 m
Area: 21 ft2 or 1.95 m2
Split Utility Bathroom:
Width: 4'-5'6" or 1.22-1.68 m
Length: 4'8"-6' or 1.42-1.83 m
Area: 22.3 ft2 or 2.07 m2
If you have a shared bathroom space where one user needs additional privacy without restricting the other user's access to the vanity and sink area, a split bathroom layout is an answer. A central pocket or a swing door divides the entry area and primary sink and a private bathtub and toilet area.
With several floor plans based on either side or split fixture layouts, split bathrooms have lengths between 11'-12'2" or 3.37-3.71 m and widths between 5'-7' or 1.52-2.13 m respectively.

Image Source: Dimensions.com
Details
Side Fixture Layout
Length: 12'2" or 3.71 m
Width: 5' or 1.52 m
Area: 60.8 ft2 or 5.6 m2
Split Fixture Layout
Length: 11' or 3.37 m
Width: 7' or 2.13 m
Area: 77.3 ft2 or 7.2 m2
Accessible Residential Bathroom Layout
Designed for wheelchair users in residential establishments, these bathrooms offer a sufficient clear floor area for a wheelchair to turn.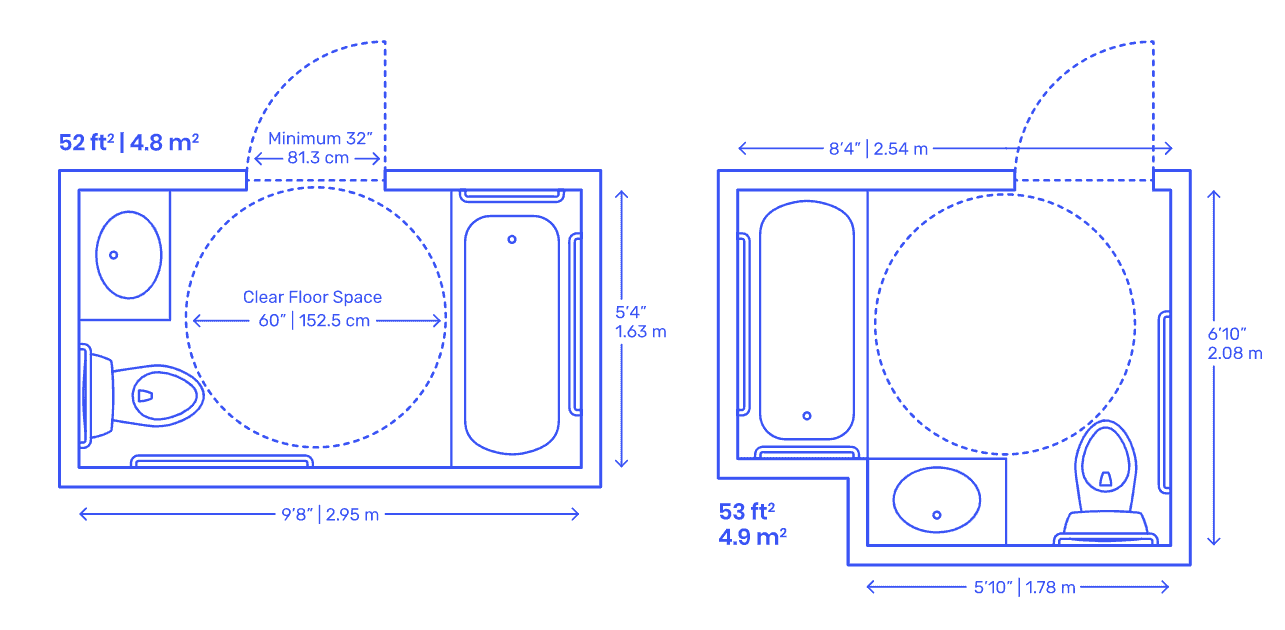 Image Source: Dimensions.com
Details
Accessible Clear Floor Space:
Circle: 60" | 152.5 cm diameter
T-Shape (Width): 60" or 152.5 cm
T-Shape (Arms): 36" or 91.4 cm
Door: 32" or 81.3 cm minimum; opens out
Split Layout
Length: 9'8" or 2.95 m
Width: 5'4" or 1.63 m
Area: 52 ft2 or 4.8 m2
Side Layout
Length: 8'4" or 2.54 m
Width: 6'10" or 2.08 m
Area: 53 ft2 or 4.9 m2
A Jack and Jill Bathroom design refers to a bathroom that remains situated between two rooms. Thus, it has two doors for users to enter from either of the rooms. Also, generally, such a bathroom is placed between two bedrooms. The doors have locks on both sides to ensure privacy. Also, it can include one or more sinks. But it has one shower, one bath, and one toilet.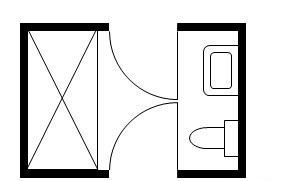 Image Source:Houseplanshelper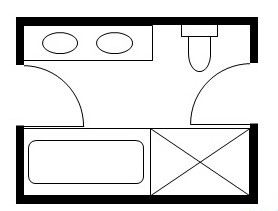 Image Source:Houseplanshelper
If you need both doors on the same side, you can refer to the following layout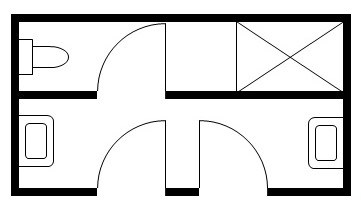 Image Source:Houseplanshelper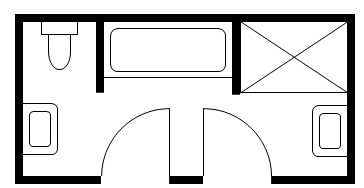 Image Source:Houseplanshelper
The bathroom ceiling designs often remain overlooked by designers. However, a poorly designed bathroom ceiling design can cause severe problems in the future. So, a proper bathroom ceiling must be determined for a perfect bathroom design.
Bathroom ceiling dimensions
The minimum height of a bathroom ceiling remains 2m. But a good bathroom ceiling design offers a height of 6 ft 8 inches or 2.03m in front of all fixtures and 30 inches diameter where the shower head remains located.
Several types of bathroom ceiling design materials remain available in the market. But you need to ensure that your ceiling design is durable, waterproof, mold-resistant, and affordable.
Some of the commonly used bathroom ceiling design materials are:
Installing classy, smooth, matte, or glossy bathroom ceiling tiles can easily transform the look and feel of the bathroom. Also, the material remains easy to clean. It offers waterproofing and noise-reduction properties, additionally.
Fiberglass
A very common bathroom ceiling material, fiberglass looks extremely appealing. Also, it offers water resistance. You can purchase pre-cut fiberglass and install the panels on the ceiling feasibly.
Metal ceiling
Another durable, easy-to-clean, and practical solution, metal bathroom ceilings add a stylish vibe to the bathroom design. Also, the beautiful and shiny surface makes the bathroom look exceptionally beautiful.
An affordable and convenient bathroom ceiling solution, paint remains an all-time favourite choice. That said, paint comes with a set of challenges such as peeling and mold growth. So, to avoid such issues, always go for waterproof paints.
Drywall or Green Board
It is a moisture-resistant and affordable bathroom ceiling solution. Also, it hides structural imperfections. You can also paint the board for a more vibrant look.
Both PVC ceiling panels and cladding offer excellent waterproofing. Also, it is easy to install and doesn't need a lot of maintenance.
Bathroom ceiling design #1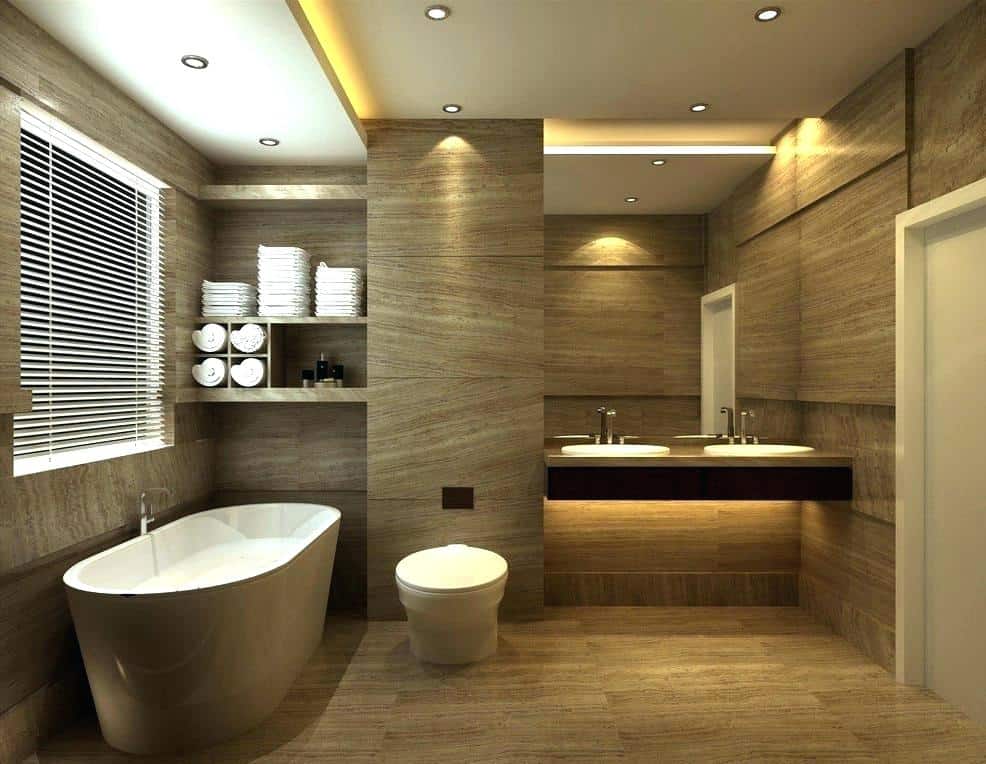 Image Source: Tea Hub
Bathroom ceiling design #2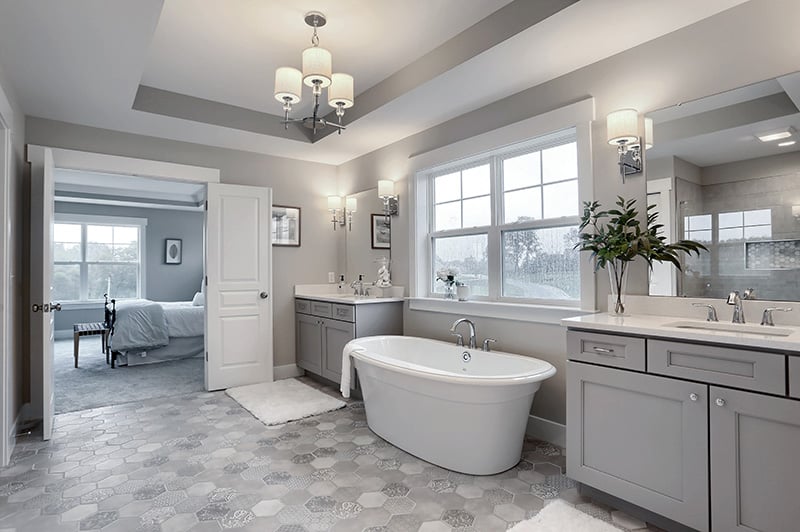 Image Source: Progress Design Guide
Bathroom ceiling design #3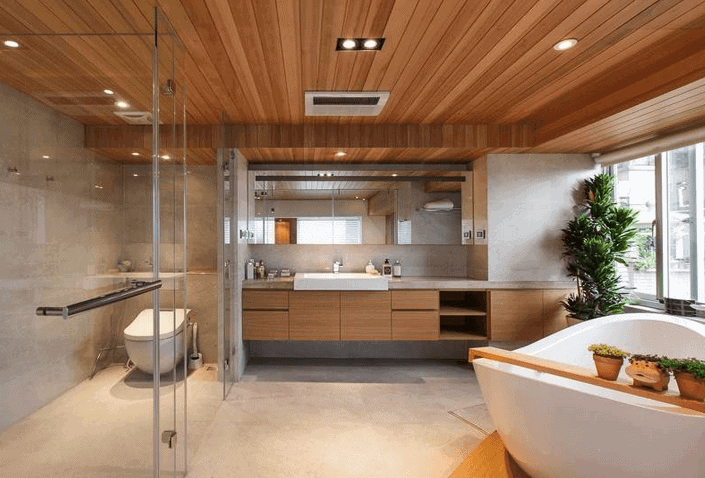 Image Source: Housely
Bathroom ceiling design #4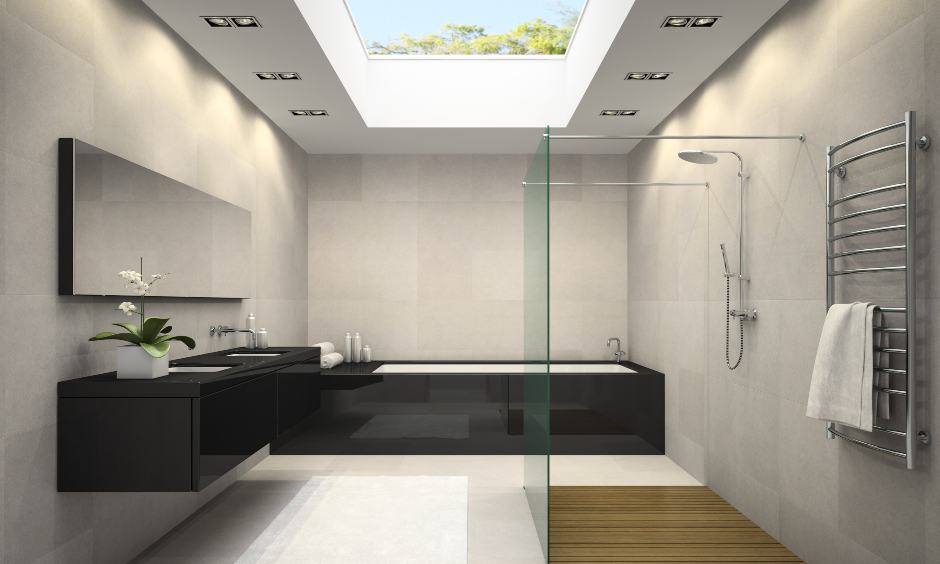 Image Source: Pinterest
Bathroom ceiling design #5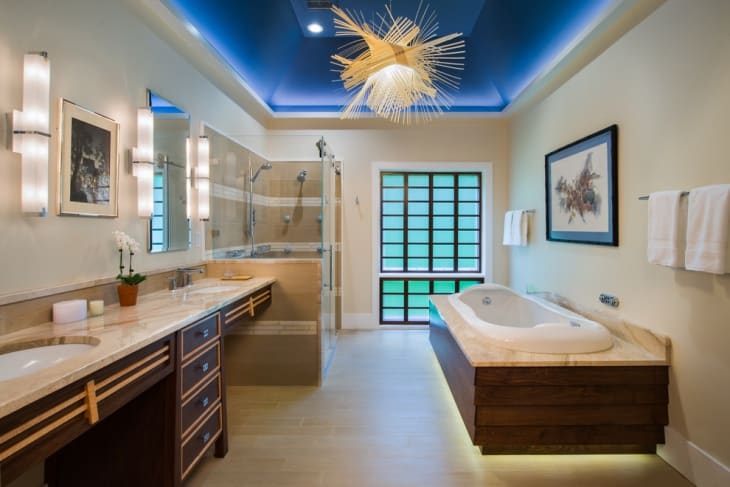 Image Source: Horita Homes
When choosing a flooring option for bedrooms, living rooms, or halls, you have endless choices. But you have limited options when it comes to bathroom flooring design. A bathroom floor must remain waterproof, moisture-resistant, slip-resistant, mold-resistant, and easy to clean. A material without proper treatment can cause terrible damage to the bathroom. So, you must weigh the looks practically equally when it comes to choosing the bathroom ceiling design and flooring.
Ceramic bathroom flooring tile designs offer great water resistance. Also, they come in versatile styles, shapes, or colours. But these bathroom flooring tile designs can get slippery and cold.
Bathroom floor tiles- Stone
Stone bathroom floor design tiles come with natural water resistance. For saturation-prone areas such as a bathroom, stone bathroom floor tiles offer great moisture resistance and fancy appeal. But like ceramic tiles, the stone tiles turn cold too. You can, however, fix this issue by placing floor mats, and radiant heating.
Bathroom floor tiles- Mosaic
Often seen as a backsplash in kitchens, mosaic makes an excellent bathroom flooring tile design. But the only challenge it faces is the tendency of dirt collection if not cleaned regularly.
Concrete bathroom flooring
If you don't want to compromise on water-resistivity, concrete bathroom floors remain the ideal choice for you. Also, if you want to offer a more industrial or contemporary look to your bathroom design, concrete flooring remains the answer.
Linoleum bathroom flooring
Mold and mildew growth remains a common problem, especially in Indian bathroom designs for home. So, linoleum, made mainly of linseed oil, wood flour, tree resin, etc, makes the perfect bathroom floor. Also, the anti-microbial elements in this flooring material offer excellent protection.
Laminate bathroom flooring
If you stan hardwood but don't want to risk your bathroom with it, go for laminate bathroom flooring. The use of resin and fiberboard in laminate flooring makes it a smarter alternative to authentic hardware.
Bathroom flooring designs
Flooring design #1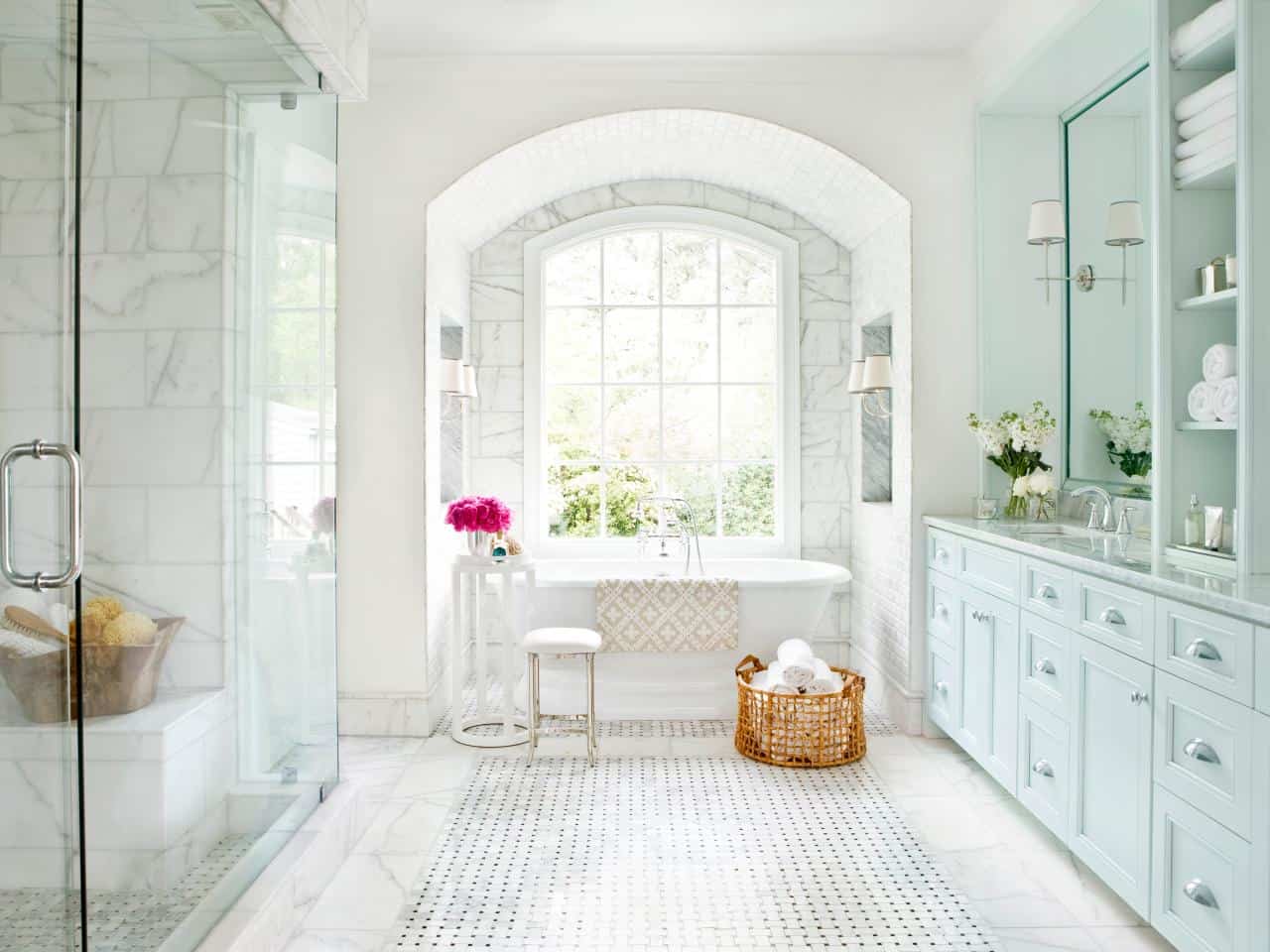 Image Source: HGTV
Flooring design #2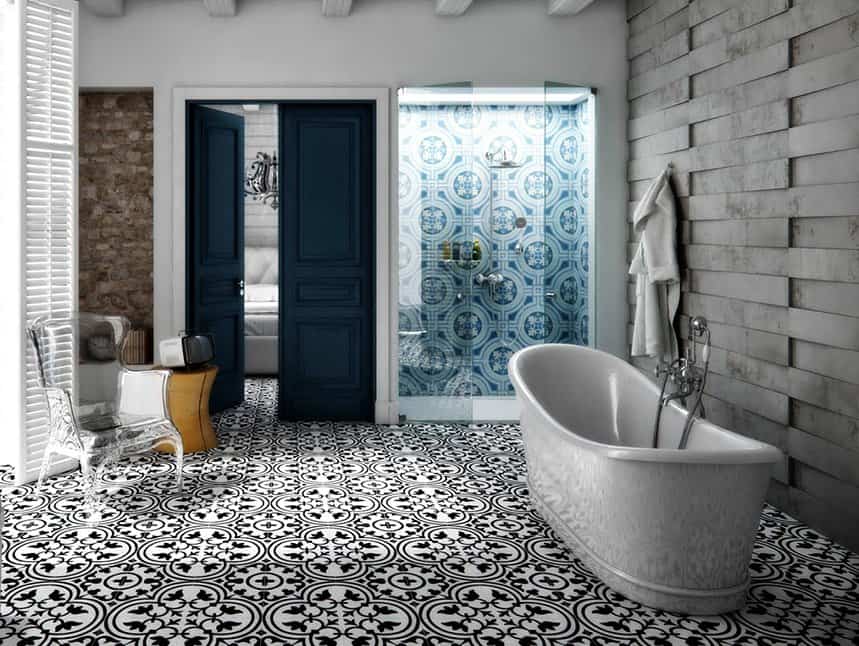 Image Source: Roof and Floor
Flooring design #3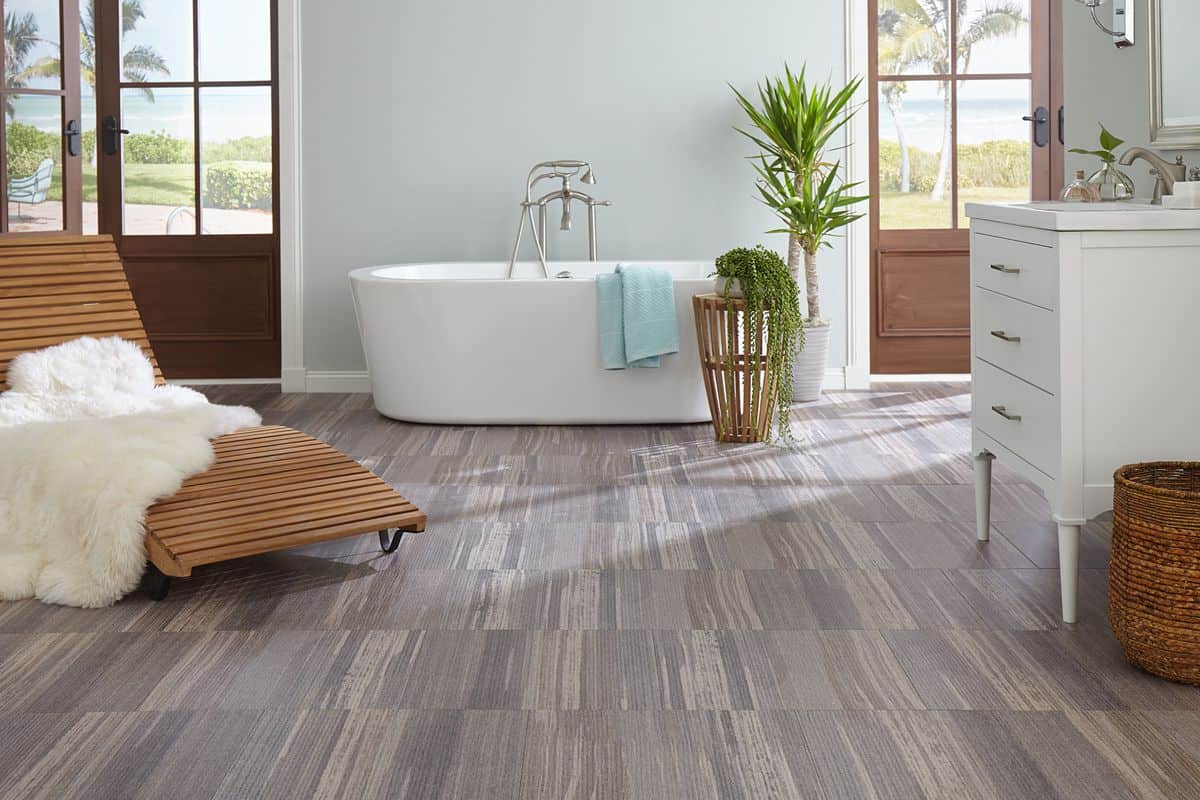 Image Source: This Old House
Flooring design #4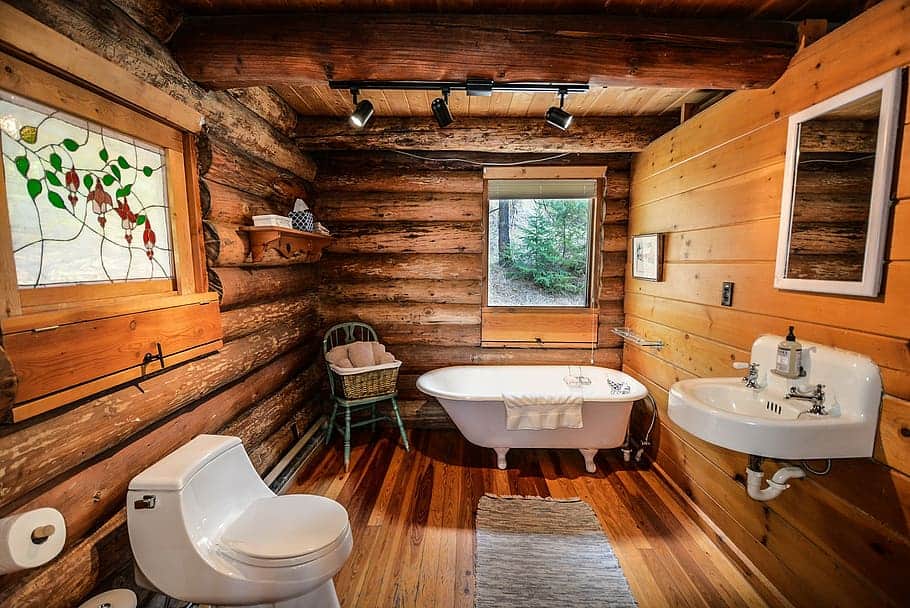 Image Source: Wallpaper flare
Flooring design #5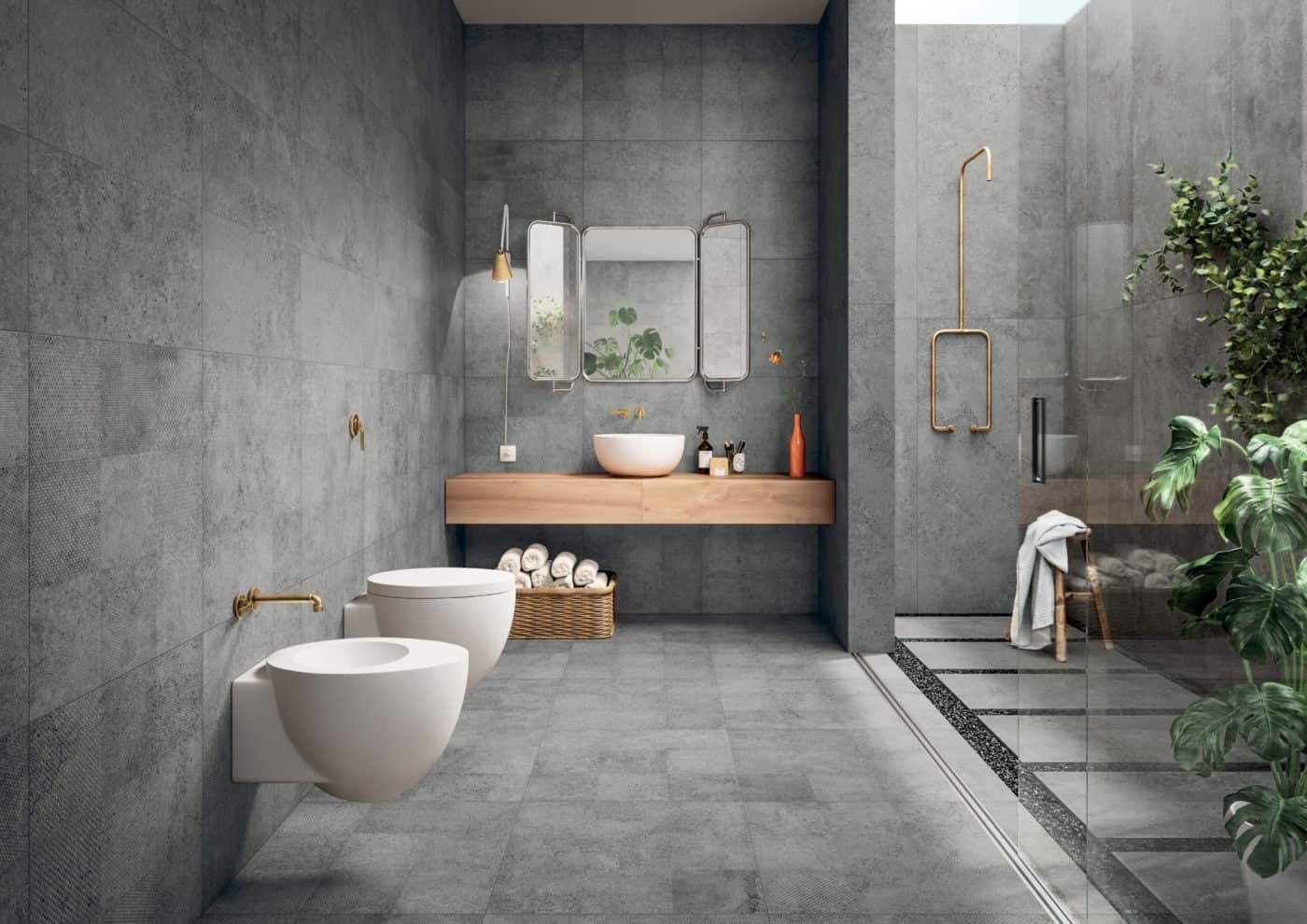 Image Source: Mandarin Stone
When it comes to effective lighting, the bathroom remains the most critical room of a house. Also, being the first place a person visits in the morning, it becomes even more important that it has a proper bathroom lighting design.
How much lighting is enough lighting for a bathroom?
The answer depends on the functions performed by the user and also on the placement of the lighting fixtures.
A master bathroom needs lighting fixtures that offer at least 75-100 watts of illumination. But if you use LED, 20-watt lighting fixtures work excellently.
Bathroom lighting clearances
Bathroom lighting fixture: All bathroom lighting fixtures must be suitable for a wet environment. Also, a hanging light fixture must remain at least 8 feet or 2.44m higher & 3 feet or 91cm away from the rim of the bath.
Bathroom light switches: The light switch and the water source must have a clearance of at least 5 feet between them.
All the usual lighting comprises general bathroom lighting. Also, it includes pendant lights, globe lighting, downlights, and more.
To achieve good bathroom mirror lighting, you need a mix of overhead and sidelights.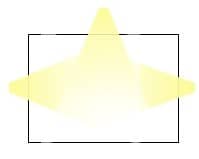 Image Source: Houseplanshelper
Overhead bathroom mirror lighting
The following ways offer excellent overhead lighting.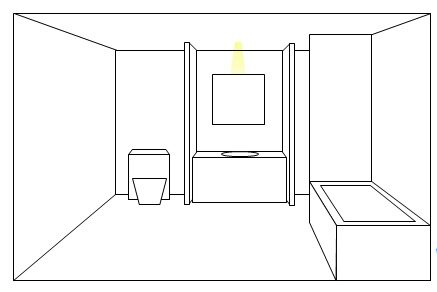 Image Source: Houseplanshelper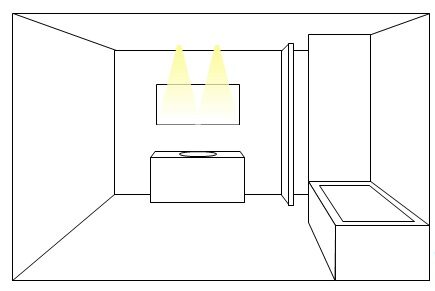 Image Source: Houseplanshelper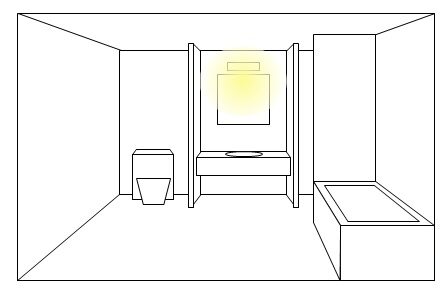 Image Source: Houseplanshelper
Combining a low voltage overhead lighting fixture with mains voltage side lighting offers the ultimate bathroom mirror lighting experience. Also, lighting fixtures at the side of the bathroom mirror enhance the image reflected on the mirror.
The following ways offer excellent side lighting for bathroom mirrors.
Double your mirror as a cabinet by placing sidelights just behind it.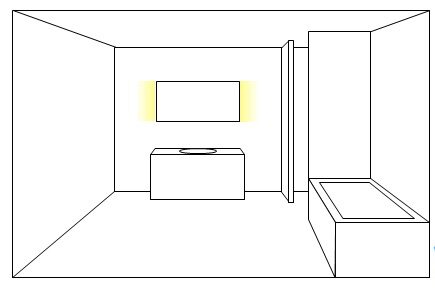 Image Source: Houseplanshelper
For more efficient lighting, go for all-around illumination.
Image Source: Houseplanshelper
Side scones are traditional side lighting fixtures for bathroom mirror lighting.
Image Source: Houseplanshelper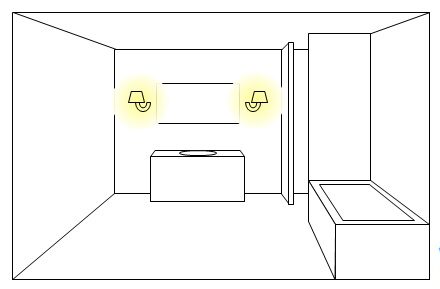 Image Source: Houseplanshelper
Image Source: Houseplanshelper
Install all-around spotlights with dimmers as sidelights for bathroom mirrors.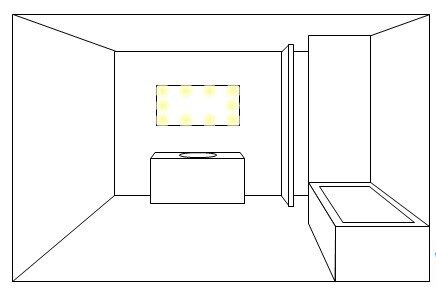 Image Source: Houseplanshelper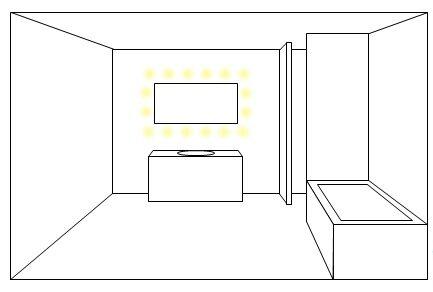 Image Source: Houseplanshelper
A bathtub gives an exclusive sense of relaxation. Thus, the lighting should offer a soothing feeling too.
Installing a globe ceiling light just above the bathtub remains a common practice among lighting and interior designers. But it offers too much brightness and makes the bathtub experience uncomfortable. So, using a dimmer with overhead bathtub lighting would make an ideal choice.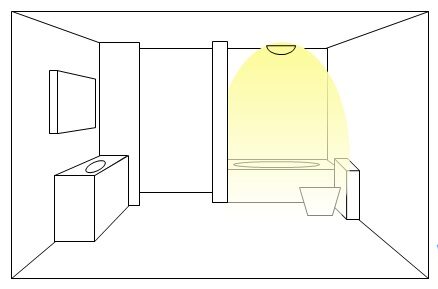 Image Source: Houseplanshelper
It remains essential to avoid direct glare. So, instead of direct overhead lighting, place them closer to the back wall and angle the illumination towards the wall to create a wall wash. Also, the lights diffuse off the wall giving a beautiful lighting texture.
Here are some ideas for lighting sets for the bathtub: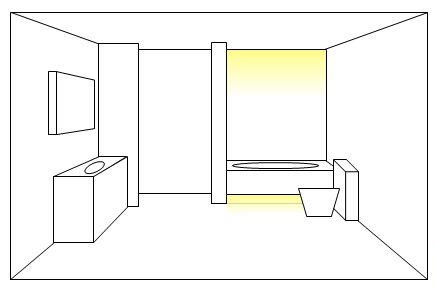 Image Source: Houseplanshelper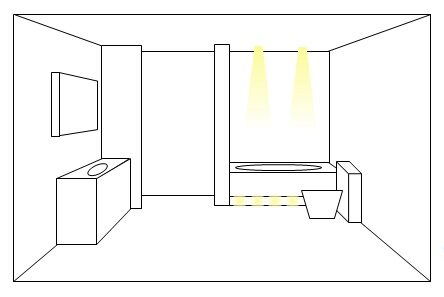 Image Source: Houseplanshelper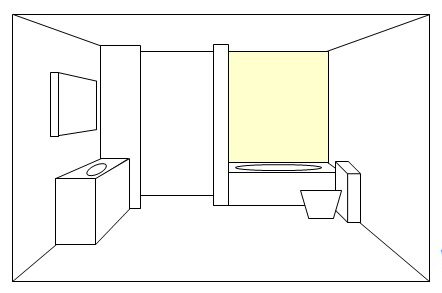 Image Source: Houseplanshelper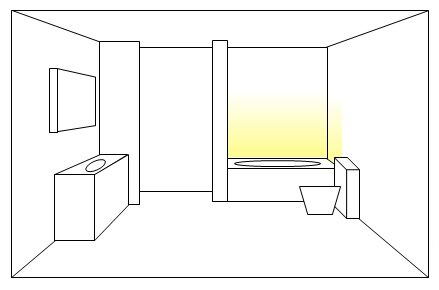 Image Source: Houseplanshelper
You can place the lighting fixtures for glass shower cubicles in different ways. Also, it provides functional lighting for the bathroom shower.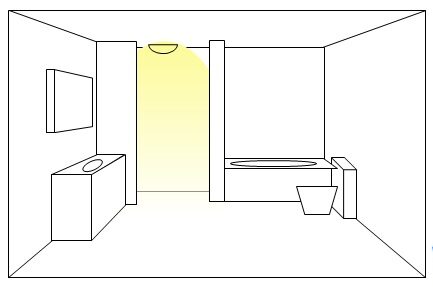 Image Source: Houseplanshelper
Installing one or two downlights remains another effective bathroom shower lighting idea. Also, you can place these downlights along the central line of the bathroom shower or towards the back wall. Thus, it creates a wall-wash effect.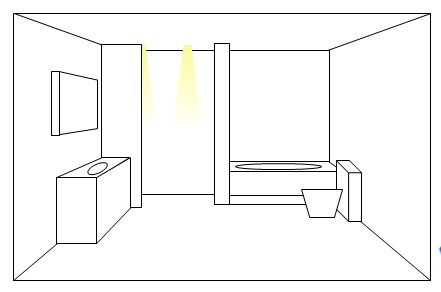 Image Source: Houseplanshelper
Strip lights create an excellent floor and wall wash.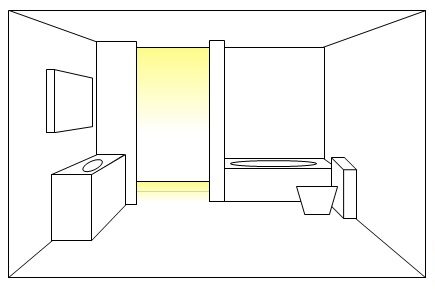 Image Source: Houseplanshelper
Also, to add a dramatic effect to your bathroom shower, install high and low-mounted spotlights.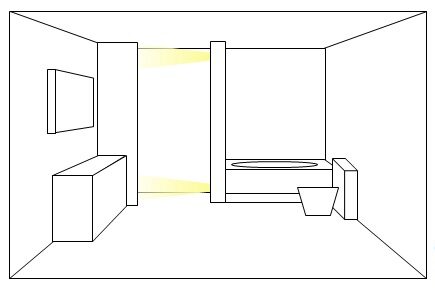 Image Source: Houseplanshelper
Light up the whole shower wall by placing a lighting panel with a dimmer switch.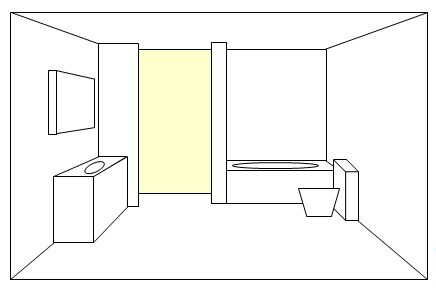 Image Source: Houseplanshelper
Surprisingly, a bathroom washbasin offers a lot of scope for stylish lighting. If you have a sink-cum-vanity, you can install a strip just under the vanity surface for a subtle glow.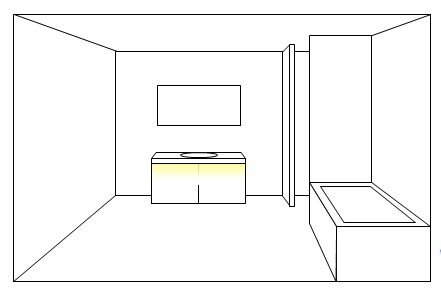 Image Source: Houseplanshelper
Also, you can install an LED light strip in the vanity toe kick.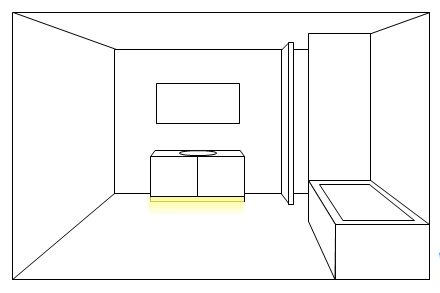 Image Source: Houseplanshelper
If you gave a surface-mounted sink, install uplights on the vanity surface and make your washbasin light up.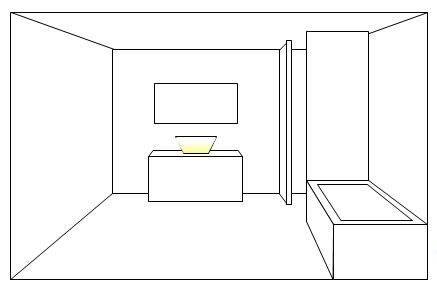 Image Source: Houseplanshelper
Also, you can never go wrong with backlights.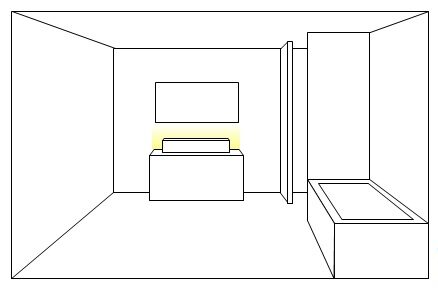 Image Source: Houseplanshelper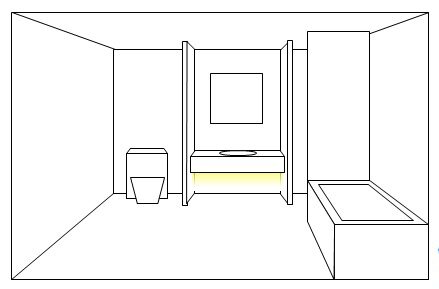 Image Source: Houseplanshelper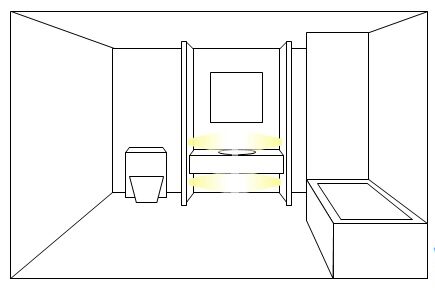 Image Source: Houseplanshelper
Toilet or the thrown of a bathroom must be properly lit up for easy and clean usage.
So, here are two overhead bathroom toilet lighting ideas: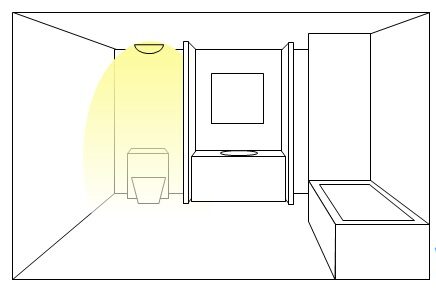 Image Source: Houseplanshelper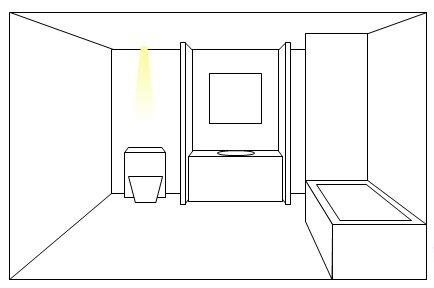 Image Source: Houseplanshelper
A wall wash works best with a fancy cistern.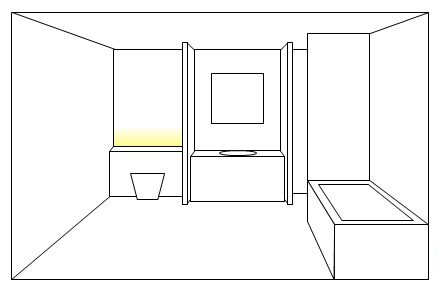 Image Source: Houseplanshelper
A completely lit back wall with a dimmer switch looks and functions extremely well.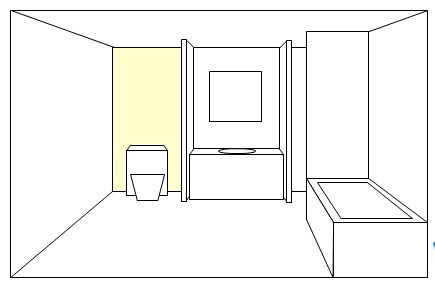 Image Source: Houseplanshelper
Bathroom Toilet Dimensions
A bathroom toilet must be placed appropriately else it can lead to serious troubles later on. From plumbing issues to structural damage, the list of issues can go on and on. Thus, always follow the standards of bathroom designing for a perfect experience.
Standard bathroom toilet fixture size
The standard depth of a toilet seat for the hinges to the corners remains 16 inches or 40.5cm. but an elongated model can remain as long as 18 inches or 46cm.
Also, added to the seat is the tank. Thus, the final depth can range from 26 inches-29 inches or 66cm-74cm.
Bathroom toilet clearance
The minimum distance from the centerline of the toilet to the nearest obstruction remains about 15 inches or 38cm. Also, the minimum distance from the toilet edge to the wall remains 4 inches or 10cm. thus, the minimum span of toilet accommodation remains 30 inches or 76cm.
But the recommended distance remains 20 inches or 51cm for more comfortable access.  So, the recommended span for the proper accommodation of the toilet remains 40 inches or 102 cm. also, recommended clearance in front of the toilet remains 30 inches or 76cm.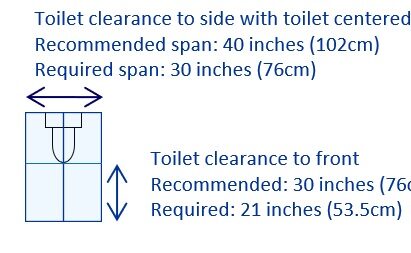 Image Source: Houseplanshelper
Toilet paper holder placement
The advised position of the toilet paper holder remains 8-12 inches or 20-30cm from the front of the bathroom toilet seat to the centerline of the paper holder. Also, 26-30 inches or 66-76cm remains the recommended height of the toilet paper holder from the floor.
Bathtub Dimensions
A bathtub makes an essential bathroom unit. Relaxing in a warm pool of water after a tiring day. But a bathtub if not placed properly can clog the entire bathroom and hamper the structure and design of the entire place. So, it becomes important to install the bathtub correctly.
A small bathtub measures 5 feet x 2 ½ feet or 153cm x 76cm. also, a whirlpool bathtub measures 5 feet x 2 ¾ feet or 153cm x 81cm.
Bathtub clearance
A minimum clearance of 21 inches or 53cm remains ideal for a bathtub. But the recommended clear space along the bathtub's edge remains about 30 inches or 76cm.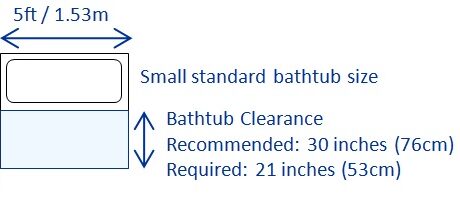 Image Source: Houseplanshelper
Bathtub controls placement
The bathtub controls must remain within reach from both inside as well as outside the tub. So, they must remain placed 33 inches or 84cm above the floor between the rim of the bathtub.
Bathroom Shower Dimensions 
The bathroom shower is an inseparable part of a bathroom. So, it remains important to incorporate it smartly in the bathroom.
Standard bathroom shower dimension
A large shower is 36 inches x 48 inches or more. But the smallest shower comes in 32 inches x 32 inches size.
For a shower of 36 inches x 36 inches in size, a minimum of 30 inches or 76cm of clear space is needed in front of the shower's entry.
But, for a shower of 30 inches x 30 inches in size, a minimum of 24 inches or 61cm of clear space is needed in front of the shower's entry.
Also, if you have a shower cubicle, ensure that the hinged doors always open outwards.

Image Source: Houseplanshelper
A standard bathroom door must remain 80 inches high and 24-36 inches wide. However, try to keep the bathroom door as wide as possible for better movement.
Essential Bathroom Accessories
Bathroom accessories are a necessity. So, the right bathroom accessories along with the best sanitaryware not only make the design exclusively stylish but also keep clutter at bay.
Some important bathroom accessories are:
They provide a platform for storage as well as décor. Also, they manifest the full potential of a bathroom.
Soap dispensers
Using a soap dispenser not only makes washing hands economical but also reduces the risk of infection as it remains hands-free.
Soap dishes
Storing a soap bar is annoying. But a soap dish prevents a bar of soap from becoming clammy. Also, it adds glamour to the bathroom interior design.
If you want to stop bathroom molds from harming the structure, install extractor fans. Placing the fan in the wall, ceiling design, or bathroom window extracts moisture thus preventing mold formation. Also, you can choose a humidity-sensing smart fan for better results.
Towel rails and rings 
These bathroom accessories function as decorative elements as well as offer functionality. Also, most people place it behind the bathroom door. But it can damage the wall when the door opens fully. Thus, fix it by screwing a doorstop at the door's bottom to prevent it from opening fully against the wall.
Grab rails
Also known as grab bars, these remain ideal for elderly and specially-abled users. Thus, this bathroom accessory provides stability and decorative appeal to the bathroom.
A small bathroom with a shower, toilet, and sink should measure 6 feet x 6 feet or 1.8m x 1.8m in size.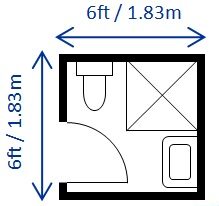 Image Source: Houseplanshelper
Let's take a look at some beautiful small bathroom designs for home: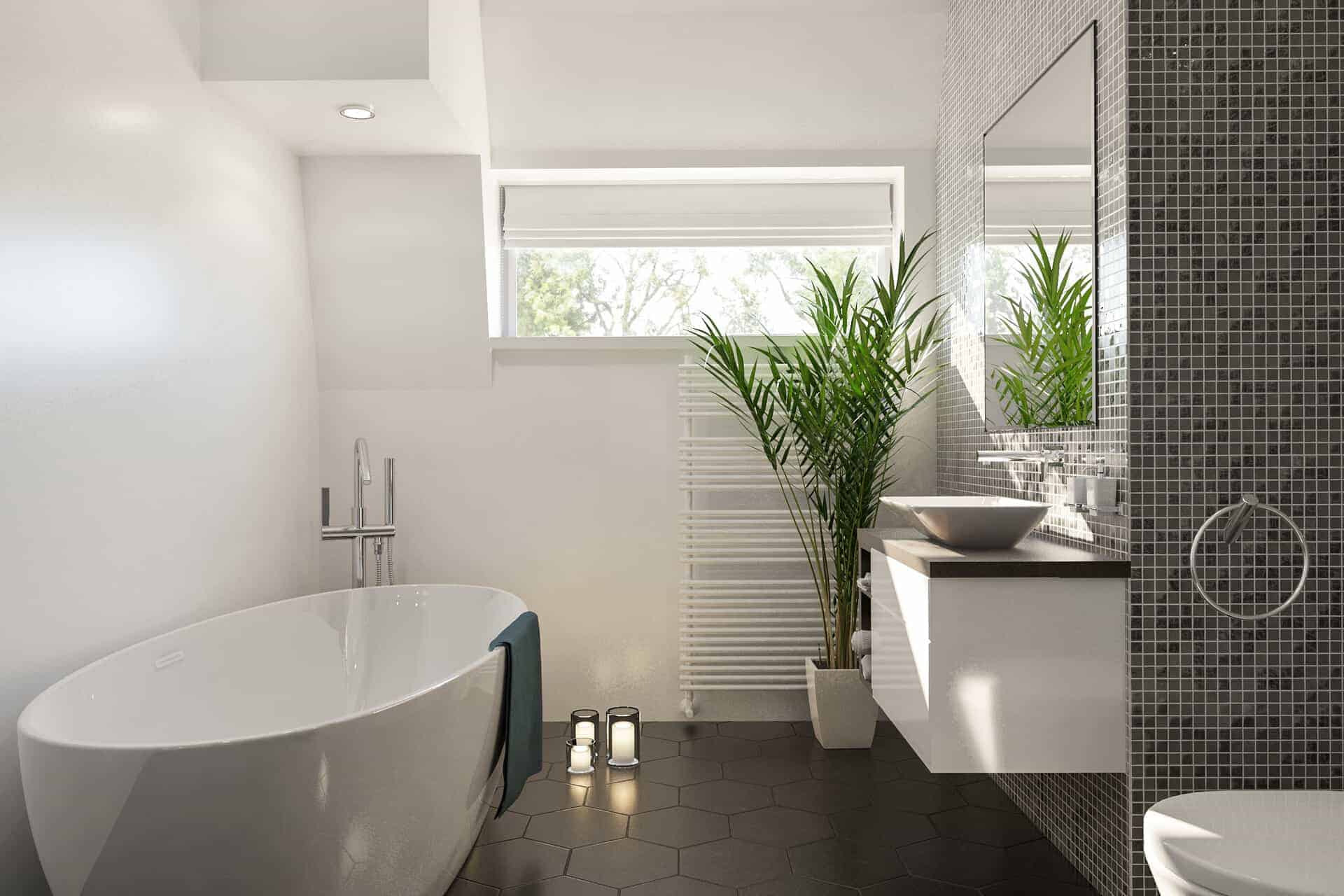 Image Source: Artstation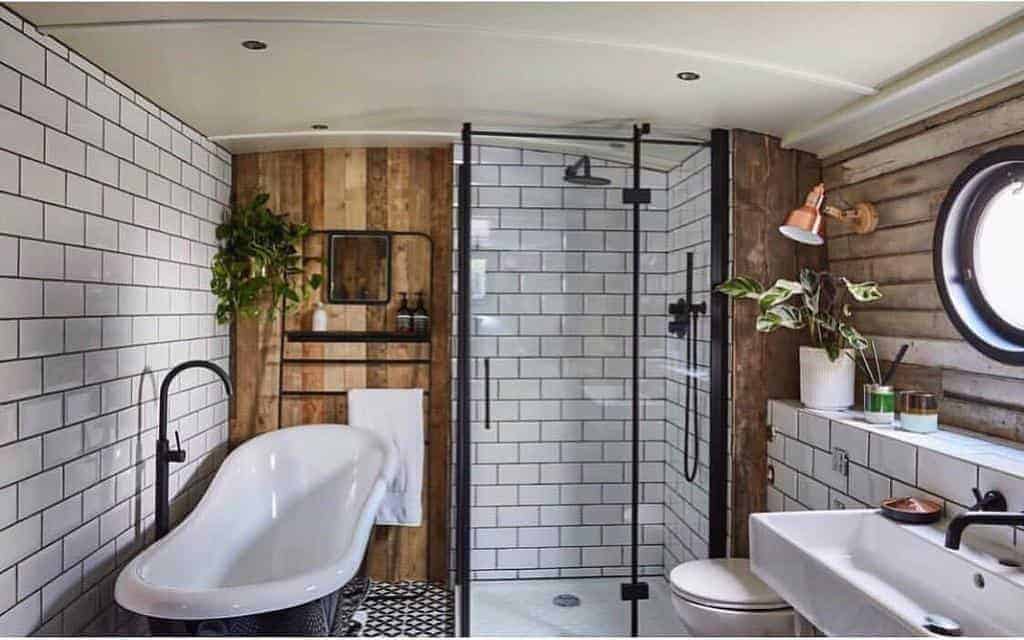 Image Source: Next Luxury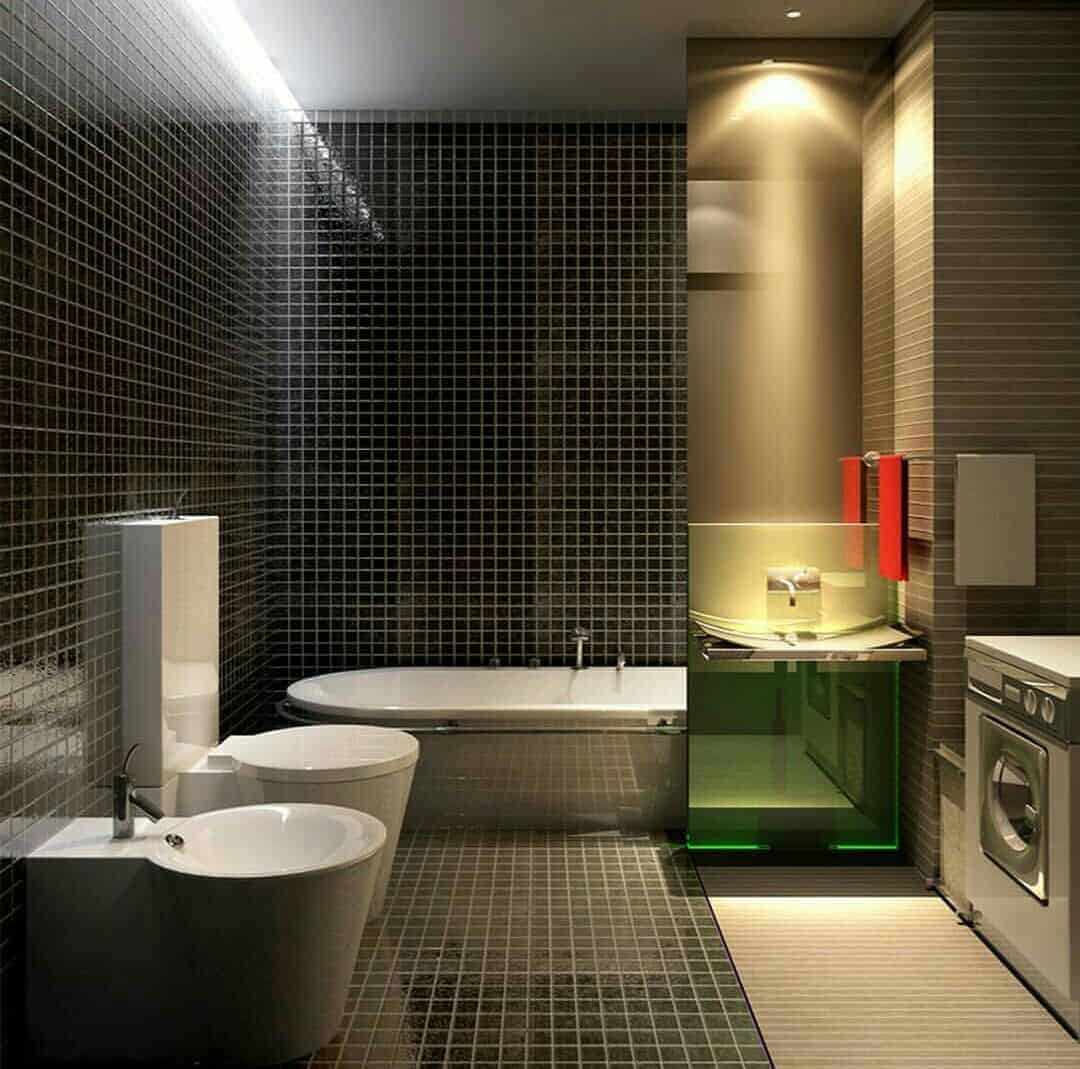 Image Source: Pinterest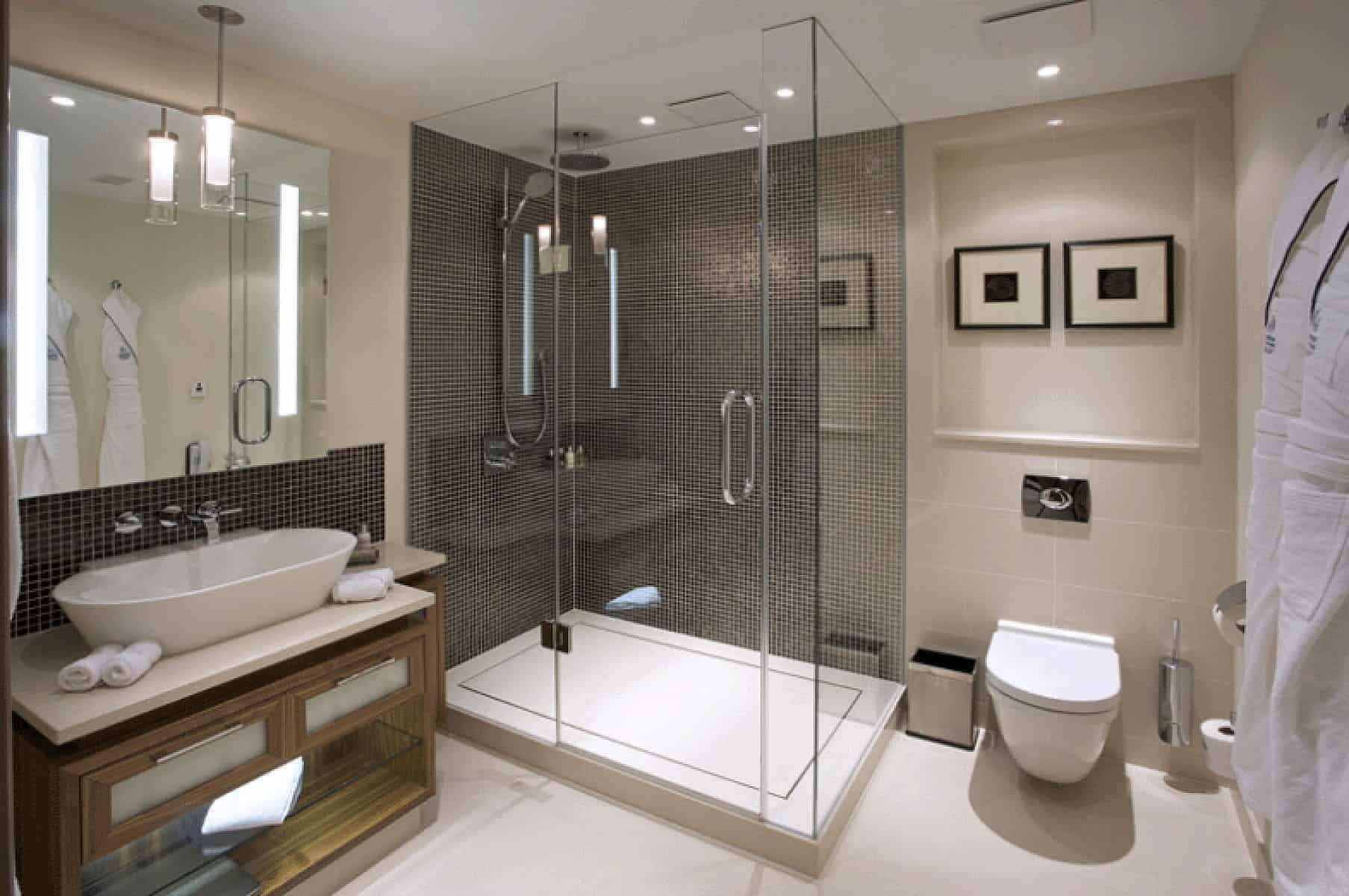 Image Source: Prague Stay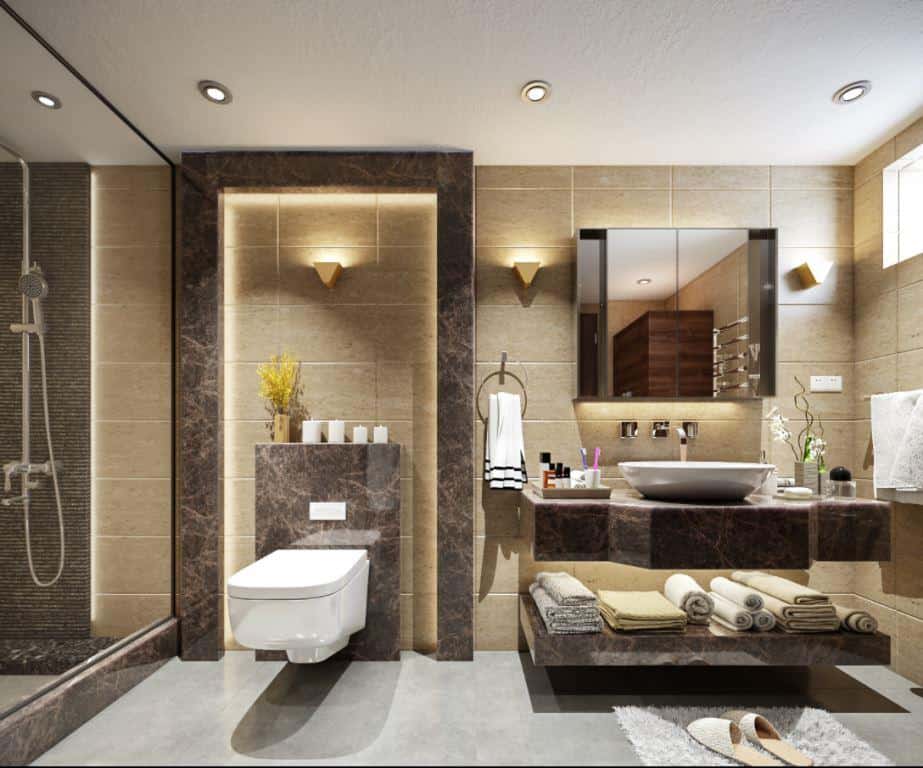 Image Source: Pinterest
A master bathroom or a full bathroom has a minimum size of 5 feet x 8 feet or 1.5m x 2.4m. But it can go way beyond these measurements depending upon the space available for use.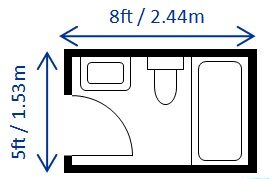 Image Source: Houseplanshelper
Let's take a look at some bespoke master bathroom designs for home:
Master bathroom design #1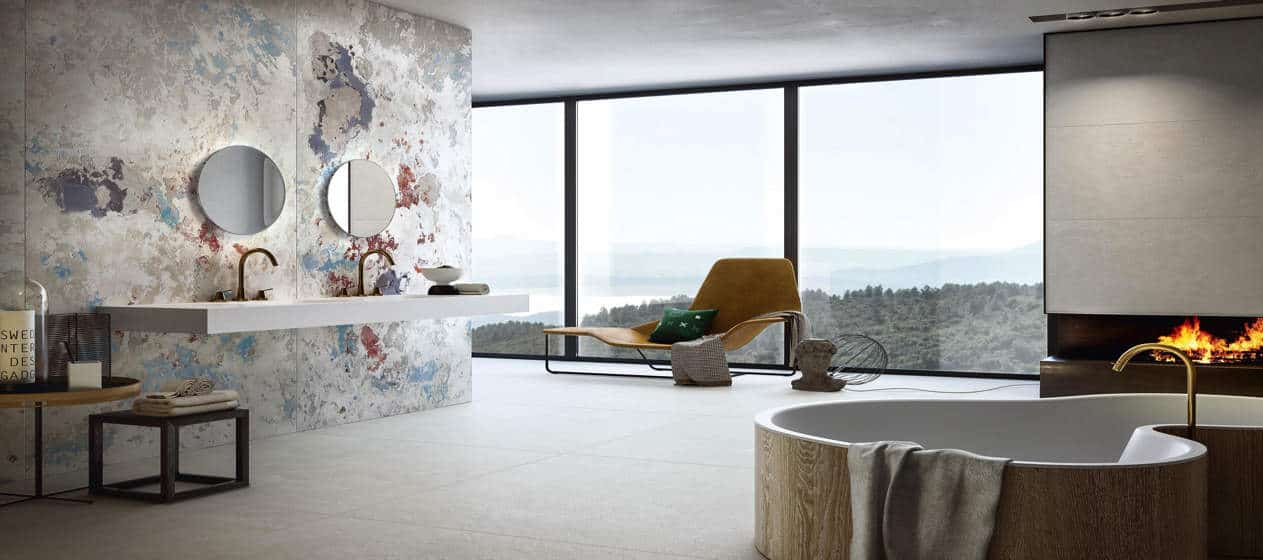 Image Source: Mosaic Slab
Master bathroom design #2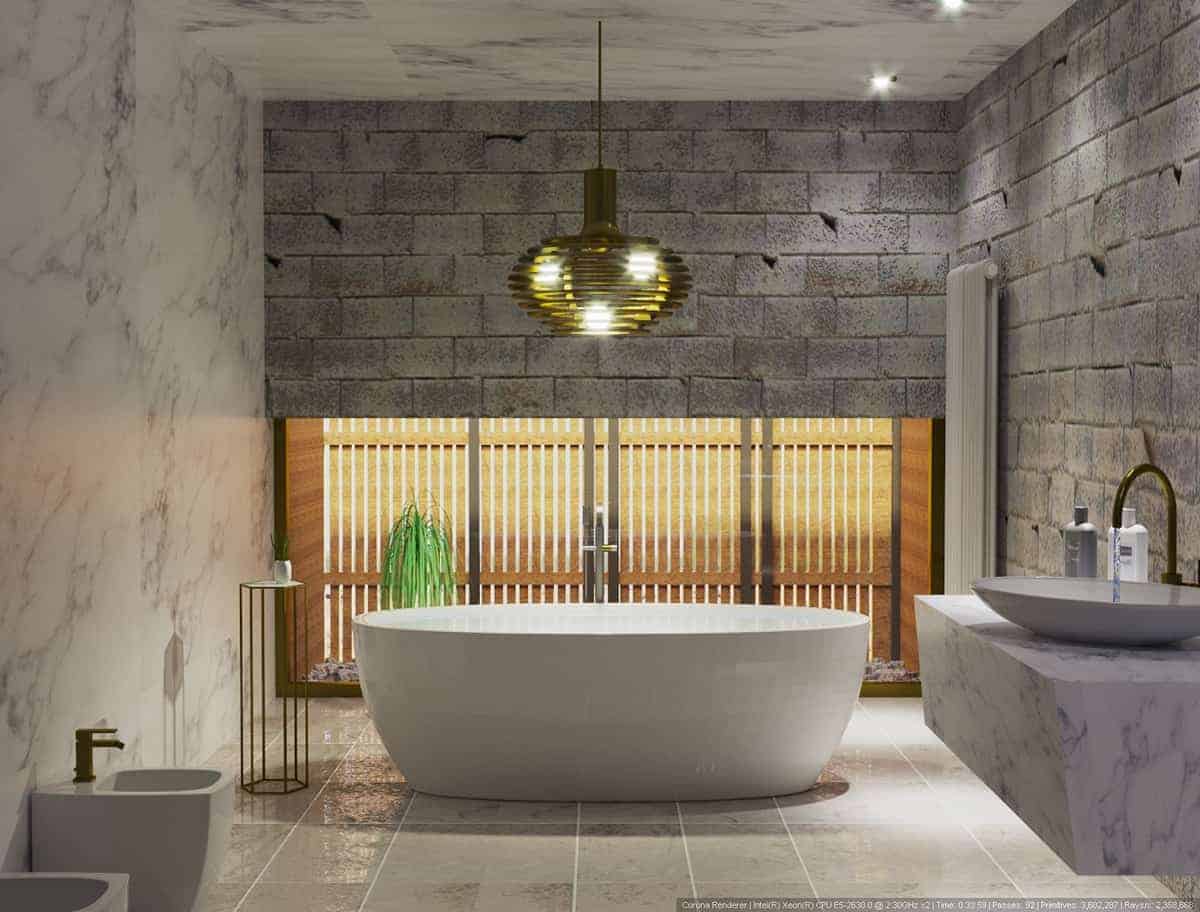 Image Source: Behance
Master bathroom design #3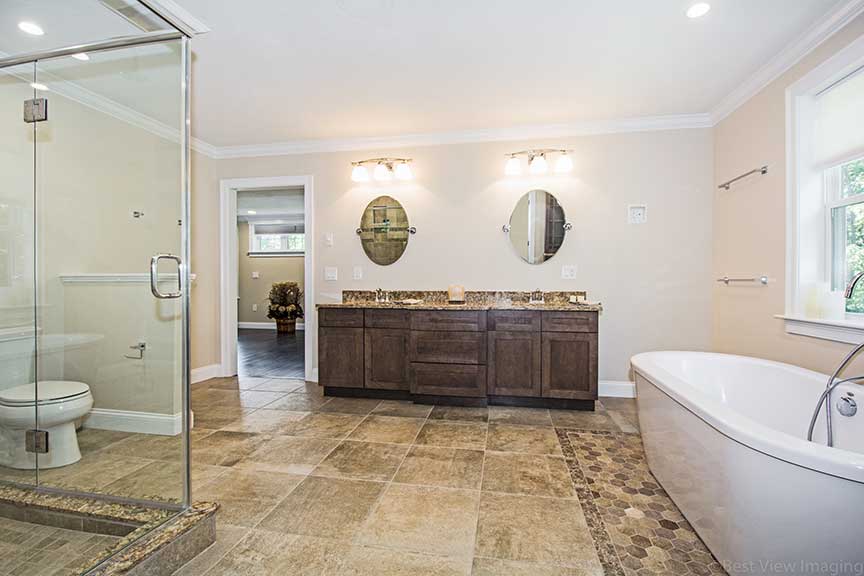 Image Source: Seal Harbour
Master bathroom design #4
Image Source: Awesome Decors
Master bathroom design #5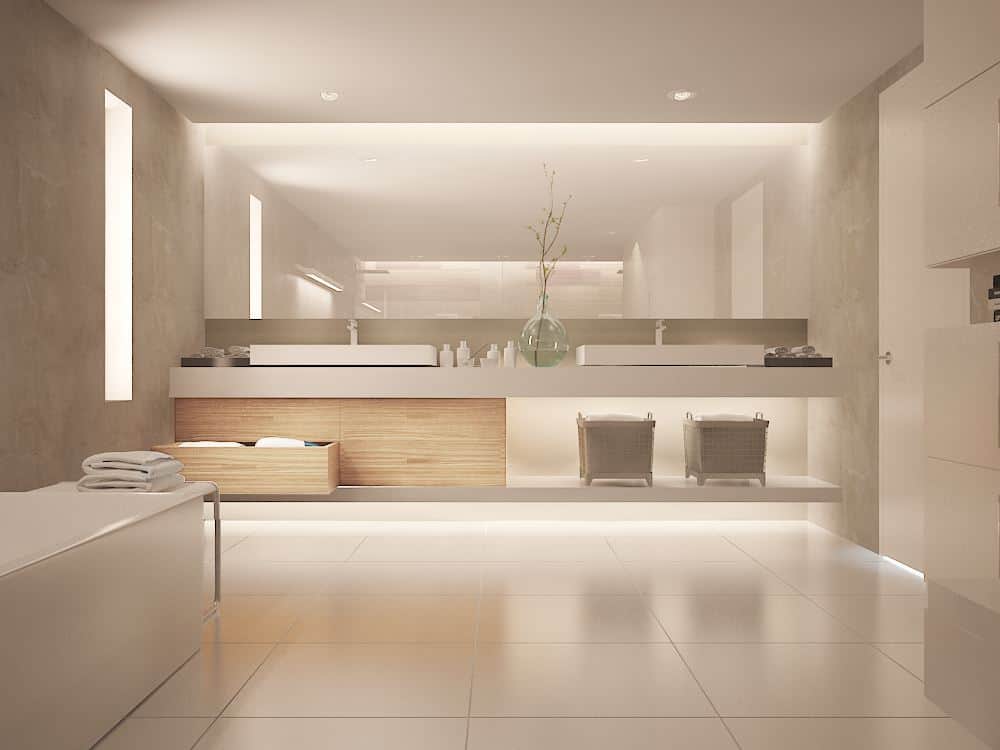 Image Source: Trends Decor
Remarkable Bathroom Design Ideas
If you do not have space constraints and want to play with contemporary style, here are a few bespoke bathroom ideas for you:
Modern bathroom design #1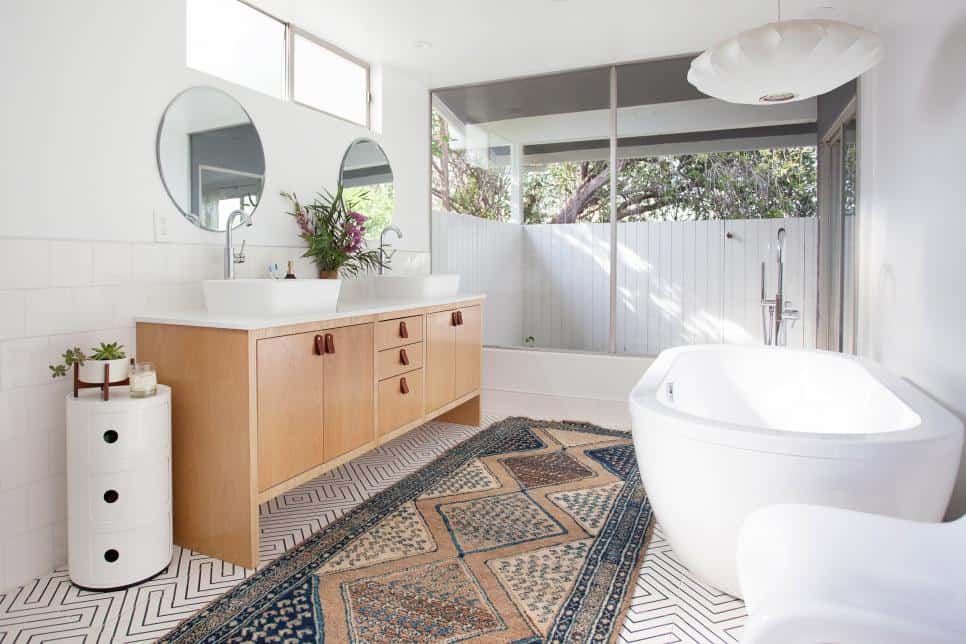 Image Source: HGTV
Modern bathroom design #2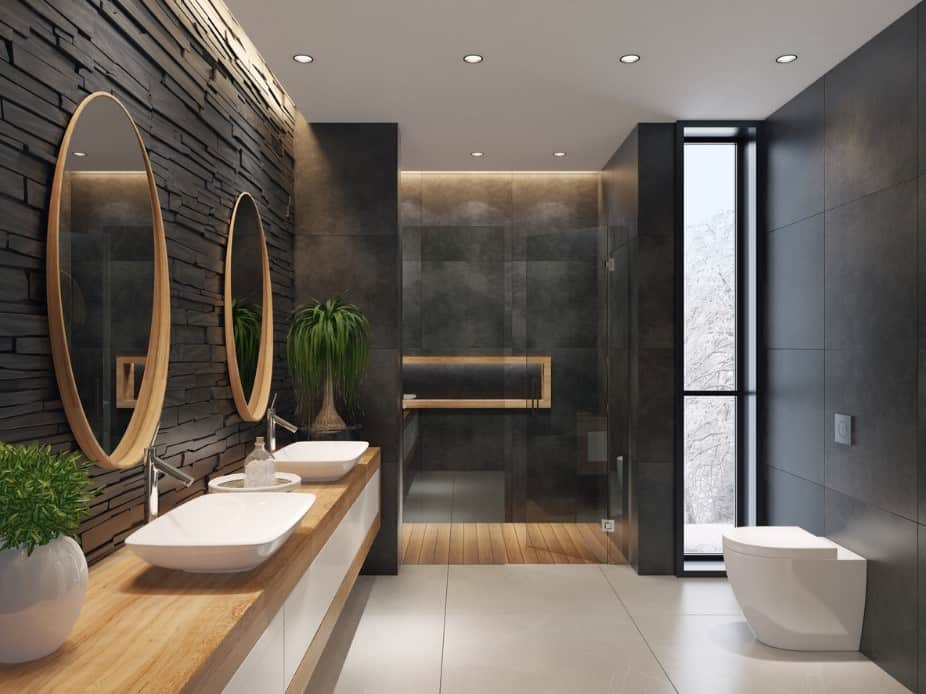 Image Source: DBS Bathroom
Modern bathroom design #3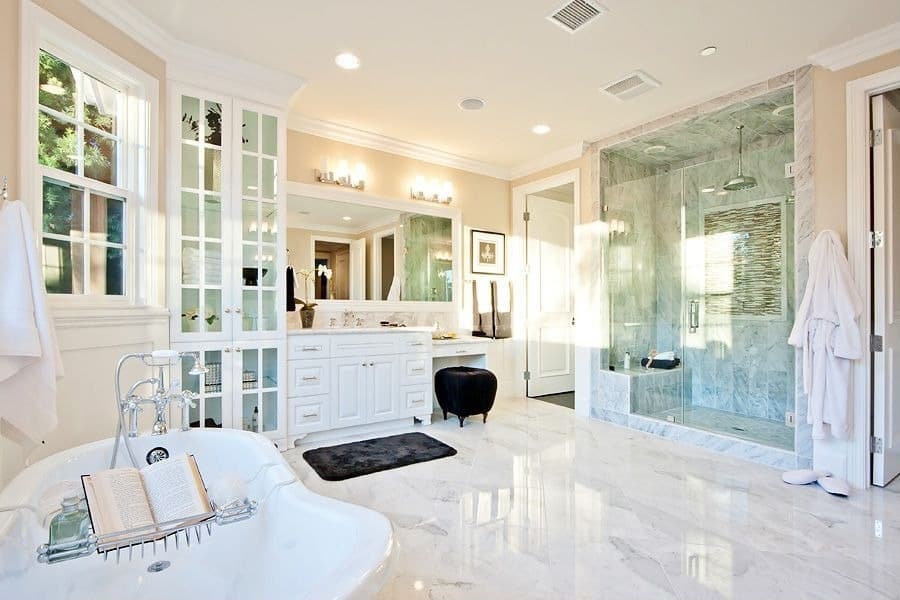 Image Source: Dwelling Decor
Modern bathroom design #4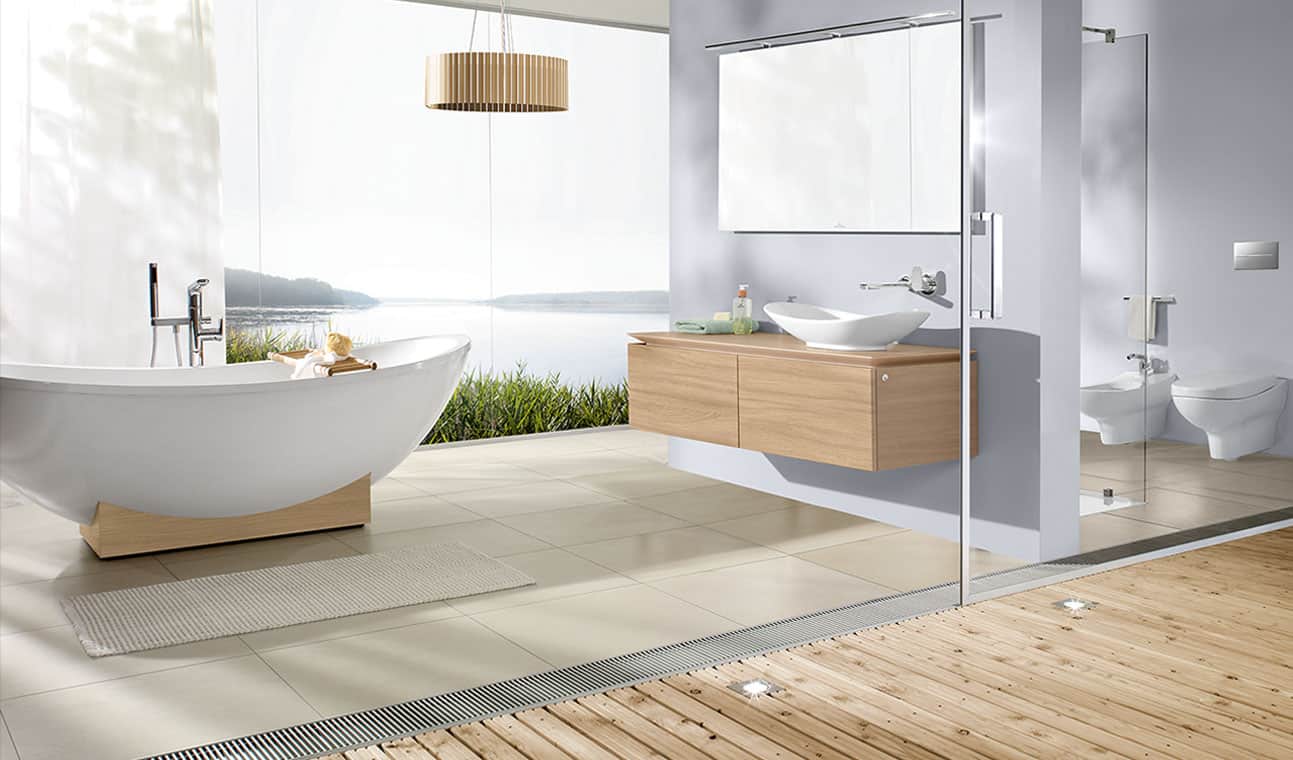 Image Source: Bathroom Design
Modern bathroom design #5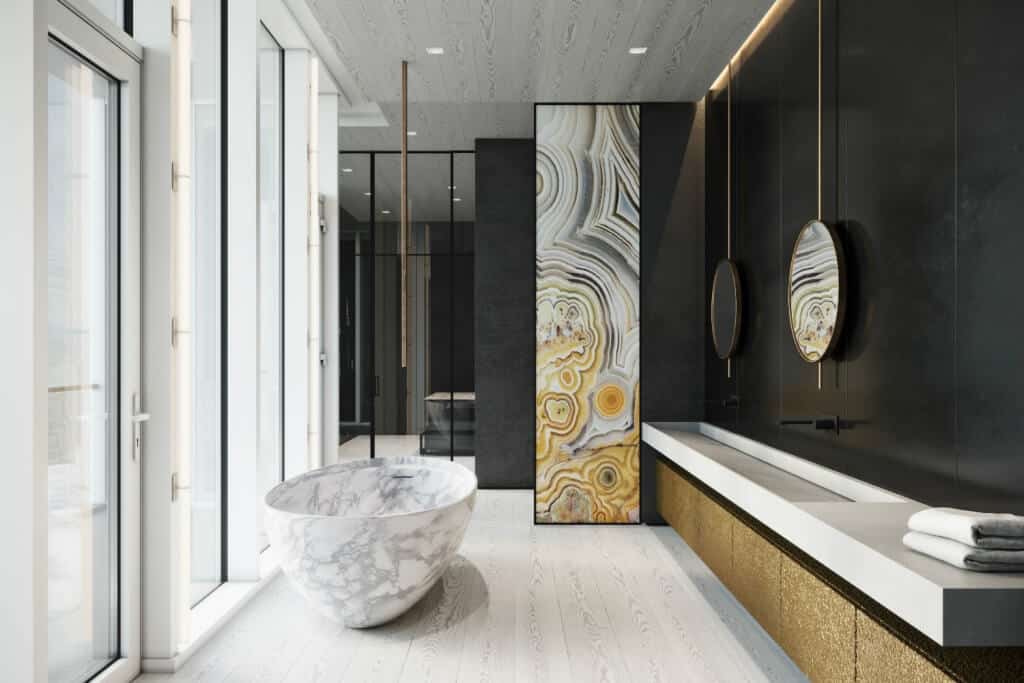 Image Source: Boca do lobo
Simple bathroom design #6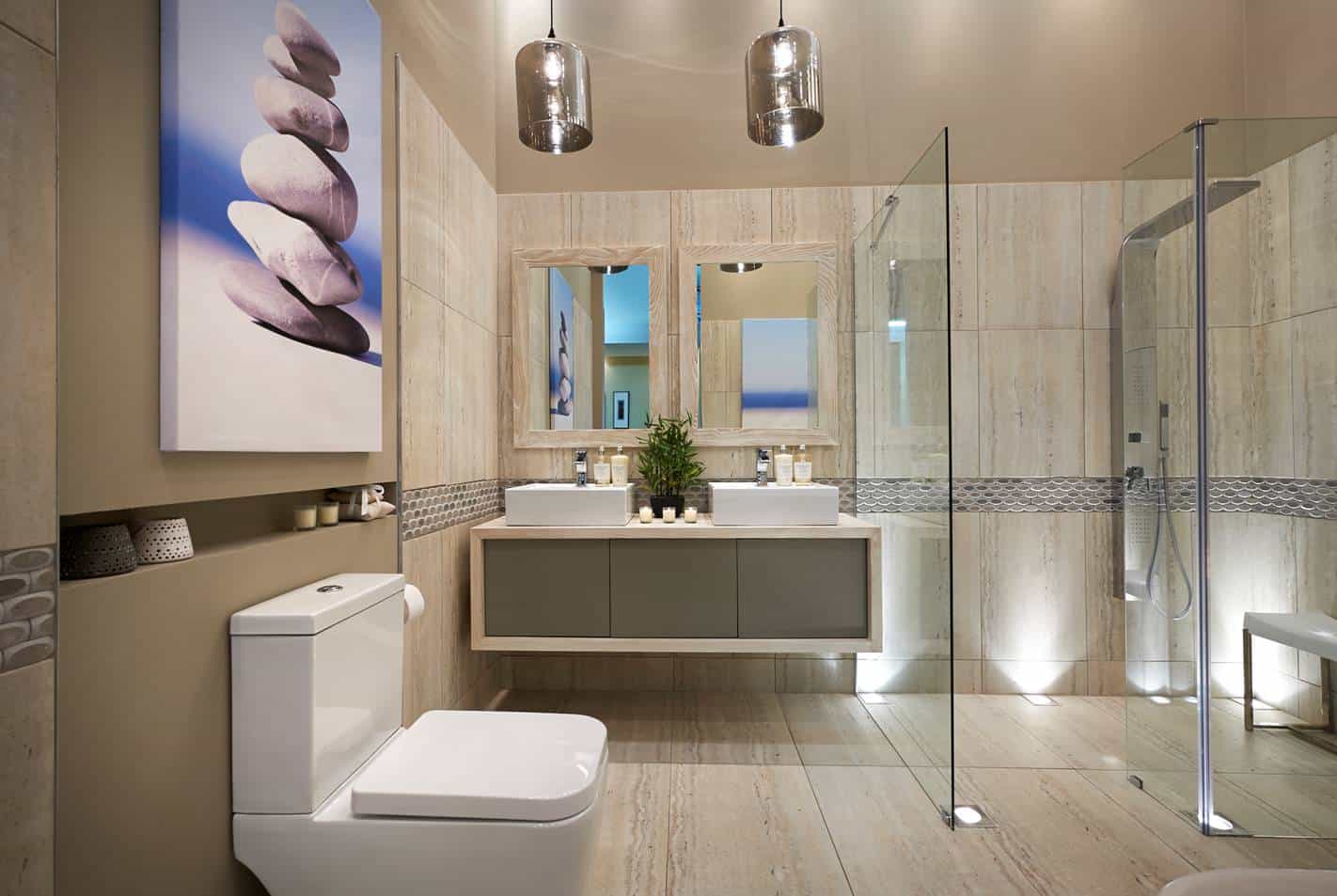 Image Source: Sahoma Owner
Simple bathroom design #7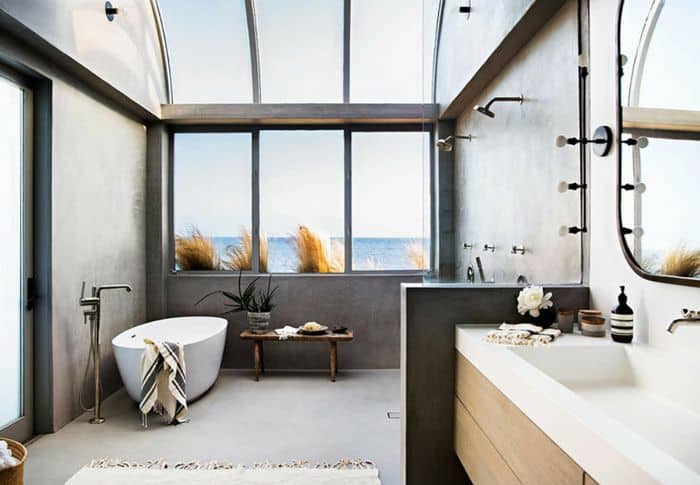 Image Source: My Domaine
Simple bathroom design #8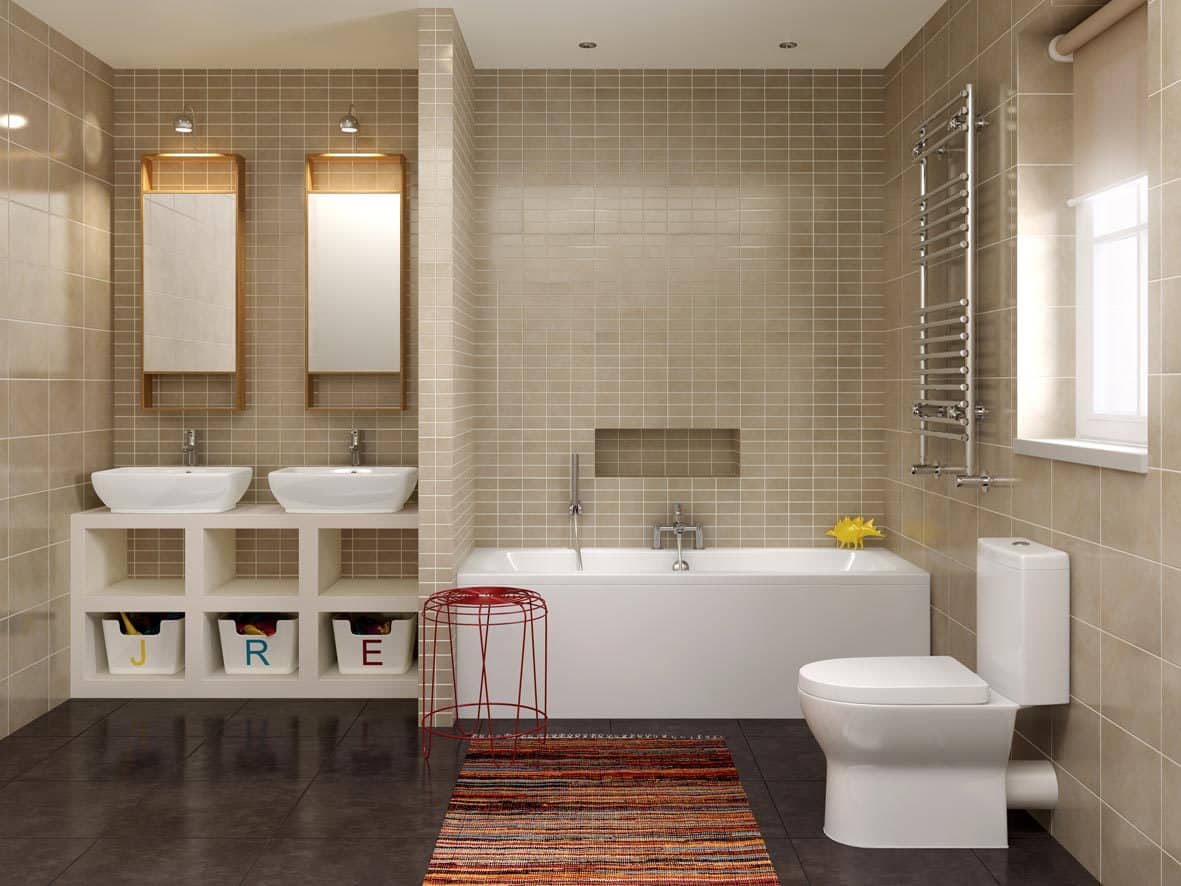 Image Source: Motherhood The Real Deal
Simple bathroom design #9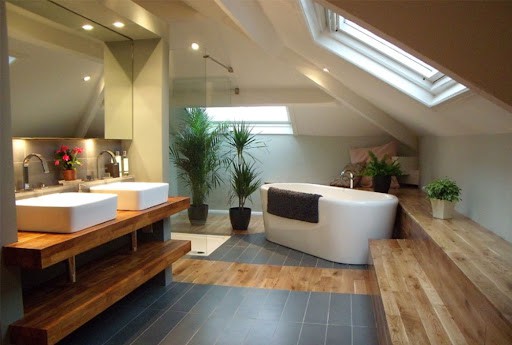 Image Source: Hyatt Interiors
Simple bathroom design #10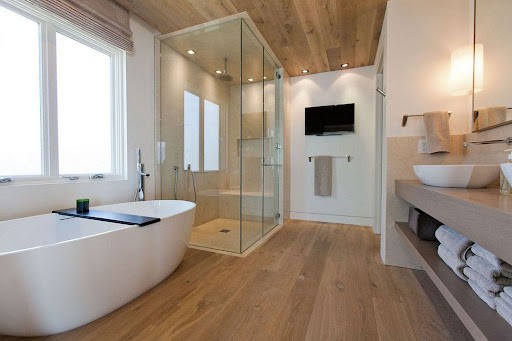 Image Source: Graficalicus
Common bathroom design mistakes and their solutions
Opening the door to the toilet view
A common mistake that destroys the look of the bathroom interior designs for a home is having the bathroom door open directly to a view of the toilet seat.
Solution
Place the toilet seat behind the door or to a side where it doesn't remain in view. Also, when installing the toilet seat, leave at least 20cm on both sides for the elbow room.
Overlooking the door clearance
You have installed beautiful bathroom vanity interiors. But you placed them right behind the door. Sadly, the door would now hit the stylish vanity or bathtub unit every time you open it. Also, it will block the view.
Solution
If you have space-crunches, install sliding doors to maximize the space and use it efficiently.
Not enough storage
Insufficient storage happens mainly because we focus too much on the bathroom design for home and not enough on functionality.
Solution
In a bathroom, eye-level storage space remains extremely important. So, you can incorporate more storage without needing a lot of extra space in the following ways:
Choose a mirror cabinet recessed into the bathroom wall instead of installing a plain wall mirror. But if you have a vanity, ensure that the width of the mirror remains the same or smaller than the vanity but never larger.
Incorrect shower screen
A leaky shower screen always leaves the bathroom floor wet after use. Thus, it ruins the entire bathroom design for the home and can be extremely annoying.
Solution
Always measure the dimensions of the shower area carefully before buying or customizing a shower screen. Also, install the shower doors firmly. Additionally, ensure that door has effective caulking as well as a top-quality door sweep for easy cleaning.
Simply resorting to overhead lighting makes the bathroom design for home too bright and creates a lot of shadow areas. Also, it does not make it a space for relaxation at all.
Solution
Instead of having a single layer of lighting, plan a layered bathroom lighting scheme. Thus, it should include LED light strips, concealed lighting, downlights, wall lights, panel lights, and more.
Untreated wood for the bathroom
Wood remains our first choice for a luxury bathroom design idea for a home. But it gets damaged easily.
Solution
If you want to install oak-fronted units in the bathroom or country-style wood paneling, ensure that the wood is treated properly and correctly against moisture, humidity, termites, and molds.
Not having separate zones
In a bathroom space with a huge area, installing all fixtures around the perimeter of the space leaving a big vacant space in the middle seems really bad.
Solution
Divide the bathroom into separate distinctive zones. So, you can have individual space for a shower, vanity, toilet, and bath. Thus, you not only enhance the bathroom experience but also make it look more aesthetic and royal.
Lack of practicality between layout and plumbing
Planning a bathroom layout remains quite technical, especially because it depends a lot on the plumbing scheme. So, a poorly planned bathroom causes extreme challenges later on.
Solution
Address the plumbing plan before finalizing your bathroom layout. A toilet should be a maximum of 6m from the soil pipe for proper drainage. Also, the bathtub, shower, and basin must remain at a maximum distance of 4m from it. So, understand the connection of the small pipes to the soil pipe before deciding on your bathroom plan.
Poor ventilation in the bathroom design
The bathroom remains the most humid space in a house. So, if it has a poor ventilation system, it offers a breeding ground for molds.
Solution
Plan the ventilation carefully. Also, invest in good-quality extractor fans.
Bathroom floor tiles design if not grouted properly cause leakage. Also, if your bathroom is on the first floor, prepare yourself to witness the horrors of seepage on the ceiling of the floor just beneath your bathroom.
Solution
Grouts not only protect the bathroom floor but also make it look more aesthetic. Thus, you can create eye-catching bathroom floor design ideas with dark-colored grouts. Also, if you want your bathroom space to look bigger, consider brightly coloured grout. Moreover, go for epoxy grout instead of cement grout to make the bathroom floor design idea more durable, stain-proof, and waterproof.
Also, do not install wrongly-sized tiles. So, for a small bathroom, use medium-sized floor tiles of 45cm x 45cm for a smooth look.
Conclusion
A bathroom design idea for home works best if all aspects are given proper and equal attention. Underestimating the significance of even the minutest detail can result in severe challenges for the users as well as for the bathroom structure.
From the right bathroom design layout to the correct sized accessories, Also, bathroom designing involves a lot of plumbing work too. All the valves, pipes, etc. are fitted inside the walls and floors during the initial stage of construction. Thus, you cannot leave the scope for structural changes later on.
Moreover, the use of correct ceiling and flooring design material plays a crucial role in defining the functionality of the bathroom.
Similarly, choosing the right bathroom lighting definitely comes in the top 5 of the priority list. We want neither an overly lit bathroom nor a dim and dull bathroom space. Also, we definitely don't want a bathroom with too many shadow spots and risk getting hurt while performing delicate tasks. So, the best bet remains to have a layered-lighting approach with careful planning.
The size of the bathtub, shower, and toilet must complement the area of the bathroom. Also, overly sized or too small bathroom accessories and fittings make it difficult to utilize the bathroom up to its full potential.
So, consider all the aspects of a modern bathroom design for home to avoid all major and minor errors and give a perfect bathroom to your clients.
For Enquiries
If you want to buy top-quality bathroom accessories, fittings, and sanitaryware from the best brands, click on the link given below to check your options and submit your inquiries:
For more details, contact below:
Email: mukul.jain@buildingandinteriors.com
Mobile: +91 99676 32127
[vvsmustread]