It is no surprise that the recent trends in Indian bathroom design indicate the changing preferences toward a more luxurious feel with the emergence of colours in bathroom design. With a focus on innate minimalism, bathrooms are being designed in a tone of tranquil luxury. As a result, the modern colour palette remains notably neutral, which essentially provides the touch of exquisiteness in bathroom interiors design language. Interestingly, adding the right amount of colour in an overall neutral tone of a bathroom breaks the monotony and brings a personal touch to the bathroom design. Also, bathroom colour incorporates all elements such as ceiling and floor tiles, sanitaryware, accessories, wall paint, etc.
Add to that the ongoing pandemic, working from home has become an integral part of the new normal worldwide. It has now become particularly essential to integrate the warmth of home and professionalism of a workplace in a single space.
Importance of colours in bathroom design.
Colour elements sprinkled across specific spaces in the house add to the sophistication elements. With bathrooms becoming the place for relaxation and rejuvenation, bathroom design has increasingly been focused on adding modern colour elements in innovative ways – bathroom tiles including wall tiles and floor tiles, sanitaryware including washbasin, bathroom fittings, bathroom accessories including health faucets (even the pipes come in coloured finishes like Rose Gold, Bronze, Copper and Gold), bathroom cabinets (being made in waterproof plywood), etc. Colour not only adds to the liveliness of the bathroom space but also adds a personal touch to these relaxing spaces. It can, on one hand, help to fight depression, stress, and anxiety on the other, boost the morale and motivation of the inhabitants.
Moreover, have you ever thought of colours and their significance on the overall look of your house? Do you know that colour psychology is as real as choosing the right material for your furniture?
Most of us tend to pick the trending colours for our modern bathroom designs. However, a colour that is hugely in trend might not go well with the user's personality and taste. In addition to that, colour schemes also impact our thoughts, behaviour and mood. Therefore, as an interior designer, it is important for you to choose the right colour scheme for your bathroom design that goes well with the user's personality.
Let us understand some basic colour psychology concepts and their use:
Red
The red colour symbolizes highly charged feelings such as bravery, aggression, passion, and danger. It is dynamic, exciting, provocative, and challenging.
Yellow
The colour yellow denotes energy. It shows brightness, cheerfulness, warmth, and vibrance. If your client is a dreamer and wants to give a soft and mellow touch to the bathroom, yellow is just the right shade for you.
Orange
The orange colour evokes confidence and energy. It is warm, intense, and friendly. Orange colour is believed to be inviting and cheerful. However, shades like yellow and orange, when exposed for a very long period of time, might arouse aggression too.
Pink
The colour pink symbolizes youth. It makes people feel good and high-spirited. The sweet colour is not too strong. The pink colour comes in many shades that give a stylish twist to your bathroom.
Purple
This colour gives a sense of wealth and prosperity. The lighter tones of purple are perfect for a minimalistic bathroom design. The colour makes rooms look wider and more fun.
Green
The colour green represents life, steadiness, and healing. For an interior designer, the green colour gives ample opportunities to reshape and redefine your modular, modern bathroom and give it a luxury bathroom look. The colour is always in trend and looks healing and refreshing. You can practically never go wrong with green.
Brown
The brown colour gives a classic rich look to the bathroom. It gives an organic feel and relaxes the mind. The sense of stability and success it comes with makes it more desirable.
Black
The colour black symbolizes strength, sophistication, and elegance. However, many people relate black to death and mourning. Therefore, as an interior designer, you need to be very careful about the manner and quantity of black colour you choose for your bathroom design.
Grey
The grey colour denotes a soft, mature, and stable look. Unlike black, grey does not come out as too overpowering. It has a tender finish and gives a neutral look. Grey is becoming increasingly popular since the lockdown as it gives a professional touch to the house. Beige and taupe are a few other neutral colours like grey. These colours are perfect for your home office look.
White
The colour white represents calmness, simplicity, and purity. People who are naturally inclined towards neatness and cleanliness appreciate this colour greatly as it gives a sense of clarity.
Ways to add the right amount of colour in bathroom design
Bringing colour into the bathroom in coordination with the neutral colour palette enhances the aesthetic balance and elegance of the space significantly. To maintain the right balance, the following bathroom appliances and furnishing products can be incorporated into a bathroom.
Tiles are the more permanent options for adding colour to the neutral bathroom design. Colourful bathroom wall tiles and floor tiles colours can immediately transform the entire appearance of the bathroom while maintaining the subtle minimalist neutral tone of the other aspects. The use of colourful tiles adds to the warmth and personality of the bathroom space.
Along with floor tiles, textured wall tiles bathroom are also a great option to uplift the neutral space with a bit of colour. Incorporating wall tiles creates an accent in the neutral bathroom in stark contrast to the existing colours and makes the bathroom space ever brighter.
Many top brands offer a wide selection of colourful tiles in various textures. The bathroom tiles provided by these brands are suitable for floor, walls and shower panels depending on the tile type. RAK Ceramics, Johnson, Nitco, and Nexion are some of the brands that have innovative colour ranges.
CP Fittings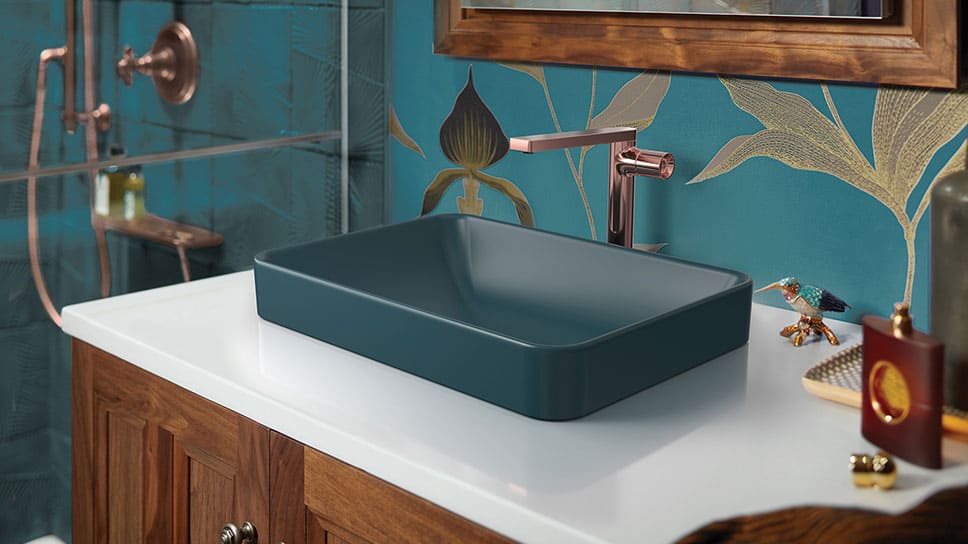 Chrome Plated Fittings (CP fittings) are other functional options to add colour to Indian toilet bathroom designs. With the increasing availability of different colour varieties in fittings, these are opening up subtle options to add the right amount of colour to the space.
Using fittings in matte, chrome-plated, or metallic plated varieties ensures that colour is added in the Indian bathroom design space in splashes and does not overwhelm the space with a single solid continuation of colour. They are the best minimalist solutions to add colour and warm tones without spoiling the neutral tranquillity of the bathroom.
Hansgrohe, Gessi, Jaquar, Kohler, Roca, Grohe and Duravit, are some of the brands for some innovative CP fittings choices. These brands offer a variety of options, including varieties of finishes, colours and designs to choose from, that perfectly suit the requirement of respective bathroom interiors.
Sanitary ware: Wash Basin, WC, Bath Tub
A convenient option to add colour and personality to the bathroom is by bringing in colourful and decorative sanitary wares. Choosing a proper washbasin, vanity cabinets, storage cabinets, water closet (WC), bathtub, etc. can significantly change the appearance of the space. Moreover, these options are particularly functional and hence do not require any additional elements to add sufficient colour.
Adding a colourful vanity cabinet (bathroom cabinets) can bring warmth to the space and adds elements of personal touch. This can easily transform into an accent that will draw enough attention to its colour, not overwhelming the space with more than what's necessary. Choosing a bathtub with a contrasting hue can also change the overall appearance of the bathroom while preserving the aesthetic balance.
Villeroy & Boch, Duravit, RAK Ceramics, Kohler, Jaquar, TOTO, Roca, American Standard and Jaquar are among the topmost sanitary ware brands. These brands provide a wide selection of all kinds of sanitary wares that never fails to meet the individual demands of the bathroom space. The sanitaryware considerably adds a characteristic impact to the bathroom interiors with adequate functionality and high quality.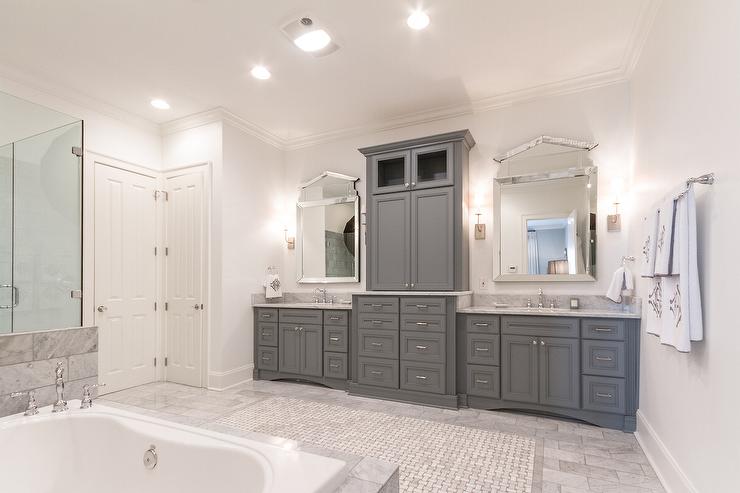 Additional bathroom furniture like multipurpose cabinets, bathroom stools, shower benches, towel racks, etc. can considerably contribute to the colour of the bathroom space. Adding these extra elements in synchronized colours can effortlessly uplift the mood and tone of the bathroom. These extra pieces of furniture also add functional features to the space.
Villeroy & Boch, Duravit, and Roca are some of the brands offering solutions in the bathroom furniture segment.
Adding suitable bathroom accessories can entirely transform the mood of your washroom. Adding colour in the bathroom through colourful and aesthetic accessories are indeed great options for the subtle touch. The accessories like light fixtures, towels, toiletries, holders, plants, mirror decorations, etc., add personal touches to the space and compliments the other colourful elements of the bathroom space elegantly.
Choosing a light fixture matching the functional requirement and aesthetic coordination can effectively add a quirky, colourful element to space and add warmth. Similarly, toiletry holders and stands add simple splashes of colour that enhance the overall appeal.
Colour coordinated towels and bathroom rugs also add a significant amount of colour and style to the space. Potted plants and hanging planters add greenery to space and give a fresh and colourful touch to the bathroom interiors.
Adding a bit of colour through some elements in the bathroom can instantly uplift the mood of the user. Overall, it adds to the appearance of the space, providing a perfect relaxing station with an adequate personal touch. More importantly, the minimalist temperament of the Indian bathroom design can still be appropriately preserved and enhanced with a balanced addition of colour tones through these various ways of aesthetic coordination. Most of the bathroom fittings (CP fittings) brands offer bathroom accessories as part of their individual ranges.
Colour combinations in Bathroom design
Now that you know how to mix and match different bathroom accessories, furnishing products, and appliances to get the right colour combination, you must also know what the right colour combination is. Choosing the wrong colour codes and contrasts can become disastrous for the bathroom interiors and by extension the overall look and feel of the house.
Therefore, here are some of the most preferred and unique colour combinations for beautiful Indian bathroom design.
Red and White bathroom paint
A glossy shade of red adds spunk to a white bathroom. You can use red wall tiles or bath mats and paint the remaining bathroom white. This colour combination gives a clean, welcoming, and refreshing look to the bathroom interiors.
Light shades of blue and white bathroom paint
Pale or coastal blue with white is an utterly serene colour combination. It brightens up the entire room. The combination is perfect for a small Indian bathroom design or a bathroom that does not get too much natural light.
Black and white bathroom paint
One can never go wrong with this classic colour combination. From traditional Indian bathroom design to a modern, uptown look, the black and white colour combination goes well with every style. For a more impactful look, you can add yellow lights to fill the room.
Cream and chocolate bathroom paint
Weren't expecting this in the list, were you?
Regardless of how uncommon it seems, chocolatey brown and cream colour make a perfect pair. The combination breaks the monotony of basic colours and gives a luxurious, expanded, and cosy look to the modular bathroom.
Cream and Golden/Metallic bathroom paint
The golden colour is by far the most luxurious colour. When paired with a soft shade of cream, the combination makes the bathroom look gorgeous. However, you must use metallic shades in a limited amount. Overusing them might make the space feel overwhelming.
Dark blue and grey bathroom paint
Choosing dark colours is a big gamble as they can easily go wrong even at the smallest over or underuse. However, if you pick the right shades in the right quantity, they can do magic. A pale grey shade, when contrasted with dark blue, makes the Indian bathroom design unique and gorgeous.
Ombre shades bathroom paint
This new technique of painting has gained wide popularity over the years. Ombre is graduating from a lighter shade of the colour to its dark shade. It is a micro-trend of the season. The best part about ombre is that it gives a modern bathroom colour as well as a rich country scheme to your minimalistic bathroom look. Colours like blue, orange and pink perform wonders in an ombre effect.
Wood and white/grey/silver bathroom paint
If you wish to give a rustic yet modern bathroom colours look to your Indian bathroom design, play with the shades of wood. Pair the wooden colour with white, grey, or/and silver for a rich colour scheme. Using the silver shade might be a little tricky as we don't want to take the limelight away from wood. However, using all the colours wisely will make the bathroom look stunning.
Pink and black bathroom paint
The bathroom is the first place we go to after waking up in the morning. Colours like pink and lavender energize the room and give the bathroom a bright and modern tone. Contrasting the power of pink with the shades of black makes the Indian bathroom design more impressive and appealing.
Neutral colours in bathroom with bright highlights
If you are not looking for something too vibrant and strong, go for neutral colours like beige, grey or taupe. Add small pieces of accessories or products of bright colours such as red or yellow. This will take away the dullness of natural shades and won't hurt the eyes too.
Coloured bathroom design gallery
Conclusion
A few changes, additions, and tweaks here and there can give an exciting vibe to your bathroom interiors. It is essential for the Indian bathroom design to speak for the user. Since it is the place you spend your maximum time in the morning, it should suit your taste and enhance your personality. Therefore, choose the colours that boost your energy and provide a calm respite from the hustle and bustle of the outer world.