The Caesarstone Metropolitan Collection by Hafele is crafted beauty reflective of the layers found in industrial art and architecture, highlighting dimensional surfaces and unpolished colours in the kitchen countertops, as well as bringing quartz texture to the forefront. The colours within this collection – Excava, Airy Concrete, Topus Concrete, Rugged Concrete, Cloudburst Concrete and Primordia, exemplify the authentic touches of manufacturing such as oxidized steel, poured plaster, and raw concrete. Moreover, factories and lofts that translate into residential and commercial interiors inspire the colours.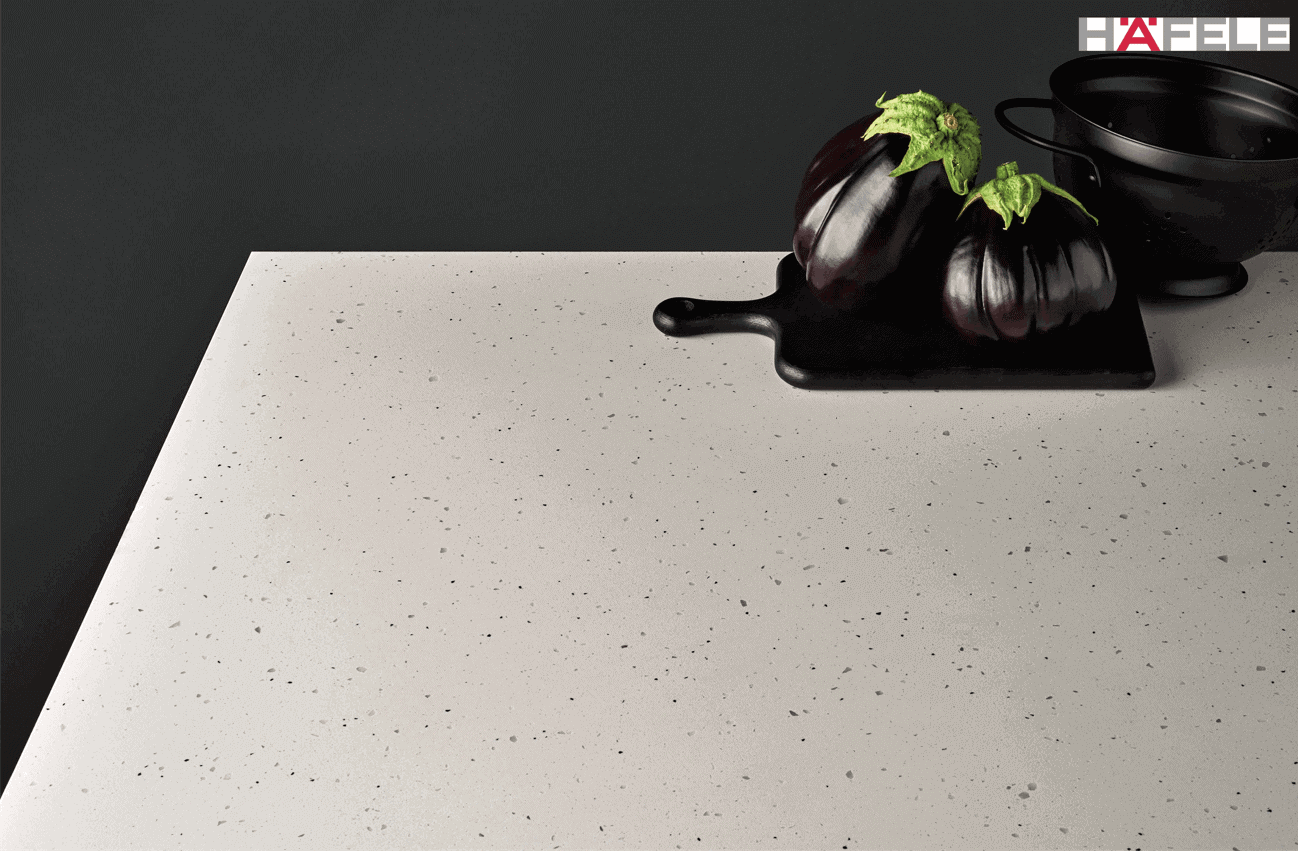 To create these colours, Caesarstone utilizes cutting-edge technology that achieves a never experienced before weathered patina in quartz. Non-porous, scratch-resistant as well as highly resistant to stains, all Caesarstone Surfaces by Hafele retain their beauty without sealants or waxes. Moreover, these kitchen countertop designs are practically maintenance-free.
The Metropolitan Collection – Kitchen Countertop Colours
Excava: Deep auburns, chestnuts and coppers sweep across an unpolished canvas. The intriguing manufacturing patinas of casting and oxidizing inspires the surface's excavated look and feel. In Excava, authentic features of rust and concrete are achieved for the first time in quartz.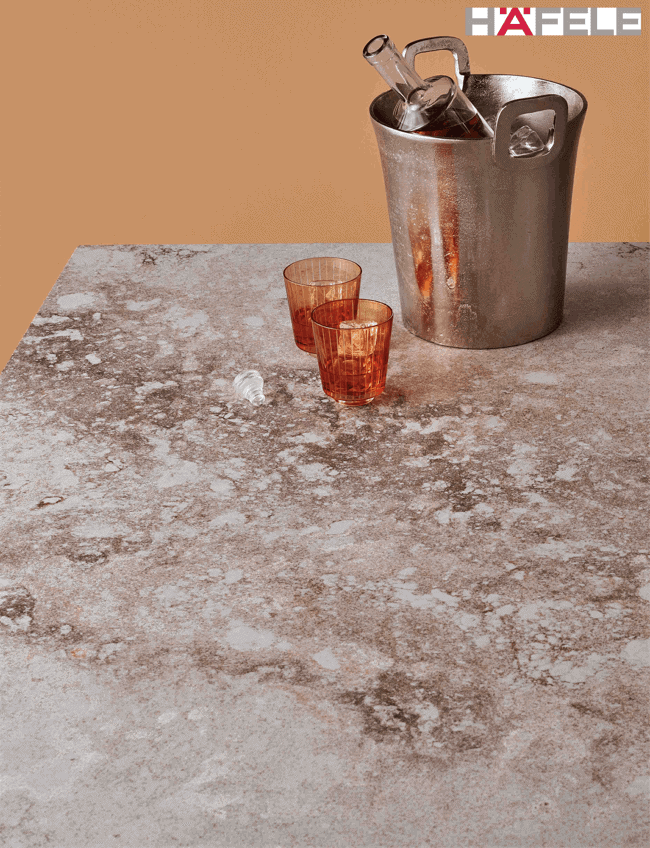 Topus Concrete: Rich shades of buttermilk overlay a cream-toned base creating a multi-layered effect. The subtle movement of the surface reveals depth and dimension as undertones reflect the pastels that are shaping interiors today.
Airy Concrete: A calm grey base enhanced by white and dark grey veins feature the interplay between water and air creating the appearance of waves billowing to the surface. Airy Concrete meets the ongoing demand for industrial design with a softened edge.
Cloudburst Concrete: Soft swells of the pure white veil a creamy white base as rich tones and an innovative texture further define its captivating, infinite beauty. Cloudburst's sophisticated surface delivers a concrete-like feel.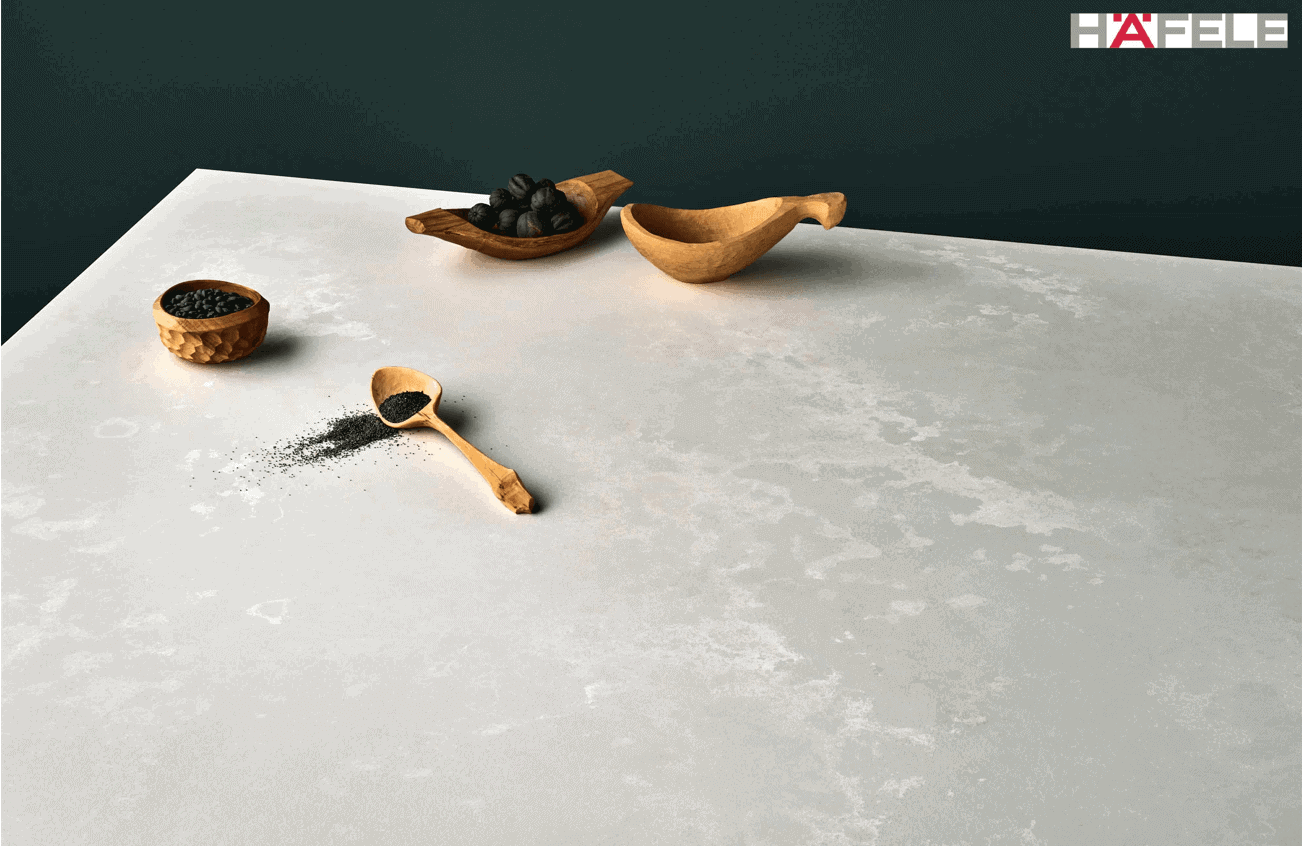 Primordia: The cool grey complexion echoes the character of concrete, evoking the provenance of its contemporary feel. Soft mineral accents in off-whites and greys combine with darker veins of grey-brown. Also, a light grey base reflects the oxidized rusts found in natural stone.
Rugged Concrete: A medium grey base camouflaged by billows of white, Rugged Concrete quartz countertop exudes confidence, competence as well as fortitude. Appealing to men and women, this Caesarstone colour suits a chic, urban loft for a modern, unfinished edge. Also, it can mix with softer décor motifs to add a warm rustic charm.
Click here to find the nearest Hafele showroom or design centre for the kitchen countertops.
Customer Care (Toll-Free): 1800 266 6667
Customer Care (WhatsApp): +91 97691 11122
Email ID: customercare@hafeleindia.com