Remodelling or designing your bathroom is a fun process until the overwhelming task of selecting the right fittings and accessories begins. To select the right bathroom vanity for your large or small bathroom while keeping it functional, you need to be aware of the various types of vanities. A terrific vanity will give you a cosy place to not only store things but also secure a fantastic sink. In reality, a lot of bathroom vanities are made with elegant details around them to produce rich looks. However, you need to pay attention to what it is you are installing if you want bathroom storage cabinets and vanities in modern design. You can pick a classic bathroom vanity, a contemporary vanity, or a free-standing vanity with a bowl sink, that is both aesthetically pleasing and fully functional. 
Depending on your preferences, a vanity can be designed specifically with either a modern or elegant appearance. Additionally, the cost of your vanity can vary depending on your selection.
So, continue reading to explore different types of bathroom vanities along with a detailed selection guide and shopping options from the top bathroom accessories brands.
Types of bathroom vanities
Mirror vanity cabinets
As the name suggests, mirror cabinets are compact vanities that are mounted on top of your washbasin or sink and have a mirror as their front surface. These types of vanities are an excellent choice for small bathrooms as they do not require any extra floor space. Mirror cabinets can store your toiletries and medicines and conceal them with a mirror cover that can be opened to fetch your items and closed to be used as a mirror. Above displayed are a few inspirations for bathroom mirror cabinets that you can use for your bathroom. 
Wall-mounted bathroom vanities
Wall-mounted vanity cabinets are a little different because they are affixed directly to your bathroom's walls. This is an excellent choice because it can easily fit in your bathroom and doesn't take up a lot of room. Additionally, it is not required to be directly connected to your floor. However, you should exercise caution when installing it. Any thrusts or other forces applied to the surface could harm it. If you are not careful, using too much power could cause the vanity cabinets to come off the wall and damage your bathroom.
Freestanding bathroom vanities
A free-standing vanity has some of the same practical elements as a pedestal sink vanity but has a square or rectangular form. It can hold one or two sinks in a single location. This is a fantastic pick that comes in a range of design options and finishes. The majority of these vanities are normally made of wood, while the top parts may contain some ceramic accents.
Double bathroom vanities
Twin vanities in the bathroom are life-changing for those living with their spouse or family. These popular fixtures feature two sinks and a sizable counter. Although floating versions are also available, traditional double vanities are roughly 72 inches wide and have a cabinet base. Thus, this one requires more capital and space than other vanity styles. 
Corner bathroom vanities
Simply said, corner vanities are vanities with attached sinks that are fitted neatly into the bathroom corner. This choice is a lovely, space-saving option for both small and spacious bathrooms and powder rooms. Install a single mirror and a stylish sconce fixture on one wall or hang a mirror across the middle of each wall for an elegant look in your bathroom.
Vessel basin vanities
In upscale dining establishments and hotel lobbies, vessel vanities are a common sight. A rising bowl surrounds the sink area on this vanity. It extends from the vanity's main body and is connected to a separate tap. There are storage cabinets at the bottom of the sink countertop. This is a lovely option to have, depending on what you intend to use it with. This type may take up a lot of room but will surely add charm to your bathroom.
Bathroom vanity selection guide
User specification
You should choose a vanity after considering the kind of functions it will be subjected to and the people who will be using it. For instance, you should choose a vanity with a double sink if you are remodelling an en suite for yourself and your spouse and both of you need a sink in the morning. You may want to get something smaller, like mirror cabinets or a corner sink vanity if you're living alone. You should also consider how you plan to use your vanity. If you enjoy doing makeup and hair in your bathroom, you'll need additional counter space and storage that a vessel sink vanity would provide perfectly.
Location of plumbing
Most likely, the plumbing in your bathroom will determine where your vanity cabinets are placed. Making plumbing upgrades is time and money-consuming. This implies that in deciding on a style, your plumbing will also have an impact. The standard plumbing design can be used, for instance, in a floor-mounted vanity. Moving the plumbing connections for your sink would be necessary to install a wall-mounted vanity. It is possible to move your plumbing. It just depends on what you want and how much money you have set out for the endeavour. This will enable you to focus on vanity styles if you choose to work with the plumbing configuration that is already in place.
Placement and size
The design of a bathroom is always changeable. Walls and doors? That's a bit more difficult. These fixtures restrict where you can position your vanities. When choosing a location, you should take the following factors into account:
Door swing: It is both useless and annoying if your bathroom door swings inward and bangs the vanity.
Shower space: Are you choosing a shower without a curtain but one with a door? You should take into consideration this additional swing when determining where to put your vanity.
The toilet: The vanity should be in front of, next to, or distant from the toilet, depending on your preference. You don't want to bang into your vanity in case of emergencies!
The movement: It shouldn't be difficult to use the area of your bathroom because of your vanity. You're going to feel frustrated and possibly even injured if you keep running into it while attempting to avoid anything else.
Having additional storage is one benefit of having a vanity. Finally, you'll have a place for everything! You need to have a look at the area and size you choose in step three before we get too excited about the storage. There might need to be some compromise, depending on the available space and the items you wish to store. You might not be able to fit three columns of drawers in the allotted area, for instance. Moreover, you might need to combine and match the vanity storage.
Style of sink
Though you've certainly spent a lot of time choosing the faucets you want, keep in mind that they are just one component of the sink. Additionally, pay close attention to the vanity sink bowl and how it will affect the bathroom design. Choosing the sink design for the bathroom vanity you like best can be a little difficult with so many options available. Choosing how much counter space you need and how much should be set aside for the sink is the ideal strategy.
Regardless of the type, a bathroom vanity sink will require some counter space. Depending on your choice, you can reduce or increase the amount of space it will require. To get a better idea of how you want your own vanity set up, compare vessel, under-mount, and all-in-one styles to regular sinks. The priorities for the vanity will also affect the size of your sink. A smaller sink, for instance, will allow you to maximise your available vanity space.
Material
Throughout its lifetime, your vanity will come into contact with a variety of materials. For example, water, makeup marks, and cleaning supplies. Since we love taking hot, steamy showers so much, the product will also be in a typically humid room. This means that you will need a vanity that can withstand any abuse that life may dish out. In comparison to other materials, some are better suited to hot, humid regions.
Although you might appreciate the way one material or finish looks, it might not be watertight or might be prone to scratches. Materials that perform well in bathrooms include wood veneers, laminate, and thermofoil. Also, they look good. Additionally, picking a sturdy vanity top is advisable and so is avoiding grouting that will be challenging to clean in the future. So, you can choose from a range of materials and counter surfaces to create a vanity that is both attractive and useful.
Shop the latest vanities for bathrooms from our top 10 picks!
Villeroy and Boch AVENTO Bathroom Vanity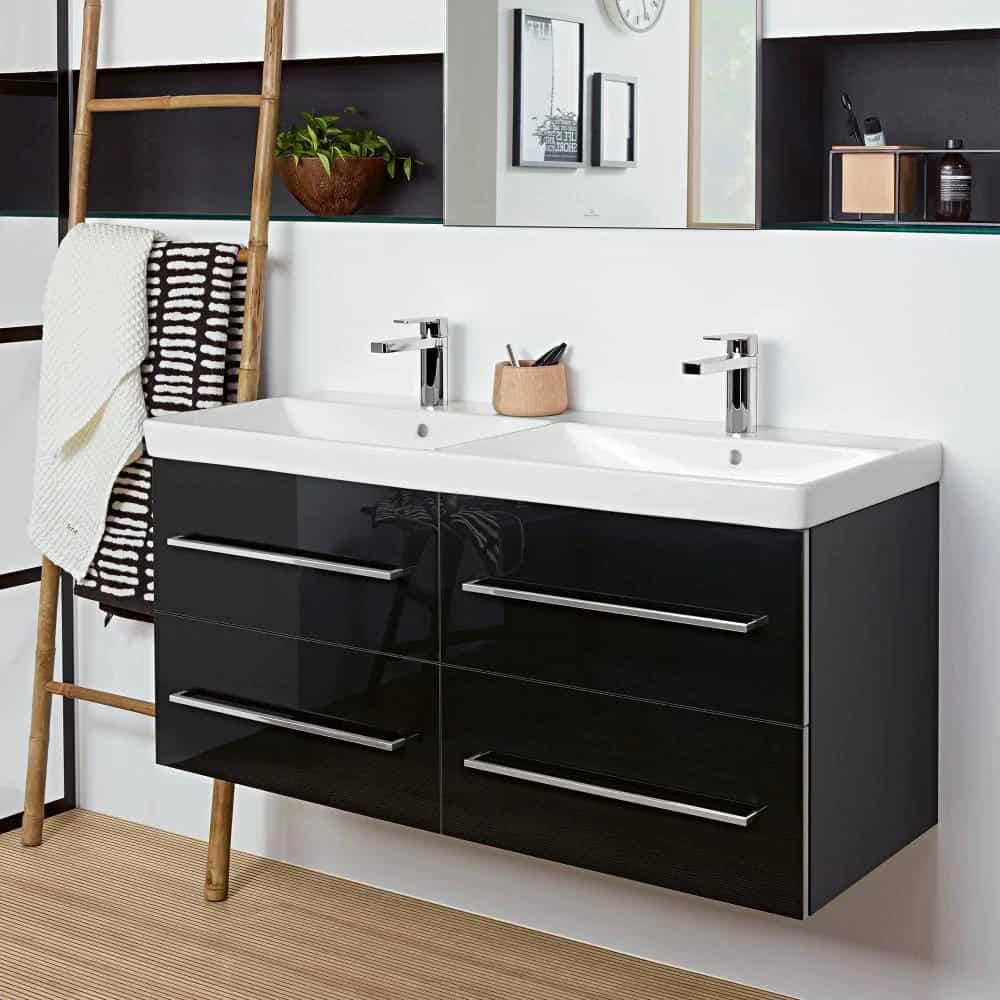 RAK Hazel Wall Mount Vanity
Kohler Luxe Vanity 750 (Natural oak)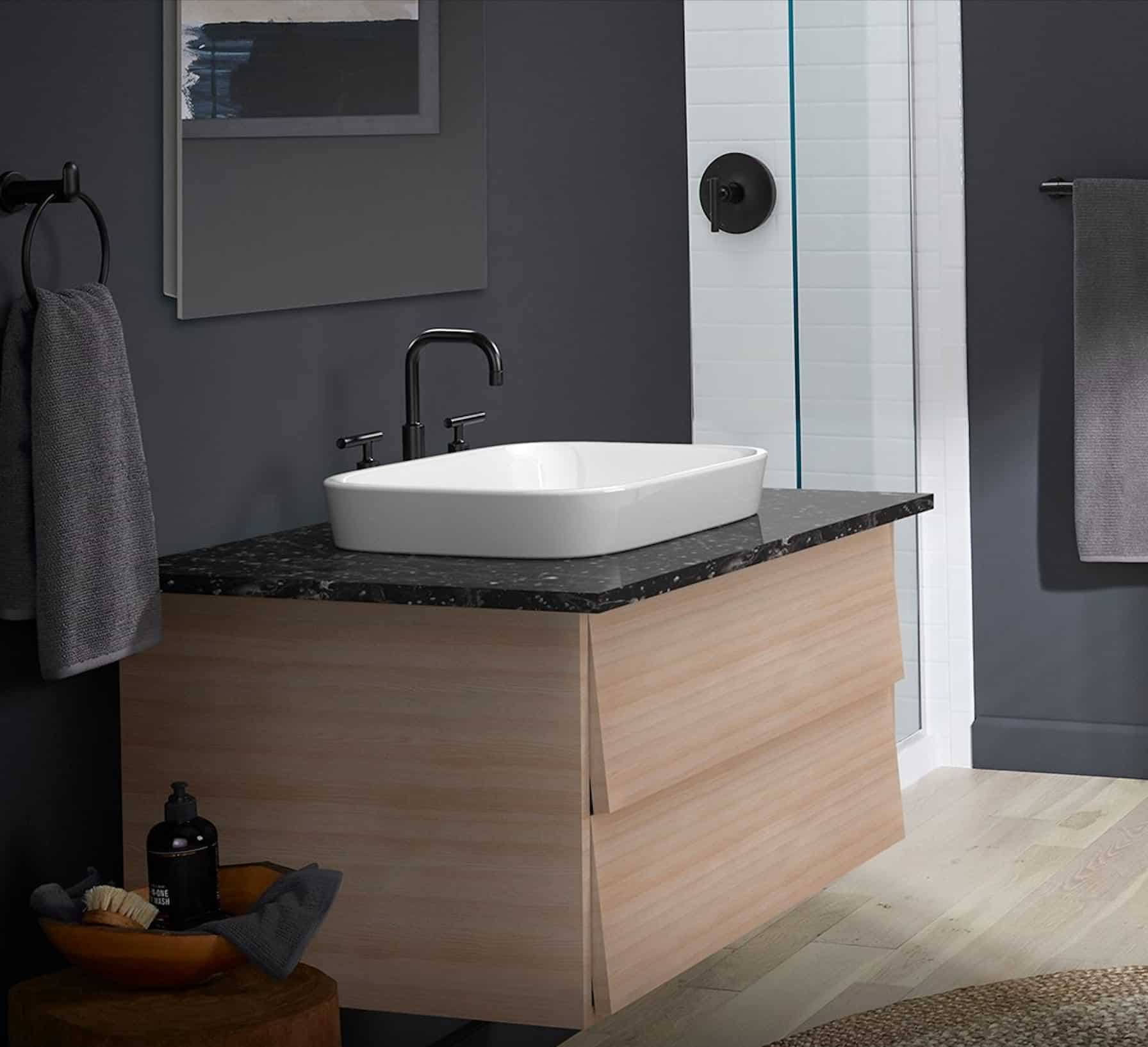 Roca Unik Vanity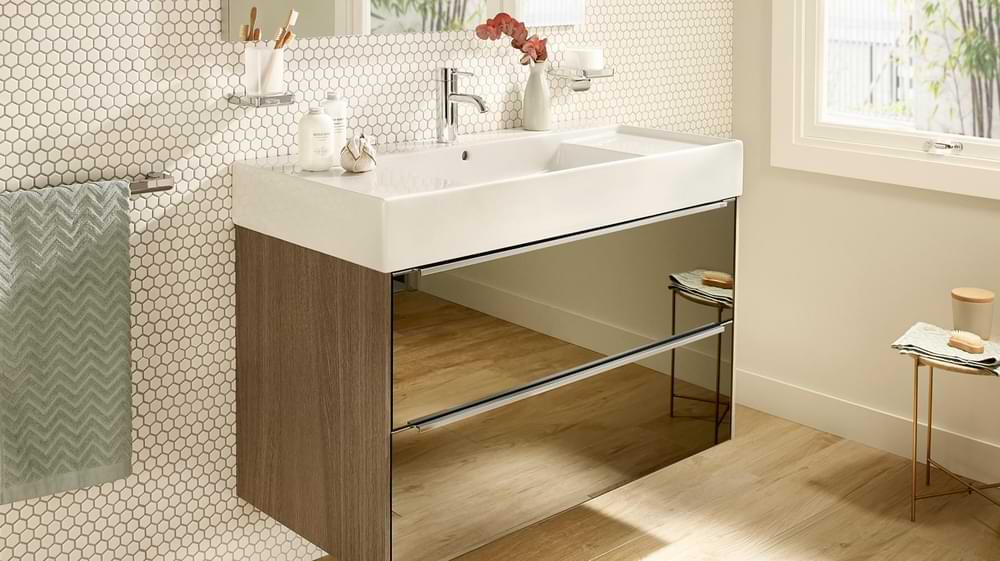 Duravit Freestanding Vanity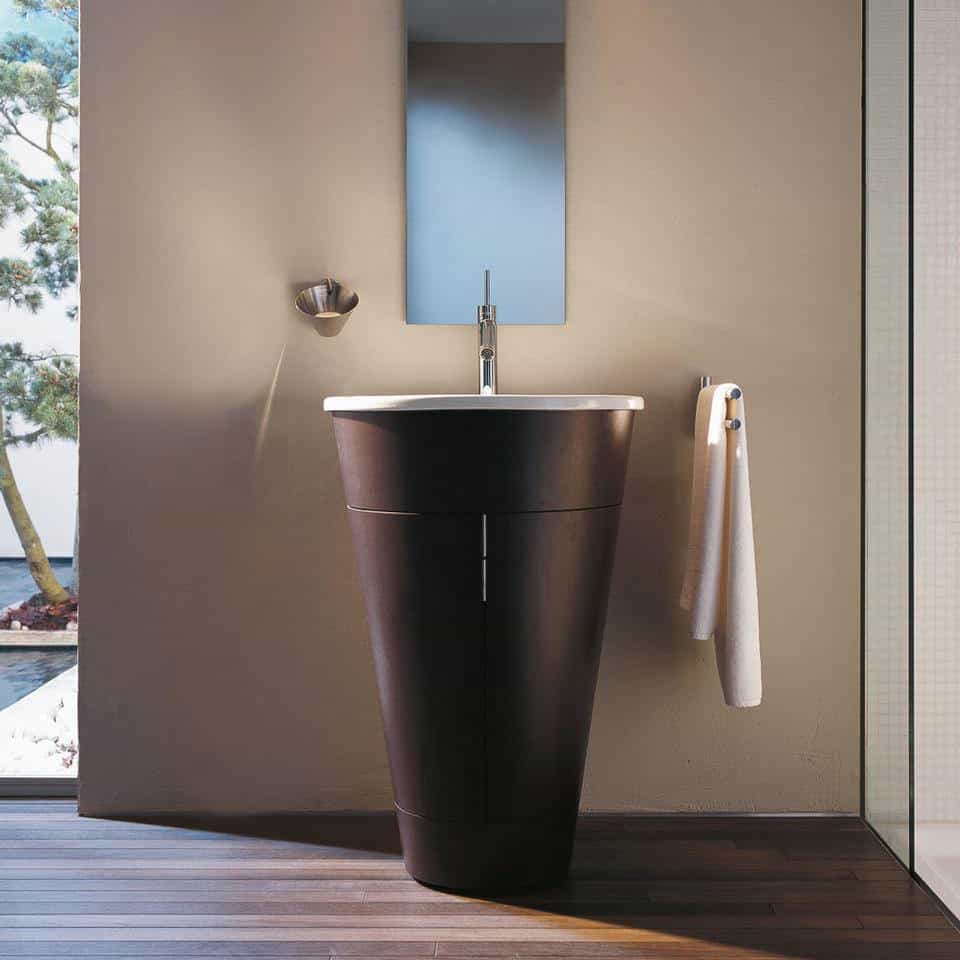 Radon Sapphire Bathroom Vanity and Sink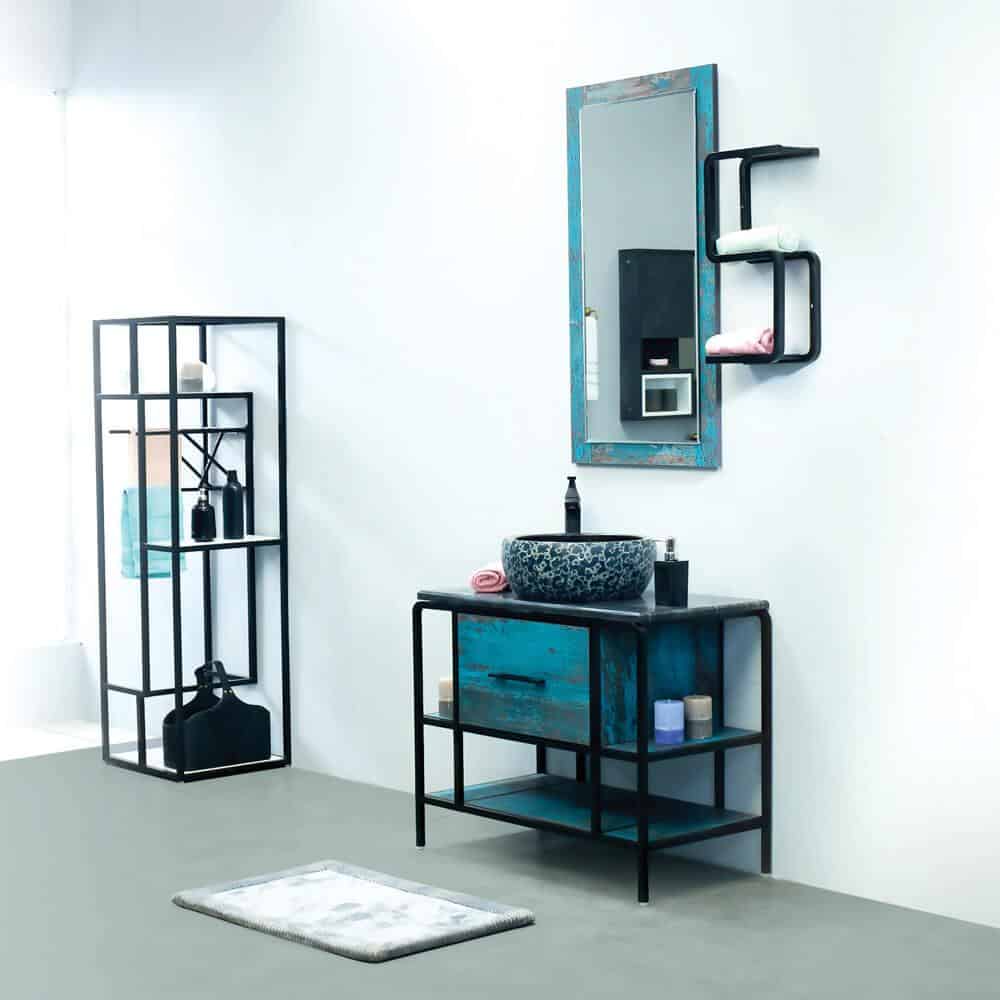 Somany Victoria Vanity With Cabinet and Sink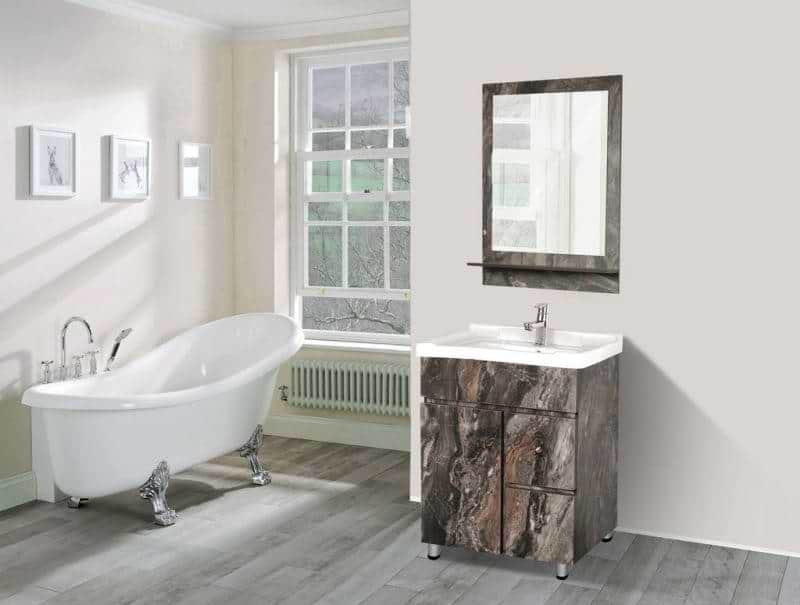 IKEA ENHET Bathroom Vanity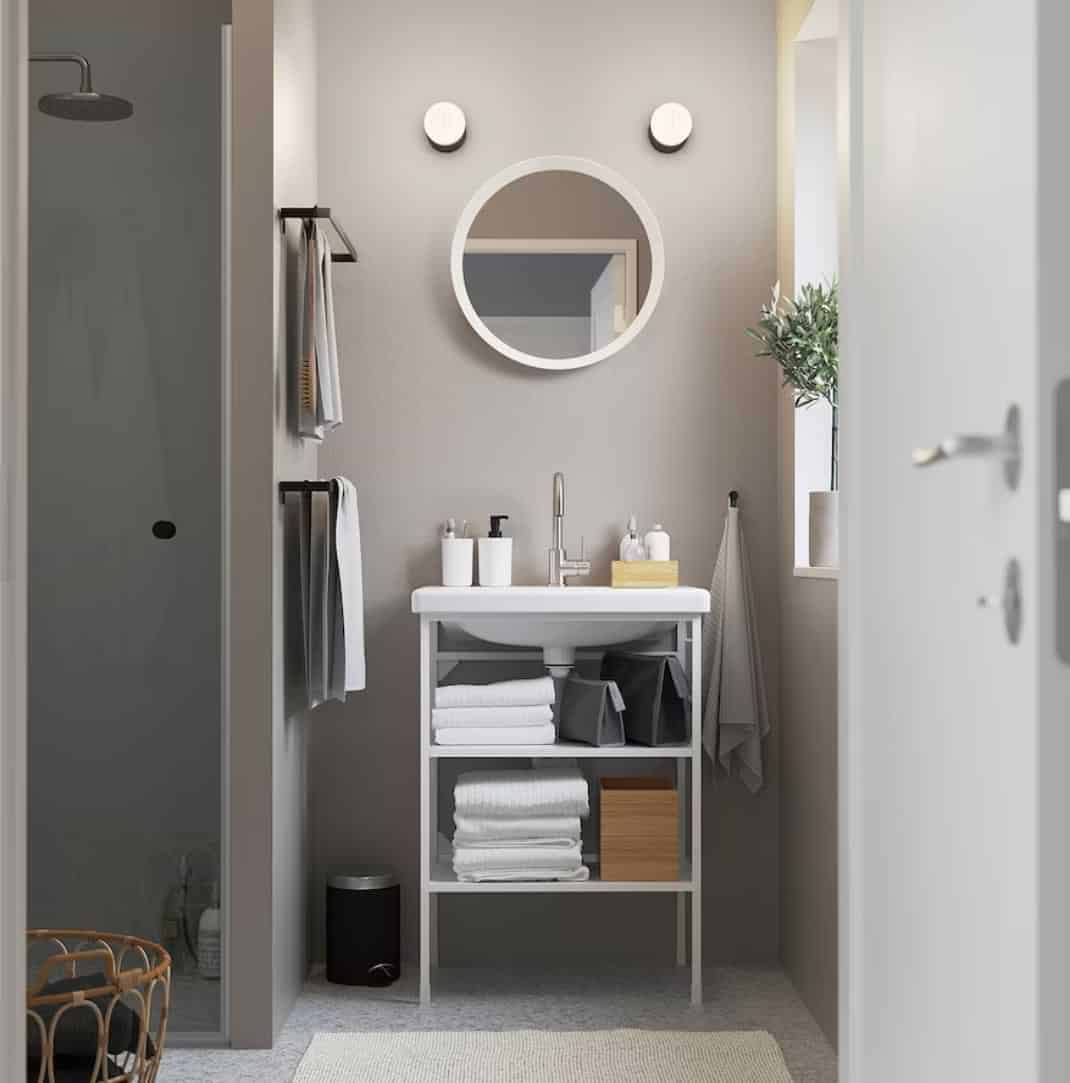 Fuao Sanitaryware Walnut Brown Bathroom Vanity
Romania  Rosabla Wall Mounted Vanity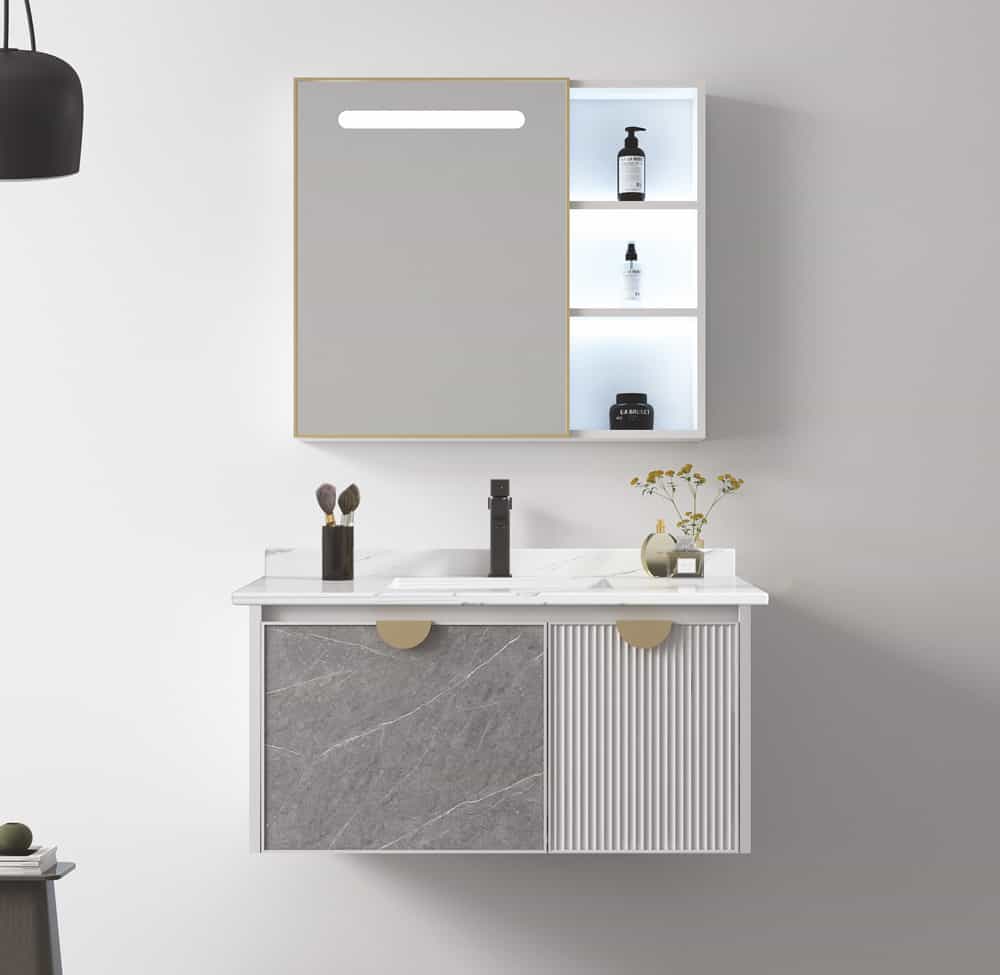 Conclusion
Vanities for the bathroom are one of the essentials that are often overlooked. However, living without one just turns the bathroom into a mess. Thus, it is imperative to choose a vanity that suits your bathroom, fulfils the purpose, and also allows you the room you require. The different kinds of vanities based on their design and installation provide the buyers ample opportunity to pick one that is ideal for their bathroom design. Since bathroom vanities and cabinets are a fixture that is used daily, you need to make sure the design is durable and compatible with your lifestyle.
For this, remember the key factors like material, storage, and plumbing location. Now that you have the required information, you can make an informed decision easily. Furthermore, feel free to use any of the above images as your bathroom vanity & cabinet design inspiration. So, do not waste any time and shop for the most durable vanities and cabinets for the bathroom from our recommendation collection now! 
If you want to buy top-quality bathroom vanities from the best brands, click on the link given below to check your options and submit your inquiries:
For more details, contact below:
WhatsApp Number: +91-9967632127 (Only message; no calls)
Email: support@buildingandinteriors.com
*The featured image used in this article is from Taylor Beach (Unsplash)