A ceiling fan is a mechanical fan that is mounted on the room's ceiling. It is one of the most common home electrical appliances. The widespread utility of designer ceiling fans is credited to affordable price, functional, and maintenance costs. It is used in every home, office, and building. Different fan blade & features such as fan with light, remote control, etc. offer smart air circulation.
The main purpose of a fan is to circulate air in the room. However, it is not limited to that only. Today's fans come with several unique and never-seen-before features.
Additionally, installing a good ceiling fan size with the right material and specifications assures great performance and longevity. For instance, a small ceiling fan in a big room will have to work in twice its original capacity to deliver substantial results. Similarly, a big ceiling fan size in a small room disrupts the comfortable flow of air and creates a difficult environment.
Therefore, it becomes essential to understand the factors associated with a fan.
A fan seems like a generic, ideal household appliance sans many parts or features. However, the best ceiling fans comprise many essential elements that make up a complete fan unit for optimal use.
A fan motor is the energy source of a fan. The fan motor comes in two types-
Drive motors
Stack motors
The direct-drive motor is more energy-efficient, long-lasting, and works silently.
A fan motor is one of the most important components as the fan's efficiency is directly proportional to it.
Fan blades
The fan blades give you the most opportunity for customization and aesthetics. They are the most noticeable part of a fan. The fan blades traditionally have been made out of aluminium, steel or plastic but these days solid wood,  plywood and MDF are also used as fan blade materials. In addition to defining the overall look of the fan, the fan blades also determine the airflow.
There are many factors that dictate the fan blade's performance:
Pitch
It is the blade's angle of positioning from the fan's base. You need to have higher fan blade pitches to move more air.
Fan blade size
The bigger the fan blade, the more airflow it is able to generate.
Number of fan blades
A common fan usually comes with three fan blades in different price ranges. However, there are several fan variants that come with one, two, four, or five blades. 1 or 2 fan blades are mostly used in industrial fans. Talking about fans for homes, we generally go for 3 or 4 fan blade versions.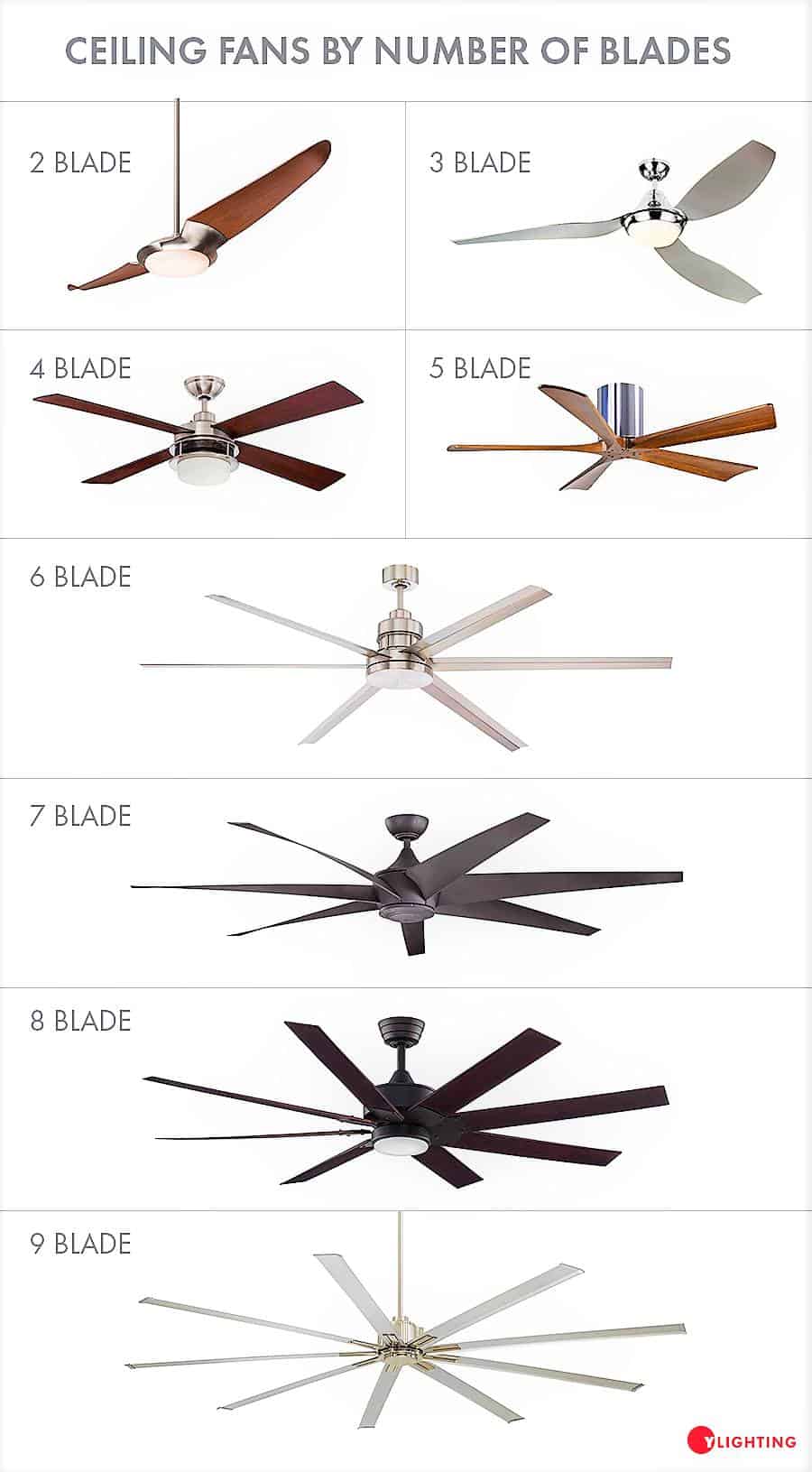 Image Source: Y Lighting
Also known as the blade span, it is the diameter of the circle that we see when the fan is in motion. In simpler words, the fan blade sweep reaches from the tip of one blade to the other that is directly across. Mini fans come with a blade span of 18 inches and the large fans have 68 inches blade span. The bigger fan blades can go beyond 99 inches.
It is important to know the appropriate fan size for your room. A small fan in a big room will need to work twice as hard to provide enough airflow. This will cause the motor to burn out and damage quickly. Placing a huge fan in a small room would mean inviting a tornado. Therefore, follow this guide to choose the right fan size.
| Room Size (In Sq. Feet) | | Recommended Blade Span | Recommended CFM Rating |
| --- | --- | --- | --- |
| Under 144 | Bathroom, Breakfast Nooks, Utility Rooms, Small Bedrooms, Porches | Under 42″ Fans | 1,000-3,000 |
| 144-225 | Medium Bedrooms, Kitchens, Dining Rooms, Dens, Patios | 44-50″ Fans | 1,600-4,500 |
| 225-400 | Master Bedrooms, Family Rooms, TV Rooms, Small Garages, Gazebos | Fans Over 50" | 2,300-6,500 |
| Over 400 | Great Rooms, Large Garages, Basements, and Open Floor Plans | Fans Over 62" | 5,500-13,500 |
Ceiling fan capacitor
Another important part of a fan, the capacitor disperses air all around the room. Its main job is to maintain the speed and movement of a fan. If your fan capacitor has even the slightest fault, it will directly affect the fan speed.
Fan controls
There are three major ways to operate a fan:
Pull chain: It is located right on the fan. A pull chain offers an easy way to regulate the fan speed and turn on or off a fan with a light kit.
TIP: If the switch is installed next to or close to the doorway, the chance of forgetting to turn off the fan when leaving the room is greatly reduced. Therefore, it is a simple and effective way to reduce energy wastage and hence enable sustainable living.
 Remote: A fan with a remote is smart home appliance solution in an affordable price range. A handheld remote makes the fan accessible from every corner of the room.
Motor housing
The motor housing is the decorative body of the fan that encloses the fan motor. Fans that use heavier materials such as die-cast metals for motor housing tend to vibrate less and provide more stability.
Types of ceiling fans
Fans come in many variants. It is not possible to classify all these variants under one umbrella term as these variations depend on several aspects from their utility and operation to their physical and innovative attributes.
In this article, we have tried to distinguish the types of fans on basis of their functionality, usage & price.
It is important to understand the various types of fans because choosing the wrong fan for the wrong place will not only degrade the functionality but also increase energy consumption and overall living cost.
Standard Cooling Fans
A standard fan is a typical fan that you find in most homes. It is versatile and comes in many styles. A standard cooling fan comes in many finishes such as black, white, neutral, bronze, etc. These fans come in 3, 4 or 5 fan blades variety. They are mounted on a ceiling with a down rod and are at least 7 feet above the floor.
Flush Mount Ceiling Fans
Also known as  'hugger fans' or 'low profile fans' they are used in rooms with ceilings lesser than eight feet in height. Instead of a down rod, the installation of the fan is done using a mounting bracket. The fan's airflow is outstanding. They are used as both cooling fans and heating fans.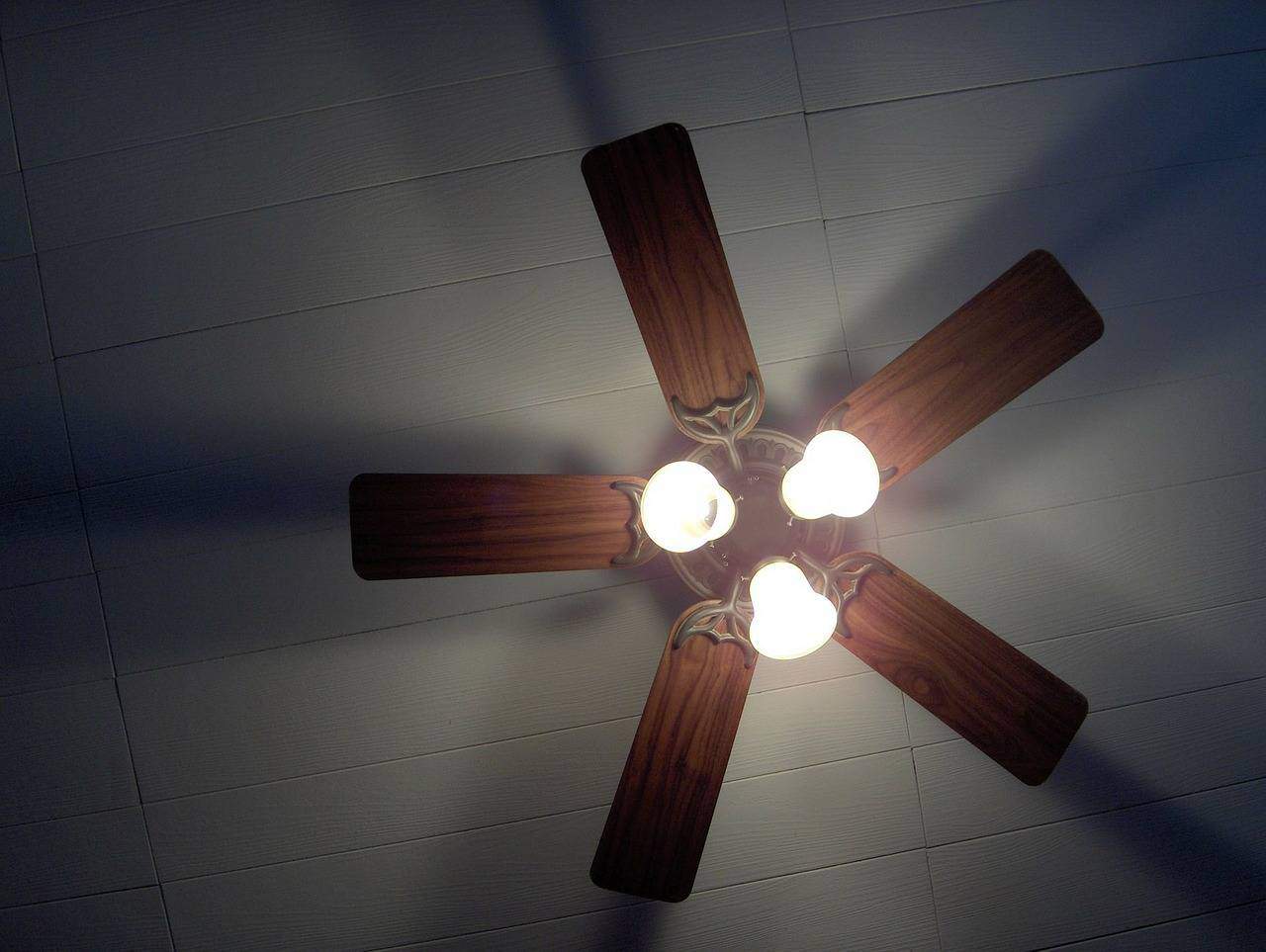 Also known as 'fandeliers', the fans with light are beautiful as well as operational. Fans with light merge two amazing household fixtures, the fan and the overhead lighting, to give you a wholesome ideal home appliance. The fan light kit is compatible with halogen, CFL, LED, and incandescent light. There are many beautiful varieties of fan chandeliers.
Any kind of fan can be made into a fan with remote control. For someone with mobility or height issues, a fan with a remote is the best option. They are preferred in places with high ceilings and large rooms.
Outdoor ceiling fans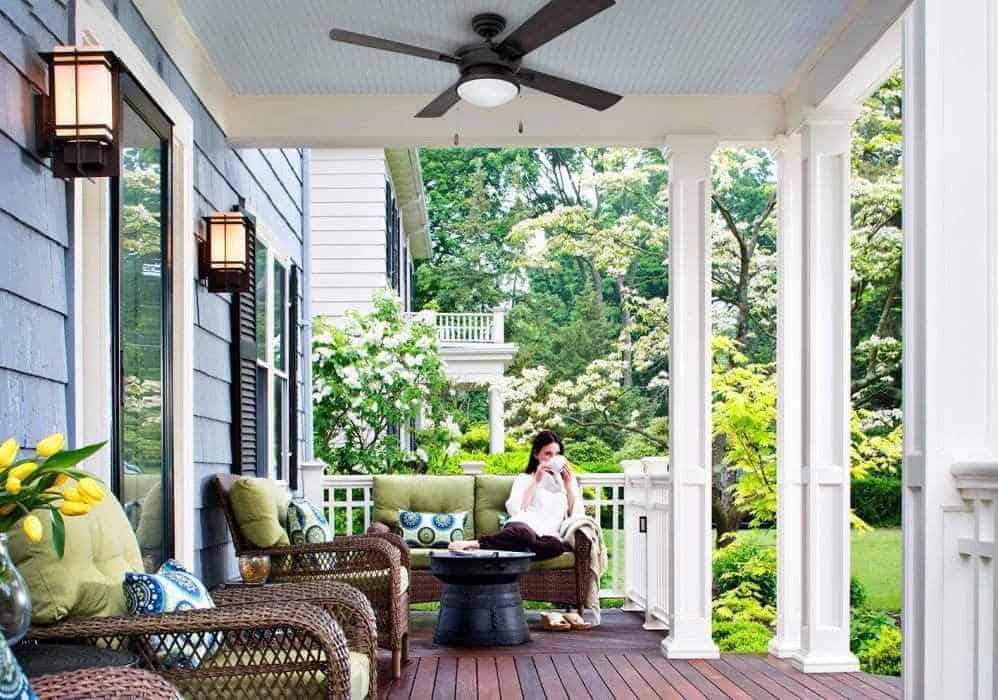 If you want to enhance the look and functionality of your outdoor space, an outdoor fan is just what you need! A fan makes a useful addition to any outdoor space such as a deck, porch, or patio. You can get a fan with light to light up your space.
Commercial Ceiling fans
If you are looking for a fan for places such as a restaurant, classroom, office, etc. a commercial fan should be your choice of electrical appliance. These fans are designed for spaces that have ceilings higher than 10 feet. The commercial fans are designed in a way to offer optimal temperature with their dual functionality. They can be used as cooling fans as well as heating fans.
A dual-function fan changes its rotational direction and generates updraft and downdraft for air to move.
Damp and wet ceiling fans
In a country like India where we have both humid places, and places with frequent rainfall, damp and wet fans are the best choice. Their fan motors resist moisture damage. They come with all-weather blades that are warp-resistant. They come in many modern fan and traditional designs.
Aesthetic considerations for fans
Now that we know all about the components and types of fans, let's find out the ways to add merits to this electrical appliance.
This is not unknown to the masses that a fan is a common appliance. Its basic functions are well-established as well. However, not many know how to choose the best type of fan for the appropriate functions. Knowing the right fan type adds value to the appliance.
There are four main fan blade materials. Each has its uniqueness and usefulness:
Laminated MDF gives a smooth finish to the fan blades. They are the least expensive and commonly used fans for homes. However, MDF fan blades are not moisture resistant and start to droop if placed outdoors. Nonetheless, they make good indoor fans.
Plastic
ABS (Acrylonitrile butadiene styrene) plastic fan blades are another widely used inexpensive fans. They can be moulded into any shape. As a result, designing stylish fan blades in different shapes is possible. These plastic blades look like real wood and can hold up well outdoors. They are moisture resistant.
Wood
Processing natural wood into fan blades is a tedious and costly job. Generally, only the premium fan range comes with real wood fan blades. They have a thicker profile than standard blades. Wood fans are best used indoors.
Metal
Most commercial fans are made of metal. They are great outdoor fans as well. However, they can rust eventually. Wall and portable fans are often made of metal. They are at a high risk of conducting current. Therefore, they are either placed at very high ceilings or are equipped with a protective cage.
Gone are the days when the sole purpose of a fan was to circulate air. Today, fans greatly influence the aesthetics of a room. Therefore, interior designers and product designers pay extra attention to the selection and designing of fans.
The fans come in many colours. The real conundrum is choosing the shade that matches your interiors. Let us find out how to pick the right colour to match the interiors of your room.
Common fan colour shades and contrasts
The colours, shades, and blends boil down to the user's personal preferences. Contrasts are greatly in trend today. White has always been a favourite. However, there is a whole array of finishes and colours to pick from. Colours like nickel, brass, bronze, dark grey, aluminium, silver, rust, tan gold and black dominate the fan colour cards.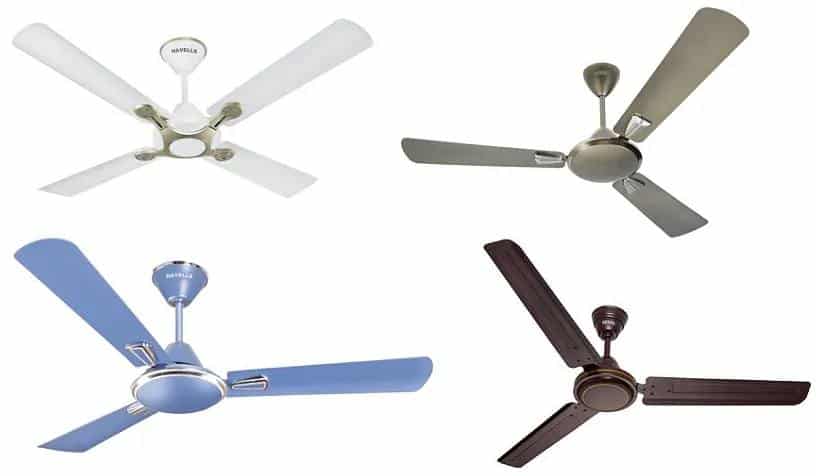 Some of the Basic fan colours.
A great way to match the fan colour with your interiors is to match it with the furniture or the flooring.
For example, if your upholstered furniture is dark blue, go for a dark blue coloured fan. Or choose a wood finish fan with wooden flooring.
Another way to escape from the mundanity of the interiors is to mix and match things a little. You can choose the basic fan blade finishes for the fans for bedrooms and go for a vibrant shade for the outdoor fans.
Contrasting the fan colour with the ceiling is also greatly trending. For an instance, a black or dark grey fan against a white or cream ceiling will look beautiful. However, you must ensure that the contrast is hinted at in the rest of the décor also. Challenges while choosing the fan blade colour
In addition to matching with the interiors of your home or office, the fan blade colour's practicality should be considered as well. A light-coloured fan will turn dull and pale if not cleaned regularly. Accumulation of dust and dirt is a common problem with fans. Therefore, choose colours that can hide the dirt up to some extent.
TIP: Buydust-proof fans to avoid dirt and dust accumulation.
To avoid this dust accumulation on ceiling fans Crompton, Usha, Havells, Orient, Panasonic and many other electrical appliances brands have come up with dust-free fans. These fans are usually Coated with superior polyurethane lacquer that has dust repelling qualities.
Best ceiling fan designs for home
The designer ceiling fans make great additions to any space because they not only offer comfort but also enhance the aesthetical quotient of the space. Moreover, the modern fans with LED lights offer excellent functionality and efficiency.
For a professional, a designer ceiling fan with LED lights elevates your interior project to the next level. Therefore, choose the best fan for your space.
Wondering which fans are the best?
Let's find out by looking at some exciting designer ceiling fans for home:
The best fan is needed for a stunning living room. Considering the budget, room size, feature preferences, you can pick a designer ceiling for living room.
The following designer ceiling fans for living room look best in the space.
Ceiling fan for living room #1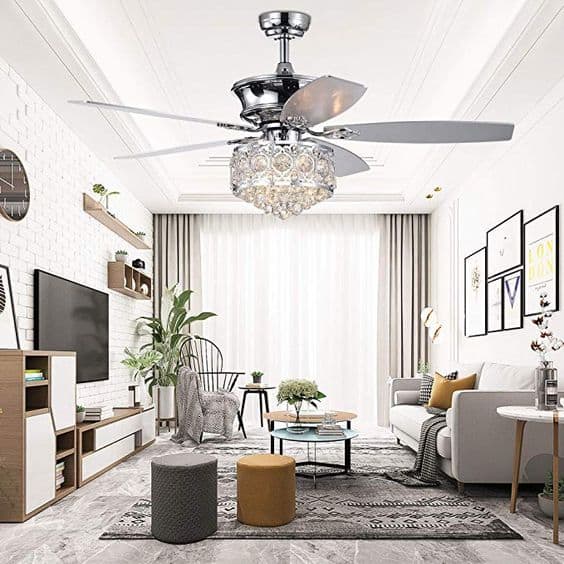 Image Source: Amazon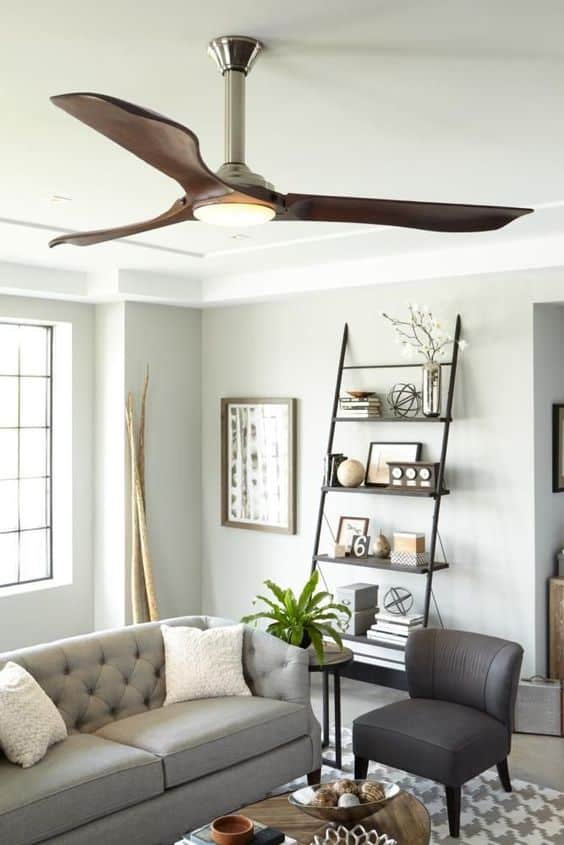 Image Source: Bailey Street Home
Ceiling fan for living room #3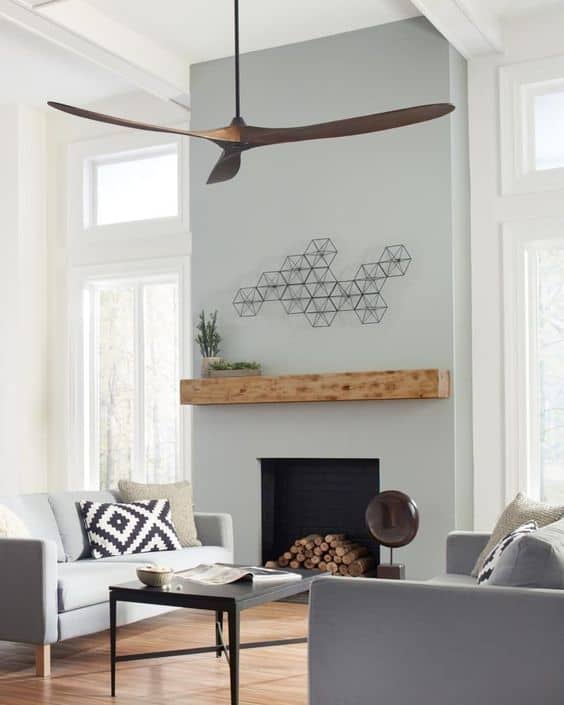 Image Source: Capitol Lighting
Ceiling fan for living room #4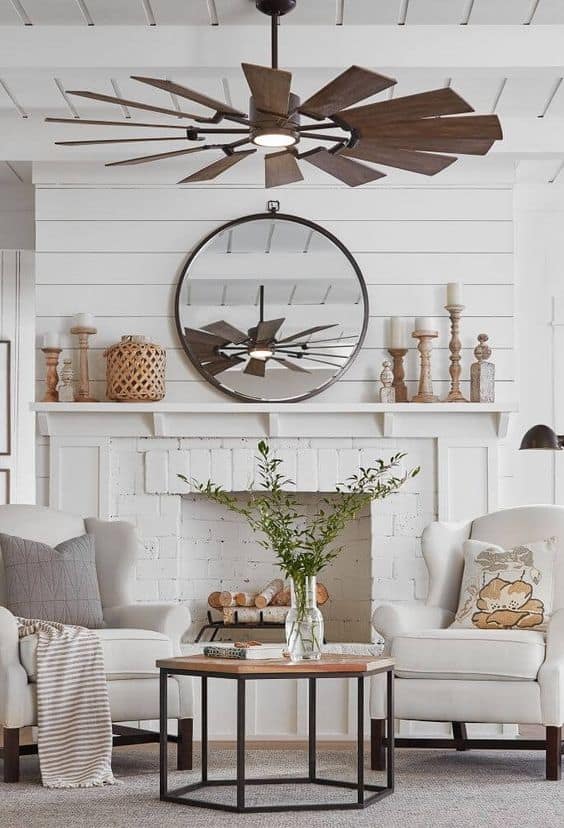 Image Source: Lightology
Ceiling fan for living room #5
Image Source: Beachfront Decor
Designer ceiling fans for kitchen
Not an uncommon sight anymore! Fans for kitchens come in different styles and functionalities. Moreover, a fan for kitchen usually comes in a small size. The fan size can range from a fan 56 inches to a fan 20 inches depending upon the size of the kitchen. A fan for kitchen makes the space breezy and comfortable.
Let's take a look at the best fans for kitchen.
Ceiling fan for kitchen #1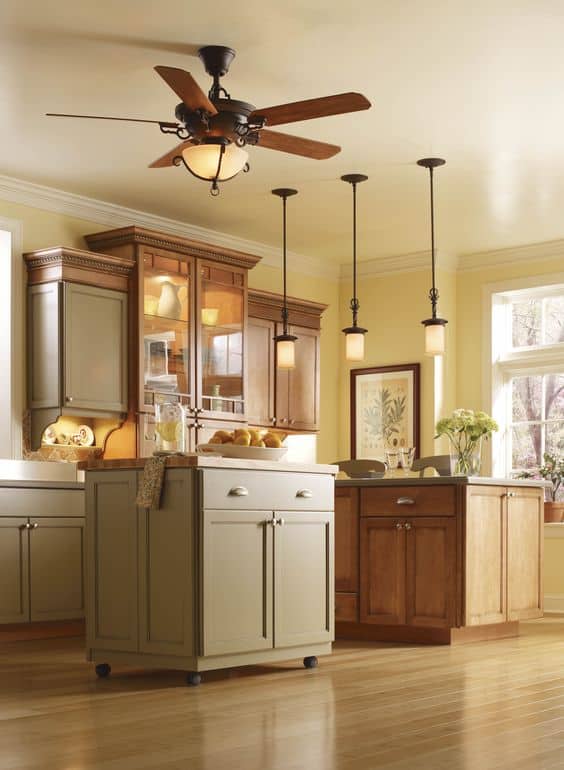 Image Source: Progress Lighting
Ceiling fan for kitchen #2
Image Source: Shades of Blue Interiors
Ceiling fan for kitchen #3
Image Source: Monte Carlo Fans
Ceiling fan for kitchen #5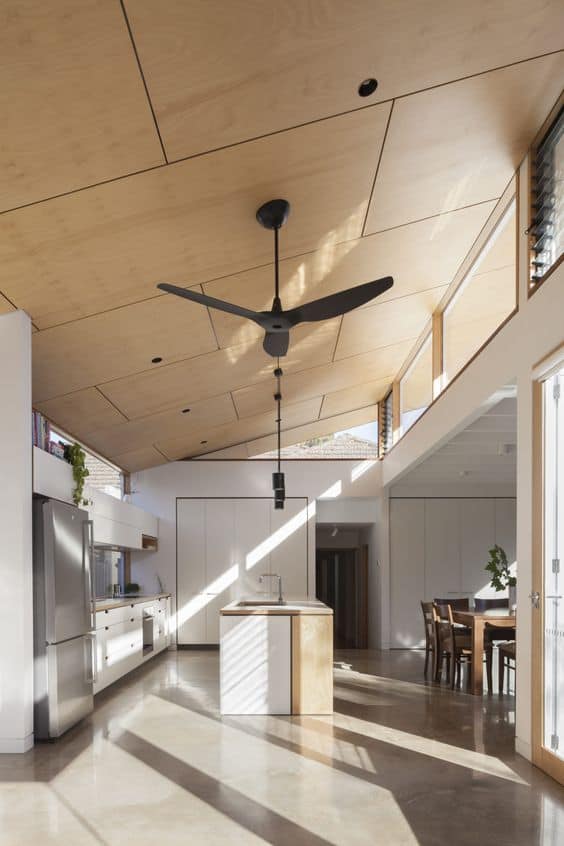 Image Source: HomeAdore
When it comes to choosing a fan for bedroom, you get an endless array of choices. From a decorative fan for bedroom to a contemporary style fan, you can make your pick as per your preferences.
The following fans for bedroom definitely add efficiency to the room.
Ceiling fan for bedroom #1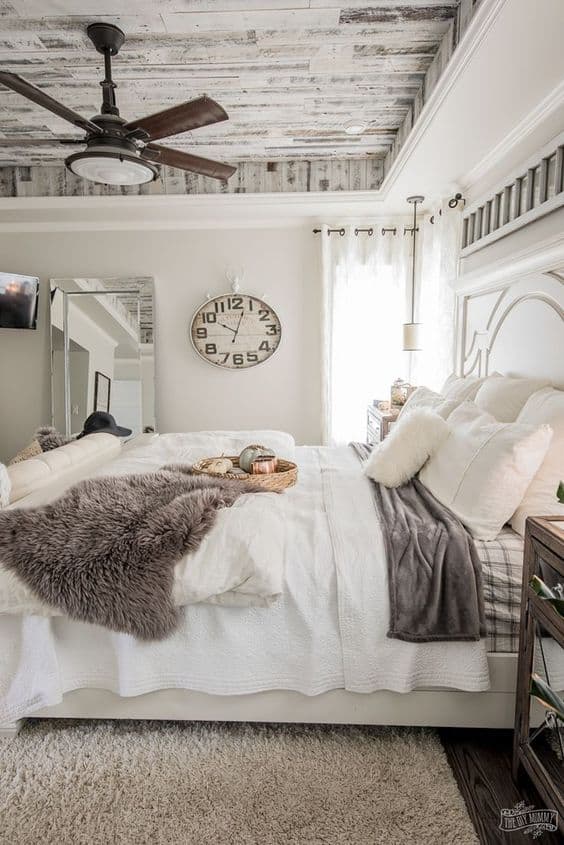 Image Source: The DIY Mommy
Ceiling fan for bedroom #2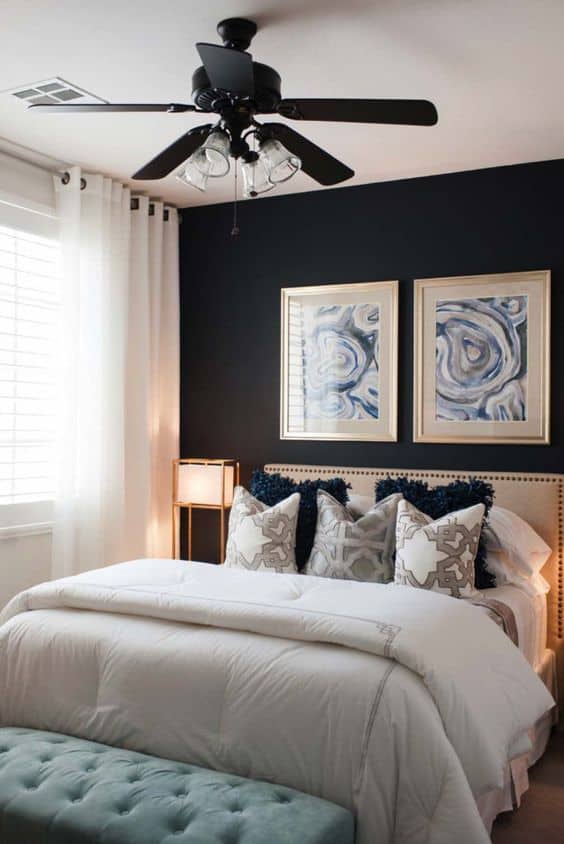 Image Source: One Kindesign
Ceiling fan for bedroom #3
Image Source: 900mm Blesser House
Ceiling fan for bedroom #4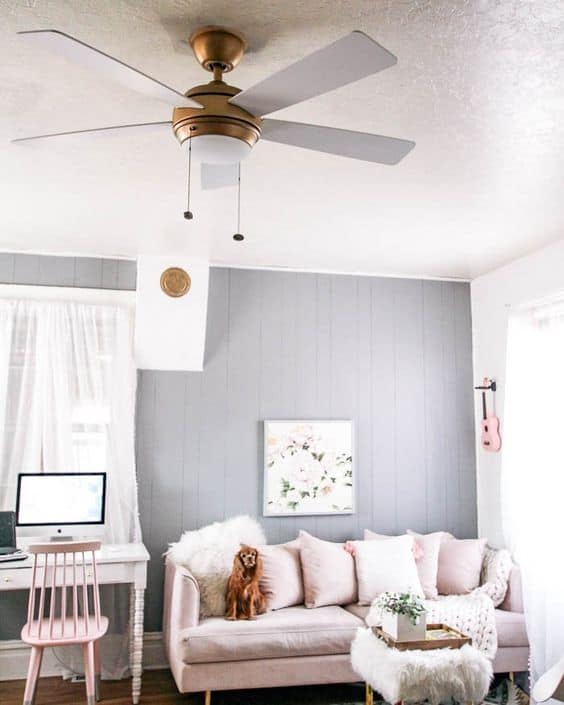 Image Source: At Home with Ashley
Ceiling fan for bedroom #5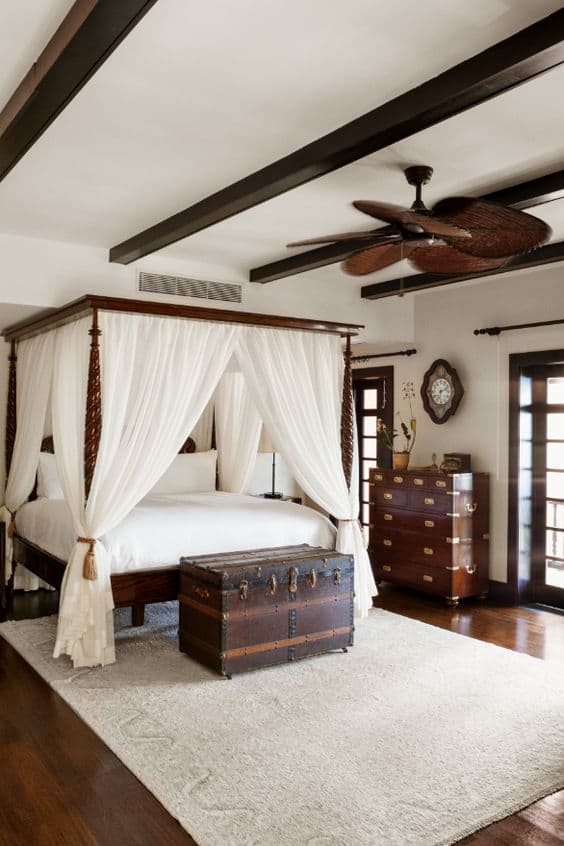 Image Source: Travel and Leisure 
Best ceiling fan brands
With over 75 years of experience, Crompton ceiling fans stand tall in the home appliances market. The trust Crompton ceiling fan is preferred by consumers and experts equally.
Moreover, Crompton ceiling fans use ActivBLDC technology which has revolutionized the concept of energy efficiency by saving more than 50% of the overall electricity. The designer ceiling fans Crompton come in a wide range of colours, finishes, and features.
The Havells fan is IoT enabled and is operated by both iOS and Android smartphones. The best part about this smart fan is that it allows multi-user access. Not only can multiple people operate it but a single user can operate multiple fans at the same time too. The scheduler settings allow automatic on/off. The fan comes with temperature and humidity sensors and manages the airflow accordingly.
With the amazing integration of IoT technology and fans, the Orient i-series fans are perfect for homes and offices. Its IoT features such as fan scheduling, reverse rotation (for cooling fans and heating fans), built-in timer, Turbo, Breeze, and Sleep mode make it an excellent fan solution.
In addition to that, it also saves up to 50% electricity, works on low voltage, comes with inverter technology, and has an aerodynamic elegant design.
For the best metal and wooden fans, buy the Usha fan which comes with several luxury features such as light kits and remote control. The Bloom Series and Aerolux Usha fans offer good looks, excellent quality, and effective functionality.
These fans are not extremely new in the market. However, their widespread use has begun just recently. The fans designed for false ceilings have low-angled blades to decrease power consumption. Fans with higher-angled blades increase the torque. As a result, there is an increase in energy consumption
A careful and precise false ceiling fan installation should be done. They need extra support brackets for mounting. Moreover, false ceiling fans should be elegant and must complement the ceiling.
Atomberg, manufactures smart fans for all purposes. Its false ceiling fans range is unique and integrates well with sustainable technology.
These high-speed fans are biomechanically designed for silent operation at an affordable price. They come with dual wings for natural airflow. The fans with remotes are smart home appliances. They come with Wi-Fi enabled as well. As a result, operating them from anywhere is possible.
The Mosquito Away feature of the product makes it an ideal home appliance. It comes with a Comfort Sleep Mode that regulates the fan speed automatically according to the temperature. Smart Voice Assistant like Alexa controls the LG fan.
Ceiling fan price
Fans come in several variants. However, two main categories are:
Therefore, we have classified the ceiling fan price list according to these two categories.
Standard fan price list
Refer to this price list to purchase fans for your space:
Smart and light-enabled ceiling fan price list
If you want to purchase smart ceiling fans, check the price and click on the links:
Conclusion
A fan remains a must-have home appliance. Choosing the right designer ceiling fan for your home or office has become possible with the numerous, colour, material, structural, functional, and technological options. However, these choices can be overwhelming too.
Therefore, you need to carefully observe and analyse the requirements of your interiors and get the best ceiling fan. Understand the requirements of your space and pay attention to the limitations and challenges as well. Additionally, go through the best ceiling fan brands and make the right choices.
There's always a fan price available in your budget. All you need to do is pay attention to the prerequisites. The above-mentioned details definitely make choosing a fan for home greatly feasible and effortless. Hence, rely on it to make the right selections.
If you want to buy top-quality ceiling fans from the best brands, click on the link given below to check your options and submit your inquiries:
For more details, contact below:
Email: mukul.jain@buildingandinteriors.com
Mobile: +91 99676 32127
[vvsmustread]