The full form of MDF is Medium Density Fibreboard. The name of the MDF board comes from the difference in the densities of fibreboard. Among the numerous applications of the material, the most popular one these days is MDF jali design. In addition, MDF board price depends on multiple factors like grade, finishing- laminated or veneered, thickness, etc.
MDF developed as a substitute for solid wood by utilizing the huge waste of wood chips and sawdust produced by lumber mills.
Large-scale mass production of MDF boards began in the 1980s. Today, MDF boards have become a bankable option for builders, woodworkers, and architects for the features they offer.
If you want to buy top-quality MDF boards from the best brands at the most competitive price, click on the link given below to check your options and submit your inquiries:
For more details, contact below:
Email: mukul.jain@buildingandinteriors.com
Mobile: +91 99676 32127
This article aims to shed light on the following aspects related to MDF boards:
Composition and Processing of MDF Boards
MDF is generally made up of 82% wood fibre, 9% urea-formaldehyde resin glue, 8% water, and 1% paraffin wax.
It is made by breaking down and crushing hardwood or softwood residuals into wood fibres, and then combining it with wax and resin binder.
The density of MDF is typically between 500 kg/m3 (31 lb/ft3) and 1,000 kg/m3 (62 lb/ft3). It is denser than other woods because of the presence of heavy resins.
This material is turned into panels by pressing it together under high temperature and high-pressure conditions, often using a defibrator.
After the formation of the MDF board, professionals sand it down to smooth irregularities and give it a soft finish. Oil, varnishes, and paints may then be coated over the board. Moreover, the finishing of MDF boards sometimes requires laminates and veneers.
For better-quality MDF Boards, add more wood fibres to the container.
This forms almost the same board but with a higher density. The quality and finish of this board are also superior.
Advantages of MDF Board
There are several advantages provided by an MDF Board:-
More flexible than other types of wood
Used for curved surfaces because of its ability to be shaped easily
Stable dimensions that will not expand or contract unlike natural wood
A less expensive option than natural wood
Consistent in strength and properties along the whole surface
Dense, flat, and stiff
Has no knots
Does not exhibit an easily recognizable surface grain due to the presence of fine particles in it
Painted MDF produces a smooth surface
Because MDF has no grain it can be cut, drilled, machined, and filed without damaging the surface
MDF can be glued with PVA wood glue
High pull-out strength on the surface
Disadvantages of the MDF Board
As much as there are pros to using the MDF Board, there are cons to it too and it's better to be aware in order to make an informed decision:-
Low-grade MDF may swell and break when saturated with water
Flexibility may cause it to warp or expand in humid environments, if not sealed
May release formaldehyde, which is a known human carcinogen and may cause allergy, eye, and lung irritation when cutting and sanding
MDF cutting tools become dull easily
Screwing into the edge of a board
Safety Precautions
MDF can be dangerous to use if the correct safety precautions are not taken. Hence, here are some important points to remember while working with MDF:-
MDF contains a substance called urea-formaldehyde and releases it when cutting MDF and sanding it.
Proper ventilation is required when using it and facemasks are needed when sanding or cutting MDF with machinery.
The dust produced when machining MDF is very dangerous. Therefore, wear masks and goggles at all times.
The edges of MDF cutters will blunt very quickly because of the glue in MDF. Tungsten carbide-edged MDF cutter will prevent dulling.
Screws and nails can be used on MDF. However, there is the possibility of split edges. The screws should be at a maximum distance of 25mm from the edge.
The surface of MDF releases urea-formaldehyde.
When painting MDF, it is a good idea to coat the entire MDF sheet, panel, or board to contain the urea-formaldehyde.
Wax and oil finishes are great finishing options but they don't contain urea-formaldehyde effectively.
Phenol-formaldehyde is a good alternative because it does not release urea-formaldehyde.
MDF boards are differentiated along with a number of factors, such as:-
On the basis of features
MDF boards come in three different varieties on the basis of specific features- moisture resistant, fire retardant, and ultra-light MDF board.
The moisture-resistant MDF boards are suitable for wet areas such as bathrooms. It is marked by green stamps on the board edges.
Fire retardant MDF boards are used in kitchens. It is marked as a red or blue stamp on the product edges.
Ultra-light MDF board weighs approximately 30 percent less than standard MDF board. They are used where weight is a factor of consideration, for example, in furniture.
Veneered MDF
Manufactured from high-quality wood veneers attached to medium density fibreboards, the veneered MDF Board gives a more natural appearance to wood.
That is why today's builders substitute solid wood with veneered MDF.
This board is made by wrapping a 1-2 mm thick hardwood around the MDF board using heat and pressure.
MDF veneered boards need more care and maintenance than laminates.
These can be used in offices, conference halls, and home interior walls.
Generally, Veneered MDF is a more cost-effective option since the veneer coat protects the fibreboard and makes it safe for usage.
Laminated MDF
The unique surface finish of laminate makes this MDF type a great substitute for plywood.
The laminate coating is an additional layer added to the fibreboard surface making it scratch-resistant and highly durable.
Depending on your requirement, the board can be laminated on one side or both sides.
Laminate MDF boards are extensively used in partitions, panels, cupboard shutters, doors, tabletops, etc.
MDF board is available in two grades.
Most MDF can be broken down into:-
Exterior Grade- It refers to the board suitable for exterior applications. It is packed with features like moisture and heat resistance to combat weather.
MDF Boards cater to a number of purposes. MDF is primarily used for indoor applications due to its poor moisture resistance.
It is available in raw form, with a finely sanded surface, or with a decorative overlay.
MDF boards are popular in the following areas of application:-
It may be used to make wall-panels
For flooring purposes
MDF has a strong surface and, hence, is usable for furniture such as cabinets and storage units
In modular kitchens
MDF jali designs are a valuable add-on for decorative ceilings and doors
With a wide range of application areas comes a myriad variety of MDF designs:-
MDF jali designs for ceiling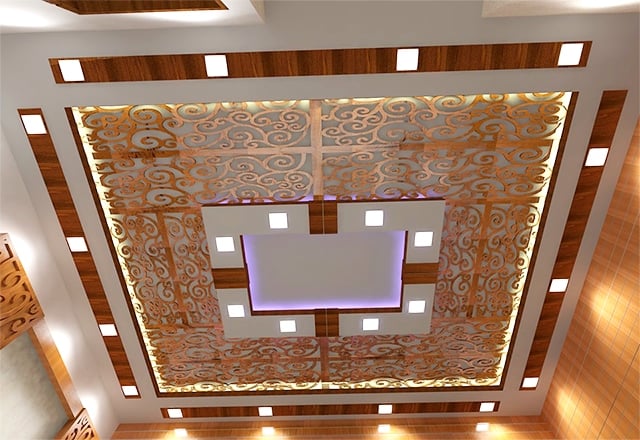 Image Source: kathuriya.com
MDF jali design is an appealing option for the home. It is a brilliant MDF ceiling design idea.
This MDF false ceiling adds exquisite detailing to an otherwise dull bedroom ceiling.
MDF cornices look great adorning the walls of your home. They add a royal and luxurious touch to the home.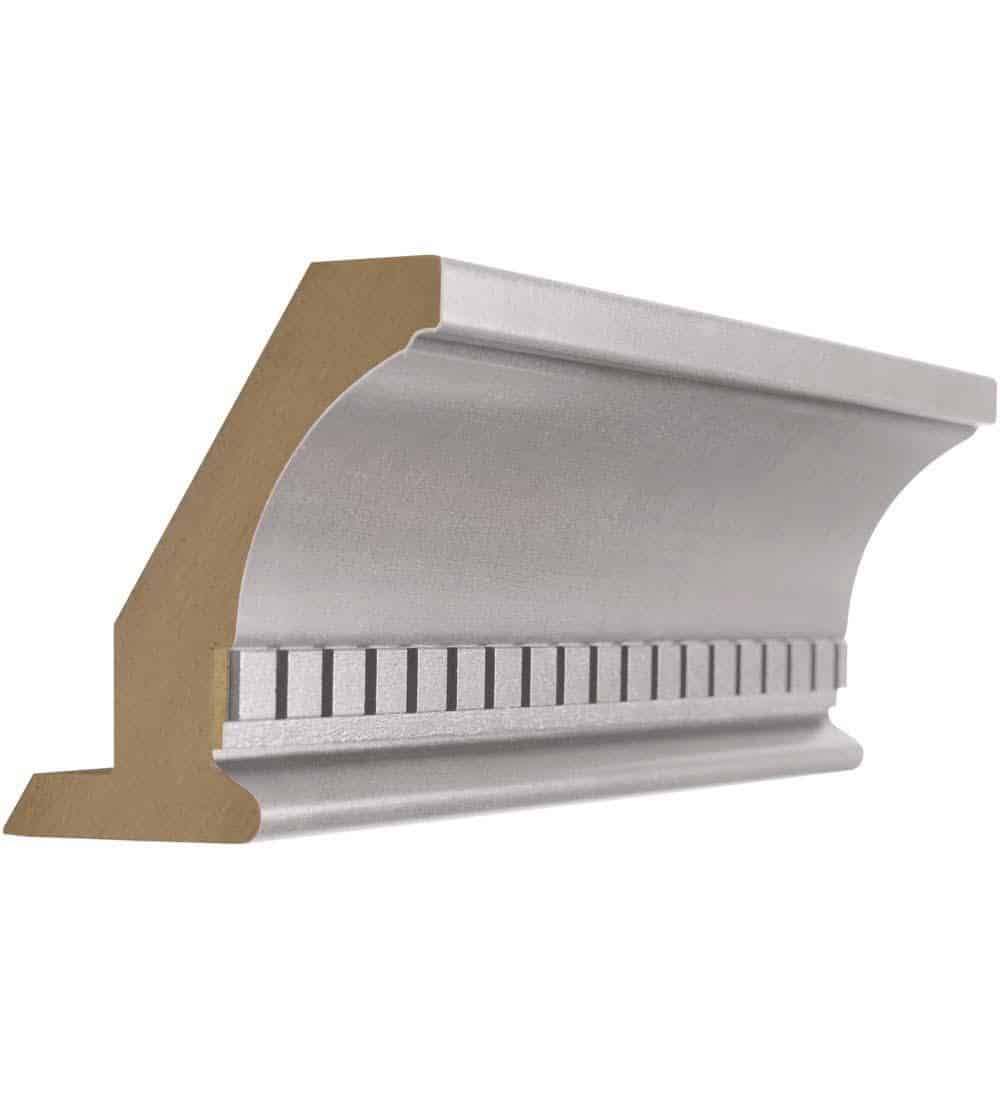 Image Source: Silver Springs Woodworks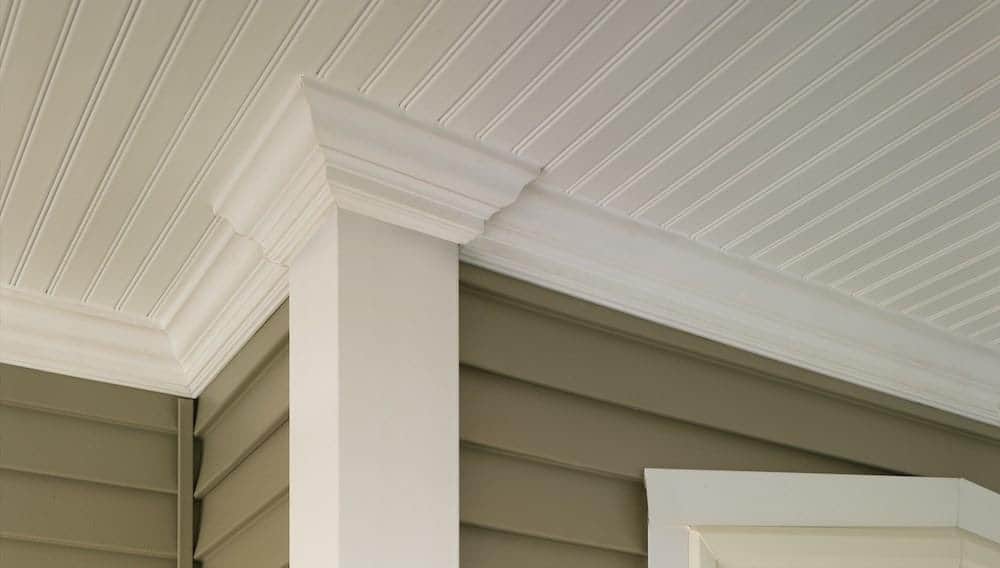 Image Source: FrenchyFancy
A plain white cornice outlines any area with a pleasing simplicity.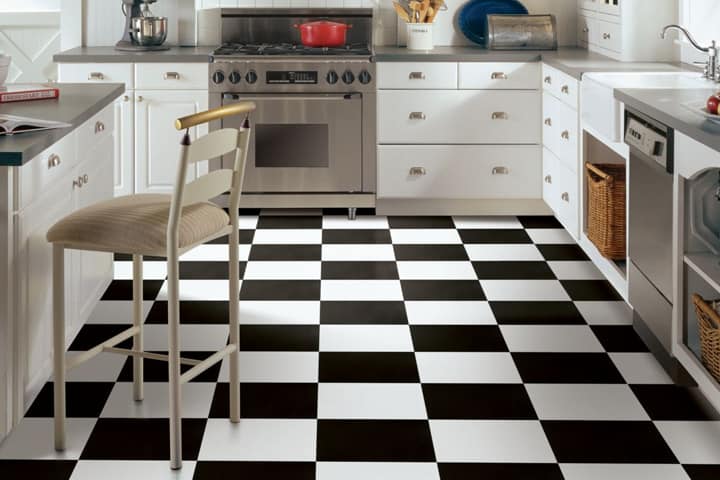 Image Source: Armstrong Flooring
This soothing and classic black & white combination is a great design idea for MDF Board flooring.
Black works magically with this predominantly neutral-toned room.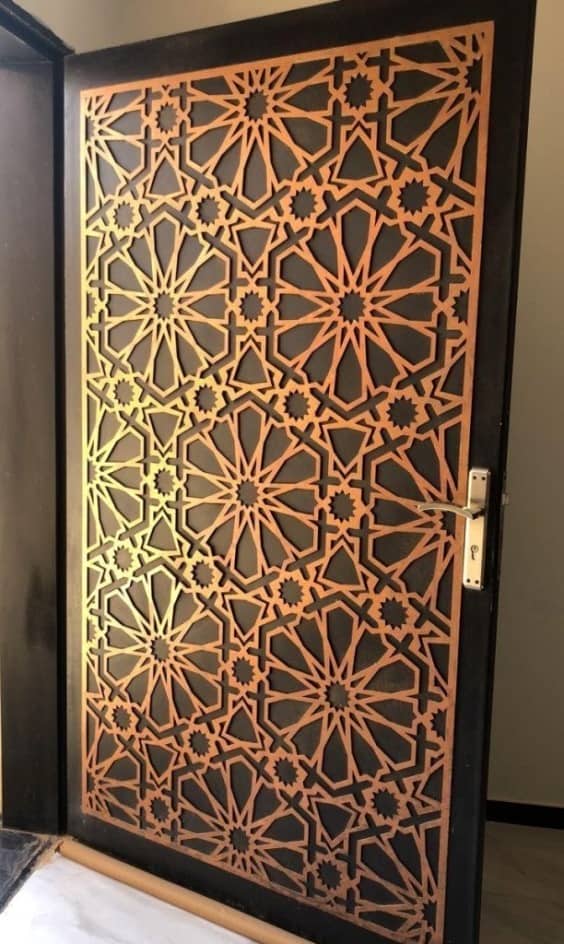 Image Source: Civil Engineering Discoveries
As mentioned above, MDF jali designs are an attractive design option for doors.
This symmetrical pattern makes the entrance to your home stand out from the mundane.
High-gloss kitchen cabinets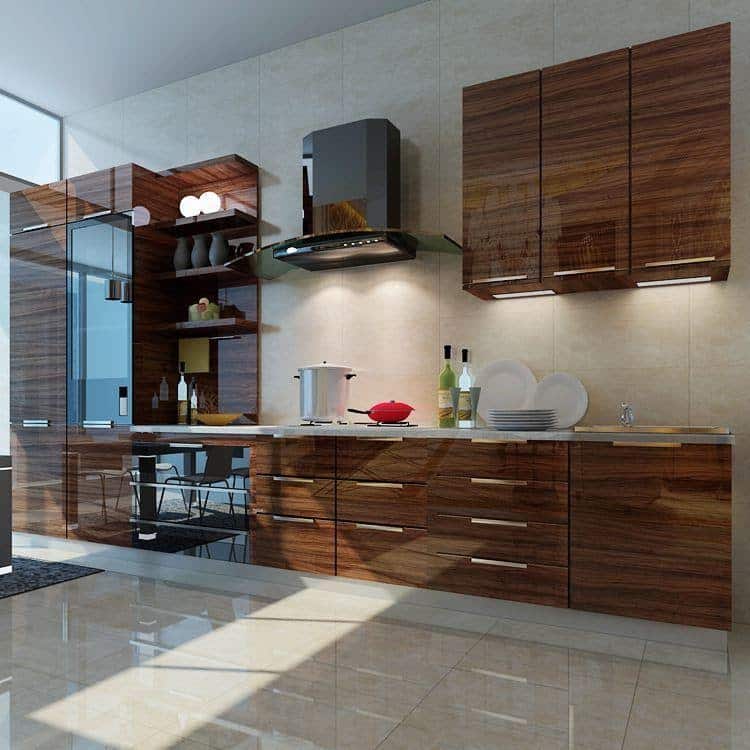 Image Source: Deco Group
This modular kitchen design has a dominant presence of laminated MDF for furniture.
This kitchen combines a rustic aesthetic with a modern set-up.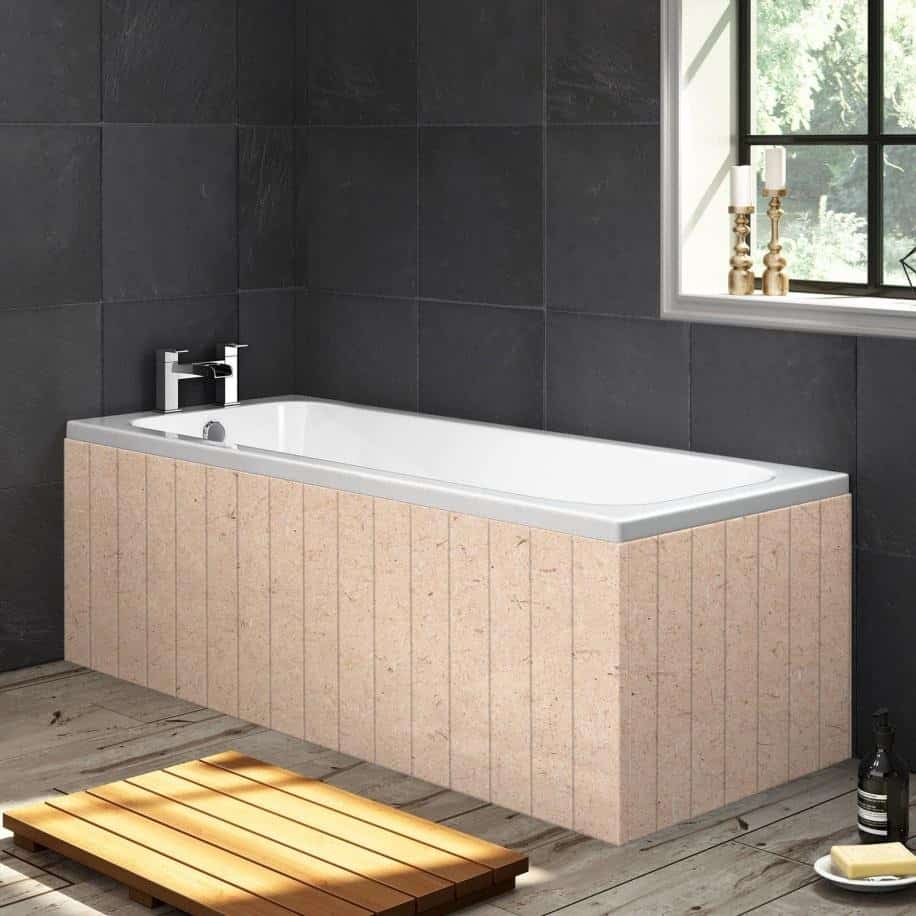 Image Source: bathpanelstore
The blush pink exterior of this bathtub made of MDF panels is eye-catching.
A waterproof MDF board is the best choice for bathroom furniture.
Image Source: Walmart
MDF can be shaped to resemble a horizontal or vertical striped pattern.
A vertical pattern gives the illusion of length to a room while the MDF texture adds to the style quotient.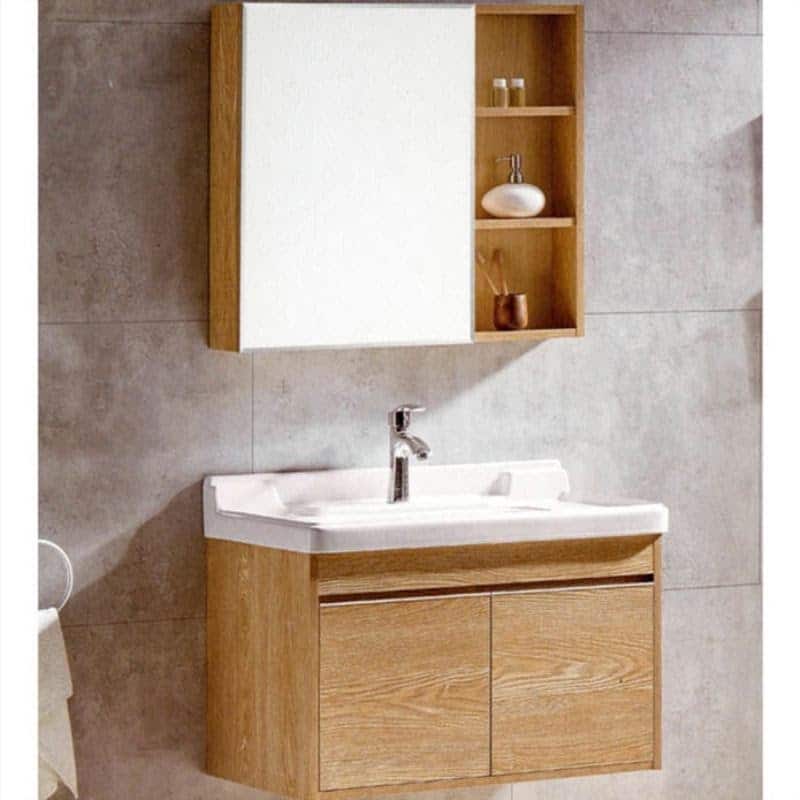 Image Source: badkamer-voordeel
For obvious reasons, a waterproof MDF board is the best choice for bathroom cabinets.
They make for sturdy and stylish bathroom accessories.
3D MDF wall paneling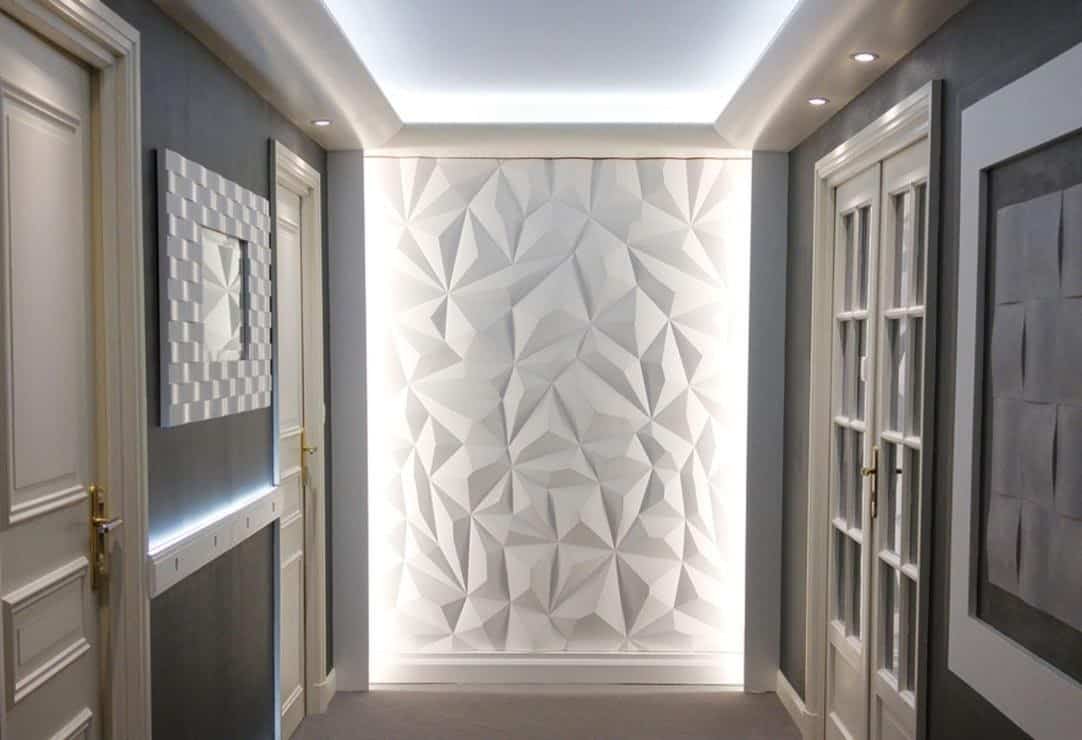 Image Source: Design Chronicle
This MDF wall paneling is exquisite. It makes your wall seem three-dimensional and gives it an artistic look.
Statement MDF wall panel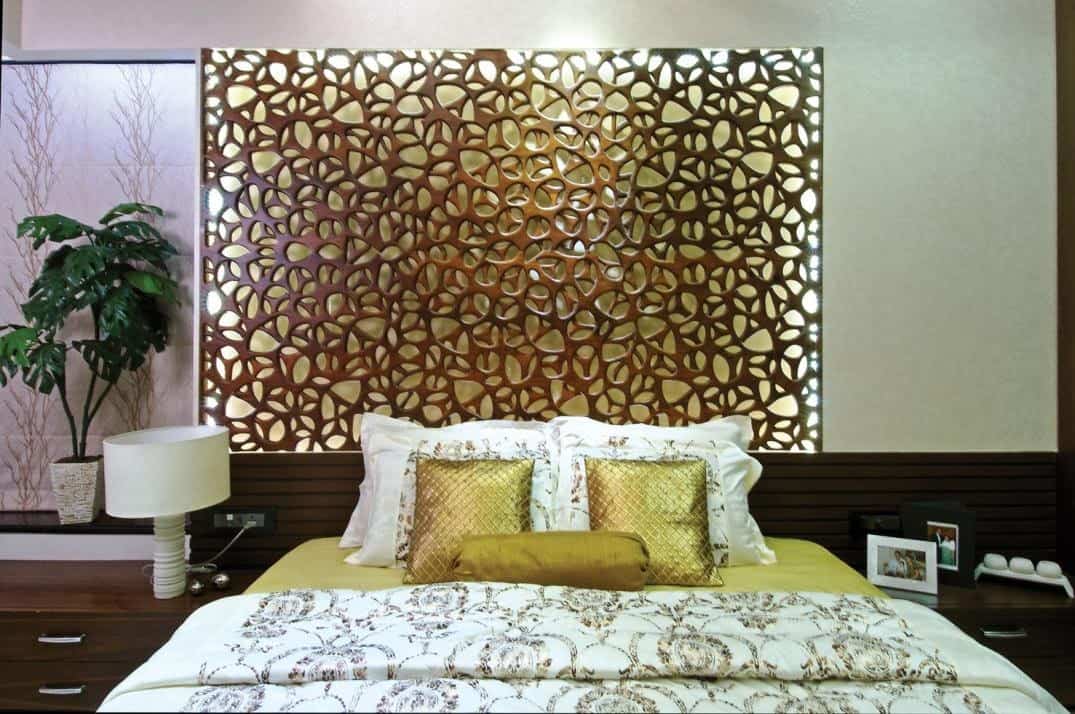 Image Source: Wattpad
Emphasize your bed with this MDF jali design wall panel. It adds elegance to your bedroom.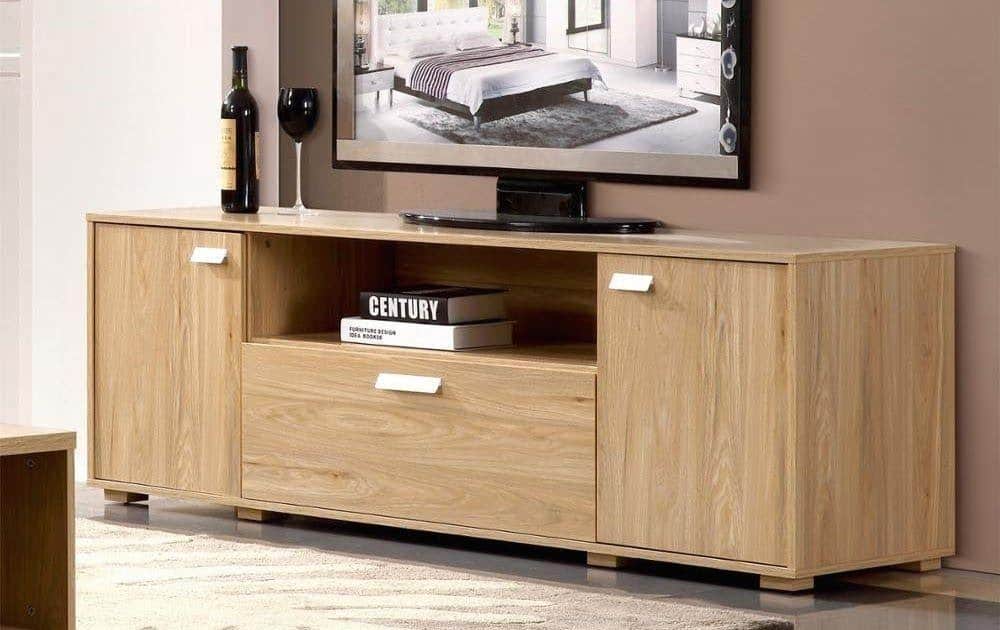 Image Source: SKLUM
For a more classic feel, opt for an MDF board TV table instead of getting it wall-hung.
The drawers provide additional space for one to store their Blu-Ray stack!
Painted MDF board cabinet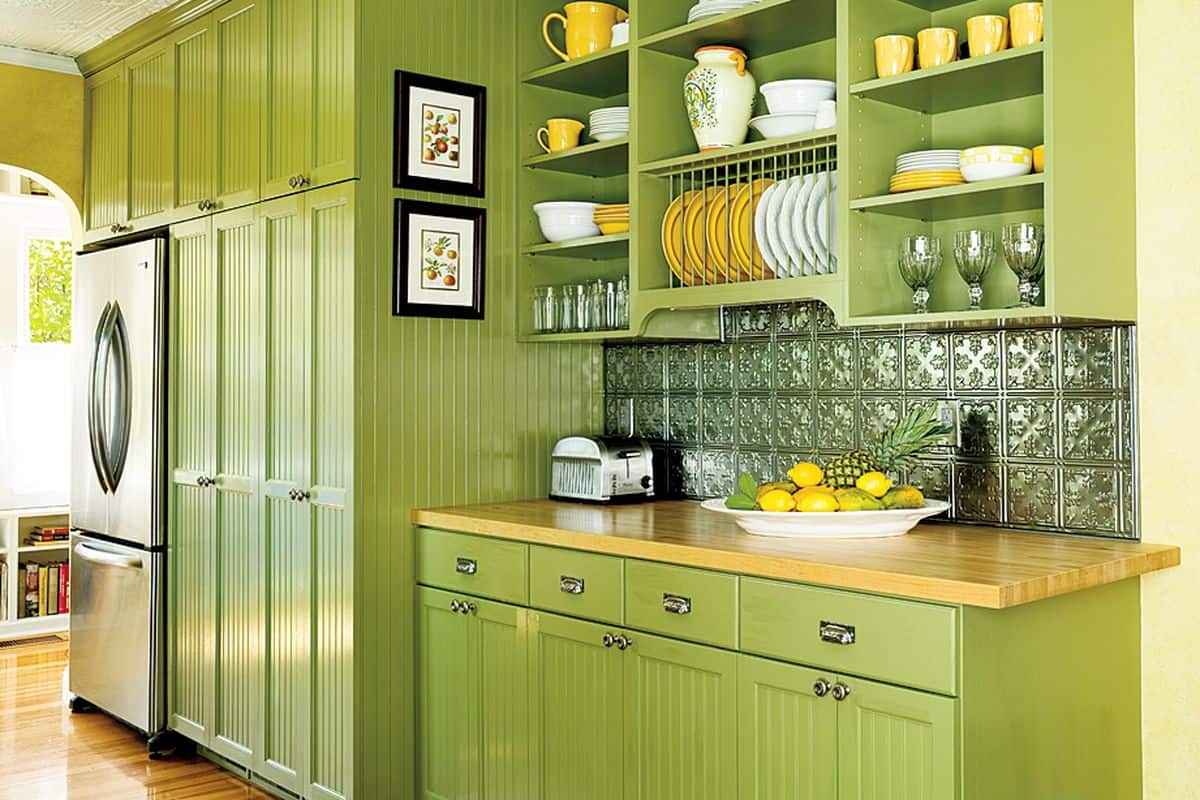 Image Source: This Old House
This kind of cabinet is perfect for the kitchen workspace. It is stylish in a subtle way due to the presence of two complementary colors.
MDF board black cornices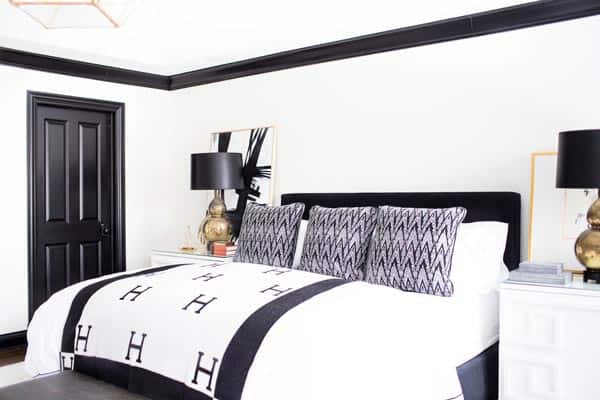 Image Source: Shutterfly
If you thought that only neutral shades would work on cornices, you are in for a surprise!
MDF wood cornices look just as stately in a matte black finish.
Mdf jali design for mandir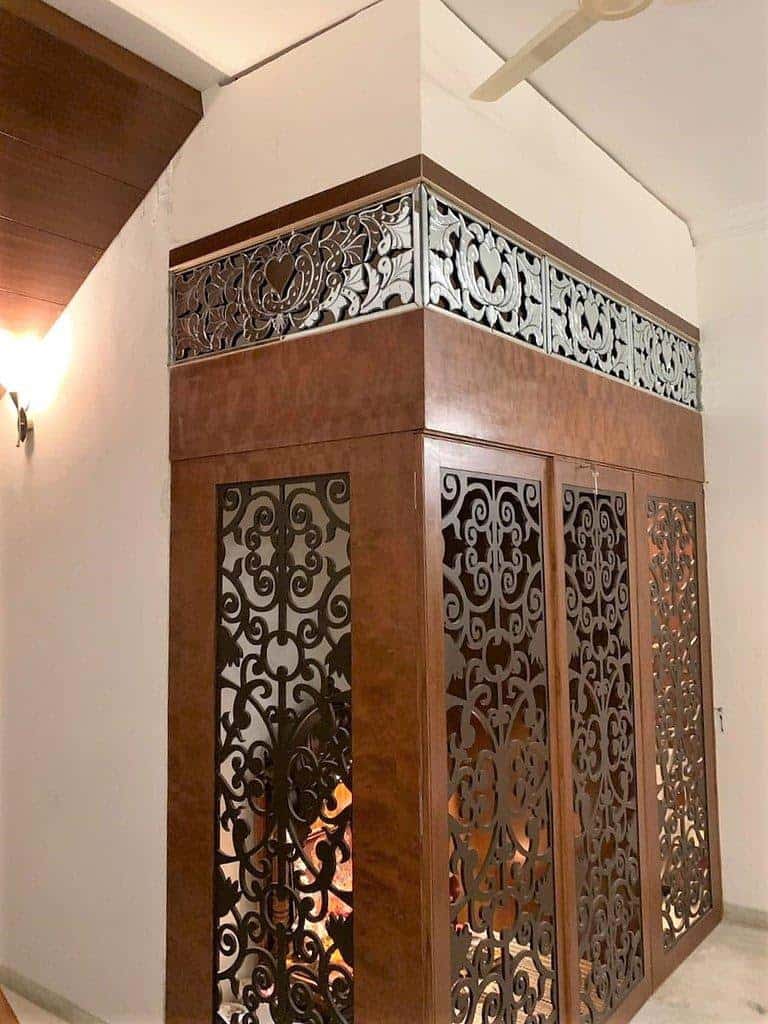 Image Source: Venetian design
If you want an enclosed but visible space for your place of worship, then MDF wood panels along with an MDF jail design will do the trick.
MDF jali designs for mandir
Image Source: Decor Units
This slidable MDF sheet is a great option to lower the cost. You don't need to invest in multiple sheets- just the one would do.
Also, the MDF jali design makes the temple look beautiful.
MDF wood panel top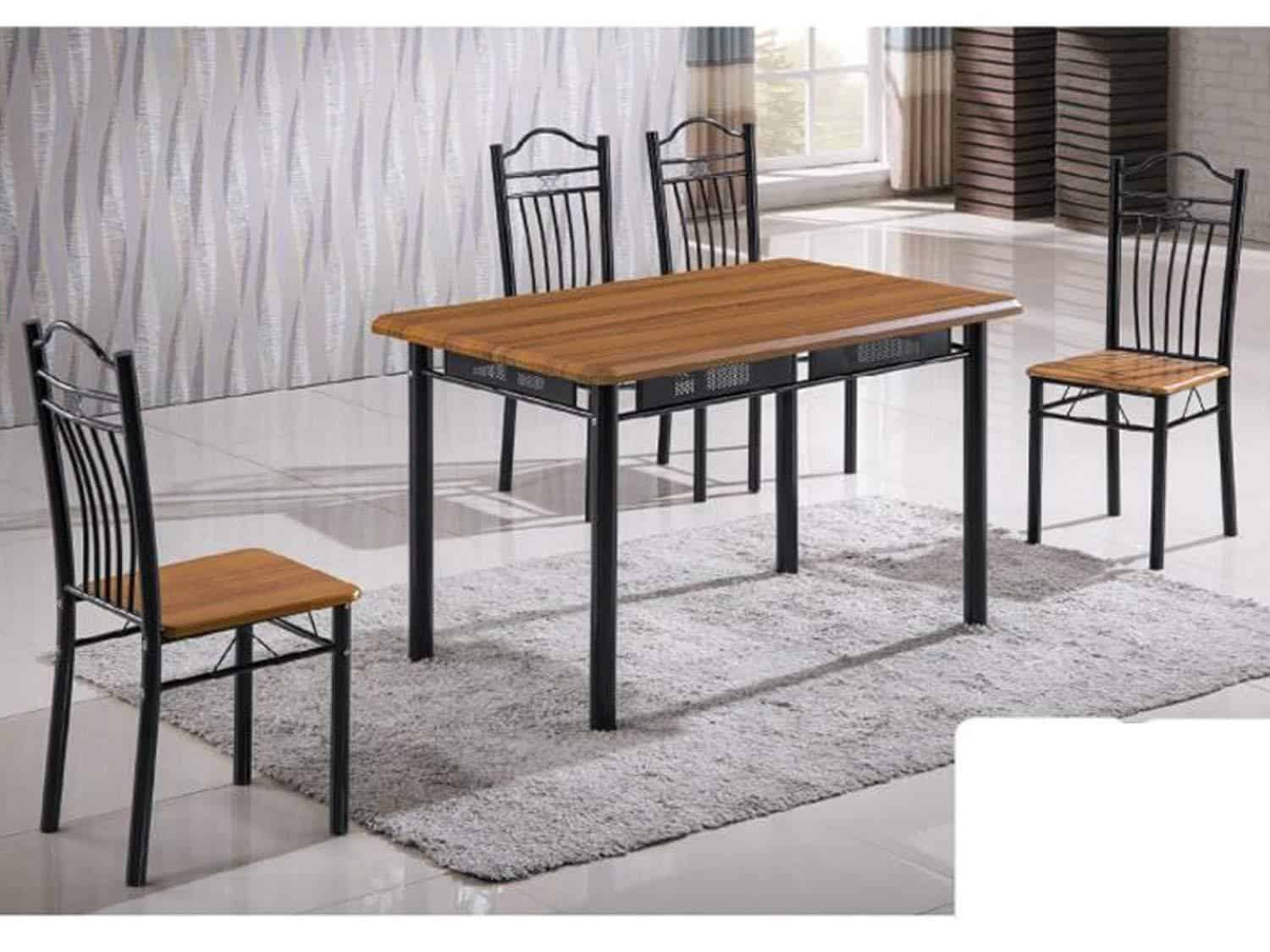 Image Source: Article
The dining room furniture can be upgraded to a wooden exterior with MDF tops for the metal table and chairs.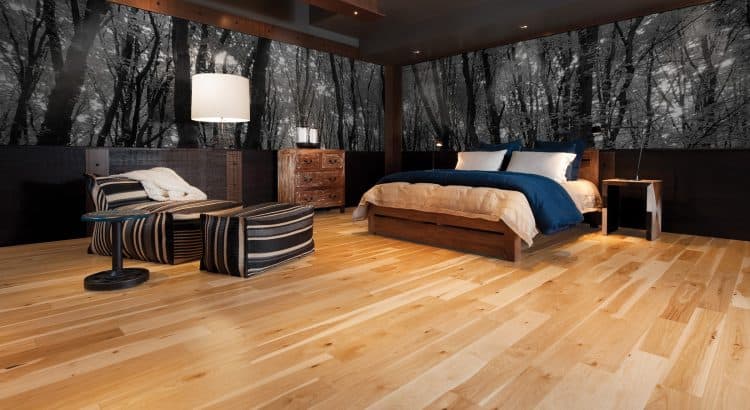 Image Source: About Flooring
These MDF sheets replicate the look of a wooden floor and make for a warm atmosphere.
Simple MDF paneling for walls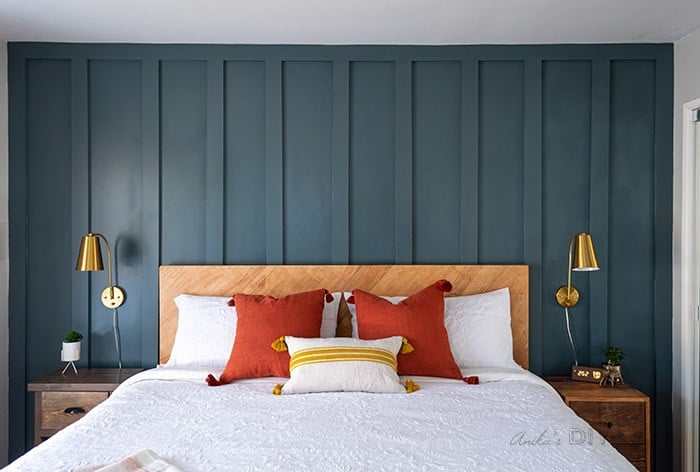 Image Source: Pinterest
The plain blue vertical grid look of this MDF wall panel is classy and looks great in a study room.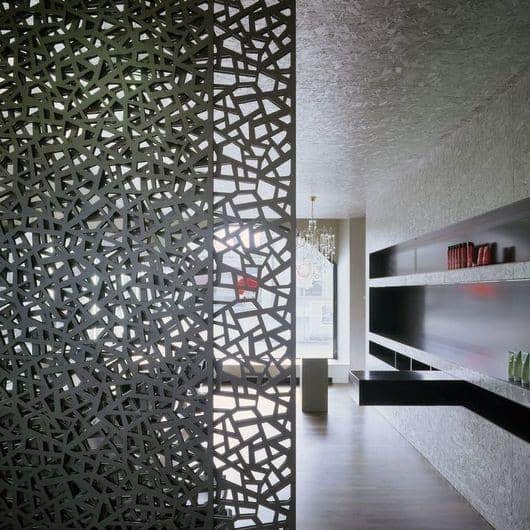 Image Source: Civil Engineering Discoveries
Decorative MDF sheets are art pieces unto themselves. This MDF design for partition adds to the overall look of the living room.
Image Source: ArchiExpo
These efficient sliding MDF doors save space that would be needed to allow the opening of the door.
ASIS Exterior Grade MDF offers uniform thickness and a homogeneous structure.
These boards are high on moisture resistance, termite resistance, borer, and fungus resistance also. Moreover, these boards are eco-friendly and possess very low levels of formaldehyde emissions.
ASIS pre-laminated MDF is available in 43 contemporary designs and colors with 2 distinct finishes namely suede and matte.
They are available in Grade I (exterior MDF); Grade II (interior MDF); one-side laminated; both-side laminated; one-side bare; both-side balancing variants.
Action Tesa MDF boards have the best routing characteristics due to special German Technology used to press the boards in a way so that compression pressure can reach its core.
Thus, the core is densified which is required for high-quality routing.
Interior grade plain and pre-laminated MDF
Exterior grade plain and pre-laminated MDF
Century Prowud MDF is borer, termite, fungus, and highly moisture resistant. Additionally, it is made with a higher density, and to a higher standard.
These products are perfect for creating durable furniture of all shapes and sizes, as well as stunning interiors of every design.
The brand offers the following two ranges in MDF boards:-
Densified Water-resistant board
Densified Interior Range
Vir MDF Board
Vir MDF, from the house of Rushil Décor, is a new-age product, a great alternative to solid wood and plywood. Also, it is a favorite of OEMs, SCPs, and conventional wood furniture manufacturers across India.
Vir products are as follows:-
Archidply MDF is extensively used in partitions, panels, false ceilings, cupboard shutters, and panel door inserts, among others.
Products from this brand are:-
Prelaminated MDF Board
Plain MDF Board
Pre-veneered MDF Board
Duratuff
DURATUFF MDF boards find application in both interior and exterior decoration & furniture making.
They provide the following products:-
Price and Sizes of MDF Boards
Good quality MDF Board price ranges from Rs 40 per square foot to Rs 120 per square foot. Also, the laminated MDF board price is higher than the plain MDF board price. The MDF Board price highly depends on the thickness and grade of the material.
The standard size of MDF boards across most brands is 2440mm (8 ft) x 1220mm (4 ft). Thus, the MDF Board price is also standardized.
Other variants of size are available as per specifications. Thus, the MDF Board price also slightly varies.
MDF Boards are available in a great range of thicknesses from 5 mm to 30 mm, as per the application.
| | | | | |
| --- | --- | --- | --- | --- |
| Sr. No. | Brands | Grades | Sizes | Thickness |
| 1. | VIR MDF | Interior and Exterior | 8 ft x 4 ft | 7.5mm, 7.8 mm, 8 mm, 9 mm, 11mm, 12mm, 15mm, 16.7 mm, 17mm, 18mm, 22mm, 25mm, 30 mm |
| 2. | Archiply MDF | Interior and Exterior | 8 ft x 4 ft, 8 ft x 6 ft | 5.5 mm, 8 mm, 9 mm, 11 mm, 12 mm, 16.7 mm, 17 mm, 18 mm, 25 mm |
| 3. | Action TESA MDF | Interior and Exterior | 8 ft x 4 ft | 5.5 mm, 7.5 mm, 8 mm, 11 mm, 12 mm, 15 mm, 16 mm, 17 mm, 18 mm, 25 mm |
| 4. | Pioneer Panel MDF | Interior and Exterior | 8 ft x 4 ft | 7.5 mm, 8 mm, 11 mm, 12 mm, 15 mm,17 mm, 18 mm, 25 mm |
| 5. | CROSSBOND MDF | Interior and Exterior | 8 ft x 4 ft | 7.5 mm, 9 mm, 11 mm, 12 mm, 15 mm,16 mm, 17 mm, 18 mm, 25 mm |
Our MDF recommendations (Buy Here)
Century Prowud MDF Densified Interior Range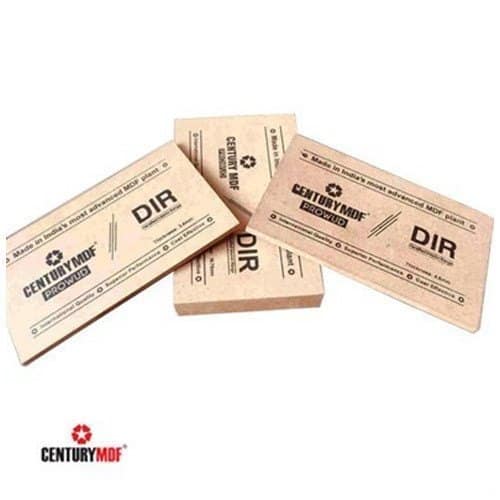 Woodmartshop Pre Laminated MDF Board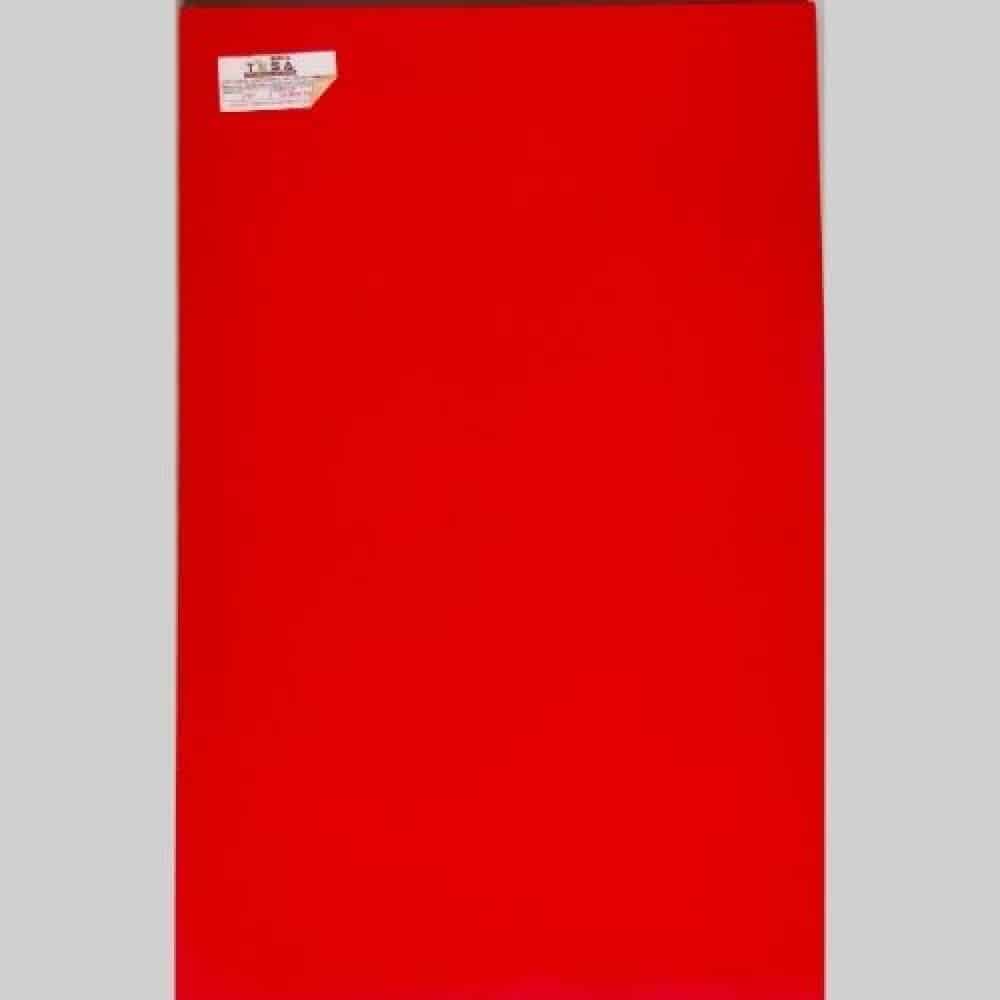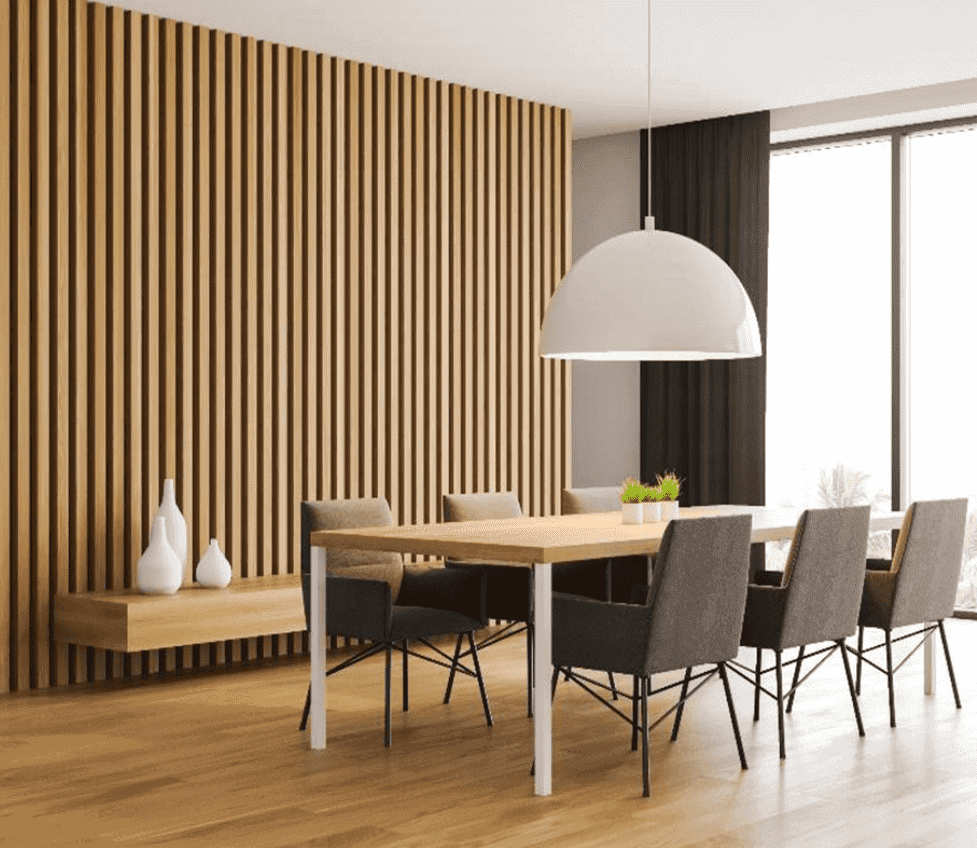 Mark Glam MDF Board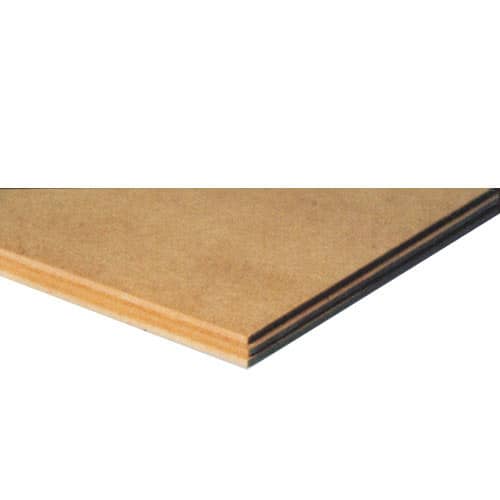 Action Tesa Pre-Laminated MDF
Conclusion
MDF boards are the result of the pursuit of substitutes for natural wood. It aimed to make use of the high levels of waste produced by lumber mills.
In recent times, it has emerged as a sustainable building material.
Besides being a strong and sturdy material, an MDF board also offers great flexibility in design.
While there are many reasons for using MDF, there are also drawbacks. Major drawbacks include the release of formaldehyde as well as expanding and warping issues. However, it remains easy to overcome all of these drawbacks by taking precautionary measures.
Safety measures can minimize these problems to a significant extent.
The categorization of MDF boards into different types depends on their finish, their density, and their special features.
Wall paneling, flooring, doors, cabinets, and other storage units mainly use MDF boards.
The designs and applications of MDF Boards are plenty.
If manufactured and installed correctly and with precision, MDF Boards are one of the best composite wood products on the market.
If you want to buy top-quality MDF boards from the best brands at the most competitive price, click on the link given below to check your options and submit your inquiries:
For more details, contact below:
Email: mukul.jain@buildingandinteriors.com
Mobile: +91 99676 32127
[vvsmustread]