HVAC is a rather common word that you might hear in your day to day life. Most of us have a general idea as to what it refers to. On the other hand, what is HVAC meaning? And, how does it add to your home? In basic words,  HVAC system means heating, ventilation and air conditioning, which is available in varied types. A system that helps the air move indoors and outdoors and brings heating and cooling effects. These keep us warm and cosy in the winter season and sweat-free in summer's heat. 
HVAC is a milestone of building a mechanical system that provides thermal comfort for your homes. In this era of pandemic and global warming air quality is a prime concern, HVAC systems help you control indoor air quality to keep you healthy and safe. Along with air quality, these are also equipped with humidity regulators to give a comfortable experience during rainy days.
HVAC systems can be classified into types, meaning central and local systems according to multiple zones, locations, distribution and processes. Heating, ventilation and air conditioning under this system is achieved by using suitable equipment like AC, ventilation fans, blowers, heaters and dehumidifiers. The desired temperature of the air is delivered via air handling equipment, fan coils, air ducts, and water pipes.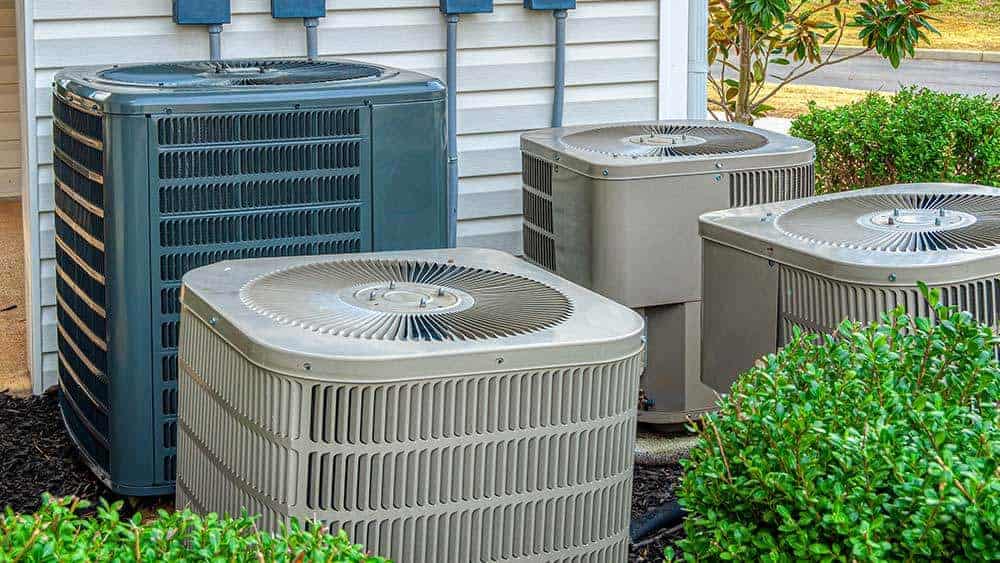 HVAC for domestic and commercial use.
Image Source: Cielo Breez
How to select the right HVAC system for your homes?
The selection of the HVAC system depends on three things, firstly the building configuration, second is the climate condition and lastly the desire of the occupant. Other factors that play a key role are available space, utility source, capital coat and maintenance load.
Basic Parts of HVAC System
The primary equipment that forms part of the HVAC systems is listed below. Purchase the best quality equipment for performance and durability.
Mixed-air plenum and outdoor air control

Air filter

Supply fan

Exhaust or ventilation fans

Outdoor air intake

Ducts

Terminal devices

Return air system

Heating and cooling coils

Self-contained heating or cooling unit

Cooling tower

Boiler

Water chiller
Brands
These top brands for HVAC offer the best equipment and central installation facilities at wholesale prices.
Voltas

Blue Star

Daikin 

Hitachi

Onida

Haier
Call us to book HVAC systems and equipment at the best price.
HVAC Subcategories
---
HVAC Products