These days indoor plants are a necessary component of every home. They brighten up the space and act as a major mood booster. Besides that, the right planters or pots for indoor plants are one of the few things required to take your home decor to the next level. When it comes to making your house a home, the details are everything. Indoor plants in hanging planters or stands are decorative accents that can literally breathe life into your space. There's no need to worry if you believe that your shelves or floor space are insufficient. There are many indoor planters that are small enough to fit into even the smallest spaces. The market offers a wide range of pots for indoor plants, bonsai, and succulents ranging from hanging planters to those with stands. 
We've selected some of the most beautiful planters, from small ceramic pots that are the size of a coffee mug to large ones that can add style to any plain and uninteresting area of your house. Moreover, we have provided information on how you can select your ideal planter. So, if you're looking to buy pots to elevate your decor, take a look at these 15 best indoor planters available in India.  
How to choose the right indoor planter to decorate your space? 
1. Room decor: When you have a lot of options, selecting an ideal planter can be a little challenging. Start by comprehending your surroundings. Consider the design and colour of a planter that will best complement the existing interior theme of your space. Consider the colour, texture, and finish when choosing designer pots.
2. Type of plant: There are other factors besides appearance to think about when purchasing a planter. Your indoor plants' health can be affected by the type of pot you use. The plant's health is impacted by the material of the pot, its size, and its drainage capabilities. Additionally, keep in mind the type of plant you are potting, as different varieties require different growing conditions. 
Once you identify the best type of pot for your indoor plant, you can experiment with colours and shapes that harmonise with the foliage and texture of the plant. Finding the ideal type of planter will depend on what you are growing because this will affect how warm the pot is and how well it drains water. 
3. Placement or positioning: The positioning of indoor planters is another crucial factor to consider. Although there are no set guidelines for plant placement, you can keep the colourful ones in the hall to welcome your guests and place the tranquil ones in meditation rooms or bedrooms. Keeping your favourite flowering plant by your bedside table, where it will be the first thing you see in the morning, is another excellent option. Tabletops are a great place for small indoor plant pots, while corners are ideal for medium-sized planters. 
Click here to read about the different types of pots and planters in detail.
15 best indoor planters in India

 
Burke Decor Debossed Stoneware
Regardless of the design you wish to achieve, this indoor planter will enhance your space as it comes in an array of styles. From modern and chic to classical and elegant, it will be a beautiful focal point in any room. This indoor planter or pot is 6.25" round and 5.75" tall which makes it the perfect coffee table display.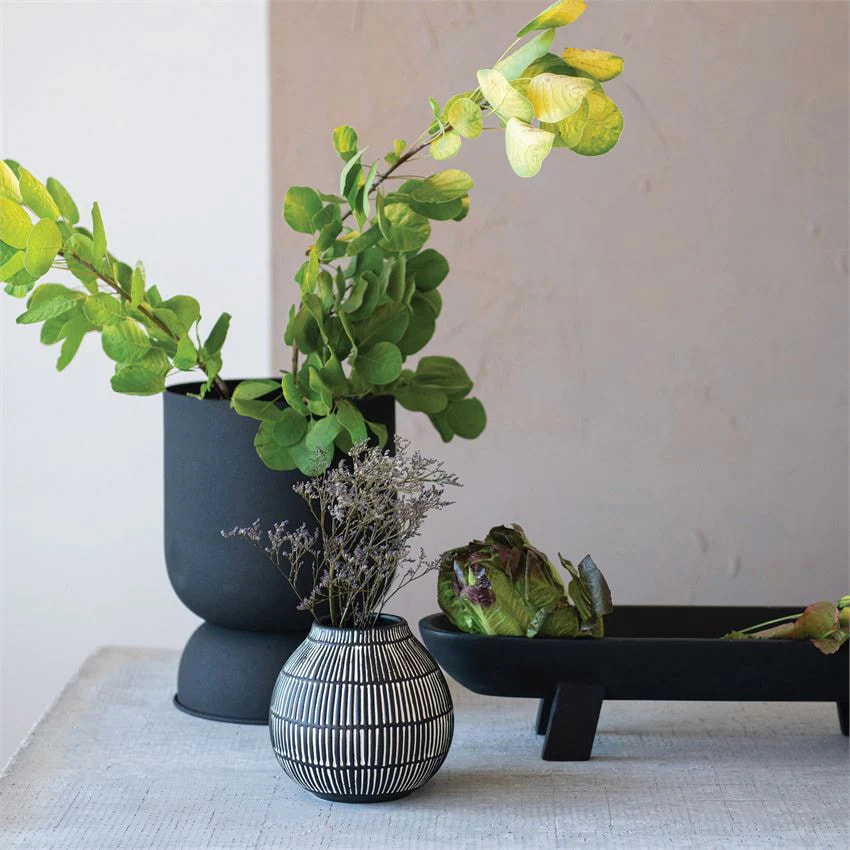 Anantaya Birbal Planter
The Birbal indoor planters or pots are named after Mughal King Akbar's famed courtier Birbal, who was able to outwit and humour his way through difficult situations. These indoor planters are handcrafted from brass and marble and nest a fine terracotta liner enabling you to build magnificent gardens. You can use these as hanging indoor planters and also as stand-alone tabletop decor items.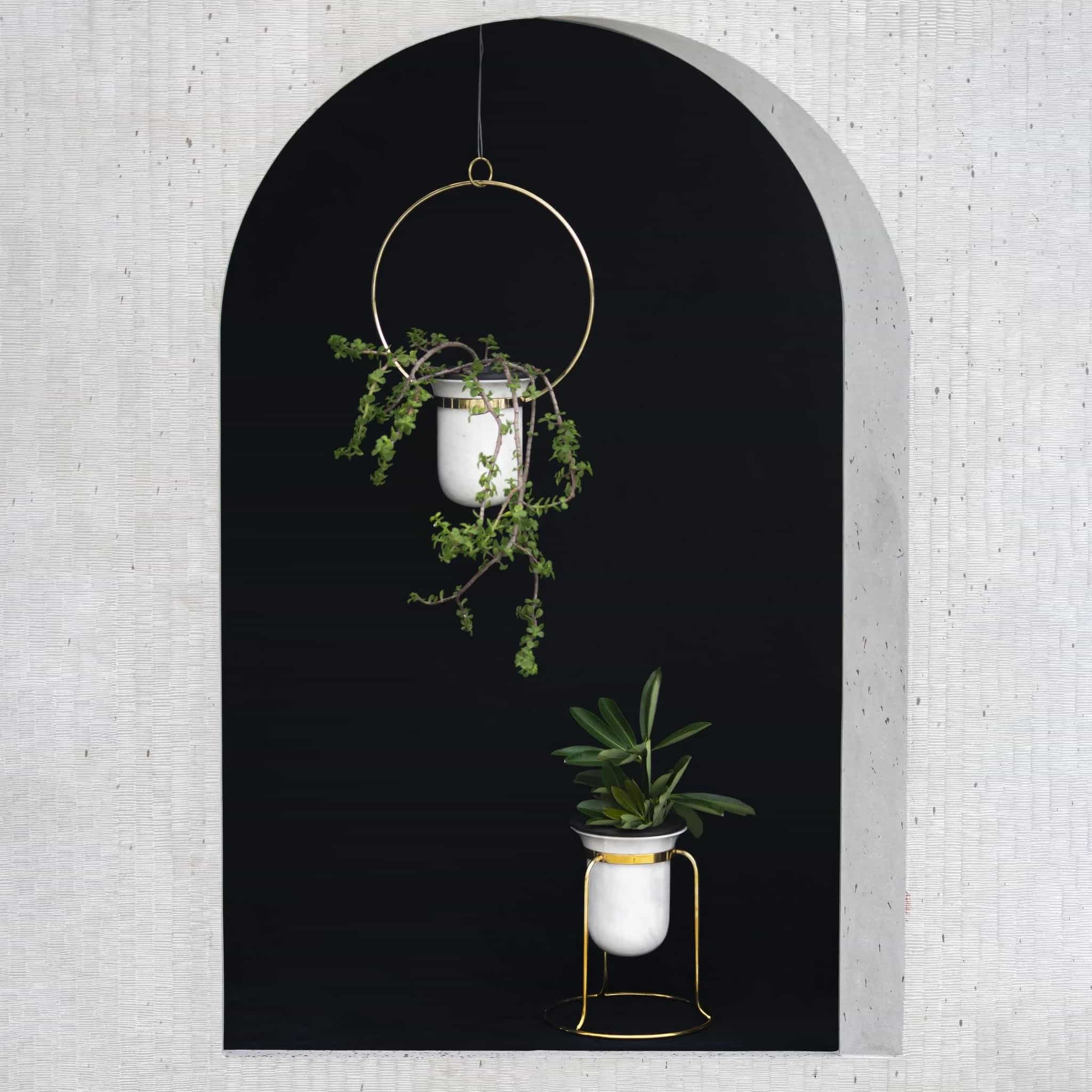 Mora Taara Woven Pot On Stand
These indoor planters with stands are made of woven seagrass and have a great rustic charm. They have a very adaptable appearance that works in a variety of decor schemes. As these planters are made of seagrass and have a wooden stand, it is advised to only use them indoors.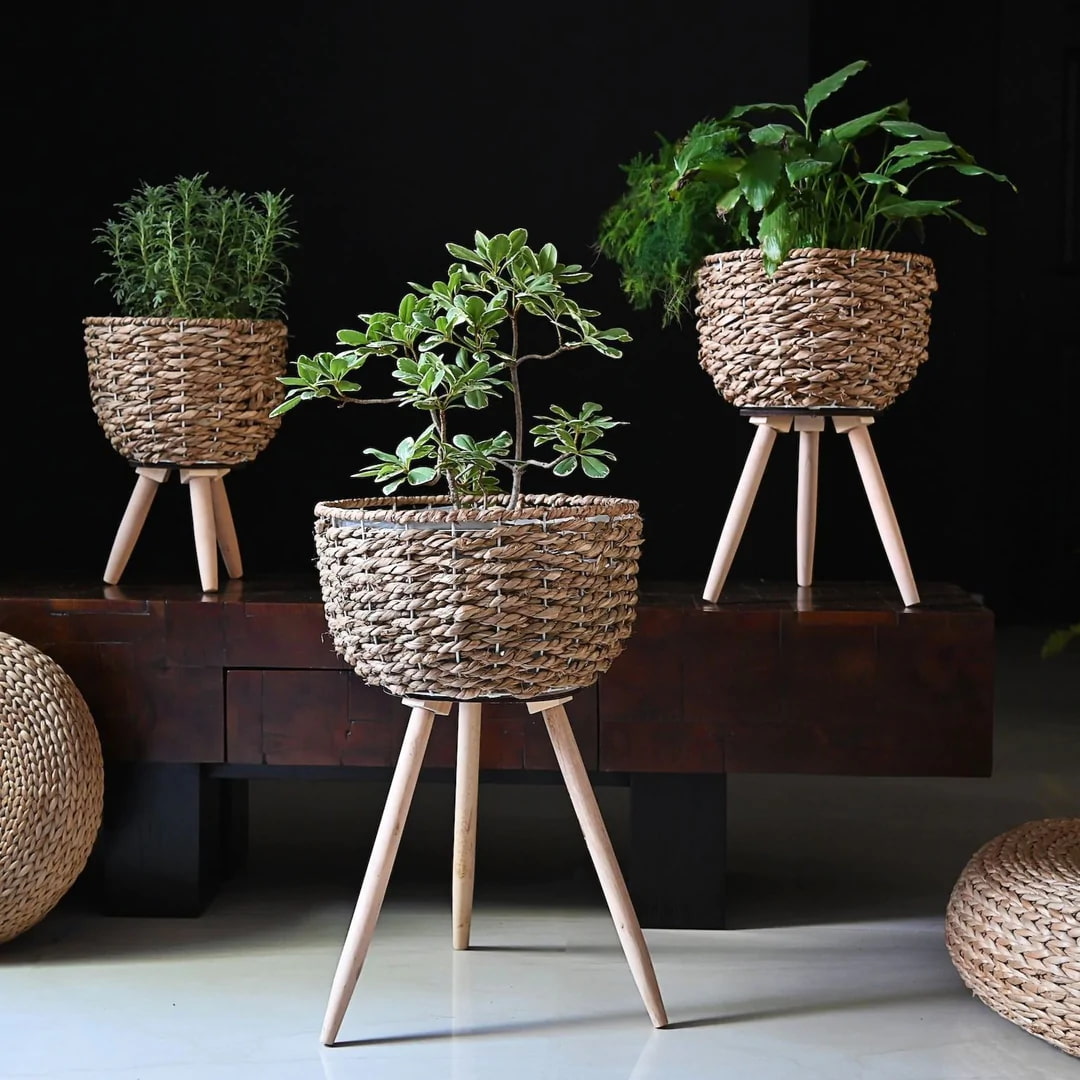 Crate And Barrel Glencoe Small Reversible White Metal Planter
With their hourglass shape and creative adaptability, Glencoe planters can adorn any balcony or patio. These statement-making planters are made of white-finished iron and feature a smart asymmetrical design that transforms from a shallow urn on the low base to a small bowl on the tall base.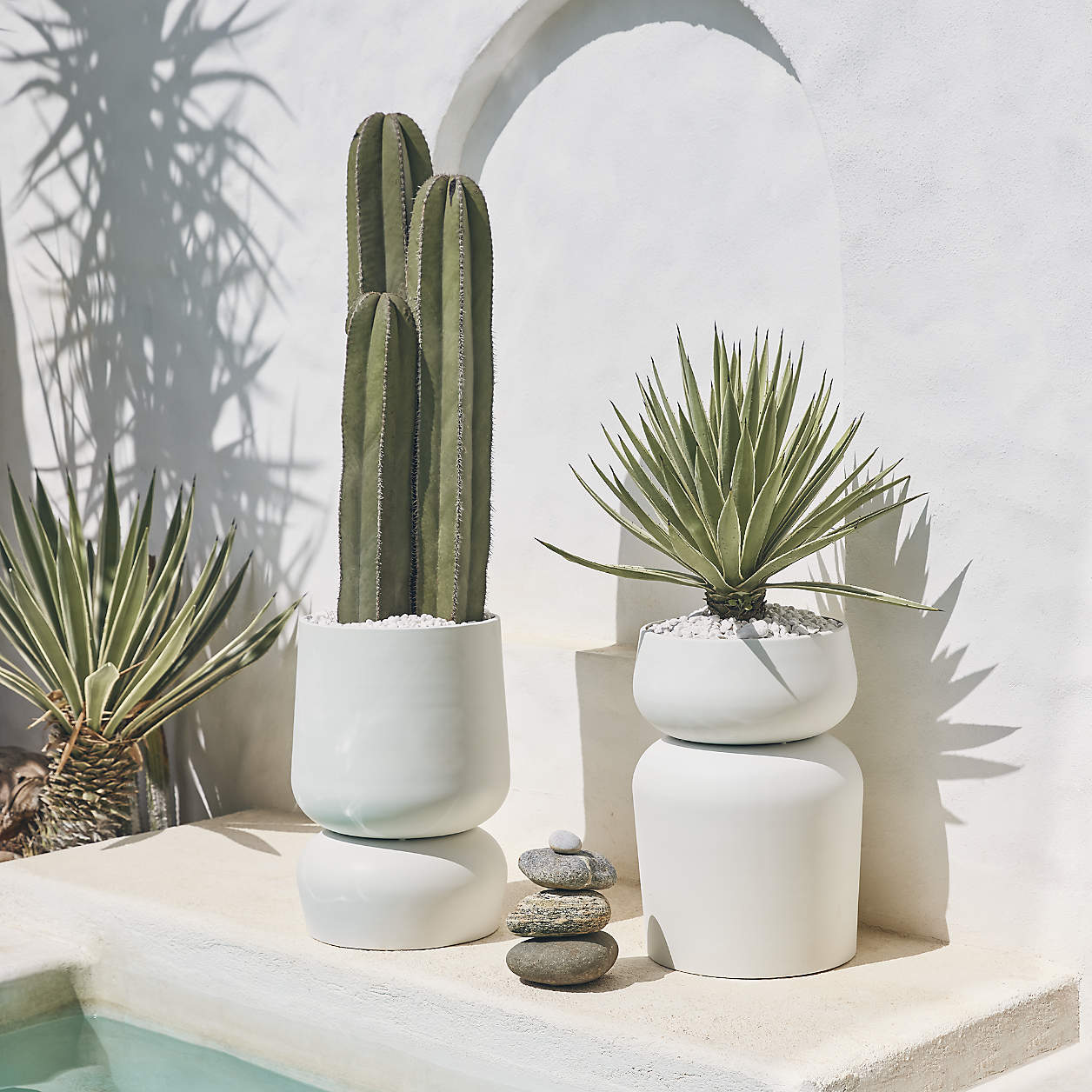 Fleck Fluted Glass Planter 
This gorgeous decor piece is made using ancient blowing techniques and the delicate fluted technique. It has a clear glaze that is adaptable and has ribbed edges, perfect for growing your favourite indoor plant or showcasing a bouquet of just-cut flowers.

The Decor Remedy Bark Wood Table Planter
The earthy appearance of this raw piece allows it to be used in a variety of settings, including buffet tables, consoles, workstations, bedside tables, and powder rooms. It immediately introduces a raw, unadulterated sense of nature into the space.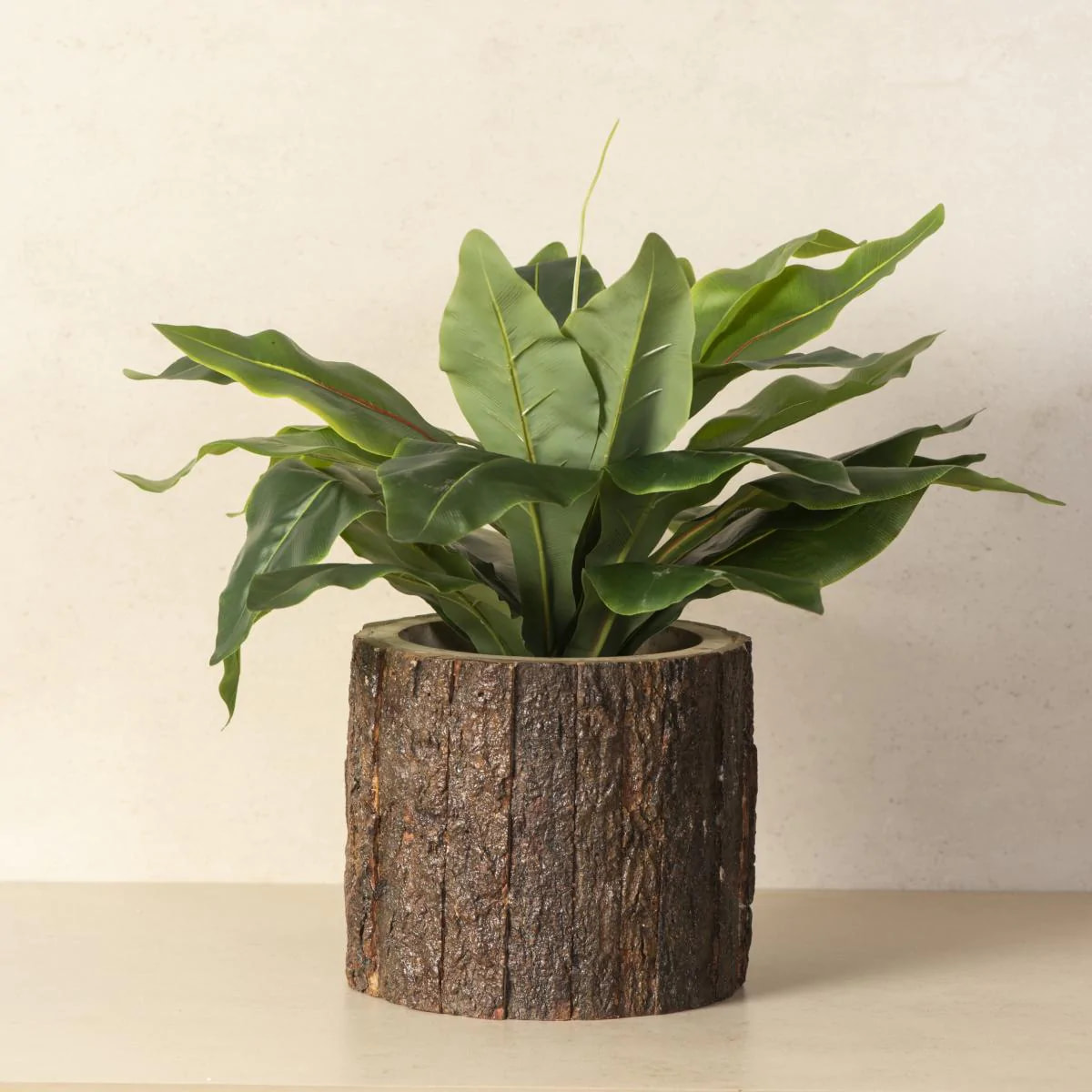 Jaypore Anatolian Printed Iron Planter with Wooden Stand 
This gorgeous Anatolian tulip print table planter gives your home a rich, classic appearance. It is perfect for side tables, dining tables, console tables, and centre tables. This lovely planter is handcrafted in metal and has a wooden tripod stand.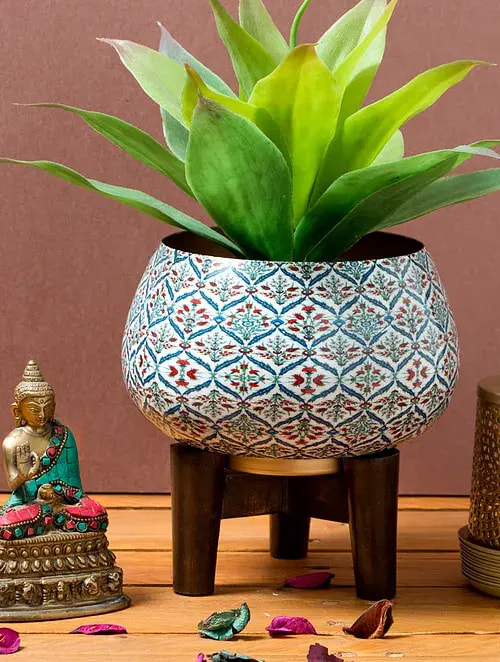 Bonasila Narcio
This planter lends beauty to any environment with its stylish circular-shaped design, a fantastic combination of looks and function. Also, this lightweight planter, with smooth and sleek edges, will add vibrancy to your environment. So, with this indoor table planter, you can add a touch of minimalism and playfulness to your space.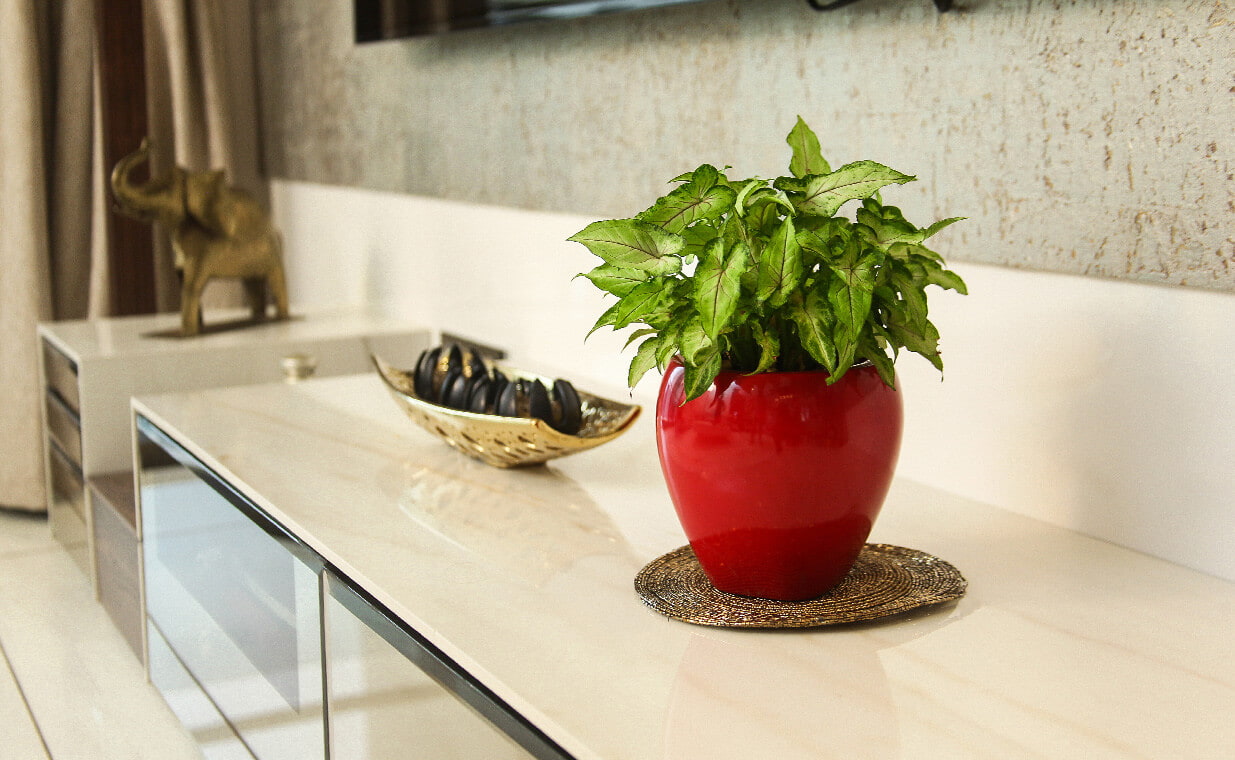 Sereno Bello RT – Medium Indoor Planter
These planters are rectangular, lightweight, and durable. They are manufactured using UV-stable and non-fading colours. They can be used as exterior aesthetic components for your interior pots or filled with lightweight soil to directly grow your plants. Also, hanging these indoor planters on the wall is recommended.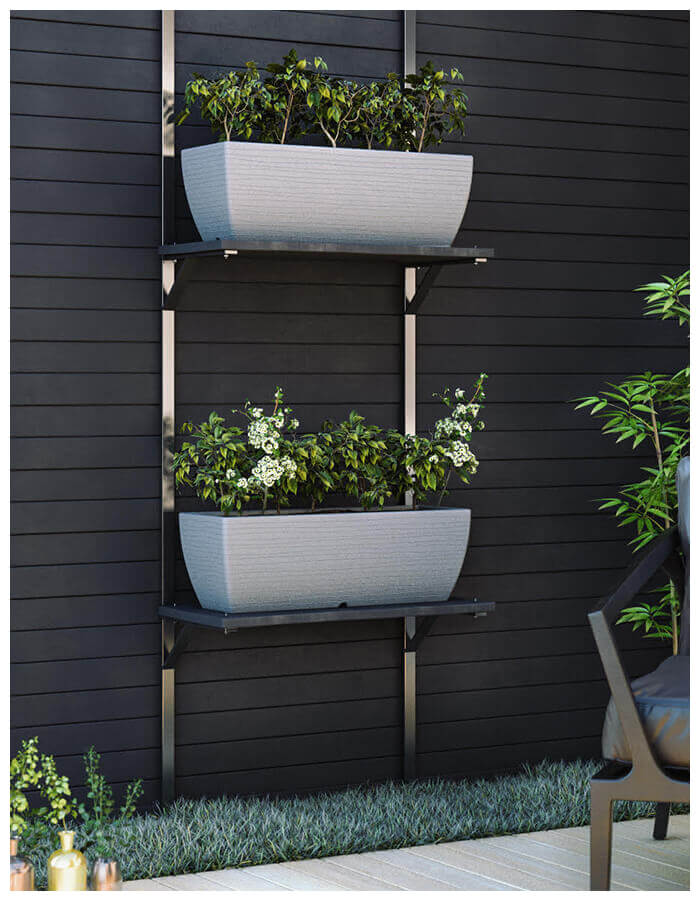 Home Center Valencia Rancher Metal Planter with Stand – Set of 3
These exquisite indoor planters with a stand are a stylish way to add little plants to your living space. Moreover, these are lightweight, yet strong and long-lasting.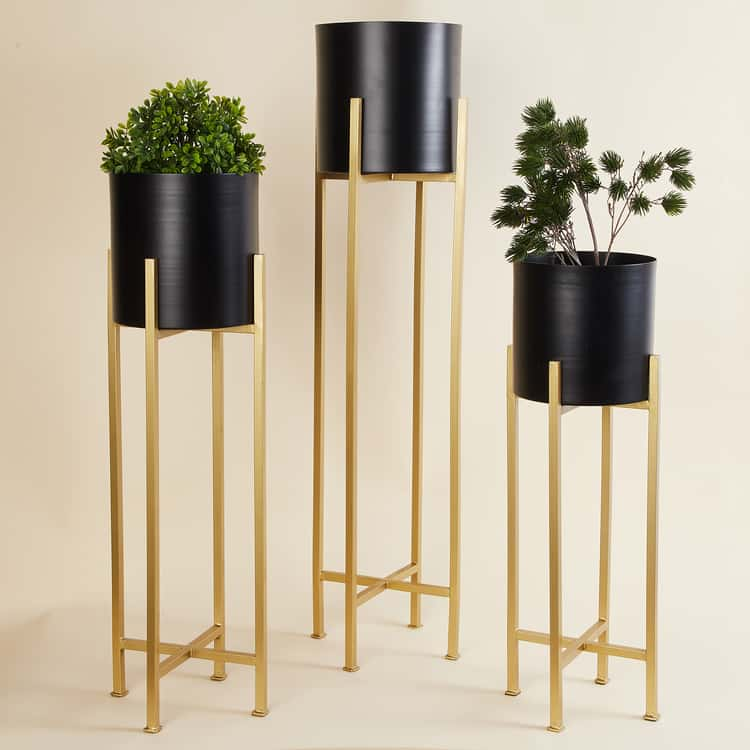 Freedom Tree Indoor Dish Planters For Succulents & Bonsai
You may develop your own dish garden in this small red ceramic bowl. This indoor planter has been skillfully coated for a contemporary appeal and is perfect for small succulents or a lovely bonsai.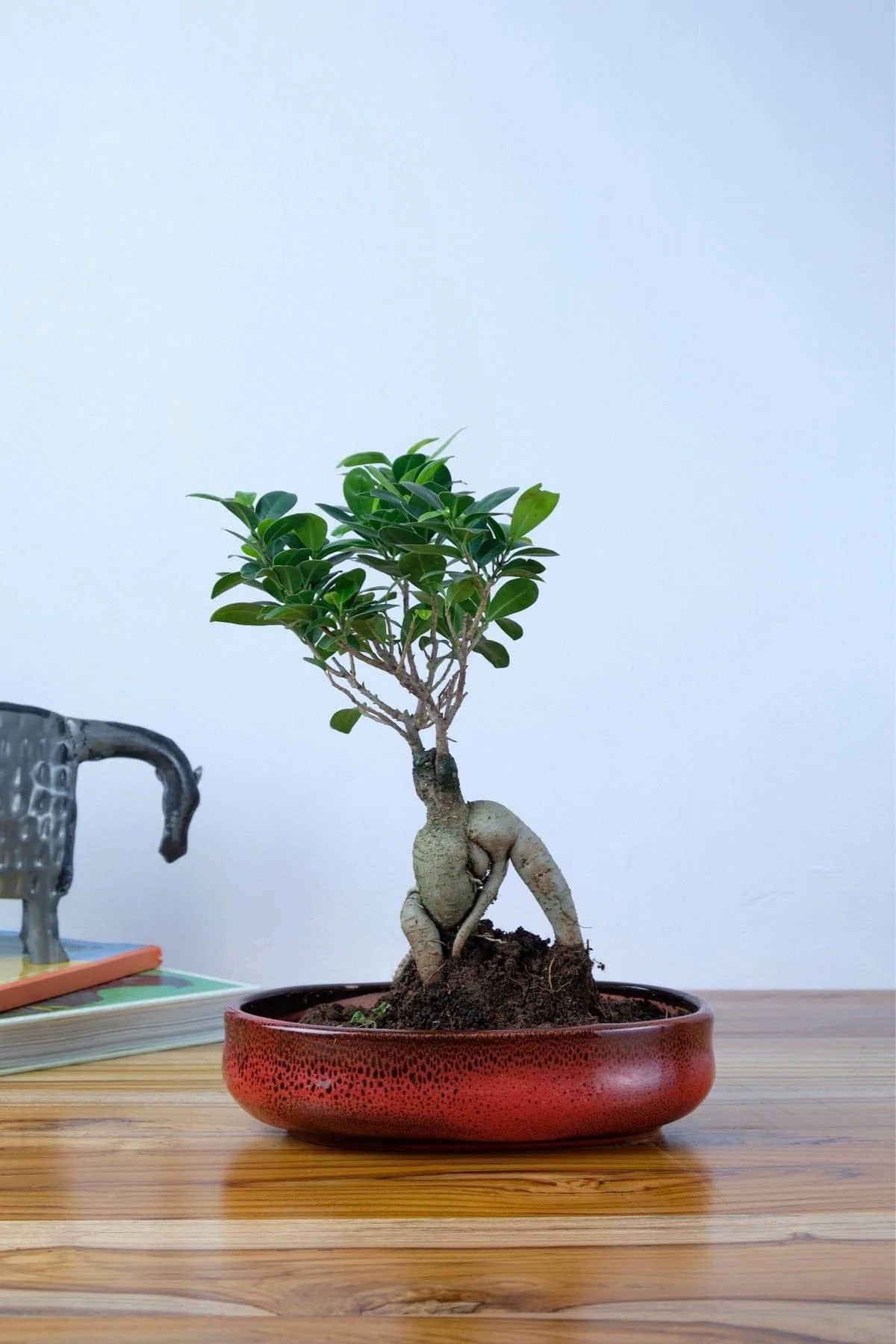 At-Home By Nilkamal Buddha Face Indoor Planter
Install buddha-faced indoor planters if you want to make your plants or succulents stand out. Consider adding a surprise element to your home with these striking planters. Made up of terracotta, these indoor planters are suitable for succulents as well as a bonsai.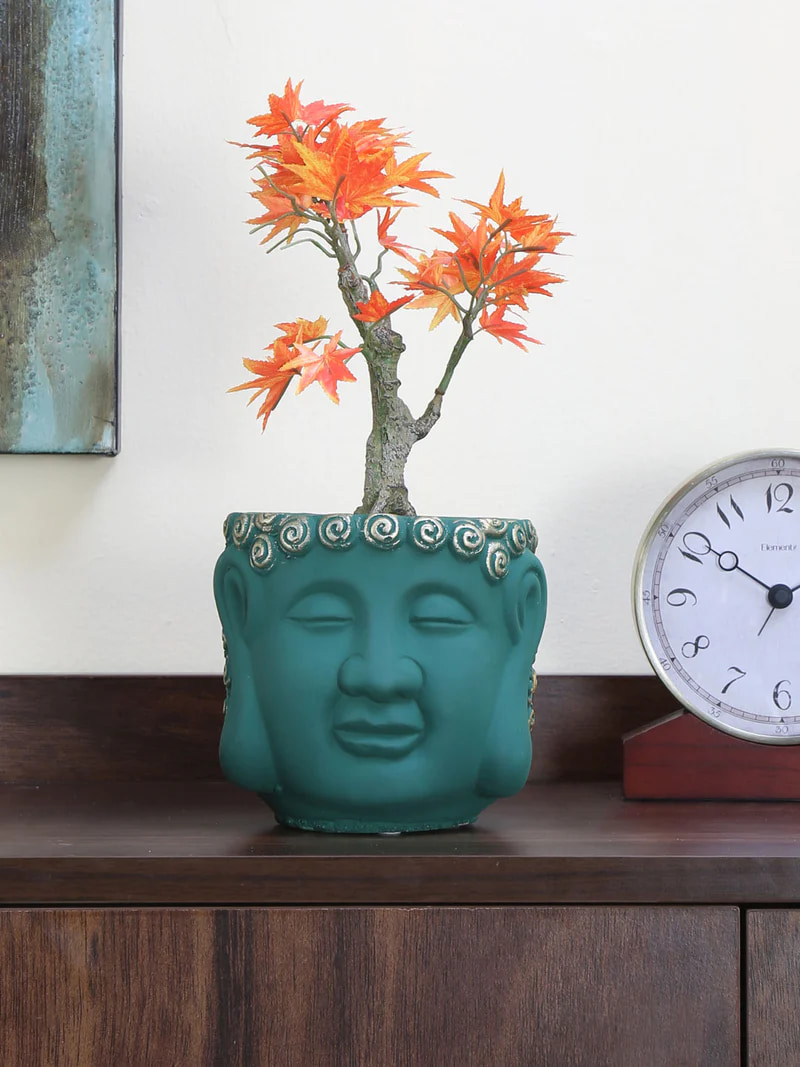 Fleck

Raw Metal Black Plant Pot
With this rust-free aluminium plant pot, you can join the natural trend. With a contrasting acacia wood stand, this piece is organic and simplistic. Everything is handcrafted, and we adore the raw, earthy touch.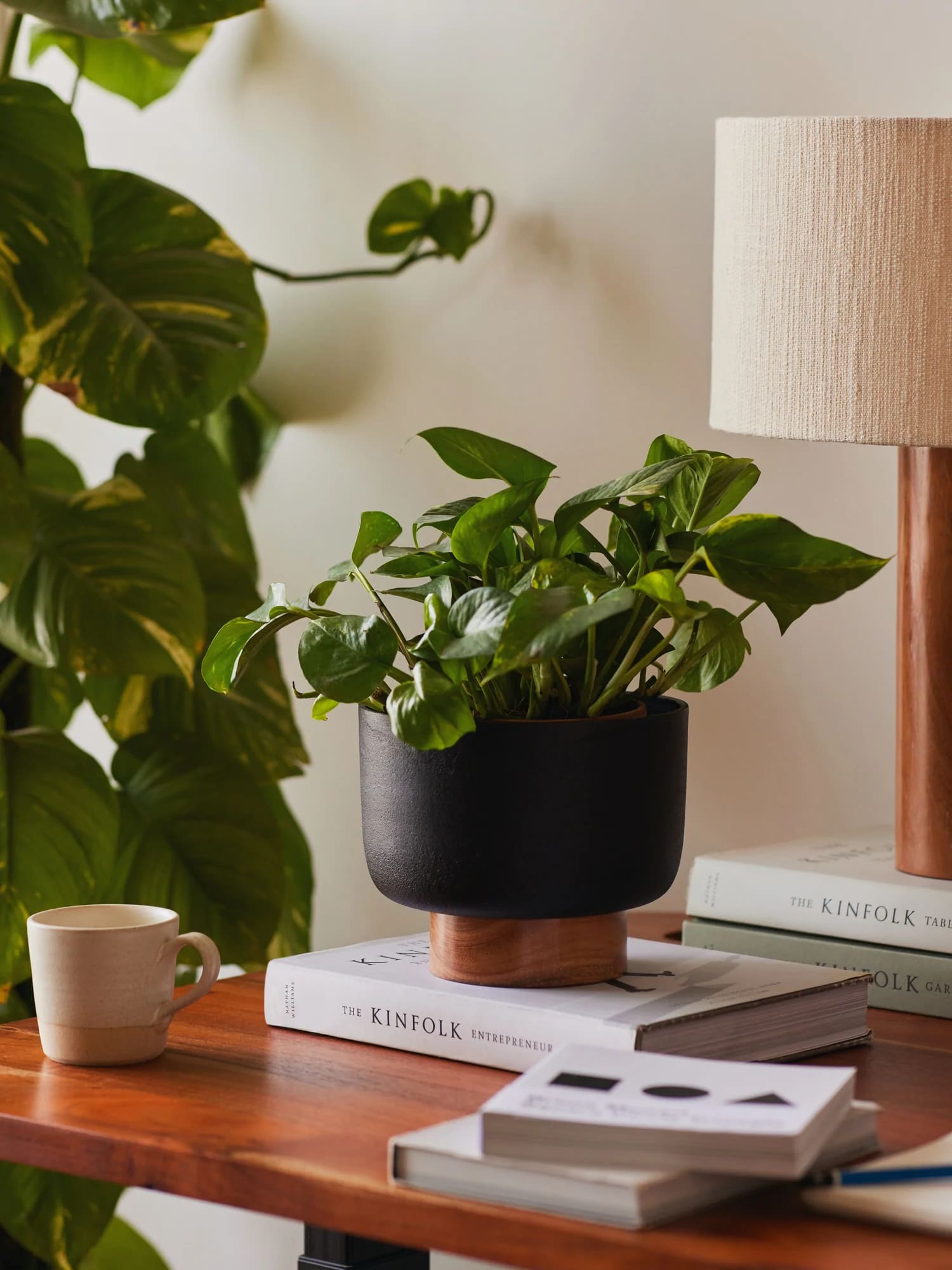 Ikea

Outdoor Terracotta

Plant Pot With Saucer
There are several advantages of using terracotta for plant pots. It is not only a gorgeous material, but it can also store surplus water, allowing your plant to absorb moisture just when it is needed. These indoor planters, therefore, are great for succulents as well.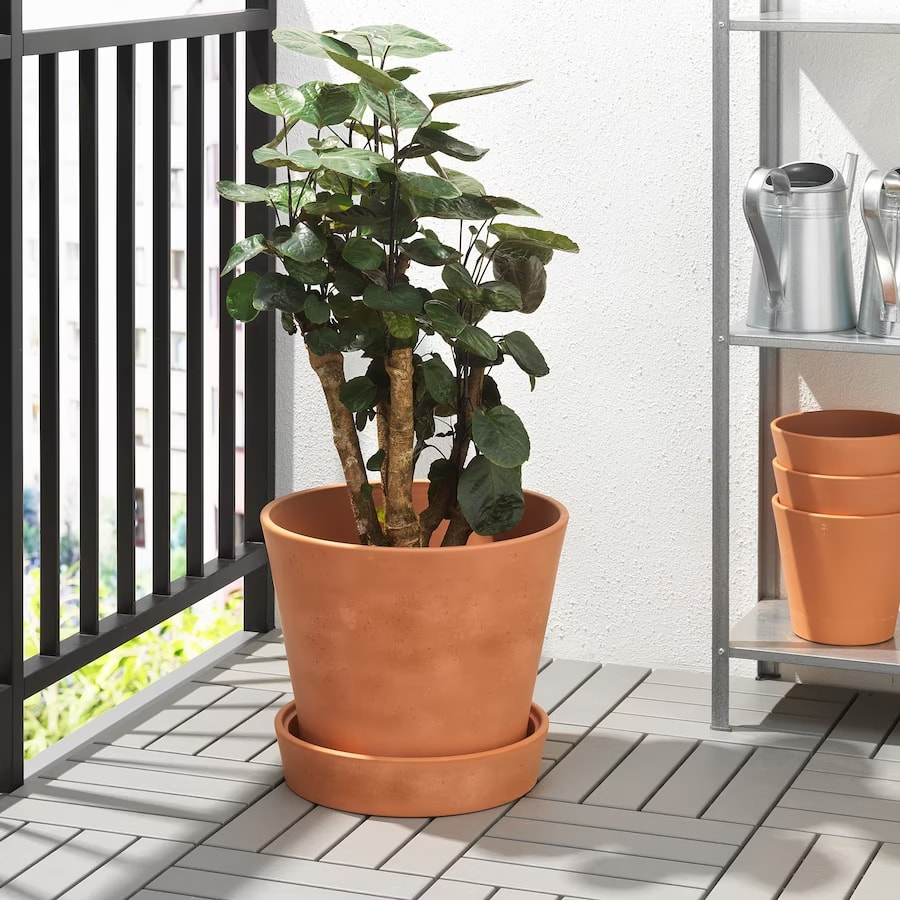 Tata Cliq Luxury Aladdin Table Top Indoor Planter
This captivating planter from the Aladdin Collection is the perfect way to display your favourite plant. Choose this eco-friendly yet trendy planter as the ideal option to improve the ambience in your home. It has been meticulously prepared using stainless steel.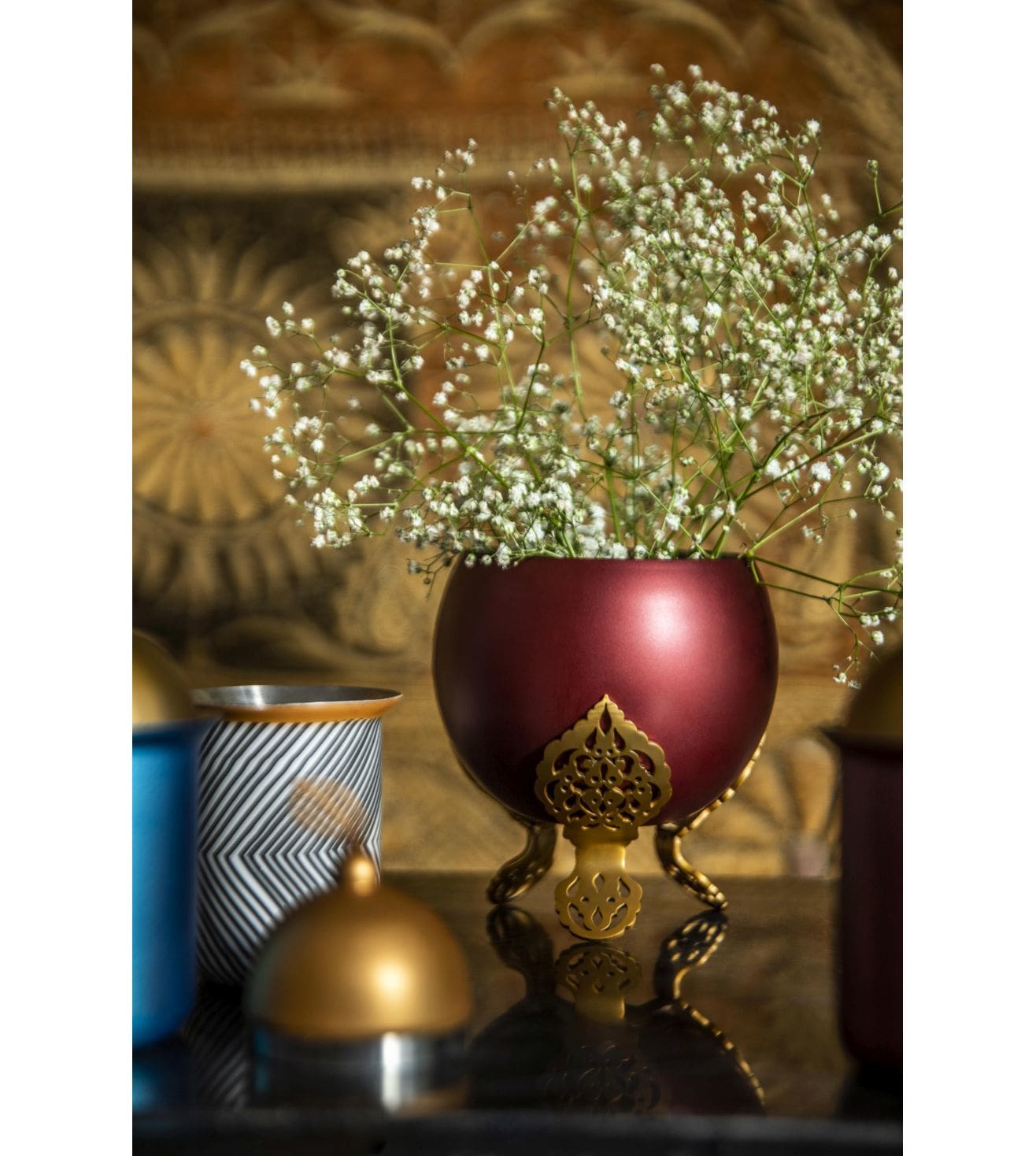 Conclusion
There are many good reasons to grow indoor plants. Plants promote health, purify the air, and are visually appealing in any interior setting. Additionally, indoor plants look fantastic, especially when paired with the appropriate planters. To keep your indoor plants healthy and vibrant, it is essential to have the best planters and pots. Hanging planters can add interest to a forgotten corner, while little ceramic indoor planters can be placed on your home office desk to lift your spirits. Do you want to make a statement in your space? Consider using hanging planters or indoor planters with a tall stand.
So, now that you are familiar with how to select the right indoor planters or pots, you can pick the one that works best for your space from our recommendations and save time.
*The featured image used in this article is from Tatler Asia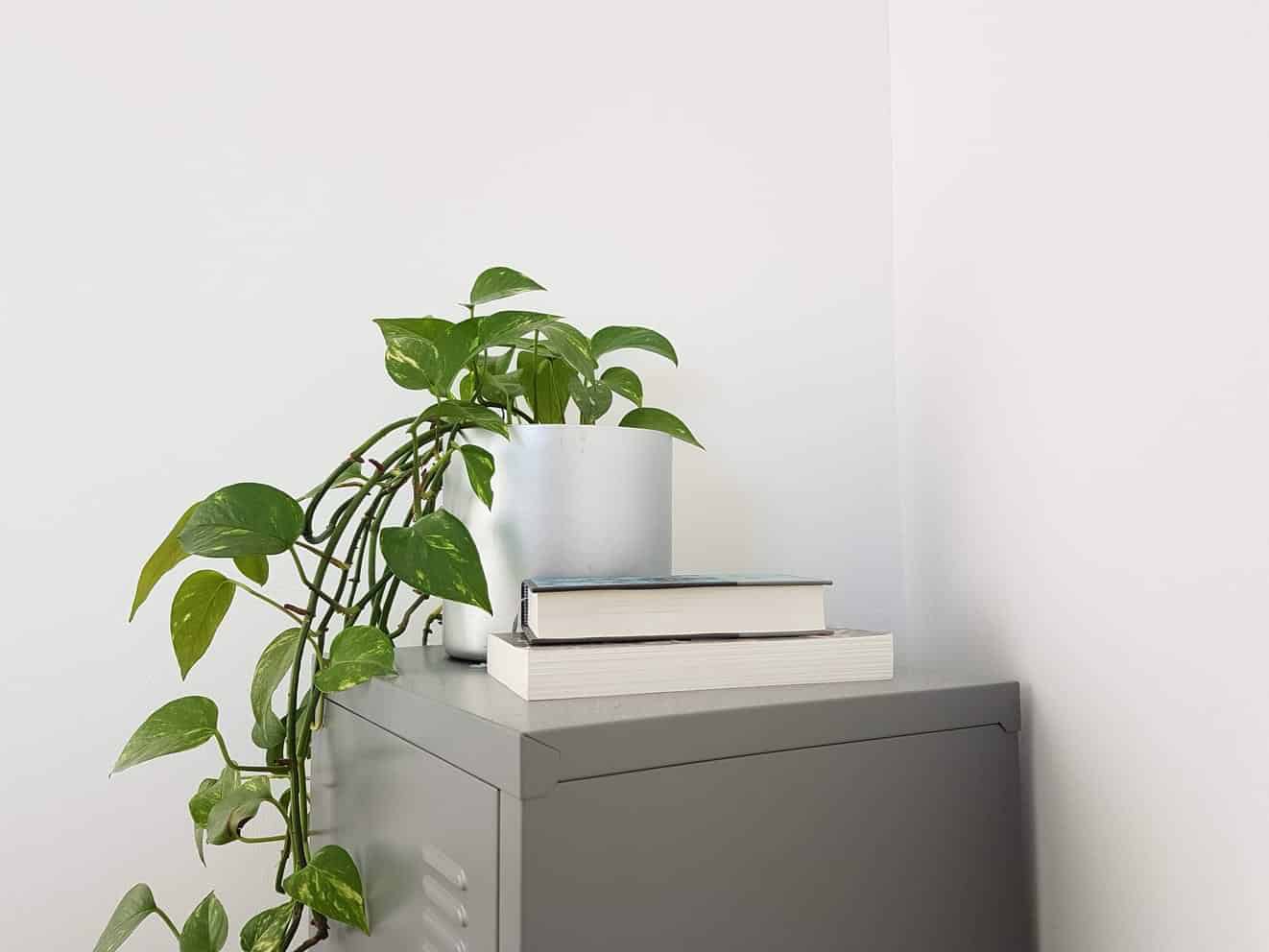 The money plant is one of the most popular houseplants and often the first choice for a new plant parent. It is an evergreen climber that can grow in both soil and water. It can also tolerate extreme temperature changes and climate conditions, making it an excellent choice for Indian homes. A money plant is a highly adaptable and low-maintenance plant that you can't simply kill, whether you have a green or brown thumb! It is a member of the Arace
[cbxwpbookmarkbtn]