The living room, more than any other room in your house, demands consideration in terms of interior design ideas and decorating items. You spend as much time there as you do in your kitchen (if not more), so it should be well-equipped for a variety of activities. A living room requires a comfortable sofa for family movie nights, a suitable rug for playtime with children, and appropriate lighting for evening reading hours. To put it another way, from wall decoration ideas to the colour you choose, every little interior design and decor detail of your living room matters a lot.
We've compiled a list of our greatest living room ideas for some interior design, colour, and wall decoration inspiration. These sophisticated living room designs are also budget-friendly if you wish to recreate them. Additionally, these can give you ideas for updating your space or embarking on a whole makeover. These design ideas will help you get started on your road to designing your perfect living room, whether you have a small or large space.
Mood boarding for living room decoration
Image Source:  Dabito 
When it comes to living room ideas, getting started can be the most difficult part. Remember that any room is made up of various aspects, so try to make a mood board on Pinterest which covers as many aspects as you can. A well-prepared mood board will make the decorating process much easier.
Use two or more shades of the same colour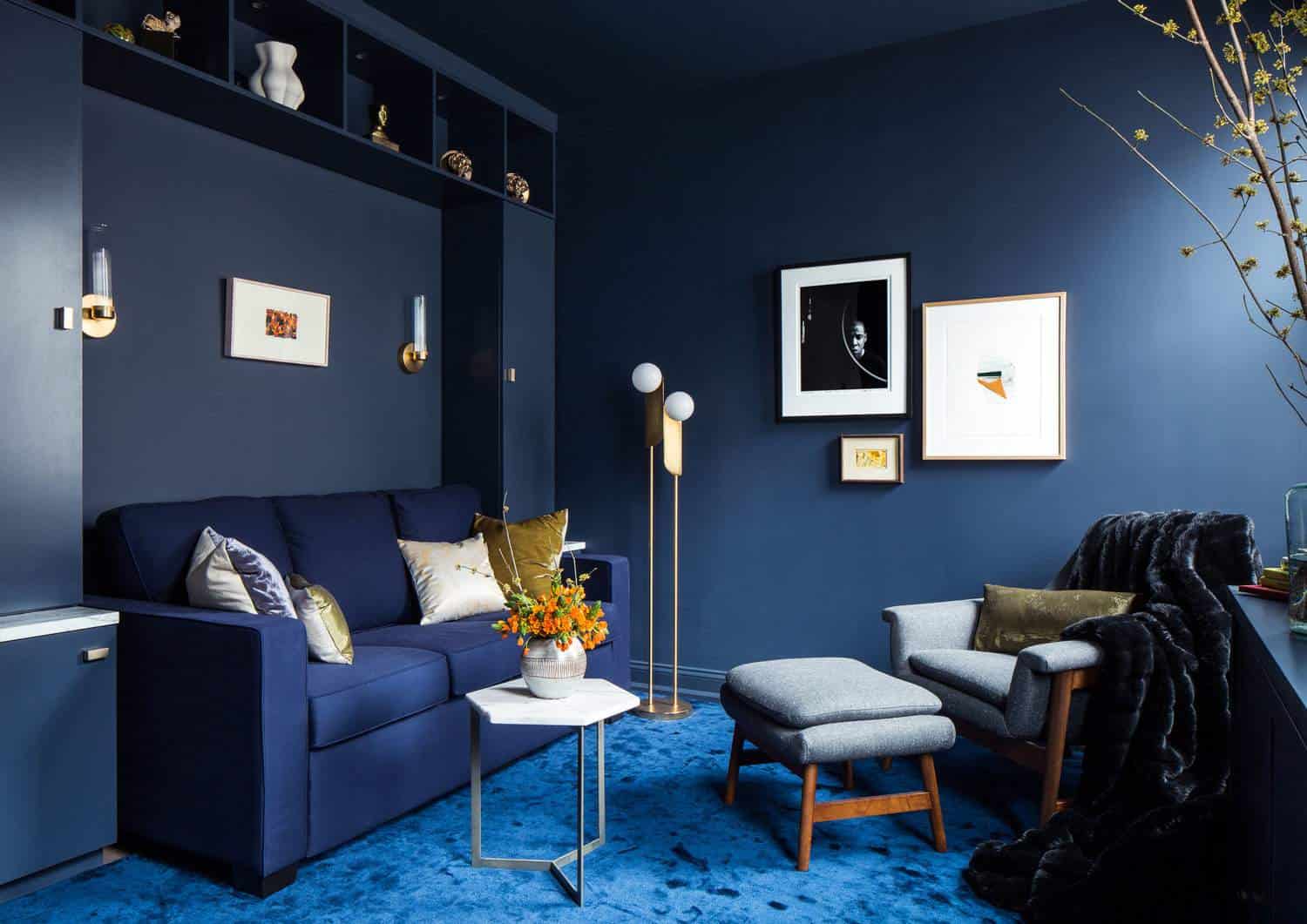 Image Source:  Turek Interior Design
Choose a couple of hues of the same colour and use them in different places in the living room for a truly modern look. Consider painting the ceiling as well; it's been a popular trend recently, and we expect it will be in vogue for the next couple of years. You can see how beautifully the colour complements the furniture and the patterned rug. 
An accent living room colour in decor for neutral walls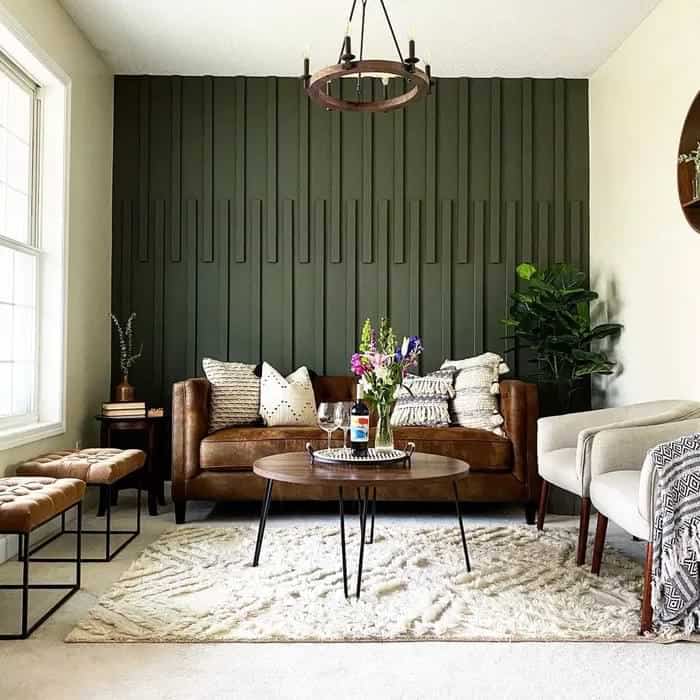 Image Source: mai_happy_home (Instagram) 
Use accent colours to add interest if you've decided to leave your walls neutral or white but still want a pop of colour. It's a great way to incorporate a favourite colour, and you can be creative with patterns as well. Using a few two-tone prints in a similar colour palette can help the scheme feel more coherent. So, even if you use various patterns, the colours allow all of the diverse pieces to fit perfectly together.
Choose an impactful wallpaper for a lasting impression
Image Source: WallpaperDirect
Bold living room wallpaper ideas are a terrific way to create an atmosphere that feels varied, energetic, and entertaining. If maximalism is your thing, a  pale green or blue design on the wall would look wonderful for a living room because it will tone down the pattern's effect and create a much calmer vibe. Choose a colourful printed design on your furniture for a lively look. Or, you can pick a good plain hardwearing woven fabric and add some trendy pillows.
Invest in beautiful rugs for living room decoration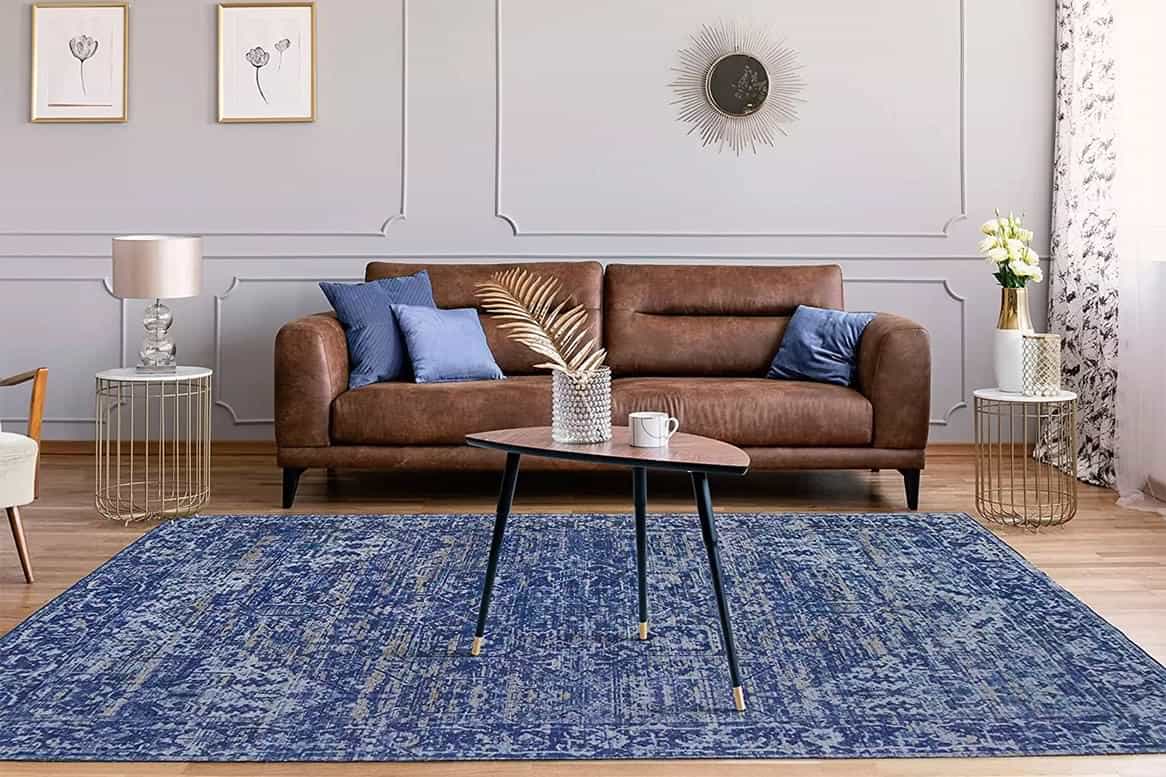 Image Source: Martha Stewart
Rugs in living rooms aren't used nearly as often as they could be, yet they can contribute so much to a colour and pattern scheme.  A powerful rug can alter a living area by adding personality, texture, and warmth. These can have a subtle design that anchors the overall scheme, or these can be bold statement pieces that set the tone for the entire room.
Play with textures for stunning living room decoration ideas
Image Source: Flynnside Out Productions
When it comes to neutral living room ideas, layering texture is a good concept. Colour and design are crucial, but the texture is just as significant. Nothing is more unappealing than a flat design. Combine different textures, such as natural linens with soft velvets or tough leathers with thick wools, to create a unique look.
Compartmentalize the living room for different activities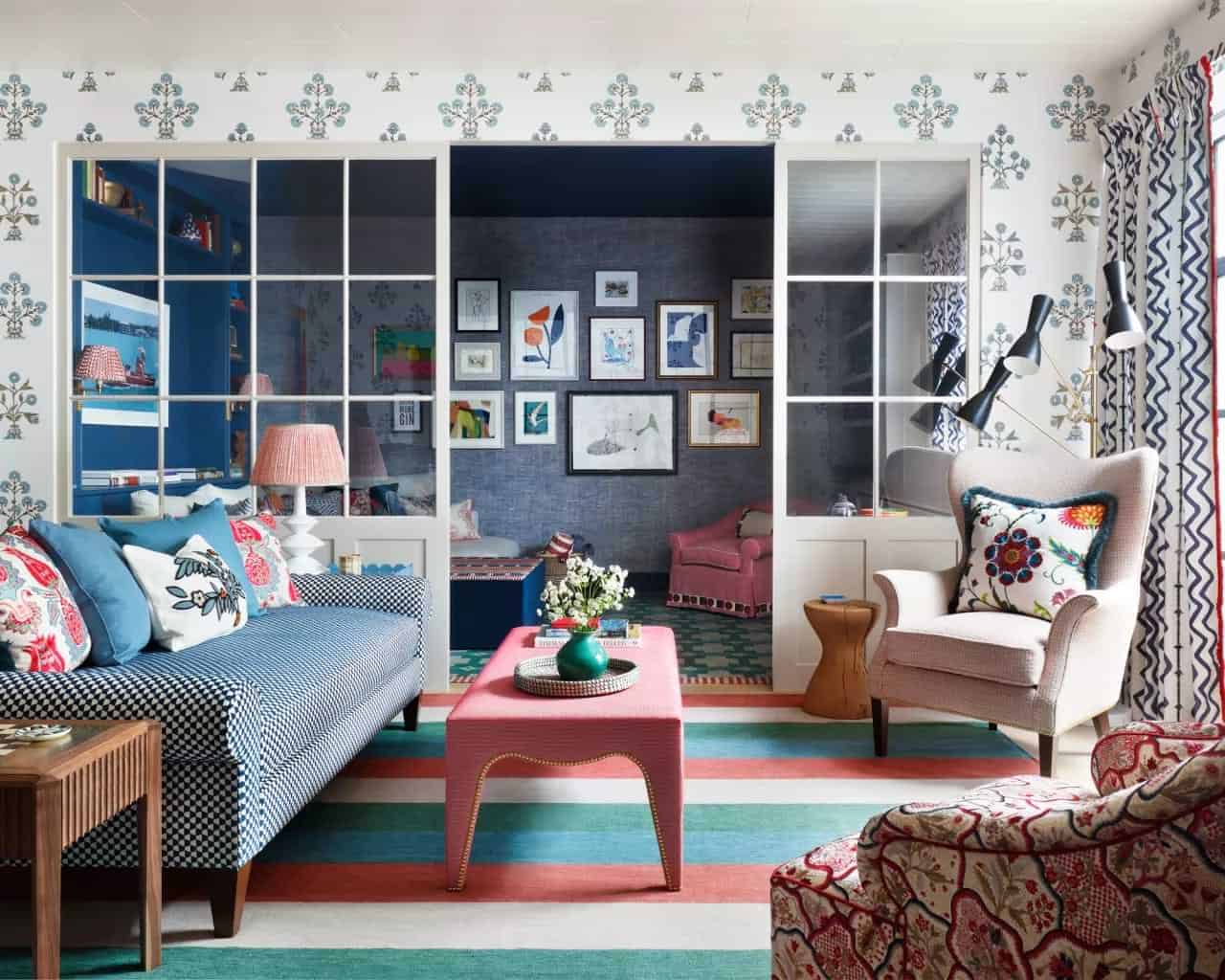 Image Source: Alexander James (Studio Peake)
Although living rooms used to be places where we sat and watched TV in the evenings, they are now almost always used as sitting rooms, homework stations for kids, home offices, and, of course, movie theatres – which is why searches for broken plan living rooms are on the rise. So, how do you cram all of the stuff into a small space? If you have a large living room, you can divide it semi-permanently without completely blocking off a portion. A wall of glazing, which can incorporate doors, is the best and most lasting way to do so, allowing family members to pursue different interests while maintaining the room's open space.
Bring different eras home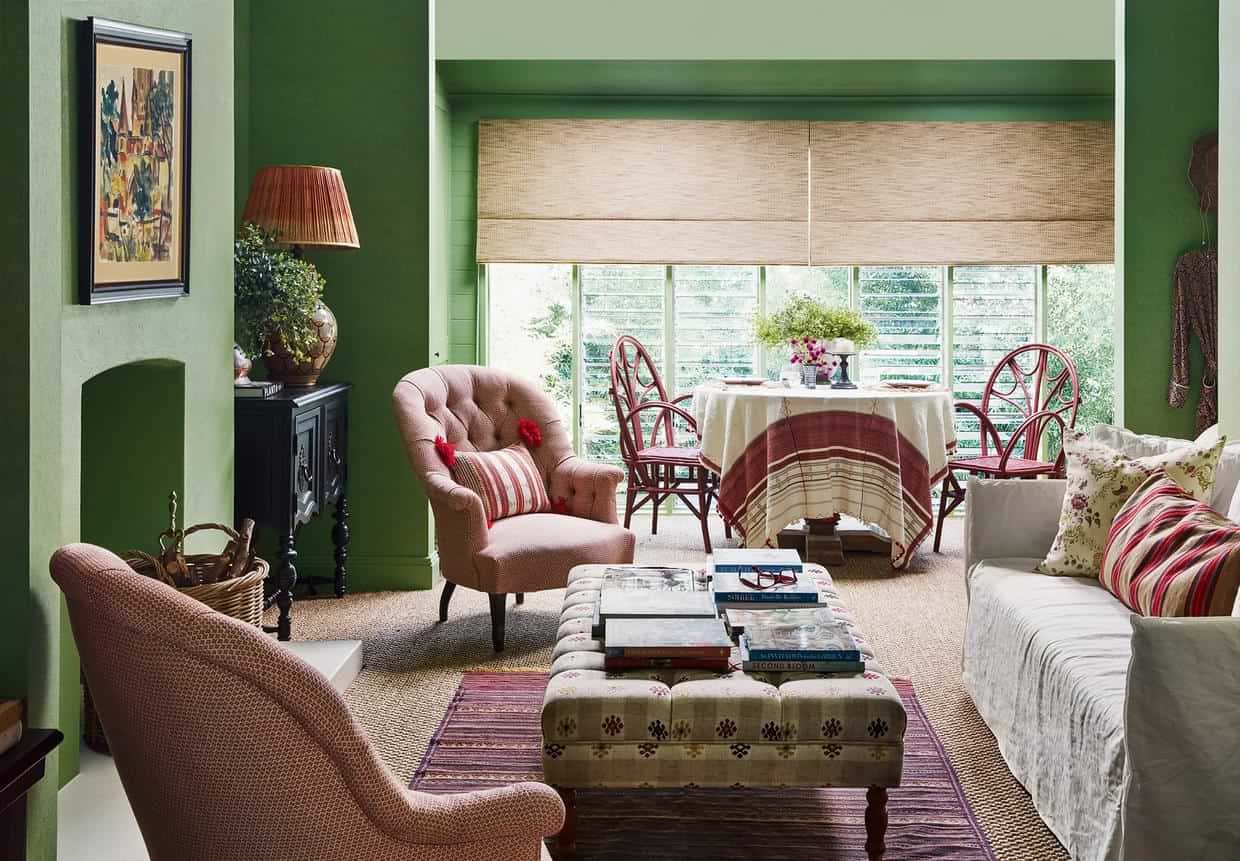 Image Source: Maree Homer
You don't need to have a one-track mind when looking for living room ideas. To create spaces that are inviting and timeless, mix older antique pieces with vintage items and contemporary designs. This will add an interesting touch to your living room decor.
Bold artwork for adding personality to your space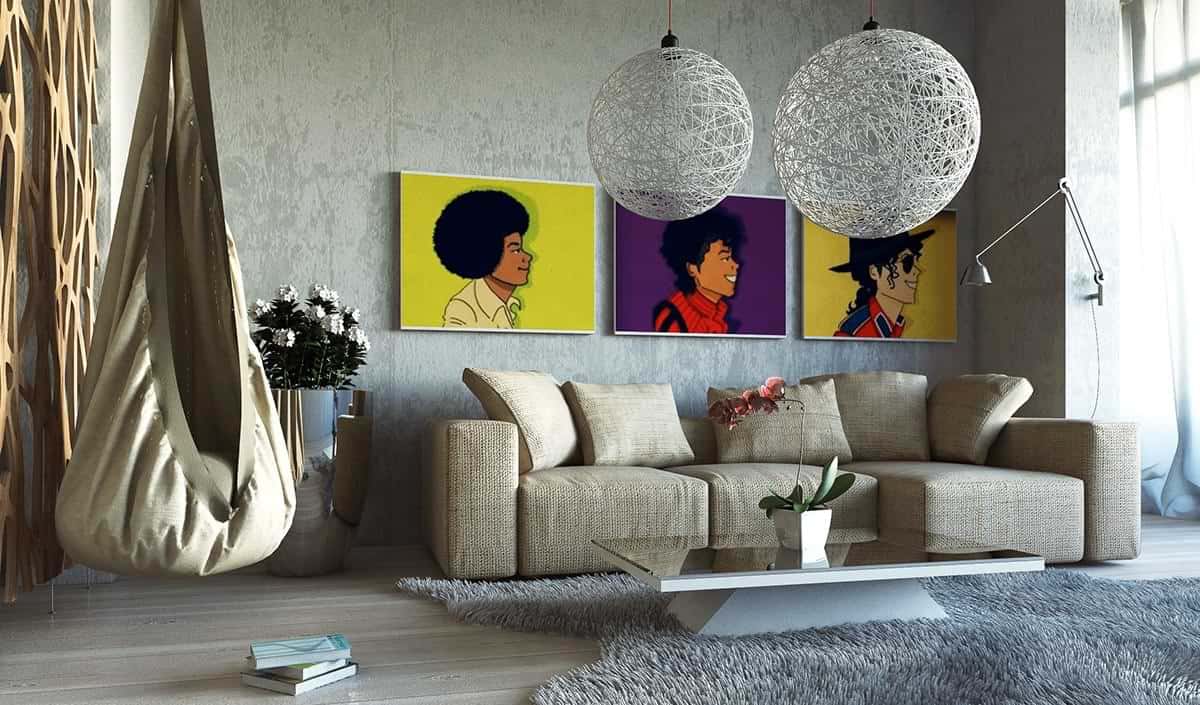 Image Source: Ricardo Ferreira
Whether you're searching for a quick living room remodel or living room ideas to create a focal point, artwork is a fantastic choice. When picking a work of art, think about the architectural aspects of the room you're buying for, from ceiling height to colour scheme and lighting. Living rooms are the finest places to display the richness and depth of one's art collection.
Accessorise the neutral colour scheme
Image Source: Edetaria
One of the quickest ways of updating your plain living room is by accessorising it. So, use beautiful indoor plants, cushions, artwork, and frames to add colours and elements to your space. These accessories are easily available and can be scored on a budget. Thus, do not forget to accessorise your space to spice up the living area.
Fine floors for a fine living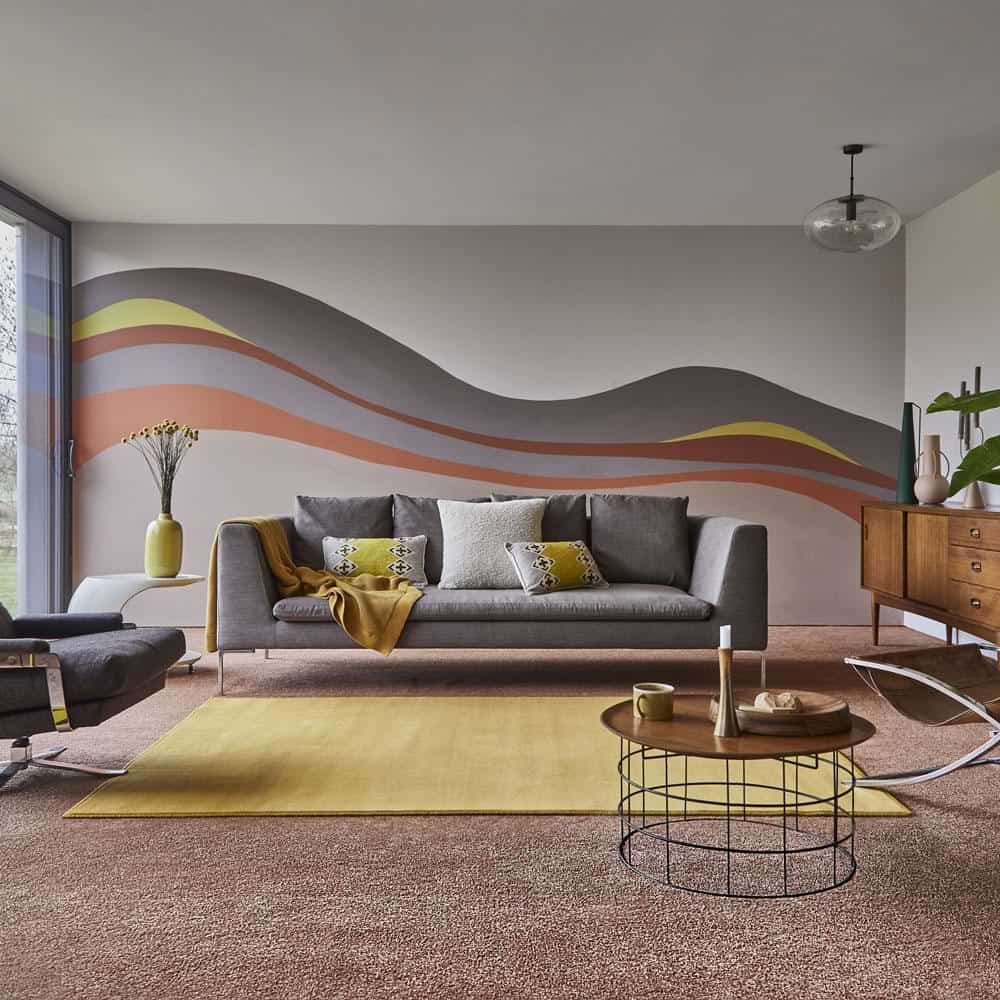 Image Source: Carpetright
The flooring in a living room sets the tone, so it's a crucial place to start when planning a design. Changing your floor to something more vibrant and polished will instantly transform your area. So, if budget is not a constraint try to engage in offbeat flooring materials and styles.
Make the living room feature wall the ultimate decoration
Image Source: Sofology
The space above the couch is often overlooked, yet it deserves just as much care as the rest of the living room. Choose prints that go with the overall theme of the room and display them in a variety of frames. Moreover, to establish balance, group in odd numbers to achieve harmony and aesthetic appeal.
Add drama with lights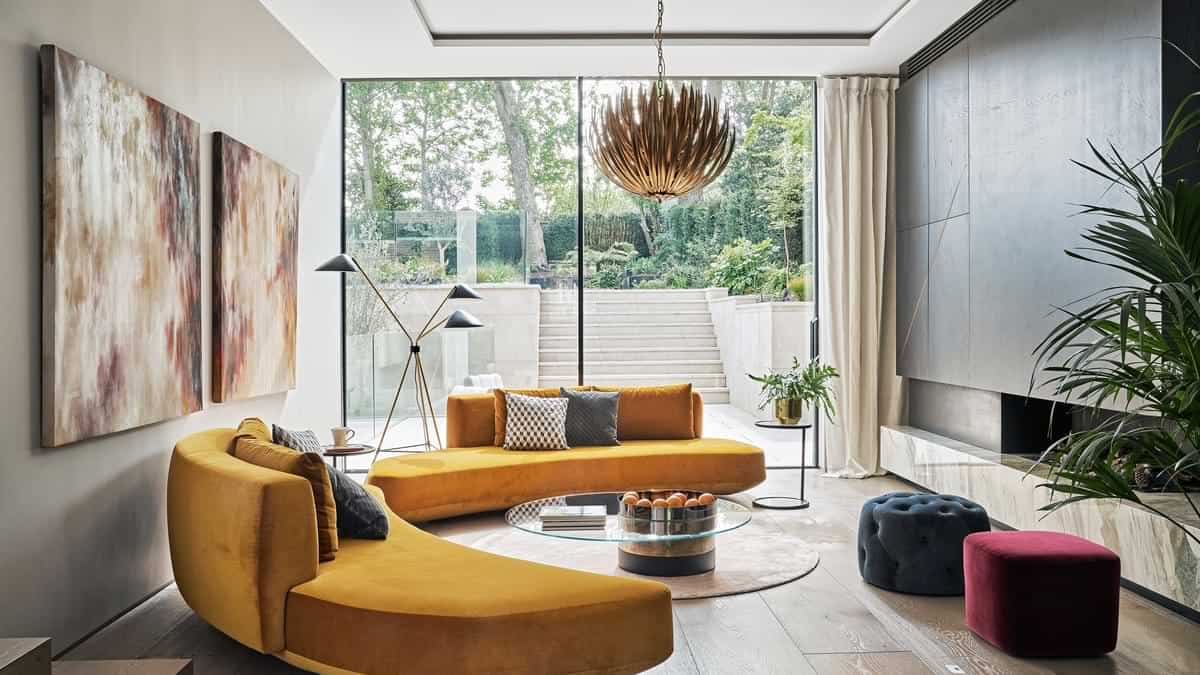 Image Source: Davide Lovatti
For a dramatic effect, chandeliers and pendants are popular living room lighting options, but they don't have to be in the centre of the room. Hang a pendant low over a desk or table, or three blown-glass spheres suspended in a corner at varying heights to add a surprise element. An unconventional method to add a fun dimension to your lighting system is to use pendant lights. Thus, adding a statement pendant light is one of the easiest ways ideas to decorate your living room.
Make storage your mantra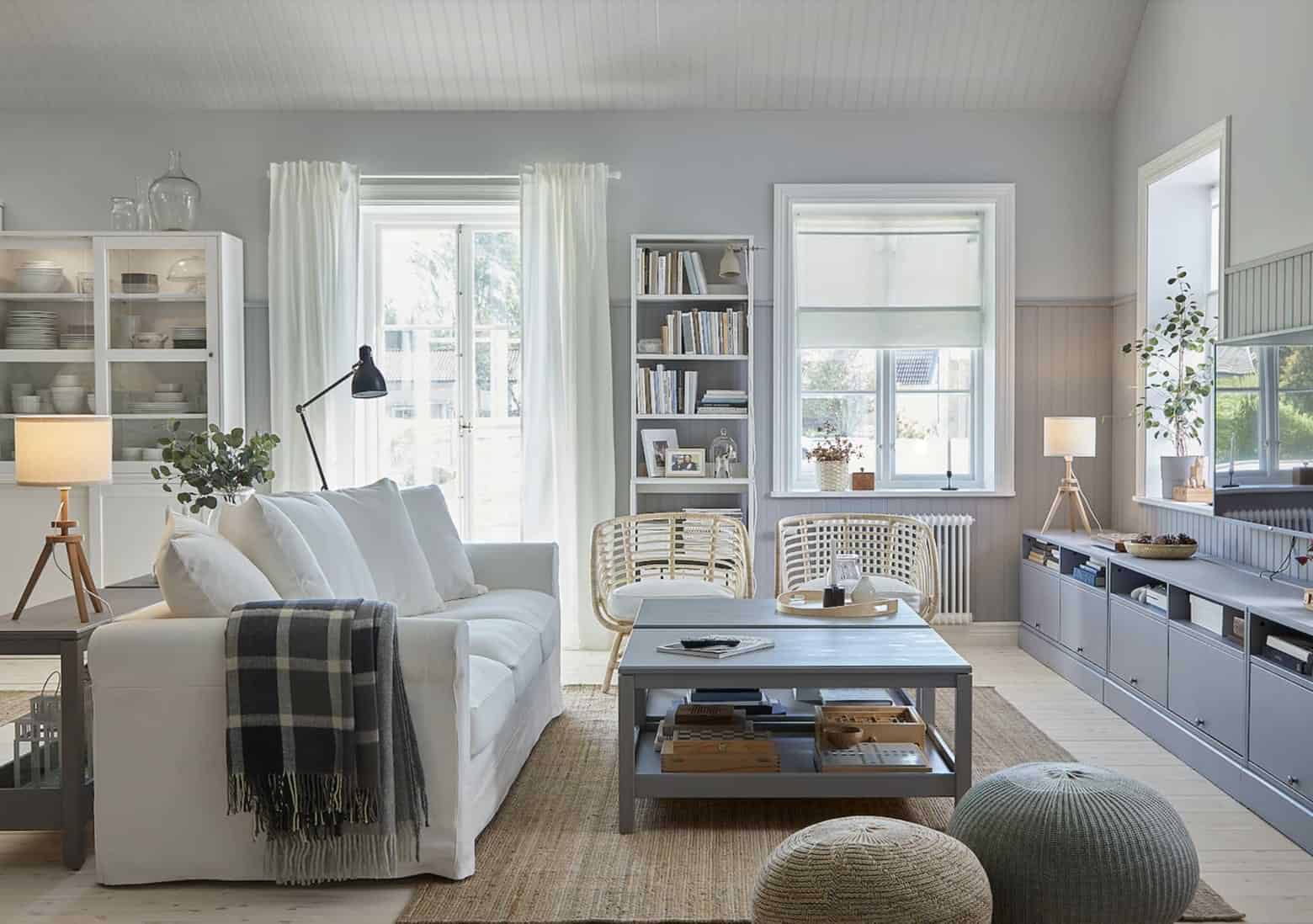 Image Source: Ikea
Modern life demands that the main area of the house serves a variety of activities, thus thoughtful living room storage is essential. In a family room, good storage is crucial. Storage, like a shelving unit, provides plenty of room to showcase beloved objects, books, and photographs. You can also use built-in cupboards and drawers to hide DVDs, games, and AV equipment. So, make sure to add storage options in your living room to keep it neat and clutter-free.
A statement furniture piece to draw attention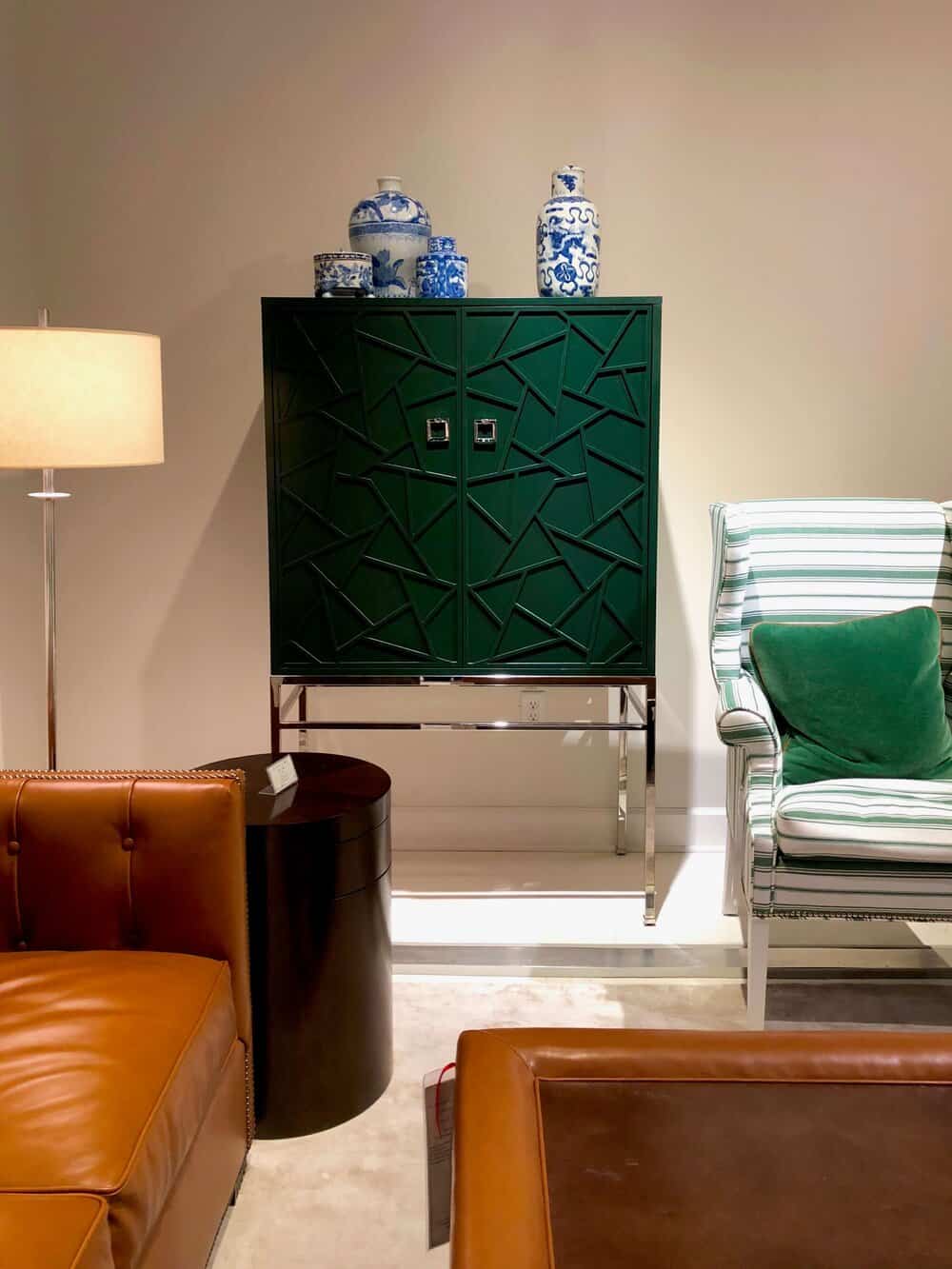 Image Source: Carla Aston
A single piece of living room furniture may completely change the look of a room.  It might be a shapely piece, from a different era (think mid-century in a country-style setting), with a unique design. To put it another way, you might be able to add a single, brightly coloured decor piece of furniture that stands in stark contrast to your living room paint ideas.
Say it with a stand-out fabric!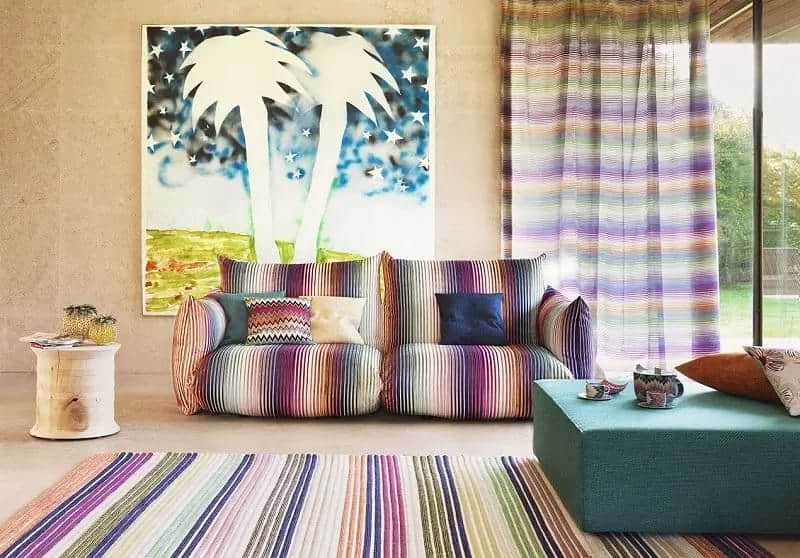 Image Source: Milandesignagenda
If you add some dramatic upholstery with stripes or bold patterns to a basic space, this might look refreshing. A sofa with a bold colour, pattern, or stripes can lend a level of refinement to your space. So, to choose the correct couch fabric and design for your interiors, take inspiration from the living room idea above.
Go chic with florals
Image Source: The Zoe Report
To add uplifting colour and creative appeal to your living room designs, use the latest foliage and flower motifs. For a startling contemporary touch to a classic design, pair botanical prints with drastically dark walls. To add more layers of richness, use vibrantly coloured upholstery.
Create a highlight with the TV cabinet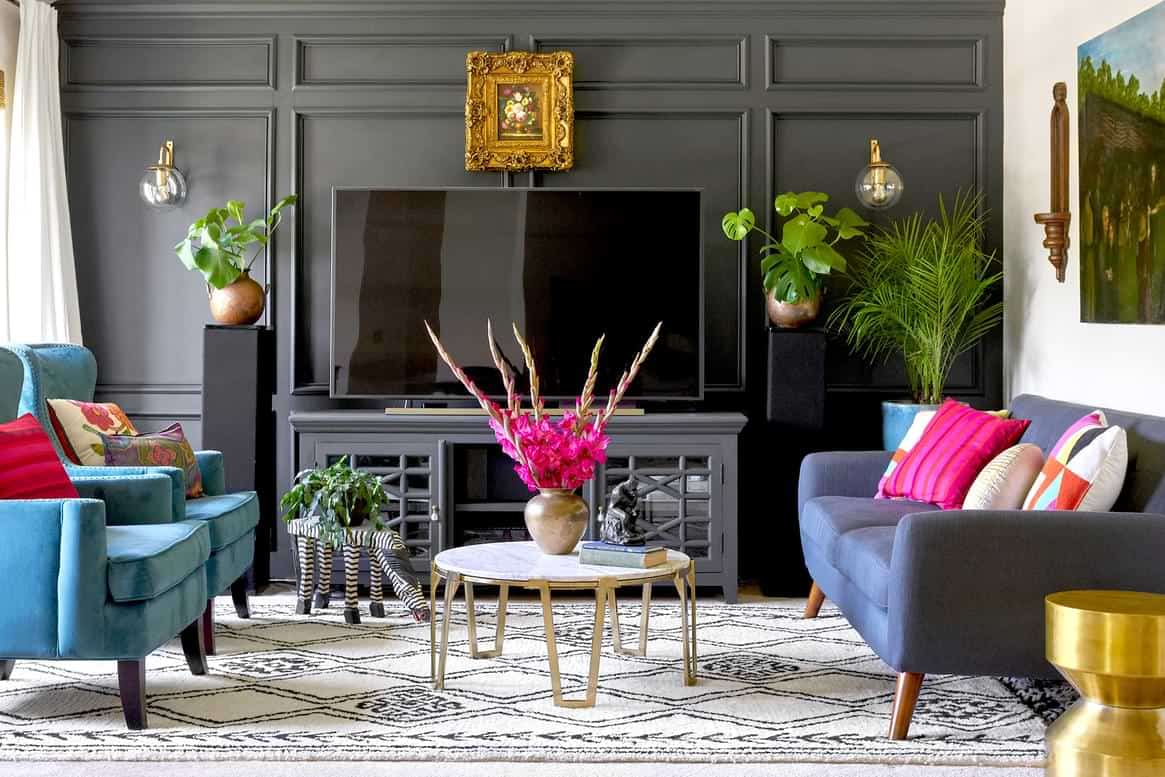 Image Source: James Nathan Schroder
If you are wondering about ideas on how to decorate your living room then make your TV unit the prime focus of the space with an elaborate set-up with storage and decor. The direction of your TV unit will also determine the placement of the furniture in your room. The TV unit in the above image is a showstopper and looks stunning in the living area.  
Try symmetry in living room decoration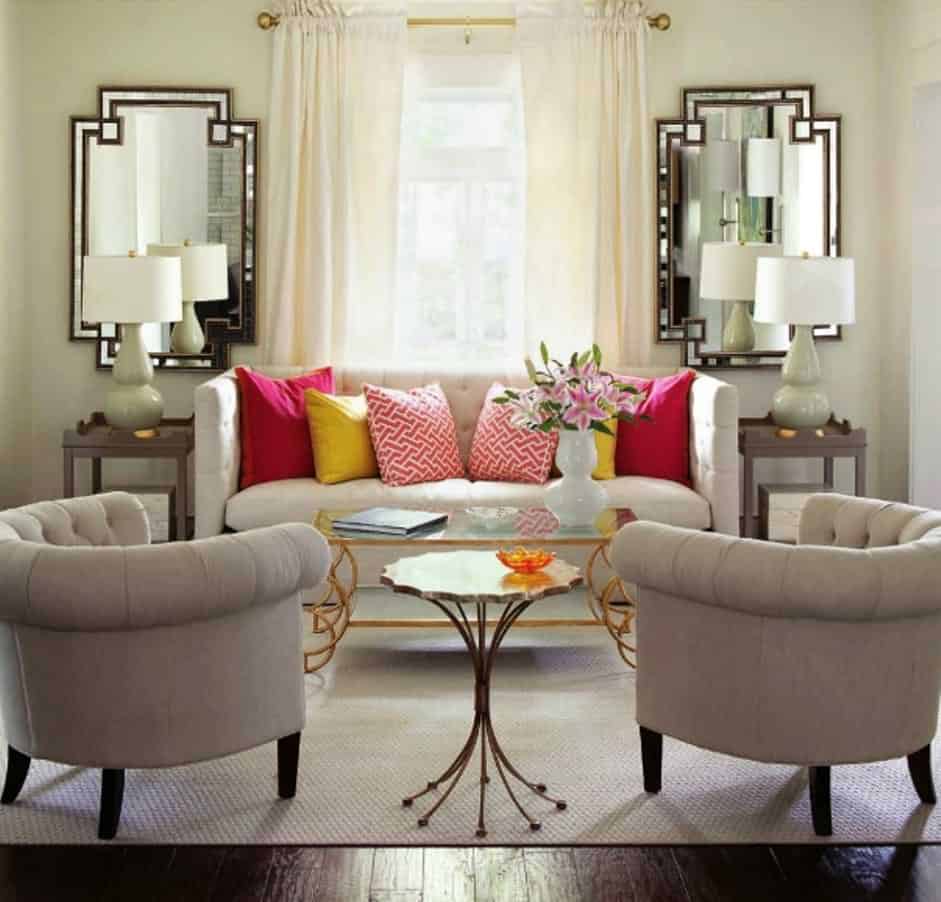 Image Source:  ikizler.net
In interior design, symmetry is frequently used to create a balanced, quiet corner, which is ideal for a living room and also can be used as a getaway. A fireplace is the easiest way to achieve symmetry, but you can achieve the same impression with a large piece of furniture and matching side tables and lamps or any other living room decorating items.
Mix dark and light colours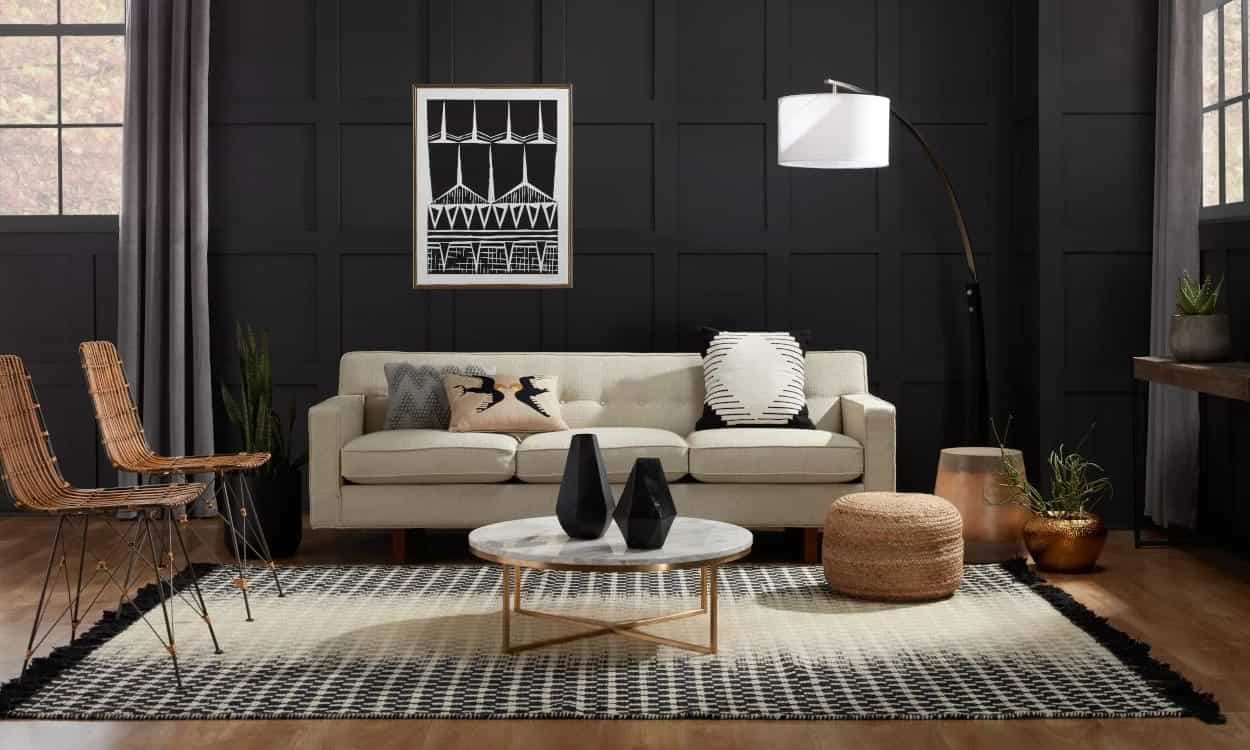 Image Source: Overstock
The dark and light approach is exhibited in this dark living room, which features dramatic contrasts, and curved furniture that is modern and welcoming. If you want to create a friendly, intimate atmosphere in your living room, balance out the darker shades with lighter shades, as seen here on the sofas, the floor, and the windows, and add a touch of warmth with accent colours in furniture and accessories.
Bring elegance with woodwork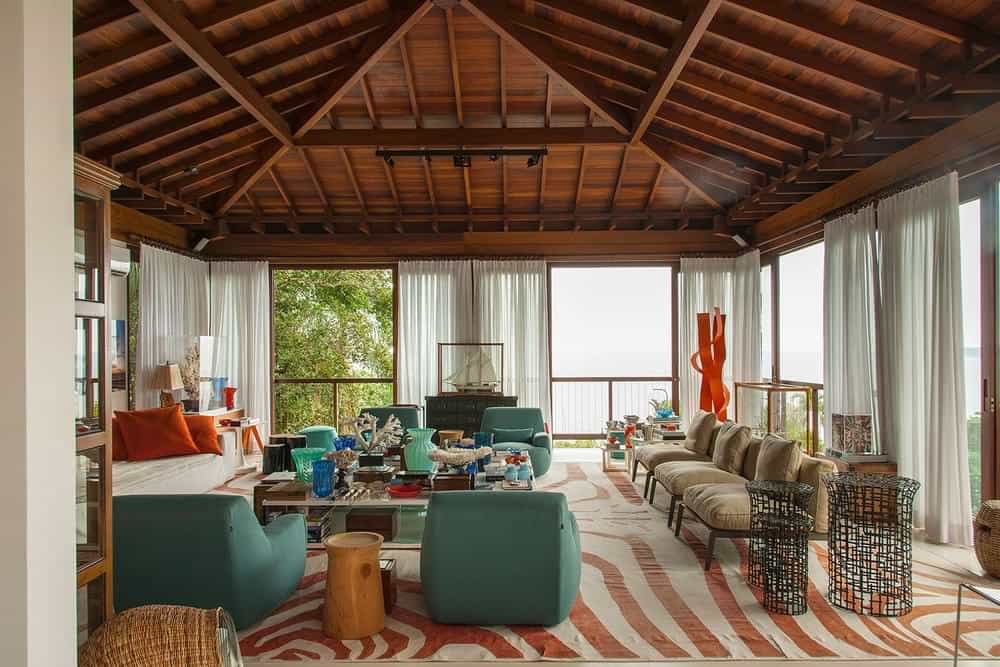 Image Source: Romulo Fialdini
If you're looking for living room decoration ideas for a cool environment, it's a good idea to use structural materials to provide warmth to the floor, wall and ceilings. So, a wooden floor, wood-panelled walls, or wooden ceilings can all be used to achieve this look. Of course, hardwood furniture and matching colours and textures in other furnishings can simply offer warmth too.
Go crazy with the coffee table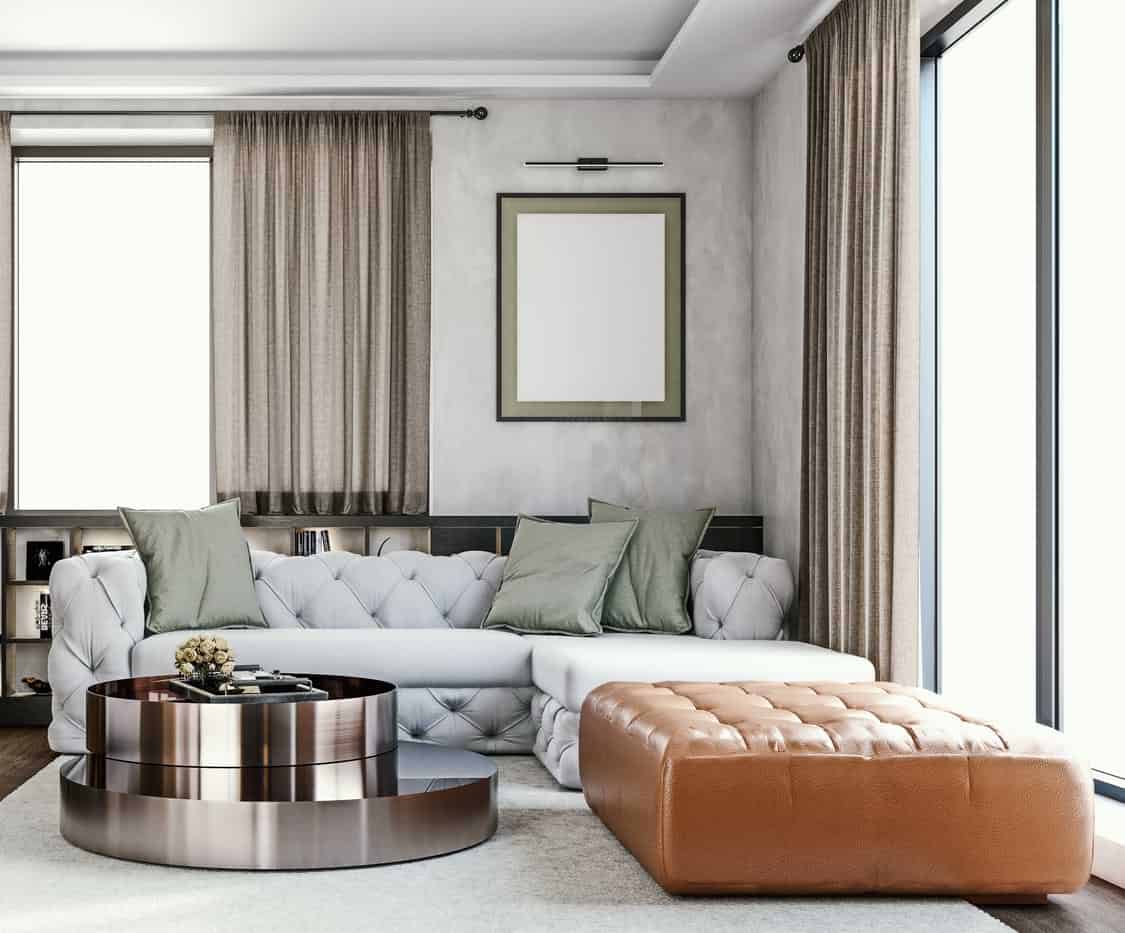 Image Source: snorkulencija (Getty Images)
Instead of a traditional stack of coffee table books, try something a little more unusual and one-of-a-kind for your coffee table. Play with unusual shapes and sizes or add a spread of plants on the table to make your furniture timeless yet fun! So, adding a unique coffee table is one of the most budget-friendly ideas on how you can decorate your living room.
Curate a mini bar for some fun times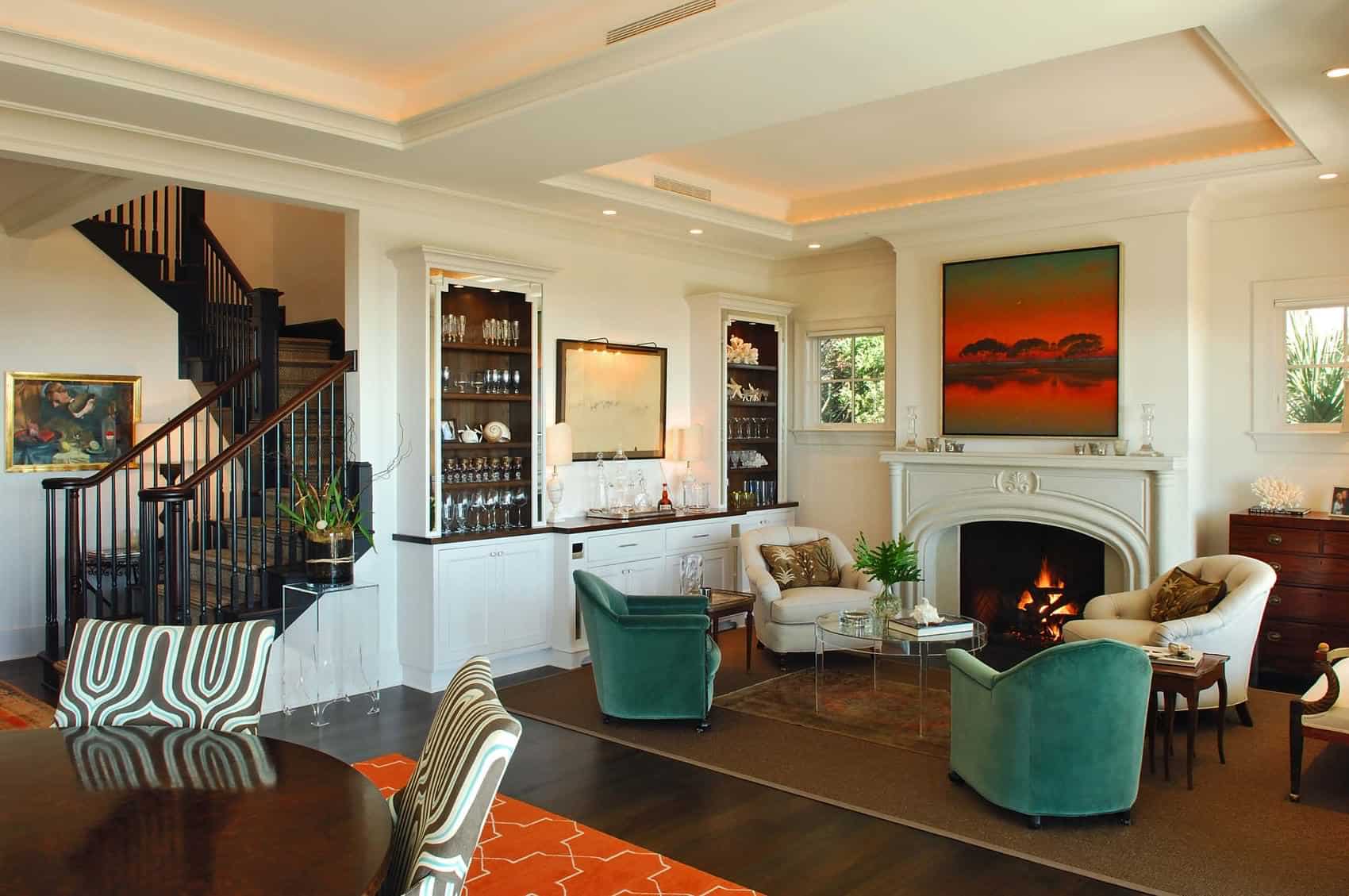 Image Source: Tripp Smith
To make your living room the real party zone, add a mini bar to the space with your imported wine and rum collection. Decorate your glassware elegantly to act as decor. A mini bar in the living room will not only look elite but also save you the trouble of running to and fro from the kitchen with drinks. So, adding a mini bar and decorating it with glassware is one of the brilliant ideas for living room interior decor.
Make your living room cheerful with colours & decoration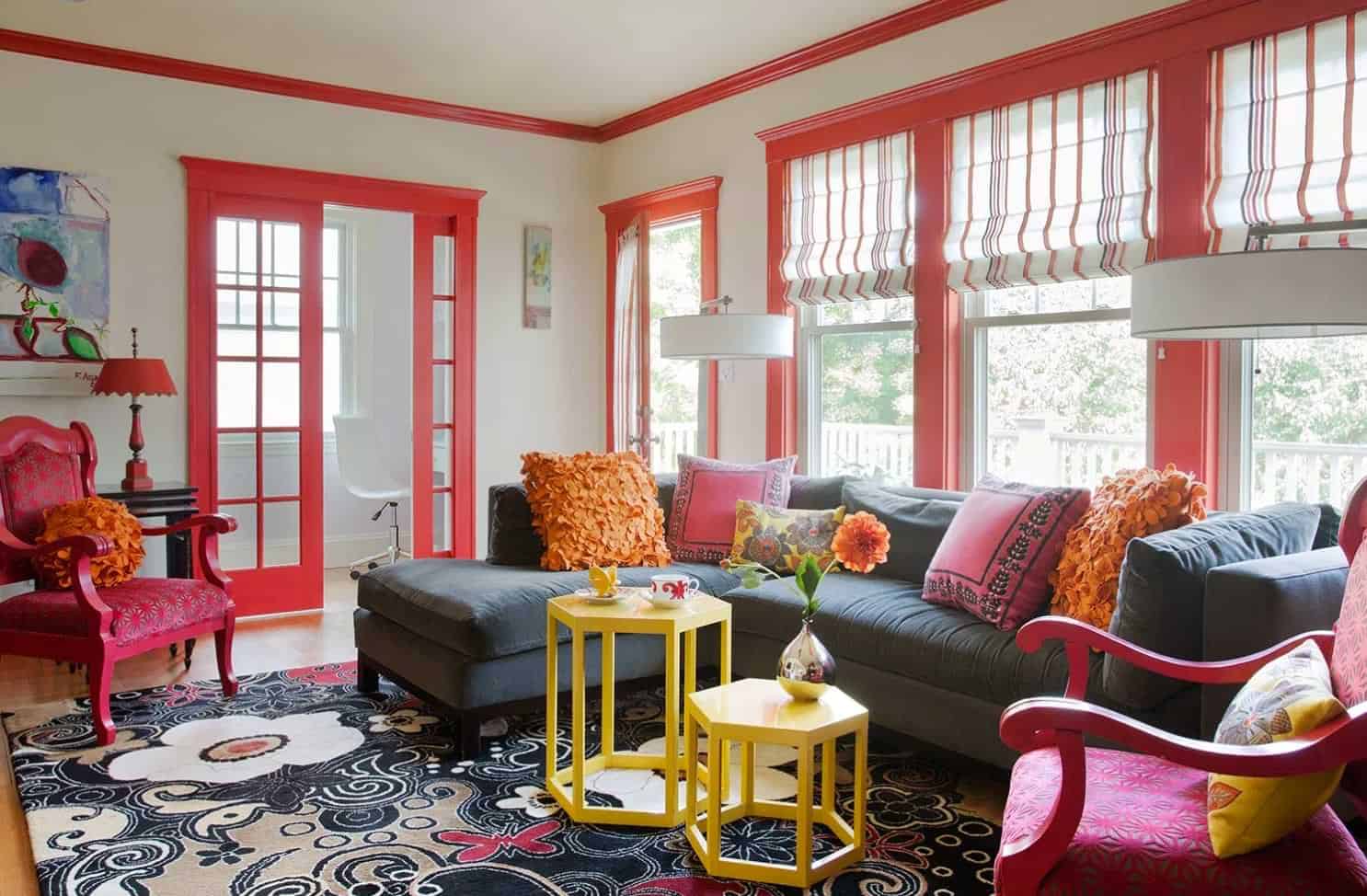 Image Source: Heidi Pribell Interiors
A vivid colour scheme from floor to ceiling in your living area is one of the best decor ideas. There are a couple of different ways to get this daring look to work. To begin, select an inspiration piece, such as a rug or artwork, with which you can match colours. Matching colours makes your room look unified and gives each colour a point of reference. Two, use colours that are similar in shade or tone, such as brights or pastels. Thus, these decor ideas make the living room feel more cohesive with similar colour tones. Alternatively, you can create a monochrome appearance in your living room by combining several tints and tones of that colour.
Assemble an elegant mural wall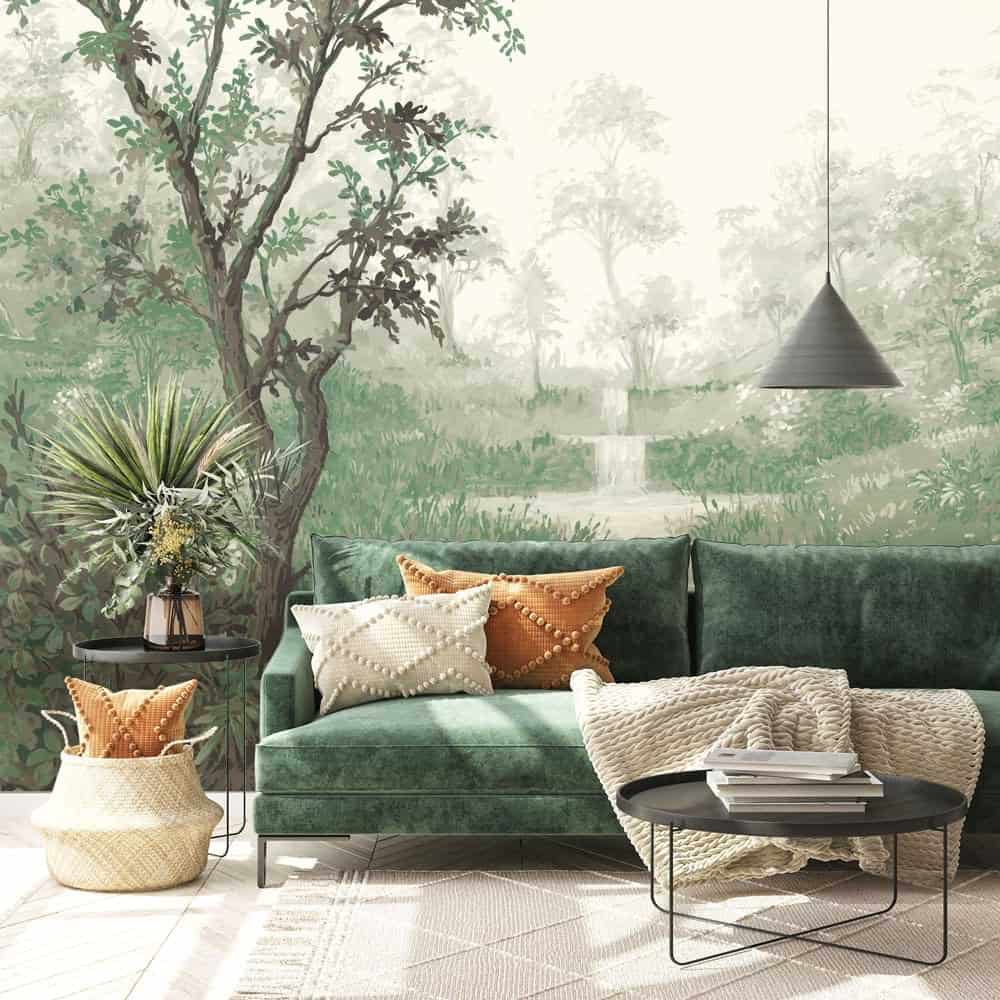 Image Source: Woodchip & Magnolia
This beautiful mural in the image lends an elegant look to this theme, which allows it to take centre stage thanks to neutral, muted furnishings. The wall itself works as decor and also serves as a display area for exquisite accessories. Thus, adding beautiful wall mural decoration is one of the most budget-friendly ideas for how you can decorate your living room.
Make the living room decoration perfect with a chair swing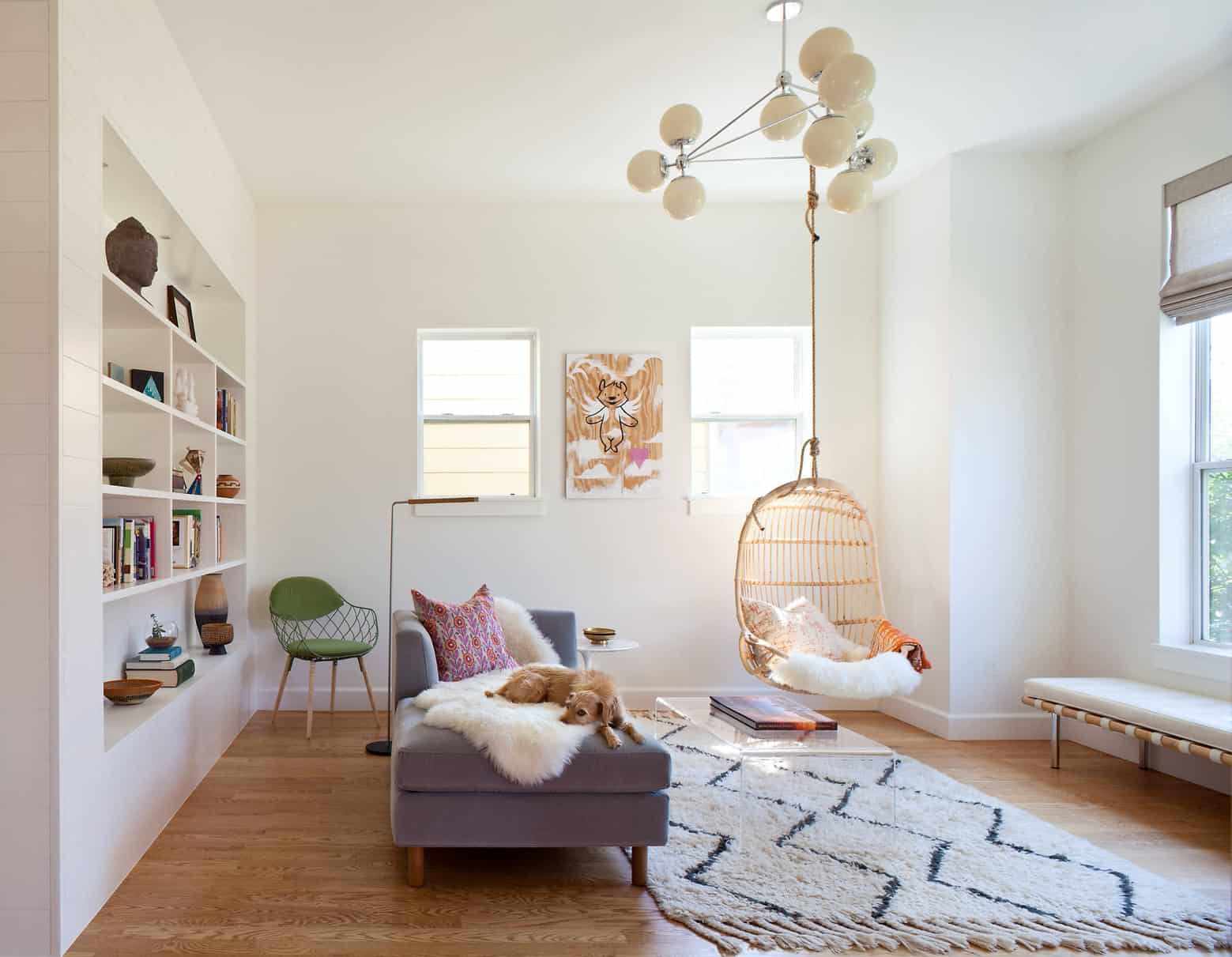 Image Source: Wayfair
Nothing beats a quirky touch in the living area to amp up the pleasure. In the living area, a swing chair or sofa is the ideal mix of cosy and cool. So, adding a fun hanging chair is one of the most budget-friendly ideas for how you can decorate your small living room.
Experimenting with fireplace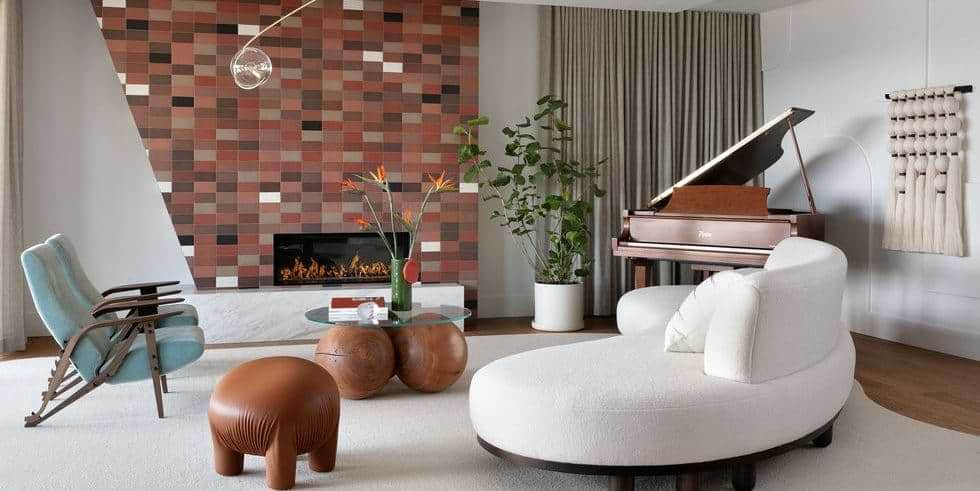 Image Source: Ema Peters
Who says backsplashes have to be limited to the kitchen? Imagine tiling your fireplace!  It gives the living space an artistic, personalised touch without becoming excessive. This is especially true if you use geometric tiles in neutral or black and white as decorating ideas for your living room fireplace, as shown in the image above.
Set up a library wall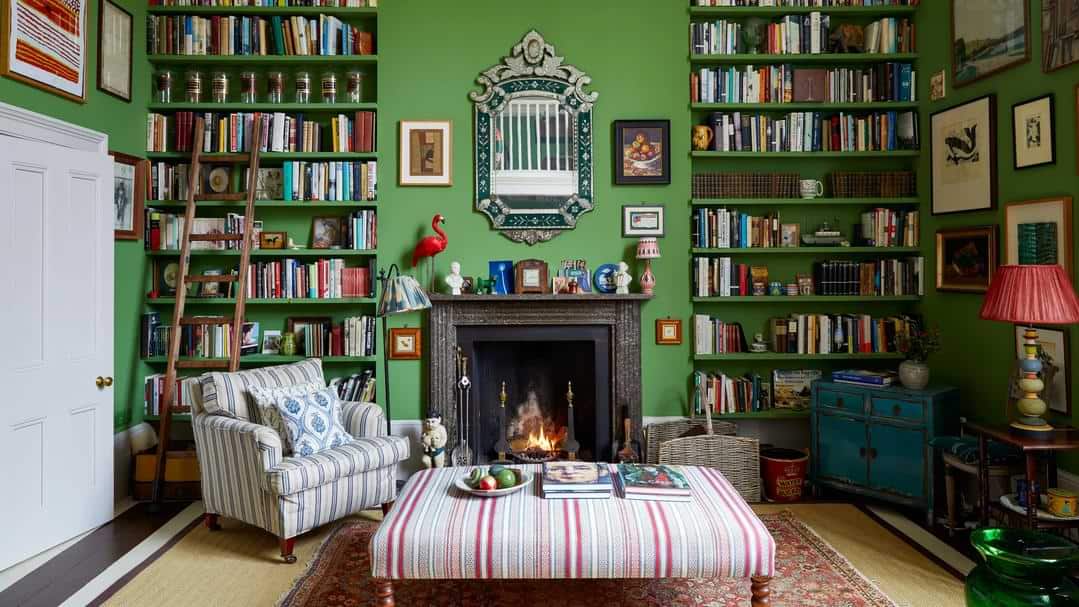 Image Source: Paul Massey
If you are someone who loves reading or hoarding books, this is your time to shine. Ditch the study room bookshelves and bring the library wall to your living room. So, adore the wall with all of your favourite books and a few accessories to beautify the shelves. This wall can act as a conversation starter among the guest, thus a pure source of joy and culture.
Call comfort with daybeds
Image Source: Richard Powers
Don't want to use the traditional seating scheme with couches and sofa set? Try day beds. These provide comfortable seating and are also amazing for a short afternoon nap. Decorate them with cushions and soft fabrics for a complete look. So, adding unconventional seating furniture like daybeds is one of the most interesting ideas for living room decoration.
Work out a gallery wall for living room decoration
Image Source: inredningsfotografen
It is not for everyone to paint their walls. Perhaps your lease prohibits it, or perhaps you simply lack the patience. Fortunately, you can decorate your walls with your favourite memories and photo frames. So, choose from personal images, favourite works by local artists, original artwork or other decorating items—just remember to arrange the images the right way for a furnished and curated aesthetic in your living room.
Conclusion
A living room as we all know is the room that experiences the most activity and is a sight to all our guests and entertainment. Thus, it needs to be perfect and tidy all the time. The above-mentioned interior design, colour and wall decoration ideas for living room decor will make your space unique and more engaging. All of these living room decor ideas are great and can be implemented under a budget. Since the living room is generally the first room you enter when you step in, it deserves a little more pampering than other rooms to leave a lasting impression on your guests. So, make sure you choose the right interior design ideas, colour, wall decoration, decor accessories and theme for your living room and get it ready for all the quality family and party times.
*The featured image used in this article is from Unsplash (Spacejoy)
[vvsmustread]