With the growth of the global economy, the number of people migrating from rural to urban areas has surged. As a result, there has been an increase in residential housing demand, which has led to an increase in sustainable construction activity. In addition to residential buildings, construction activities are being carried out for building new schools, institutions, hotels, hospitals, and commercial organizations. Drywall or gypsum board partition system, a sustainable construction method, is ideal for application in all these areas.
Ever since the concept of building houses came into existence, walls and roofing have been the most fundamental and important requirements. Initially, stones were used, and then bricks were introduced. Due to the emergence of other green building alternatives and the need for reduction in carbon footprint, both stone and brick masonry started losing dependency. Later, gypsum board based partitions and metal frames gained popularity.
Urban India is rapidly growing and modern construction demands ever faster, flexible, lighter, and sustainable construction technology.
According to studies, people spend roughly 90% of their time indoors. Building occupants today are more analytical than ever before, and they expect their dwellings to function at a high level. Given the length of time people spend at home or work and their awareness of the necessity of a healthier living environment, increasing the quality of the interior environment is critical.
In this article, we'll explore the drawbacks of using traditional construction methods and their ultimate and sustainable solution.
Challenges in the traditional construction methods
For centuries, bricks have been used as a primary component for constructing walls. The brick manufacturing process uses fertile soil as a primary raw material. Also, the process consumes a high amount of fuel like coal and labour making it a non-standardized method.
Concrete blocks are a prefabricated building material that is mostly used to construct walls. Like bricks, these blocks are stacked and joined together with the help of mortar, which is typically made of cement, sand, and water. The blocks are hollow on the inside to accommodate steel bars and cement.
Following are the main challenges faced while using the above-mentioned traditional construction methods:
1. Since most high-maintenance materials, such as brick and plaster, necessitate specialist labour, the unavailability of skilled labourers in a particular area still remains a challenge.
2. Since most labour is done by hand, traditional methods are not an ideal choice for projects demanding faster construction and finishing.
3. Traditional construction methods have a higher cost not only because of the materials used but also because of high labour costs.
4. In addition, traditionally used materials can crack with the settling of the building or improper installation.
5. Groundwater reserves have been shrinking alarmingly over the years. So, a ban on groundwater extraction for construction activities has been imposed by the authorities.
6. Sand is the primary substance used in the construction process and its scarcity is leading to increased material costs and import dependency.
7. Brick quality differs in dimension, strength, weight, and finishing resulting in irregular construction.
8. Increased fire accidents in buildings due to usage of materials that lack the ability to withstand fire or give protection from it.
9. Being a wet construction method, the on-site use of water and cement makes the construction of brick and block walls messier and slower.
10. The Global Warming Potential (GWP) of a traditional wall system is 21.2 kg CO2 equiv/FU and it uses non-renewable primary energy resources as raw materials which creates an ecological imbalance.
11. The average apartment size is reducing year-on-year resulting in space constraints. So, the demand for thinner walls and partition systems without compromising on the performance requirements has increased which is a challenge in brick or block walls.
12. Traditional construction methods require beams for support, thereby resulting in a lack of flexibility in construction or renovation.
Drywalls – The ultimate solution
Brick has been favoured despite its shortcomings such as high water usage, long installation time, and limited flexibility due to the market's notion that only a brick wall imparts high strength and longevity. But, with the changing trends of sustainable solutions, water, sand scarcity, and the need for quick construction, an alternative answer is becoming apparent. Gypsum board drywall partition systems are the ultimate solution for all these shortcomings.
Drywall is a less costly and time-consuming choice. It also insulates the interior spaces better, making it an eco-friendly, energy-efficient choice.
Offering excellent sound insulation, improved indoor air quality, superior fire-resistant properties, cost efficiency, and lighter structures, drywalls have significantly reduced the construction of traditional brick/block walls.
In India, brands like Gyproc have pioneered the change by understanding the changing needs of customers and challenges faced by traditional construction methods offering solutions that are sustainable.
As technology advances, drywall continues to become more durable and readily available. Therefore, the drywall system now covers a majority of the interior walls in modern-day interiors.
What is drywall?
Drywall is a high-performance, light weight, gypsum board based partition system made out of a GI steel frame wrapped in gypsum plaster boards on both sides that are attached using self-drilling drywall screws. After that, the joints are taped and finished with a gypsum jointing compound.
Drywalls account for numerous commercial, industrial, recreational, religious, and residential uses. It is used to wrap and conceal steel columns and beams in industrial buildings and is a quick as well as economical finishing technique. In addition, it is used in buildings that demand specific moisture and fire-rated assemblies.
With the construction industry facing numerous challenges on raw material availability, Gyproc with its dry, light weight, and faster construction alternative of Drywall is revolutionizing this construction space across sectors.
Different types of drywall
1. Dry lining systems
These systems are suitable for lining the interior as well as exterior walls. In addition, less or no background preparation like plasters is required as this system contains adjustable brackets. It offers improved thermal, sound, and fire insulation than traditional masonry walls.
2. Performance Drywall for Interiors
These systems are used for hotels, hospitals, residential, movie theatre walls as well as the industrial sector. It is a flexible and easy to install drywall partition system with a high-quality interior finish.
Additionally, it offers a high level of acoustics from 50 dB to 70 dB and provides passive fire protection from 1 hour to 4 hours. This system is suitable for various types of loading such as TV, headboard, heavy fixtures, etc.
3. Performance Drywall for Exteriors
It is a lightweight sustainable solution as opposed to a brick/block wall. It is typically a gypsum board based drywall partition system with GI frames in between encased by gypsum boards on either side. Then, it is finished with a suitable jointing compound added with a layer of waterproofing and rendering on the exterior surface.
4. Beam and column encasements
All types of steel lose strength at temperatures above 300°C and eventually melt at about 1500°C. As far as design is concerned, the greatest rate of strength loss is in the range of 400°C to 600°C. The degree of protection required is determined by calculating the mass and surface area which helps establish the steel's Heated Perimeter / Area factor or "Hp/A or Section factor". So, the higher the Hp/A, the more the protection required to achieve the same fire rating; be it 30, 60, 90,120 minutes.
So, beam and column encasements are high-performance fire protection systems to enclose structural columns and beams and provide fire protection of up to 120 minutes.
Advantages of drywall
1. Dry construction
Drywalls save up to 99% more water required for curing than masonry construction. Additionally, it offers a clean and dust-free work environment and saves up to 33% labour cost.
2. Light-weight
Around 8-10 times lighter than masonry systems and saves tons of steel in slabs and beams. So, less labour is required for material handling, and the requirement for less storage space results in transportation cost savings. Thus, this facilitates the buildings to grow taller and saves up to 15% structural cost.
3. Flexibility
Offer flexibility in creating as well as dividing spaces according to your needs and requirements, without any support of beams. Additionally, drywalls create possibilities for curved walls.
4. Aesthetic appeal of drywalls
Finally, the end result is a seamless and crack-free surface allowing ease of decoration with the help of paint, tiles, or wallpapers.
5. Versatility of drywalls
The systems enable application in all internal areas of residential as well as commercial buildings. Moreover, with the ease of maintenance and repairs, drywalls offer limitless possibilities including tiling, stone cladding, loading, etc.
6. Excellent performance
Drywall offers high fire protection as well as sound insulation properties.
7. Environment friendly
Drywall is a green alternative made of environmentally-friendly material. Moreover, it is recyclable with a positive CO2 emission impact contributing to a sustainable future. Drywalls also contribute to green credentials and credits as per green certification norms.
8. Speed of installation
Drywall is a comparatively faster construction method with less labour and higher productivity. It is 3-4 times faster than masonry construction. So, you save up to 25% on project costs.
9. Better comfort for the indoor environment
Because of the increasing density of infrastructure and fast urbanisation, today's interiors are subjected to higher levels of noise. The use of long-lasting materials when developing internal rooms has a major impact on overall costs, as well as more predictable maintenance cycles. As a result, drywall partitions are built to endure the daily impacts that busy zones in interiors are usually subjected to.
Moreover, drywalls offer fire protection for up to 4 hours, acoustic insulation up to 70dB, and thermal insulation that helps in the reduction of energy consumption.
10. Space-saving
Bigger rooms and increased floor area are possible due to the less thickness of walls. So, with drywall partition systems, you can save up to 5% of additional space.
Comparison of drywall with brick wall as well as block wall
High-impact drywall partition system is getting prominence in residential and commercial construction projects owing to its advantages over traditional wet construction methods such as brick or block walls.
| | | | |
| --- | --- | --- | --- |
| Parameters | Gyproc drywall | Brick wall | Block wall |
| Speed of installation | 40-50m2/day | 10m2/day | 15-20m2/day |
| Water-saving | Uses no water hence, water-saving. | Does not save water | Does not save water |
| Weight | Lightest – 19 Kg/m2 (non-load bearing) | 230 Kg/m2 thus, load-bearing | Notwithstanding, 60 Kg/m2 |
| Fire rating | Can be designed to provide stability, integrity and insulation | On the other hand, weak in insulation | Not tested. So, considered weak in insulation |
| Wall surface | Smooth and crack-free surfaces | But, difficult to get very smooth surfaces even with skilled labour | Also, plastering and POP punning required |
| Sound insulation | Up to 65dB possible with insulation | 35-40dB | 37-42dB |
| Heat insulation | Four times less heat convection K=0.16W/m K | Unlike drywalls, high heat convection K=0.81W/m K | Similarly, high heat convection |
| Quality of material | Standard quality, supply from a single source | Difficult to control, various sources of supply | In contrast, uses factory-made materials |
| Quality of wall | Standard installation, easy to control | However, dependent on labour skills | Varies depending on the labour |
| Services | Easy and flexible through the cavity | Chasing in wall required after construction | On the other hand, chasing in wall required |
| Curving flexibility | Easy | Difficult | Difficult |
| Door/window opening | Possible without beam support | However, lintel/beam support required | Requires lintel/beam support |
| Deflection | Possible | In contrast, not possible | Not possible |
Similarly, the below-mentioned video by Gyproc highlights the total installed cost savings representation in using drywalls against a brick wall for a typical hotel of 5+1 floors and 120 rooms.
Block walls are susceptible to water seepage over time because their primary component, cement, is a porous material. In addition, these blocks cost much higher due to the fluctuating price of concrete. Similarly, the construction of brick walls results in high labour costs and the resultant structure is weaker in terms of thermal insulation. On the other hand, drywall partitions are strong, sustainable, and impact-resistant. They do not get spoilt in damp or wet conditions and so can be safely used in toilet and kitchen areas.
Environmental impacts of drywall system as well as traditional brick wall
| | | | |
| --- | --- | --- | --- |
| Environmental parameters analysed for 1 m2 of wall profile | Unit | Gyproc Drywall System | Traditional Wall System |
| Global Warming Potential (GWP) | kg CO2 equiv/FU | 7.8 | 21.2 |
| Total use of non-renewable as well as primary energy resources as raw materials | MJ/FU | 121.8 | 239.1 |
| Use of net fresh water | m3/FU | 3.2 E-02 | 5.0 E-02 |
| Thus, total Weight | kg/FU | 21.2 | 108.3 |
To summarise, drywall construction is cleaner, lighter, faster, and more sustainable than traditional brick or block wall construction, and it can be readily managed by a small number of people. As a result, drywall construction is rapidly replacing traditional construction methods.
Step-by-step drywall installation process
1. Line marking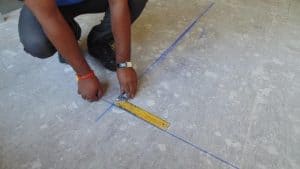 2. Fixing of the floor channel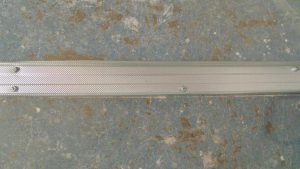 3. Similarly, fixing of ceiling channel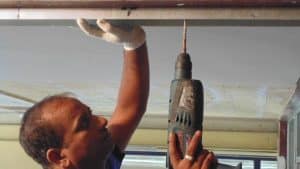 4. Then, fixing of starter stud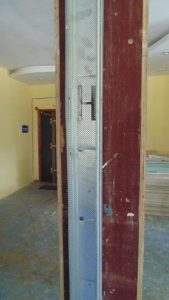 5. Placing of studs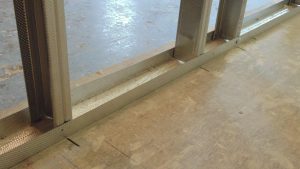 6. Creating openings for doors as well as windows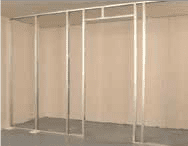 7. Also, crimping of studs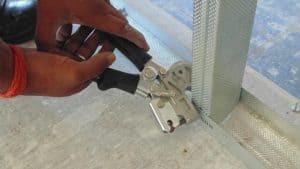 8. Fixing of Noggin channel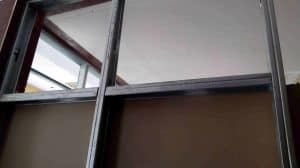 9. Then, provision for planned loading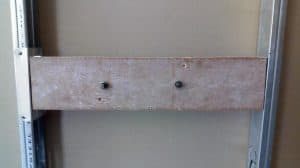 10. Passing of services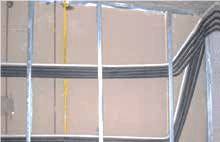 11. Insulation inside the cavity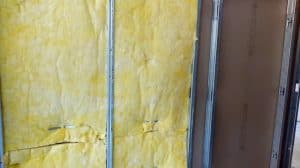 12. Then, boarding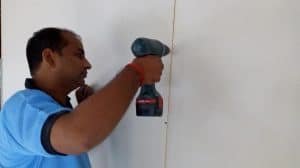 13. Complete jointing as well as finishing by using compound and tape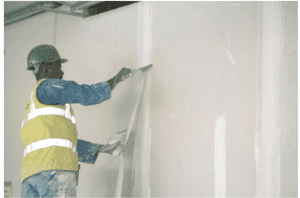 14. Remove excess jointing compound before the surface coating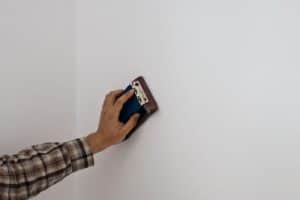 Additionally, following is a video for a better understanding of the process:
Conclusion
Our interior building components and systems possess a strong preference for sustainable construction in mind. Drywalls use plaster boards and gypsum boards that are 100% recyclable, and these systems also offer fire resistance, moisture resistance, and mold resistant properties. Revolutionary drywall systems create stunning spaces that can hold the heaviest of pictures, TVs as well as decorative items and accessories.
Due to its ease of installation, familiarity, fire resistance, non-toxicity, and sound absorption, currently, drywall is one of the most popular methods of sustainable construction. Also, drywall is steadily improving. Today, you can get gypsum boards in practically any size you choose. There are several types of gypsum board for different applications, in addition to the diversity of lengths and widths available. Moreover, nearly every form of building uses fire retardant drywall panels.
Today's construction landscape is looking at solutions that will aid the construction process, are faster as well as more sustainable. So, this is where drywall proves to be a strong alternative to traditional construction methods like brick or block walls.
For more information on Drywalls,

Call1800 103 7897or write togyprocindia@saint-gobain.com

Also, for enquiries, click here.

Gyproc, a part of the Saint-Gobain group, is a pioneer in the lightweight interior construction industry in India. So, the product range by Gyproc includes gypsum plasterboard systems for false ceilings and Drywall partitions, acoustical ceiling tiles, and gypsum plastering solutions. Moreover, their solutions offer comfort and sustainability to enhance the well-being of people everywhere.

In addition, the firm manufactures and distributes high-performance building materials, offering creative solutions to the challenges of growth, energy efficiency, and environmental preservation.
Our building systems have a significant preference for green construction. In today's scenario, solutions that will ease the construction process, as well as be speedier and more sustainable, are sought after. Therefore, catering to the need of the hour, drywall partition systems are widely used in the construction of buildings. Post-pandemic, the requirements of typical building construction have changed. This is resulting in a shift towards gr