The newly launched range of kitchen and home solutions by Hafele from their in-house global assortment includes accessories such as the Matrix Drawers and Runner Systems, Free Flap Fittings, Metalla 510 Furniture Hinges, and Wire Design Storage Solutions. These products exhibit the brand's strong capabilities in research, development, engineering, and manufacturing, as well as the worldwide renowned quality standards for which the brand stands.
Hafele has established itself as a trusted and valued partner throughout South Asia and is increasingly being acknowledged as a brand that offers comprehensive interior solutions. The brand has products that offer value to various interior spaces such as homes, offices, institutions, and hotels, as well as create functionality for various applications within those areas.
Hafele hopes to improve its position in the market as a "Manufacturing organization" with the introduction of its new global range of kitchen accessories and home products. Moreover, they will continue to bring in more Hafele-engineered products with high quality standards. This, combined with the outstanding service offering, will provide the customers with an unrivalled "Hafele experience."
In-house Range of Kitchen Solutions by Hafele
Made in Hafele's own factory in Kenzingen, Germany, the MatrixBox Premium kitchen drawers glide smoothly, open promptly, and close precisely. This premium drawer system exhibits an unrivalled design and application flexibility, as well as simple assembly and adjustment. Its application areas include kitchens, bedrooms, bathrooms, and home offices, as well as commercial and industrial settings. Hafele MatrixBox Premium kitchen drawers offer the widest range of accessories and are available in Metallic Anthracite, Metallic Silver, and White finishes. Moreover, it comes fitted with Soft-Close and Pushto-Open Soft-Close runner system functionalities in weight-bearing capacities of 35 kg and 50 kg.
Engineered by Hafele, the MatrixBox Slim kitchen drawer system features a refined slim design that performs smoothly, opens quickly, and closes precisely. This slim drawer system has 13mm thin drawer sides, is easy to assemble and offers unrivalled design and application versatility. Therefore, it is appropriate for use in kitchens, bedrooms, and bathrooms. MatrixBox Slim is available in three heights, two side designs (Solid and Décor), and two weight-bearing capacities (40 and 60 kg), offering you the most options for a variety of applications. The movement of these drawers is smooth, sturdy, and accurate thanks to an inbuilt Soft-Close and Synchronized Runner Technology. The Graphite Grey Finish adds sophistication and elegance to your interior design.
Undermount runners and accessories from Hafele use beautiful motion technology. So, it suits a variety of applications in kitchens, living room furniture, bed storage units, closets, and bathroom units. The Undermount runners are available in 4 weight-carrying capacities (60, 40, 35, and 25 kg). In addition, they offer a wide range of nominal lengths to accommodate any drawer design. The 40 and 60 kg runners use synchronised technology that gives the Hafele kitchen drawers outstanding mobility and stability. Also, all runners have an inbuilt soft-close mechanism that allows the drawer units to close smoothly and quietly.
The fittings of the Free family allow flaps to move more freely. This provides more visual and technological design options for furniture, as well as tangible advantages over hinged doors. Above all, it lends the furniture and the space an unrivalled air of elegance and lightness. Whether a flap is lifted, rotated, swivelled, or folded, it immediately adds value and improves productivity. The development of this product family was based on nearly 100 years of experience with furniture fittings, engineering expertise, and a close relationship with the market and the individuals who work with furniture fittings on a daily basis.
The Free family, inspired by the demands of tomorrow's market, meets the demands for creative flexibility, material choice, design, ease of installation, and comfortable operation on a whole new level. Simply said, they are thinner (in terms of design), lighter (in terms of operation), and simpler (to install).
The new Hafele Metalla 510 Hinge Range adds efficient functionality to your kitchen cabinets, designed with precision and developed to perform. This range's standard application hinges for shutters made of wood or with a wide aluminium frame have a 105° opening angle and are available in full-overlay, half-overlay, and inset applications. Moreover, the range includes a specific aluminium profile hinge with the same opening angle for shutters built with narrow aluminium profiles. In addition, for cabinets with internal drawers or shelves, the Metalla 510 has a 155° wide-angle application hinge.
All hinges from within this range come equipped with an integrated soft-close mechanism in the hinge cup. It can be activated via a damper shifter, at an opening angle of either 30° or 10°, for a smooth and noiseless closing. Having cycle tested 200,000 times, these hinges meet and exceed the LGA certification requirements ensuring high operational durability. Made of high-quality steel with an attractive nickel-plated finish, the Metalla 510 hinges are salt spray tested for 48 hours guaranteeing a high degree of corrosion resistance (EN 15570 Level 3).
This smartly built accessories & fittings range by Hafele not only successfully utilises the limited space in your kitchen design but also optimises functionality for 'more life per metre square.' Slim Pull-outs for bottle or towel storage, a Side Pull-out for jar storage, a Larder unit and Pantry unit for bulk grocery storage, and a corner unit for pots and pans are all part of the collection. These German-engineered Storage Solutions come in two appealing finishes: Chrome and Metallic Anthracite. Additionally, they easily add beauty and balance to your kitchen décor. The series fully symbolises the well-known Hafele quality standards; with the best operating characteristics, innate elegant motions, and distinguished material and finish properties.
Hafele has 5 manufacturing units, 4 located within Germany; and 1 located in Budapest, Hungary. Thus, their own engineered and manufactured brands ensure the highest standards in terms of functionality, quality, and design. This makes Häfele a leading manufacturer. These brands include:
Ixconnect – Connector systems for furniture construction.
Dialock – Sophisticated Access control electronic RFID locking systems.
Lift & Turn – Free Family Flap Fittings.
Matrix – Modular drawer and runner systems for all applications.
Slido – Sliding door systems for furniture, domestic as well as commercial applications.
To know more about the Hafele's in-house range of kitchen solutions with innovative designs, contact on the following details:
Website: hafeleindia.com
Customer Care Toll Free: 1800 266 6667
Customer Care WhatsApp: +91 97691 11122
Email ID: customercare@hafeleindia.com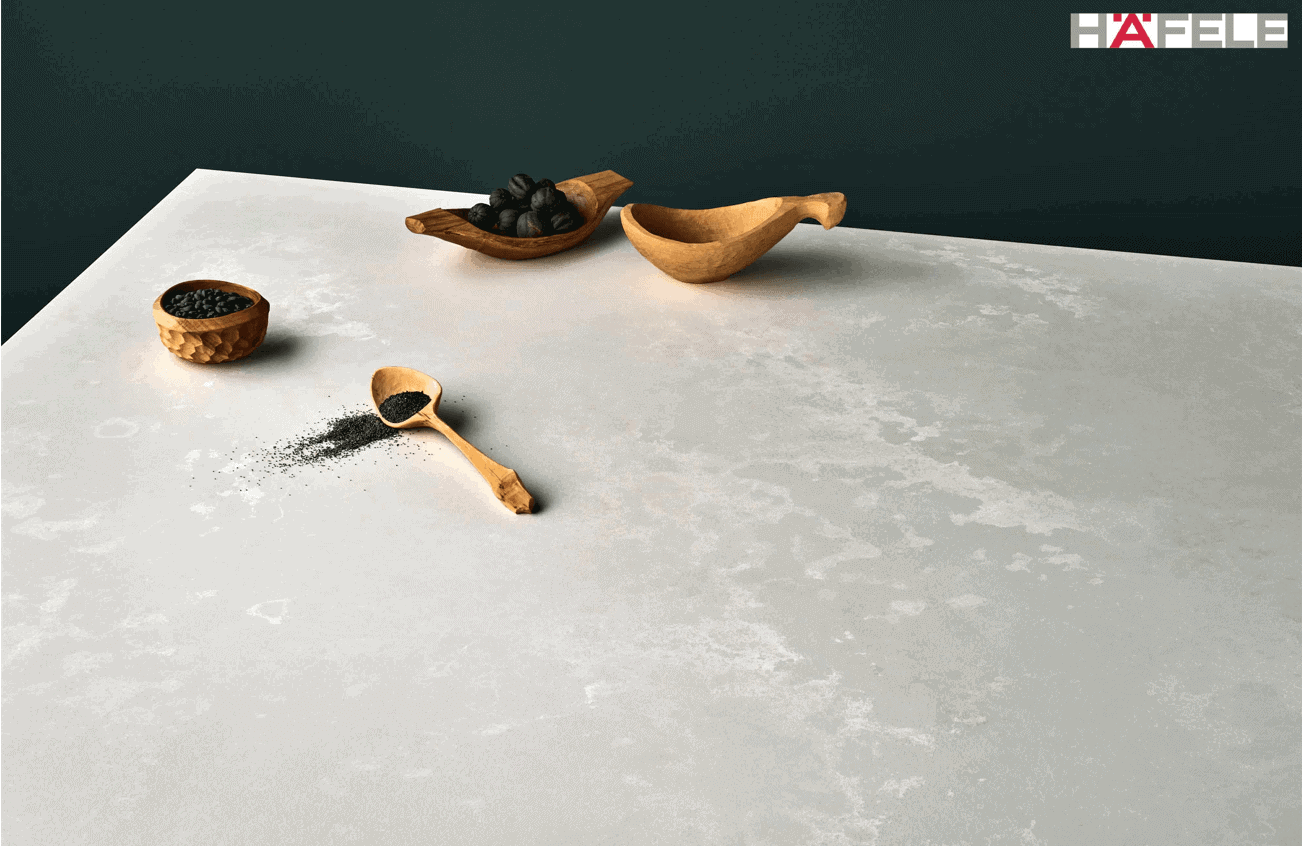 The Caesarstone Metropolitan Collection by Hafele is crafted beauty reflective of the layers found in industrial art and architecture, highlighting dimensional surfaces and unpolished colours in the kitchen countertops, as well as bringing quartz texture to the forefront. The colours within this collection - Excava, Airy Concrete, Topus Concrete, Rugged Concrete, Cloudburst Concrete and Primordia, exemplify the authentic touches of manufacturin