A pivot door system is a rotating part of a wall that can influence space, functionality, and perception. This frameless door rotates around its vertical axis and opens to both the left and the right sides. Moreover, not only is it functional but also a very attractive solution without frames, mountings, or slats.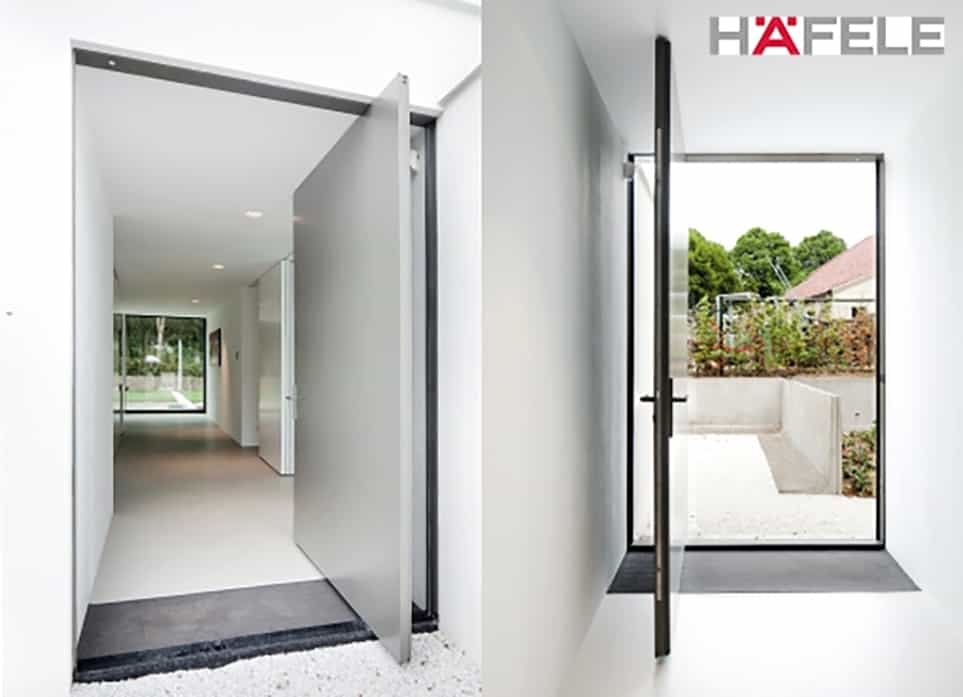 Häfele's FritsJurgens Pivot Door Systems
These allow minimal gaps around the door and make it possible to design them without limitations. The high load-bearing capacity of these systems gives freedom to create doors that exceed the function of a normal door. Additionally, it becomes true design statements.
All FritsJurgens Pivot Door Systems by Häfele are fully integrated into the top and bottom of the door. Thus, it doesn't require any structural elements in the floor and ceiling. All you see is your perfect door, a virtually invisible system. Moreover, this cost-effective and time-saving construction makes it possible to fit pivot doors anytime, anywhere, including in existing buildings.
The three unique systems – FritsJurgens System One, System 3, and System M, offer diverse functionality. Additionally, after getting tested for over 1 million cycles (like 136 years of daily use) they still behave flawlessly. Hence, this ensures the maintenance-free operation of  pivot door panels up to 500 kg. Designed for the ages, these systems look: invisible, stylish, and maintenance-free.
This new door system by Häfele won the high-profile German Design Award for Excellent Product Design in the category: Building and Energy. In the jury's report, the German Design Council describes the pivot door system as a product design that is convincing right down to the last detail and a pioneering contribution to the international and German design world.
Click here for more information.
Contact details:
Customer Care Toll-Free: 1800 266 6667
Customer Care WhatsApp: +91 97691 11122
[vvsmustread]